Roasted Coconut Crunch Cookies transport you to the tropics with each coconutty bite! Roasting the shredded coconut, quickly and easily on the stove top, amplifies the coconut flavor and adds toasty notes.  Oats help create a light, crisp crunch!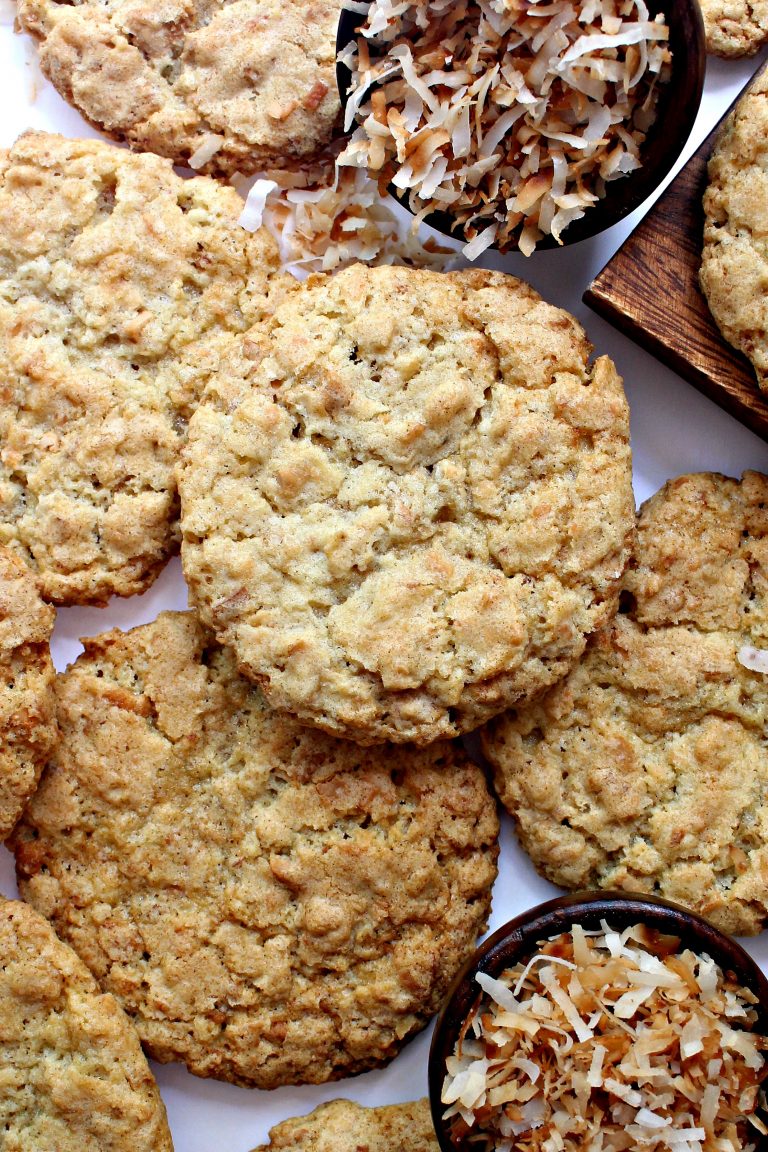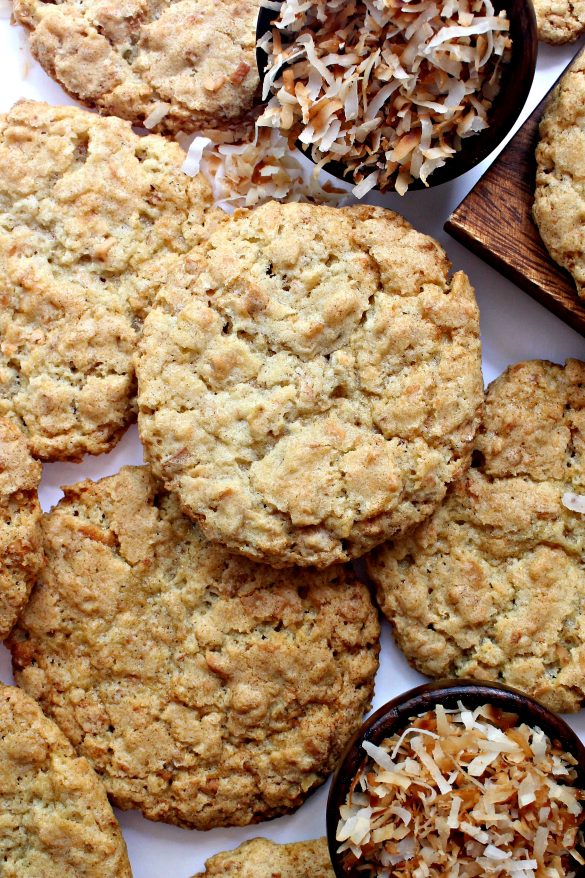 Thank goodness for air conditioning. With outside temperatures in the high 90's and humidity so high that it is hard to breathe, turning on the oven doesn't sound wise. But if you have cookie monsters to feed or care packages to fill, I suggest picking a cookie that makes turning on the oven worth it. Roasted Coconut Crunch Cookies are that kind of cookie. They are irresistibly delicious, store well, and are great for shipping in hot weather.
Mailing baked goods in the summer requires picking recipes that won't melt or go bad in the heat. There are many recipes on The Monday Box that were created specifically for best results with warm weather shipping. The recipes for baked goods that are made with ingredients least likely to spoil are labeled   "Desert Safe" recipes. You can read more about desert safe ingredients and find an index of all of the desert safe recipes on The Monday Box by clicking here.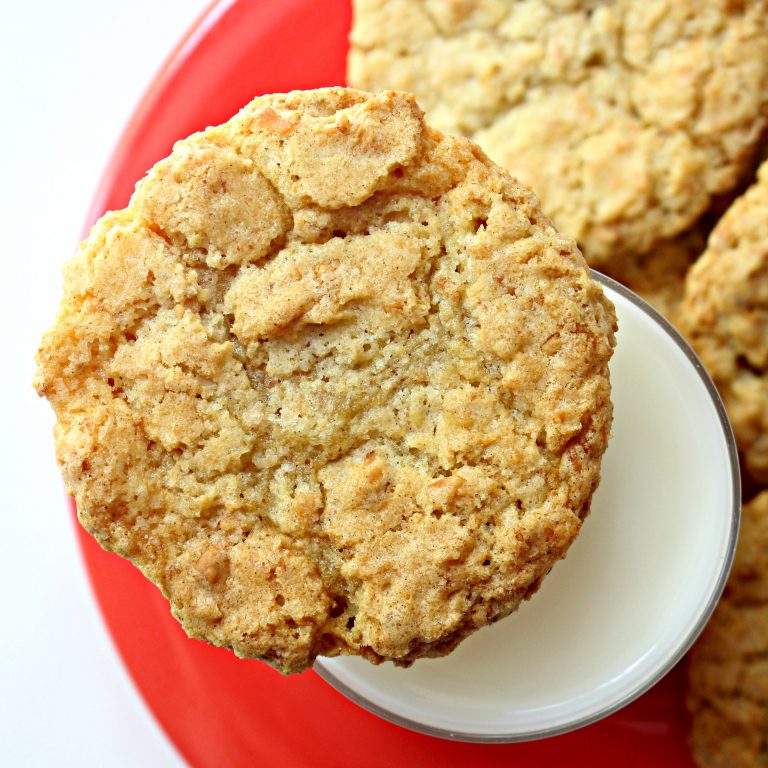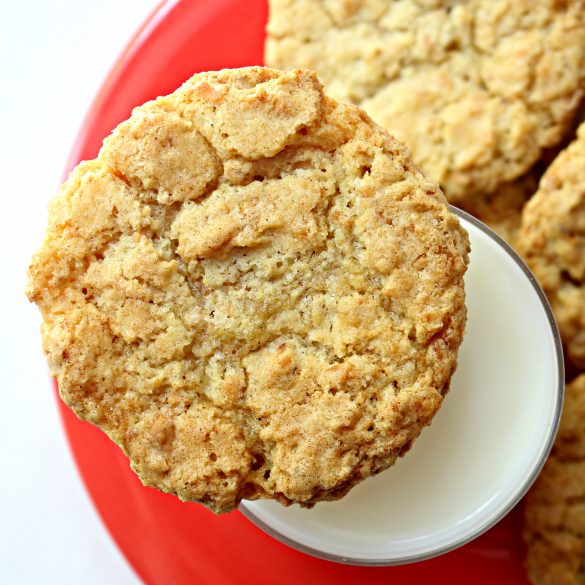 In addition to being wonderful cookies to send overseas, Roasted Coconut Crunch Cookies are a versatile treat to enjoy at home. I watched several dozen of these cookies disappear from my cookie jar this past week. My son and his girlfriend were here for four days and my daughter and her boyfriend came over to visit several times. Every time someone passed the kitchen, my cookie supply diminished! Paired with milk, coffee, or iced tea or used to make an ice cream sandwich, Roasted Coconut Crunch Cookies are hard to resist.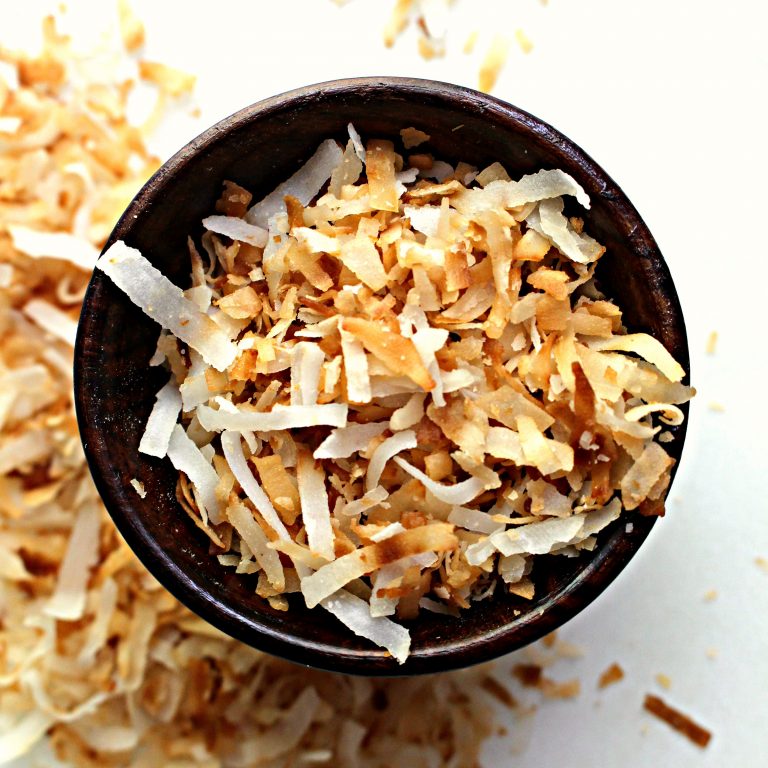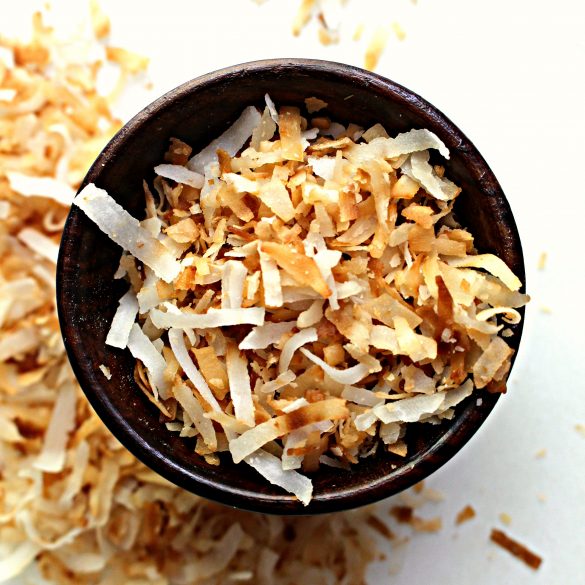 Their irresistibility, as far as I can tell, is due to the combination of flavors and texture. I boosted the flavor profile three ways. First, I doubled the vanilla extract. Vanilla adds a luscious creamy undertone to baked goods and often serves to intensify other flavors. In Roasted Coconut Crunch Cookies, the vanilla intensifies the coconut flavor. Roasting the coconut intensified the flavor even more. A few minutes of gentle browning in a frying pan turns the shredded coconut into crunchy bits of toasty deliciousness. The final flavor enhancer is invisible but important. I wanted the caramel flavor that comes from using brown sugar in a recipe, without actually using brown sugar (which I try to avoid in desert safe recipes). Finely chopped Ghirardelli caramel chips melt into the dough while cooking and provide the added flavor I was looking for.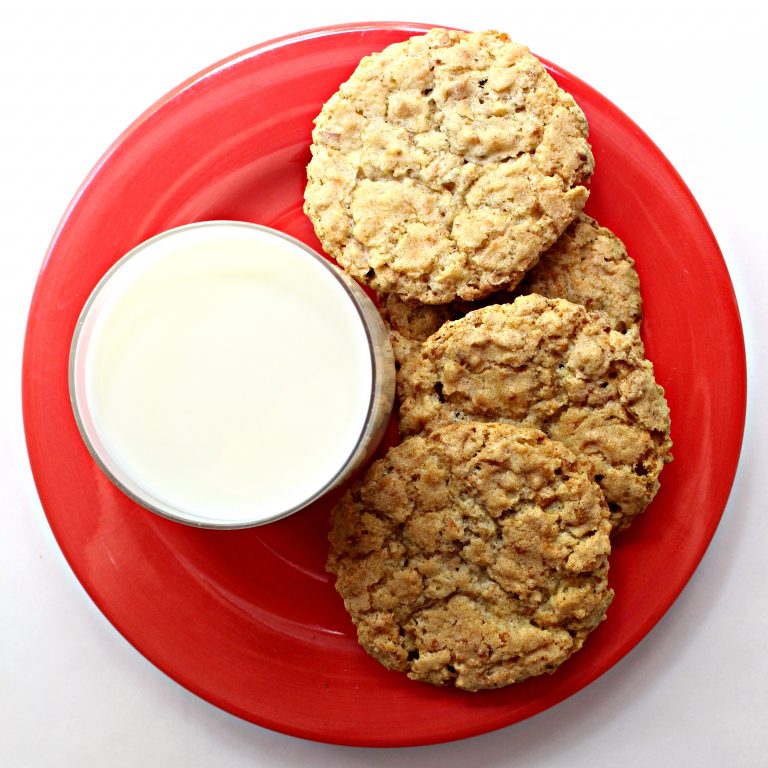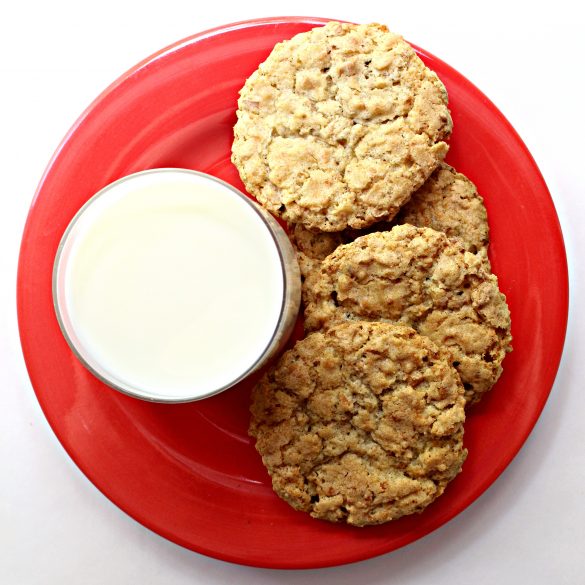 The crispy crunch of Roasted Coconut Crunch Cookies comes from using vegetable shortening, and not butter. Vegetable shortening allows the cookie to spread while baking. The white granulated sugar caramelizes in the thin cookie which is a further enhancement to both the flavor and the crunch.  Throw in oats and the texture is complete. Irresisitible.
Baking tips:
Do not use butter in this recipe. The crunchy nature of this cookie is dependent on the use of vegetable shortening.
The coconut in this recipe can be sweetened or unsweetened. Using sweetened coconut will result in an only slightly sweeter cookie. Also, when roasting, sweetened coconut will brown faster than unsweetened coconut due to the sugar coating.
Because this recipe uses only white granulated sugar as a sweetener, the slight caramel flavor that is usually achieved using brown sugar, is created in Roasted Coconut Crunch Cookies by adding caramel chips. These are not bits of caramel. Ghirardelli makes caramel chips that are like white chocolate chips with a caramel flavor. If caramel chips aren't available, use white chocolate chips.
The chips should be chopped finely before adding to the dough. Chopped bits distribute throughout the dough and melt while baking to flavor the cookie.
It is important to portion the dough evenly to ensure even baking. Using a 2 tablespoon cookie scoop is the easiest way.
The cookies stay fresh in an airtight container at room temperature for up to 10 days. The dough can be scooped into portions, frozen, then baked straight from the freezer when needed.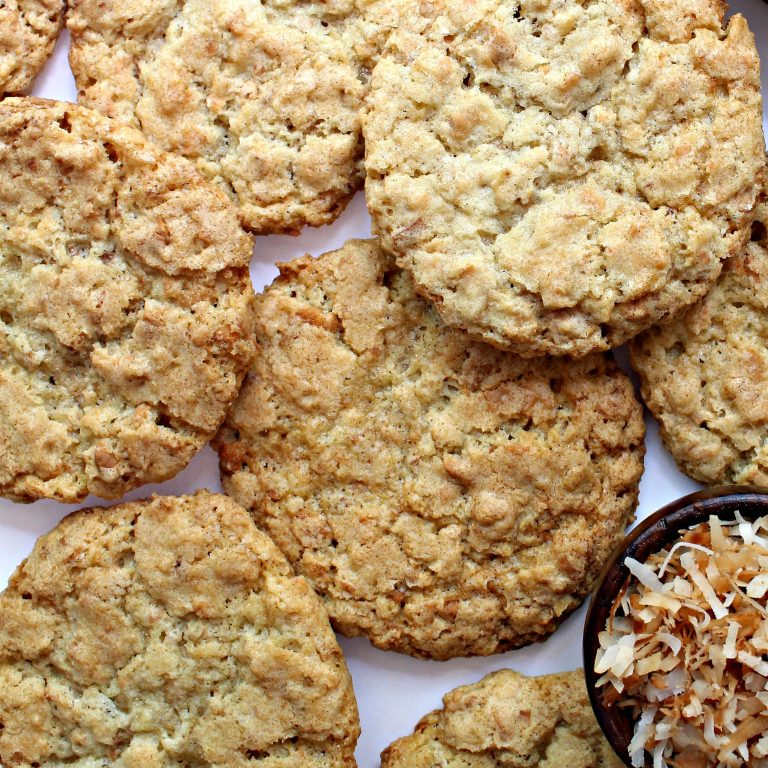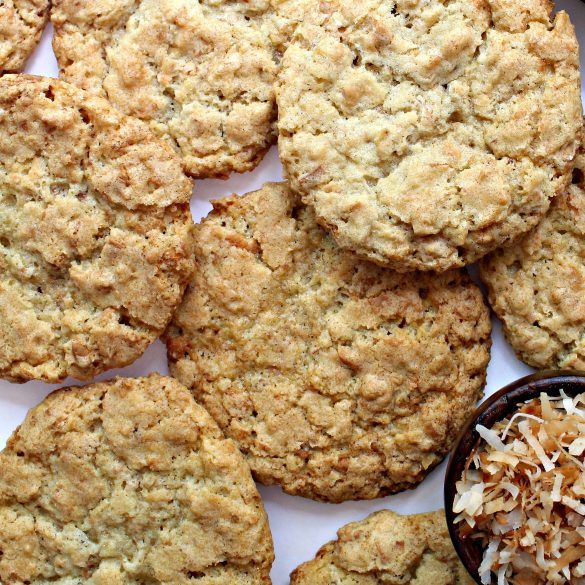 You will want to have plenty of Roasted Coconut Crunch Cookies around for care packages and for snacking at home, or beat the heat using Roasted Coconut Crunch Cookies for ice cream sandwiches with a tropical twist!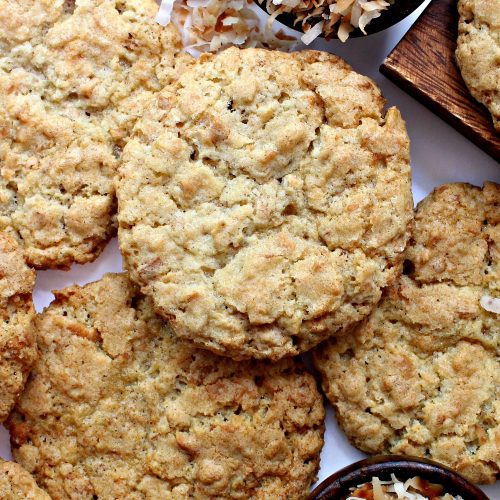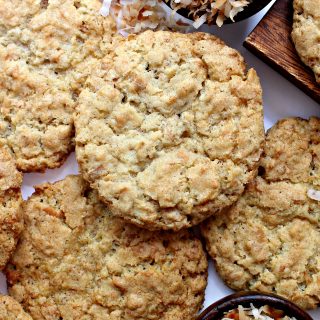 Print
Roasted Coconut Crunch Cookies
Servings
30
cookies, 2 tablespoons each
As an Amazon Associate I earn from qualifying purchases.
Ingredients
1

cup

vegetable shortening

Crisco

2

cups

granulated sugar

3

large eggs

2

teaspoons

vanilla extract

1

teaspoon

baking powder

1

teaspoon

baking soda

¼

teaspoon

salt

2

cups

all-purpose flour

1 ½

cups

old-fashioned oatmeal

1

cup

shredded coconut

sweetened or unsweetened

1

cup

caramel or white chocolate chips

chopped
Directions
TO ROAST THE COCONUT: Place the shredded coconut in a large skillet on the stove over medium-low heat. Stir continually for 5-10 minutes until most of the coconut is golden brown. Sweetened coconut browns more quickly than unsweetened. Set aside to cool.

Preheat the oven to 375° F. Line a baking sheet with parchment paper.

In the bowl of an electric mixer, cream together the shortening and sugar.

Mix in the eggs vanilla baking powder, baking soda, and salt.

Add the flour and oatmeal, mixing until combined.

Fold in the roasted coconut and chopped chips.

Using a medium (2 tablespoon) scoop, portion the dough onto the prepared baking sheet at least 2" apart. The cookies flatten and spread while baking.

Bake for 10-12 minutes until deep golden brown. There will appear to still be wet patches even when fully baked.

Remove from oven and allow to cool and firm up on the baking sheet for about 5 minutes before transferring to a wire rack to cool completely.

Store in an airtight container at room temperature for up to 10 days.
Notes
Wrap pairs of cookies, bottoms together, in plastic wrap. Stack the bundles in columns in an airtight container or freezer weight ziplock bag. Crunchy cookies are more likely to break in transit, so be sure that the shipping box is padded and that there is no room for movement in the box.