Time saving recipes, like this one for Slice-and- Bake Shortbread, are what you need at the start of the time crunch we refer to as "the holiday season", a frenzy of cooking and baking and merrymaking that leaves many people frazzled and decidedly unmerry. Let's enjoy the "happy" in Happy Holidays.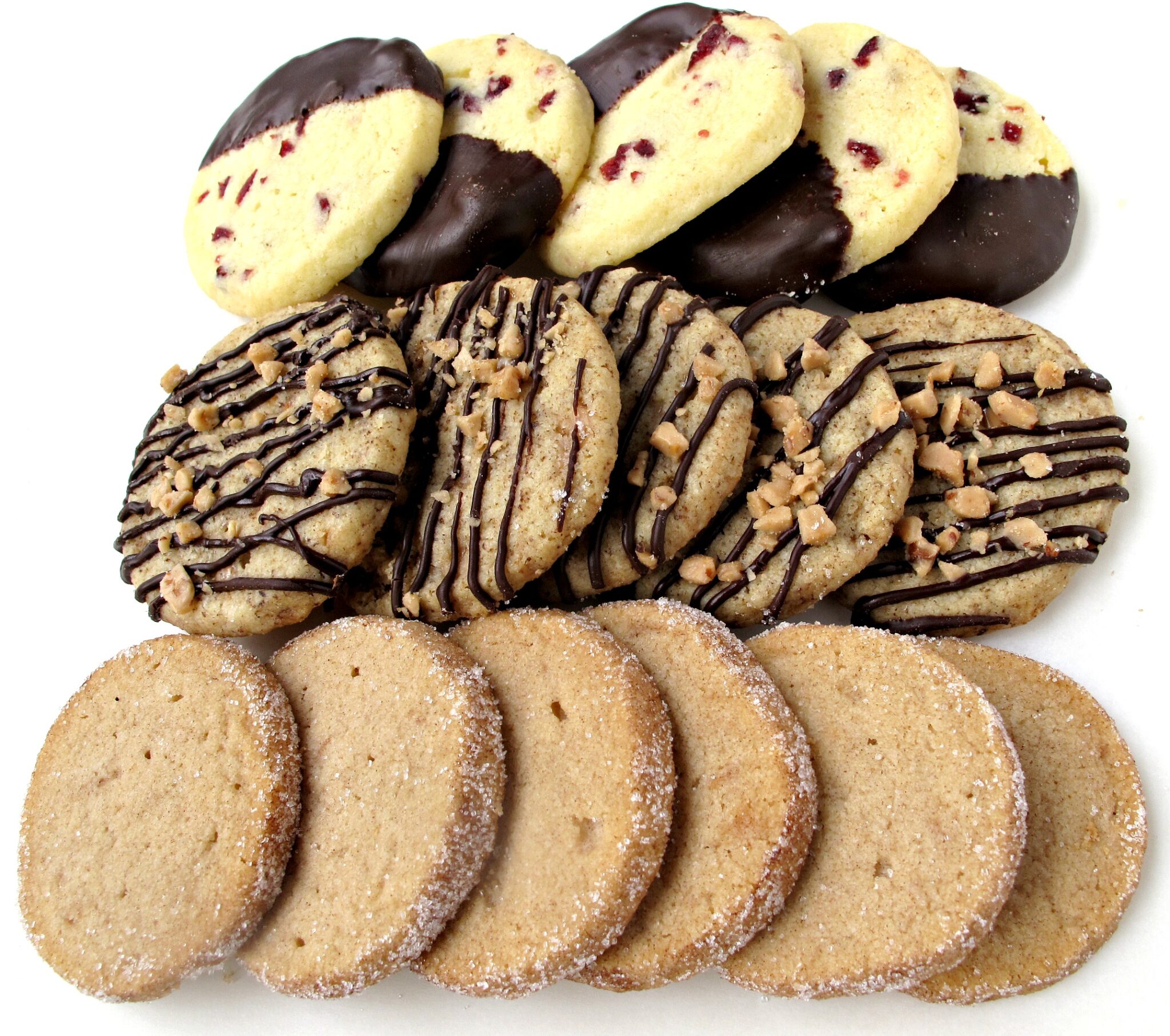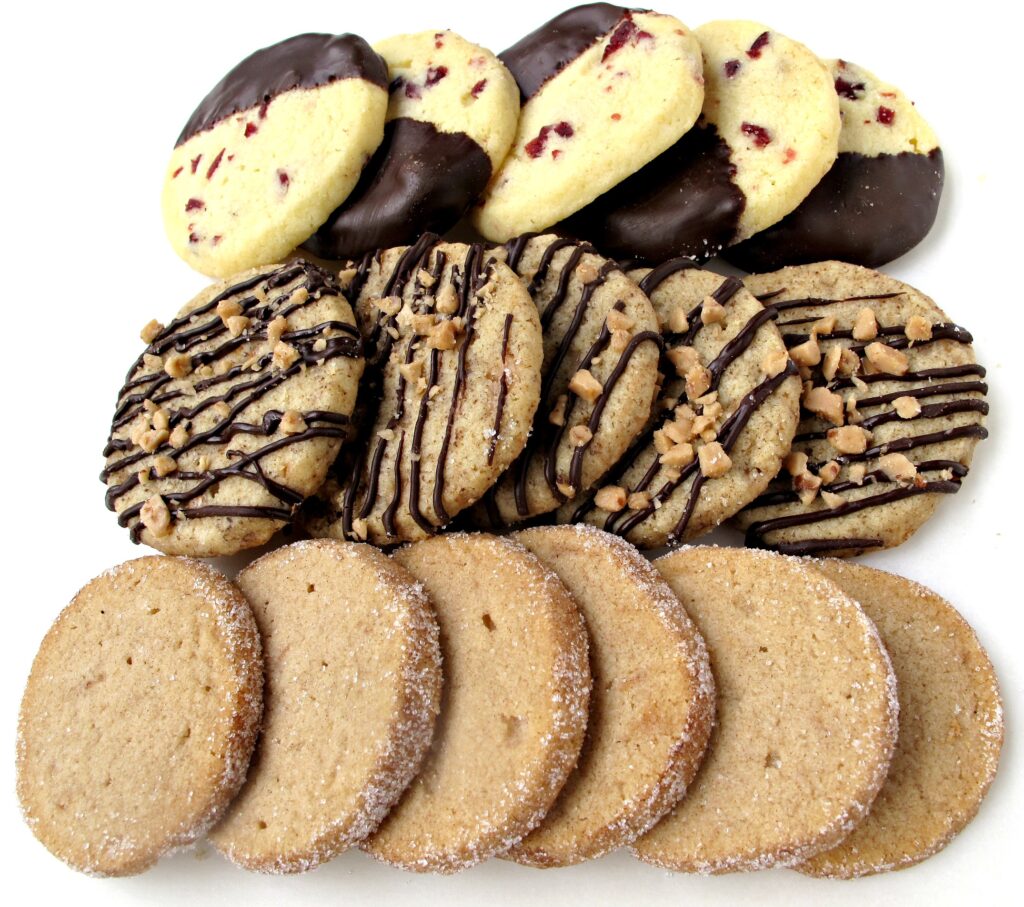 The final week of Cookie Month '14 is here. The theme, "Cookies That Freeze Well", is intended to save you time and help you store up goodies for upcoming festivities, gifts, and care packages.
Cookies don't get much easier than slice-and-bake and with this recipe, you will have three different varieties ready to to bake and enjoy as needed.

This wonderfully tender and buttery Slice-and-Bake Shortbread is amazing on its own, but when you divide the dough and mix different add-ins into each section, you end up with three distinctly different cookies all vying for the title of Best Shortbread.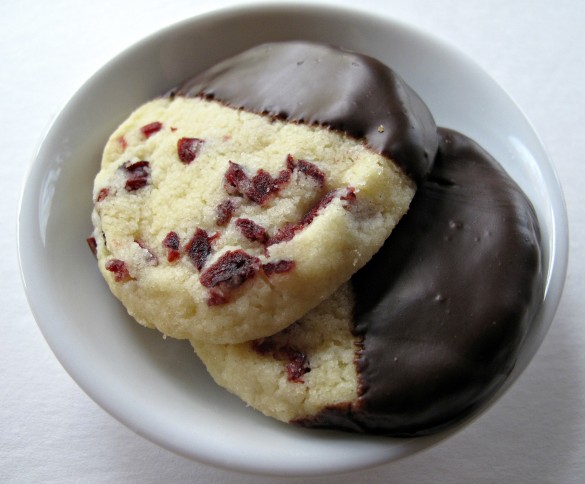 Cranberry Orange is fruity, citrus-y, and colorful, with bits of cranberry speckling the cookies.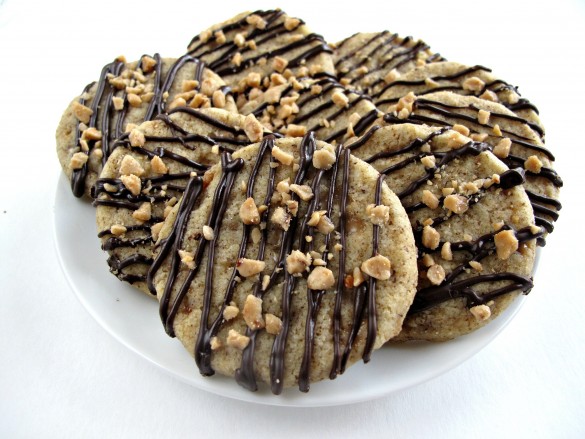 Toffee Espresso has a distinct coffee flavor with the added sweet crunch of toffee bits.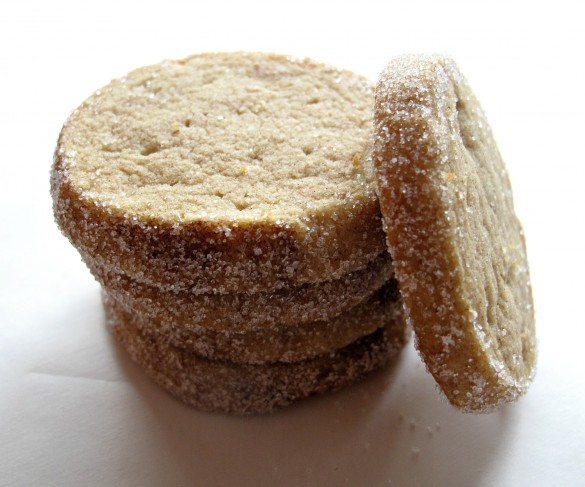 Cinnamon Brown Sugar is full of warm spicy scent and flavor. The best part is that you don't have to choose a favorite. The recipe makes all three!
My preference is to freeze dough, not cookies. I prepare dough for freezing in two ways; in balls and in logs.
Some cookies, like chocolate chip cookies, are made by scooping balls of dough and then baking. Those dough balls can also be frozen for later use.
I line a baking sheet with wax paper, then place scoops of dough onto the baking sheet, close but not touching. The entire pan is placed in the freezer.
After about 2 hours the frozen dough balls can be stored in the freezer in a large ziplock bag marked with the type of cookie and directions for baking. The dough balls do not need to be defrosted before baking, but may need an additional few minutes in the oven.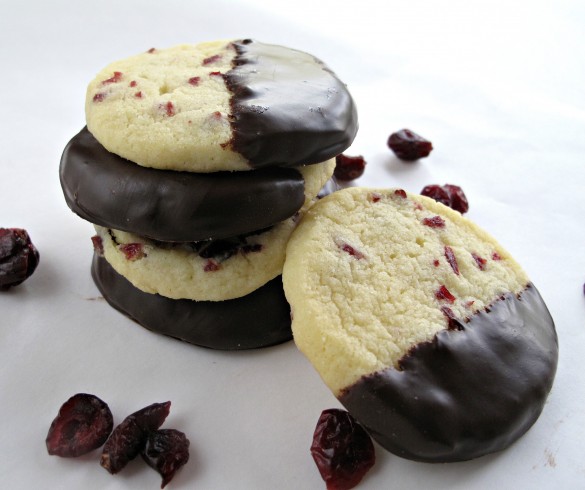 Many cookie doughs can be shaped into a log, stored in the refrigerator or freezer, then sliced and baked when needed. Frozen logs need to be defrosted a bit in order to be able to slice them.
Shortbread is an ideal dough for preparing as a slice-and-bake log. The buttery dough firms up for easy slicing when chilled, and maintains its shape in the oven.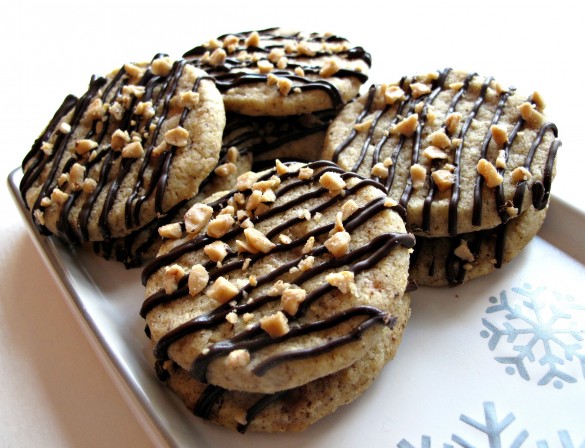 Some notes about shortbread ingredients:
There are several shortbread recipes on The Monday Box and all of them recommend using European butter.
I use Kerrygold, an Irish butter, because of the higher butter fat in European butter. Butter flavor is what shortbread is all about.
Using the highest quality butter you can, will give quality results in the shortbread.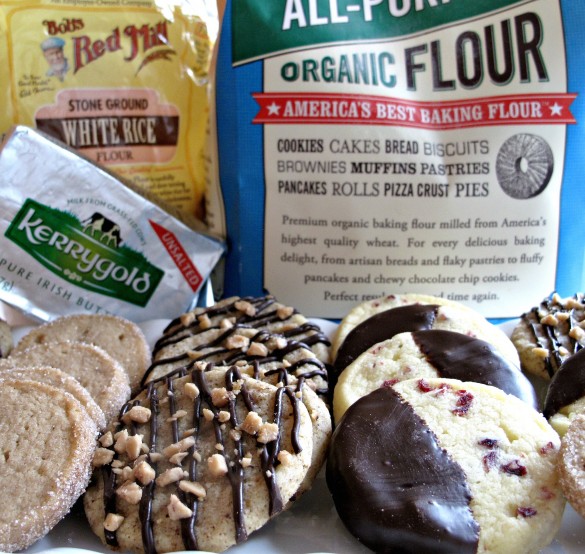 Another ingredient in Slice-and-Bake Shortbread that should be noted, is the rice flour. Rice flour is added to shortbread to give it a crunchy, yet melt in your mouth, texture. It is an easy to find flour.
Bob's Red Mill makes rice flour that is available in major supermarkets. Corn or potato starch can be substituted for the rice flour, but I find that the starch creates a slightly sandier texture.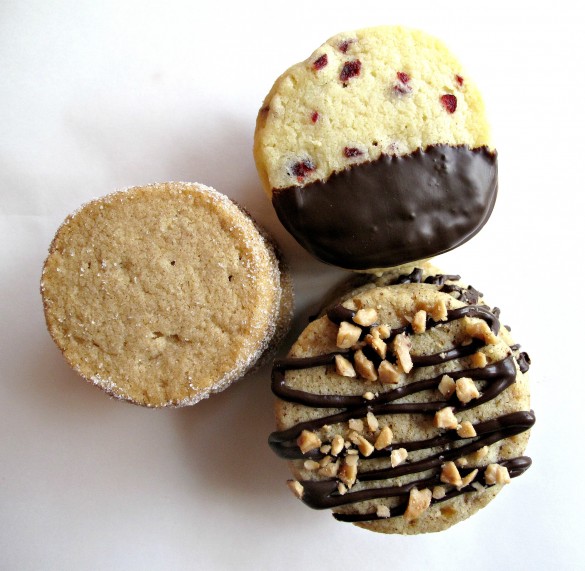 All three varieties of Slice-and-Bake Shortbread can be enjoyed plain or embellished.
I chose to use dark chocolate to drizzle the Espresso Toffee cookies and to dip the Cranberry Orange cookies. The chocolate dressed up the shortbread and the creamy chocolate was a delicious addition to both shortbread flavors.
The Cinnamon Brown Sugar shortbread log can be rolled in cinnamon sugar before slicing to add sparkle and crunch.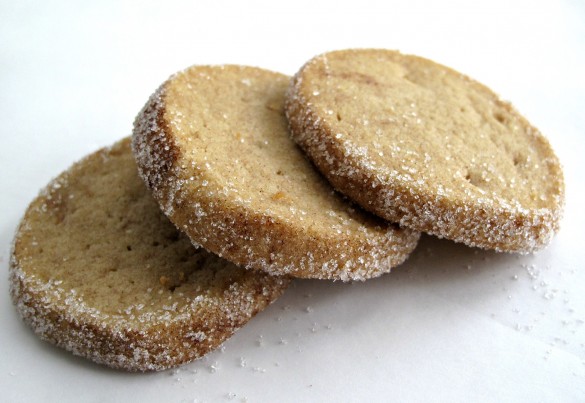 Fill up your freezer with Slice-and-Bake Shortbread and you will be prepared for all upcoming cookie demands. A magical quality of shortbread is that the flavor improves over time, making them excellent for gifts and care packages.
I suggest that while baking up cookies for packages and platters, you make an extra batch of shortbread for yourself and hide it away. Then, when the holidays are over, and life is a bit calmer, you can relax with some tea and your secret stash of buttery shortbread.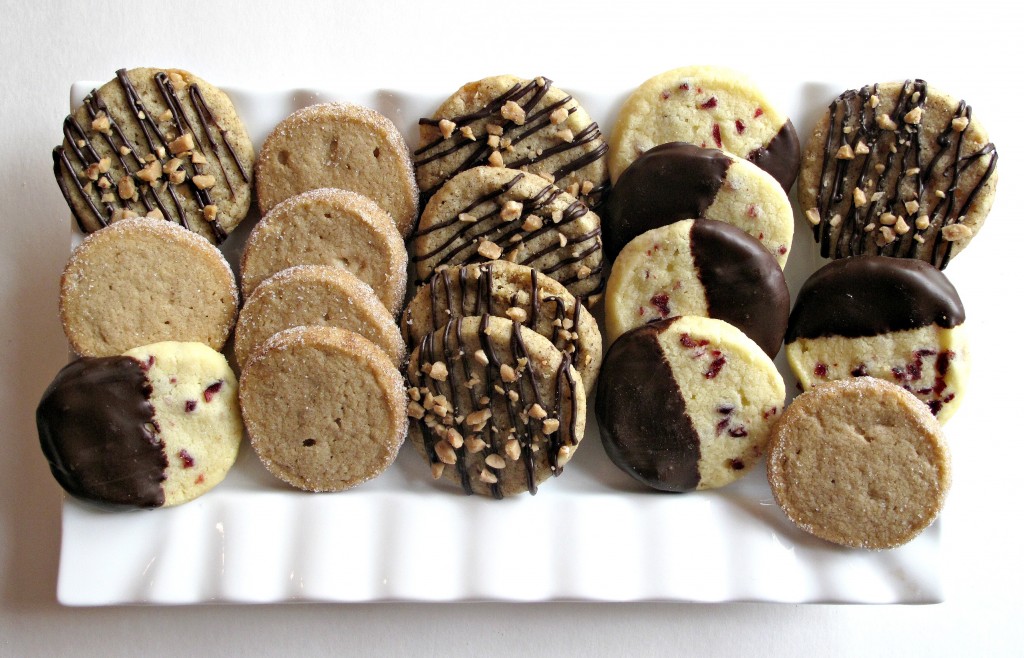 MORE SLICE AND BAKE SHORTBREAD RECIPES
Easter Bunny Shortbread Cookies
Chocolate Chocolate Chip Shortbread Cookies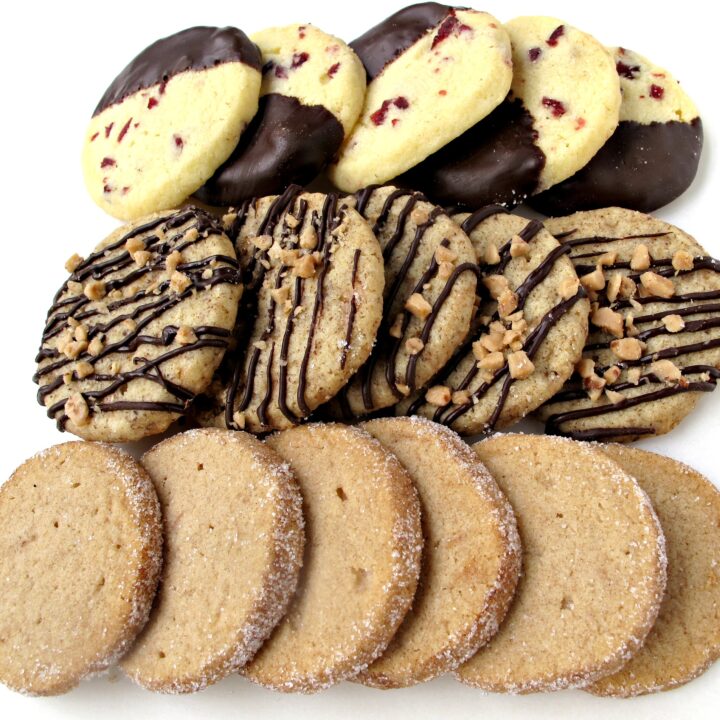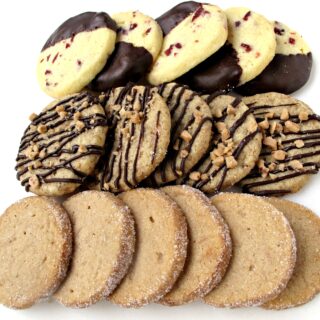 Slice-and-Bake Shortbread: one dough, three cookie flavors
Easily turn one batch of dough into three different kinds of shortbread cookies.
Print
Rate
Adapted From:
Michael Ruhlman's Americanized version from The Edinburgh Book of Plain Cookery Recipes (1920)
Ingredients
Instructions
In the bowl of a stand mixer, cream together the butter and sugar.

Add the flours and mix just until a smooth dough forms.

Divide the dough into thirds and place in separate bowls.

To each bowl of dough, add the flavoring ingredients and mix well to combine thoroughly.

On sheets of wax paper or parchment paper, roll each flavor of dough into a log approximately 2" in diameter

Tip for making compact round dough log: On top of a sheet of wax paper or parchment paper, form the dough into a log by hand until roughly the desired diameter. Place the log into the center of the paper. Fold the paper over the dough and push a ruler edge or dough scraper against the bottom of the log to remove air pockets and compress the dough.

Optional: Roll the Cinnamon Brown Sugar Shortbread log in cinnamon sugar before wrapping.

If refrigerating, wrap the dough in the parchment before slipping it into a paper towel tube, to keep the log round. Refrigerate until firm, about 1 hour, before slicing and baking. If freezing, wrap the log wax/parchment paper, insert into the tube, then wrap in plastic wrap. Logs can be refrigerated for up to four days or frozen for up to three months.

Baking:Preheat oven to 350 degrees F. Line baking sheet with parchment paper.

Frozen dough logs will need to be thawed slightly for cutting. Slice cookies into ½" slices and space 2" apart on prepared baking sheet.

Bake 10-12 minutes until barely golden around the bottom edge.

Cool on the baking sheet for 10 minutes before placing on wire rack to cool completely.

Optional: Use melted chocolate to drizzle Espresso Toffee cookies and to dip Cranberry Orange cookies. Refrigerate the cookies for 10 minutes to allow the chocolate to set.

Store at room temperature in an airtight container for at least 2 weeks if the cookies contain dried fruit, or at least 4 weeks for plain shortbread. Shortbread flavor continues to improve over time.
Notes
Packing tips
Double wrap small piles of cookies in plastic wrap then place snugly in an airtight container or zip lock bag for mailing.
Nutrition
Calories:
153
kcal
|
Carbohydrates:
17
g
|
Protein:
1
g
|
Fat:
9
g
|
Saturated Fat:
6
g
|
Trans Fat:
1
g
|
Cholesterol:
22
mg
|
Sodium:
4
mg
|
Potassium:
25
mg
|
Fiber:
1
g
|
Sugar:
8
g
|
Vitamin A:
255
IU
|
Vitamin C:
1
mg
|
Calcium:
6
mg
|
Iron:
1
mg
**This post is sponsored by Bob's Red Mill and Kerrygold. They are two of our Cookie Month sponsors, partnering with us to create delicious cookie recipes for you to enjoy. Chocoley.com also provided their product for use in these cookies.**
Be sure to check out my Cookie Month partners and their amazing recipes: Jess at The 104 Homestead - Kathie at Homespun Seasonal Living - Tessa at Homestead Lady - Chris at Joybilee Farm - Sheila at Life, Love, and Good Food - Nikki at Nik Snacks - Shari at Pure Grace Farms - Angi at Schneiderpeeps - Lauren at Wicked Spatula
The following companies generously sponsored this and other cookie month projects. I may not have used all of them in my recipes, but this project is in no small part thanks to them and their incredible contributions: Bob's Red Mill, The Daily Meal, India Tree, KerryGold, King Arthur Flour, Products of GIR, KaTom, SunButter & Wilton.
Save