Double Dipped Chocolate Shortbread doesn't last long on a cookie tray. The chocolate stripes and sprinkles are alluring and the oh-so chocolaty flavor makes them an instant favorite.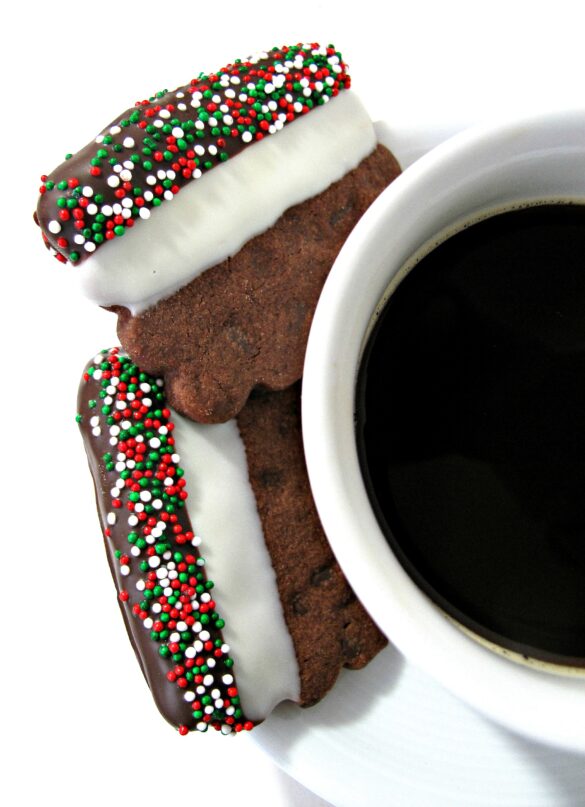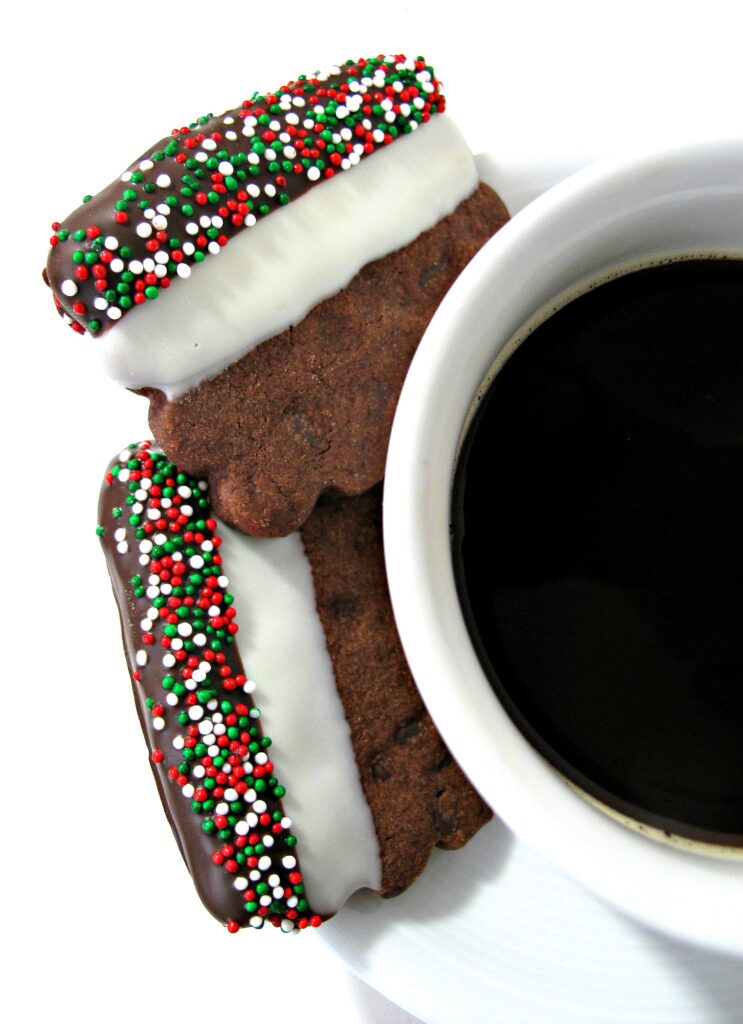 Today is recipe reveal day for The Great Food Blogger Cookie Swap! Hitting the international blogisphere today are 600 cookie recipes, just in time for holiday baking. Each blogger participating in the swap sent out three dozen cookies, a box of twelve cookies each to three assigned food bloggers. In return, each blogger receives three dozen cookies (a box of twelve cookies from three different food bloggers). That makes 21,600 cookies exchanged between bloggers! Best of all, thousands of dollars, from entry fees and sponsor donations, are raised for Cookies for Kids' Cancer!I was delighted with the three packages of cookie deliciousness that arrived at my door. I hope my recipients enjoyed The Monday Box contribution to the swap, a rich, chocolaty Double Dipped Chocolate Shortbread.
I received cookies from three talented baker-bloggers. Allison from Celebrating Sweets sent a box full of chewy Ginger Molasses Cookie Bars, drizzled in icing. Julia from Sprinkled with Jules sent irresistible Brown Butter Toffee Chocolate Chip Cookies perfectly sized for their shipping tube. Renata from First Time Foods boxed up Toffee Pecan Shortbread dipped in chocolate. All three cookies are as delicious as they look! Click through to check out the recipes for these delights. Thanks, Allison, Julia, and Renata!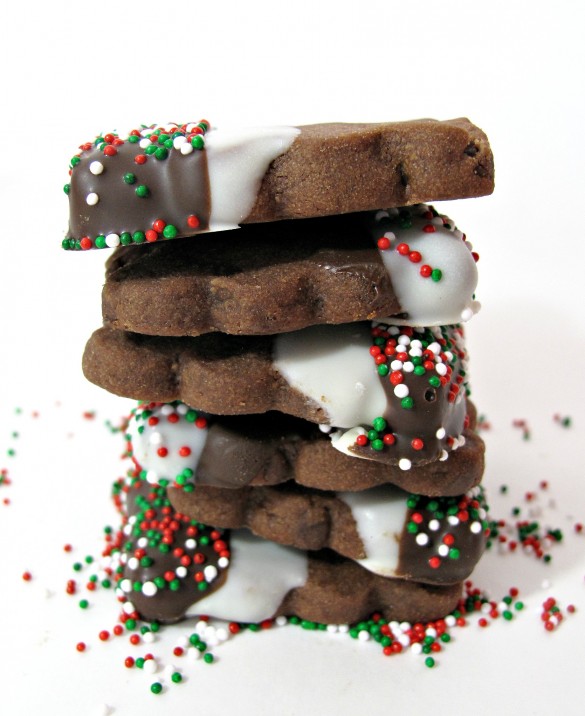 I chose to send chocolate shortbread in my swap packages. Shortbread flavor has the magical characteristic of improving over time, making it a great shipping cookie. This version uses confectioners' sugar for melt-in-your-mouth texture. The rich chocolate flavor comes from both cocoa powder (I used Droste's Dutch processed cocoa) and semi-sweet chocolate chips.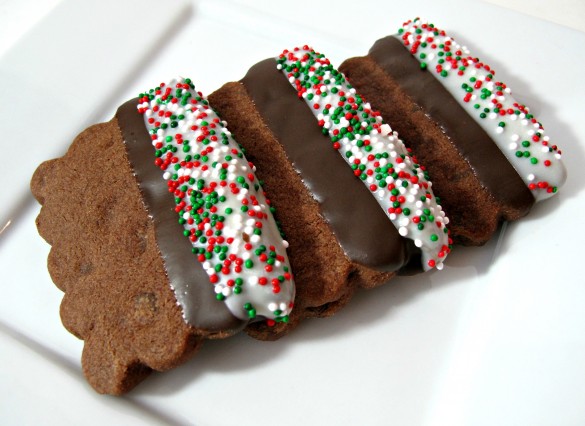 This is a wonderful dough to work with and can be shaped in a variety of ways. The easiest way would be to form the dough into logs, chill until firm, then slice into ¼"– ½" discs and bake. Another way would be to roll out the dough, then after chilling, use a knife to slice into bars, then bake. For my cookies, I envisioned a scalloped edge, so I rolled out the dough and used a cookie cutter. Though I chose the most time intensive method (typical behavior), it was still a quick and easy process.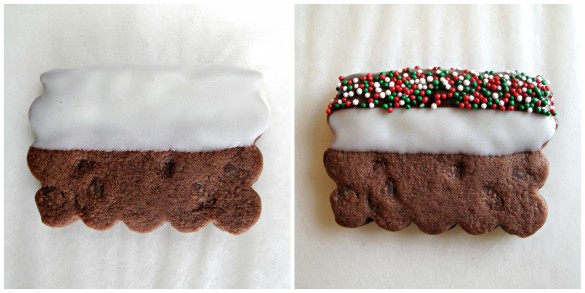 Both white and dark chocolate (Chocoley.com Dipping and Coating formula) were used for dipping. To create the stripes of chocolate and sprinkles, I dipped each cookie twice. First, I dipped each cookie half way in one flavor of chocolate. The chocolate was allowed to set in the refrigerator for about 5 minutes. Then just the edge of the cookie was dipped in the second flavor of chocolate and sprinkles were added immediately. The double dipping produced dressed up cookies with doubly chocolate goodness.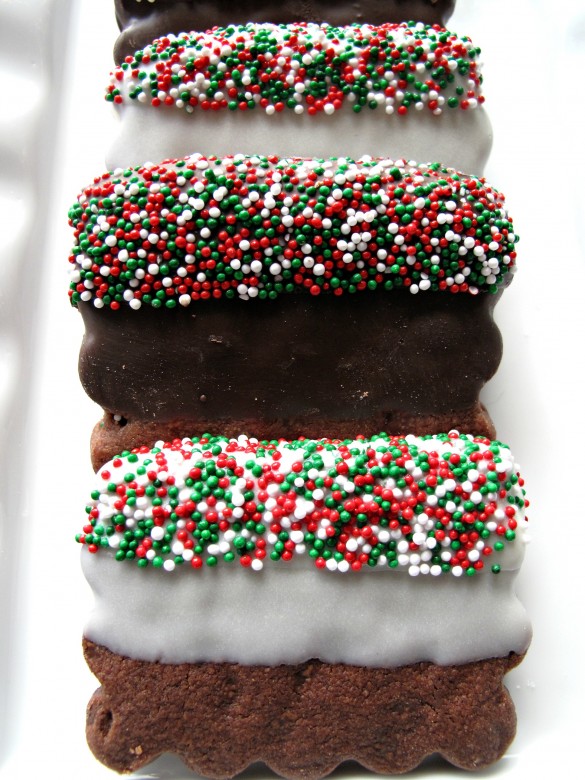 The hundreds of Great Food Blog Cookie Swap 2014 recipes are available today on each participating blog and a round up with thumbnail photos from all 600 recipes will be available this Friday (December 19) from Lindsay at Love and Olive Oil and Julie at The Little Kitchen. Enjoy!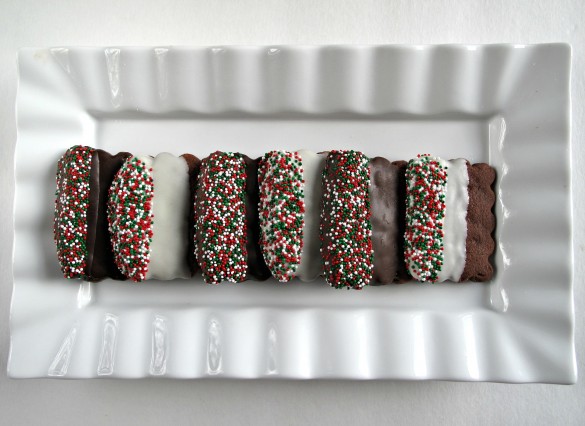 Wishing you all joyful, peace filled holidays, with lots of cookies!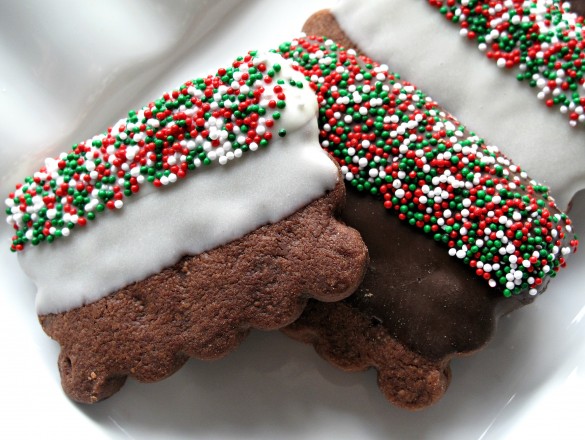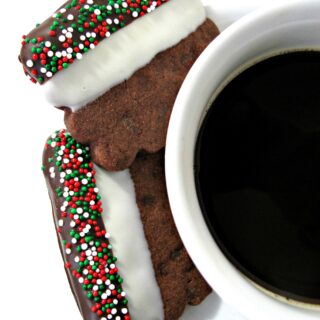 Double Dipped Chocolate Shortbread Cookies
Ingredients
2

cups

all-purpose flour

½

cup

cocoa

I use Dutch processed

½

cup

semi-sweet chocolate chips

¼

teaspoon

salt

1

cup

2 sticks unsalted butter, room temperature

1

cup

confectioners' sugar

1

teaspoon

vanilla

For decorating:

¾

pound

white chocolate

I use Chocoley.com Dipping and Coating

¾

pound

dark chocolate

I use Chocoley.com Dipping and Coating

Sprinkles
Directions
In a medium bowl, whisk together flour, cocoa, chocolate chips, and salt.

In the bowl of an electric mixer, cream butter and sugar until light. Add vanilla and mix to combine.

Gradually add flour mixture and mix just until all of the flour is incorporated and the dough forms.

Form the dough into a disc, wrap in plastic, and chill for at least 1 hour or overnight.

When ready to bake: Preheat oven to 325˚F. Line baking sheet with parchment paper.

Between two sheets of parchment paper, roll out dough to ¼"- ½" thickness. Slice into shapes or use a cookie cutter.

Place on prepared baking sheet about 1" apart and bake for 10-12 minutes. (Cookies firm as they cool).

Allow cookies to cool on the baking sheet for 5 minutes before transferring them to a wire rack to cool completely.

Dipping and decorating:Use wax paper to line two cookie sheets or other flat baking pans that will fit into your refrigerator.

Place one of the melting chocolates in a bowls large enough that the chocolate fills it up to about 1 inch below the rim. Melt the chocolate wafers in the microwave at 50% power for one minute. Stir. If not completely melted, return to the microwave and heat for 15 second intervals, stirring between intervals, until melted.

Dip the cookies into the chocolate, gently tap the wrist of the hand holding the dipped cookie to allow excess chocolate to drip back into the bowl, then set the dipped cookie onto the prepare cookie sheet. After completing 6 cookies, place the tray into the refrigerator to set for about 5 minutes.

When all of the cookies have been dipped and set, melt the second flavor of chocolate in a separate bowl.

Dip the edge of a cookie into the melted chocolate just long enough to coat. Tap off excess and place on lined baking sheet. Add sprinkles immediately, before chocolate can begin to set. After 6 cookies have been dipped and sprinkled, place in the refrigerator again to set the chocolate for 5 minutes.

Store layers of cookies between wax paper in an airtight container at room temperature for up to 2 weeks.
Packing Tips
Double wrap small piles of cookies in plastic wrap, then place snugly in an airtight container or zip lock bag for mailing.
I was not compensated for this post, however I did receive free product from Chocoley.com for use in this recipe. All opinions are 100% my own. I only use and recommend products I believe in.
For more shortbread favorites, try these!