Malted Milk Brownie Bark is super crunchy and super chocolaty. Each munchable square of this brittle brownie treat is like the crunchy corners that everyone fights over on a pan of brownies! Make an extra batch to share in care packages and holiday gifts!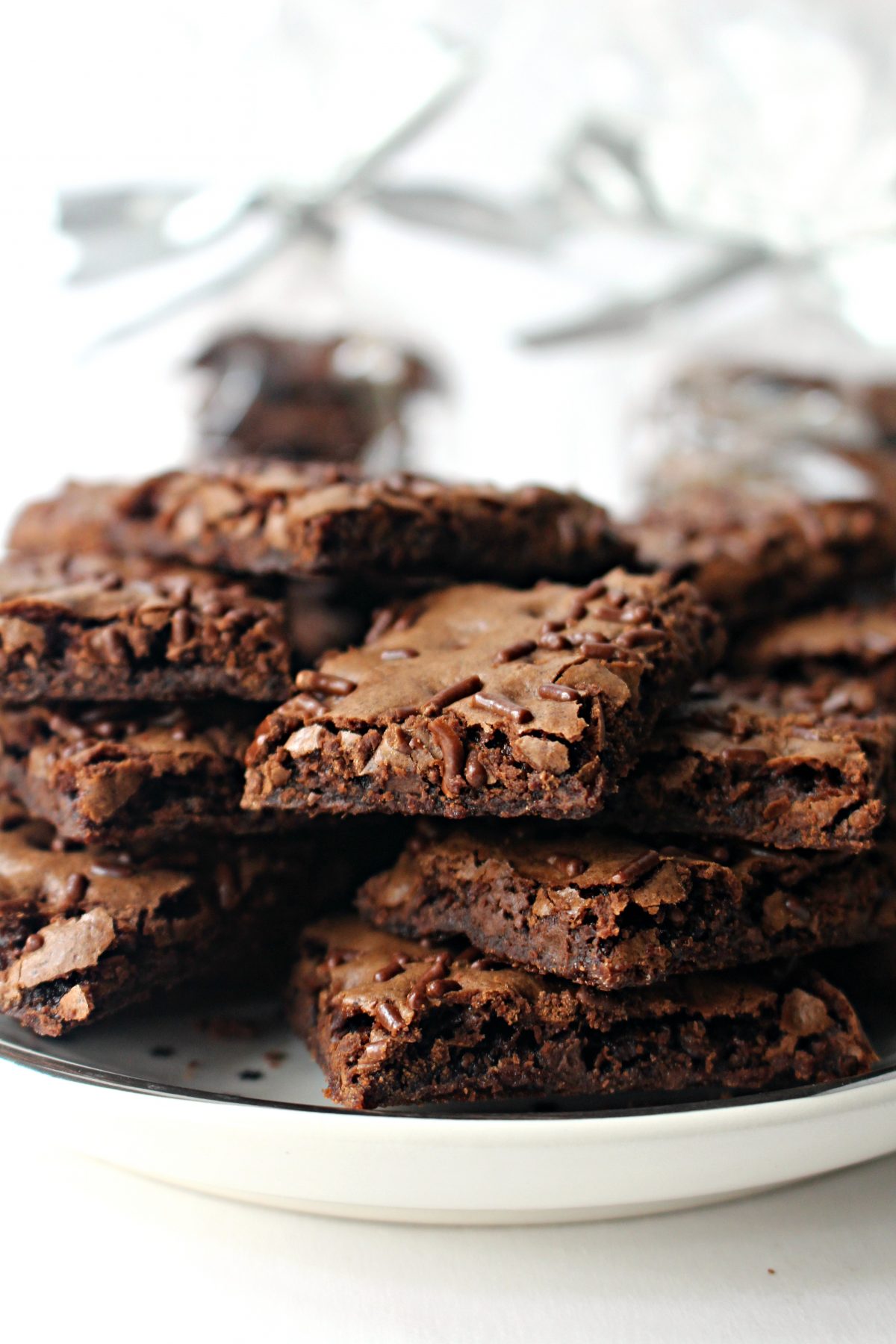 Why you'll love this recipe
These pop-in-your-mouth squares have intense chocolate brownie flavor enhanced with the warm taste of malted milk.
Chocolate can be a tricky ingredient. Most Monday Box recipes for chocolate candy, cookies, or cakes are reserved for cold weather months.
Chocolate melts in care packages during warm weather. However, as soon as the temperature drops, chocolate baking season begins!
This crunchy brownie bark, made with cocoa, chocolate chips and chocolate sprinkles, is a great Chocolate Season opener!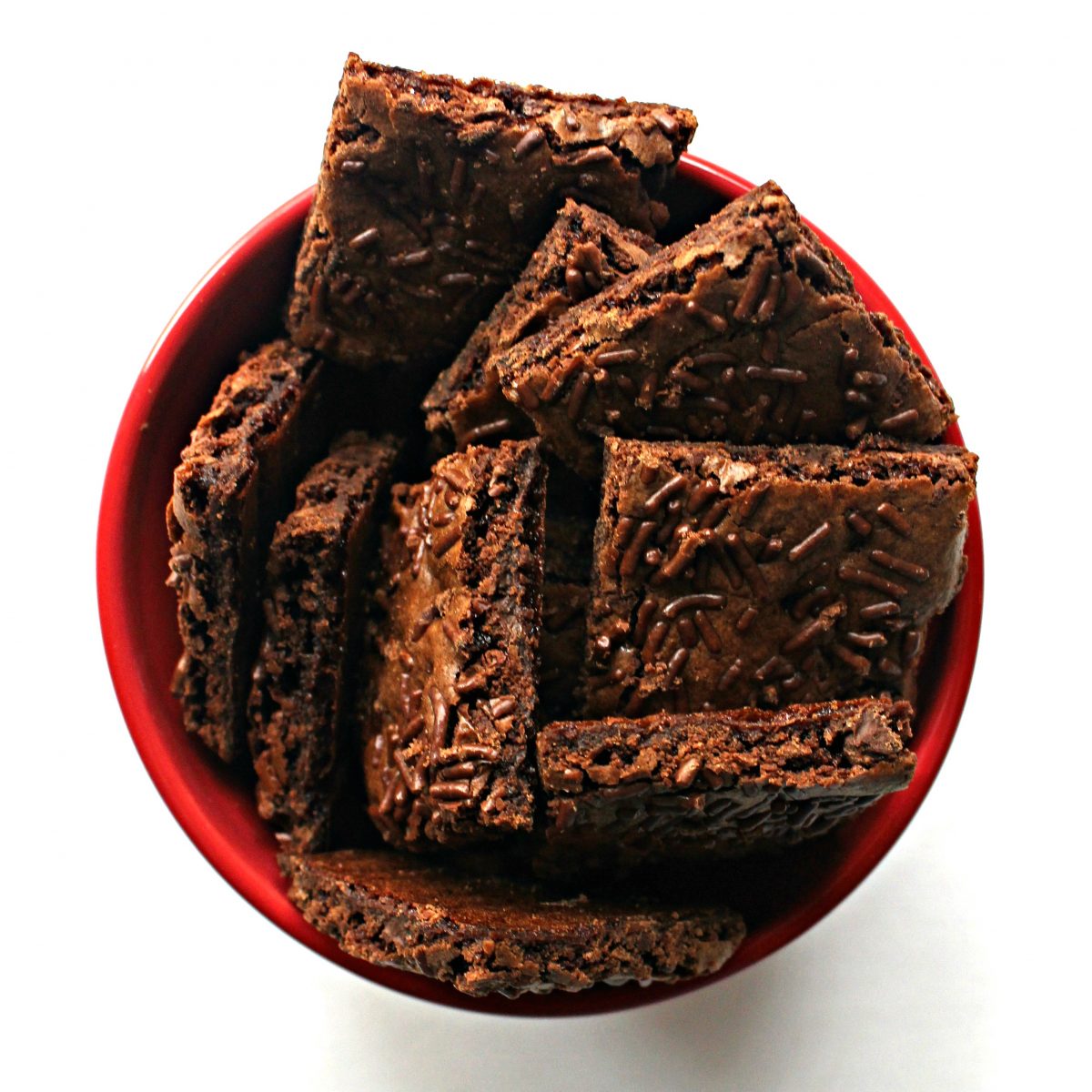 Chocolate is also a tricky because unethical sourcing of cocoa is a huge human rights issue.
Did you know that 70% of the world's cocoa is harvested using human trafficking, child slavery, and abusive labor practices?
I wrote a post giving more details if you would like to learn more and there are links at the bottom of this post which I urge you to read. Chocolate companies have accepted these horrific human rights violations in order to keep the prices of chocolate lower.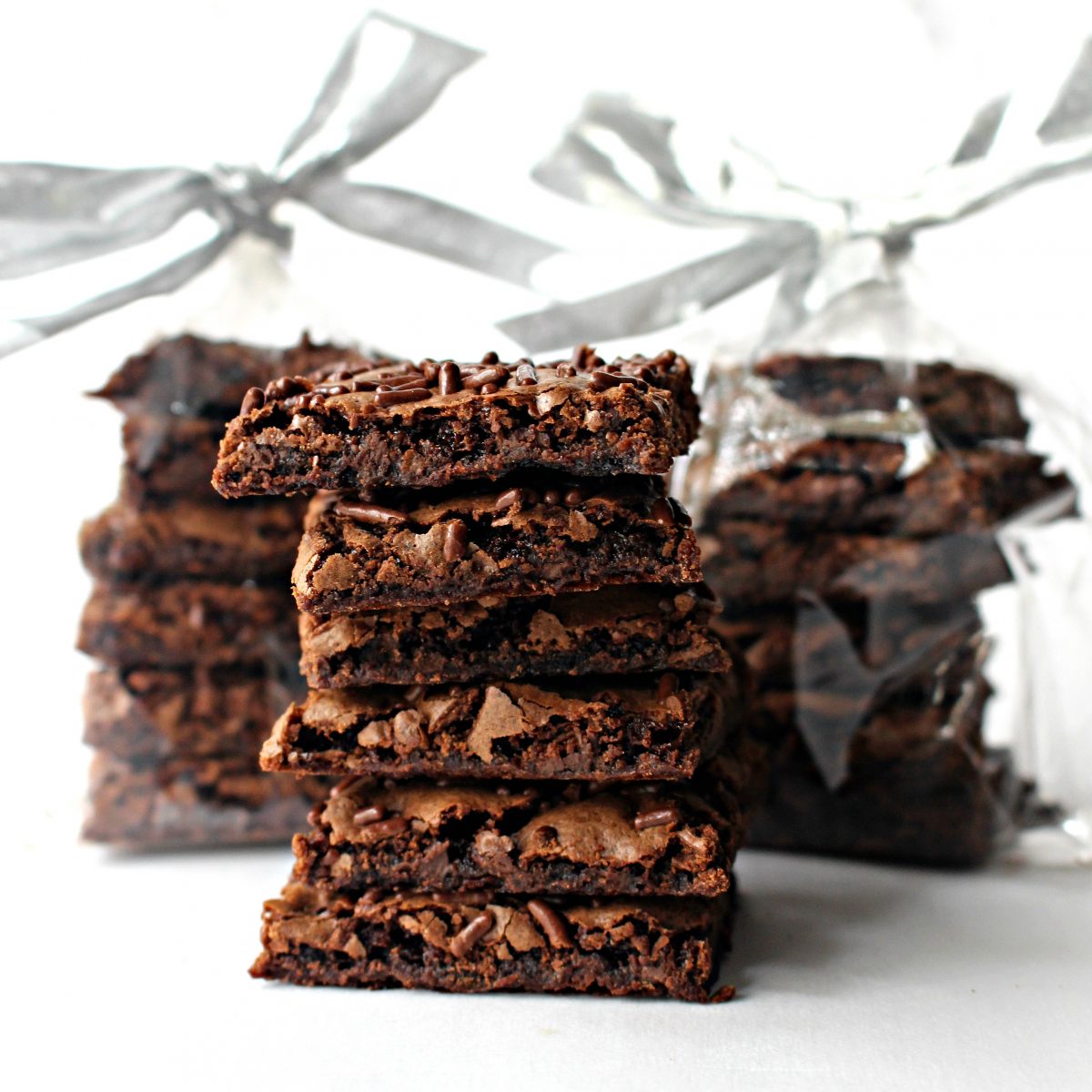 I have been on a personal mission to find ethically sourced cocoa and chocolate ingredients for the past two years. And guess what?!
Finding cost effective, incredibly delicious, substitutes for the mainstream brands (Hershey's, Nestle's, etc.) has been EASY. This is what I found out.
Frequently asked questions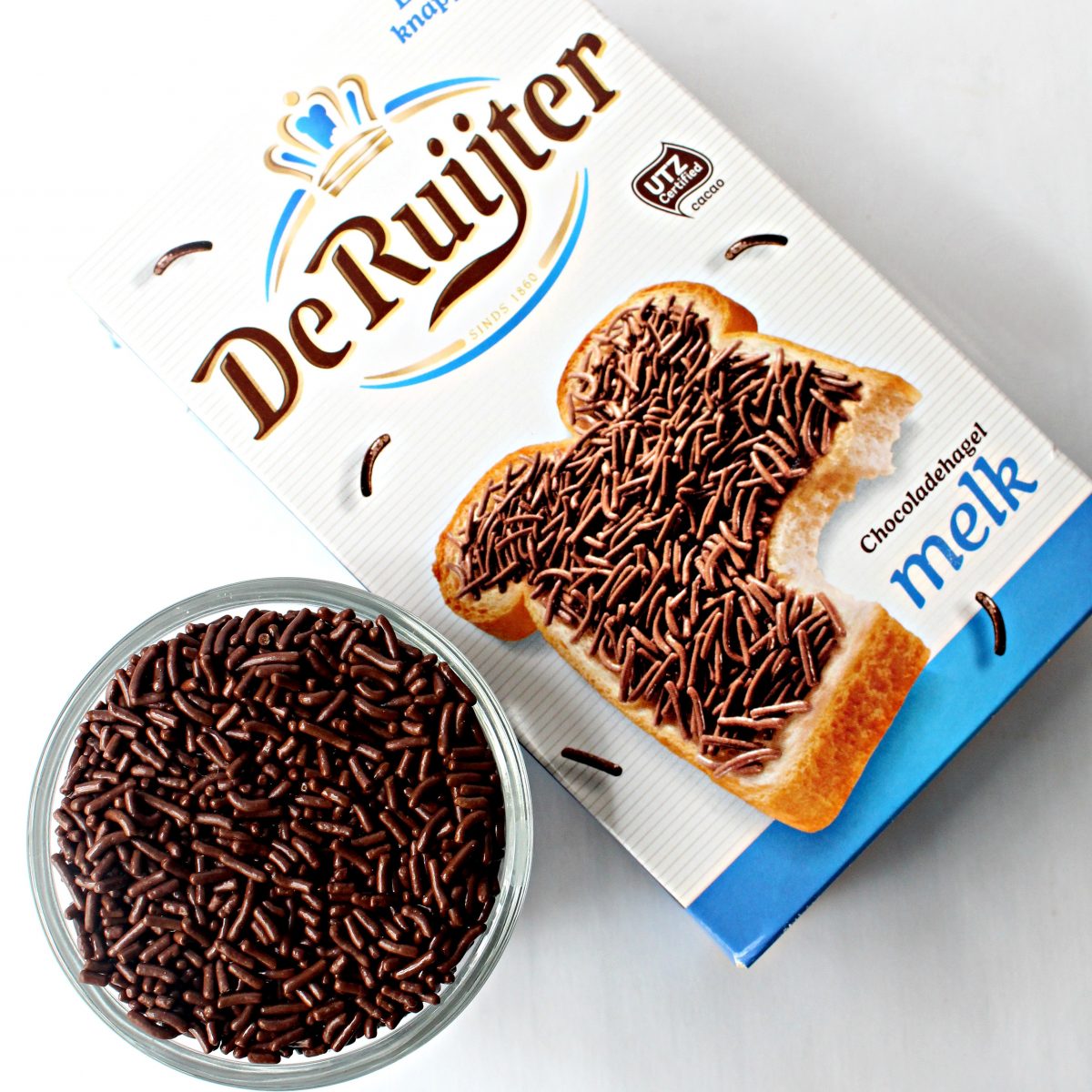 How do I know if the ingredients in chocolate has been ethically sourced?
Chocolate labels may list the country of origin of the cocoa. Cocoa from outside of West Africa is almost always ethically grown and harvested.
Organic chocolate is generally ethically sourced.
Smaller "bean to bar" chocolate companies and shops, choose their sources for both ethical and culinary reasons.
Chocolate labels may have the symbol of organizations that oversee ethical sourcing. Look for any of these symbols.
Where can I buy ethically sourced chocolate for baking?
Buying ingredients that are ethically sourced doesn't have to be difficult or expensive.
Aldi's grocery chain has a large selection of inexpensive chocolate bars with the UTZ symbol by the brand Moser Roth and peanut butter cups by the brand Choceur with the Fair Trade Certified symbol. Aldi's also stocks beautiful seasonal chocolates like foil wrapped Santas for Christmas, foil wrapped coins for Chanukkah, Easter eggs, and Valentine hearts all with the UTZ symbol.
Whole Foods supermarket brand, 365, is all fairly traded and ethically sourced. The excellent 365 brand chocolate chips are comparable in price to mainstream brands. The chips are available in semisweet jumbo, regular, and mini. White chocolate chips are also available in regular and mini.
There are several brands that make ethically sourced cocoa powder. Whole Foods carries 365 brand cocoa powder (my favorite for its dark, rich color and flavor) and Equal Exchange. Dagoba cocoa powder is available in many supermarkets. Dagoba is the ethically sourced division of Hershey's.
Many popular recipes use whole or crushed Oreos. Unfortunately, Nabisco does not trace the sources of the cocoa it uses. Newman's Own brand (with ethical sourcing on all of its products) is available at most supermarket and produces Newman O's, which are an ideal substitute. 
What ethically sourced cocoa products are used to make Malted Milk Brownie Bark?
365 brand cocoa powder
Horlicks malt powder or European Ovaltine (UTZ) from an international supermarket or online.
365 brand semi sweet mini chocolate chips
De Ruijter milk chocolate sprinkles (UTZ) Did you know that the Dutch eat chocolate sprinkles on their breakfast toast?! In the Netherlands, De Ruijter sprinkles are on every supermarket shelf! In the United States, you can find them at World Market, international supermarkets, and online.

Where can I learn more?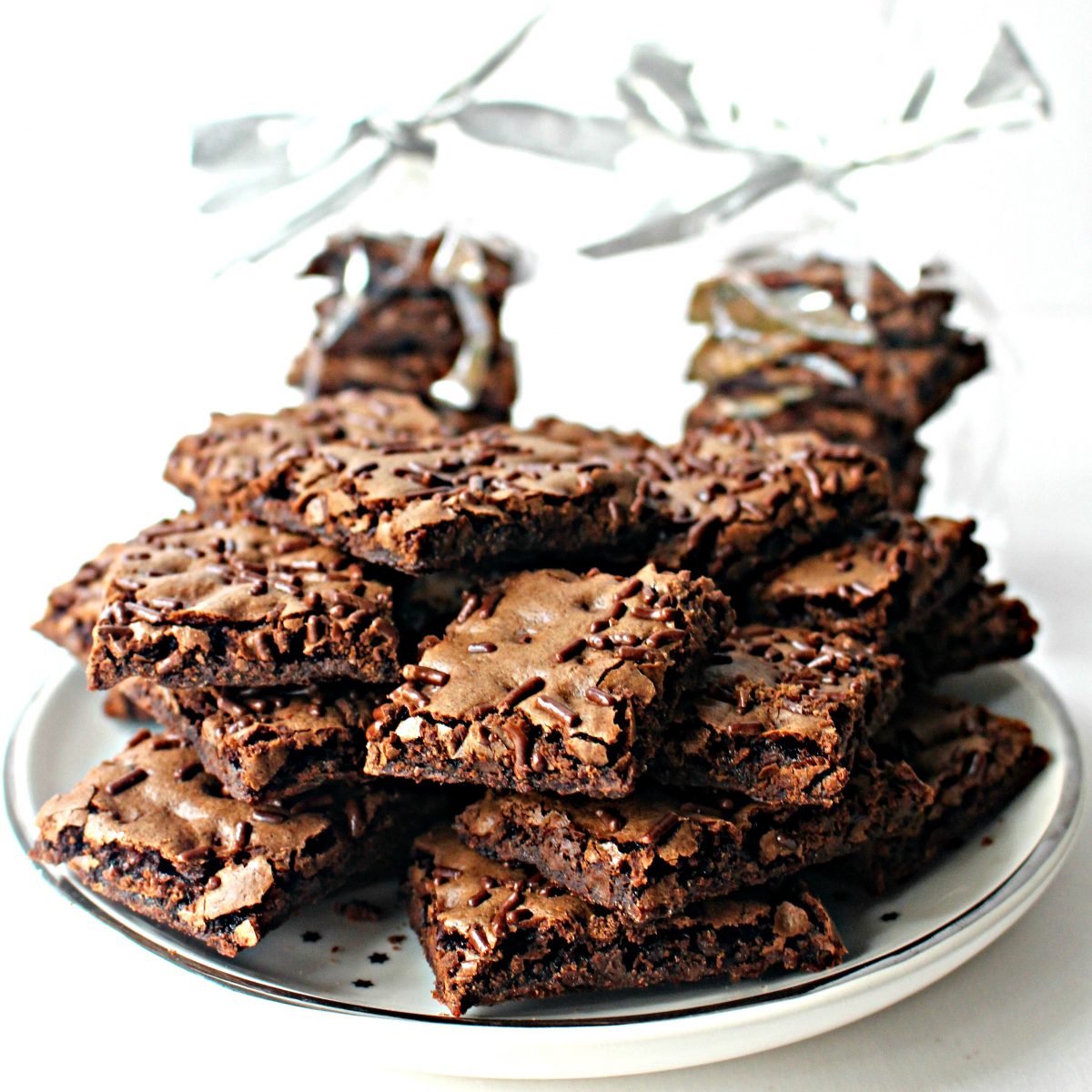 More chocolate cookies
Triple Chocolate Chunk Cookies have a rich, dark chocolate dough studded with white and milk chocolate chunks. A chocolate lover's dream cookie!
Chocolate Chip Mocha Cookies are chewy cookies with a chocolate and coffee dough full of chocolate chunks.
Marbled Chocolate Chunk Cookies are part chocolate cookie and part chocolate chunk cookie marbled together in a swirl of deliciousness!
If you loved this brownie bark, be sure to try our Brownie Brittle recipe with chocolate chips and Gluten Free Brownie Brittle.
Chocolate Coconut Cookies are like a Mounds candy bar in cookie form. These soft, chewy brownie cookies have chocolate chips and shredded coconut inside!
Ready to bake? Join the free membership group to get new recipes and a newsletter delivered to your inbox! You can also stay in touch on Facebook, Pinterest, and Instagram. I'd love to stay in touch!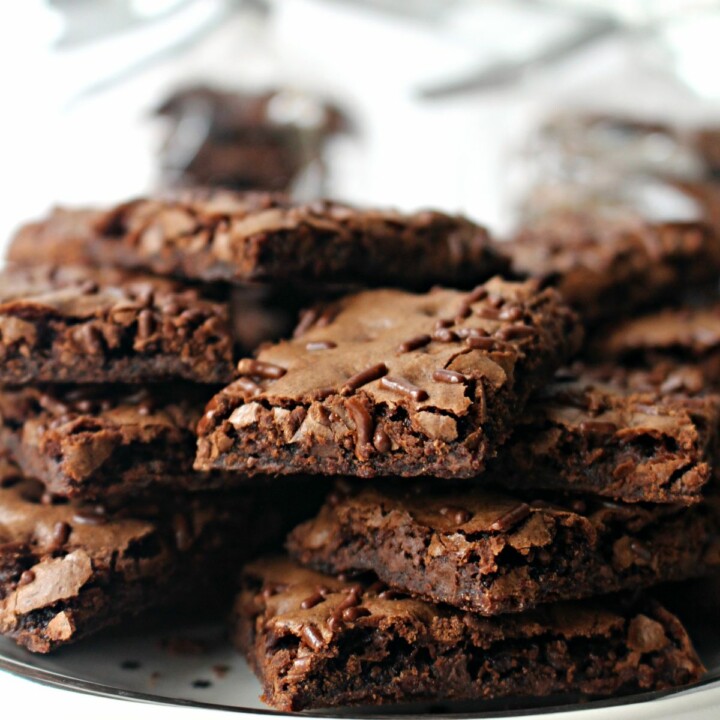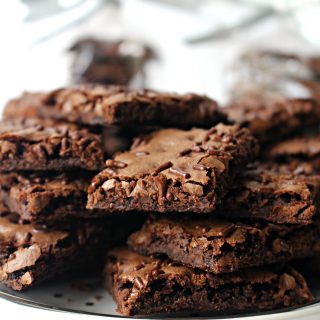 Malted Milk Brownie Bark
Super crunchy and super chocolaty brittle brownie cookie squares.
Print
Rate
Adapted From:
King Arthur Flour
Ingredients
½

cup

all-purpose flour

¼

teaspoon

salt

¼

teaspoon

baking soda

2

tablespoons

cocoa powder

alkalized, Dutch process

2

tablespoons

malted milk powder

1

teaspoon

espresso powder

2

large egg whites

¾

cup

granulated sugar

¼

cup

vegetable oil

1

teaspoon

vanilla extract

1

tablespoon

powdered milk

½

cup

mini chocolate chips

4-5

tablespoons

sprinkles
Instructions
Preheat oven to 325° F. Line a baking sheet with parchment paper.

In a medium bowl, whisk together flour, salt, baking soda, cocoa, malt powder, and espresso powder. Set aside.

In the bowl of an electric mixer, whisk the egg whites until foamy.

Mix in the sugar, oil, and vanilla.

Whisk in the powdered milk, then add flour mixture and mix until combined. (The batter will resemble cake batter in consistency.)

Stir in chocolate chips.

Pour the batter onto the prepared baking sheet and use a spatula to spread, as thin as possible, into a rectangle approximately 10.5" x 12.5".

Distribute sprinkles over batter.

Bake for 20 minutes. Remove from the oven and use a pizza wheel to cut the brownie crunch into squares. Do NOT separate.

Return to oven and bake an additional 5 minutes.

Remove from the oven and allow to cool completely on the baking sheet before separating cookie pieces. The Brownie Crunch crisps as it is cooling. If for any reason the cookies aren't completely crisp once cool, return them to the oven for a few minutes of extra crisping time.

Store in an airtight container at room temperature for 2-3 weeks.
Notes
For dark chocolate color, use Dutch process (alkalized) cocoa. Regular cocoa will work but the color will be lighter and the chocolate flavor not as rich.
Spread the batter as thin as possible, yet still solid without holes, approximately 10 ½ by 12 ½ inches.
Packing tips
Double wrap short stacks of 4 or 5 pieces of Brownie Crunch in plastic wrap before placing in airtight containers.
Make sure to pack without wiggle room using tissue paper if necessary.
Plastic storage containers offer more protection than ziplock bags against breakage.
Nutrition
Calories:
42
kcal
|
Carbohydrates:
7
g
|
Protein:
1
g
|
Fat:
2
g
|
Saturated Fat:
1
g
|
Trans Fat:
1
g
|
Cholesterol:
1
mg
|
Sodium:
21
mg
|
Potassium:
9
mg
|
Fiber:
1
g
|
Sugar:
5
g
|
Vitamin A:
6
IU
|
Vitamin C:
1
mg
|
Calcium:
5
mg
|
Iron:
1
mg
First Published: November 5, 2018. Last Updated: April 13, 2022. Updated for additional information and better reader experience.