Hobnob Oat Cookies, lightly sweet oat biscuits with a crunch, are one of the most popular cookies in the United Kingdom. Hobnobs are simple, but delicious, the kind of cookie one grows up with, like a graham cracker in the United States.
Just as Americans sometimes embellish graham crackers with chocolate, the British also enjoy Chocolate Covered Hobnobs, which turn the plain digestive biscuit into something special. Easily making Chocolate Covered Hobnob Oat Cookies at home is extra special.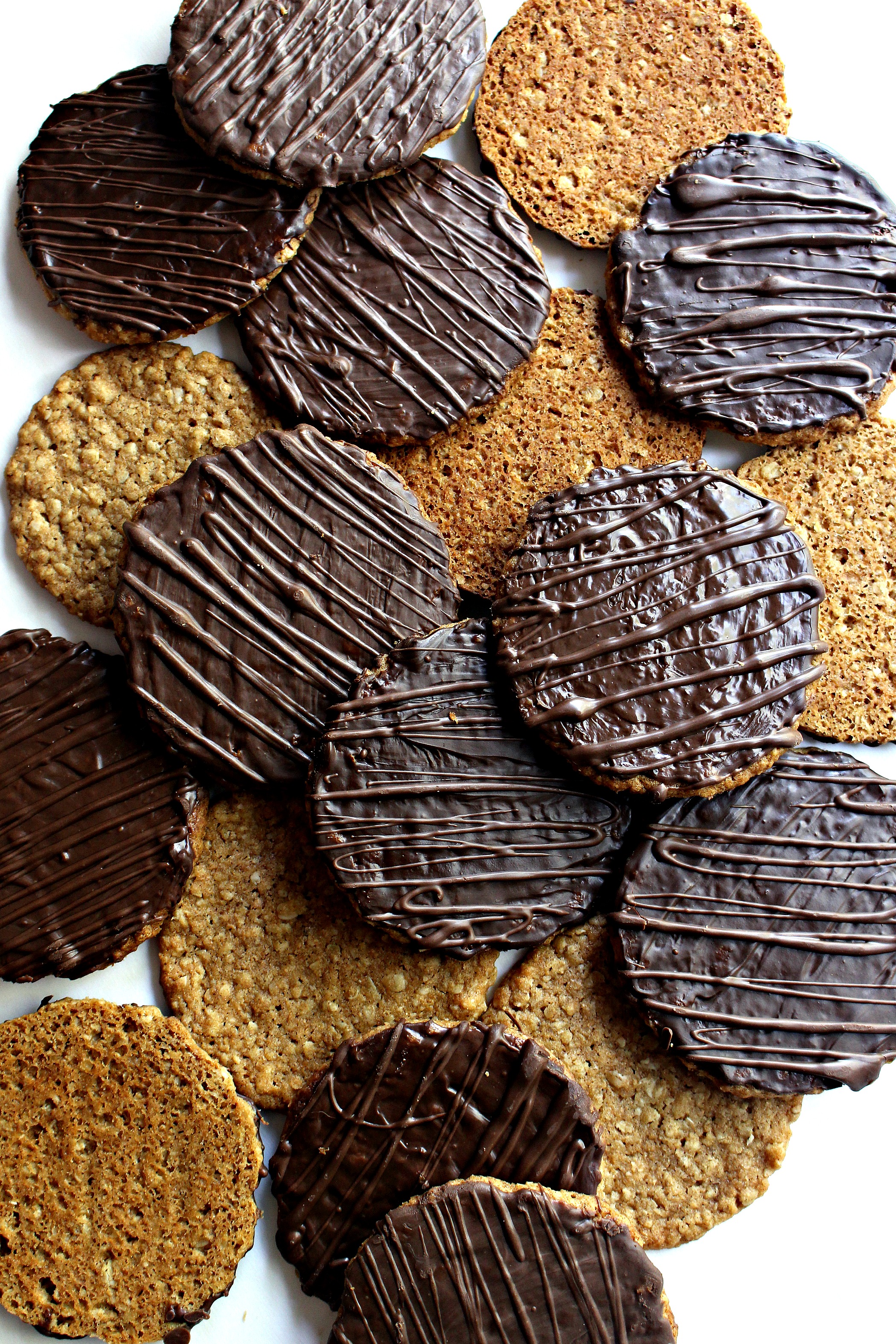 This post is a good chocolate news/bad chocolate news sort of post. The good news is these Chocolate Covered Hobnob Oat Cookies. The bad news is that I recently discovered some disturbing truths about the harvesting of cocoa (used to produce chocolate).
Warning: Ignorance is bliss. Maybe these truths are old news to you. The BBC exposed this story fifteen years ago. I have apparently been living under a rock and only this week learned that human trafficking, child slavery, and abusive labor practices are widely used in West Africa in the harvesting of 70 % of the world's cocoa.
That is why the fair trade label is so important on chocolate. The label lets the informed consumer know that no slave labor was used the production of that chocolate.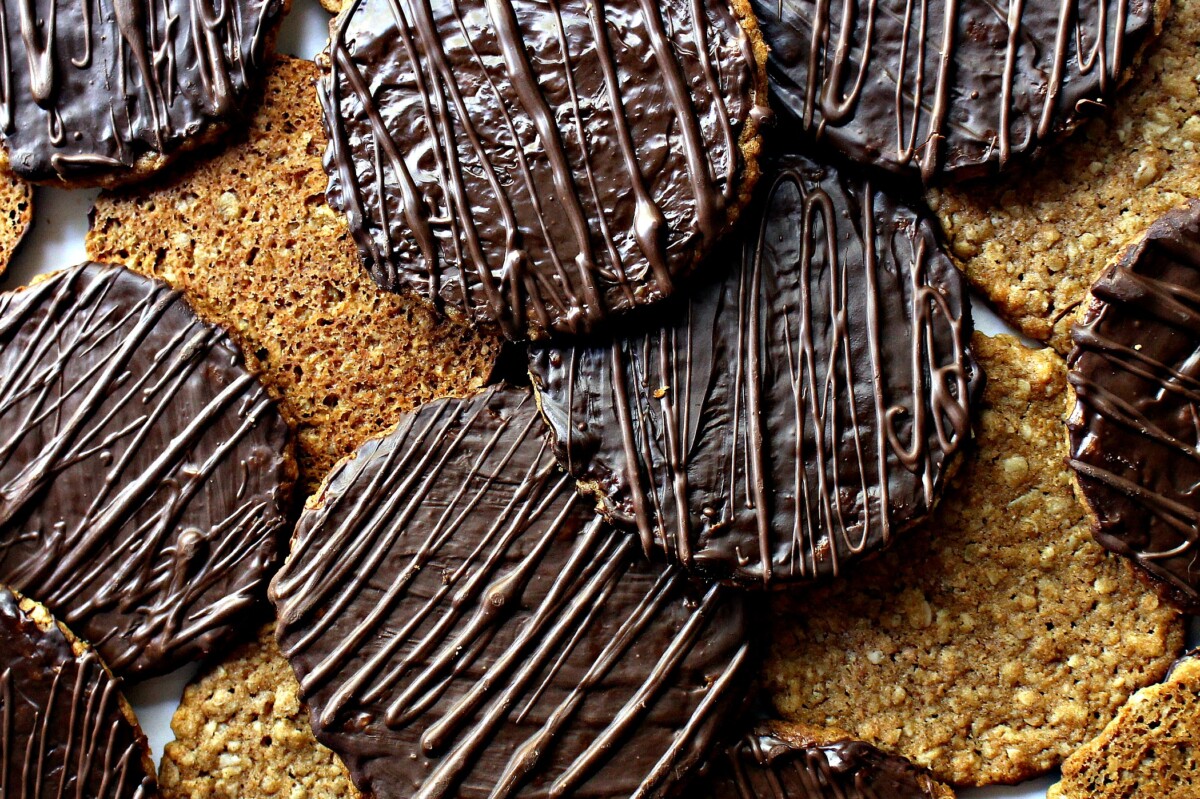 Instead of routinely writing a post describing the care package virtues of Chocolate Covered Hobnob Oat Cookies, I spent the last week researching and reading about the atrocities, poverty, politics, and change in the cocoa/chocolate industry. The reading changed my perspective toward the chocolate chips, cocoa, and chocolate bars in my baking cabinet.
Major chocolate producers, including Nestle's, Mars, Hershey's, and Ferrero (Nutella) have pledged to work toward improving the human suffering involved in the West African cocoa trade. Several of the companies have pledged that by 2020 100% of their cocoa will come from farms certified for human rights compliance and sustainable agricultural practices. This infographic from Fortune Magazine helpfully consolidates many facts.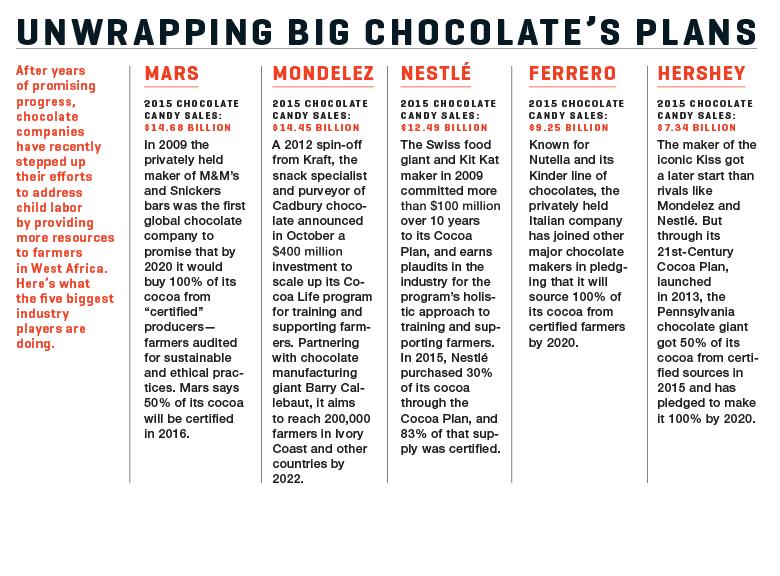 I also learned from information I found on Huffington Post , SlaveFreeChocolate.org, Fair Trade USA, and Oxfam. Read the reports. Do your own research.
Halloween candy bar season is here. Each person has to choose for themselves how to respond to this information. We define our own moral codes. I am sharing this information because I feel strongly that it is important to make a conscious, informed choice.
This is my choice. I applaud the major chocolate manufacturers for making the changes necessary to ensure that they meet their pledge goals, ensuring all cocoa purchased is from fair trade, slave free sources by 2020. Until 2020, I personally can not buy chocolate that is the product of child labor and slavery practices. From now on, Monday Box recipes will be made only with (what is to the best of my knowledge) ethically produced chocolate.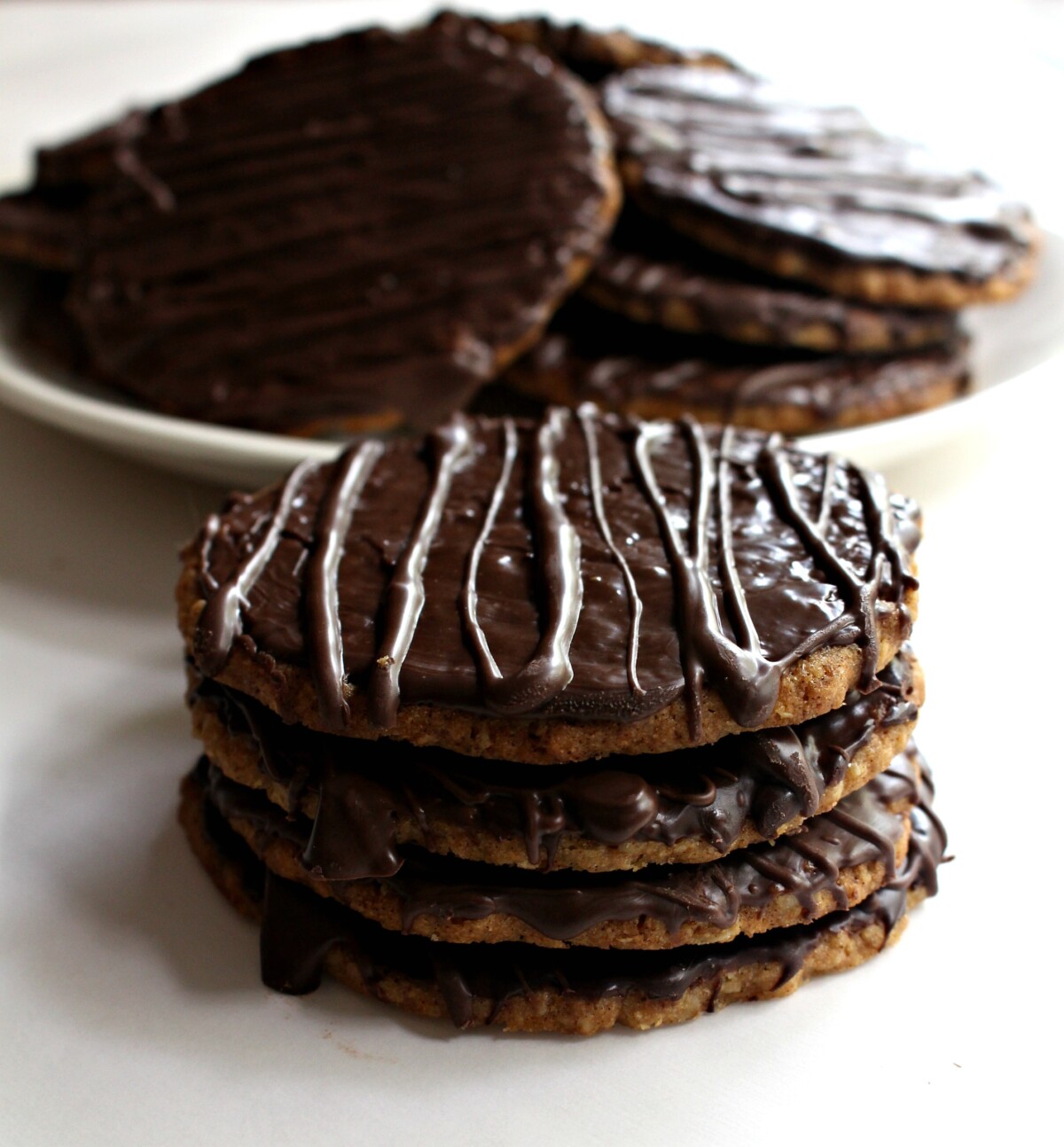 There are many bean to bar, organic chocolates that, though delicious, can be a lot more expensive than supermarket Nestle's or Hershey's brands, and may not be the best choice for everyday baking. Ethical practices can be more expensive.
However, not all ethically produced chocolate is costly. In the next few months I will be trying brands of cocoa and chocolate chips I haven't used before. I will let you know what I discover.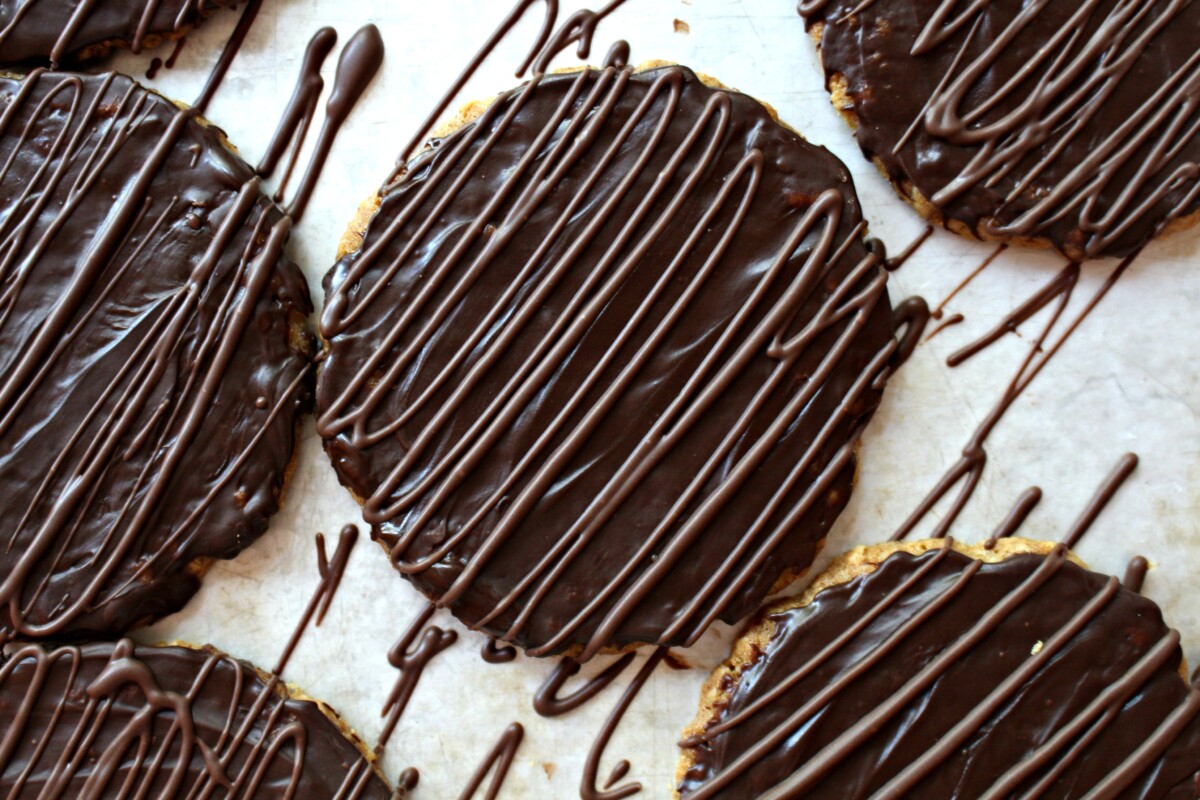 So these Chocolate Covered Hobnob Oat cookies really are good news! The crisp, oat cookie has wonderful flavor all on it's own, a combination of nutty oat flavor and caramel sweetness.
The recipe calls for Lyle's Golden Syrup as the sweetener. For those not yet familiar with golden syrup, this British favorite is a thick sugar syrup with the consistency of honey and a buttery, caramel flavor.
Though honey or corn syrup work as a substitute, Lyle's is readily available in the United States at World Market and many local grocery stores. I highly recommend keeping a bottle on hand! Adding a chocolate coating takes Hobnobs up a notch on the wonderful cookie scale.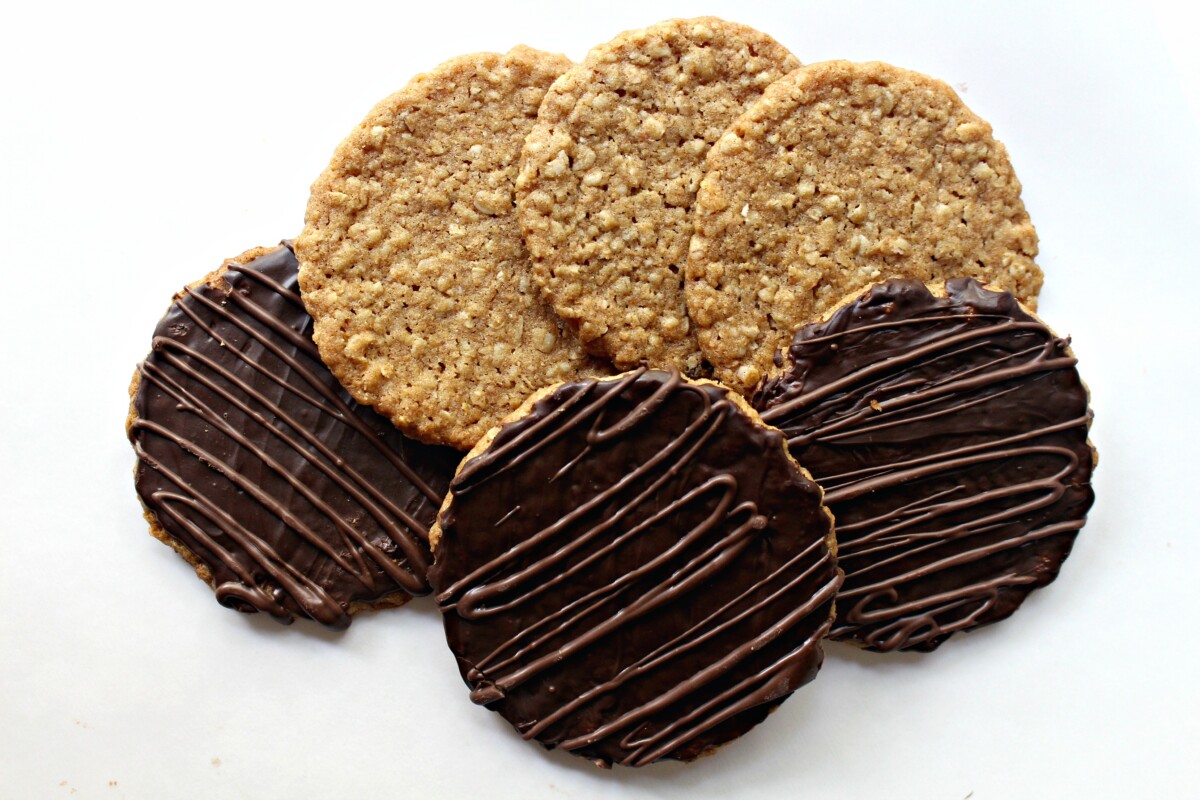 In the UK, they might put the kettle on for tea with a plate of Chocolate Covered Hobnob Oat Cookies (though they would call them biscuits).
In the US, we might be more likely to brew a pot of coffee, or pour a glass of milk, to go with these crunchy oat cookies.
Whichever your beverage of choice, these are a delicious cookie choice!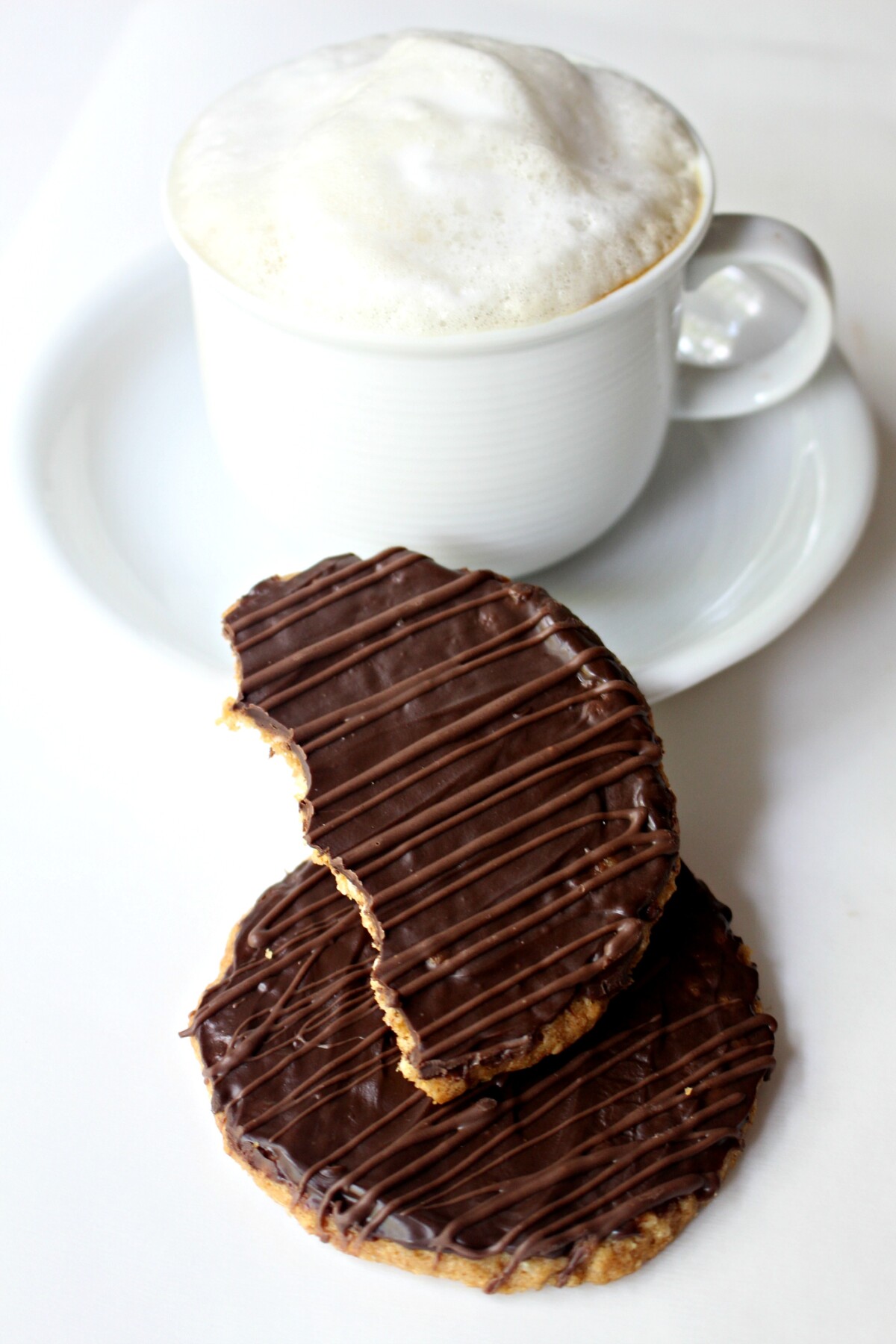 More British cookies
Shrewsbury Biscuits are crisp lemon cookies that make a perfect tea time treat!
Scottish Shortbread is amazingly simple and amazingly delicious. Five simple ingredients to make this special, melt in your mouth butter cookie.
Garibaldi Biscuits, also known as Sunshine Raisin Biscuits in the US, are lightly sweet cookies for raisin lovers. A layer of golden raisins is pressed between two layers of thin cookie dough, then cut into squares.
Ready to bake? Join the free membership group to get new recipes and a newsletter delivered to your inbox! You can also stay in touch on Facebook, Pinterest, and Instagram. I'd love to stay in touch!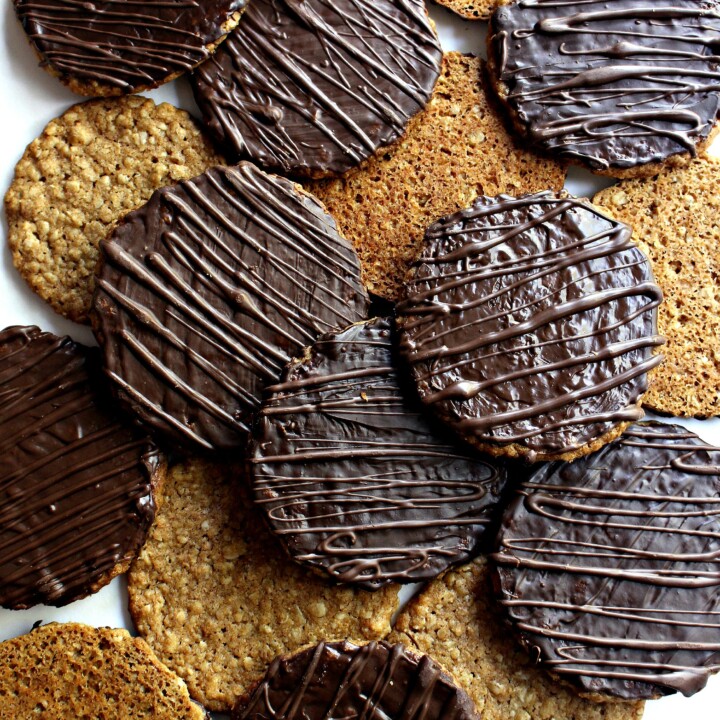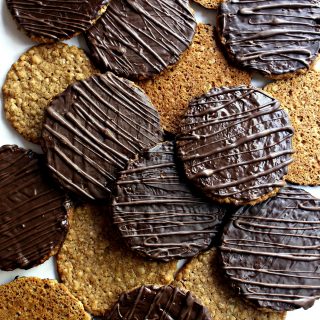 Chocolate Covered Hobnob Oat Cookies
Crunchy oat biscuits, lightly sweetened and dipped in chocolate.
Print
Rate
Adapted From:
Butterbaking.com
Ingredients
Cookies
9

tablespoons

unsalted butter

room temperature

½

cup

brown sugar

packed

2

tablespoons

Lyle's Golden Syrup

honey or corn syrup may be substituted

1

cup

quick cook oats

¾

cup

whole wheat flour

½

teaspoon

baking soda

½

teaspoon

baking powder

½

teaspoon

salt
Topping
1

cup

dark chocolate melting discs

2

tablespoons

white chocolate melting discs
Instructions
Preheat oven to 350° F. Line a baking sheet with parchment paper.

In a medium bowl, whisk to combine the oats, flour, baking soda, baking powder, and salt. Set aside.

In the bowl of an electric mixer, cream together the butter and sugar. Mix in the golden syrup.

Gradually beat the oat mixture into the butter mixture.

Using a small (1 tablespoon) scoop, portion dough onto the prepared baking sheet about 2 inches apart.

Press the dough balls into ¼ inch thick discs (about 2 inches in diameter).

Bake for 10 minutes, until golden brown.

Cool completely on baking sheet, before storing or topping with chocolate.

CHOCOLATE TOPPING:

Melt dark chocolate discs in the microwave at 50% power for 1 minute. Stir. If not completely melted, return to the microwave for 10-15 seconds. Repeat stirring and melting until all of the discs have melted.

For best shiny results, work in small batches of 4 cookies. Thinly spread about 1-2 teaspoons of melted chocolate on top of each cookie. Place in the refrigerator until set.

For a lighter color of chocolate drizzle, add white chocolate discs to the remaining melted dark chocolate. Microwave at 50% for 30 seconds- 1 minute or until melted.

Using a spoon, drizzle the lighter colored chocolate over the dark chocolate. Refrigerate again to set the drizzle before storing.

May be stored for at least 2 weeks at room temperature in an airtight container with wax paper between layers.
Notes
Packing tips
Hobnobs without chocolate topping are excellent care package cookies year round.
Only use chocolate topping during cool weather.
Wrap pairs of cookies, bottoms together, in plastic wrap before storing in columns in an airtight container or zip lock bag.
Alternatively, layer cookies with wax paper in an airtight storage container, using crinkled waxed paper on the top to ensure that there is no wiggle room. Wrap the entire storage container in plastic wrap.
Nutrition
Calories:
149
kcal
|
Carbohydrates:
16
g
|
Protein:
2
g
|
Fat:
9
g
|
Saturated Fat:
5
g
|
Polyunsaturated Fat:
1
g
|
Monounsaturated Fat:
2
g
|
Trans Fat:
1
g
|
Cholesterol:
13
mg
|
Sodium:
92
mg
|
Potassium:
97
mg
|
Fiber:
2
g
|
Sugar:
9
g
|
Vitamin A:
147
IU
|
Vitamin C:
1
mg
|
Calcium:
22
mg
|
Iron:
1
mg
Save
Save
Save
Save
Save
Save
Save