Chocolate Mint Sandwich Cookies are crunchy cookies sandwiched with luscious, creamy chocolate mint centers. They are a crispy cookie that is sturdy enough for care package shipping.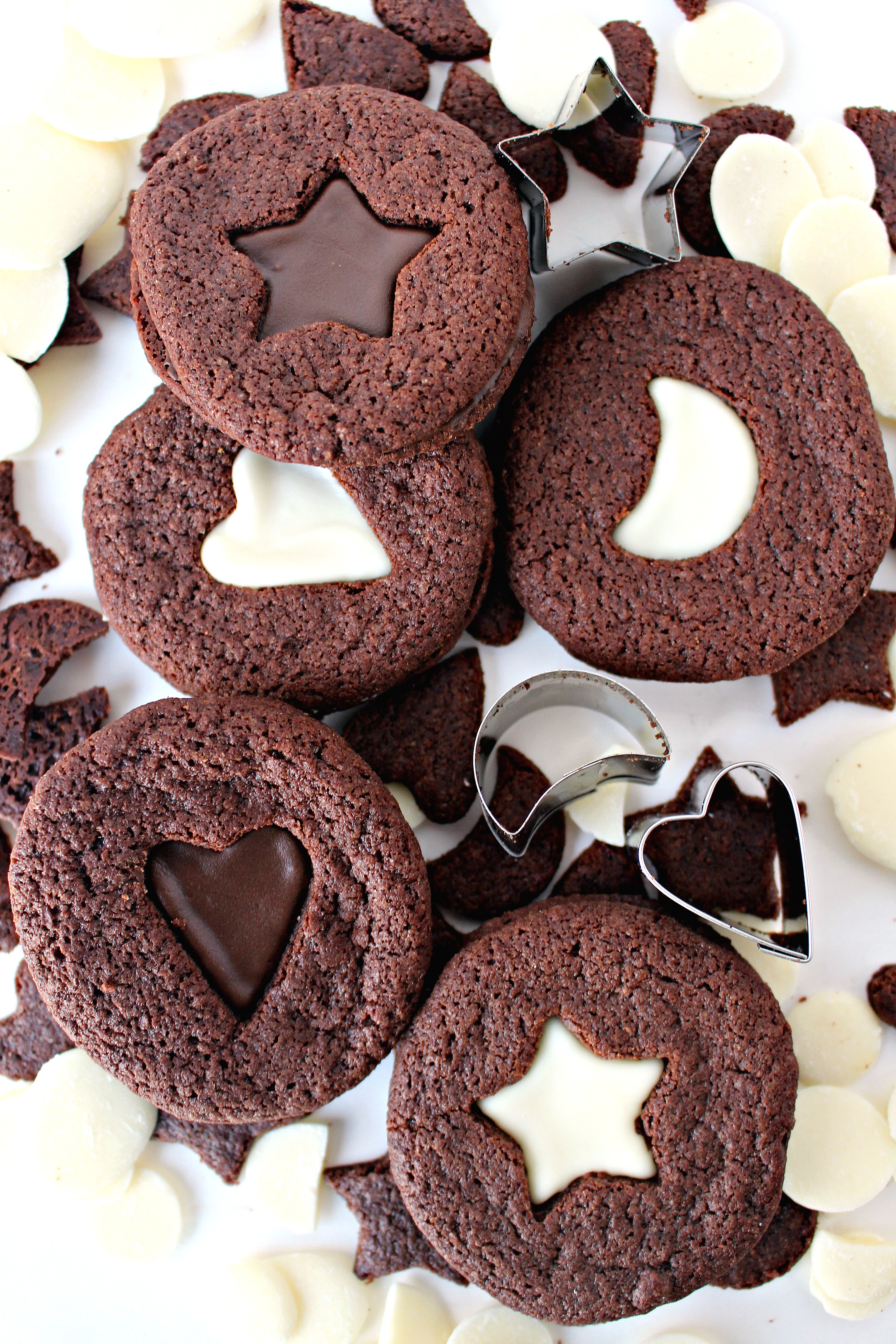 Before we talk cookies I want to talk adjectives. Specifically, the word "crunchy". I love language. Not surprisingly, I spend a tremendous amount of time reading food blogs.
What may surprise you, based on the content of The Monday Box, is that many of the food blogs I follow specialize in vegetarian, "healthy" recipes. After all, life is about balance.
Through all of this health food reading, I became familiar, and then accustomed to, "crunchy" taking on a meaning beyond Webster's definition of crisp or brittle. According to Urban Dictionary (my son is now cringing at the thought that his aged mother even knows that Urban Dictionary exists) "crunchy" can now mean health-conscious and environmentally aware.
When I used "crunchy" that way in a conversation with my above mentioned 20-something son and his girlfriend, neither had any idea what I was talking about. Either they don't hang out with health conscious environmentalists or score one for Trendy Mom. I will take the score.
This has nothing at all to do with Crunchy Chocolate Mint Sandwich Cookies, which are crunchy only in the traditional sense, but I now smile every time I use the word "crunchy". I so rarely know anything before my kids, that I just had to gloat a bit.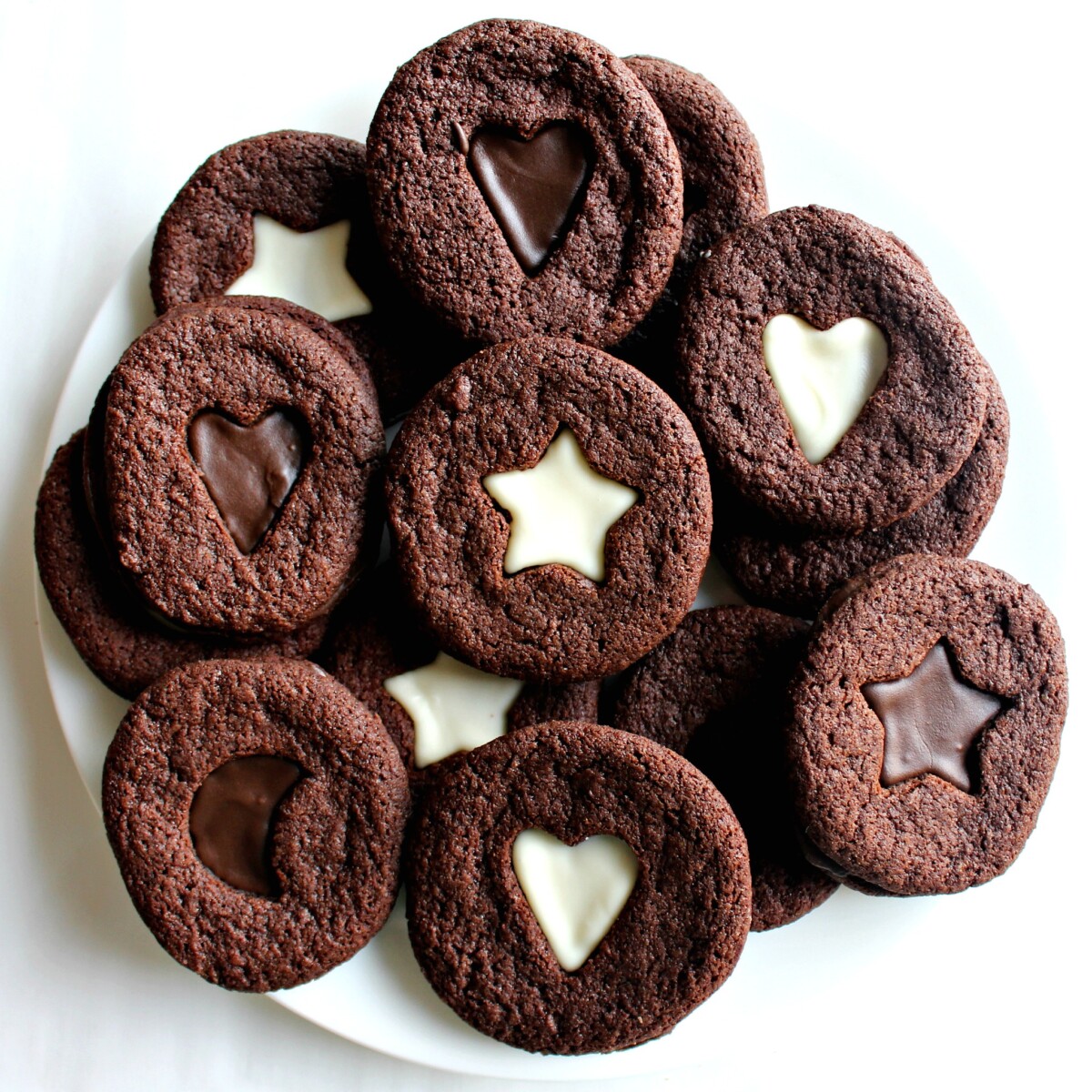 On to cookies. Chocolate mint is an especially popular flavor combo from Christmas through St. Patrick's Day.
Those holidays, plus annual Girl Scout cookie mania, serve to remind us that chocolate and mint are meant for each other. The crisp chocolate cookie in this recipe is much like the chocolate wafers that are crumbled to make pie crusts.
They are THAT crisp and chocolaty. They make a crunch sound when you bite them. They are delicious on their own, just not practical for mailing. Chocolate-mint filling makes Crunchy Chocolate Mint Sandwich Cookies sturdy enough for care packages and upgrades this simple chocolate wafer with the addition of mint.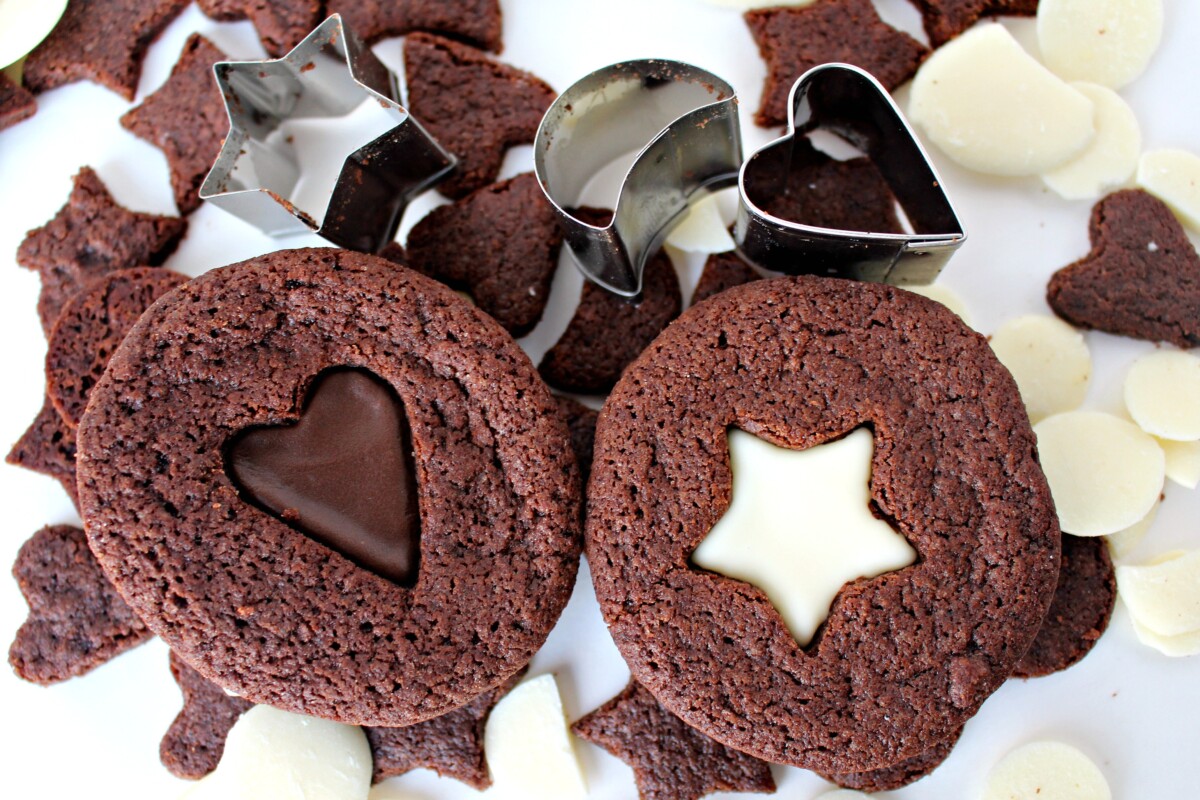 The cookies are super easy to make. The dough is formed into a log, chilled, then thinly sliced for baking. Immediately after removing the cookies from the oven, a cut-out of any shape is made at the center of half of the cookies.
Melted chocolate is combined with a few drops of peppermint oil for the filling. It is important to note that peppermint oil and peppermint extract are NOT the same thing. Peppermint extract has added water and alcohol which would cause melted chocolate to seize, becoming thick and unspreadable.
The filling is spread on a cookie without a cut-out, then topped with a cookie with a cut-out, allowing the chocolate filling to show through. White, milk, or dark chocolate can be used depending on your preference.I used half white chocolate and half dark chocolate.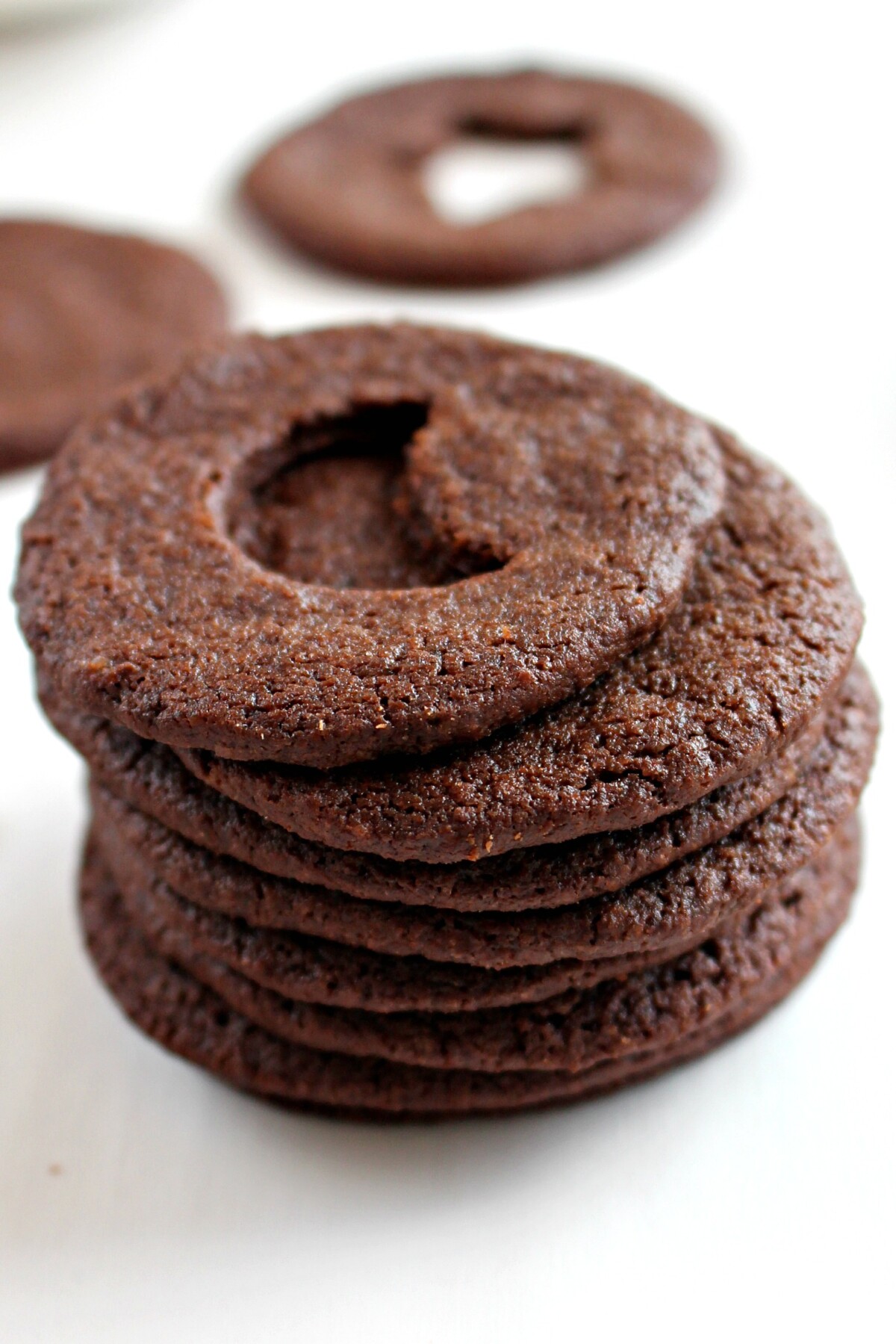 There are many good reasons to bake Crunchy Chocolate Mint Sandwich Cookies. They are delicious to eat and so pretty to look at.
They ship well and stay fresh for up to 2 weeks. And should you want to score points in the language trends department, serving Crunchy Chocolate Mint Sandwich Cookies could be a conversation starter!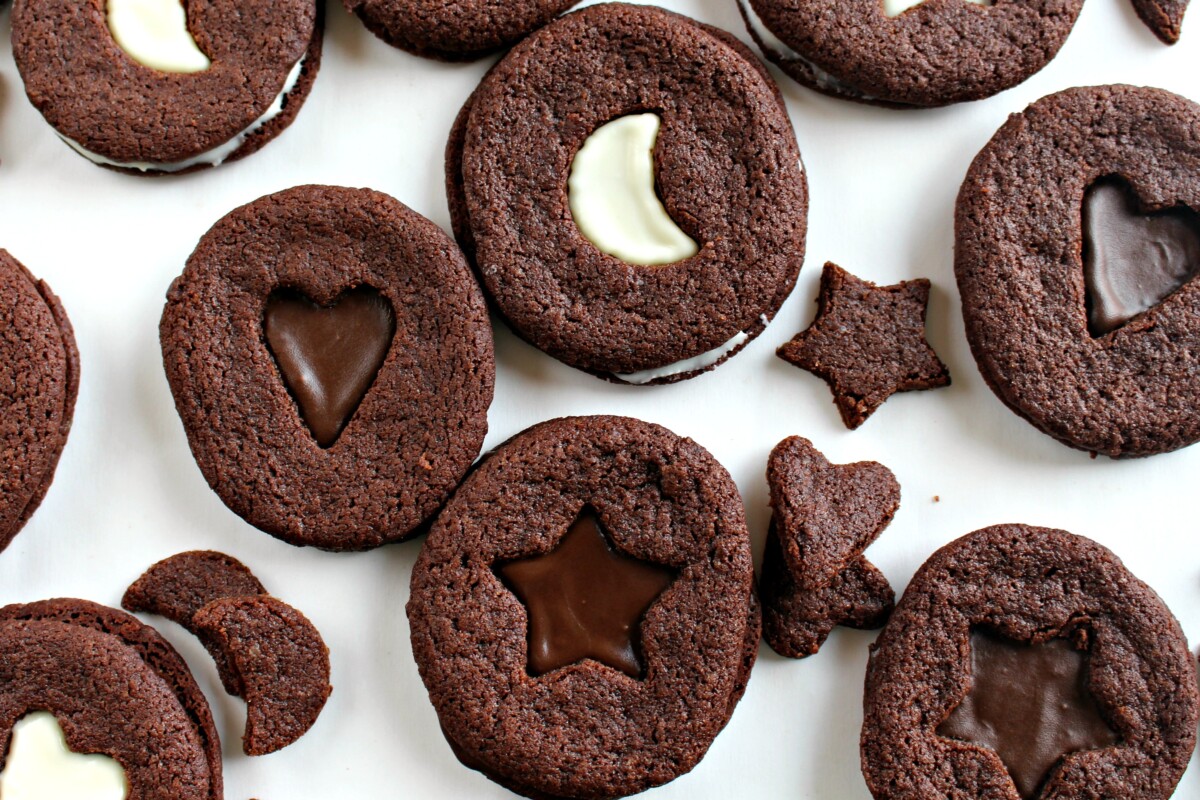 More crunchy cookies
Chocolate Covered Chocolate Mint Cookies are Thin Mints copycat cookies!
Lemon Poppy Seed Cookies taste like the popular muffin flavor packed into a lovely, crunchy cookie.
Brownie Brittle is thin, crispy brownie chips with lots of crunch!
Malted Milk Brownie Bark is a crunchy treat that's easy to eat by the bowl full.
Orange Ginger Turmeric Cookies are butter cookies with delicious spiced citrus flavor.
Ready to bake? Join the free membership group to get new recipes and a newsletter delivered to your inbox! You can also stay in touch on Facebook, Pinterest, and Instagram. I'd love to stay in touch!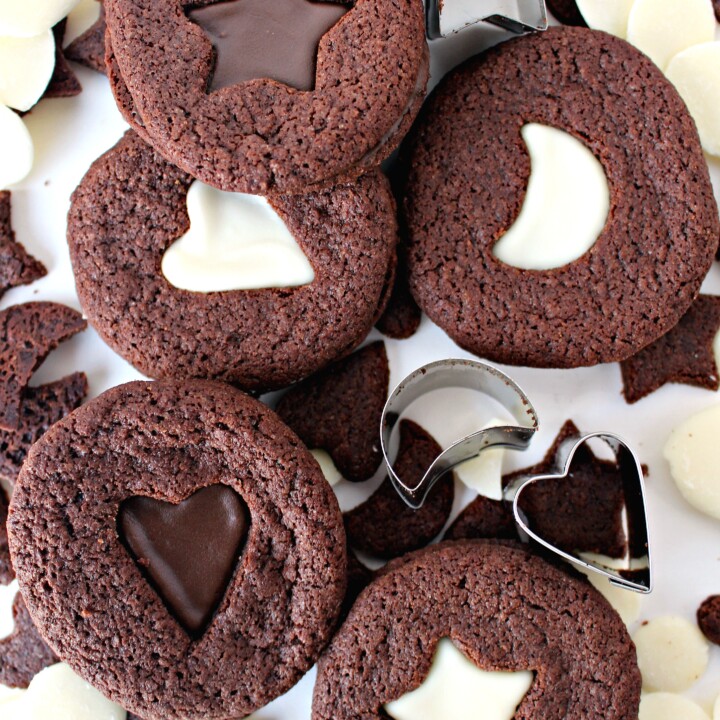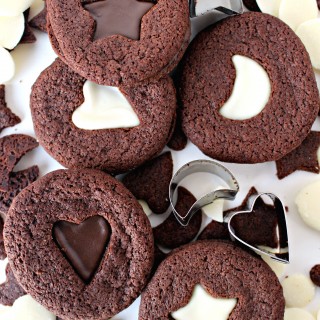 Crunchy Chocolate Mint Sandwich Cookies
Crunchy chocolate sandwich cookies with creamy chocolate mint centers.
Print
Rate
Adapted From:
"Chewy Gooey Crispy Crunchy" by Alice Medrich
Ingredients
1 ½

cups

unbleached all-purpose flour

¾

cup

unsweetened natural cocoa powder

1

cup

plus 2 tablespoons granulated sugar

¼

teaspoon

salt

14

tablespoons

unsalted butter

slightly softened and cut into tablespoon chunks

3

tablespoons

milk

1

teaspoon

vanilla extract

1 ½

cups

melting chocolate

3

drops Peppermint oil

not extract
Instructions
In a food processor pulse together flour, cocoa, sugar, salt, and baking soda.

Add the butter and pulse a few times.

In a small bowl, combine the milk and vanilla. Then add to the processor bowl and run until a dough forms.

Turn the dough out into a mixing bowl and knead a few times to fully incorporate all of the ingredients.

On a sheet of wax paper, form the dough into a log about 14" long. Wrap the log in wax paper and refrigerate until firm, about 1 hour.

When ready to bake: Preheat the oven to 350° F. Line 2 baking sheets with parchment paper.

Slice the dough log into thin slices, 6 slices per inch. The dough should slice easily without crumbling or losing its shape. If the slices crumble, allow the dough to warm slightly. If the dough loses its shape, return it to the refrigerator to firm. Place the dough slices at least 1" apart on the prepared baking sheet.

Bake for about 7 ½ minutes. The cookies will puff up slightly while baking then deflate after about 6 minutes. They are done 1 ½ minutes after they deflate.

Immediately after the cookies are removed from the oven, use a ⅞" cookie cutter in the center of half of the cookies. If the cutout does not come out with the cookie cutter, wait until the cookie has cooled to remove it.

Repeat the baking and making center cut-outs with the second baking sheet.

When all of the cookies have cooled completely, place the melting chocolate in a bowl and microwave for 1 minute at 50% power. Stir. If the chocolate is not completely melted and smooth, return to the microwave for 10 second intervals. Stir in 3 drops of peppermint oil. (Do not use peppermint extract which would cause the chocolate to seize and become unspreadable.)

Turn an uncut cookie bottom up. Spread ½ -1 teaspoon of the chocolate onto the cookie, then place a cookie with a cut-out on top of the melted mint chocolate. Repeat with all of the cookies.

Allow the chocolate to set completely (about 20 minutes) before storing in an airtight container at room temperature for up to 2 weeks.
Notes
Packing tips
Double wrap pairs of cookies, bottoms together, in plastic wrap. Pack snuggly in columns in freezer weight zip lock bags or airtight storage containers.
Nutrition
Calories:
76
kcal
|
Carbohydrates:
10
g
|
Protein:
1
g
|
Fat:
4
g
|
Saturated Fat:
3
g
|
Polyunsaturated Fat:
1
g
|
Monounsaturated Fat:
1
g
|
Trans Fat:
1
g
|
Cholesterol:
11
mg
|
Sodium:
16
mg
|
Potassium:
33
mg
|
Fiber:
1
g
|
Sugar:
5
g
|
Vitamin A:
124
IU
|
Calcium:
5
mg
|
Iron:
1
mg