Orange Ginger Turmeric Cookies taste like sunshine. Ginger gives these citrusy biscuits a bit of zing and a touch of turmeric creates smooth warmth and yellow color. The glaze provides an additional layer of sweetness and spices. An excellent summer treat!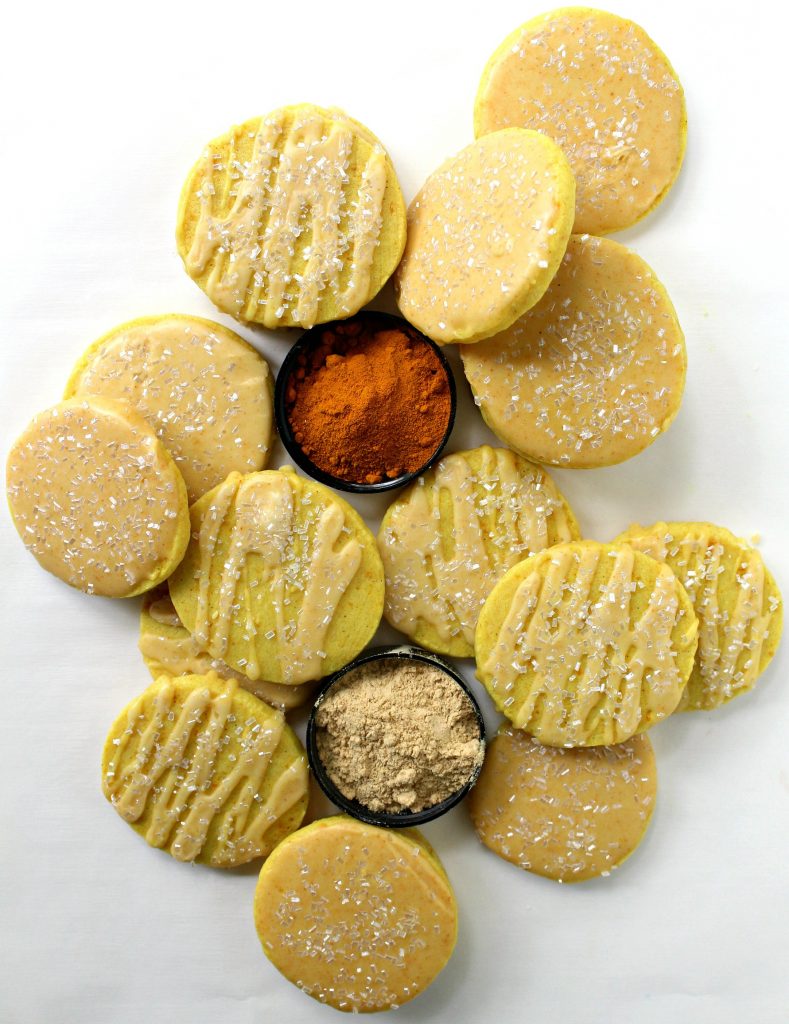 Are you a coffee or a tea person? I love coffee, both for its flavor and for the caffeine. Mornings don't officially start until I've had my first mug full of espresso strength coffee.
Tea is a different story. I drink tea to relax. Hot or cold, tea is soothing. Even tea with caffeine relaxes me. My favorite teas are fruity or floral.
Recently, I've been drinking a lot of Trader Joe's Ginger Turmeric tea. I think Trader Joe's chose that name because both turmeric and ginger are trendy buzz words. The ingredients do include those herbs, but the tea is bursting with orange flavor from orange zest and orange oil. (Aren't oranges trendy enough to make it into the name of the tea?)  
There is just enough ginger for flavor without being spicy, and the turmeric mostly adds color and smoothness. I hope the claims that these herbs are good for you are true, because I have been drinking this refreshing blend by the gallon! I'm so taken by this flavor combination, that I recreated it in Orange Ginger Turmeric Cookies!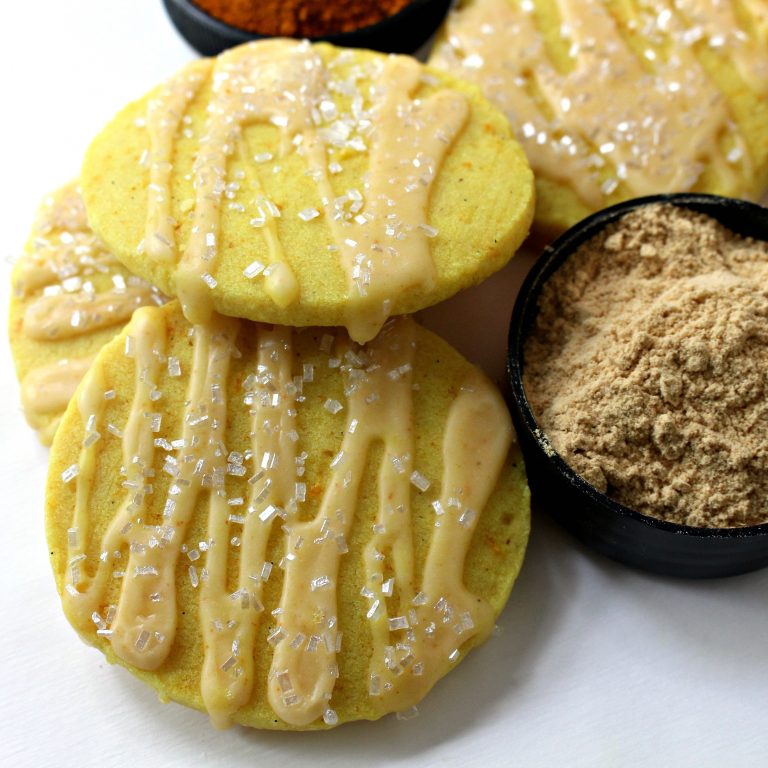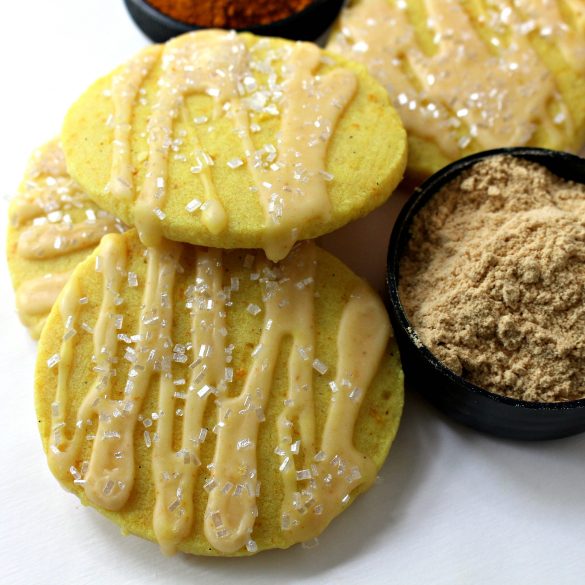 The no fuss dough for Orange Ginger Turmeric Cookies is super simple to throw together in a mixer or food processor. Once chilled, the log of slice-and-bake dough can be baked all at once, or stored in the freezer to slice a few cookies and bake when needed.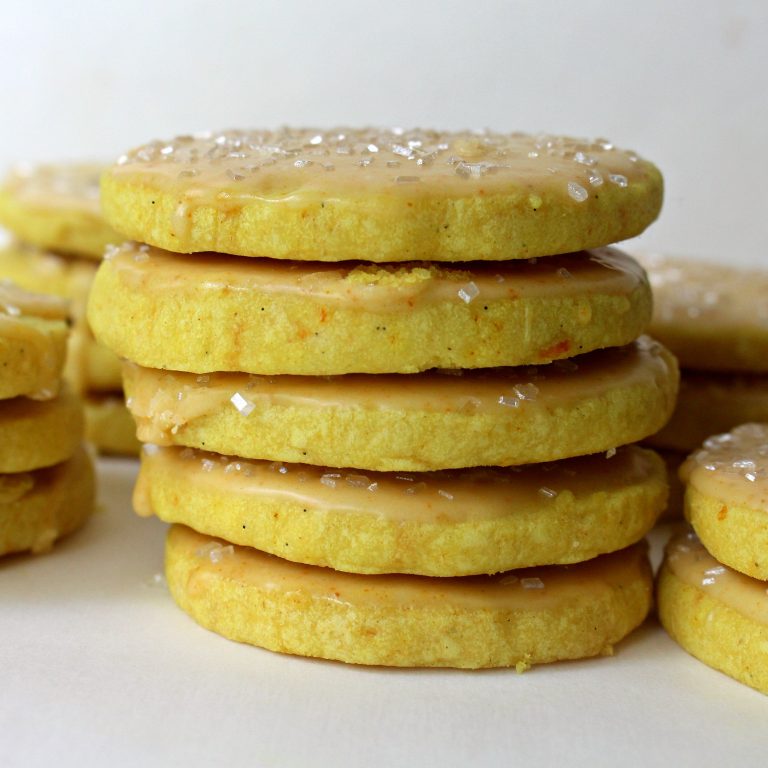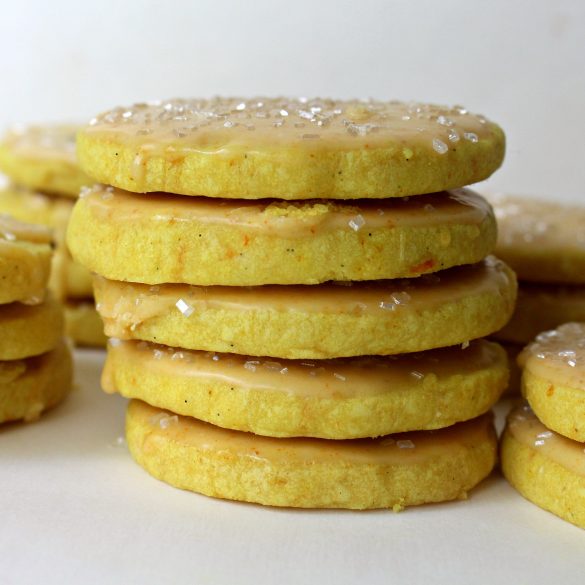 The drizzled glaze, sprinkled with decorating sugar, gives Orange Ginger Turmeric Cookies a lace-like look. One of my taste testers said the cookies looked like pieces of a wedding dress. That made me smile.
Generally, I have found that confectioners' sugar glaze, once completely dried, holds up well to shipping, even in the summer. However, this glaze is made with juice and can start to change color after a week. For longer storage time of up to two weeks, skip the glaze and just sprinkle the cookies with sugar before baking.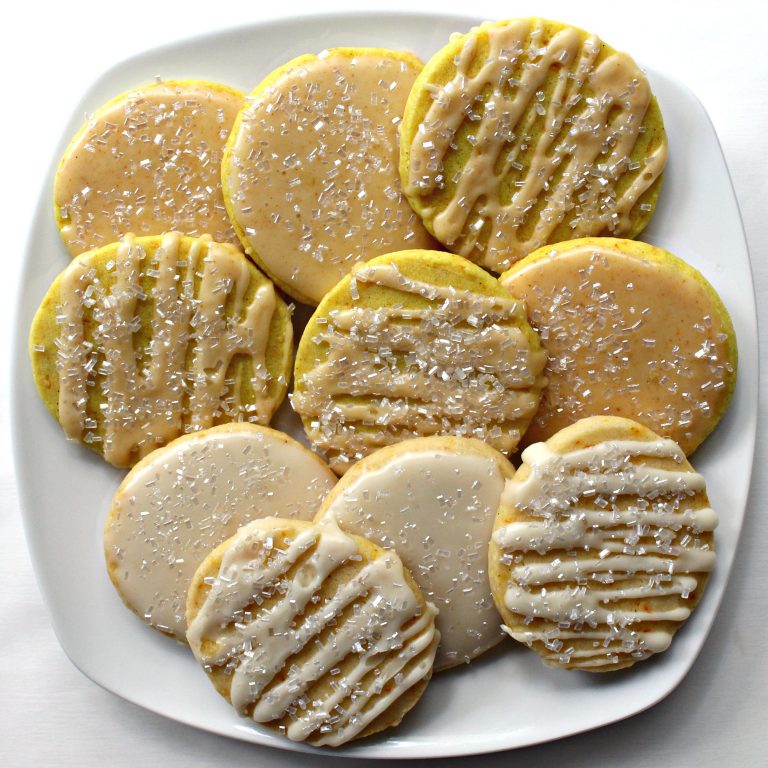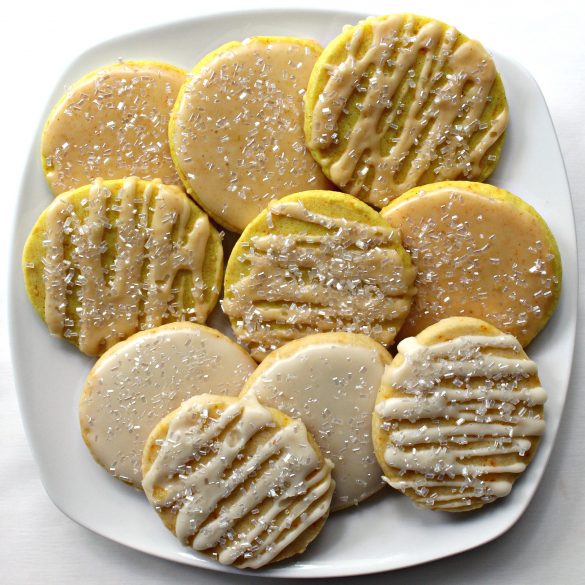 Orange Ginger Turmeric Cookies are lovely summer cookies. The bright refreshing flavors are perfect for a warm weather snack. They are also an easy cookie to make ahead and bake as needed for guests or care packages. Make sure to have a few of these cookie dough logs in your freezer for whenever you need a bit of sunshine!
NOTE: If you don't want the yellow color in the dough or icing, simply leave out the turmeric. I made a two batches; one with turmeric and one without. The white glaze in some of the photos shows the turmeric-less batch.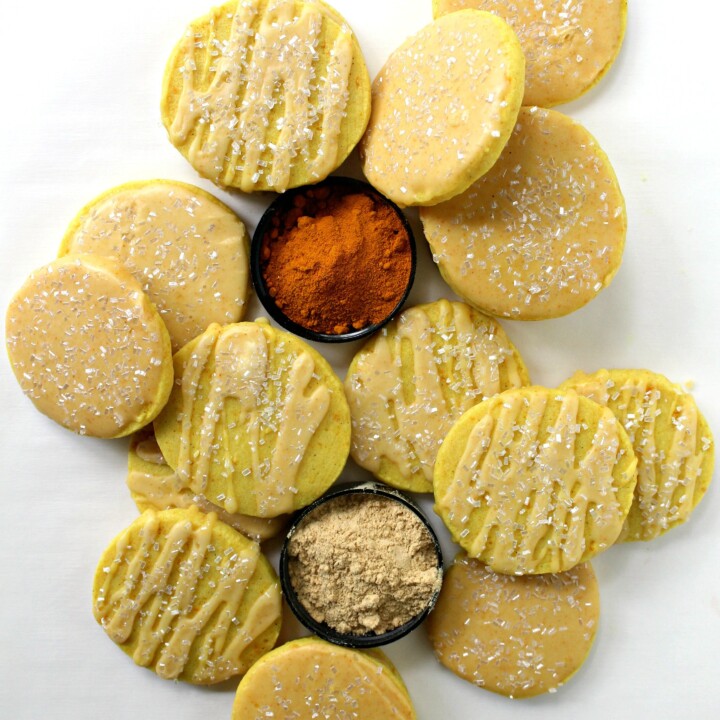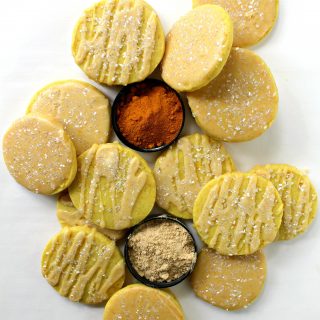 Orange Ginger Turmeric Cookies
Citrus butter cookies spiced with ginger and turmeric.
Print
Rate
Adapted From:
"The Good Cookie" by Tish Boyle
Ingredients
Cookies
2

cups

all-purpose flour

¾

cup

confectioners' sugar

¼

teaspoon

baking powder

¼

teaspoon

salt

1

tablespoon

orange zest

from 1 medium orange

½

teaspoon

ground ginger

½

teaspoon

turmeric

¾

cup

unsalted butter

cold, cut into tablespoon pieces

2

tablespoons

orange juice

1

teaspoon

vanilla extract

or vanilla paste
Glaze
¾

cup

confectioners' sugar

¼- ½

teaspoon

ground ginger

¼- ½

teaspoon

turmeric

4-6

teaspoons

orange juice

Large crystal decorating sugar

about 3 tablespoons
Instructions
In the bowl of an electric mixer (or food processor), combine the flour, confectioners' sugar, baking powder, salt, orange zest, ginger, and turmeric.

Add the pieces of butter and mix until the butter is in small pieces throughout the flour mixture.

In a small bowl, stir together the orange juice and vanilla. Pour into the mixer bowl and mix just until the dough forms.

Place the dough on a sheet of parchment paper and roll into an 8" log. Place the log into the center of the paper. Fold the parchment over the dough and push a ruler edge or dough scraper against the bottom edge of the log where it meets the parchment to remove air pockets and compress the dough into a log about 10" long.

Roll-up the log in the parchment paper, then place into a paper towel tube cut open lengthwise (to keep the bottom of the log rounded). Wrap the tube encased dough in plastic wrap and chill for at least 2 hours.

When ready to bake: Preheat oven to 325° F. Line a baking sheet with parchment paper.

Unwrap the dough and slice ¼" thick. Place on prepared baking sheet about 1" apart.

Bake for 12-15 minutes, or just until the bottom edges begin to turn golden. The surface should not brown. Remove from the oven and transfer the cookies to a wire rack to cool completely.

Prepare glaze: In a small bowl, combine the confectioners' sugar, ginger, and turmeric (optional). Add the orange juice, 1 teaspoon at a time, while mixing until a drizzling/spreading consistency is achieved.

With the wire cooling rack positioned over a sheet of wax paper (to catch drips) drizzle or spread the glaze over a few cookies at a time. Sprinkle immediately with large crystal decorating sugar. Allow the glaze to set completely for several hours before storing the cookies.

Store at room temperature in an airtight container. Glazed cookies stay fresh for at least 1 week. Cookies without glaze stay fresh for up to 2 weeks.
Notes
Packing tips
Double wrap pairs of cookies, with bottoms together, in plastic wrap. Stack bundles in airtight containers or freezer weight ziplock bags.
Nutrition
Calories:
80
kcal
|
Carbohydrates:
11
g
|
Protein:
1
g
|
Fat:
4
g
|
Saturated Fat:
2
g
|
Polyunsaturated Fat:
1
g
|
Monounsaturated Fat:
1
g
|
Trans Fat:
1
g
|
Cholesterol:
10
mg
|
Sodium:
20
mg
|
Potassium:
14
mg
|
Fiber:
1
g
|
Sugar:
5
g
|
Vitamin A:
122
IU
|
Vitamin C:
1
mg
|
Calcium:
4
mg
|
Iron:
1
mg