Chewy Lebkuchen are deliciously spiced cookie bars full of cinnamon and ginger flavor and topped with an orange ginger glaze. The spicy flavor develops over time, improving day by day if you can resist eating them!
I am an enthusiastic magnet for all things international. In high school I had the unlikely opportunity to befriend new immigrant classmates from Uganda.
Unlikely, because I went to high school in South Carolina at a time when the student body was definitely not multicultural. Before long, the Ugandan girls were members of my Senior Girl Scout troop and I was given lessons in wrapping a sari!
In college, long before Junior year abroad programs were common or popular, I immersed myself in Guatemalan culture for 9 months working in a Guatemala City daycare center and learning back strap loom weaving from an indigenous woman in a rural village.
In the years that followed I have met wonderful people and my life has been immeasurably enriched through friendship with individuals and families from Kenya, Peru, Japan, China, and Bosnia. I find it fascinating and so much fun to learn about cultures, languages, and ethnic foods.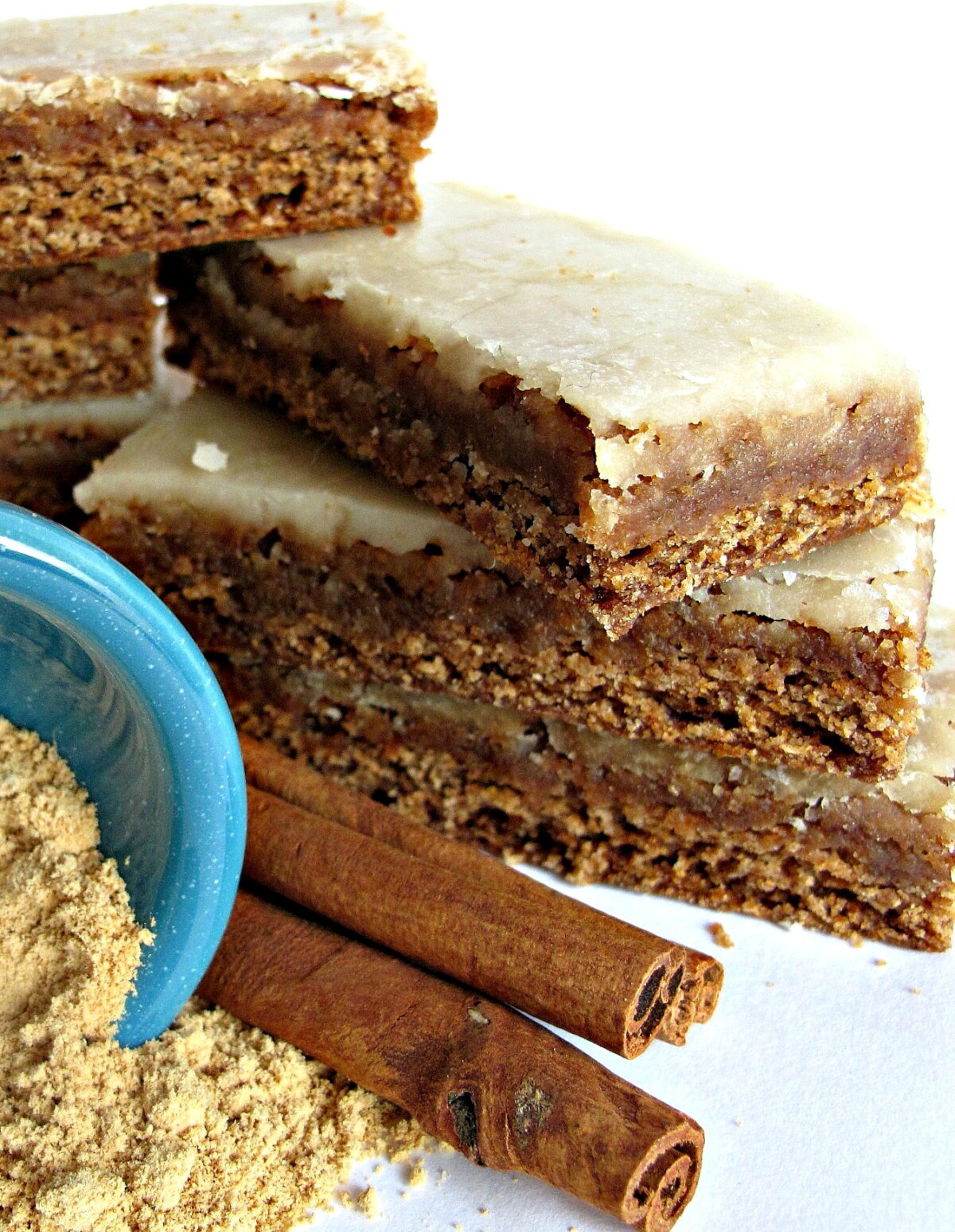 Unintentionally, my "international magnet" has influenced my Monday Box posts. I have already posted recipes from Australia, Scotland, Russia, Italy, and Eastern Europe.
Though I am obviously drawn to multicultural cookies, a delicious care package recipe is a delicious care package recipe wherever it may come from.
These German Cinnamon Ginger Lebkuchen bars more than qualify, as they are both delicious and fabulous for short or long distance sharing.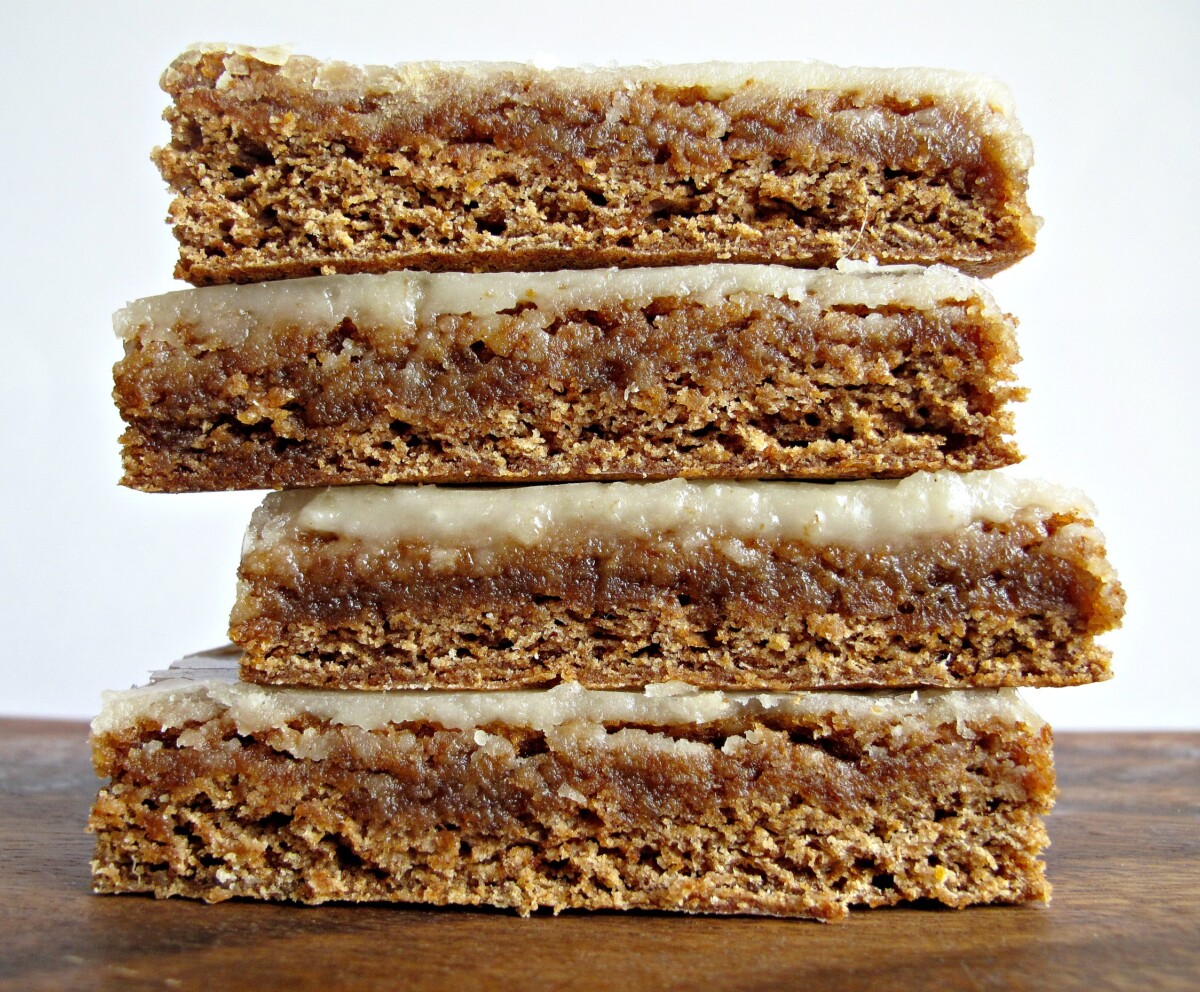 We are sometimes seasonal eaters having nothing to do with seasonally available ingredients. Some people only eat chocolate mint at Christmas. (Don't tell that to the Girl Scouts or the Andes Mints Company.)
Some people only eat red velvet around Valentine's Day. (I personally could do without red velvet altogether.) So I know that sharing a classic German Christmas cookie in February will raise some eyebrows, but I have several good reasons.
First, I only recently tried Lebkuchen, several weeks after the Christmas baking frenzy had ended. Lebkuchen is like a moist and cakey gingerbread and I love gingerbread. Waiting until next December to write about these bars was not an option.
Second, Lebkuchen may be the quintessential care package cookie/bar. They not only stays fresh for months but it actually improves with time! If you like a chewy bar/cookie and you like cinnamon and ginger, you will LOVE Lebkuchen.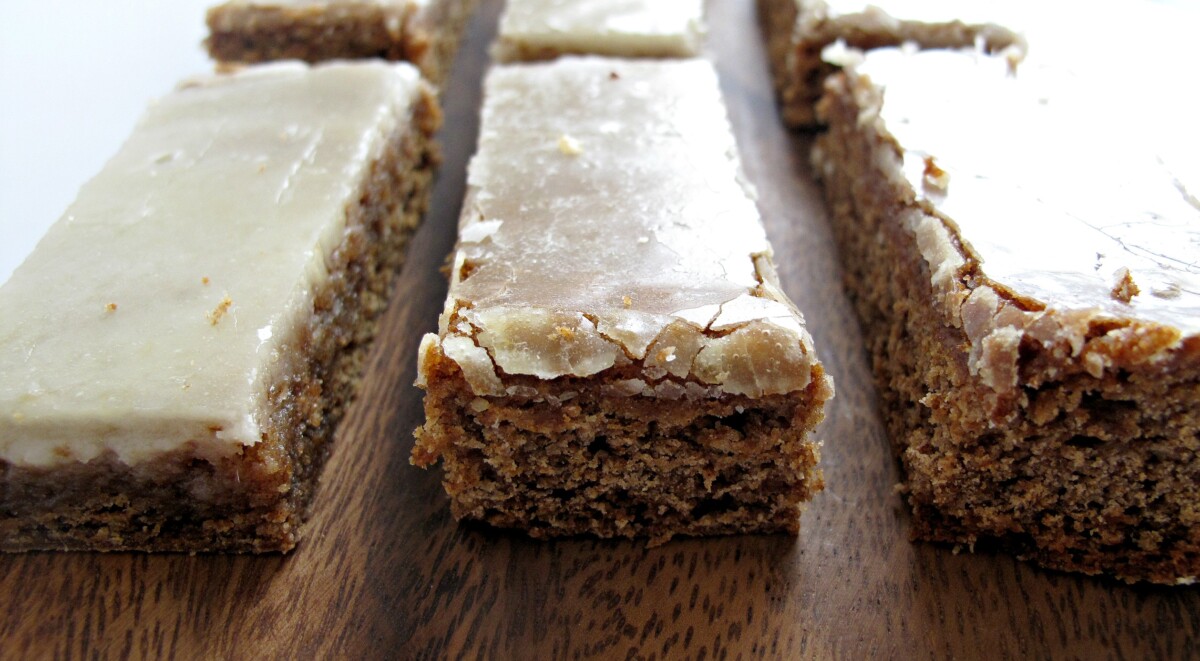 The original recipe comes from The Good Cookie by Tish Boyle. I love Ms Boyle's cookbooks because I find the recipes to be reliably delicious.
This one is no exception. I changed one thing in the directions because I admit to being on the overly cautious side when it comes to food poisoning potential.
The original directions call for letting the dough stand at room temperature overnight. With a raw egg in there, that just wasn't happening at my house. I refrigerated my dough overnight then allowed it to come to room temperature before spreading it in the baking pan.
I don't know if this had an effect on the ripening of the spices. I found the Lebkuchen bars were plenty spice-filled using the refrigeration method. I also changed the spices quite a bit for personal taste.
My version uses only cinnamon and ginger. If you are interested in trying the original traditional spices, the original recipe calls for 1 ½ teaspoons ground cinnamon, 1 teaspoon ground cardamom, ½ teaspoon ground cloves, ½ teaspoon freshly grated nutmeg, ½ teaspoon ground ginger.
Whichever version you choose, these chewy bars, full of spicy warmth, will disappear from the cookie tin long before their freshness diminishes.
Military Care Package Note: Lebkuchen are the best bar I have found to make the long journey in care packages to deployed military. However, because they contain butter and honey, I do not recommend them for hot weather shipping and have not labeled them "desert safe".
More German spice cookies
Vanillekipferl (German Vanilla Crescent Cookies)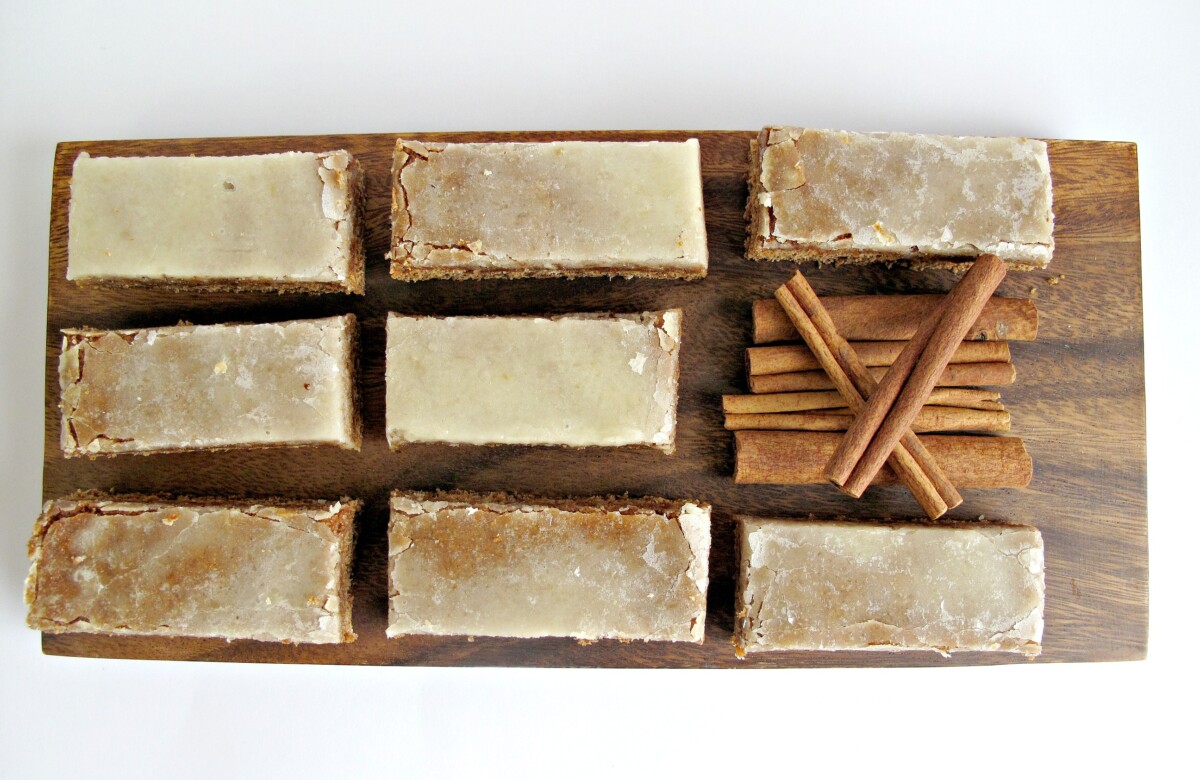 Lebkuchen Bars and a hot cup of coffee, tea, or chocolate might help you forget about winter, at least for a few moments! Share some bars in cold weather care packages for a special spiced treat.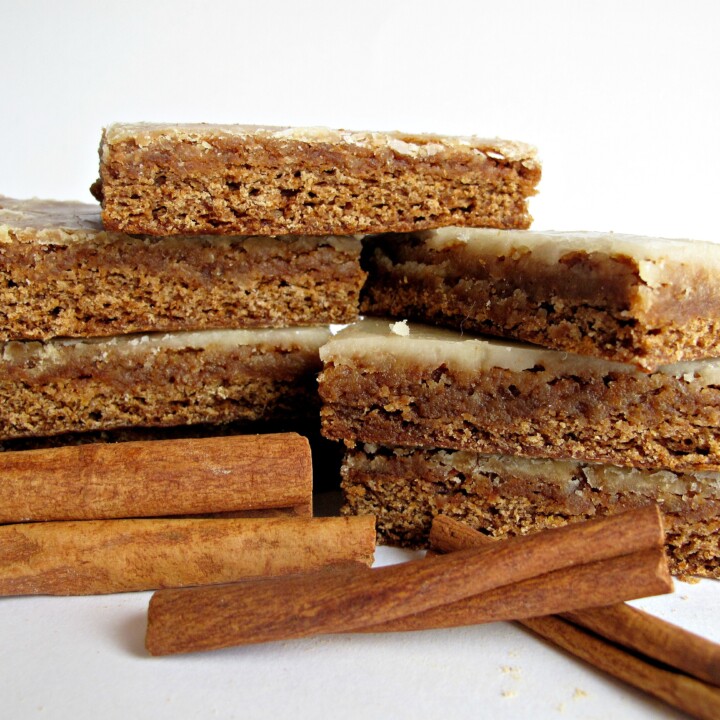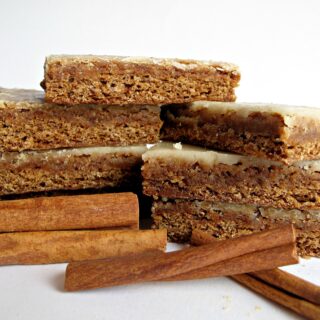 Lebkuchen Bars
These chewy bars are  deliciously spiced with cinnamon and ginger and are topped with an orange ginger glaze. The spicy flavor develops over time, improving daily. 
Print
Rate
Adapted From:
"The Good Cookie" by Tish Boyle
Ingredients
Bar dough
½

cup

honey

½

cup

brown sugar

packed

⅓

cup

granulated sugar

3

tablespoons

unsalted butter

1 ½

cups

all-purpose flour

¾

teaspoon

baking soda

3

teaspoons

ground cinnamon

1

teaspoon

ground ginger

1

large egg

2

tablespoons

orange juice

1

teaspoon

orange zest

finely grated (I used a microplane.)

1 ½

teaspoons

vanilla extract

½

cup

sliced unblanched almonds

optional

⅓

cup

candied orange peel

finely chopped, optional
Glaze
1

cup

confectioners' sugar

2

tablespoons

orange juice

¼

teaspoon

freshly grated ginger

¼

teaspoon

vanilla extract
Instructions
In a large saucepan over medium heat, stir together honey, brown sugar, granulated sugar, and butter. (Note: Though these ingredients don't call for a large saucepan, you will eventually mix in the dry ingredients as well.)Continue stirring until butter is melted and sugar is dissolved. Remove from heat and allow to cool for 15 minutes.

In a medium bowl, whisk together the flour, baking soda, cinnamon, and ginger.

Add the egg, orange juice, orange zest, vanilla, and (if using) almonds and orange peel to the cooled honey-sugar mixture. Stir to combine.

Add the flour mixture and stir to combine, forming a sticky dough.

The dough may be left in the saucepan for refrigeration or transferred to a mixing bowl. Place one piece of plastic wrap directly on the surface of the dough and another piece over the top of the saucepan/bowl. Refrigerate 8 hours or overnight.

When ready to bake:Preheat the oven to 350˚F. Butter and flour a 9"x 9" baking pan.

Remove the dough from the refrigerator and allow the dough to come to room temperature (about 30 minutes).

Spread the dough evenly in the prepared pan.

Bake for 20-30 minutes or until a toothpick inserted into the center comes out clean.

While the Lebkuchen is baking, in a medium bowl, mix together the glaze ingredients until smooth.

Remove the pan of bars from the oven and place on a wire rack.

Using a pastry brush or spatula, spread the glaze evenly over the warm bars.

Let the Lebkuchen cool completely and the glaze set before cutting into bars and storing.

Store in an airtight container at room temperature for up to 2 months. These bars may be eaten immediately but the flavor improves over time and are best when eaten at least 1-2 weeks after baking.
Notes
Packing tips
Double wrap pairs of bars, bottoms together in plastic wrap then place in an airtight container.
Alternately, bars can be placed in an airtight container in layers separated by waxed paper.
Use crinkled waxed paper on top if needed to prevent any movement inside the container during transit.
Wrap the container in plastic wrap to improve airtightness.
Nutrition
Calories:
217
kcal
|
Carbohydrates:
43
g
|
Protein:
3
g
|
Fat:
4
g
|
Saturated Fat:
2
g
|
Trans Fat:
1
g
|
Cholesterol:
17
mg
|
Sodium:
66
mg
|
Potassium:
75
mg
|
Fiber:
1
g
|
Sugar:
32
g
|
Vitamin A:
97
IU
|
Vitamin C:
3
mg
|
Calcium:
26
mg
|
Iron:
1
mg
Save