My son has the enviable ability to eat one cookie and walk away. Unlike the rest of our family, he is usually immune to the lure of the cookie jar. He feels sugar satiated after just one. I have no idea where he inherited that gene from. He comes from a long line of nibblers. My sister suggested that maybe we could clone the gene and market it as an injectable. We would make a fortune!
There is a short list of cookies that even my son finds hard to resist. The list includes the Jaques Torres NY Times Chocolate Chip Cookies, M&M Mega Cookies, Chocolate Truffle Cookies (from Natasha at Butter Baking), and these Double Chocolate-Mocha Cookies. The recipe for these crisp-chewy cookies comes from a bakery here in St. Louis called The Daily Bread. The cookie is so popular and so delicious that customers wrote to our newspaper asking if the Post-Dispatch could obtain the recipe for Double Chocolate-Mocha Cookies and publish it. The owner of the Daily Bread kindly obliged.  The recipe has been on our "Irresistible Cookies" list ever since. Once you bite through the crisp exterior to the chewy mocha inside, I think you will want this recipe on your "Irresistible Cookie" list too.
Double Chocolate-Mocha cookies could be called OMG Cookies because that is what everyone says when they take a bite! These cookies are thick and chewy with a slightly crisp edge. White and semi-sweet chips and espresso powder fill them with creamy mocha flavor. The only adaptation I made to the original recipe was to fold melted marshmallow into the cookie dough which extends the chewy texture an extra two days.
Baking notes: This recipe uses butter and margarine. The butter is used for flavor. The margarine is used to create slightly domed cookies with a rounded edge. Using only butter makes the cookies flatter and they lose their chewiness sooner.  Another factor in the shape and texture is the flour measurement. I recommend using the weight measurement (12 ounces) for the flour.  Chilling the dough is imperative. Overnight chilling makes the dough easy to handle with more developed flavor.
Though Double Chocolate-Mocha cookies make good care package treats, once you have tried them, they are hard to part with. Perhaps that is why the recipe makes such an odd number of cookies. The recipe makes 12 cookies to send off in a care package with 7 left to devour at home.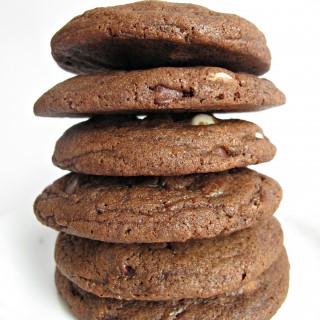 Print
Double Chocolate-Mocha Cookies
Servings
19
large 4" diameter cookies
As an Amazon Associate I earn from qualifying purchases.
Ingredients
½

cup

butter

room temperature

½

cup

margarine

full fat NOT reduced fat, room temperature

1

cup

granulated sugar

½

cup

brown sugar

packed

2

large eggs

1

teaspoon

vanilla extract

2 ¼

cups

all-purpose flour

lightly packed (12 ounces)

3

tablespoons

Dutch process or dark cocoa powder

2

tablespoons

espresso powder

1

teaspoon

baking soda

1/2

teaspoon

salt

1

cup

semi-sweet chocolate chips

1

cup

white chocolate chips

1

rounded cup mini-marshmallows
Directions
In the bowl of an electric mixer, beat butter, margarine, granulated sugar, and brown sugar until fluffy. Stir in eggs and vanilla , for a few seconds only, just until yolks are broken.

In a medium bowl, whisk together flour, cocoa, espresso powder, baking soda, and salt. Add gradually to the butter mixture and beat to combine.

Stir in chocolate chips.

Lightly coat a small microwave-safe bowl with non-stick spray. Put the mini-marshmallows in the prepared bowl and microwave about 1 minute until melted. (Watch carefully. The marshmallows puff up while heating and can overflow.)

Fold the melted marshmallow into the cookie batter.

Chill the dough for at least 2 hours or overnight.

When ready to bake:

Preheat oven to 325˚F. Line a baking sheet with parchment paper.

Roll 3 tablespoon scoops (about 70 grams each) of dough into balls and place on the prepared baking sheet at least 2" apart.

Bake for 16 minutes, until the cookies appear just set in the center. Remove from oven and allow to cool on baking sheet.

When completely cool, store at room temperature in an airtight container for up to 7 days. After 7 days these cookies lose their chewy texture and become crunchy.
Packing Tips
Double wrap pairs of cookies in plastic wrap with bottoms together. Place wrapped cookies in a column inside an airtight container or ziplock bag (with as much air squeezed out as possible).
Save