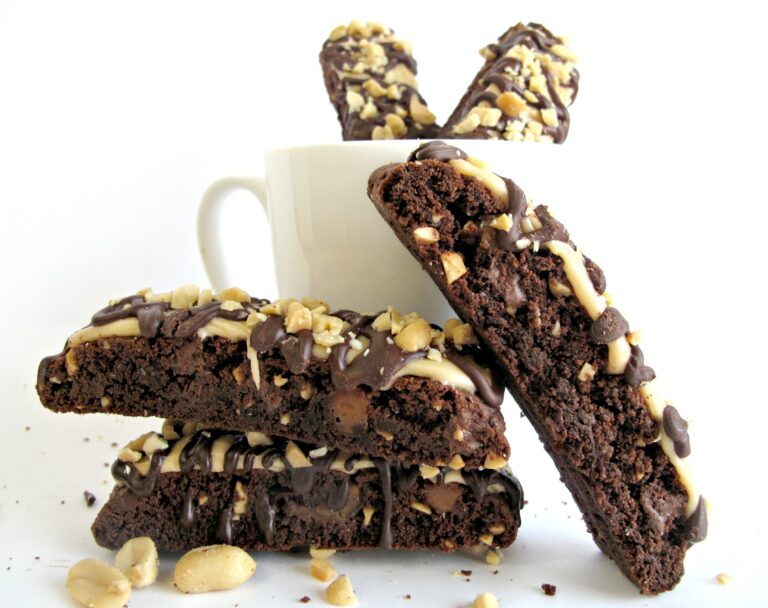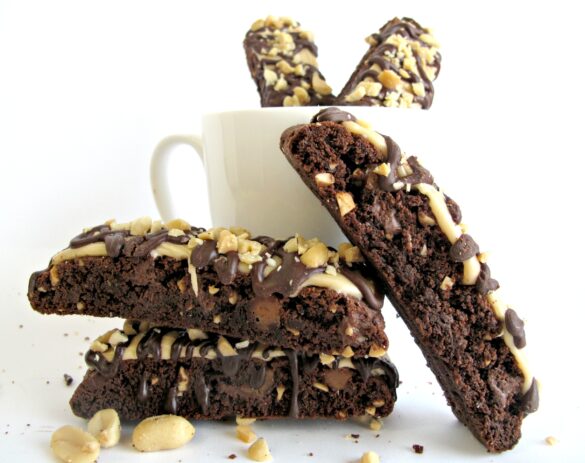 The Monday Box has finally jumped in with both feet! When I started this care package recipe blog almost 2 years ago, my idea of care packages mostly included sending home- baked love to my own stress ridden, sleep deprived college student. Then I learned about the world of military care packages. Talk about stress ridden and sleep deprived! My blogging friend, Gina, woke me up and my military mom friend, Suzie, filled me in. I am still learning the details, but I try, in addition to recipes for short distance mailing, to include recipes that "should" successfully travel the long distances and time spans required to get to deployed military. Previously, my estimates of how long an item would stay fresh were based on home testing only. I now have a "volunteer taste tester" in Afghanistan.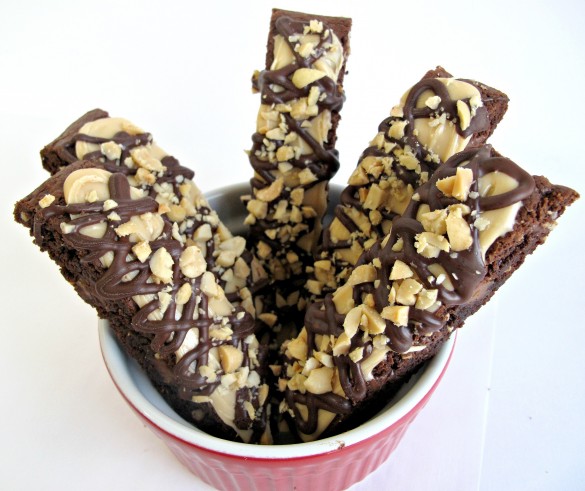 A woman who works with my husband has two nephews who are being deployed. One is currently in Afghanistan. I am filled with awe at the sacrifices these young men and their families are making. My "mom heart" is with their mom. I asked permission to send "Thank You!" care packages, and to blog about the care package contents, in the hopes of helping anyone looking for military care package tips. It is an honor to be able to thank them for their service.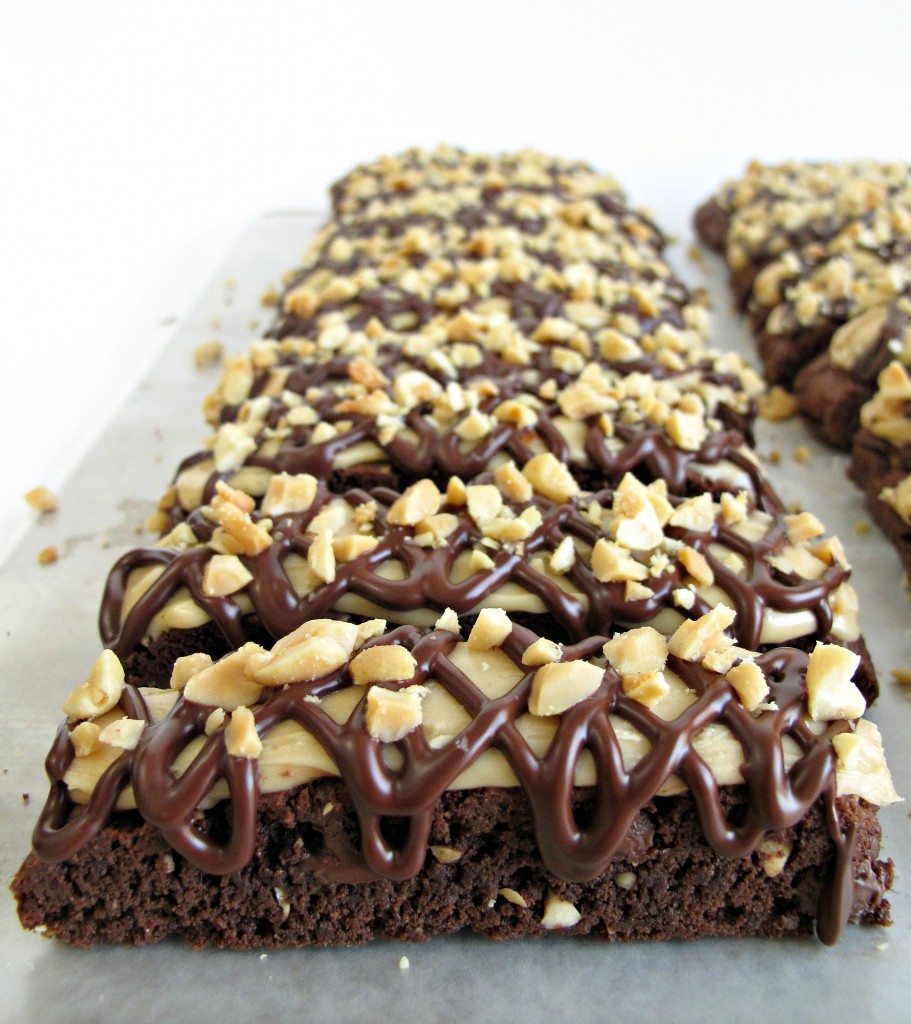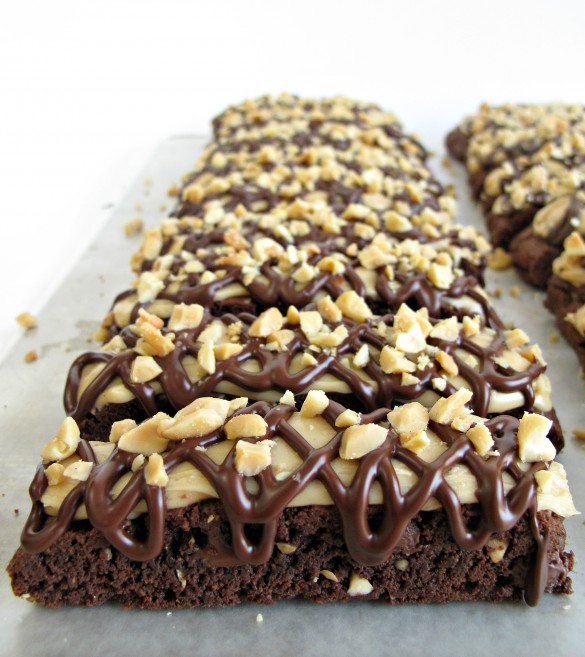 Here is my plan. About once a month I will post about a military care package. The format for those posts will have three parts. Part one will be about the "theme" of the package and a link to a previously posted recipe that I baked for that package. Part two will be a link to sugar cookies decorated to go with the theme and photos of my amateur, but well intentioned, efforts to duplicate them. I am a complete beginner cookie decorator, as you will soon see, but if I pick easy to do ideas, they should be something anyone could do. Part three will be a recipe new to the Monday Box for something delicious everyone can munch on. I know what Robert Burns wrote about "best laid plans….", but I will do my best. I am very excited about this new series and I think the posts will offer something for everyone.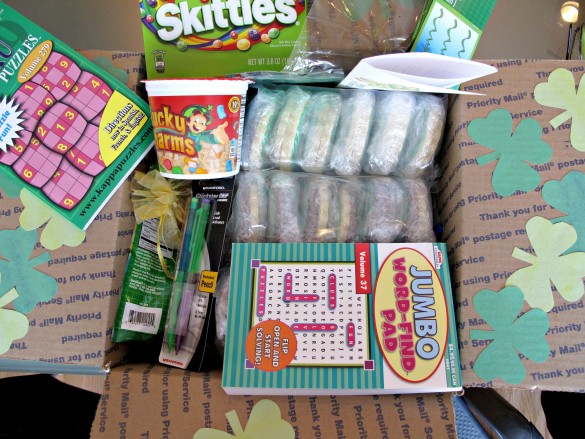 Part 1 Contents: Sometimes it is easy to figure out what random or requested things to include in a care package. Other times, having a theme can help. My March Military Care Package had a St. Patrick's Day holiday theme. The contents were green (on purpose, not moldy!) or leprechaun-ish; Lucky Charms, gold foil chocolate coins, shamrock decorations and green balloons, puzzle books, and candy/gum in green wrappers. An un-cut pan of Leprechaun's Rainbow Chip Blondies (with two plastic knives included) fit the theme well.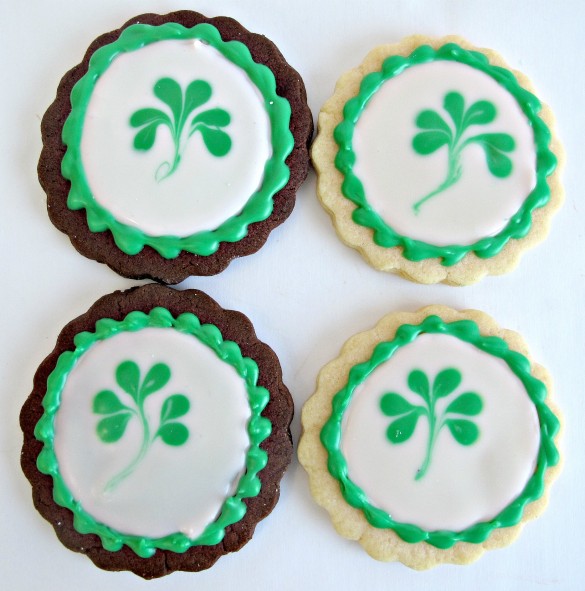 Part 2 Circle Sugar Cookies: Decorated sugar cookies stay fresh a really long time and a simple circle shape should travel well. I used the same vanilla and chocolate sugar cookie recipes (from Lilaloa) and faux royal icing (from Bakingdom) that I used for my Birthday Cake Cookies. As I searched through dozens of creative St. Patrick's ideas on Pinterest, this seemingly simple cookie from Lilaloa looked just right. I need to remember that astoundingly talented people can make anything look easy. My shamrocks (yes, those green perhaps-botanical designs are shamrocks) bear only a slight resemblance to those on Lilaloa, but I had fun making them. Next time I will try for something even simpler. (My daughter says I say that all the time and I never follow through. Maybe if I write it down….)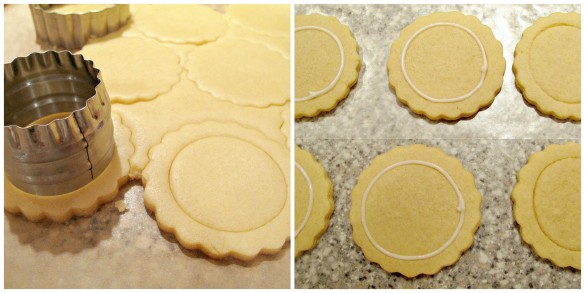 The only thing I added to the Lilaloa directions was a "cheat circle" to help me outline the icing area. After cutting out each cookie, I gently pressed a circle cutter just enough to leave an outline. Once the cookies were baked, I had an line to follow when I outlined the area to be frosted.


Part 3 New Recipe: I have a confession to make. I ran out of time while I was packing this care package and these delectable Snickers Biscotti didn't make it into the box. Hopefully, I will do better with advanced preparation next month. Instead, the Snickers Biscotti were either immediately consumed or were savored by my domestic care package recipient.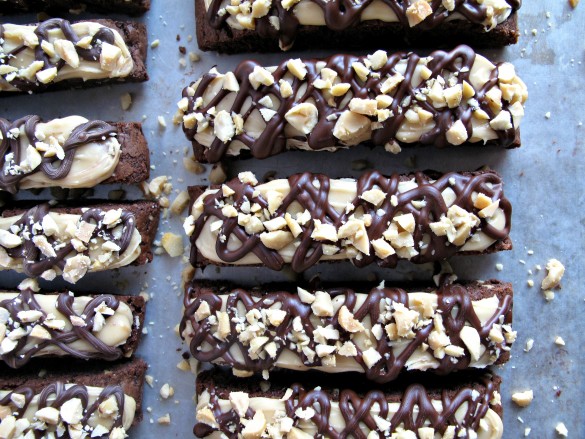 These are definitely Americanized biscotti. No simple, dry dipping biscuit here. Snickers Biscotti are crunchy, deeply chocolate cookies, packed with chocolate chips, peanuts, and caramel bits. Then they are iced with caramel, drizzled with chocolate, and sprinkled with more peanuts. Snickers Biscotti are a decadent cookie, incredibly munchable on their own or, for the biscotti traditionalist, dip-able. I recommend a tall glass of milk.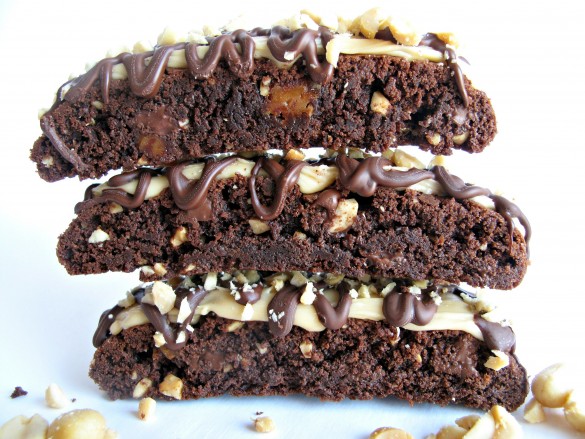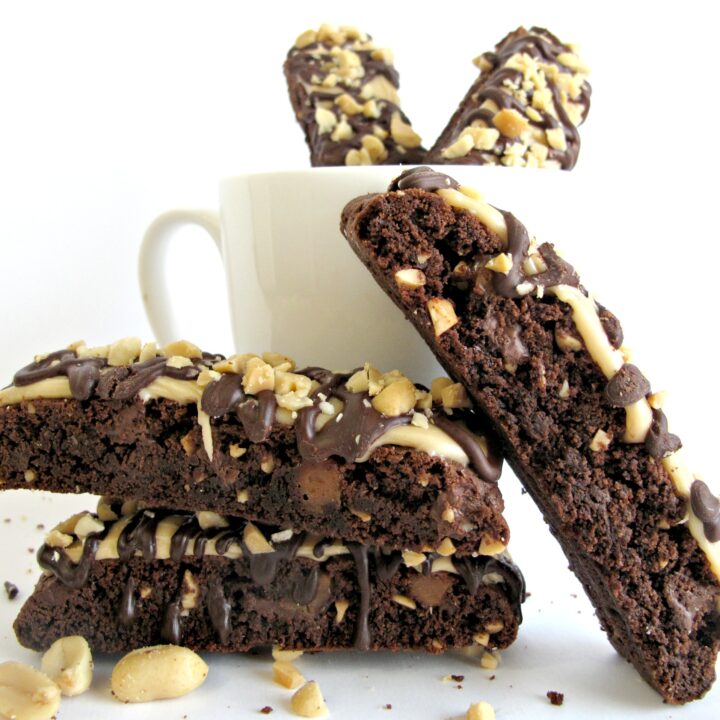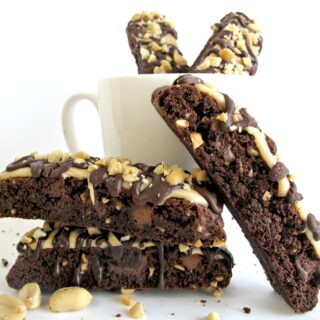 Snickers Biscotti
Crunchy, chocolate cookies, packed with chocolate chips, peanuts, and caramel bits and iced with caramel, drizzled with chocolate, and sprinkled with more peanuts.
Print
Rate
Adapted From:
"Chewy Gooey Crispy Crunchy" by Alice Medrich
Ingredients
Biscotti
2

cups

all-purpose flour

½

cup

unsweetened Dutch-process cocoa powder

½

teaspoon

salt

2

teaspoons

baking powder

4

ounces

semi-sweet chocolate

chopped or broken into small pieces

8

tablespoons

unsalted butter

room temperature

1

cup

granulated sugar

2

large eggs

2

teaspoons

vanilla extract

½

cup

semi-sweet chocolate chips

½

cup

caramel bits

or caramel cubes chopped in 4-6 pieces each

½

cup

chopped peanuts

salted or unsalted according to taste
Icing and drizzle
2

cups

confectioners sugar

1

cup

caramel cubes

unwrapped

2

tablespoons

milk

4

ounces

semi-sweet chocolate

broken into small chunks

½

cup

chopped peanuts
Instructions
Pre-heat oven to 300 degrees F. Line a baking sheet with parchment paper.

In the bowl of a food processor, combine the flour, cocoa, salt, baking powder, and chopped chocolate. Pulse until the chocolate is ground into the flour mixture. (Running the processor continually rather than pulsing will create too much heat and will melt the chocolate instead of finely grinding it.)

In the bowl of an electric mixer, cream together the butter and sugar.

Mix in the eggs and vanilla.

Gradually add the flour mixture just until combined.

Stir in the chocolate chips, caramel bits, and peanuts.

Divide the dough in half and form two logs about 14" x 2". Place on baking sheet at least 4" apart. The logs will spread.

Bake for 30-35 minutes. Logs should be firm but not hard.

Cool on a wire rack for 30 minutes. Leave the oven on.

On a cutting board using a serrated knife, cut each loaf into ¾ -1 inch slices. (If the slices are crumbling, let the loaf cool a little longer.)

Stand the slices, ½ inch apart, on a parchment lined cookie sheet. Bake for 30 minutes until the surface of the cookies is dry ( though, the chocolate chips and caramel bits will be gooey).

Cool completely on a wire rack before icing.

FOR ICING: Carefully melt the caramel cubes in a microwave safe bowl at medium power. Heat for 30 seconds, remove and stir. Continue to heat for 10 seconds then stir, until the caramel is completely melted. Be careful. Melted caramel is extremely hot.

In the bowl of an electric mixer with the whisk attachment, combine the confectioners sugar, melted caramel, and milk until smooth and spreadable. If the icing is too thick, add tiny amounts of additional milk until the desired consistency is achieved.

Use a butter knife or off-set spatula to spread the icing over the tops of the biscotti.

Place the chocolate chunks in a zip lock bag and microwave at medium heat for about 30 seconds until completely melted.

Cut a tiny piece of one bottom corner from the bag, then pipe zigzags over the caramel frosted biscotti.

Immediately sprinkle with chopped peanuts.

Allow to set firmly (at least 2 hours) before wrapping or storing. Stored at room temperature in an airtight container, Snickers Biscotti stay fresh for up to 3 weeks.
Notes
Packing tips
Wrap pairs of biscotti in plastic wrap, cut sides together. Store in an air tight container or zip lock bag. Snickers Biscotti travel well in cool weather. Do not send frosted biscotti in hot weather.
Nutrition
Calories:
193
kcal
|
Carbohydrates:
28
g
|
Protein:
3
g
|
Fat:
8
g
|
Saturated Fat:
4
g
|
Trans Fat:
1
g
|
Cholesterol:
15
mg
|
Sodium:
78
mg
|
Potassium:
119
mg
|
Fiber:
2
g
|
Sugar:
20
g
|
Vitamin A:
91
IU
|
Vitamin C:
1
mg
|
Calcium:
38
mg
|
Iron:
1
mg
Love peanut cookies? Check out this collection of 20 Irresistible Peanut Cookies to bake right now!
Save
Save