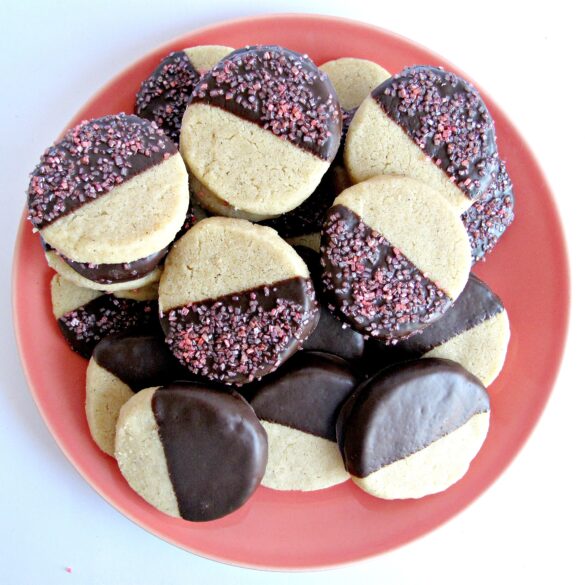 According to the calendar, today is the first day of Spring, though I am not so sure the weather has gotten that memo. In Saint Louis, the early spring bulbs are just beginning to peak out of the ground. If they are like the groundhog, they may go back down. I am ready for winter to end. While I wait, Chocolate-Dipped Peach Tea Shortbread Cookies are filled with flavors of the seasons to come, yet pair perfectly with a warm cup of tea to ward off unseasonable cold.  Coating the shortbread in creamy dark chocolate turns simple cookies into comfort food.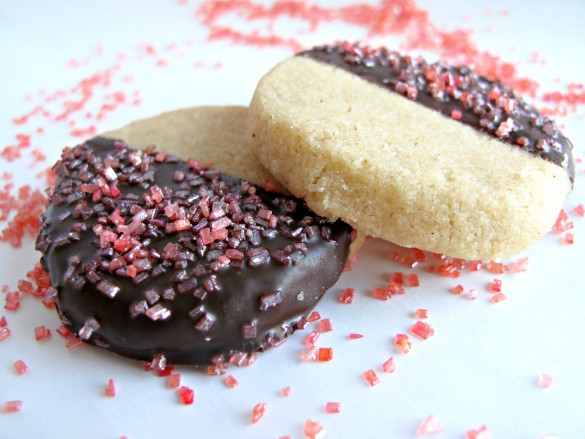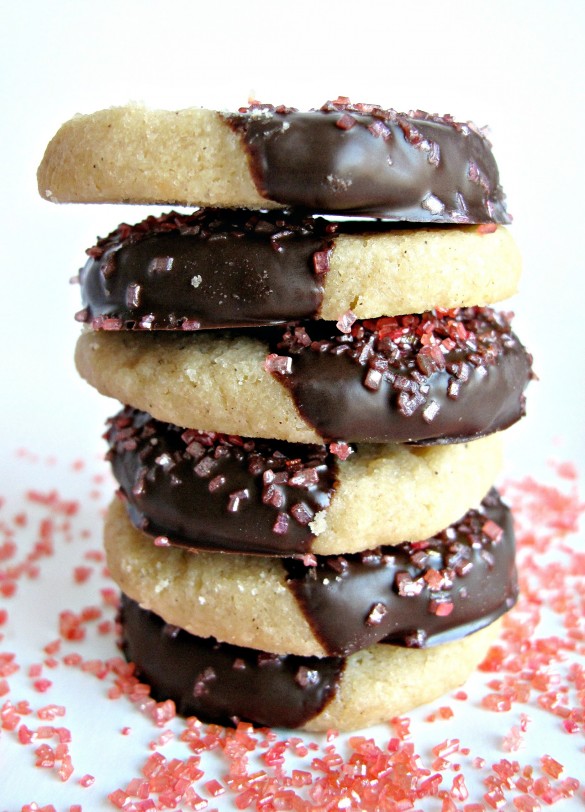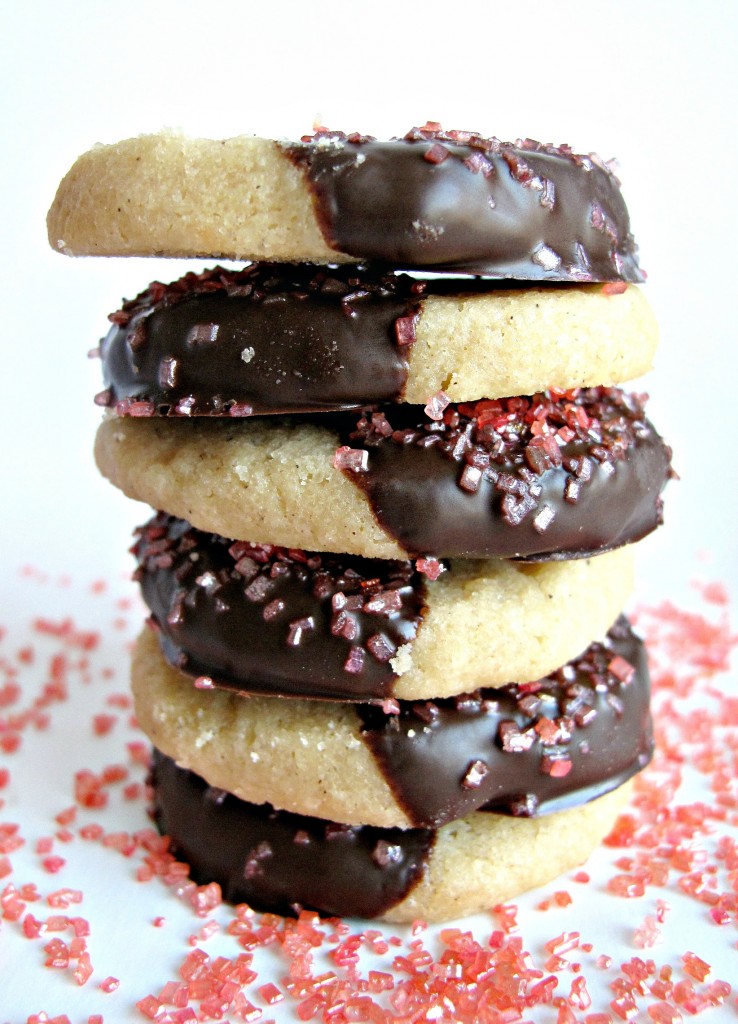 Chocolate-Dipped Peach Tea Shortbread Cookies get their flavor from peach tea leaves. Using tea as a flavoring was new to me, so I researched and found several ways to add tea flavor to baked goods. After a few trial runs, I found that the cookies with the best flavor and texture were made with infused butter. Infused butter sounds much more impressive and complicated than it actually is. Go ahead and be impressed if you like, but don't run away because you think this recipe is too involved. This technique takes less than 15 minutes. The tea leaves are simply seeped in melted butter (just like when you make tea to drink but with butter instead of water). After 10 minutes the butter is poured through a fine mesh strainer to remove the leaves. That's it. The butter, infused with fragrant peach tea, is mixed with just a few other ingredients to create melt-in-your-mouth, crunchy Chocolate-Dipped Peach Tea Shortbread Cookies. A dip in dark chocolate gives the cookies a flavor boost and a little sparkling sugar adds bling.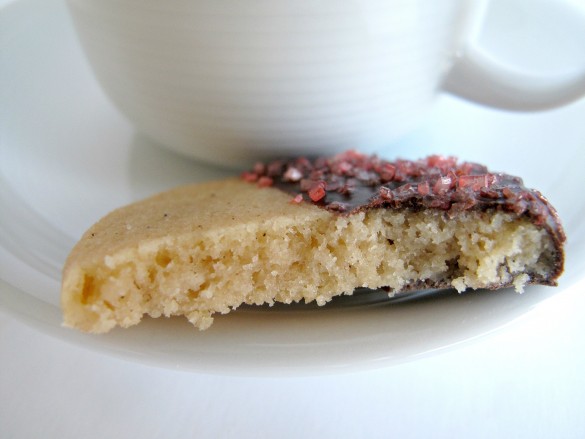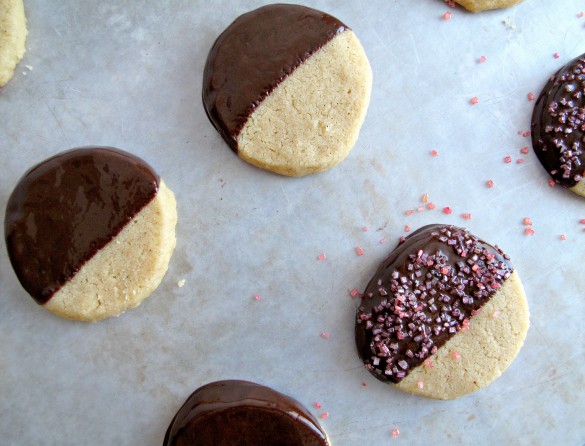 Recently, my penchant for chocolate dipping and drizzling the Monday Box cookies came to the attention of the enthusiastic purveyors of chocolate at Chocoley.com . I imagine that they noted my dissatisfaction with the "chocolate" coatings I had been using. Pretty? Usually. Tastes like good chocolate? No. But what choice did I have when chocolate tempering is just not in my skill set? "Bada Bing Bada Boom Dipping and Coating Formula," they said. I was intrigued to find out that Chocoley sells their own formula of melting chocolate with the taste of real chocolate in easy-to-melt discs that don't require tempering. Chocoley.com sent me their products to try.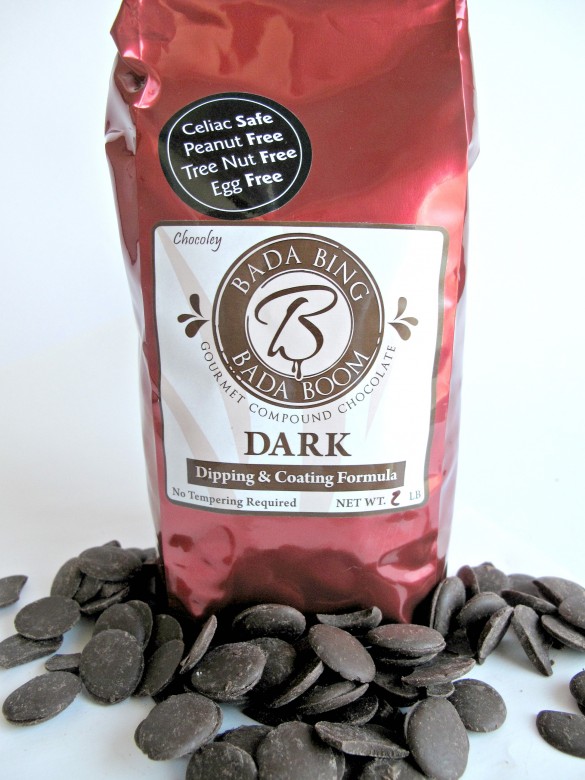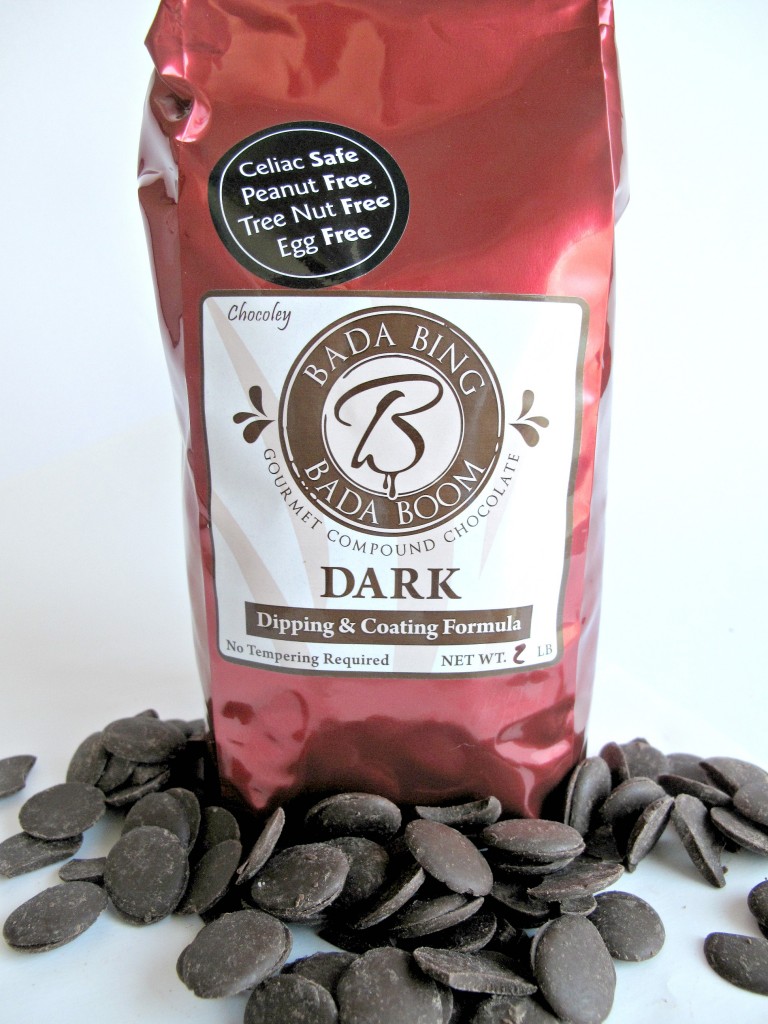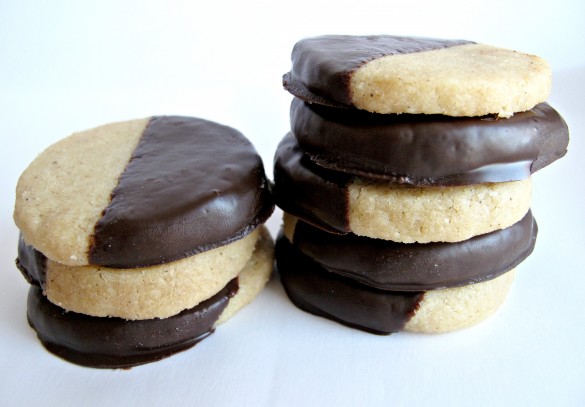 The beautiful smooth chocolate coating on these Chocolate-Dipped Peach Tea Shortbread Cookies is the dark chocolate Bada Bing Bada Boom Dipping and Coating Formula. The chocolate came with detailed directions involving candy thermometers and temperatures to ensure successful dipping. My candy thermometer chose today to go AWOL. I proceeded carefully but without temperature measurements.  I melted a cup of the chocolate discs in a double boiler, stirring just until all of the discs were melted. Then half of each cookie was dipped in the chocolate and placed on a wax paper lined baking sheet. The dipped cookies were refrigerated for 5-10 minutes to set the chocolate. The thin chocolaty coating looks almost professional to me (except for occasional finger prints). The flavor of these cookies….just imagine chocolate covered peaches.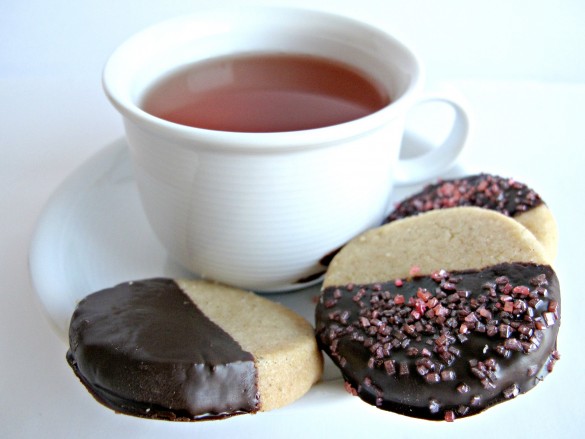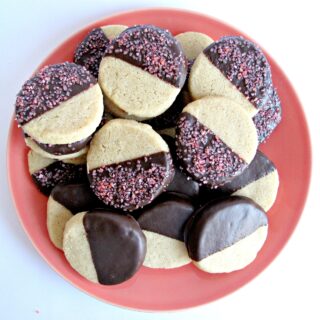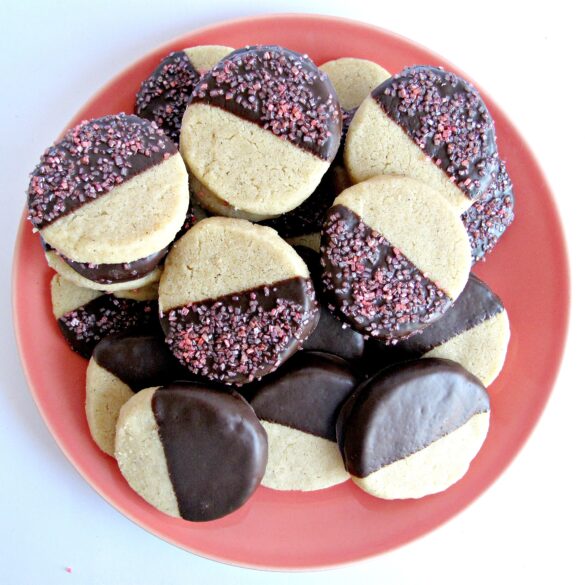 Chocolate-Dipped Peach Tea Shortbread Cookies
Ingredients
1

cup

unsalted butter

2

tablespoons

peach tea leaves

Slightly less if tea is finely ground. I used the leaves from 6 Republic of Tea Ginger Peach round bags.

½

cup

granulated sugar

1

teaspoon

vanilla extract

Pinch

of table salt

1 ½

cups

all purpose flour

1

cup

5 ounces/145grams dark chocolate Bada Bing Bada Boom Dipping and Coating Formula

¼

cup

decorating sugar

optional
Directions
In a small saucepan over low heat, melt butter with tea leaves. When the butter is completely melted, remove from heat and allow to seep for 10 minutes.

Remove the tea leaves from the butter by pouring the butter through a fine mesh strainer into a medium mixing bowl. Discard the tea leaves.

Stir in sugar, vanilla, and salt.

Add the flour and stir until combined and a dough forms. The dough will be slightly crumbly but should hold together when formed into a log.

Form the dough into a log about 12 inches long (with a 1 ½" diameter) and place onto the center of a sheet of parchment paper. Fold the parchment over the dough and push a ruler edge or dough scraper against the bottom of the log to remove air pockets and compress the dough.

Wrap the compressed dough log in the parchment paper then in plastic wrap. Inserting the wrapped log into a cardboard paper towel tube will help keep the log rounded on all sides.

Refrigerate for about 2 hours until firm enough to slice.

WHEN READY TO BAKE: Preheat oven to 325˚F. Line a baking sheet with parchment paper.

Slice the dough log into ¼" rounds and place on the prepared baking sheet about 1" apart.

Bake for 12-14 minutes until bottom edges are just beginning to brown. The top of the cookies will still be unbrowned and slightly soft to the touch. (They will firm up as they cool.)

Allow cookies to cool for 10 minutes on the baking sheet before moving them to a wire rack to cool completely.

Line a baking sheet (that will fit in your refrigerator) with wax paper.

Melt dipping chocolate according to package directions. (I melted mine in a double boiler, over a gentle heat, until it was a pourable, dipping consistency.)

Dip one half of each cookie into the melted chocolate. To remove excess chocolate, with the cookie still held over the pot, tap gently on the wrist on the hand holding the dipped cookie. Place on the wax paper. If using decorating sugar, sprinkle immediately after dipping.

Refrigerate the dipped cookies for 5-10 minutes only, to set the chocolate.

Cookies must be completely cool and/or chocolate completely set before storage. Store at room temperature in an airtight container for at least 1 week. Separate layers of cookies with waxed paper. Uncooked dough logs can be refrigerated for 3-4 days or frozen for 1 month.
Packing Tips
Double wrap columns of 4 or 5cookies (with squares of waxed paper between the cookies) in plastic wrap, then place in an airtight container or zip lock bag. Mail buttery and/or chocolate-dipped cookies only in cool weather.
I was not compensated for this post, however I did receive free product from Chocoley.com for use in this recipe. All opinions are 100% my own. I only use and recommend products I believe in.
Save