Oatmeal Shortbread Cookies are a crispy variation on traditional Scottish shortbread. Oatmeal adds warm, toasty flavor to these buttery treats. Dressed up with chocolate and sprinkles, these pretty cookies are a hit for any occasion.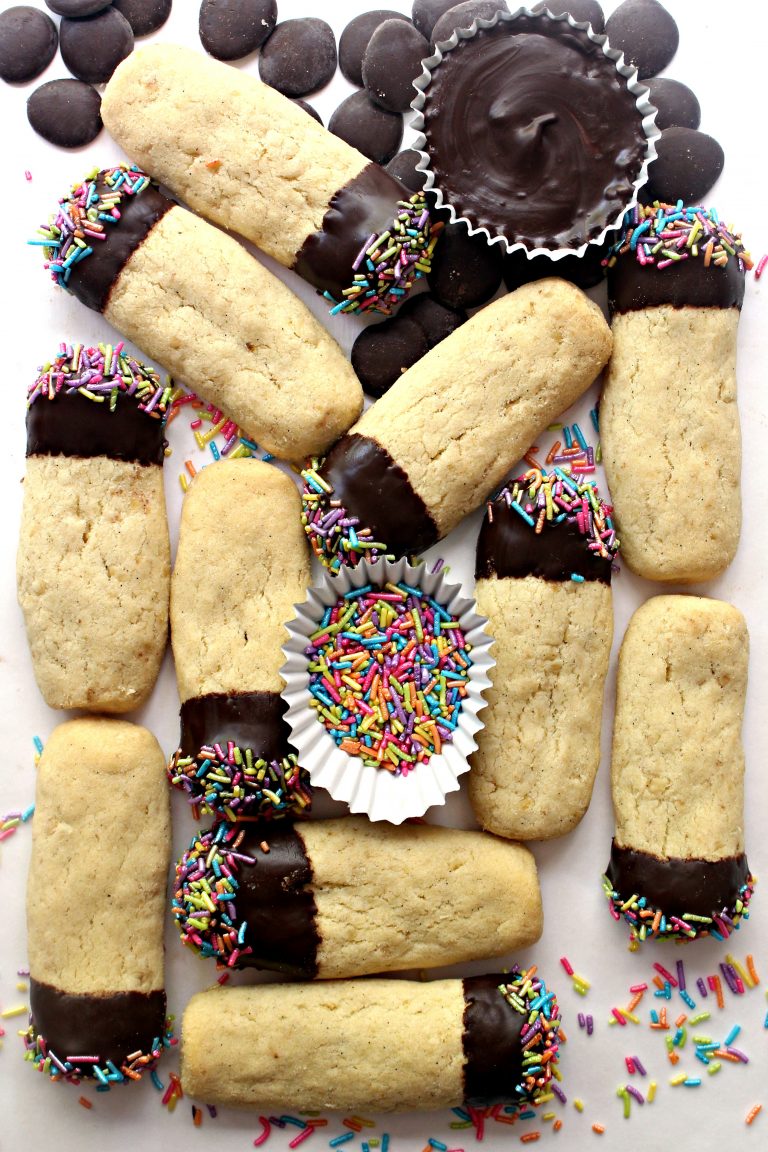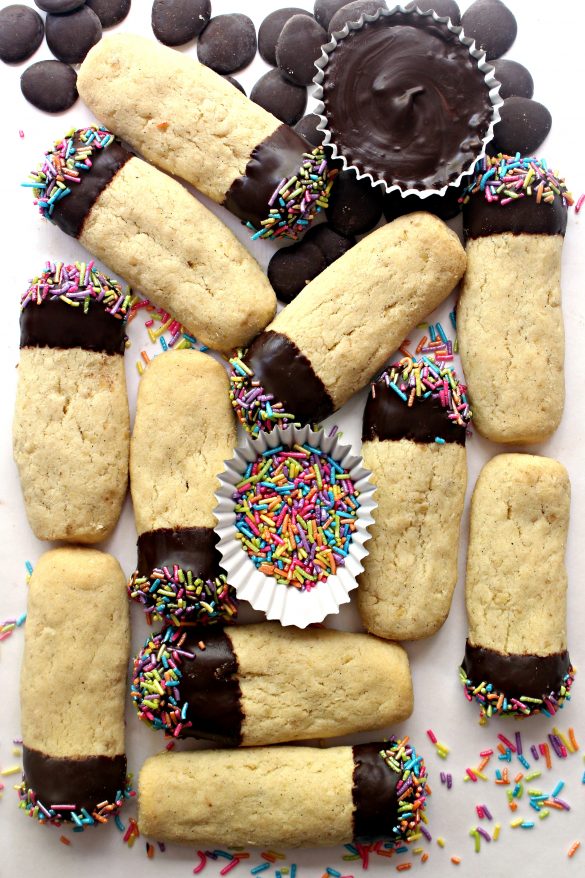 The Monday Box has a lot of easy shortbread recipes. Shortbread is a wonderful cool weather care package cookie, generally sturdy with long lasting freshness, and can be made in an infinite variety of flavors and shapes.
When time is limited, shortbread can be pressed into a pan and sliced into bars. Shortbread dough can also be scooped into individual cookies or prepared as dough logs for slice and bake cookies.
Shortbread cookies made with cookie cutters or rolled in sprinkles for thumbprint cookies are show stoppers! There are so many ways to use this simple, versatile dough!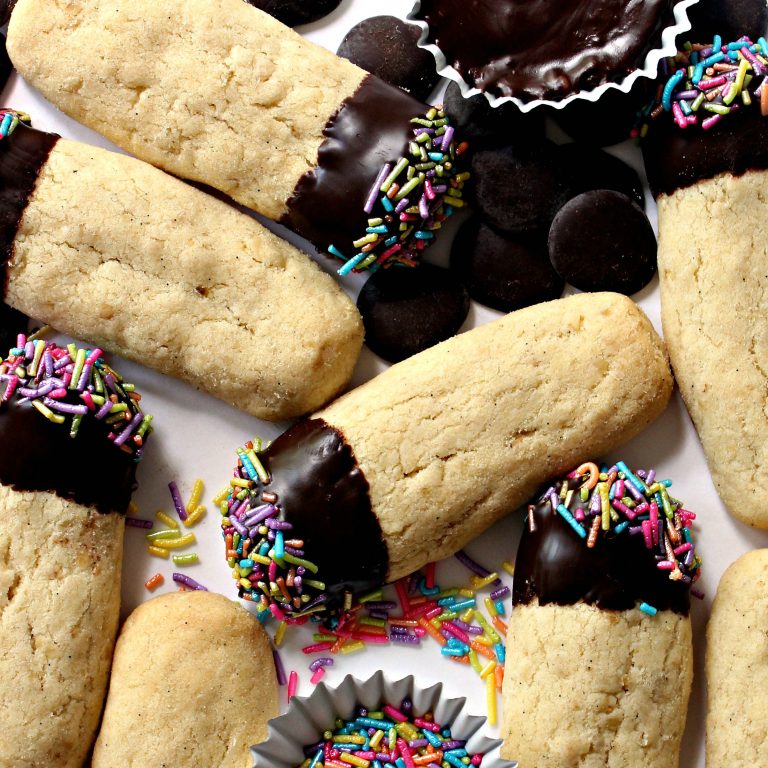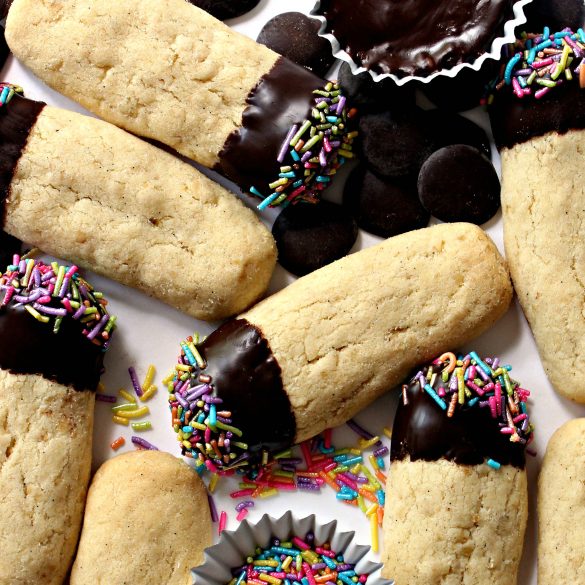 When baking, the best results and flavor come from using the best quality ingredients you can. This is especially true for shortbread.
Oatmeal Shortbread Cookies have so few ingredients, that choosing quality ingredients has a noticeable impact on the flavor of these biscuits. The type of butter, oats, and sugar used can make the difference between a good cookie and a special one.
Butter is the main flavor in most shortbread, so choosing a rich, flavorful butter is important. I always use a European style butter, such as Kerrygold or Plugra, in shortbread. For more information, The Butter Institute provides helpful tips for baking with butter.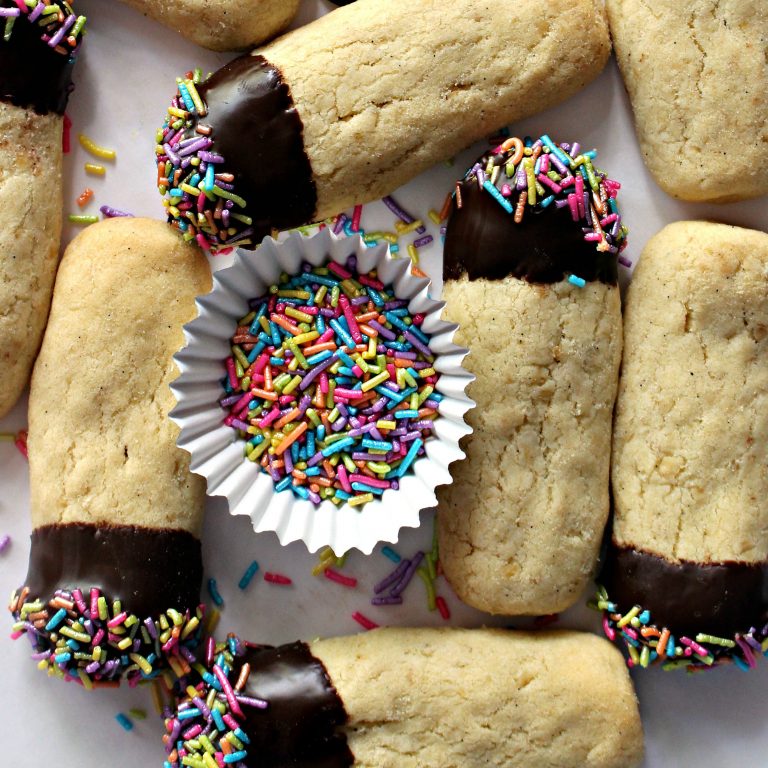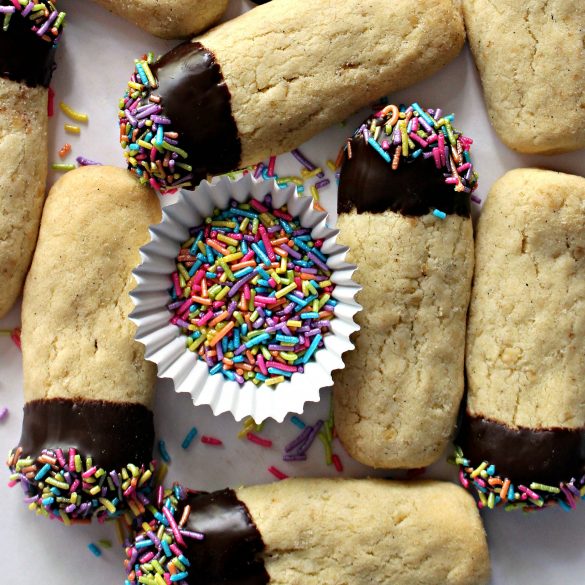 Oatmeal Shortbread Cookies contain rolled oats (3 minute oats) that add flavor and crispness. Steel cut oats would be too hard and nut-like in these low moisture cookies. Quick cook oats would be mushy.
How finely the sugar is ground affects the texture of shortbread. Though some people like the crumbly, sandy texture of shortbread made with powdered sugar, I used caster sugar (ultra-fine bakers' sugar) for a crunchy shortbread that is sturdier for care package travel.
With just 5 ingredients, Oatmeal Shortbread Cookies are a great cookie to whip up at the last minute! Dip them in chocolate and add sprinkles in colors for holidays, schools, or sports teams. Oatmeal Shortbread Cookies are easy to bake for drop in visitors and beautiful for cookie platters or care packages.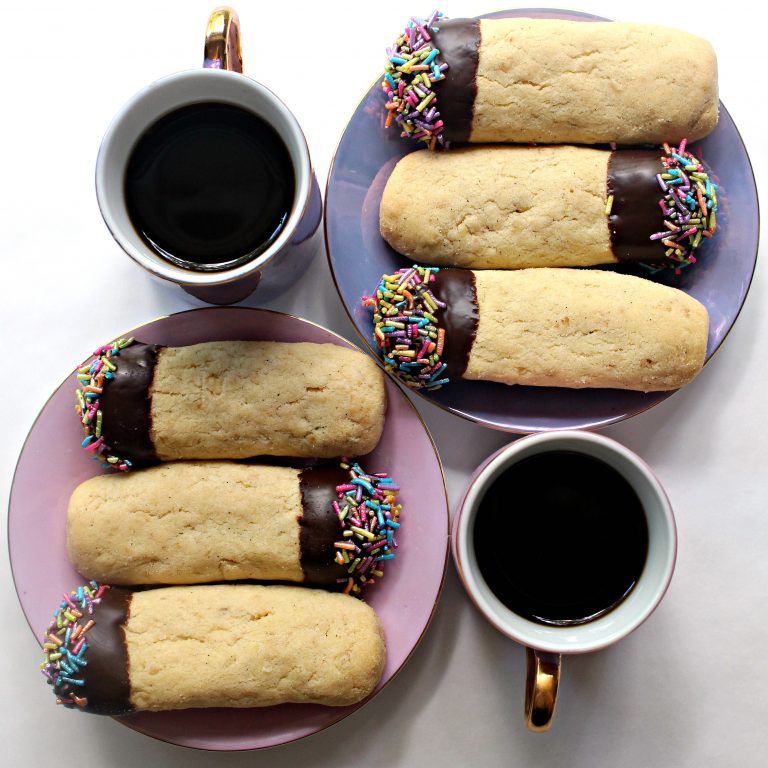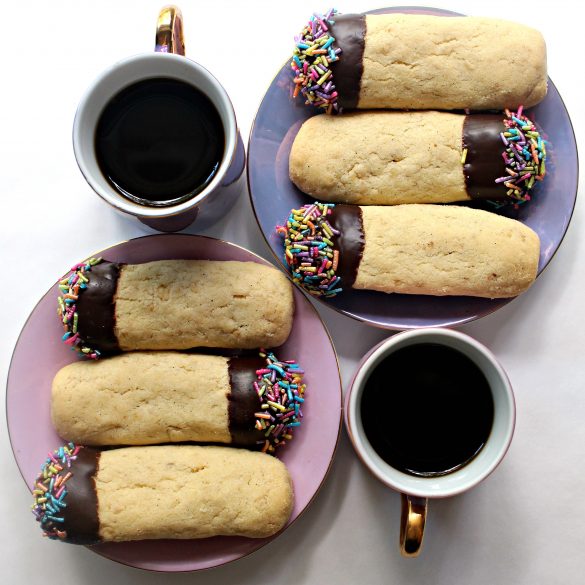 FREQUENTLY ASKED QUESTIONS ABOUT SHORTBREAD INGREDIENTS
WHY IS SHORTBREAD CALLED SHORTBREAD?
When referring to cookies and pastry, the term "short" means "crumbly". Shortbread cookies are crumbly due to the large amount of butter used.
WHAT IS THE BEST SHORTBREAD BUTTER?
European style butter has a slightly higher milk fat content than most American butters. This small difference provides better flavor and texture to shortbread cookies.
WHAT ARE THE BEST OATS FOR COOKIES?
There is a lot of confusion about which oats to use for baking, but the answer is really very simple. The way oats are processed effects whether they will maintain their shape and texture while baking or become soft, almost dissolving, while baking.
Rolled oats are steamed and pressed flat. The thinner the oats are rolled, the faster they will cook. Old-fashioned rolled oats will maintain more chewiness in cookies that quick cooking oats which will get soft.
Steel cut oats (Irish oats) aren't rolled. They are cut with steel blades. Steel cut oats take the longest to cook and are the chewiest when added to baked goods.
CASTER SUGAR OR POWDERED SUGAR FOR SHORTBREAD?
Both caster sugar (also called ultra-fine or bakers' sugar) and powdered sugar are used in shortbread recipes. The sugar used effects the texture of the cookie.
Shortbread made with powdered sugar has a sandier, melting texture and is a more delicate cookie prone to crumbling. Shortbread made with caster sugar has a crunchy texture and is a sturdier cookie, making caster sugar the better choice for care package cookies.
HOW TO MAKE OATMEAL SHORTBREAD
Whisk together the flour, oats, and salt (optional)
Cream the butter, sugar, and vanilla.
Mix in the flour mixture slowly, using just enough to form a soft, pliable dough.
Scoop 1 tablespoon portions and form into 2 ½″ logs.
Place dough logs 2″ apart on parchment lined baking sheet and bake 10-12 minutes, until edges begin to turn golden.
Cool completely on a wire rack before decorating.
Carefully, melt chocolate in the microwave in a small bowl.
Dip the end of each cookie in the melted chocolate, then in sprinkles.
Set the dipped cookies on a wax paper lined baking sheet and refrigerated to firm the chocolate.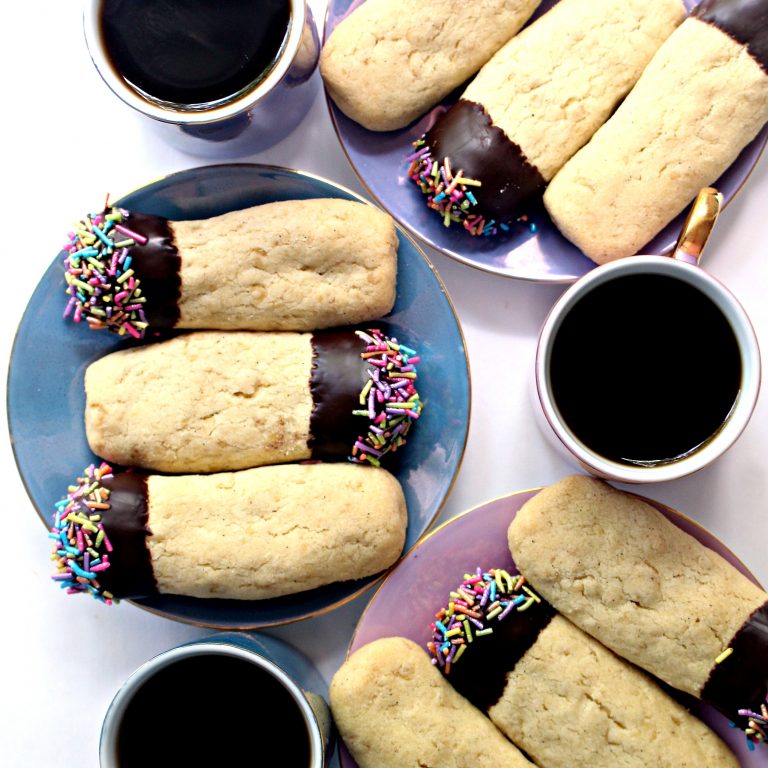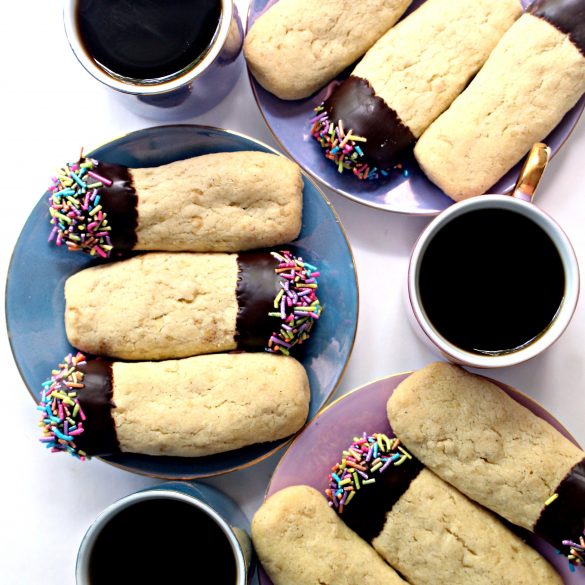 TIPS AND VARIATIONS FOR OATMEAL SHORTBREAD COOKIES
Add the dry ingredients in small amounts and stop when the dough is soft, pliable and no longer sticky. Humidity can affect the exact amount of flour needed to form the dough.
This dough will also work for drop cookies, or pressed into a shortbread mold or baking pan and sliced immediately after baking. The dough is crumbly and doesn't work well for slice and bake cookies.
European style butter is recommended for these cookies. The main flavor of shortbread is butter, so the better the butter, the better the cookie.
Tea infused butter can be used to add the flavor of your favorite tea to these cookies.
If you prefer shortbread with a sandier, crumbly texture, replace the ¾ cup of ultra-fine sugar with 1 cup of confectioners' sugar.
This recipe uses regular (3 minute) rolled oats. Steel cut or long cooking oats are not recommended as they will be tough inside the cookie. Instant or quick (1 minute) oats are also not recommended as they are precooked and will not have the same nutty flavor and chew in this cookie.
Cover the chocolate dipped ends with shopped nuts, flaked salt, holiday sprinkles, or white chocolate drizzle.
Using melted chocolate chips instead of melting chocolate, will not produce the same shiny chocolate surface. In addition, after a few days melted chocolate chips may get a whitish coating that happens when the fats begin to rise to the surface of the chocolate. That white "blooming" doesn't happen with compound melting chocolate.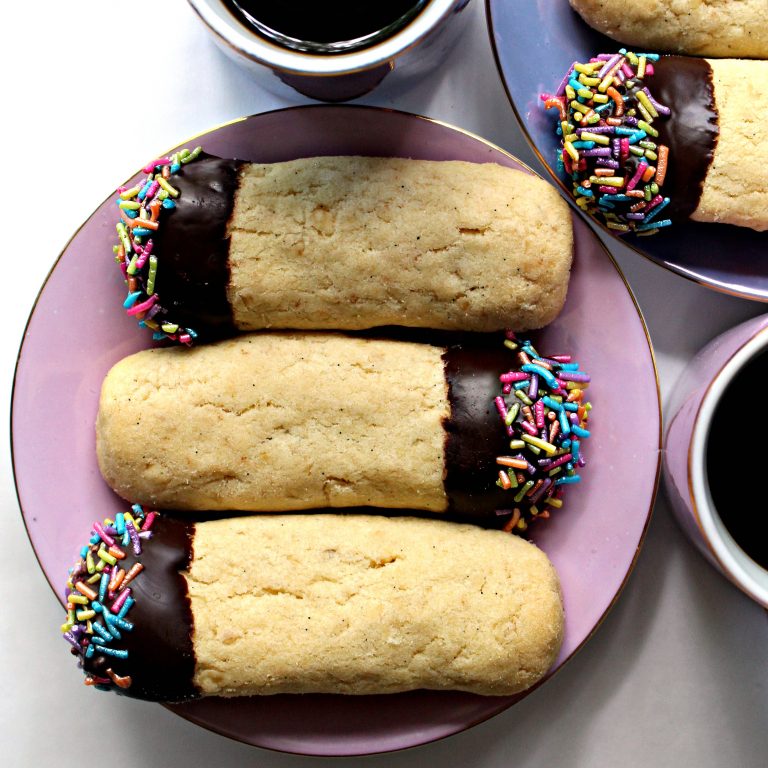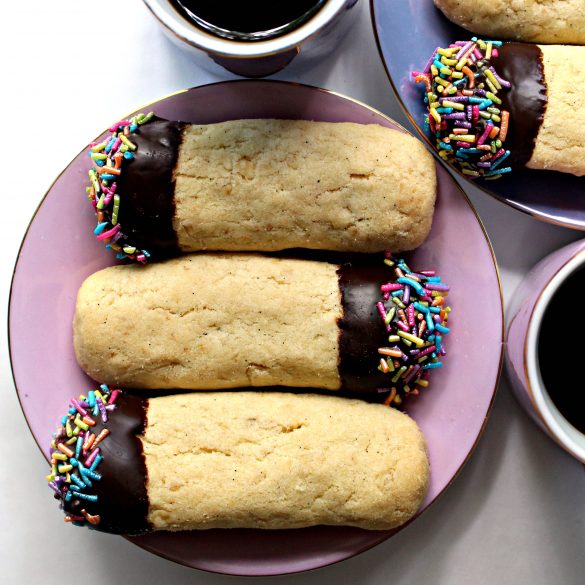 (The Monday Box participates in affiliate marketing programs. As an Amazon Associate I earn from qualifying purchases. Additional affiliate programs may be linked when applicable. If you chose to purchase a product after following a link on this page, I will receive a small commission, at no cost to you, which helps make The Monday Box possible.)
TOOLS YOU MAY NEED FOR OATMEAL SHORTBREAD COOKIES
MORE OATMEAL COOKIE RECIPES
Biscoff Toffee Oatmeal Crunch Cookies
Butterscotch Toffee Salty Oatmeal Cookies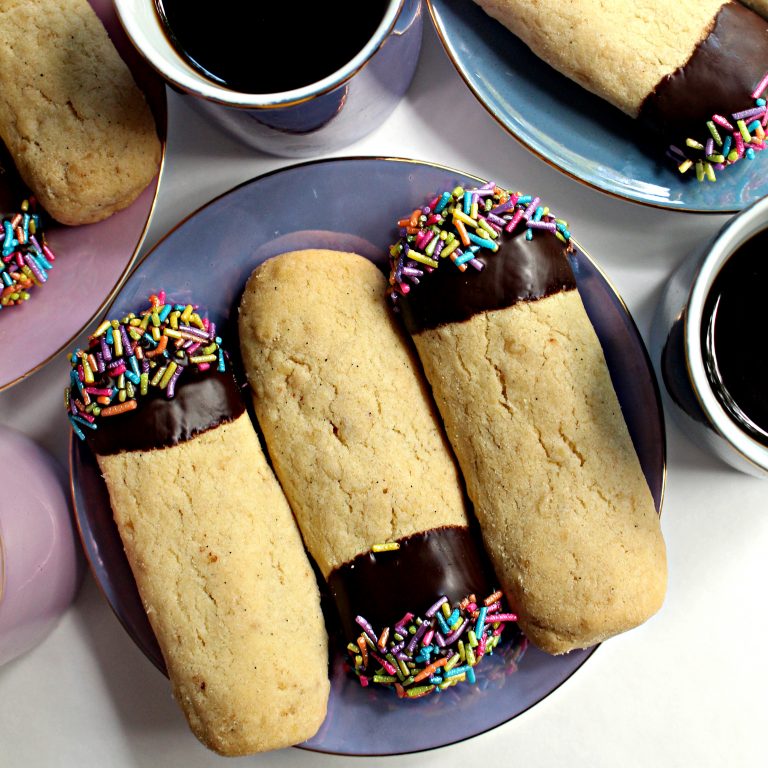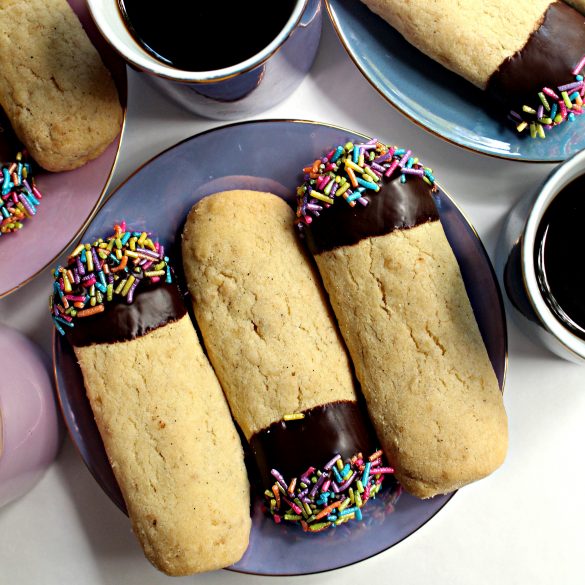 OATMEAL SHORTBREAD COOKIES RECIPE
Dipped in chocolate and sprinkles, crunchy Oatmeal Shortbread Cookies are ready for celebrating any occasion. Buttery, toasty flavor makes these shortbread cookies special. This is a cookie recipe you will want to keep handy for frequent baking!
Oatmeal Shortbread Cookies
As an Amazon Associate I earn from qualifying purchases.
Ingredients
2

cups

all-purpose flour

1

cup

rolled oats

I use Flahavan Irish Rolled Oats

½

teaspoon

salt

optional

1

cup

unsalted butter

room temperature

¾

cup

ultra-fine sugar

caster sugar, or granulated sugar

2

teaspoons

vanilla paste or extract

1

cup

melting chocolate discs

sprinkles
Directions
Cookies
Preheat oven to 325° Line a cookie sheet with parchment paper.

In a medium mixing bowl, whisk together the flour, oats, and salt (if using).

In the bowl of an electric mixer, cream butter and sugar until light and fluffy.

Blend in the vanilla.

Gradually mix in ½ cup portions of the dry mixture, just until the dough is no longer sticky and holds together like play doh. A small amount of the dry ingredients may not be needed.

Use a small (1 tablespoocookie scoop to portion the dough.

Shape each dough ball into 2 ½" logs and place on the prepared cookie sheets about 2" apart.

Bake for 10-12 minutes, unil the edges just begin to turn golden.

Remove from the oven and cool on cookie sheet for 2 minutes before transferring to wire racks to cool completely.
Decorate
Line a cookie sheet that will fit in the refrigerator, with wax paper.

Pour about ¼ cup of sprinkles into a small bowl.

In a small bowl, microwave the melting chocolate at 50% power for 1 minute. Mix. Return to the microwave and continue to heat at 50% power for 15 second intervals, alternating heating and stirring, until completely melted.

Dip one end of each cookie into the melted chocolate, then immediately into the sprinkles. Place the decorated cookies on the prepared cookie sheet.

Refrigerate the filled cookie sheet for about 5 minutes to firm the chocolate.

Store cookies in an airtight container at room temperature for up to 10 days.
Notes
These cookies travel best inside a plastic storage container. Wrap pairs of cookies (bottoms together) in plastic wrap. Stack the wrapped bundles in a storage container. Use wadded wax paper between the top layer of cookies and the lid to ensure that there is no movement during shipping. The wrapped bundles can also be stacked in a freezer weight bag for shipping, however, extra padding, such as bubble wrap should be used around the bag to protect the cookies in transit.