This Oatmeal Fruit Bars recipe is sponsored on behalf of #AppleWeek. Our generous sponsors Envy Apples, Bob's Red Mill, Republic of Tea, Flahavan's Irish Oats, Nairn's, Taylor & Colledge, Zyliss, Chocoley, and Torani have provided us with products for recipe creation and a giveaway for our readers. As always, all opinions are my own.
Oatmeal Fruit Bars are chewy, brown sugar bars filled to overflowing with chopped fruit! They make a great grab and go breakfast or a filling snack for lunch boxes and care packages. Dip the bars in chocolate for an especially luscious treat!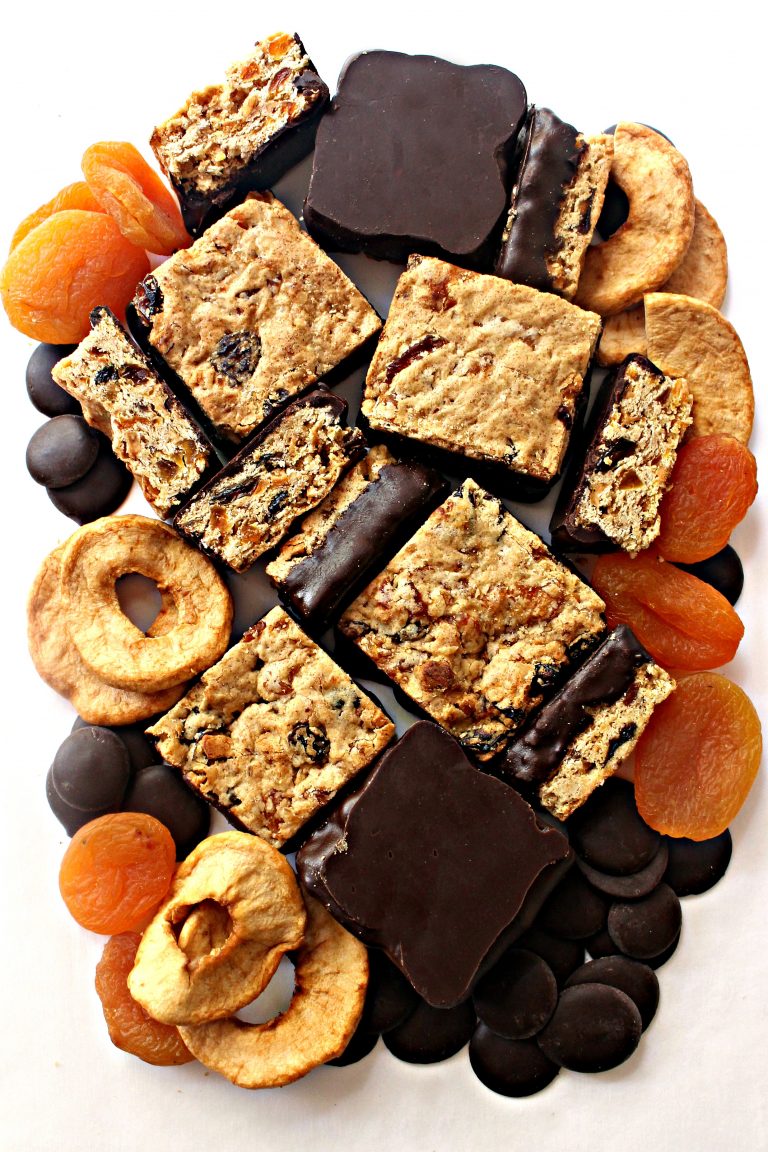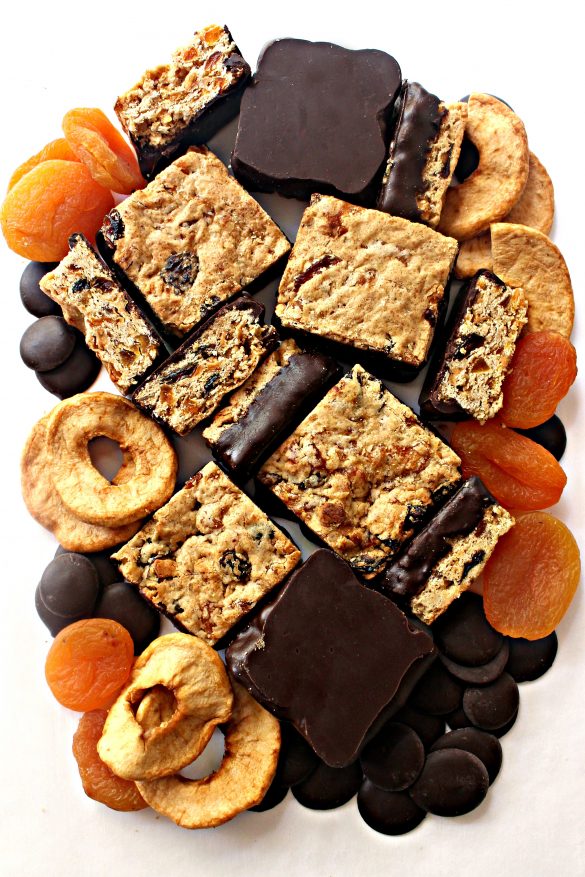 Due to the enthusiastic response to last year's bounty of apple recipes, The Monday Box is participating in #AppleWeek again!
Starting today, twenty-five food bloggers are celebrating #AppleWeek 2019 (September 16-21) by posting dozens and dozens of recipes using apples and apple products. You'll find beverages, appetizers, main dishes, side dishes, candies, and baked goods! That's a lot of recipes and a lot of apples!
I will be posting three new apple recipes on The Monday Box this Monday, Wednesday, and Friday. At the bottom of each post you will find a list with links to all of the #AppleWeek recipes posted that day. At the end of the week, Camilla, our event host, will post a complete list of all of the #AppleWeek 2019 recipes.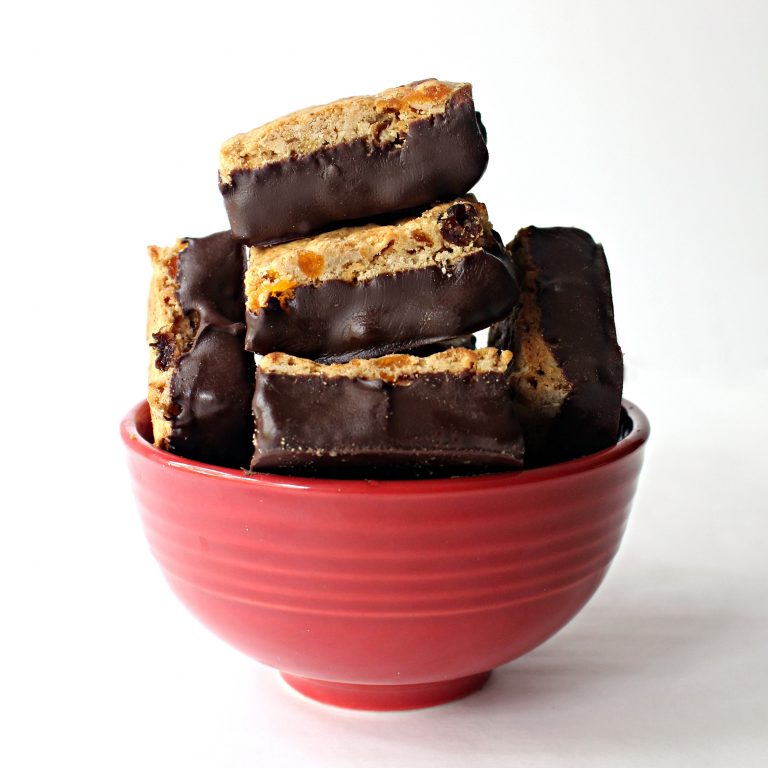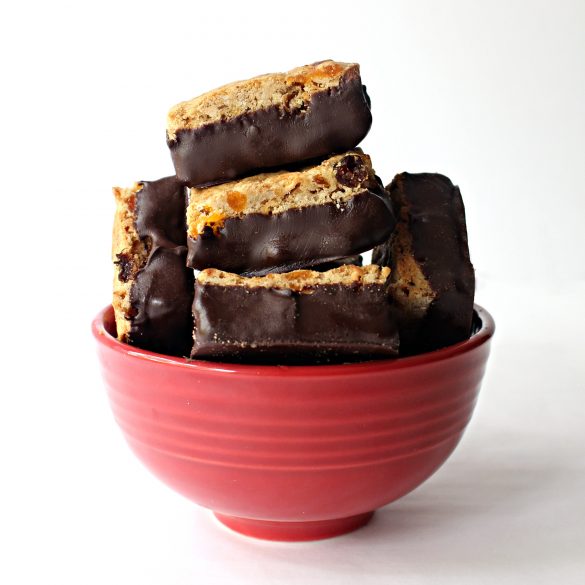 Adding even more to the excitement of this event, Camilla has lined up some amazing prize packages for our readers from the generous #AppleWeek sponsors. There are nine great prize packs! You can read all about the prize packs and enter to win, at Culinary Adventures with Camilla.
My first recipe for #AppleWeek 2019 is Oatmeal Fruit Bars. Each bar is like a thick, chewy oatmeal cookie full of chopped dried apple, apricot, and golden raisins.
You can stop there. No further embellishment is required, but if you love the flavor of chocolate covered dried fruit, I urge you to take your Oatmeal Fruit Bars to the next level by dipping them in dark chocolate. So good!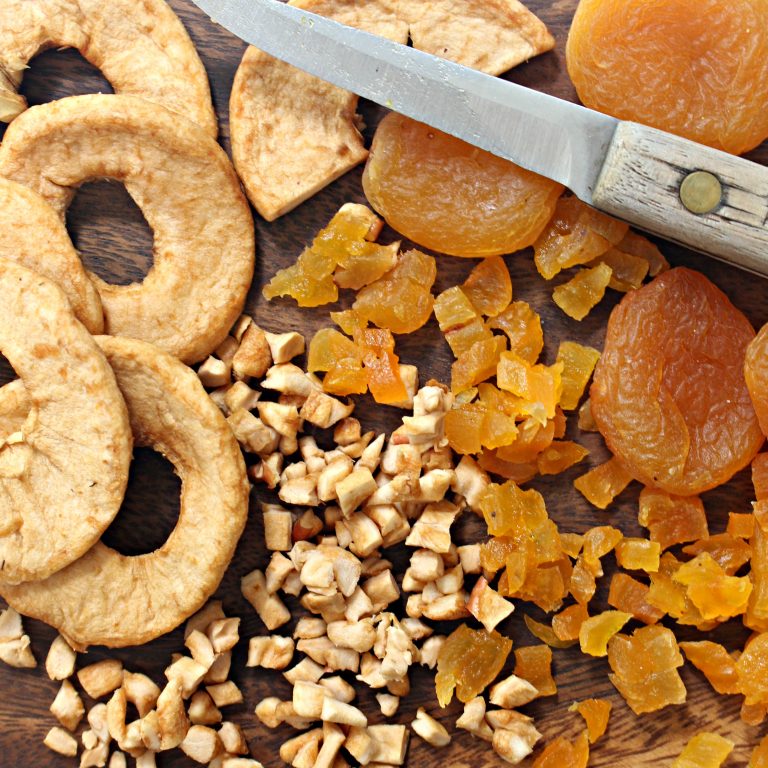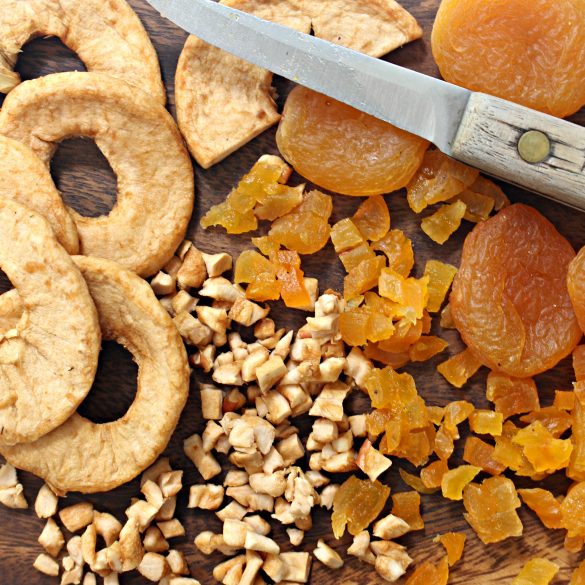 HOW TO MAKE OATMEAL FRUIT BARS
Whisk together the flour, salt, baking powder and cinnamon.
Toss together the diced fruits and one tablespoon of the flour mixture.
Using an electric mixer, cream the butter and sugar.
Mix in the egg and vanilla, then the flour mixture, oats and fruit.
Press the dough into a 9" x 13" baking pan.
Bake until golden, about 25 minutes.
Cool completely and slice into bars.
Dip bars in melted chocolate.
TIPS FOR MAKING OATMEAL FRUIT BARS
Vary the diced fruit to your preferences. A balance of sweet and tart fruits is recommended.
Save preparation time by substituting 3 cups of packaged chopped fruit mix instead of dicing the fruit indicated in the recipe.
I used Flahavan rolled oats for this recipe. Rolled oats provide just the right amount of chew to the bars.
The shiny chocolate on my bars is Bada Bing Bada Boom dark dipping and coating chocolate from Chocoley.com. This ethically sourced melting chocolate is the ideal consistency for coating cookies and bars. The delicious dark chocolate flavor is a great balance with the sweet dried fruit.
When dipping the fruit bars in melted chocolate, work in small batches of about 6 bars at a time. In order to become hard and shiny, the chocolate must firm completely in the refrigerator. If you work with too many bars at a time, the chocolate will begin to set before refrigeration and will have a dull appearance.
These bars are made with ethically sourced and sustainably produced Taylor and Colledge Organic Vanilla Bean Paste. Vanilla is often a supporting character in recipes, enhancing all of the other flavors. This delicious vanilla paste improves the flavor of the whole bar.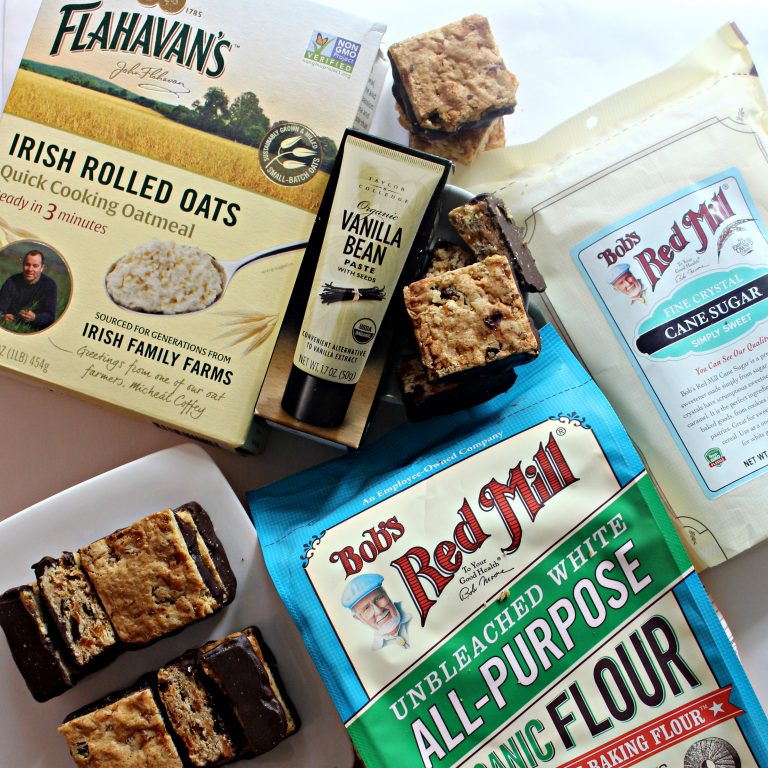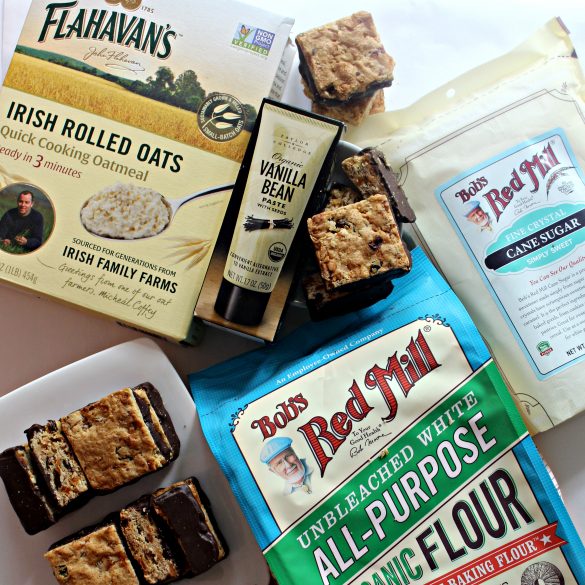 (The Monday Box participates in affiliate marketing programs. As an Amazon Associate I earn from qualifying purchases. If you choose to purchase a product after following a link on this page, I will receive a small commission, at no cost to you, which helps make The Monday Box possible.)
TOOLS YOU MAY NEED FOR OATMEAL FRUIT BARS
MORE BAR COOKIES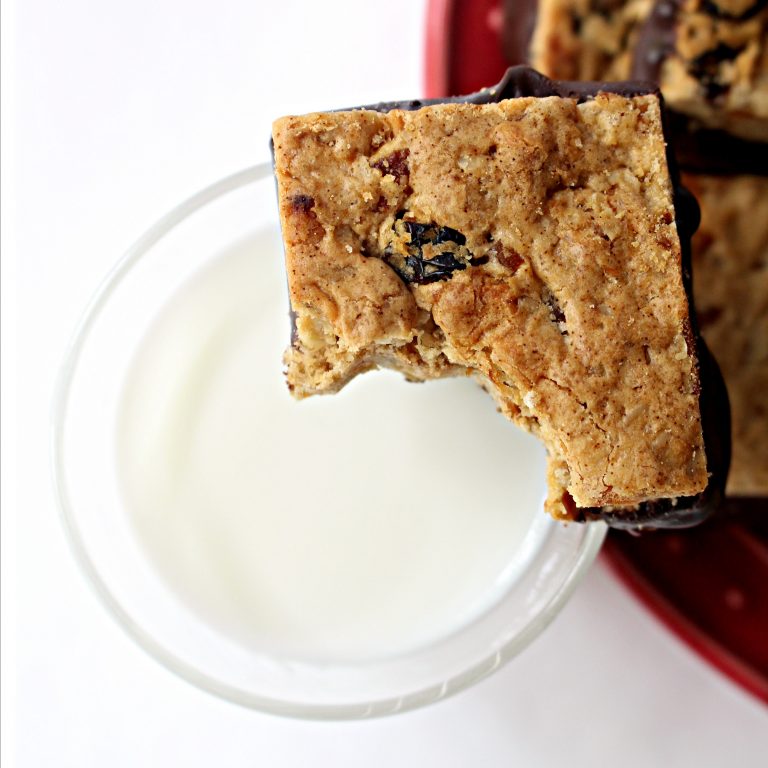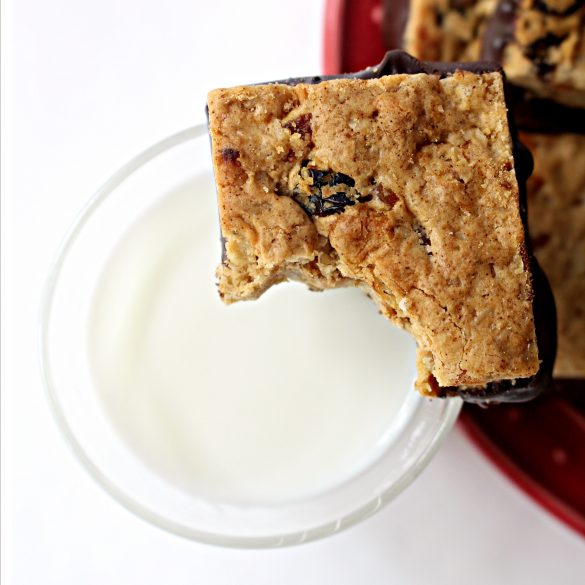 OATMEAL FRUIT BARS RECIPE
Oatmeal Fruit Bars are a great breakfast or snack bar for a boost of fruit fueled energy. Dip the bars in chocolate and they transform into a luscious dessert!
Oatmeal Fruit Bars
As an Amazon Associate I earn from qualifying purchases.
Ingredients
1 ½

cups

all-purpose flour

¼

teaspoon

salt

½

teaspoon

baking powder

1

teaspoon

cinnamon

1

cup

dried apples

finely diced

1

cup

dried apricots

finely diced

1

cup

golden raisins

1

cup

unsalted butter

room temperature

1

cup

dark brown sugar

packed

1

tsp

vanilla extract

1

large egg

room temperature

1

cup

plus 2 tablespoons old fashioned rolled oats

not quick cooking (I used Flahavan rolled oats)

2

cups

dark chocolate
Directions
Bars
Preheat oven to 350° Line a 9"x 13" baking pan with parchment and spray lightly with cooking oil.

In a large mixing bowl, whisk together the flour, salt, baking powder, and cinnamon.

In a medium bowl, toss together the diced fruits with one tablespoon of the flour mixture.

In the bowl of an electric mixer, cream together the butter and brown sugar until light and fluffy.

Add in the egg and vanilla and continue mixing until light.

With the mixer speed on low, gradually add the flour mixture, oats, and fruit. Mix just until combined. The batter will be thick.

Press the batter evenly into the prepared pan.

Bake for 25-30 minutes, until the top is light golden.

Remove from the oven and cool completely in the pan. When cool slice into bars.
Chocolate Coating
Line a cookie sheet with wax paper.

In a shallow bowl, melt the chocolate in the microwave at 50% power for 1 minute. Stir. Return to the microwave and continue to heat at 50% power for 15 second intervals, stirring between intervals, until melted.

Working with 6-9 bars at a time, dip the bottom of each bar into the melted chocolate, tapping off excess. Place the coated bars on the prepared cookie sheet.

Place the filled cookie sheet in the refrigerator for about 10- 15 minutes or until the chocolate is set.

Re-melt chocolate as needed and repeat with the remaining bars.
Notes
Chocolate dipped bars should be mailed only in cool weather. Wrap each bar in plastic wrap. Stack the wrapped bars in a column in a freezer weight bag or pack them securely in a plastic storage container.
MONDAY'S #APPLEWEEK 2019 RECIPES