Butterscotch Peanut Bars are a sweet, chewy cookie bar that almost qualifies as candy. The buttery cookie base is crowned with salted peanuts coated in butterscotch. These shiny bars are great for party platters and cookie exchanges, as well as for filling care packages with tempting snacks.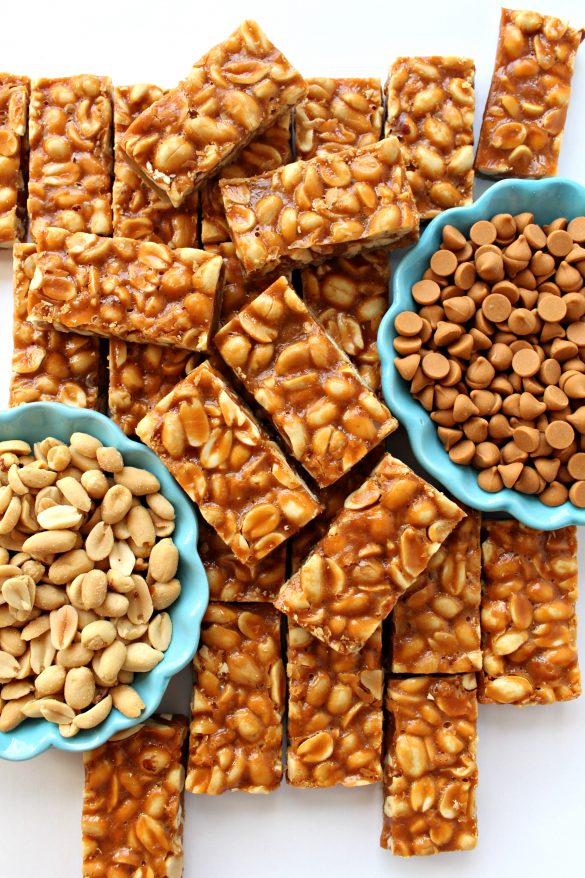 When I first started writing The Monday Box, I had very little baking experience and zero formal culinary training. Hundreds of recipes later, plus a few dozen baking classes, and a habit of reading cookbooks as if they were novels, I have built up some experiential knowledge. I'm never really aware that I've learned something until I find, with surprise, that I can solve a baking dilemma.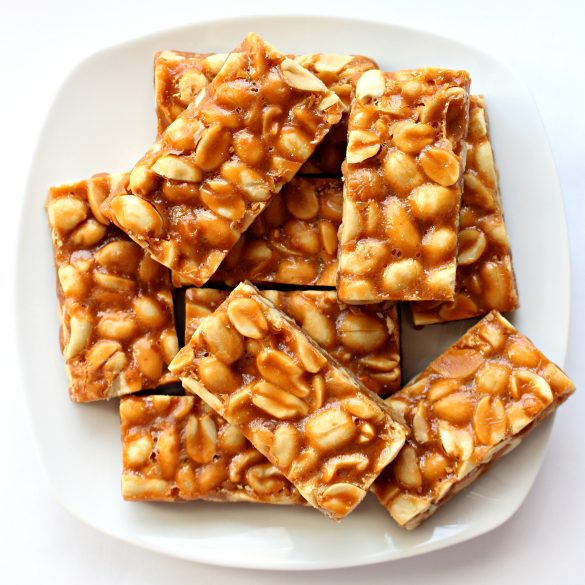 A recipe for Butterscotch Peanut Bars appeared in the St. Louis Post Dispatch newspaper in a food section article about care packages. Obviously, the article peaked my curiosity.
It featured four "care package worthy" recipes. Three of them are very similar to recipes already on The Monday Box; Caramel Popcorn, Granola Bars, and Cereal Bars.
The newspaper photo of their Butterscotch Peanut Bars looked appealing and the recipe came from a published cookbook. So, I tried the recipe, following the directions exactly.
When the pan came out of the oven, the bars looked beautiful and smelled fantastic. Unfortunately, they were so hard, that I would have needed a chainsaw to cut them.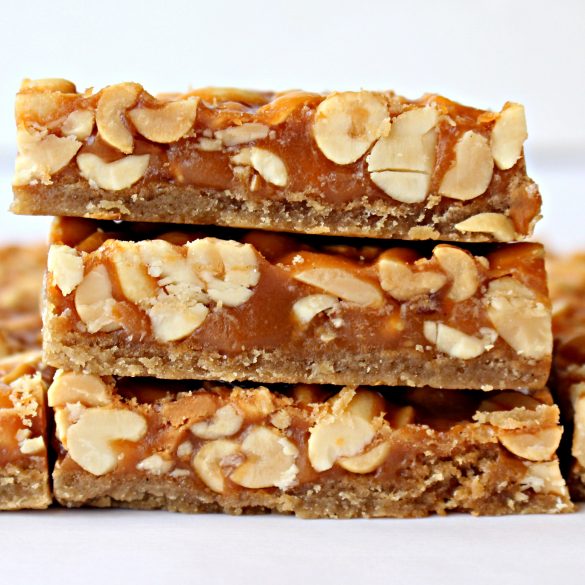 I have a really hard time letting go of recipe failures, especially a recipe with care package potential. I went over the recipe line by line to see where I could have messed up. Nothing. I really had followed it precisely.
Then I compared the newspaper recipe to the cookbook source. I thought maybe there was a misprint somewhere. Nope. The problem with the first round of bars, was that the butterscotch topping was way too hard.
While making Pomegranate Caramels and Caramel Chocolate Peanut Bars, I'd learned that the longer you cook the caramel ingredients, the hotter the mixture gets, progressing from "soft ball" stage to "hard ball" stage.
My guess was that the original recipe, not using a candy thermometer, suggested cooking times that were too long for a soft butterscotch topping. Though not confident in my theory, I stubbornly gave the recipe another go, significantly reducing the butterscotch cooking time.
And it worked!! Beautiful shine, chewy butterscotch, crunchy peanuts, and a buttery crust!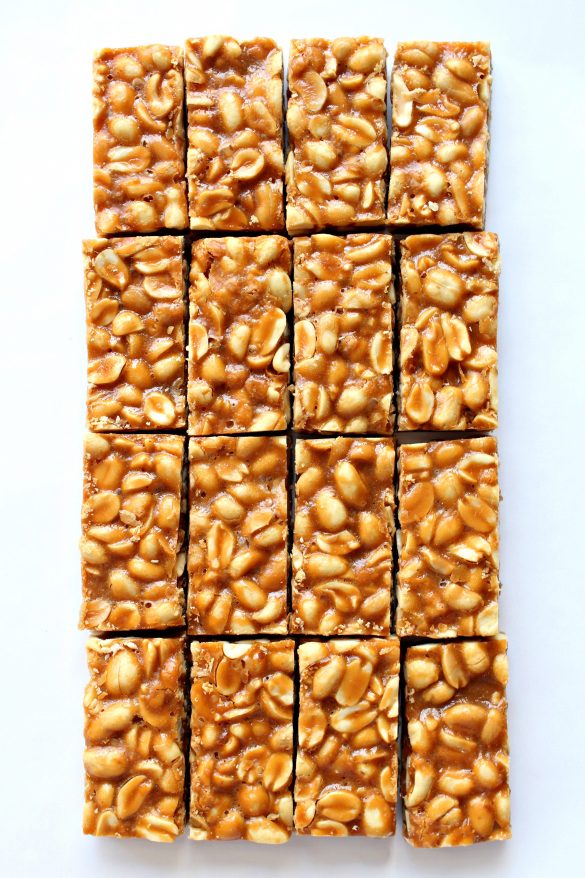 Butterscotch Peanut Bars stay chewy for about a week, but are unlikely to stick around that long. These tempting bars disappear quickly! Luckily, they are quick and easy to make, just in case you need another batch.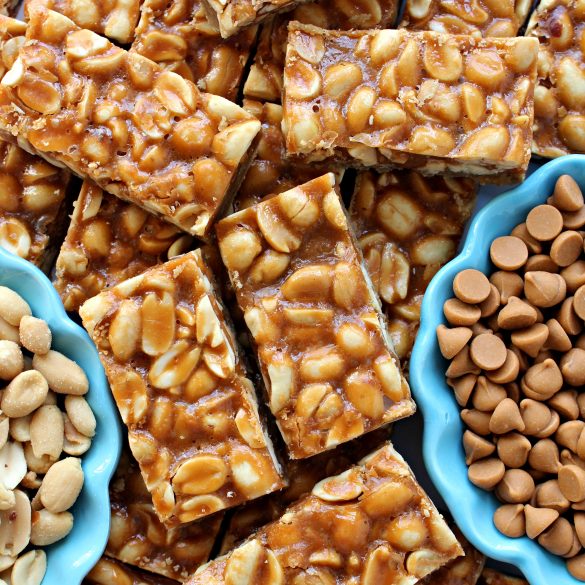 BAKING NOTES FOR BUTTERSCOTCH PEANUT BARS
The flavor difference between butterscotch and caramel, is due to the kind of sugar used. Butterscotch is made with brown sugar. Caramel is made with white granulated sugar. It's a subtle difference, but some people have strong preferences.
If you aren't a fan of butterscotch, Butterscotch Peanut Bars can be made as Caramel Peanut Bars too. Ghirardelli now makes caramel chips which can be substituted for the butterscotch chips in this recipe.
MORE BAR COOKIES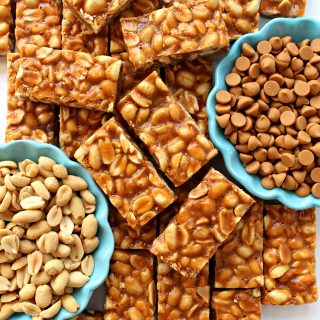 Butterscotch Peanut Bars
This sweet, chewy cookie bar has a butter cookie base topped with butterscotch and roasted peanuts.
Print
Rate
Adapted From:
Taste of Home magazine
Ingredients
Cookie base
½

cup

butter

melted

¾

cup

packed brown sugar

1-½

cups

all-purpose flour

½

teaspoon

salt

3

cups

salted peanuts

or another favorite nut
Topping
1

package

butterscotch chips

or caramel chips

½

cup

light corn syrup

or golden syrup

2

tablespoons

butter

1

tablespoon

water
Instructions
Line a 9" x 13" baking pan with parchment or non-stick aluminum foil. Preheat oven to 350° F.

In a medium mixing bowl, stir together melted butter and brown sugar.

Add flour and salt and mix well.

Press the dough evenly onto the bottom of the prepared pan.

Bake at 350° for 10 minutes.

Remove from the oven, and sprinkle with peanuts. Press the peanuts gently onto the crust.

In a large saucepan, add the chips, corn syrup, butter and water.

Cook over medium heat, stirring continually, just until chips and butter are completely melted.

Pour the topping over the prepared crust and gently spread the topping with a spatula. Don't worry about covering every tiny spot, as the topping will fill in while baking.

Bake for 11-12 minutes or until topping is bubbly around the edges. Remove from the oven.

Cool completely in the pan.

Remove from the pan onto a cutting board. Cut into bars.

Store at room temperature in an airtight container for up to one week.
Notes
Packing tips
Wrap bars individually in plastic wrap and stack in a freezer weight ziplock bag or layer bars between wax paper in an airtight storage container.
Nutrition
Calories:
196
kcal
|
Carbohydrates:
17
g
|
Protein:
5
g
|
Fat:
13
g
|
Saturated Fat:
4
g
|
Polyunsaturated Fat:
3
g
|
Monounsaturated Fat:
5
g
|
Trans Fat:
1
g
|
Cholesterol:
12
mg
|
Sodium:
129
mg
|
Potassium:
149
mg
|
Fiber:
2
g
|
Sugar:
12
g
|
Vitamin A:
141
IU
|
Calcium:
26
mg
|
Iron:
1
mg
In love with peanut desserts? This collection of 20 Irresistible Peanut Cookies will make your day!