Soft, chewy Strawberry Brownies are a treat that travels well in picnic baskets and care packages. This scrumptious bar is the newest Monday Box addition to our collection of desert safe recipes that are specifically developed with ingredients that help them stand up to summer heat.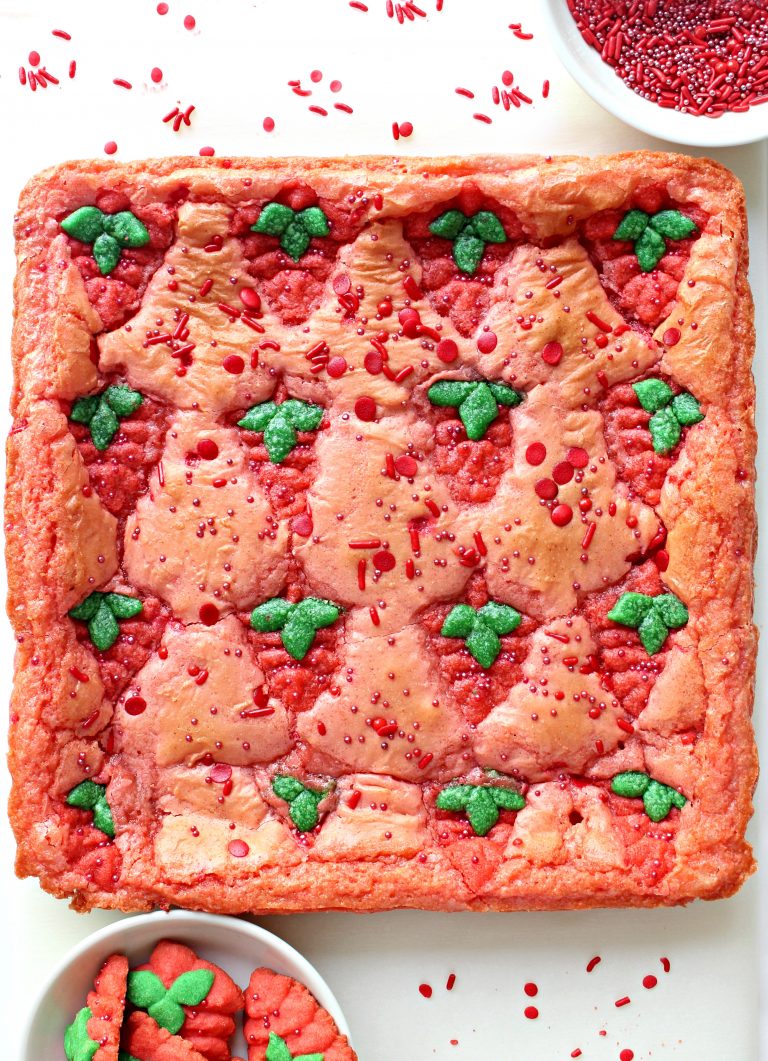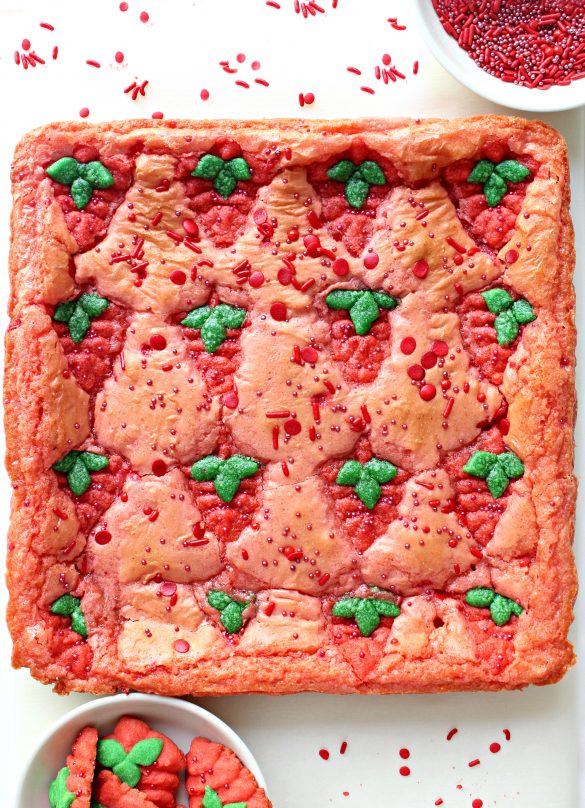 Every year about this time, I write the same speech here on The Monday Box reminding everyone to take precautions when mailing baked goods in hot weather. Domestic packages regularly travel in summer temperatures around 100° F. Military care packages to the Middle East regularly travel in 120+° F desert heat!
Melting is a concern. Spoilage is a problem. There is nothing we can do to guarantee that our treats will arrive in intact, but we can take precautions.
We can avoid ingredients that add mold promoting moisture, such as liquid sweeteners or fruit. We can also use vegetable shortening as the fat in recipes. Vegetable shortening is a shelf stable fat that is least likely to go rancid in hot weather.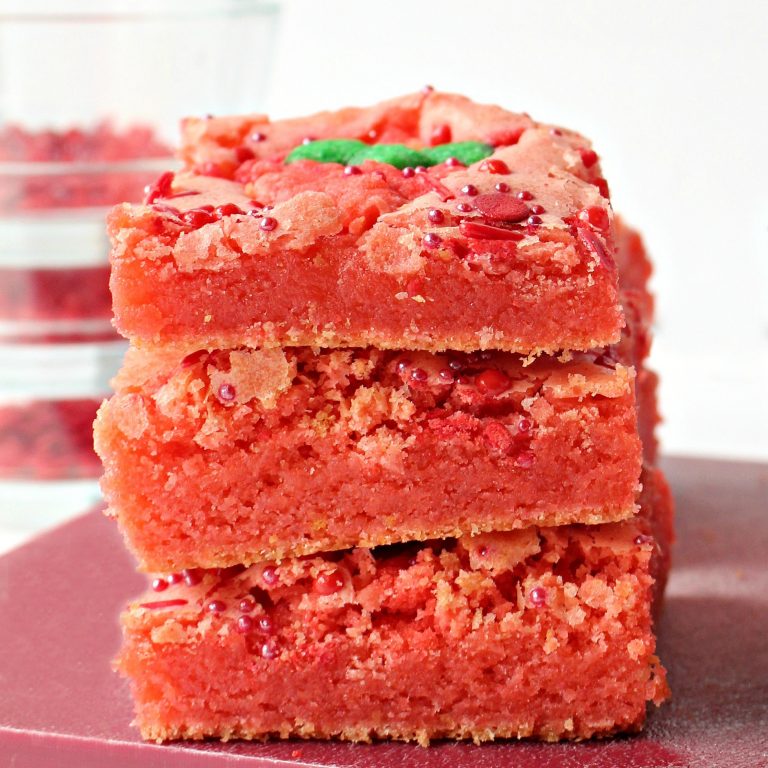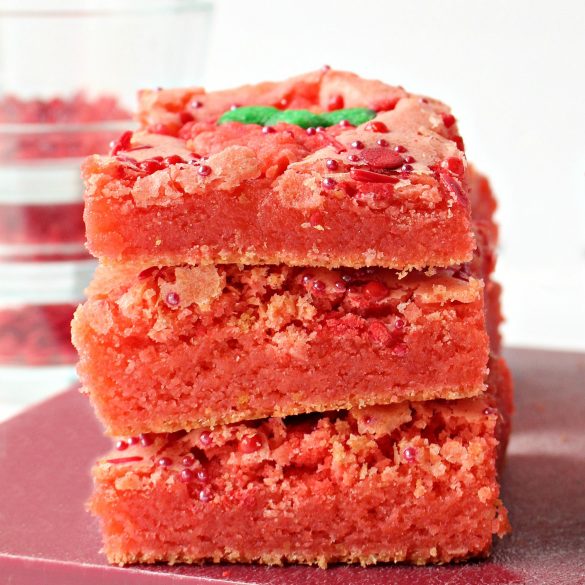 There are bakers who choose not to follow desert safe recommendations. I have been told by many Soldiers Angels bakers, that they don't think it is necessary based on their past experiences.
I personally choose to take extra care to stack the odds in my (and my care package recipient's) favor. I want to do everything I can to avoid a care package full of inedible baked goods.
That doesn't mean that I stop baking. I just bake carefully. There are over 50 recipes for desert safe cookies and bars on The Monday Box and every year I add more! All are recipes to be enjoyed year round with the added bonus of being desert safe.
HOW TO MAKE STRAWBERRY BROWNIES FROM SCRATCH
In a medium bowl, whisk together flour, baking powder, and salt.
Microwave the vegetable shortening in a large bowl until melted.
Into the melted shortening add the flour mixture, sugar, eggs, vanilla, and strawberry flavor. Mix until smooth.
Add red food coloring gel, if desired, for deeper color.
Stir in white chocolate chips.
Spread the brownie batter into a foil lined 9"x9" pan and sprinkle with nonpareils.
If using Strawberry Press Cookies to decorate, cover the pan loosely with a sheet of foil and bake for 15 minutes.
Remove the foil and add the frozen, unbaked Strawberry Press Cookies on top.
Bake for an additional 12 minutes.
If not using cookie decorations, bake for 25-30 minutes.
Cool completely in the pan before removing and cutting into bars.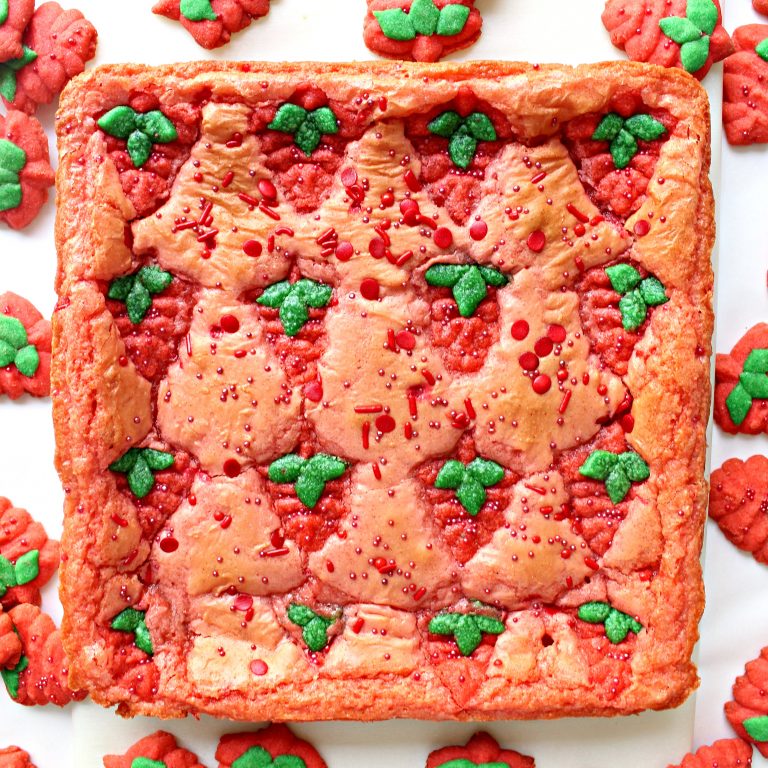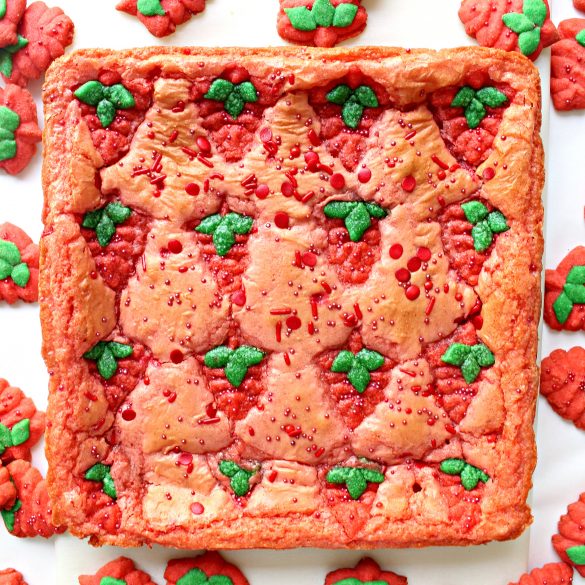 TIPS FOR MAKING STRAWBERRY BARS
These Strawberry Bars are part of the contents of a "Thank You Berry Much!" military care package and were decorated with 16 unbaked, frozen Strawberry Press Cookies that were set aside for this purpose. The recipe for Strawberry Bars provides directions and timing for baking with the cookie decorations or without.
The 3 egg yolks in this recipe, combined with the red tinted strawberry flavoring, turns the batter a peach color. For a more strawberry pink-red color, add some red or pink food coloring gel.
I am a big fan of Lorann baking emulsions. The flavors taste natural and don't fade while baking. They can be easily found online, in baking stores, and at Michael's craft stores.
The brownies are partially baked before adding the Strawberry Press Cookies as decoration in order to help keep the cookies from sinking into the brownie dough while baking. There will be some sinking but most of the cookies should remain clearly visible.
(The Monday Box participates in affiliate marketing programs. As an Amazon Associate I earn from qualifying purchases. If you choose to purchase a product after following a link on this page, I will receive a small commission, at no cost to you, which helps make The Monday Box possible.)
TOOLS AND INGREDIENTS YOU MAY NEED


MORE STRAWBERRY DESSERT RECIPES
Chocolate Strawberry Blondie Bites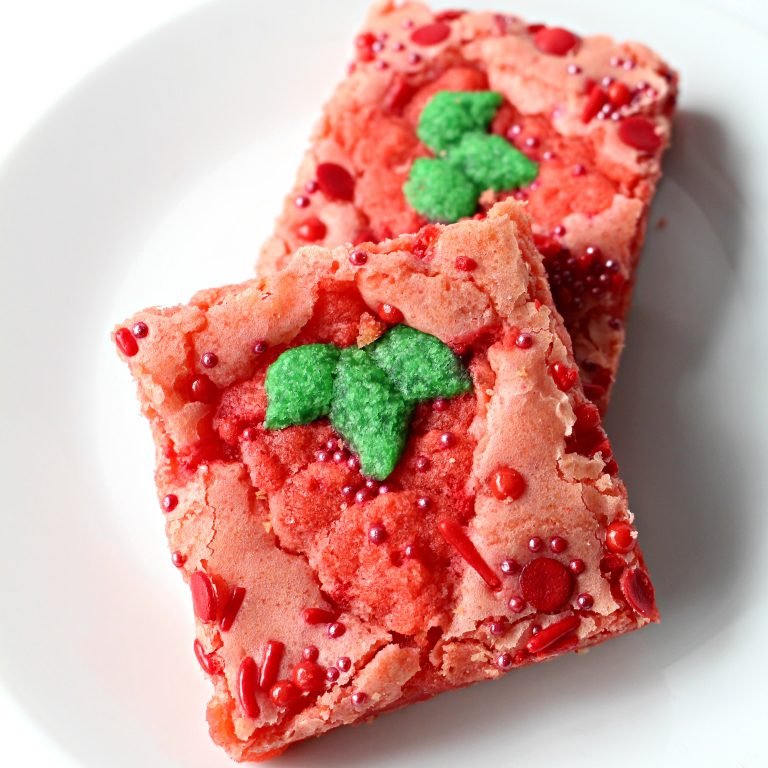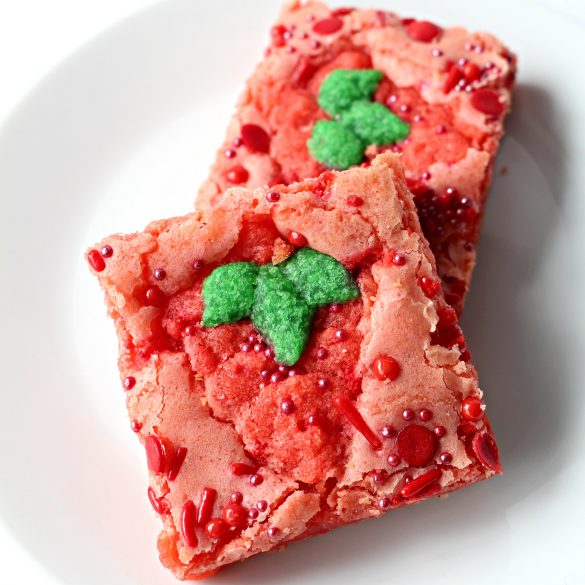 STRAWBERRY BROWNIES RECIPE
Delicious Strawberry Brownies are soft, fruity bars with the bonus of being safe for shipping in hot weather. An ideal recipe for summer time snacking!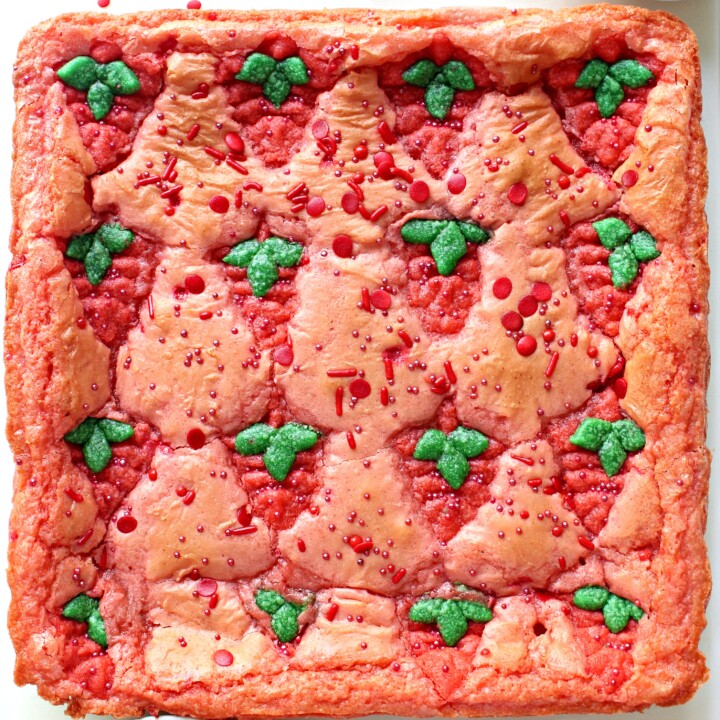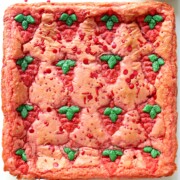 Print
Strawberry Brownies
As an Amazon Associate I earn from qualifying purchases.
Ingredients
1

cup

all-purpose flour

½

teaspoon

baking powder

¼

teaspoon

salt

½

cup

butter flavor vegetable shortening

1¼

cups

granulated sugar

2

large eggs + 1 egg yolk

1

teaspoon

vanilla extract

1

tablespoon

strawberry jello powder OR 2 teaspoons strawberry extract

4-7

drops of red food coloring gel

optional

¼

cup

mini white chocolate chips

2-3

tablespoons

pink and red nonpareil sprinkles

16

unbaked Strawberry Press Cookies

frozen (optional)
Directions
Preheat oven to 350 degrees Line a 9" x 9" pan with foil extending over the edges. Spray the foil with non-stick spray.

In a medium bowl, whisk together flour, baking powder, salt.

Place vegetable shortening in large microwave safe bowl and microwave about 1 minute until melted.

Into the bowl of melted shortening add flour mixture, sugar, eggs and yolk, and vanilla extract and strawberry jello (or strawberry extract). Mix with a large spoon until smooth.

For a more red colored bar, mix in food coloring gel.

Stir in white chocolate chips.

Spread the batter evenly into pan, then sprinkle with nonpareils. With fingertips, gently press the sprinkles to make sure they sticks to the batter.
If using Strawberry Press Cookies to decorate:
Lay a sheet of foil loosely over the pan and bake for 15 minutes.

Remove the foil, arrange the frozen, unbaked cookies on top of the batter, bake for an additional 12 minutes or until a toothpick inserted into the brownies comes out clean.
If not using cookie decorations:
Bake for 25-30 minutes until golden brown and a toothpick inserted in center comes out clean.

Cool completely in pan on wire rack.

When cool, remove from pan by lifting the overhanging foil.

Cut into bars.

Store at room temperature in an airtight container or ziplock bag for up to 10 days. For longer storage, wrap the entire square and do not cut into individual bars.
Notes
Double wrap bars individually or in pairs in plastic wrap before placing in airtight containers or ziplock bags. Wrapping or vacuum sealing the entire pan of Raspberry Bars without cutting will preserve moisture and keep the bars chewy for longer.