Patriotic Cookie and Brownie Crunch is thin, crispy brownie and chocolate chip cookie brittle spangled with red, white, and blue! For Memorial Day, July 4th, or any day you want to bake a patriotic snack!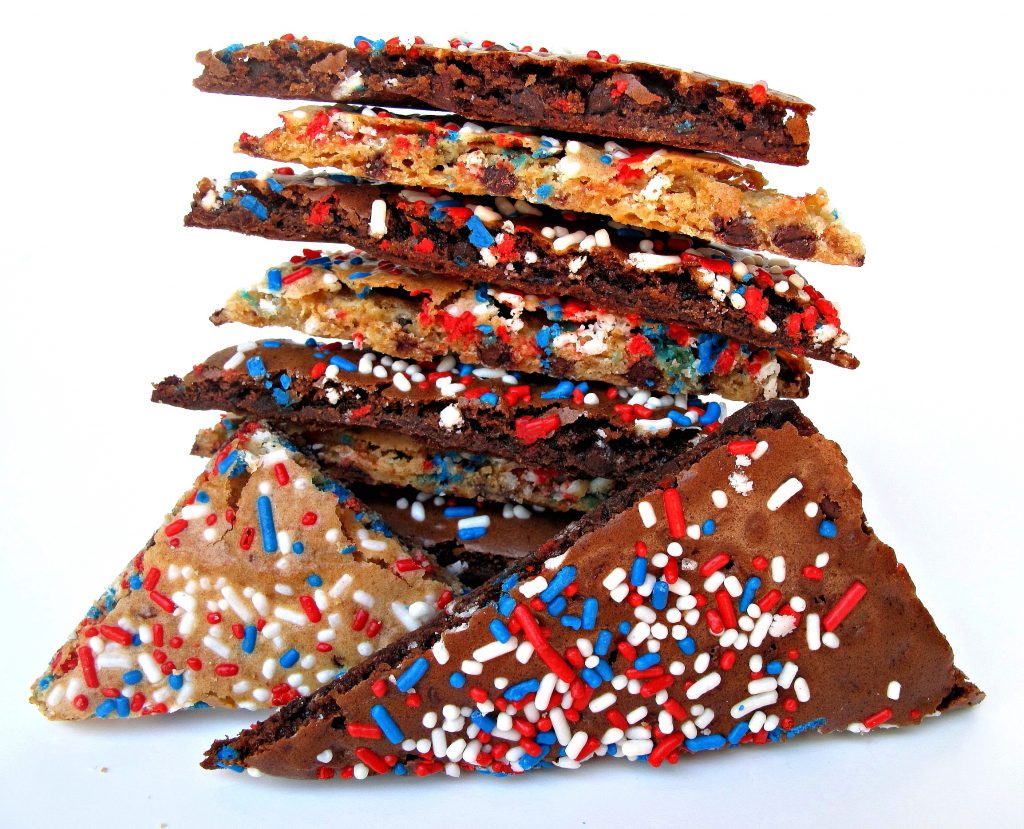 I will be honest. Most of my life Memorial Day meant the end of the school year, swimming pools opening, and barbecues. Though aware of the purpose of Memorial Day as a day to remember the men and women who died serving our country in the Armed Forces, I spent very little time thinking about it.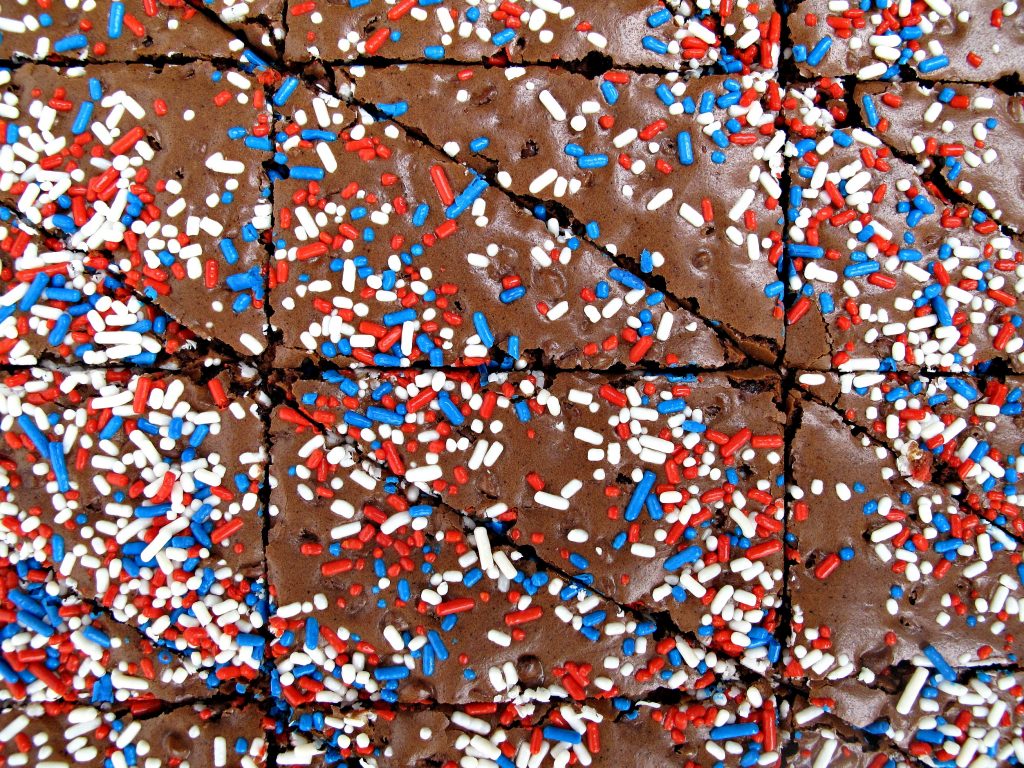 It is easiest not to think about difficult subjects. But for many reasons, I believe it is wrong to avoid this one. Memorial Day isn't about political beliefs or philosophical convictions concerning war and peace. Memorial Day honors real people who gave their lives so that the rest of us could live our daily lives as we do. It is a day to thank them, and their loved ones, for their bravery and sacrifice. It is also a day to demonstrate to the men and women currently serving, that the job they are doing is an honored and appreciated one, that they and those who served before them are not forgotten.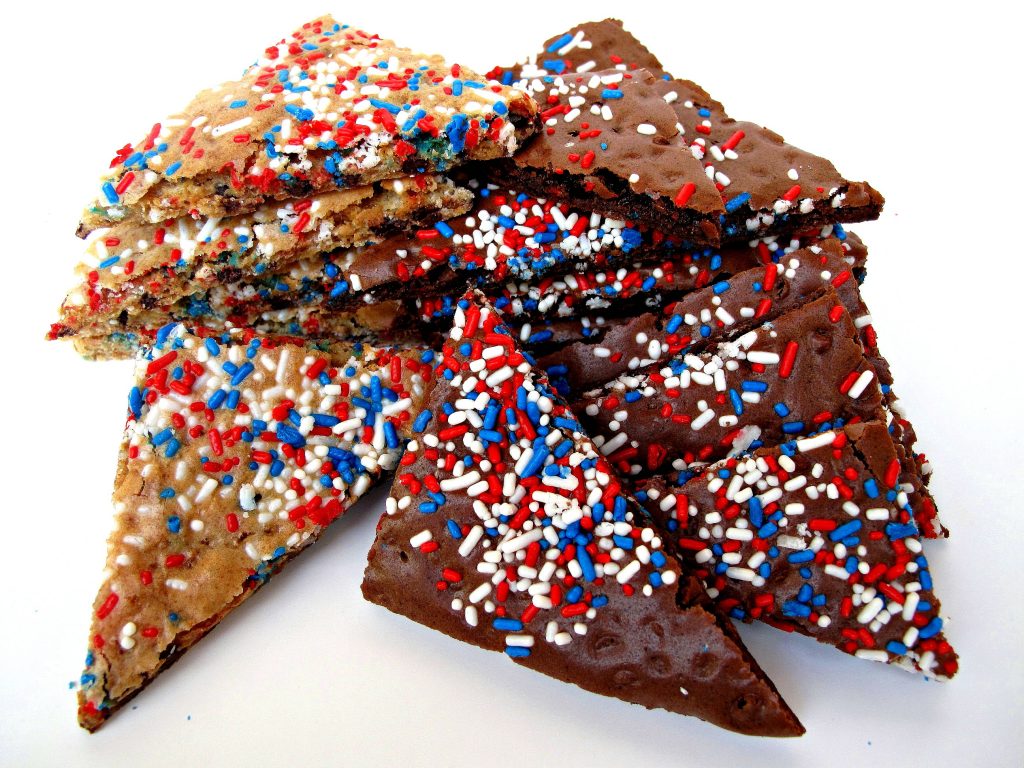 As we celebrate this Memorial Day, I suggest sending a thought or prayer honoring the military men and women who have chosen this very difficult and dangerous job. I will also be sending a donation to Snowball Express. This wonderful organization provides services to the children of fallen military heroes. Please click over and read about their important work. In a tiny way, I want to say, "Thank you".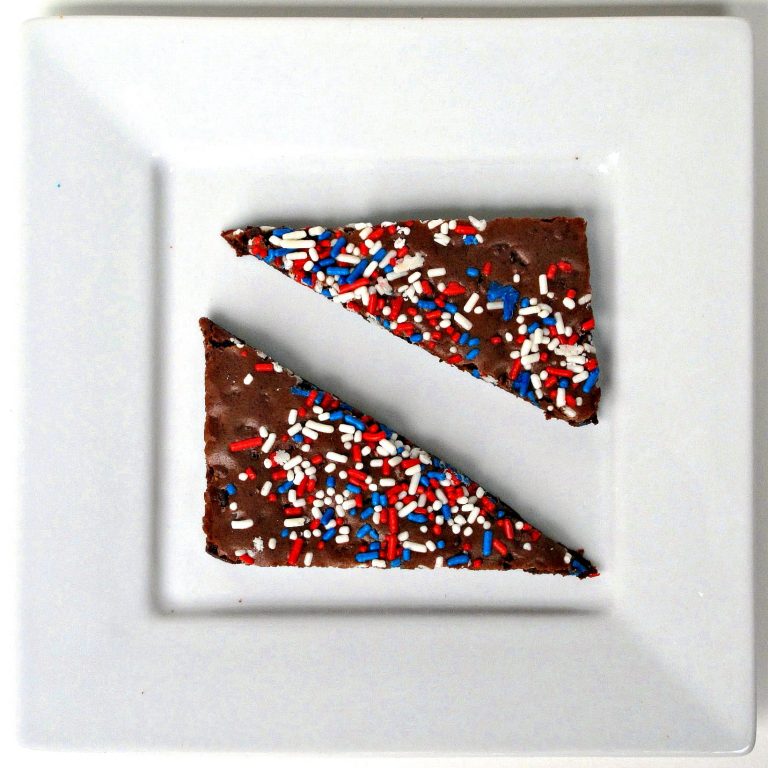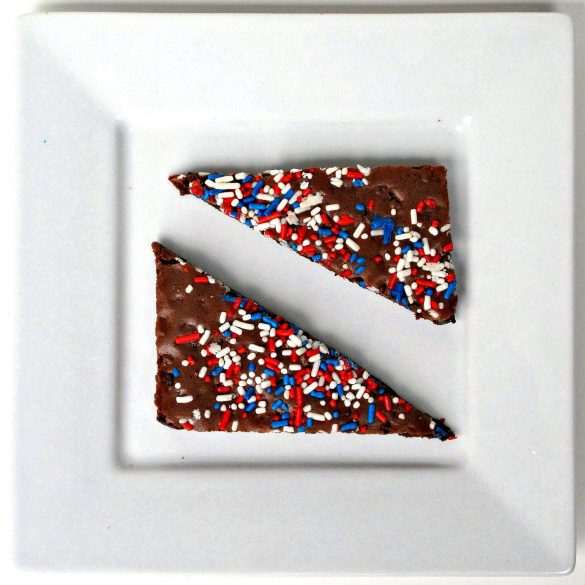 If you think a tiny gesture is meaningless, I am about to prove you wrong. You may have read other posts where I have mentioned the blog Gina Has Left the Mall. Gina has opened my eyes, mind, and heart to a subject I have always avoided thinking about. Through Gina's blog I learned about Cup of Joe. For a $2 donation online to Cup of Joe, anyone can purchase a cup of coffee that is gifted to a service person, as a gesture of thanks and support. If the donor provides an email address, the recipient of the gift often sends a short note in return. I was dubious that such a small gesture could have any impact, but I quickly learned that one cup of coffee can go a long way to warming a heart. The following are a few of the email notes I have received.
"Thank you so very much for participating in this "Cup of Joe" program. It really means a lot to us, no matter how small the gesture. It lets us know that we are not forgotten Task Force ODIN – Bagram Afghanistan"
"Thanks mam, I greatly appreciate your act of kindness and best wishes that you're sending my way. I'll try my best to stay safe and I truly look forward to getting back home with my family. Thanks for your caring, concern and compassion."

"Thank you for your kind words and thoughts! To know that someone is thinking of us is an awesome feeling. It's my pleasure to serve and thank you! SMSgt L Roberson"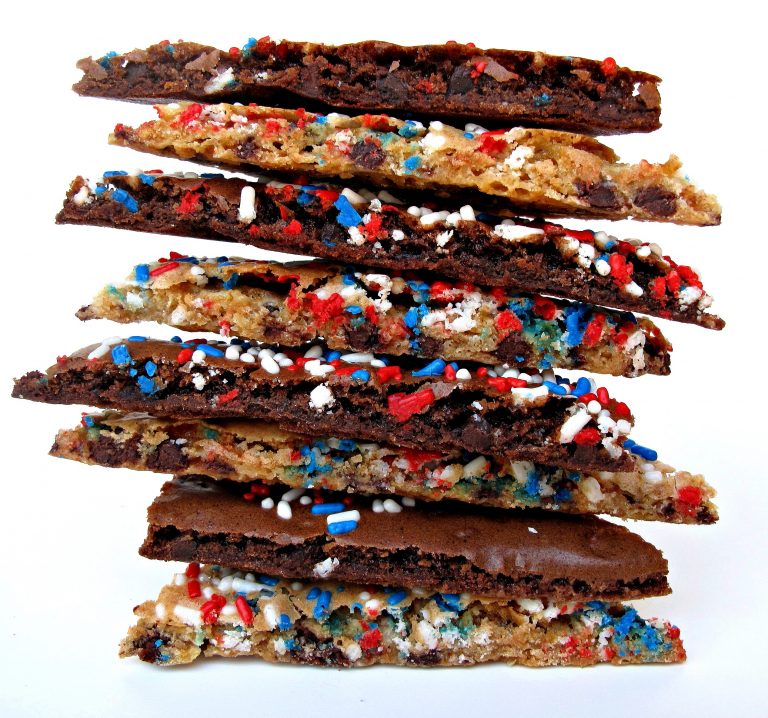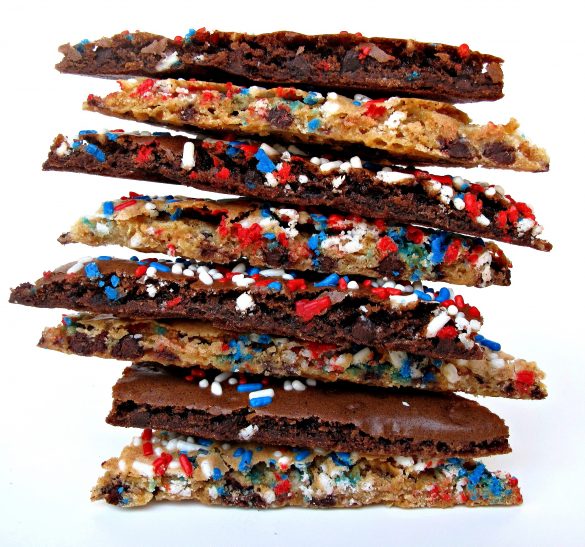 Desert safe Patriotic Cookie and Brownie Crunch treats are in honor of our military heroes past and present. They are great for a patriotic celebration or for care package sharing. I appear to always be light years behind on baking trends. I had never heard of crispy brownies until I found a recipe on the King Arthur site. Then, googling the recipe, I found I may possibly be the only person on earth who hadn't heard of brownie crunch, but no one I found mentioned that these cookies are great for care packages. Stored airtight at room temperature, the crunch stays crunchy and delicious for at least 2-3 weeks! Though the crisp texture makes these more prone to breaking when mailing, careful packaging to minimize wiggle room keeps the cookie crisps intact. If you are eating these at home, no worries about careful packaging. Patriotic Cookie and Brownie Crunch is addictive and it is unlikely you will be storing any at all.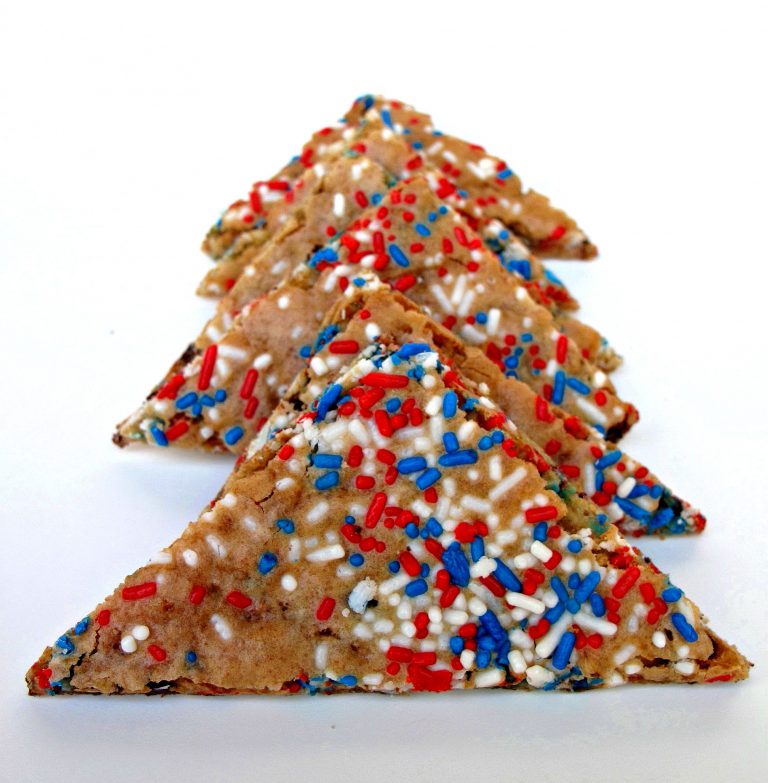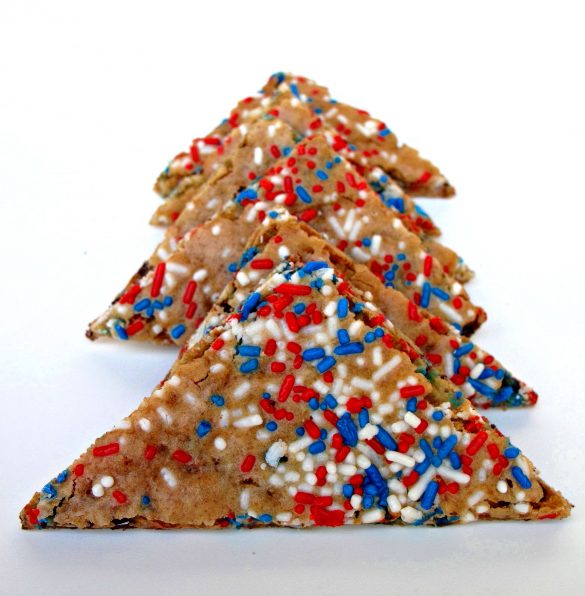 Patriotic Cookie and Brownie Crunch should be enjoyed year round. The "patriotic" part of these crisp cookies is only the red, white, and blue sprinkles, just a little thing. But sometimes little things can make a difference. Happy Memorial Day!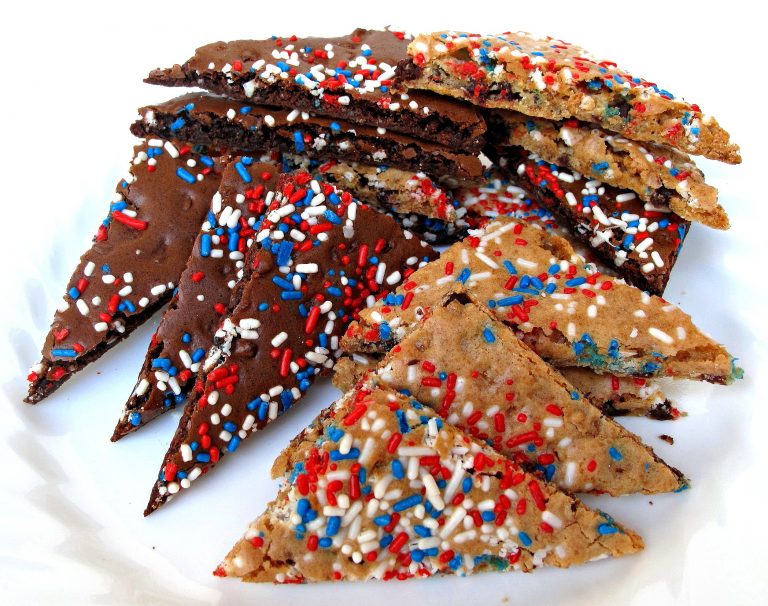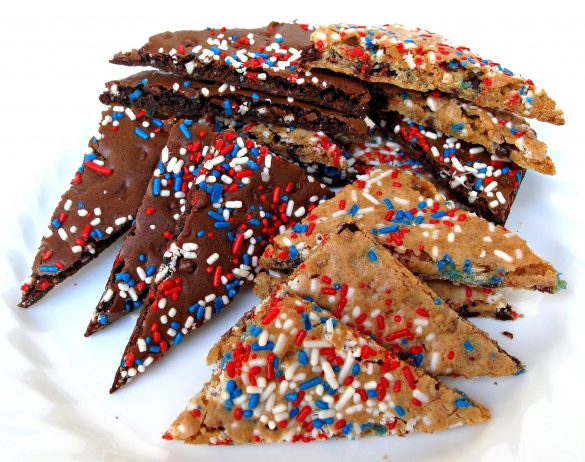 You can read more about desert safe ingredients and find an index of all of the desert safe recipes on The Monday Box by clicking here.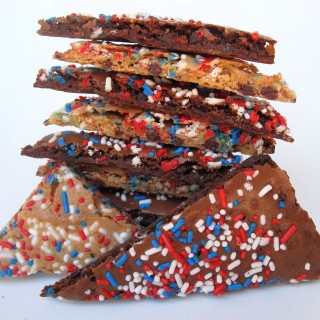 Print
Patriotic Cookie and Brownie Crunch
Servings
24
triangles or small rectangles
As an Amazon Associate I earn from qualifying purchases.
Ingredients
FOR COOKIE CRUNCH:

½

cup

+ 2 tablespoons all-purpose flour

¼

teaspoon

salt

¼

teaspoon

baking soda

2

large egg whites

1

cup

granulated sugar

¼

cup

vegetable oil

2

teaspoons

vanilla extract

1

tablespoon

powdered milk

½

cup

mini chocolate chips

FOR BROWNIE CRUNCH:

½

cup

all-purpose flour

¼

teaspoon

salt

¼

teaspoon

baking soda

2

large egg whites

1

cup

granulated sugar

2

tablespoons

cocoa

1

teaspoon

espresso powder

¼

cup

vegetable oil

1

teaspoon

vanilla extract

1

tablespoon

powdered milk

½

cup

mini chocolate chips

3-4

tablespoons

sprinkles
Directions
Preheat oven to 325 degrees F. Line a baking sheet with parchment paper.

In a medium bowl, whisk together flour, salt, and baking soda.

In the bowl of an electric mixer, whisk the egg whites until foamy.

Mix in sugar, cocoa powder (if using), espresso powder (if using), oil, vanilla, and powdered milk.

Slowly add flour mixture and mix until combined. (The batter will resemble cake batter in consistency.)

Stir in chocolate chips.

Pour the batter onto the prepared baking sheet and use a spatula to spread at thin as possible.

Add sprinkles. (Optional, but who doesn't love sprinkles?)

Bake for 20 minutes. Remove from the oven and cut into desired shapes but do NOT separate. (For mailing, rectangles travel intact more successfully than triangles.)

Return to oven and bake an additional 5 minutes.

Remove from the oven and allow to cool completely on the baking sheet before separating cookie pieces. The Crunch crisps as it is cooling. If for any reason the cookies aren't completely crisp once cool, return them to the oven for a few minutes of extra crisping time.

Store in an airtight container at room temperature for at least 2-3 weeks.
Packing Tips
Rectangle shapes travel better than triangles. Double wrap short stacks of 4 or 5 pieces of Crunch in plastic wrap before placing in airtight containers. Make sure to pack without wiggle room using tissue paper is necessary. Plastic storage containers offer more protection than ziplock bags against breakage.