Full of toasty sesame flavor, Benne Wafers are a crunchy, chewy treat. This cookie is both delicious and good luck!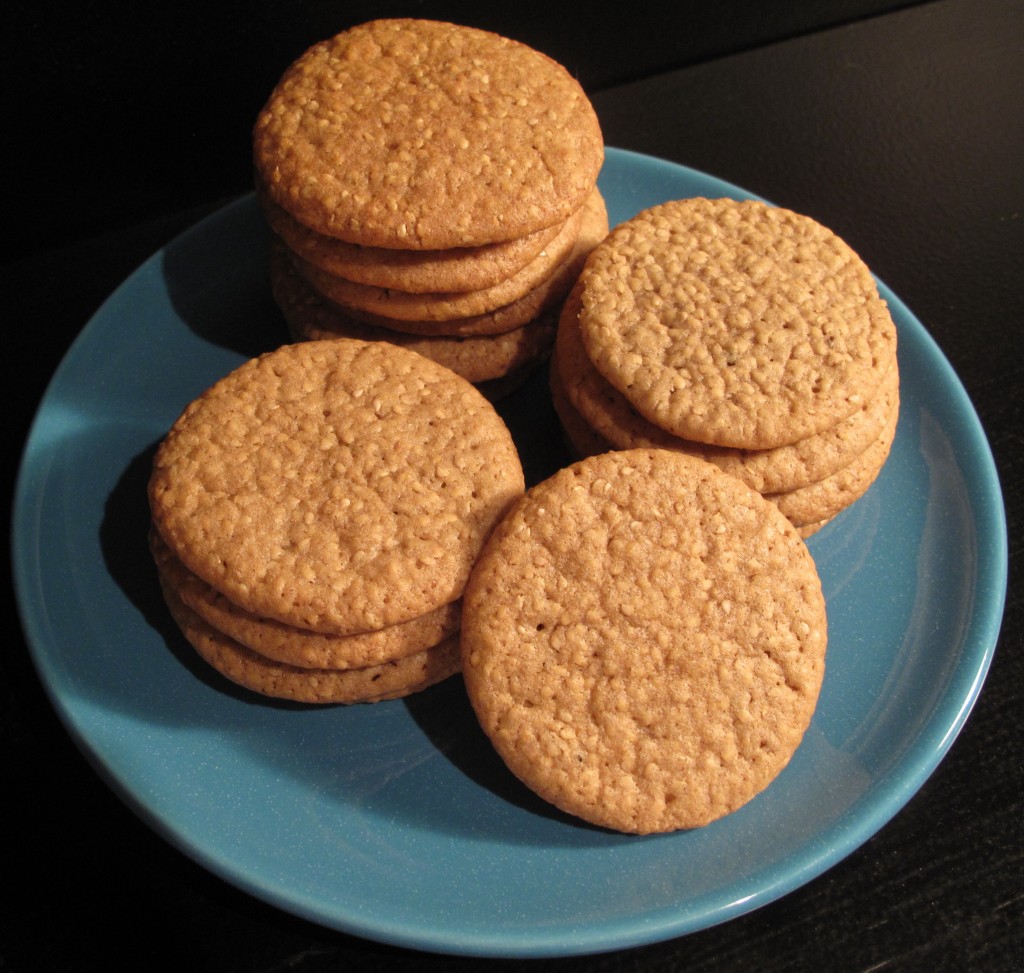 When packing a care package for midterm exam week (or any stressful time in someone's life), I like to think in terms of food "benefits". I send almonds for brain power, dark chocolate (bars or in brownie form) for antioxidant heart health, and sesame seeds for good luck.
I didn't know about sesame seeds bringing good luck until recently, when I found recipes for benne wafers. I had never heard of them. Suddenly, it seemed these cookies were everywhere I looked; recipe web sites, King Arthur Flour.com, "The Good Cookie" by Tish Boyle, even Martha Stewart.
I learned that benne (rhymes with penny) is the Bantu word for sesame. When West Africans were brought to the Americas as slaves in the 17th century, they brought sesame (benne) seeds with them. Benne seeds are said to bring good luck to those who eat them.
Today, traditional benne wafers, made from centuries old recipe, can be found in bakeries in the South Carolina low country around Charleston. I read about several Charleston weddings where benne wafers were given as table gifts to the guests. Everybody can use a little extra luck.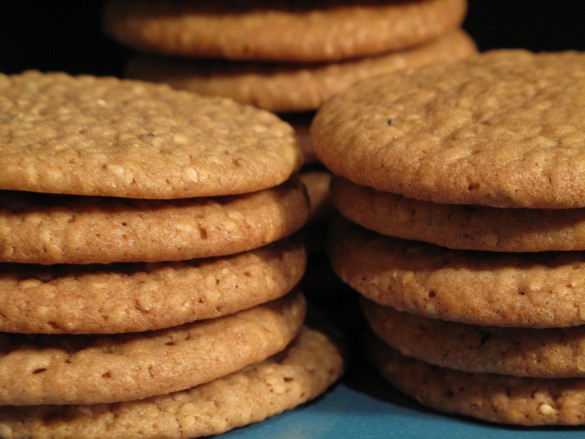 The recipes all seem to have the same basic ingredients in slightly different proportions. In reading comments, it appeared that the recipes with lower amounts of flour created thinner, lacey cookies that were often very difficult to remove from the baking surface. They were definitely too fragile for mailing.
I was very pleased with the King Arthur recipe. It produced a thin but sturdy cookie that was both easy to make and easy to mail. My one problem was that my wafers were a pleasant crunchy-chewy combination and I think they were supposed to be just crunchy.
We have been having day after day of rain around here and I think the wet, humid air may be the culprit. We liked them anyway. The toasted sesame seeds give a wonderful flavor and crunch.
The recipe calls for 1 cup of sesame seeds, which is a lot of seeds if you are using the little jars found in the spice aisle of the supermarket. A much more economical source is a bulk food area of a health food store (like Whole Foods where I bought mine for $3-4 a pound). Another good source is an Asian grocery, where sesame seeds are sold in larger containers.
The seeds can easily be toasted in either the oven or on the stovetop in a frying pan. For oven toasting, spread the seeds on a baking sheet (with sides), and place in a 370 degree F oven for about 10 minutes, or until the seeds begin to look golden and hop a little in the pan.
Watch carefully and shake the pan frequently to avoid burning. For stovetop toasting, spread the seeds in a frying pan and heat on medium-high for about 10 minutes. Just like with the oven method, be sure to watch carefully and shake the pan frequently.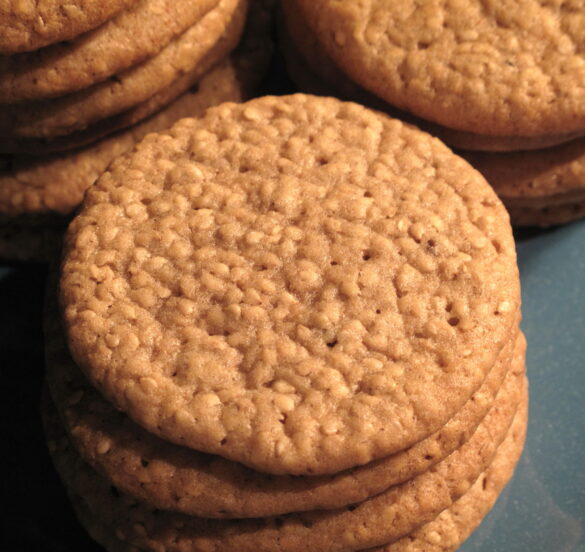 More sesame recipes
Good Luck Sesame Benne Wafers
As an Amazon Associate I earn from qualifying purchases.
Ingredients
1/2

cup

unsalted butter

1

cup

light brown sugar

packed

1/4

teaspoon

salt

1/4

teaspoon

baking soda

1-2

teaspoons

vanilla

1

large egg

1

cup

all-purpose flour

1

cup

toasted sesame seeds
Directions
Preheat oven to 350 degrees F. Line baking sheet with parchment paper.

In the bowl of an electric mixer, cream butter and sugar.

Add eggs, one at a time. Then add vanilla. Mix until light and fluffy (about 5 minutes).

Add salt, baking soda, and flour and continue mixing until smooth.

Stir in sesame seeds.

Using a tablespoon scoop, place balls of dough 2-3″ apart on lined baking sheet. (9-12 per sheet. The balls spread into flat discs, so leave room).

Bake 8-10 minutes until golden.

Cool on baking sheet for 1 minute before sliding parchment onto wire cooling racks.
Packing Tips
Double wrap cookies in plastic wrap in pairs with bottoms together. Place wrapped bundles in an airtight ziplock bag or container for storage. Store at room temperature for 1-2 weeks.