Honey Sesame Brittle is crunchy, toasty, and sweet. Quick and easy to make, this shiny brittle can be shaped in candy molds or poured in one piece and broken into bite size snacks.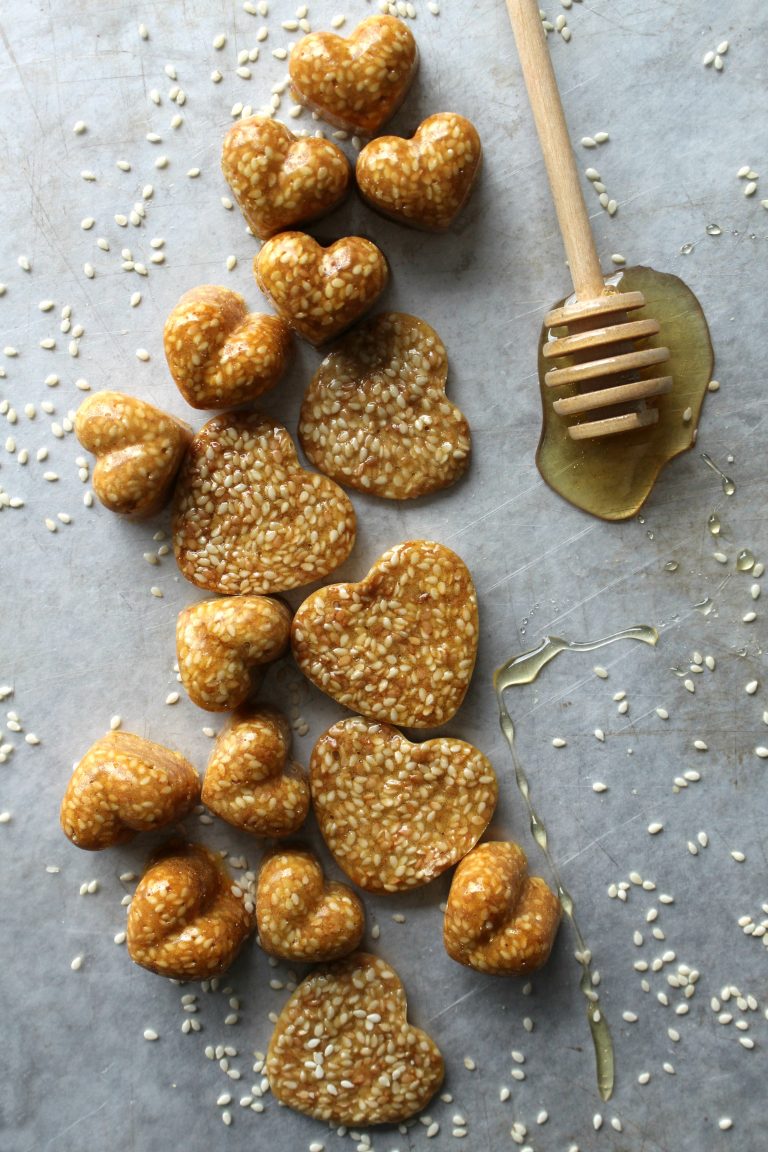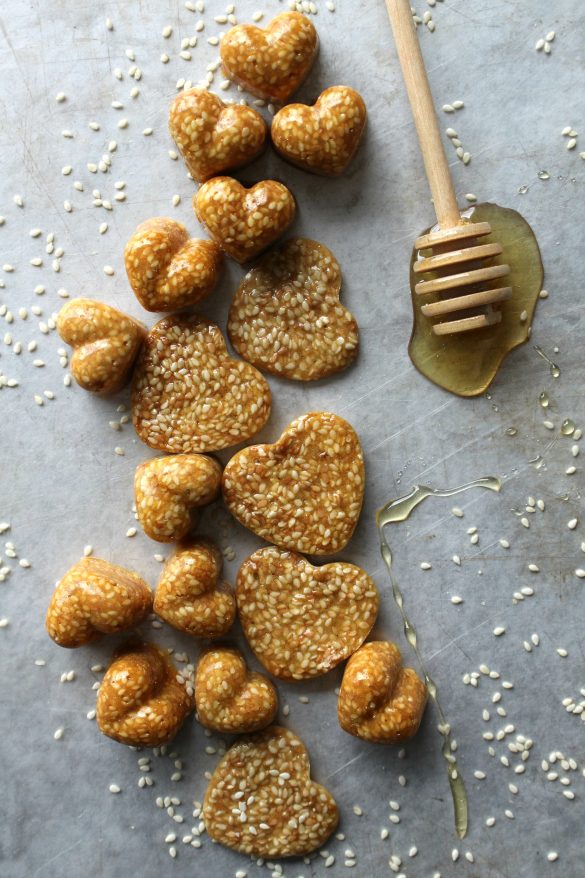 (The Monday Box participates in affiliate marketing programs. As an Amazon Associate I earn from qualifying purchases. Additional affiliate programs may be linked when applicable. If you choose to purchase a product after following a link on this page, I will receive a small commission, at no cost to you, which helps make The Monday Box possible.)
I don't need any more kitchen gadgets. I don't need any more molds in cute shapes, whimsical cookie cutters, or intricate bundt pans. But that doesn't always stop me from buying them.
The only thing that holds me back (occasionally) from impulse kitchenware purchases is my serious lack of available kitchen storage space. I am trying to only add items that have multiple uses and to re-purpose things I already have.
Last year, I bought two sizes of silicone heart molds and never used them. Honestly, I forgot I had them. When I recently unearthed the molds, I decided to make up for lost time. Applying my multi-use rule, I used the molds with three different recipes. Now I have lots of heart shaped goodies to share.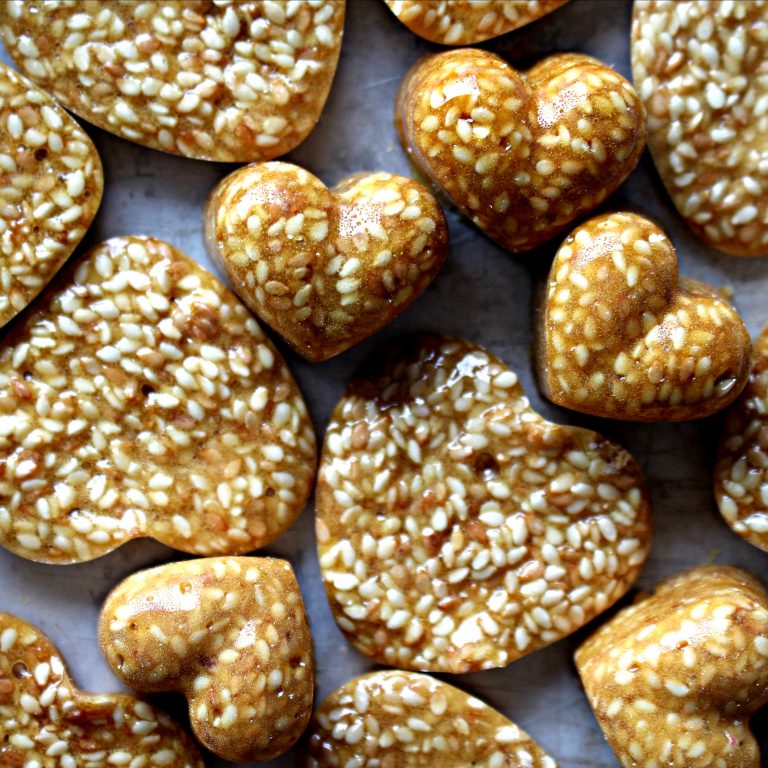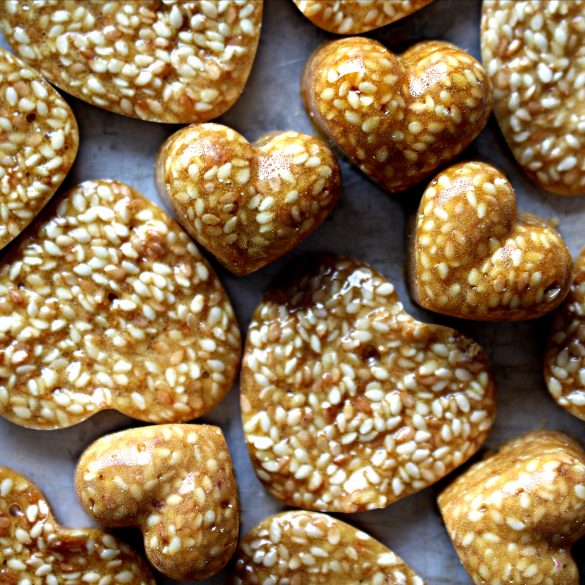 The first heart-shaped recipe is for Honey Sesame Brittle. Brittle isn't usually made in a mold. The standard method is to pour the candy mixture onto a non-stick surface and break it into individual pieces once the brittle hardens.
Spooning the hot mixture into silicone molds takes only a few more minutes and the results are so pretty. Shiny, amber Honey Sesame Brittle in small heart shapes is a solid piece of hard candy. The thinner, larger hearts, just like the pieces broken from poured brittle, are crunchy and bitable.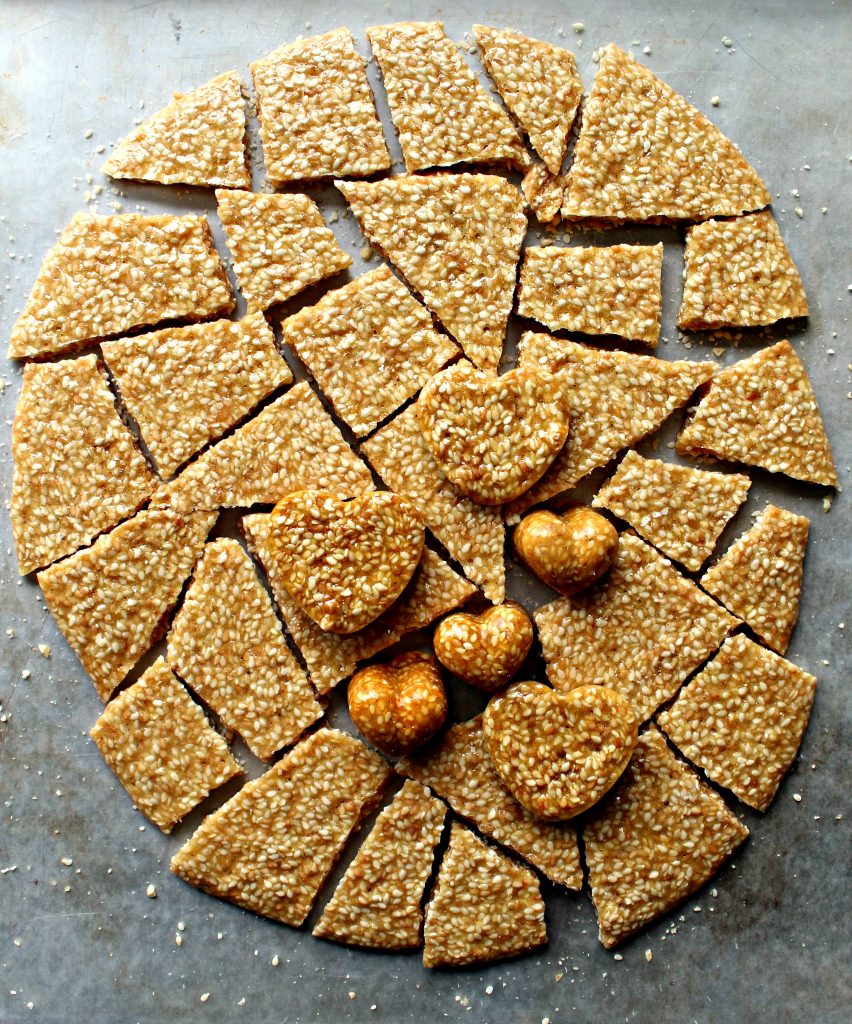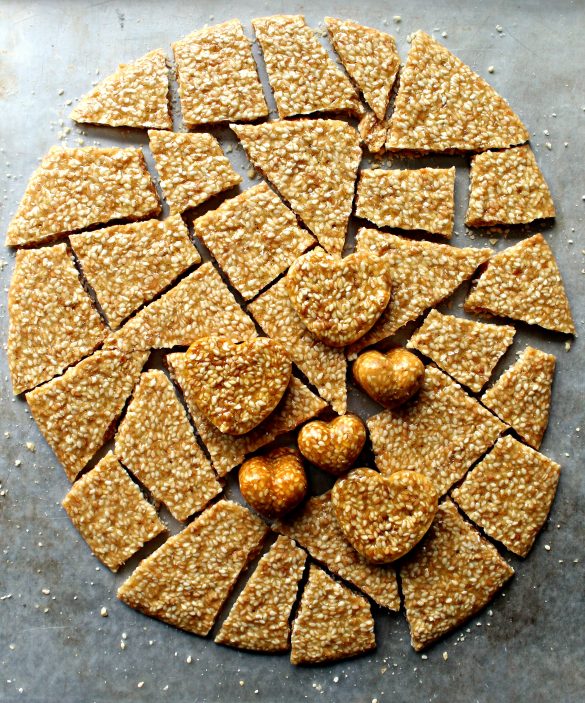 TIPS FOR MAKING HONEY SESAME BRITTLE
I made several batches of Honey Sesame Brittle to try out the two molds and the non-molded method. Here are a few tips I learned.
I've linked below to the exact molds I used, however, any shape of silicone mold should work as long as the shape is simple.
The candy mixture is very hot and though fluid when poured, it's thicker than melted chocolate and won't flow into the edges of intricate shapes.
Keep in mind that the thicker the brittle, the harder it will be. The next time I make brittle in the small heart mold, I won't fill the individual heart cavities to the top. If the little hearts were bit thinner, I think they would be easier to pop into your mouth like a piece of hard candy.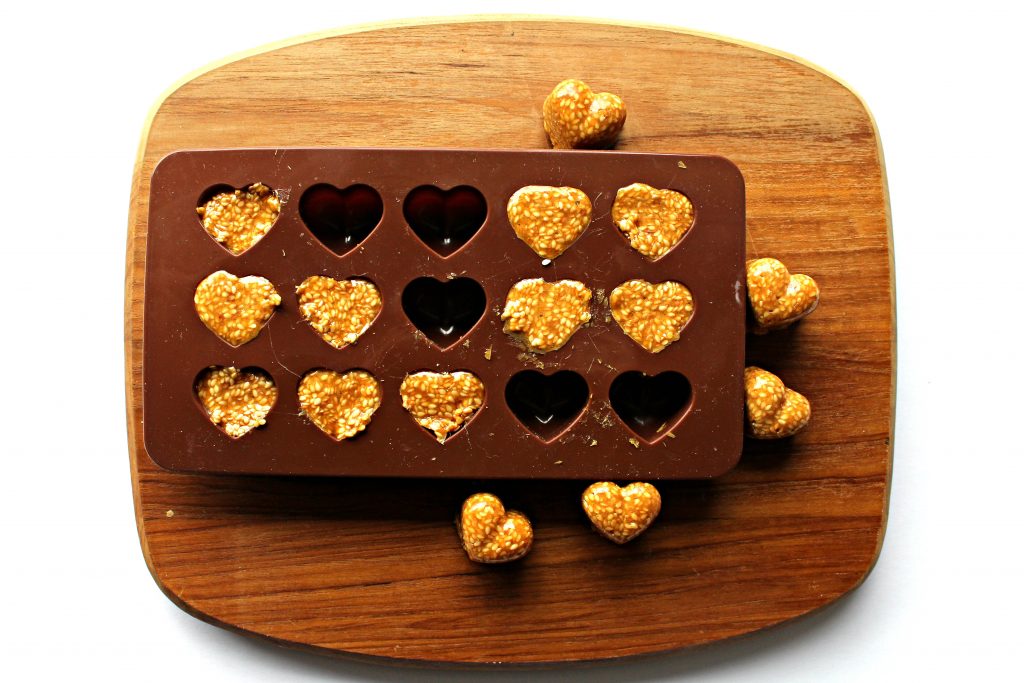 If you chose not to use a mold, be sure to pour the brittle onto a non-stick baking mat or a well buttered pan. I used a silpat mat and the hardened brittle lifted right up with no sticking.
If you use a buttered pan, the hardened disc of brittle should lift up with a spatula. Do not try to pour brittle onto wax or parchment paper. The paper will stick to the candy.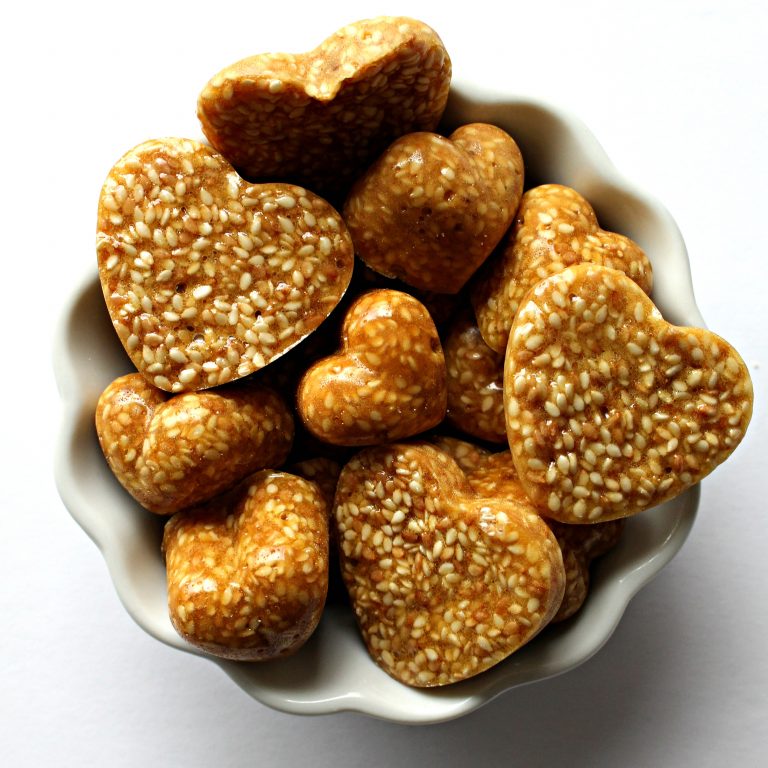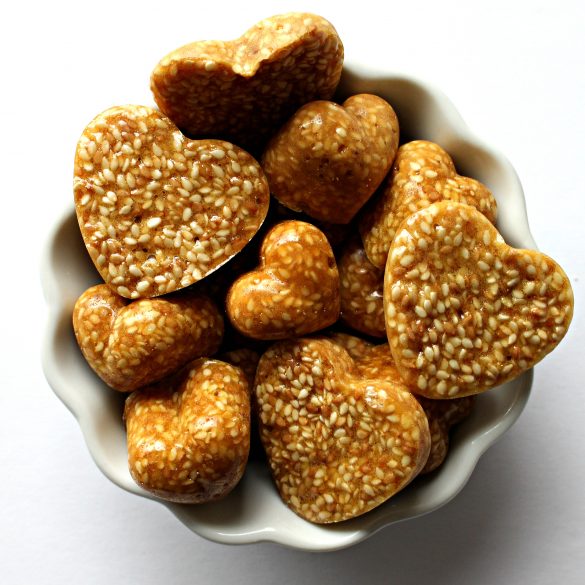 Honey Sesame Brittle is delicious no matter what shape it comes in. Make it thin for crunchy chewing. Make it thicker for slow, melt-in-your mouth savoring.
MORE RECIPES FOR A SILICONE HEART MOLD
Valentine's Day heart molds should earn their space in the kitchen cabinet. Share some love all year with a variety of heart shaped goodies.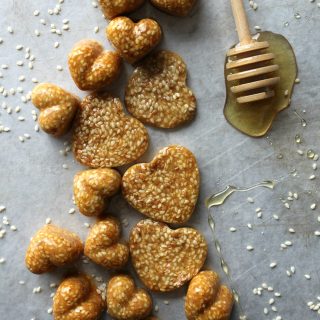 Print
Honey Sesame Brittle
Servings
30
small hearts, 24+ medium hearts, about 10 oz of brittle
As an Amazon Associate I earn from qualifying purchases.
Ingredients
¾

cup

granulated sugar

¼

cup

honey

Pinch

of salt

1

tablespoon

water

1

cup

raw sesame seeds

1

teaspoon

vanilla extract

2

teaspoons

unsalted butter

½

teaspoon

of baking soda
Directions
In a medium saucepan (1 ½- 2 quarts) over medium-low heat, stir together sugar, honey, salt, and water until combined and liquid, just until small bubbles begin to form on the edges.

Add the sesame seeds and stir continually (about 5 minutes) until the mixture turns golden and reaches 300°F.

Remove pan from heat and immediately stir in butter and vanilla.

Mix in the baking soda. The mixture will foam slightly, creating a lighter, airier brittle.

IF USING CANDY MOLDS: Work quickly (the mixture hardens as it cools) but carefully (the mixture is very hot) spooning the brittle into each mold. If the molds are deep, fill only partially for easier eating.

IF POURING OUT ONE LARGE PIECE OF BRITTLE: Cover a baking sheet with a silpat mat (non-stick baking mat) or butter the baking sheet. Pour the hot mixture onto the prepared baking sheet. Gently shake the sheet back and forth a few times to help distribute the mixture.

Allow to cool and harden at room temperature for about 15-20 minutes. Remove from candy molds or break large brittle into pieces.

Store Honey Sesame Brittle in an airtight container at room temperature for up to 10 days.
Notes
Package snuggly in an airtight storage container or freezer weight ziplock bag. Keep out humidity to keep the brittle crunchy longer.
Baking tools I used and recommended in this post: