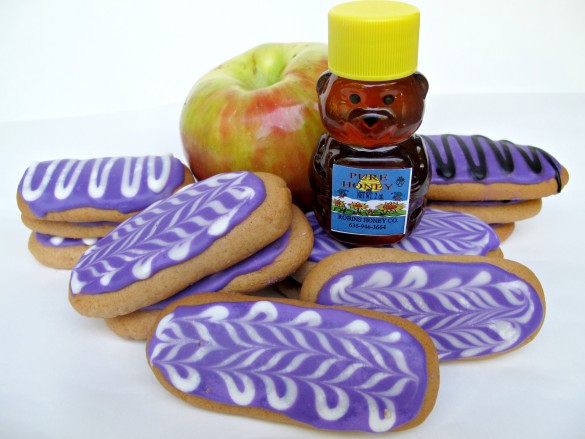 This is a cross-cultural cookie recipe that I baked for cross-cultural purposes. Honey Jumbles are an Australian packaged cookie that has seemingly been around for decades. They are the kind of cookie that adults reminisce about as part of their childhood memories. I had never heard of Honey Jumbles before I started reading Australian baking blogs, but was intrigued by their ingredients and long shelf life.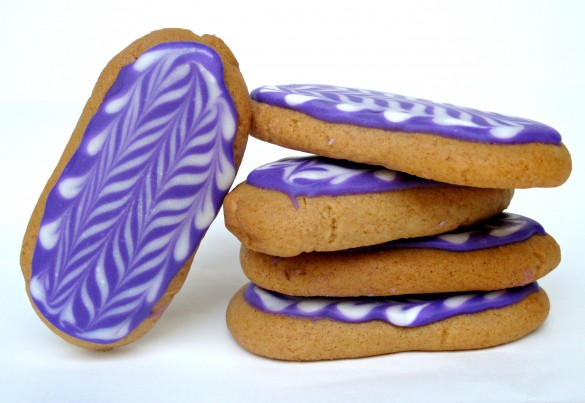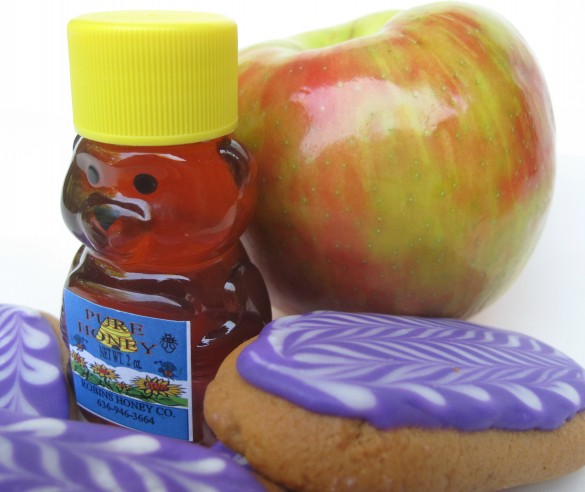 I collect honey recipes particularly for Rosh Hashanah baking. Rosh Hashanah, the Jewish New Year, was this past Thursday. (Obviously, I don't have the "plan ahead for blogging" skill perfected yet.) One of the traditional foods served at this time is apples dipped in honey, symbolizing hopes for a sweet New Year. The sweetness of honey is often added to other foods as well; honey cake, honey glazed vegetables, baked honey chicken. The possibilities are limitless. These Honey Jumbles are a great addition to my honey recipe collection.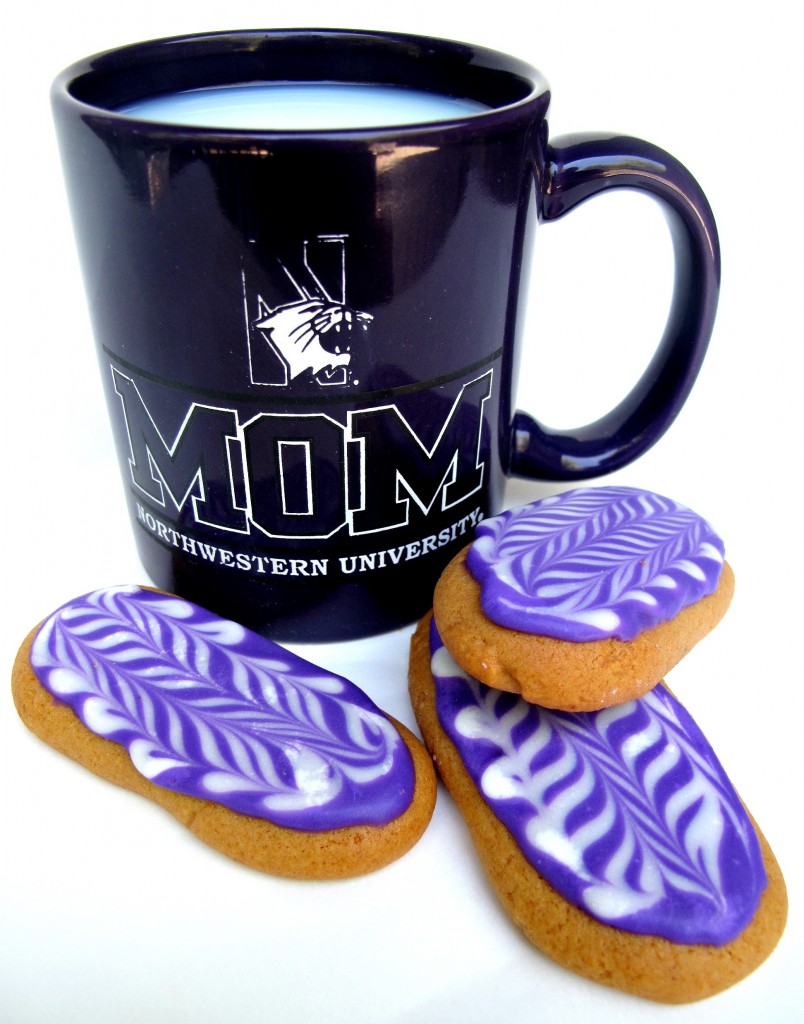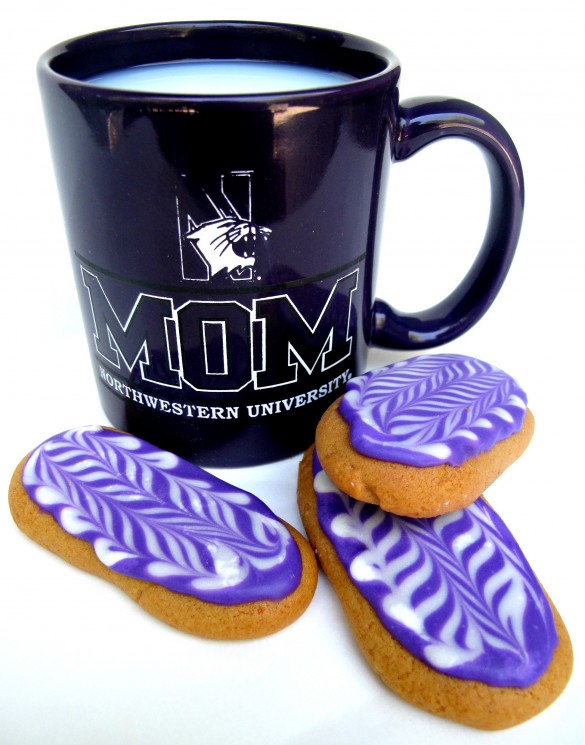 The dates of the Jewish High Holy Days of Rosh Hashanah and Yom Kippur vary from year to year, because they are based on the lunar calendar. However, they almost always fall after the school year has begun, which for me means Rosh Hashanah college care packages. In addition to honey cake, apple chips, mini honey bear, and an apple, my care packages this year included Honey Jumbles.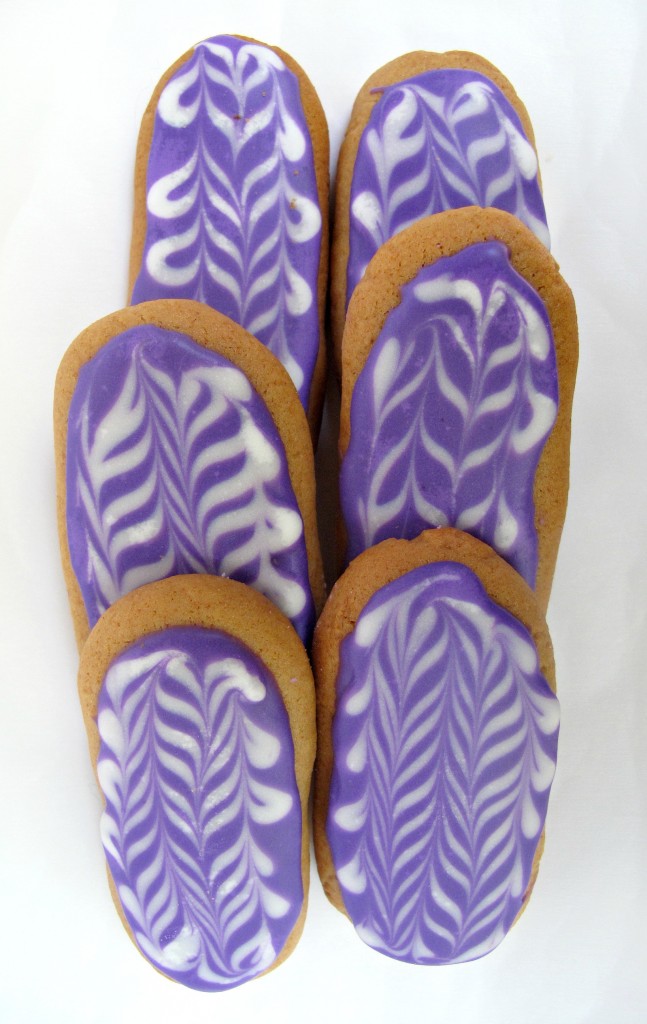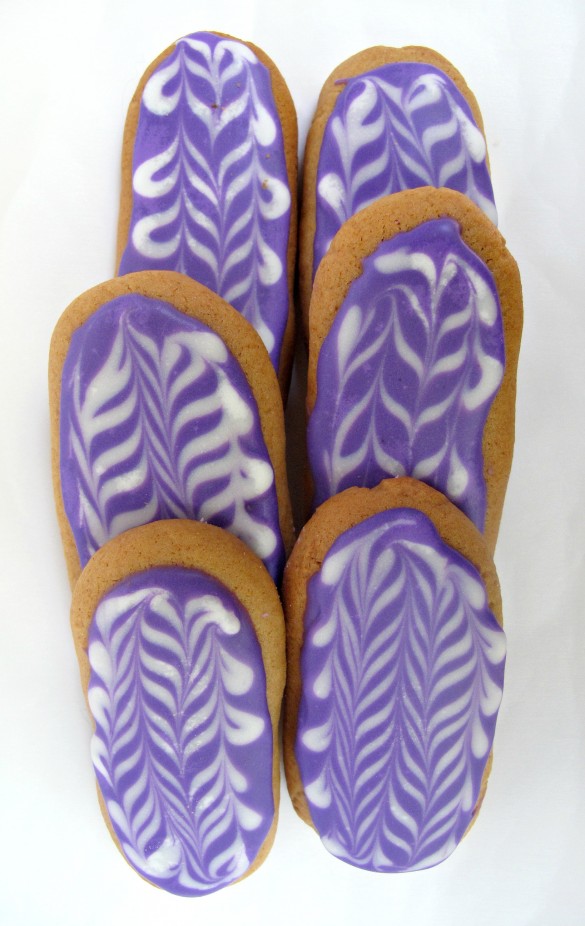 I have never had a "real" Honey Jumble. My descriptions are of the cookies I baked based on several almost identical recipes from very reliable Australian sources. The flavor is a cross between ginger bread and a graham cracker. Though I found descriptions online of commercial Honey Jumbles being cake-like, this homemade version is not.  The texture is  firm and chewy.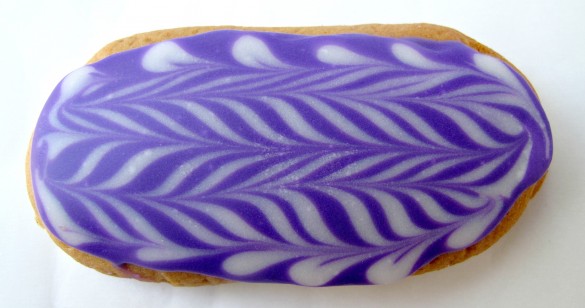 Oddly, I think, most of the recipes I found used golden syrup instead of honey. I personally love the caramel-like flavor of golden syrup and, though it is not widely used in the US, it is easily found in the syrup section of my supermarket. But if you aren't going to put honey into a cookie, why name the cookie Honey Jumbles? Shouldn't they be called Golden Syrup Jumbles? (Not to mention, there is nothing particularly jumbled about these.) I made both a honey version and a golden syrup version. The finished product tasted almost the same. The golden syrup dough may have been a tad less sticky and baked up a tad less dry. The most important step for both doughs is not overbaking. My cookies baked for 10 minutes were prefect whereas the cookies baked according to the original directions for 15 minutes were tough and overly chewy.

"Authentic" Honey Jumbles are iced pink or white for no reason I could figure out, other than those are the colors of the packaged cookies. Any icing that dries hard would work if using these for care packages. I iced mine with my favorite faux royal icing tinted in the school colors of the care package recipients. Never being one to leave well enough alone, I added a contrasting zig zag of icing, some of which I further embellished by dragging a toothpick up and down through the icing to create into a marbled design.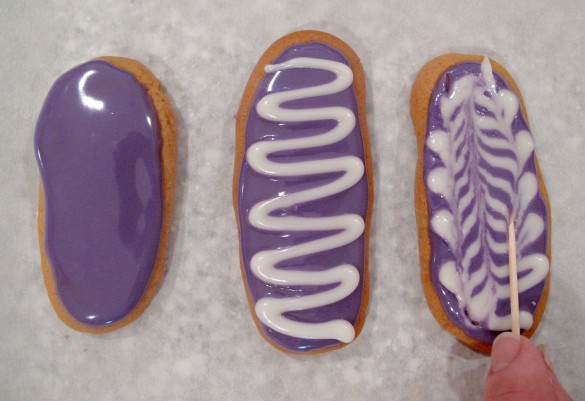 The internet is an amazing tool. Recipes from around the world are literally at our finger tips. What better way to celebrate the diversity of world cultures than to incorporate international foods into our own celebrations.  I enjoyed adding a little Australian accent to my Rosh Hashanah baking and our cookie jar! Stored in an airtight container at room temperature, Honey Jumbles stay fresh for at least 2 weeks.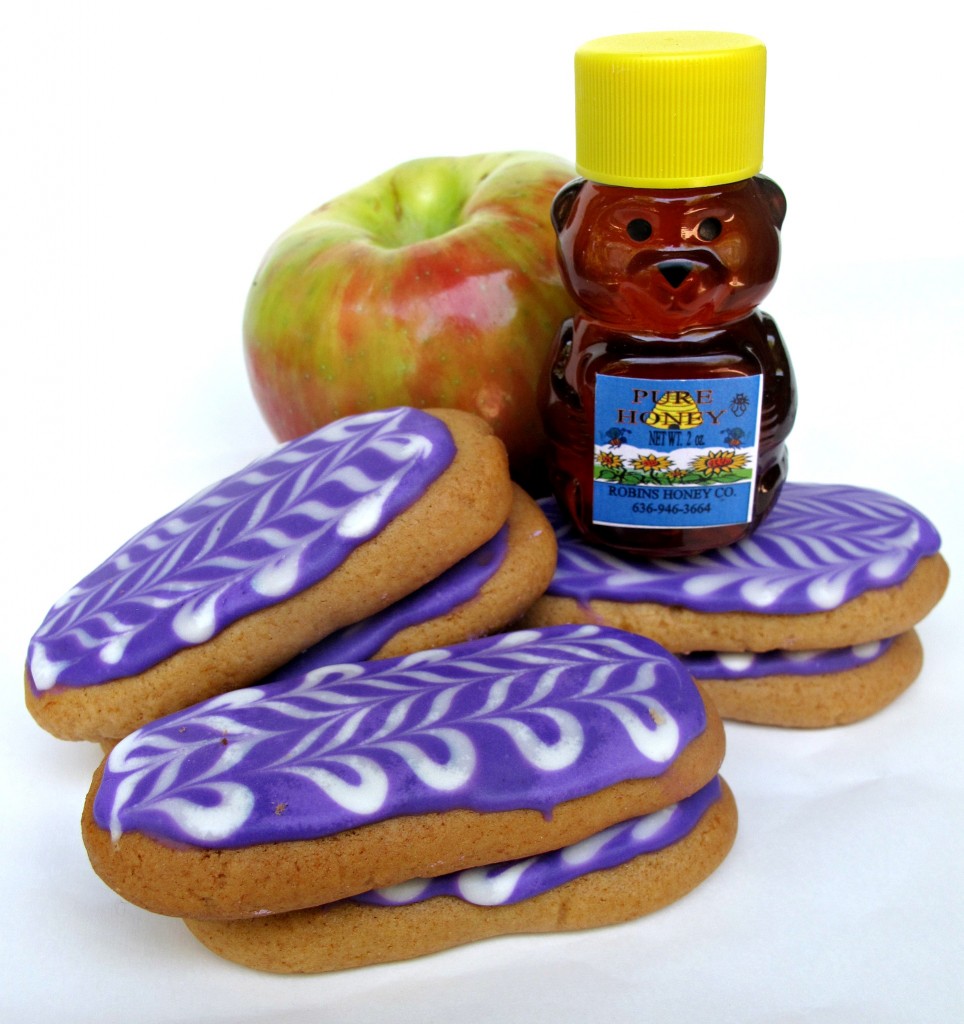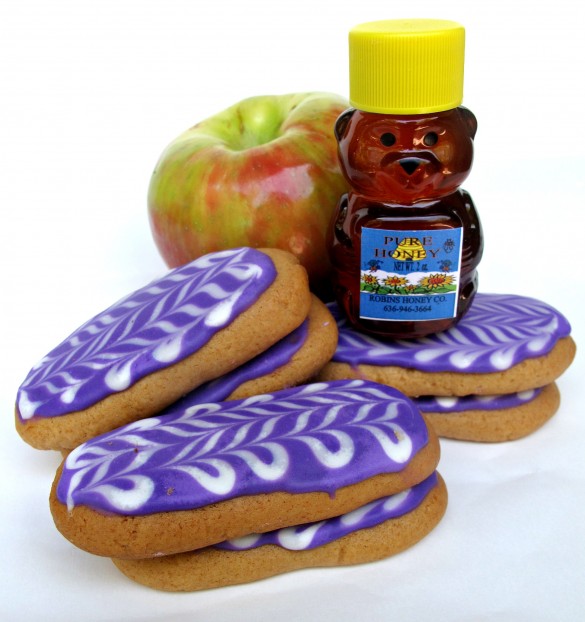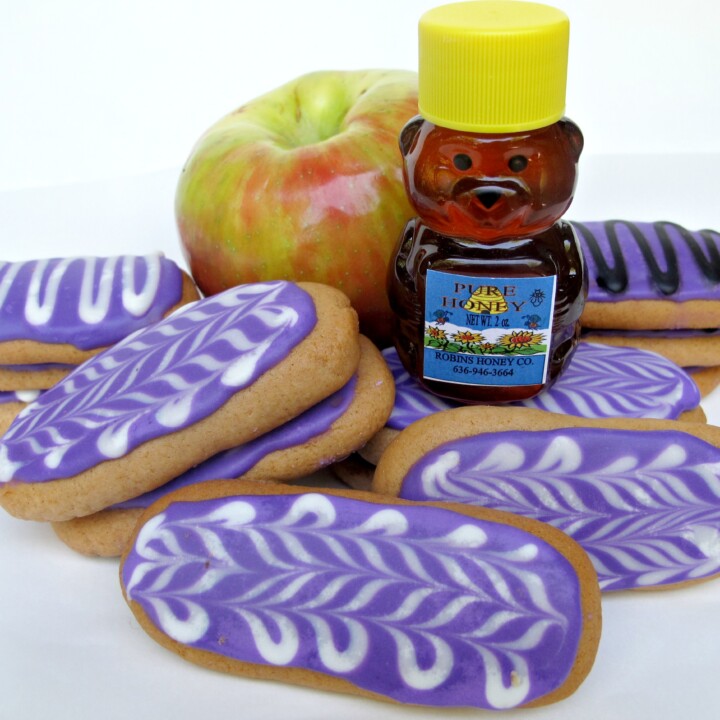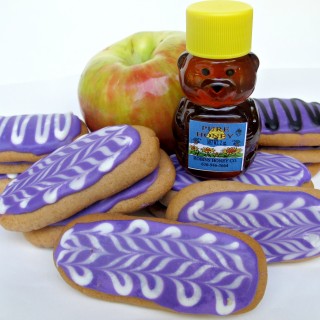 Honey Jumbles
These firm, chewy cookies are a cross between gingerbread and a graham cracker. A favorite, nostalgic Australian treat.
Print
Rate
Adapted From:
ClaireKCreations.com
Ingredients
Cookies
4

tablespoons

unsalted butter

½

cup

brown sugar

packed

¾

cup

honey

or golden syrup

1

large egg

2 ½

cups

all-purpose flour

½

cup

self-rising flour

½

teaspoon

baking soda

2

teaspoons

cinnamon

2

teaspoons

ground ginger
Icing
2

cups

confectioners' sugar

2-3

tablespoons

milk

adjust for thicker or thinner icing

1 ½

tablespoons

corn syrup

½

teaspoon

vanilla extract

Food coloring
Instructions
Put butter, brown sugar, and honey in a medium microwave safe bowl. Microwave for 1 minute. Stir. Return to microwave for another 45 seconds-1 minute until melted and smooth.

Pour mixture into bowl of electric mixer and allow to cool (about 15 minutes).

Add egg and mix to combine.

In a large bowl, whisk together both flours, baking soda, cinnamon, and ginger.

Slowly add the flour mixture to the electric mixer bowl, mixing until combined.

Scrape the dough onto a sheet of plastic wrap and form the dough into a disk, about 8-9" across.

Refrigerate 1-2 hours or overnight, until firm and workable. (If the dough is sticky it is not cold enough.)

WHEN READY TO BAKE: Preheat oven to 350 degrees F. Line two baking sheets with parchment paper.

Cut the dough disc into 8 equal wedges.

Working on a lightly floured surface, roll each wedge into a log (about 12" long).

Cut each log into 5 equal segments (about 2 ¼" each).

One by one, place each segment on the prepared baking sheets about 1" apart, using finger tips to round the ends and slightly flatten the top surface.

Bake for 8-11 minutes until golden and just firm to the touch.

Cool on baking sheet for 10 minutes then transfer to cool completely on wire racks.

Mix icing ingredients in a small bowl until smooth and shiny. Icing consistency should be thin enough to spread and pipe easily but thick enough not to drip off the cookies.

If using more than one color, spoon a portion of icing into a small ziplock bag, add 1 or 2 drops of food coloring, seal the bag and knead to mix in the color. Cut a tiny hole in one bottom corner of the bag for piping.

Spread the base color icing onto the cookie with a knife. Decorate with piped icing.

Allow to dry and harden completely (several hours-overnight) before storing.

Stored in an airtight container at room temperature, Honey Jumbles stay fresh for at least 2 weeks.
Notes
Packing tips
Double wrap pairs of cookies (with bottoms together) in plastic wrap, then place in an airtight container or zip lock bag.
Nutrition
Calories:
102
kcal
|
Carbohydrates:
22
g
|
Protein:
1
g
|
Fat:
1
g
|
Saturated Fat:
1
g
|
Trans Fat:
1
g
|
Cholesterol:
7
mg
|
Sodium:
18
mg
|
Potassium:
22
mg
|
Fiber:
1
g
|
Sugar:
14
g
|
Vitamin A:
42
IU
|
Vitamin C:
1
mg
|
Calcium:
7
mg
|
Iron:
1
mg