Happy October, otherwise known as National Cookie Month! Gingerbread Fall Leaves are cookies worth celebrating.
Chewy iced gingerbread gets dappled in fall colors using a fun, simple decorating technique!Whether or not you embrace the idea of national food holidays, a month to partake in cookie revelry is a delicious concept.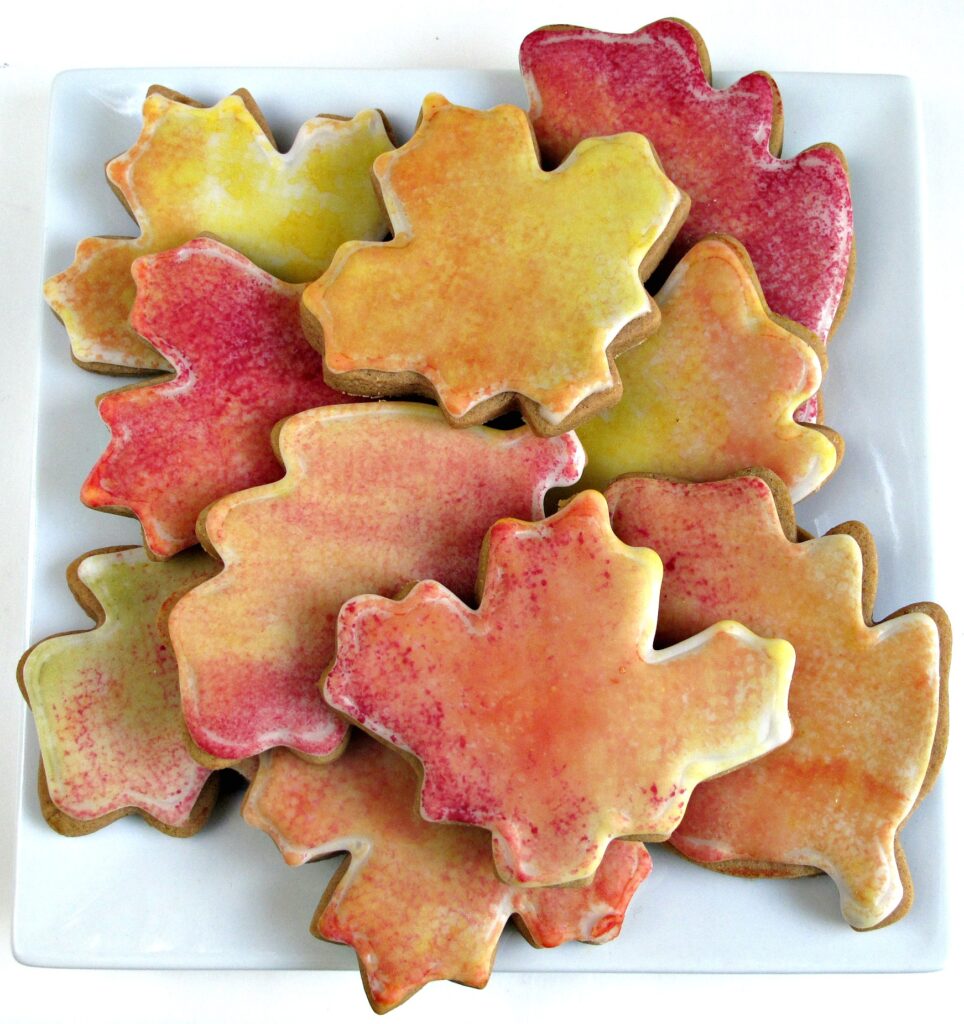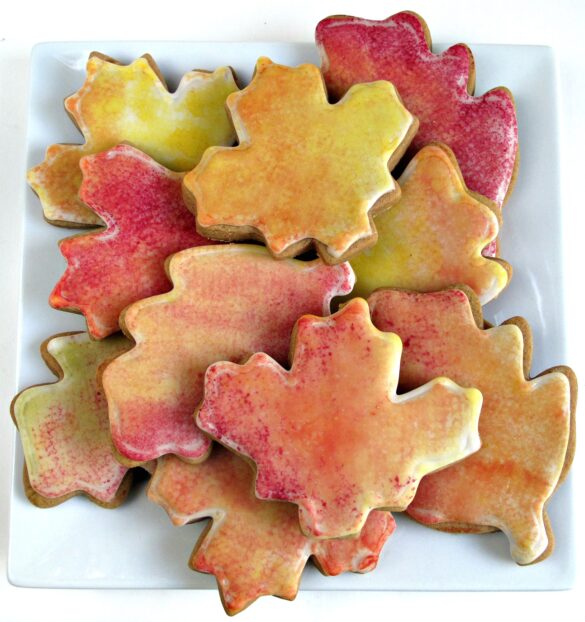 I am excited to be celebrating National Cookie Month with nine talented and creative bloggers and some fabulous sponsors.
Every week in October each blog will feature a new cookie recipe, tips for successful cookie baking, and a few surprises
. Holiday baking is around the corner and by the end of the month you will have 50 irresistible recipes to choose from!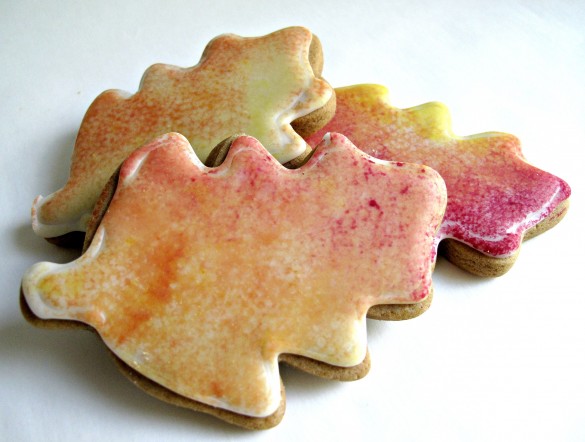 For Cookie Month opening day, I baked Gingerbread Fall Leaves cookies with the glorious colors of autumn on top of soft-chewy gingerbread.
These cookies take a bit of planning because they require time for first the icing and then the food coloring to dry, but the actual baking and decorating is very easy.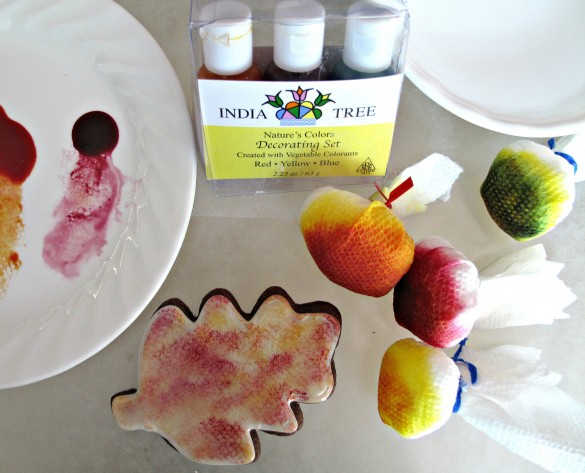 Gingerbread Fall Leaves start with Lilaloa's gingerbread roll out cookie recipe. I love all of Georganne's recipes for roll out cookies. They taste great and stay fresh for ages.
The cookies don't rise which keeps the edges defined on the baked cookie shapes. All of the Lilaloa roll out cookie recipes give directions for using the dough right away with no waiting for chilling, an extra bonus.
I use the chocolate and vanilla versions for all of my decorated circle cookies and Birthday Cake Surprise cookies. I also use the vanilla version to create Smiling Snowmen.
When I find something that works, I stick with it! Though I think that the warm spicy flavor of gingerbread is perfect for a fall cookie, any of the flavor versions would work for Fall Leaves Cookies.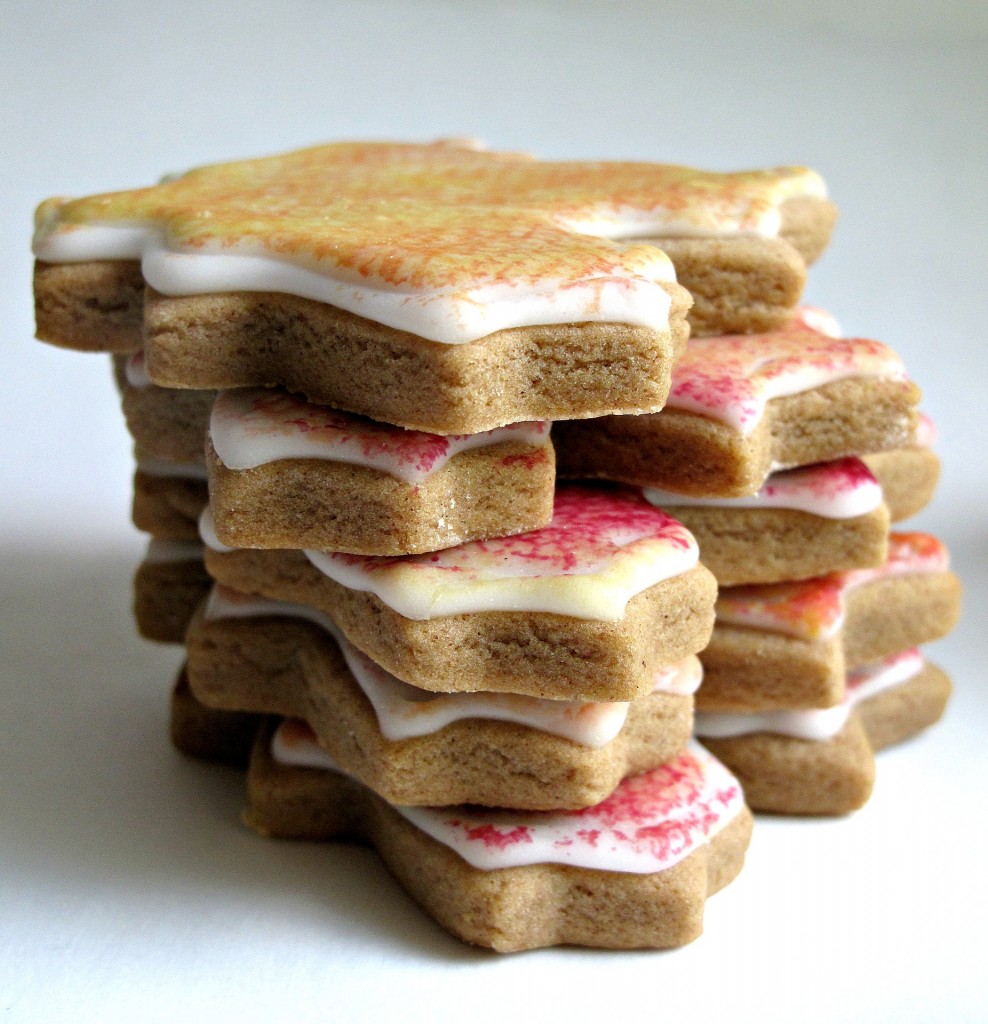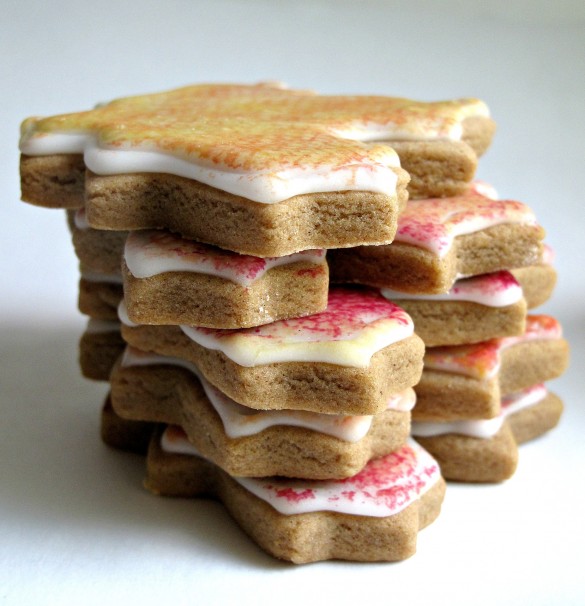 I made only a couple of minor adaptations to the original gingerbread recipe. Georganne's recipe uses 2 teaspoons of allspice. I don't like allspice, so I left it out and instead added an additional teaspoon of ginger.
The need to change the amount of flour in the recipe surprised me. Both the vanilla and the chocolate variations are the perfect roll out consistency after 4 ½ cups of flour as indicated in the original recipe.
The gingerbread, however, was too wet and sticky to roll until I added an additional ½ cup of flour. I repeatedly found that the addition of molasses to the gingerbread creates a wet dough that needs more flour to be manageable.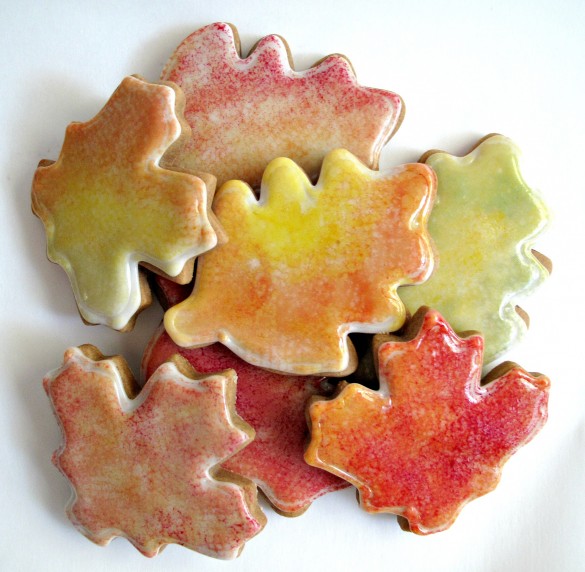 As I am only an enthusiastic amateur cookie decorator, I iced the Gingerbread Fall Leaves cookies with Bakingdom's faux royal icing. If you are an experienced royal icing maker, go for it.
For the rest of us, faux royal icing is a trouble free way to get a similar smooth iced surface. Having used the faux royal icing on all of my decorated circle cookies, I was confident that it would provide a smooth painting surface on the Fall Leaves cookies.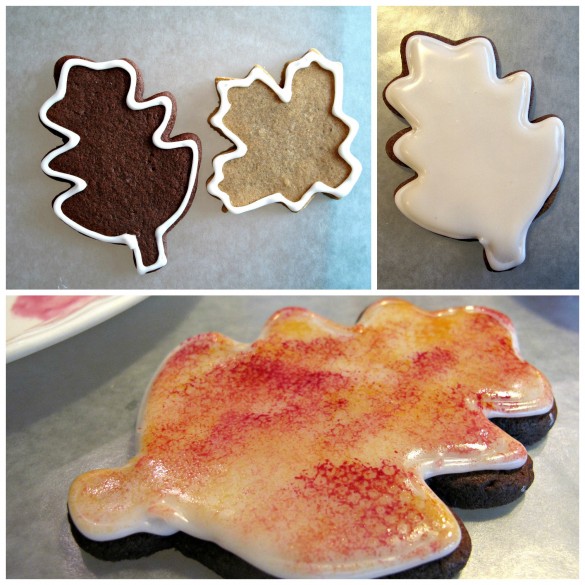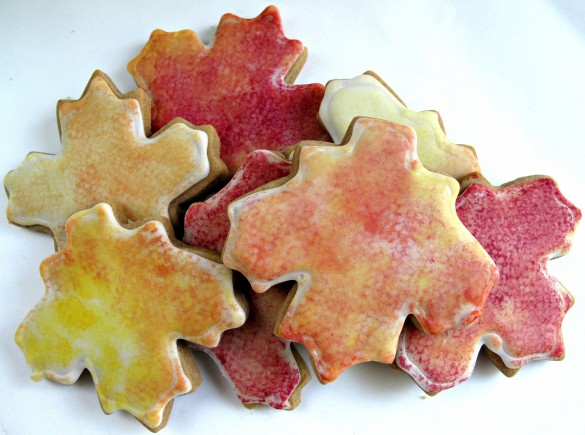 Remember sponge painting when you or your children were in preschool? The awesome colored designs on these cookies are created by sponge painting with food coloring right onto the iced cookies.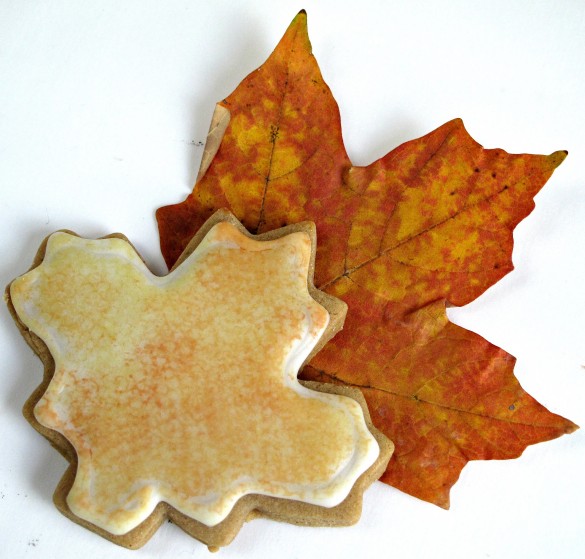 I read about this food coloring "painting" technique on Klickitatstreet.com, where it was used to embellish flower cookies. I wanted to try to mimic Mother Nature's fall palate on the Gingerbread Fall Leaves cookies.
India Tree makes natural food coloring made with vegetable colorants. When used to tint cookie dough, the India Tree colors bake up soft and muted. When they are dabbed onto an iced cookie, they give the vibrant fall hues I was looking for
. India Tree food coloring's gel-like consistency made for dripless dabbing creativity. I was quite pleased with the colorful results but worried (just short of panic) when several hours later, the cookies were still wet. By the next morning, however, the painting had dried (matte not shiny), leaving the colors and textures intact.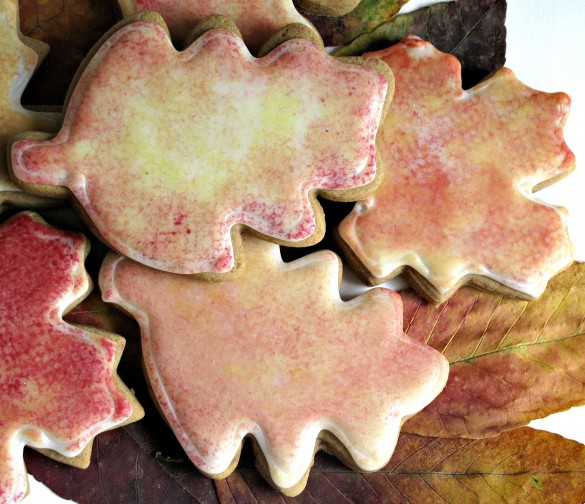 Gingerbread Fall Leaves cookies add seasonal color and sweet spice to a care package or a holiday cookie tray. They are also a great Cookie Month baking/decorating project to enjoy with your resident preschool sponge painting expert.
When wrapped and stored at room temperature in an airtight container, these long lasting cookies stay fresh for at least 2 weeks.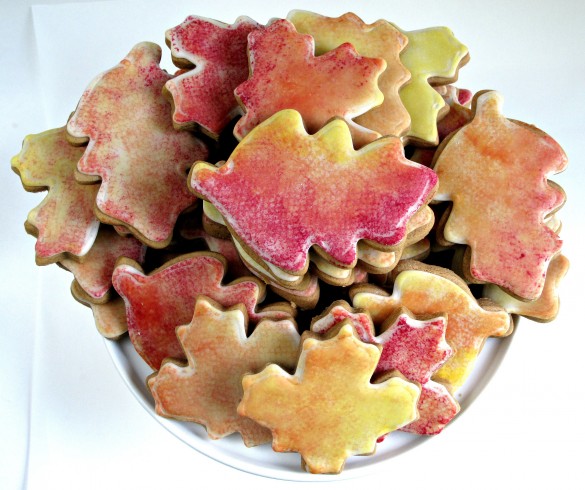 MORE MOLASSES RECIPES
Chocolate Chip Molasses Cookies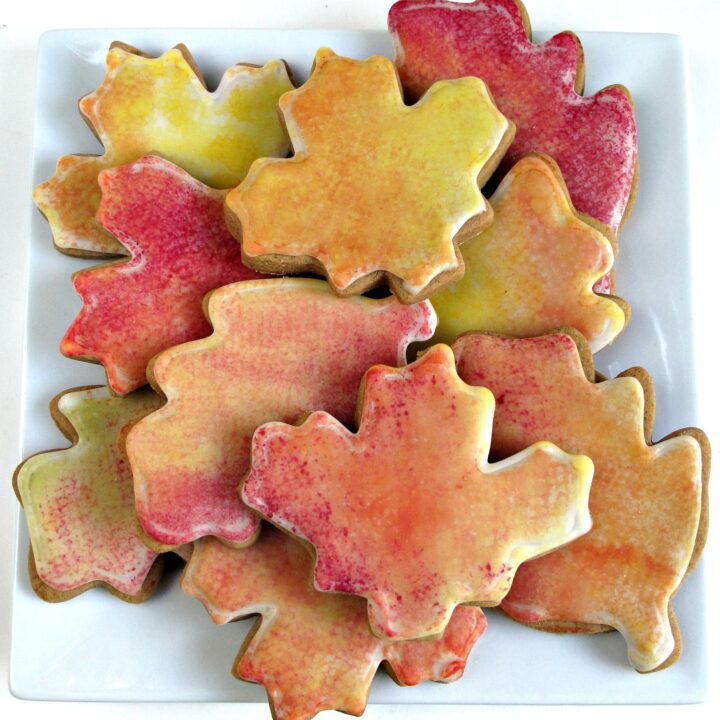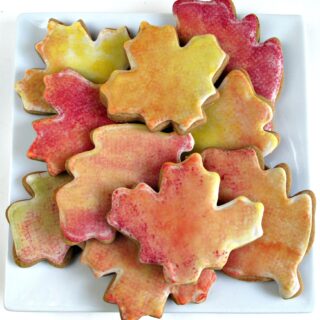 Gingerbread Fall Leaves
Chewy iced gingerbread looks just like fall leaves.
Print
Rate
Adapted From:
lilaloa.com
Ingredients
Cookies
Icing
4

cups

confectioners' sugar

3

tablespoons

milk

add more to thin icing to desired consistency

3

tablespoons

light corn syrup

1

teaspoon

vanilla extract
Decorating
food coloring

gel or liquid

paper towel squares

1 for each color being used

plastic wrap

1- 6" strip for each color being used

twisty ties

1 for each color being used

small bowl of water
Instructions
Cookies
In the bowl of an electric mixer, cream butter and sugar. Add eggs and molasses and mix until incorporated. Stir in spices and salt.

Gradually add flour, 1 cup at a time, until the dough is roll-out consistency. When baking immediately, I needed 4 ½ – 5 cups. For dough that will be refrigerated overnight before baking use only 4 cups.

Roll ⅓ of the dough out to ¼" thickness on a lightly floured surface. Hint: Because these cookies spread minimally, cutting them out directly on the parchment paper they will be baked on, eliminates the need to transfer the cut out dough. Roll the dough out on a sheet of parchment paper the size of your cookie sheet. Cut out the cookies about 1" apart. Remove the excess dough from around the cut-out cookies. Slide the parchment onto your cookie sheet. Repeat with the remaining dough.

Bake for 6-7 minutes. (Cookies will firm slightly as they cool.) Cool on baking sheet for 10 minutes before transferring to a wire rack to cool completely.
Icing
By hand or with an electric mixer, combine sugar and milk until smooth.

Add corn syrup and vanilla. Continue beating together until smooth and glossy. Add additional milk in tablespoon increments until desired consistency. (Icing consistency should be thin enough to spread easily but thick enough not to drip off the cookies. It should resemble a thin paste but not glue.)

APPLYING THE ICING: (choose 1 of the following suggested methods)

SPATULA METHOD: Use icing that is a spreadable consistency. Spoon icing into a piping bag or ziplock bag with a small part of a bottom corner cut off. Pipe some icing onto a cookie and use a knife or offset spatula to spread the icing evenly over the surface of the cookie. Allow the icing to dry overnight.

OUTLINE/ FLOOD METHOD: Two consistencies of icing will be used. First, spoon about 1 cup of icing (thin paste consistency) into a piping bag or ziplock bag with a small part of a bottom corner cut off. Outline the top of each cookie. Thin all remaining icing to the consistency of glue and spoon into a piping bag or ziplock bag. Set aside and allow the icing outline to dry for about 1 hour. When the outline has set slightly, pipe the remaining icing onto each cookie filling in the outlines. Allow the icing to dry overnight.
Decorating
You will need 1 paint dauber for each color. Cut a paper towel sheet into 4 pieces. Scrunch a piece of plastic wrap into a ball and place at the center of a paper towel square. Twist the paper towel around the plastic wrap and secure with a twisty tie.

Dispense about 5 drops of each color food coloring onto a plate. Leave room between colors.

Moisten a dauber slightly in the water. Dip the dauber in a food color, blot off excess color, then pat onto the cookie. Use a different dauber for each color.

Cookies should be dry before they are stored. Drying time varies. My India Tree natural food colors required overnight drying.

Store cookies in an airtight container at room temperature for up to 2 weeks.
Notes
Packing tips
Double wrap pairs of cookies (with bottoms together) in plastic wrap, then place in an airtight container or zip lock bag.
Nutrition
Calories:
208
kcal
|
Carbohydrates:
38
g
|
Protein:
2
g
|
Fat:
6
g
|
Saturated Fat:
3
g
|
Trans Fat:
1
g
|
Cholesterol:
23
mg
|
Sodium:
26
mg
|
Potassium:
83
mg
|
Fiber:
1
g
|
Sugar:
26
g
|
Vitamin A:
173
IU
|
Vitamin C:
1
mg
|
Calcium:
23
mg
|
Iron:
1
mg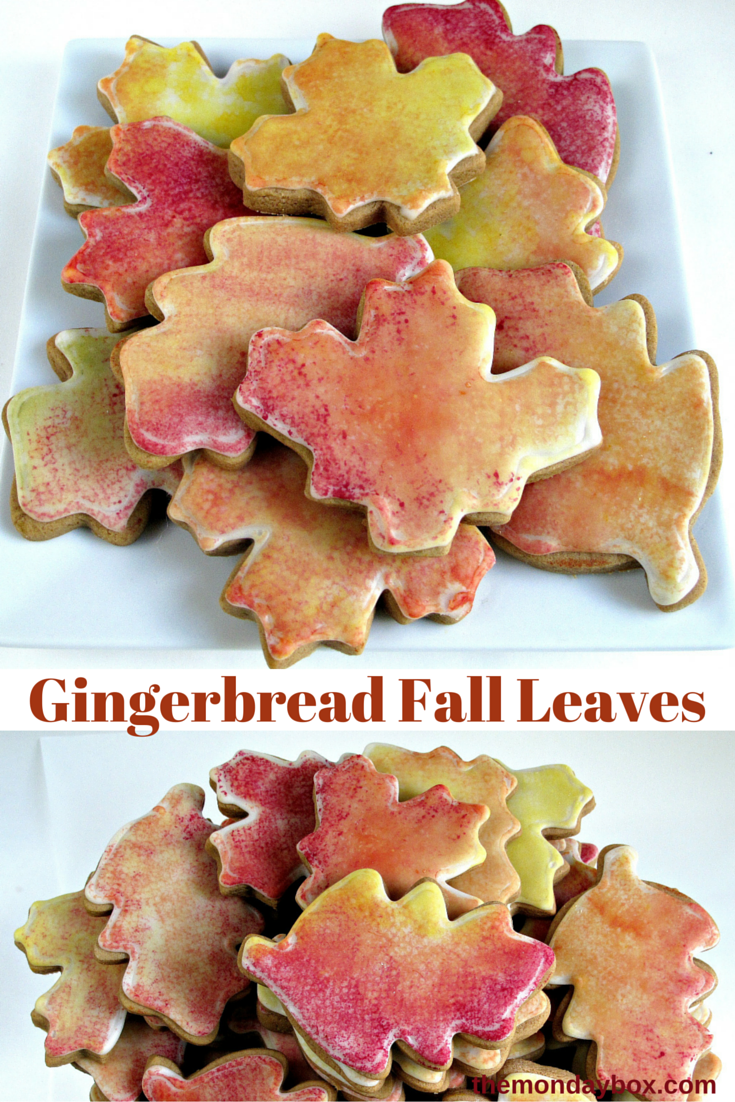 **This post is sponsored by India Tree. They are one of our Cookie Month sponsors, partnering with us to create delicious cookie recipes for you to enjoy.**
Be sure to check out my Cookie Month partners and their amazing recipes: Jess at The 104 Homestead – Kathie at Homespun Seasonal Living – Tessa at Homestead Lady – Chris at Joybilee Farm – Sheila at Life, Love, and Good Food – Nikki at Nik Snacks – Shari at Pure Grace Farms – Angi at Schneiderpeeps – Lauren at Wicked Spatula
The following companies generously sponsored this and other cookie month projects. I may not have used all of them in my recipes, but this project is in no small part thanks to them and their incredible contributions: Bob's Red Mill, The Daily Meal, India Tree, KerryGold, King Arthur Flour, Products of GIR, KaTom, SunButter & Wilton.