Imagine the flavors of a caramel apple transformed into a cookie. Brown sugar and butter caramel, check. Sweet-tart fruity apple, check. Scrumptious, absolutely. Caramel Apple Cookies taste like caramel apples in cookie form.
I have mailed them in care packages, given them as gifts, and shared them on holiday cookie trays. The response is always the same. It's hard to eat only one Caramel Apple Cookie.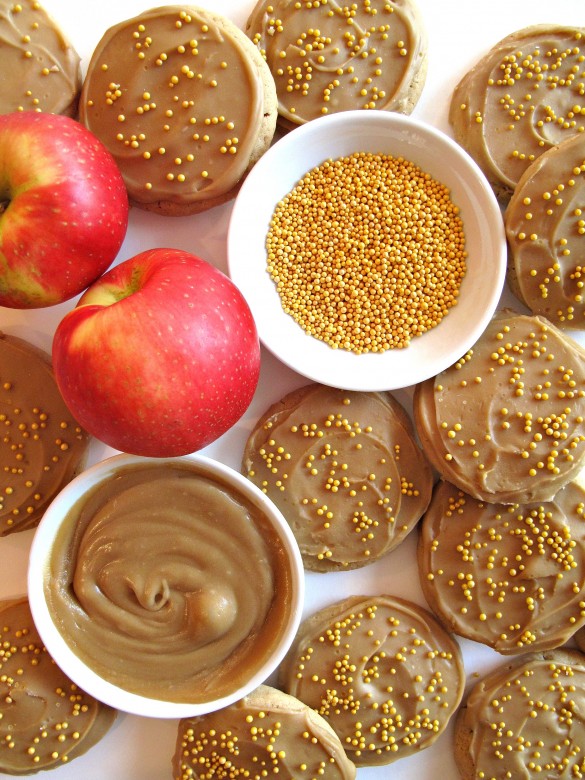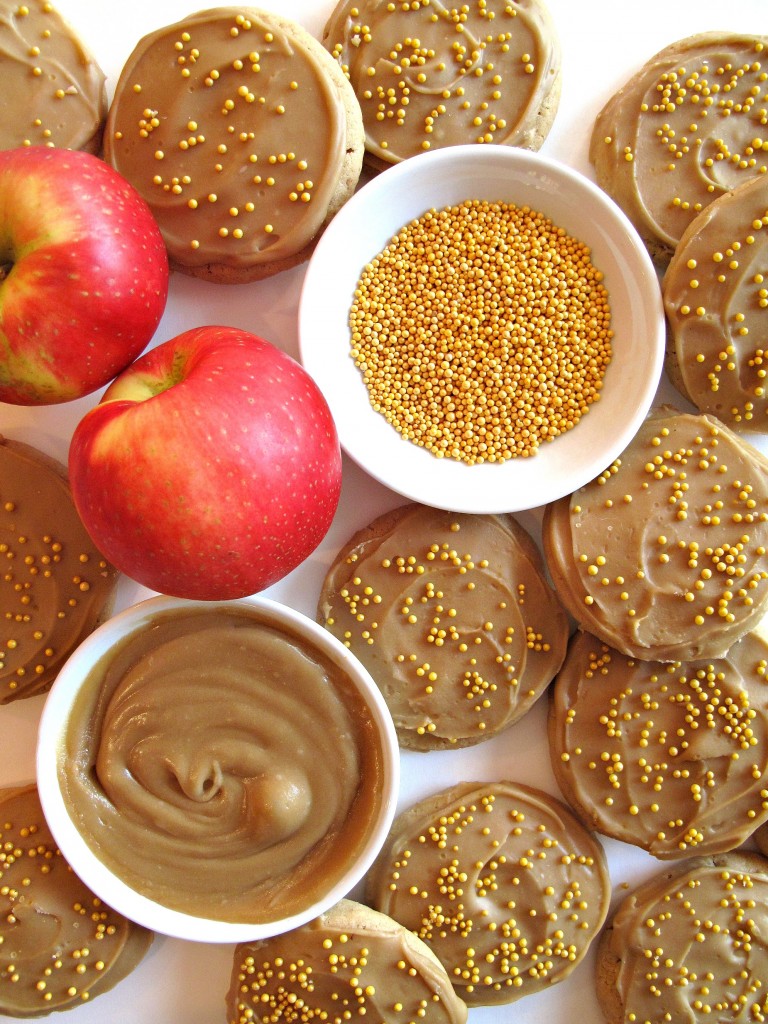 A friend's 13 year old son, Edis, recently got braces. His discomfort brought back memories. I had braces as a teen and both my daughter and my son suffered through braces.
Based on experience, I advised Edis to take Advil before his appointments, to minimize soreness, and advised his mother to stock up on soft food for when the wires are tightened. Wistfully, Edis recited a long list of "foods" (mostly chewy, sugary things) that he wasn't supposed to eat for YEARS.
Most kids with braces cheat on the rules a bit and sneak gum and sticky sweets despite orthodontists' warnings, but I didn't tell Edis that. Chances are he will figure that out on his own.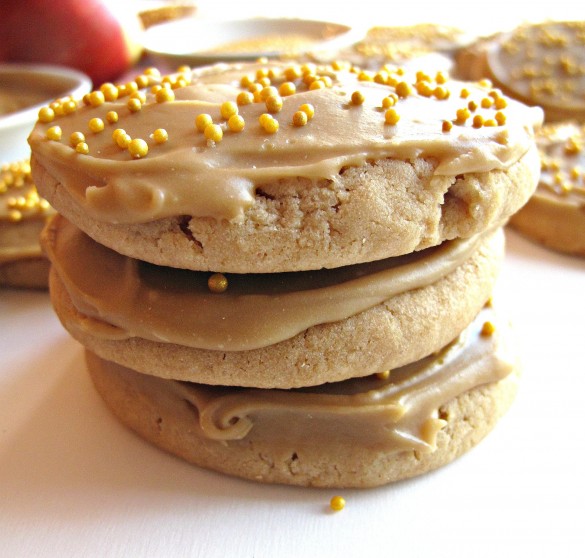 I thought of Edis the first time I took a bite of chewy-soft Caramel Apple Cookies. These cookies have all of the mouthwatering flavors of a caramel apple without any of the stickiness that puts caramel on the "forget it" list for braces.
The cookies get their apple flavor and chewy-soft texture from apple butter in the dough. The caramel frosting is amazing with lots of brown sugar and butter flavor.
When spread onto cookies, the frosting sets firm enough for filling cookie jars or care packages, but is soft when you take a bite.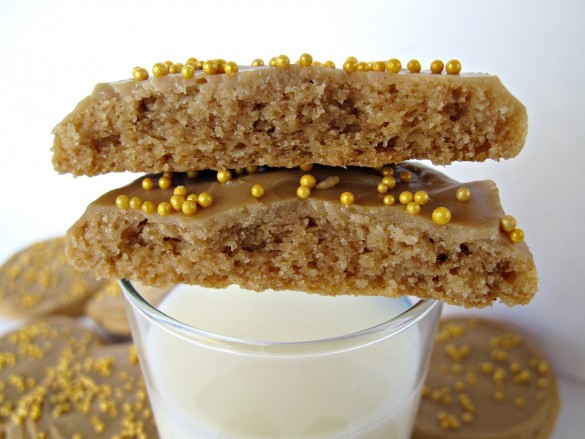 I am not suggesting that an orthodontist would recommend eating frosted cookies. I am pretty sure that most dental professionals are anti-sugar in general.
However, my experience is that kids don't always follow the advice of their orthodontist to the letter, and a Caramel Apple Cookie might soothe a craving without damaging hardware. Those of us without braces and the dental regulations that go with them, can simply enjoy Caramel Apple Cookies because they are delicious.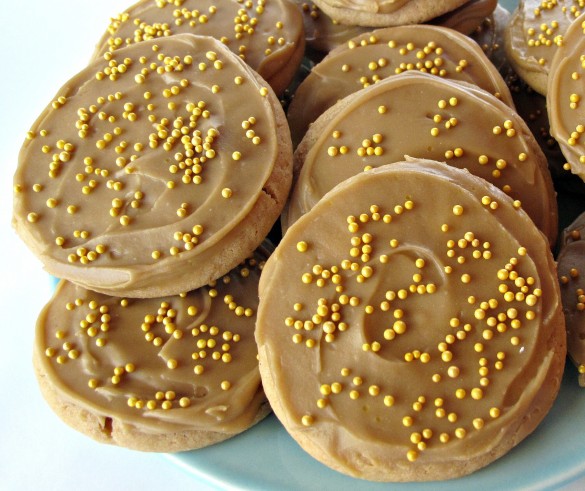 Caramel Apple Cookies maintain their soft texture for up to 7 days, making them great care package cookies or cookies to make ahead for holiday parties or gifts. Enjoy some, share some.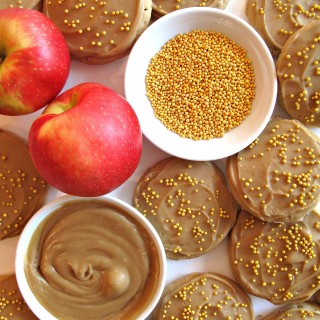 Caramel Apple Cookies
Ingredients
¾

cup

unsalted butter

room temperature

½

cup

granulated sugar

¼

cup

brown sugar

¼

cup

apple butter

½

teaspoon

cinnamon

2

teaspoons

vanilla

½

teaspoon

salt

2 ¼

teaspoons

baking powder

2 ¼

cups

all-purpose flour

Caramel Frosting:

3

tablespoons

unsalted butter

¼

cup

heavy cream

½

cup

brown sugar

packed

2

cups

confectioners' sugar

1

teaspoon

vanilla
Directions
In the bowl of an electric mixer, cream butter and sugars.

Mix in apple butter, cinnamon, vanilla, salt, baking powder, and flour.

Cover in plastic wrap and refrigerate for at least 1 hour or until firm.

When ready to bake: Preheat oven to 350° F. Line a baking sheet with parchment paper.

Scoop dough with medium (2 tablespoon) cookie scoop and place at least 2" apart on prepared baking sheet.

Gently flatten dough balls into ½" thick discs.

Bake for 10-12 minutes.

Cool on baking sheet for 5 minutes, then cool completely on wire racks.

To prepare icing: In a medium saucepan over medium heat, combine the butter, cream, and brown sugar. Stir constantly until boiling.

Remove the pan from the heat and stir in vanilla and 1 cup of the confectioner's sugar.

Cool to room temperature, then add additional confectioner's sugar until the frosting is a spreadable consistency.

Use a knife or spatula to frost each cookie. If using sprinkles to decorate, add them immediately while the frosting is wet.

Allow icing to dry completely before storing.

Store in an airtight container at room temperature for up to 7 days.
Packing Tips
Double wrap pairs of cookies (with bottoms together) in plastic wrap, then place snugly in an airtight container or zip lock bag.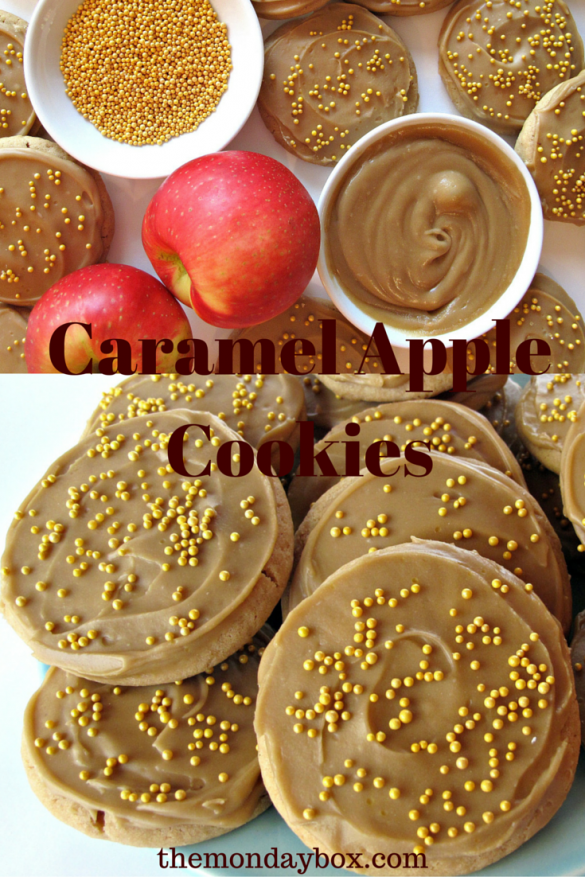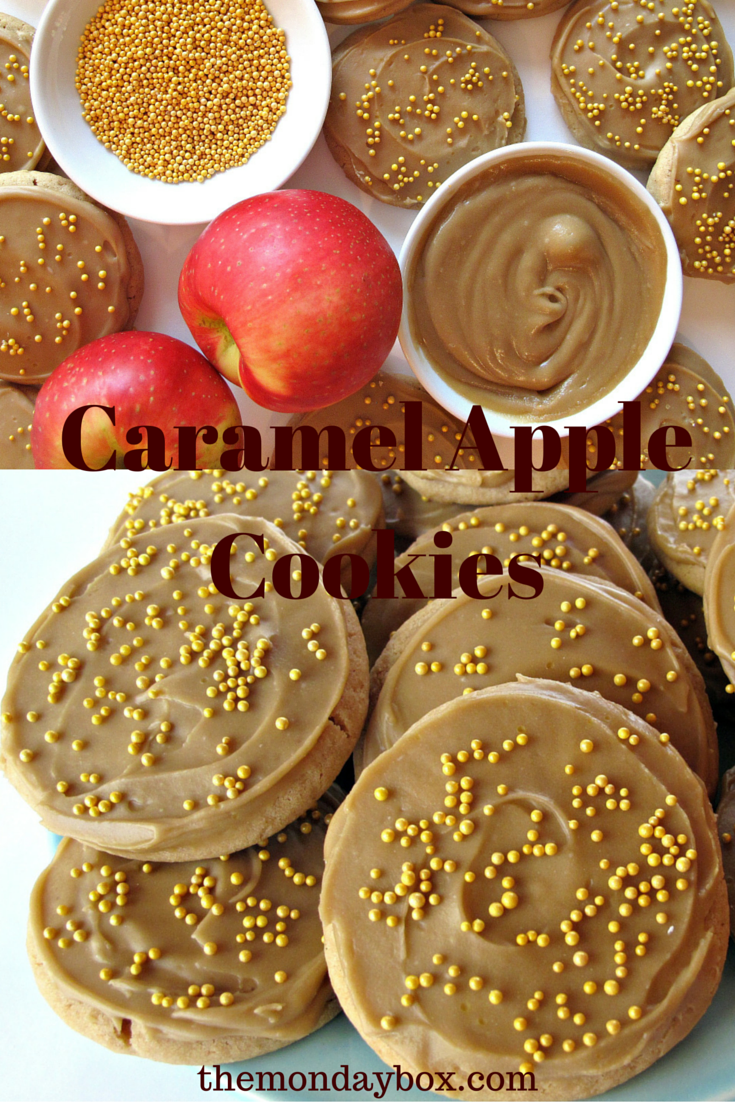 Save
Save