Food holidays, though ridiculous, can be fun. Why not have something delicious to celebrate every day of the year? January 19th is National Popcorn Day. Devouring Caramel Popcorn with Peanuts made with fluffy popcorn and roasted peanuts coated with crunchy caramel, is an excellent way to celebrate.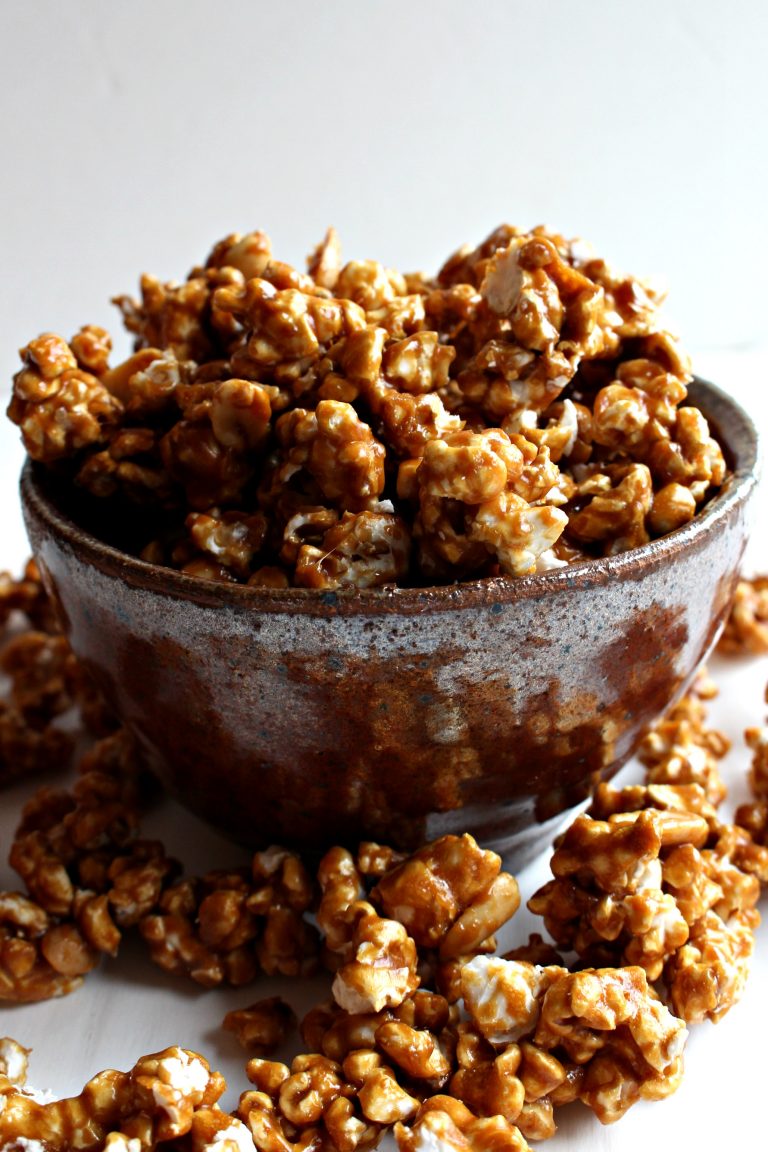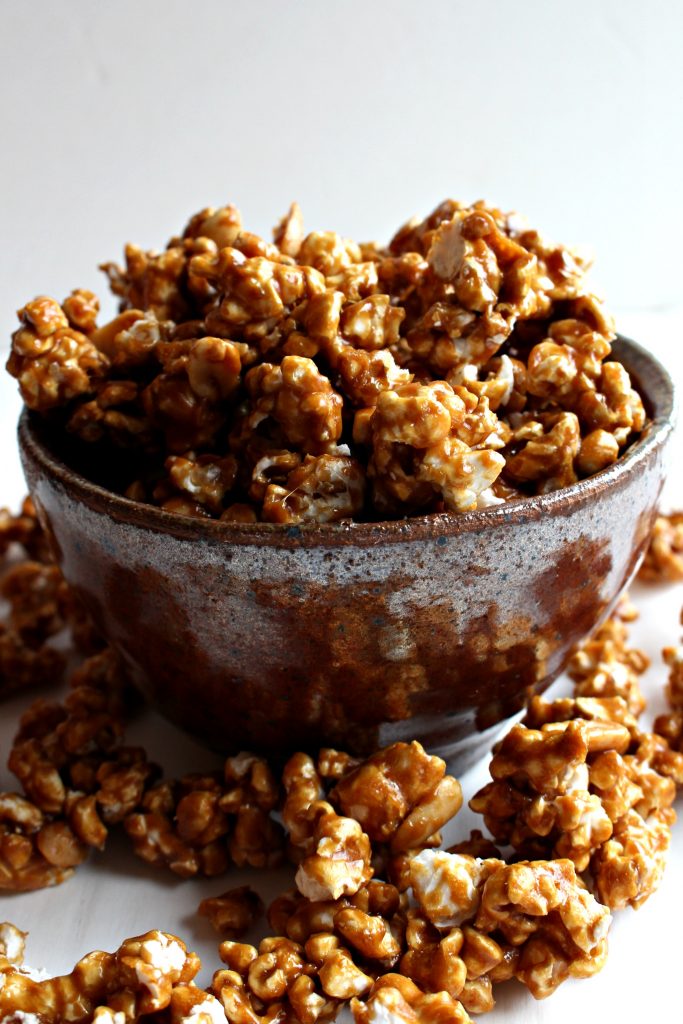 I was not compensated for this post, however I did receive free product from Bob's Red Mill for use in this recipe. All opinions are 100% my own. I only use and recommend products I believe in.
My favorite caramel corn comes from the famous Garretts Popcorn on Michigan Avenue in Chicago. Garretts has numerous Chicago locations, but the Michigan Avenue location is where I first tasted Garrets popcorn with my college roommate many years ago, so it's my nostalgic choice.
It may be that I love Garrets popcorn because I am usually with people I love when I am in Chicago. Love does make food taste better, but I think Garrets really does make the world's best popcorn.
On the crowded, busy street, the popcorn store is easily found by the irresistible smells that drift out the door and the long line of customers waiting outside. If you time it right, the popcorn is still warm when they scoop your order into a wax paper bag.  Buttery, sweet, delicious.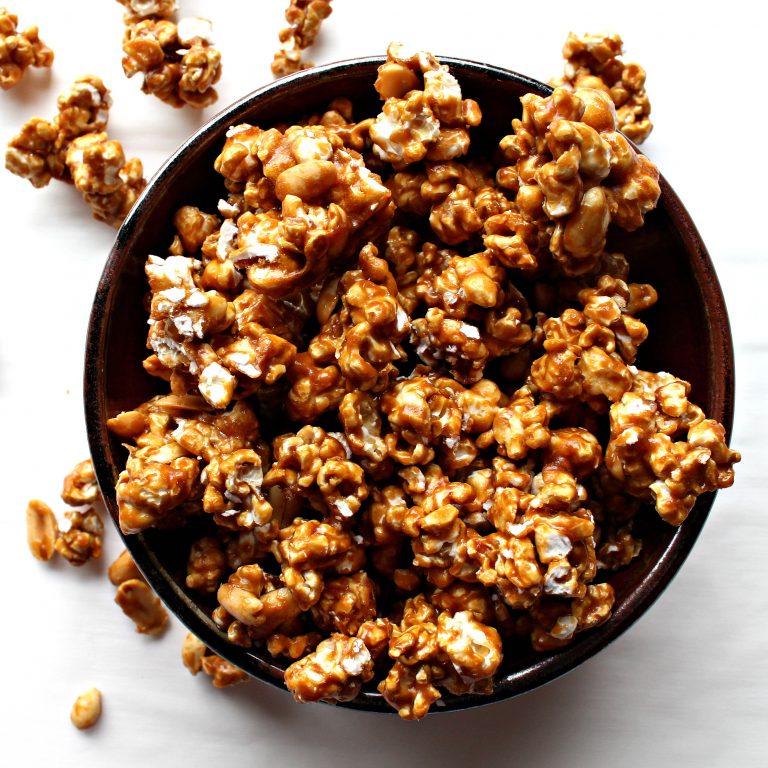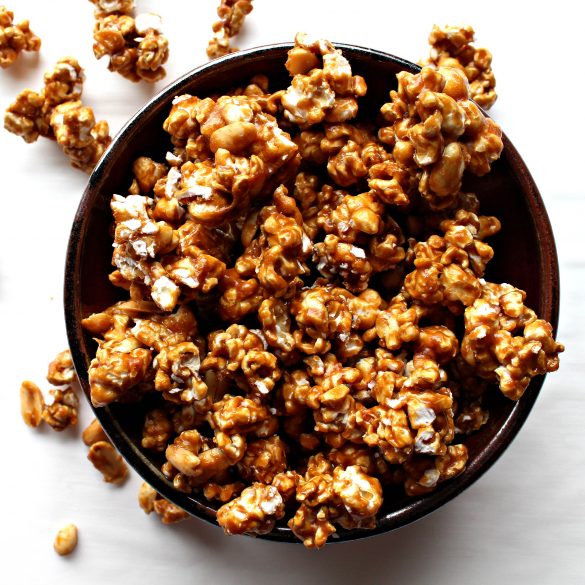 This Caramel Popcorn with Peanuts, isn't Garretts, but it's buttery, sweet and delicious too! I think it tastes like Cracker Jacks, but better.
I used Bob's Red Mill white popcorn which popped up extra fluffy and crunchy. Then I added a full cup of lightly salted peanuts. The caramel coating bakes up crisp, forming crunchy clusters of popcorn and peanuts.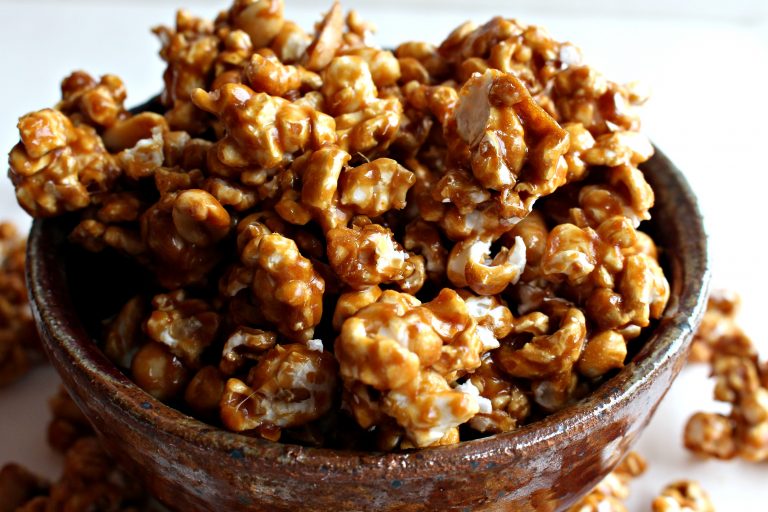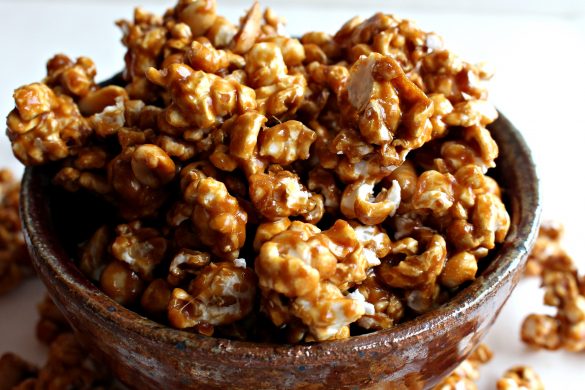 For some reason, I had a hard time finding recipes for the kind of caramel corn I was looking for. I was searching for crunchy, not gooey. Gooey is great, but not for care packages, because it's impossible to wrap and turns soft by the next day.
After a few tasty but unsuccessful attempts, I went to the Soldiers Angels Facebook page and asked my fellow Angels if they had any caramel corn recipes that were care package worthy. There are a lot of years of military care package experience on that page.
Not surprisingly, several recipes  from food.com and thekitchn.com were shared. Thank you, Naomi and Dinika!
It turns out that baking the caramel coated popcorn  was the step I had been missing in order to create crunchy caramel corn. I mixed and matched and tweaked those recipes until I had this luscious version of Caramel Popcorn with Peanuts.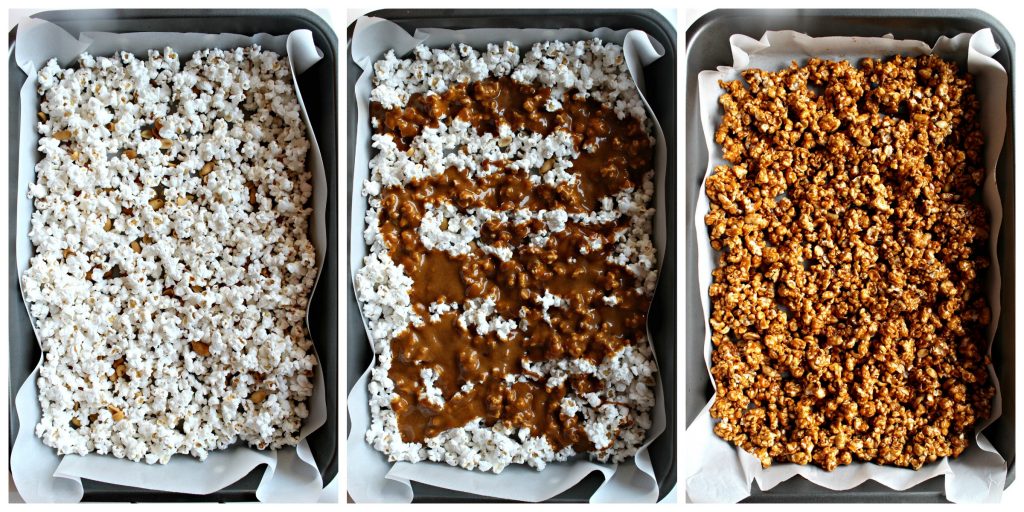 TIPS FOR BAKED CARAMEL POPCORN
Unpopped kernels in Caramel Corn is not good. You can break a tooth. After popping, take the time to shake the container so that the heavier unpopped kernels sink to the bottom. Then scoop the popcorn, rather than dump it, into a separate bowl.
I highly suggest buying a digital candy thermometer. They are not expensive and take the guess work out of making  caramel (and a lot of other delicious things). Though I have tried to give times and consistency for making the caramel without a thermometer, the success rate will be better with accuracy. If the caramel is undercooked, the finished product will be less crispy.
Don't worry about completely coating the popcorn as you pour the caramel into the roasting pan. When the coating is in the oven it softens in the heat making it easier to mix the popcorn and coating together.
Don't like peanuts or have allergies? Leave them out. Substitute another nut if you prefer.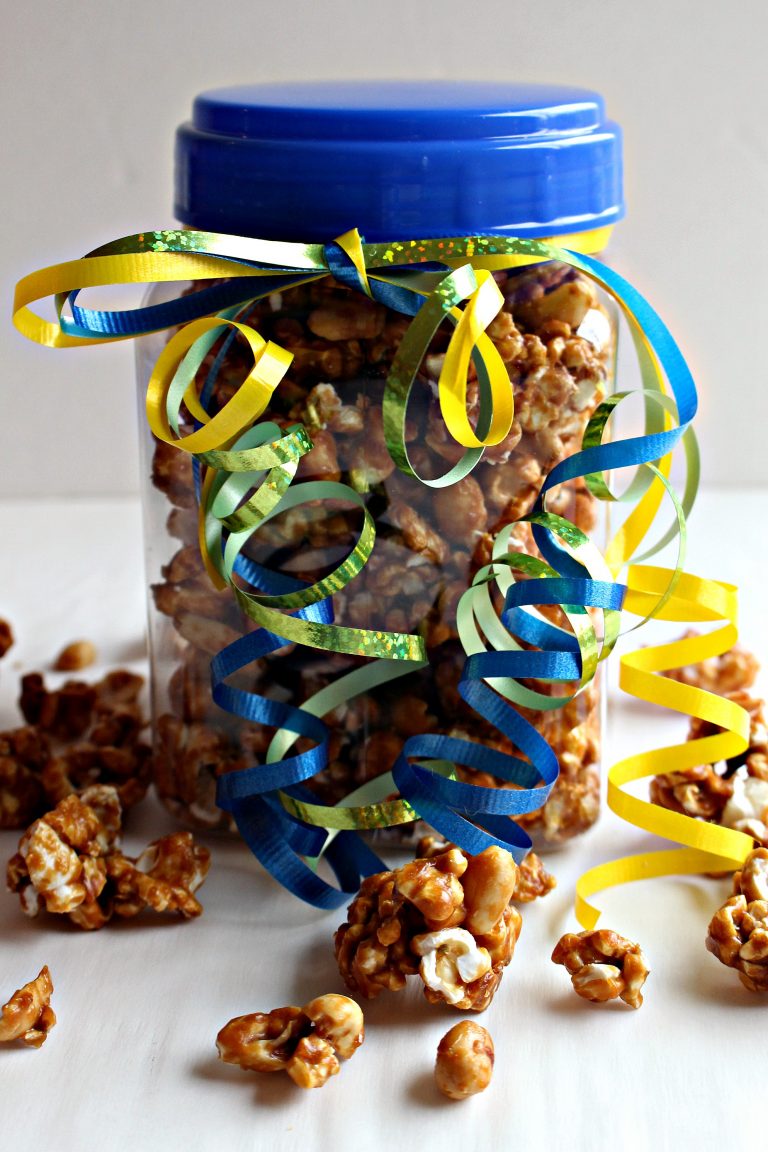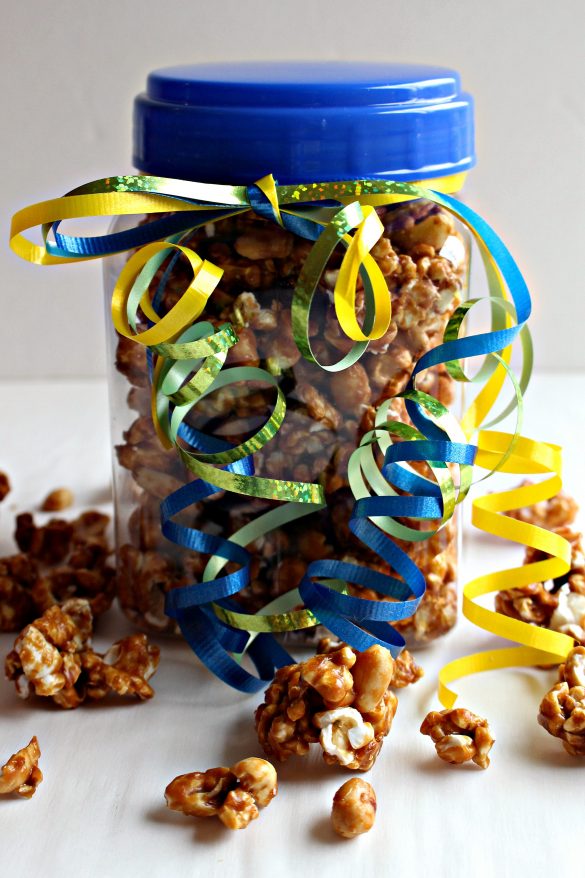 CARAMEL CORN RECIPE
Caramel Popcorn with Peanuts is addicting and irresistible. Don't say I didn't warn you. You can eat it all yourself or share some as gifts. The long shelf life of this popcorn, makes it an excellent care package treat. A batch or two of Caramel Popcorn with Peanuts would be a great Super Bowl snack too!
Happy National Popcorn Day!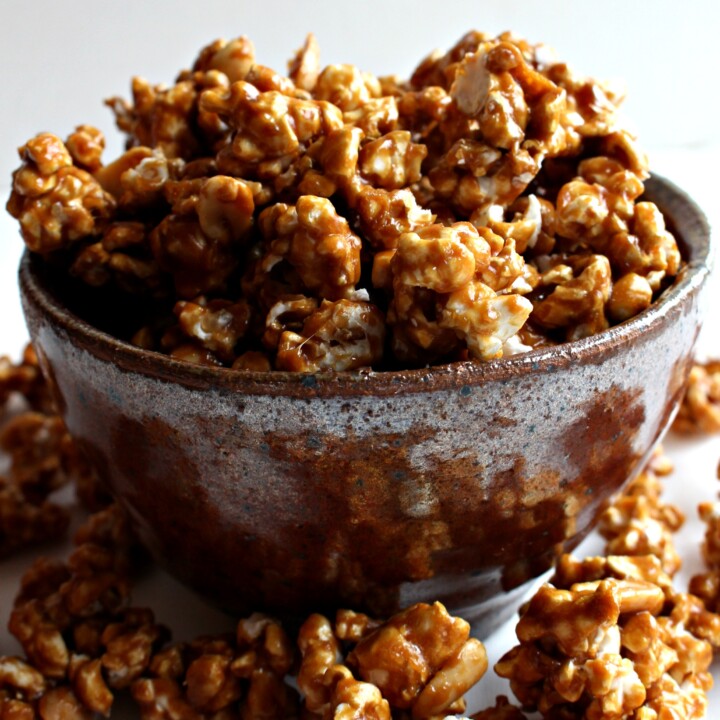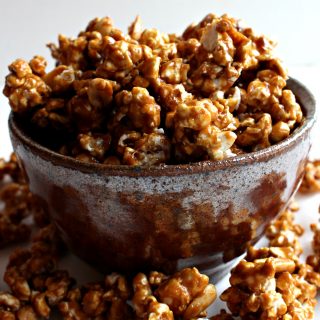 Caramel Popcorn with Peanuts
Fluffy popcorn and roasted peanuts coated in crunchy caramel.
Print
Rate
Ingredients
½

cup

unpopped popcorn

about 10 cups popped

1

cup

roasted peanuts

salted, lightly salted, or unsalted

1

cup

butter

1

cup

brown sugar

½

cup

light corn syrup

2

tablespoons

molasses

1

teaspoon

baking soda

1

teaspoon

vanilla extract
Instructions
Preheat the oven to 250° F. Line a large roasting pan with parchment paper, covering the bottom of the pan and up the sides.

Pop the corn kernels. If using the microwave, pop the corn in two ¼ cup batches. When the popping is finished, shake the popping bowl so that unpopped kernels will settle to the bottom. Scoop the popcorn into the prepared roasting pan, rather than pour, to avoid transferring any of the unpopped kernels. Scatter the peanuts over the popcorn. Set aside.

To make the caramel coating, combine the butter, brown sugar, corn syrup, and molasses in a two quart sauce pan over medium-low heat. Stir constantly. Bring the mixture to a boil and continue to cook (about 5 minutes) until the caramel thickens and is foamy. Then cook another 2 minutes or until a candy thermometer reads 275°-300° F.

Remove from heat and stir in baking soda and vanilla. The mixture will foam up.

Immediately, pour over the popcorn and peanuts. Stir to distribute the caramel. The popcorn will not be completely coated at this time.

Bake for 45 minutes stirring every 10 minutes to coat the popcorn completely with caramel. If there is still a lot of uncoated popcorn after 45 minutes, add 10 more minutes to the cooking time and stir again.

Remove from oven. Using the sides of the parchment, lift the caramel corn out of the pan and cool completely on the counter.

Once cool, break into small clusters. Caramel corn can be stored at room temperature in an airtight container or freezer weight ziplock bag for at least two weeks.
Notes
Packing tips
Fill airtight storage containers or freezer weight ziplock bags with Caramel Popcorn with Peanuts. Fill to the top of the container or bag to restrict movement of the popcorn, and remove as much air as possible.
Nutrition
Calories:
423
kcal
|
Carbohydrates:
46
g
|
Protein:
5
g
|
Fat:
26
g
|
Saturated Fat:
13
g
|
Polyunsaturated Fat:
3
g
|
Monounsaturated Fat:
8
g
|
Trans Fat:
1
g
|
Cholesterol:
49
mg
|
Sodium:
194
mg
|
Potassium:
230
mg
|
Fiber:
2
g
|
Sugar:
38
g
|
Vitamin A:
567
IU
|
Calcium:
49
mg
|
Iron:
1
mg
Save