This 4th of July Care Package celebrates Independence Day with lots of red, white and blue. A great patriotic package for deployed service members whose jobs ensure our continued freedom.
Why you'll love this care package theme
Share American pride with this celebration in a box. Whether shipping across town or across the world, this festive box is sure to deliver Independence Day spirit.
With the emphasis on patriotic red, white, and blue, it's easy to find packaged snacks and decorations that fit this theme. Just stroll through the aisles of the supermarket or dollar store and you'll find lots of choices.
Deployed military will especially love a box celebrating America's birthday! Though the service members are a long way from home, this care package brings a little piece of home to them.
Sending a deployed military care package? Be sure to check out these tips and ideas.
Decorating supplies
Scrap book paper is a great option for covering box flaps. It's sturdy, inexpensive, and comes in a huge variety of colors and patterns.
The printed images are online images found by searching images for "Land of the free, because of the brave" , "4th of July", and "Thank you for your service".
Instructions
Cut the scrap book paper to the measurements of the box flaps. Use the glue stick to attach the printed images or other decorations.
Glue the decorated paper to the box flaps.
To ensure that the decorations don't fall of during shipping, cover the box flaps with clear packing tape.
Fill the box with red, white, and blue colored snacks, activities, and decorations.
Care package contents
Activities like puzzle books and foam footballs are always welcome.
Water flavoring is one of the top requests from military members. It helps cover up any unwelcome flavors in unfamiliar water.
Fill the box with lots of red, white and blue goodies. Specific items aren't important unless you want to include a favorite treat. Anything with packaging that matches the theme colors works well. Remember to keep hot temperatures in mind, if applicable, so that the contents won't melt in transit.
Decorations are the finishing touch on any celebration. The dollar store always has a large selection of patriotic garlands, flags, and banners.
Tips and variations
Scrapbook paper comes in so many different designs. One 12" x 12" sheet is enough for 2 box flaps. Look for inexpensive paper at craft stores and the craft section of some fabric stores.
Other inexpensive materials that are a great way box flaps include construction paper, contact paper, gift wrap, and plastic party tablecloths. All of these can be found at dollar stores.
To help keep the contents intact while shipping, before sealing the box, close the flaps and shake the package. If there is any movement inside, use tissue paper or other packing material to fill any unused space.
Especially for military care packages, use more packing tape than you think is necessary! Packing tape helps the box hold together despite rough handling. It also keeps sand out in dessert locations.
Recipes for a 4th of July themed care package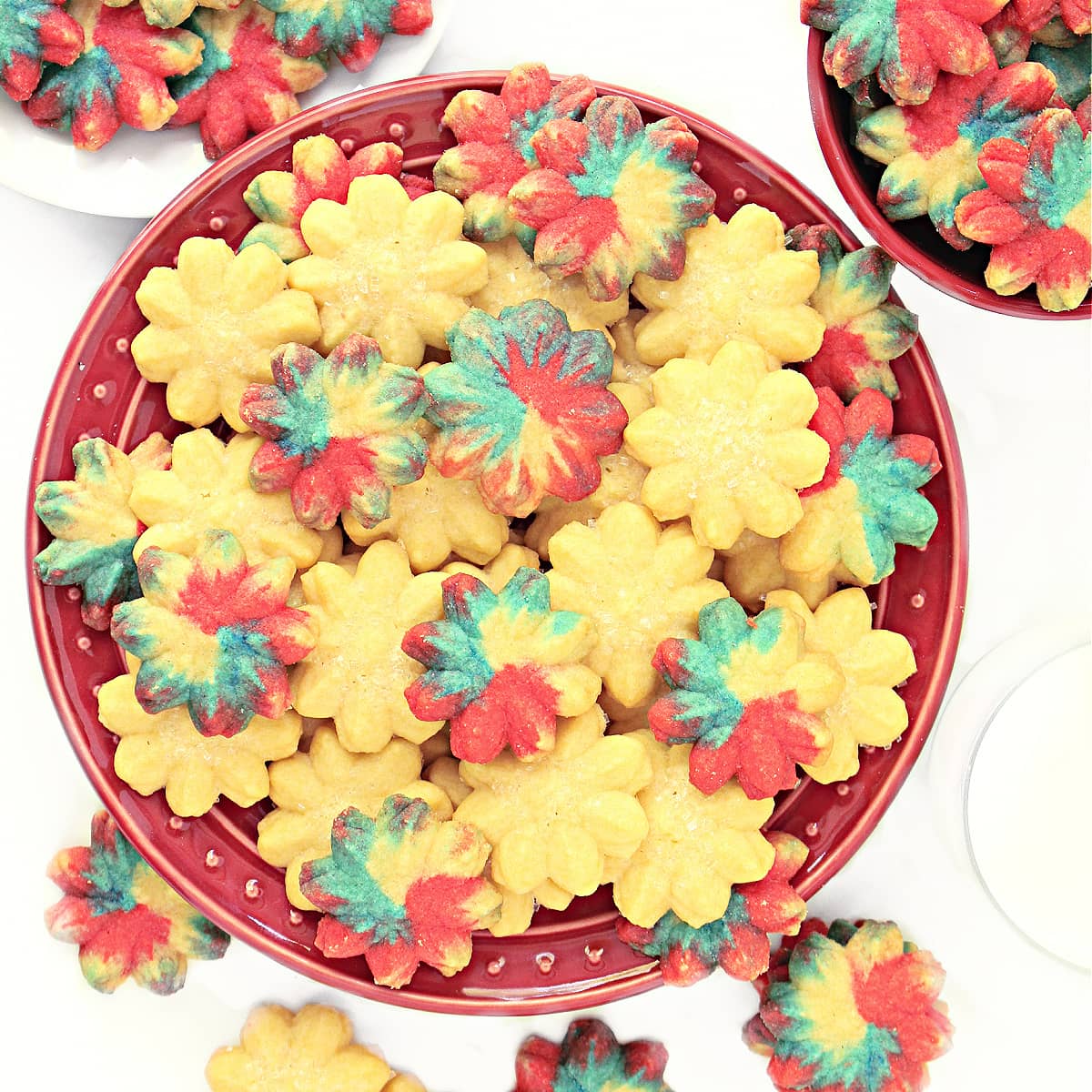 For a festive cookie with heat resistant ingredients, bake this quick and easy Spritz Cookies Recipe, for dozens of little fireworks cookies.
4th of July Cookies are crunchy sugar cookies swirled with red, white and blue!
Brownie Brittle are thin crunchy wedges with condensed brownie flavor. Red, white, and blue sprinkles make them perfect for a fourth of July celebration.
4th of July Brownies are fudgy and chewy with a colorful surprise inside. This heat resistant recipe is ideal for hot weather shipping!
Flag Cookies look just like American flags! Follow the instructions for stacking the colored dough, then slice and bake these patriotic cookies.
4th of July Mug Cake is an individual serving of funfetti cake topped with cherry and blueberry pie filling. A fun way to enjoy a sweet treat in just one minute!
More care package themes
Send holiday cheer with these great options for every occasion like an Easter, Halloween, and Christmas care package .
Base the theme on a favorite flavor like orange or lemon.
Books and movies like Harry Potter, Dr. Seuss, The Grinch, and the Minions.
This birthday care package celebrates the recipient and provides plenty of treats to share.
Ready to create? Join the free membership group to get new care package ideas, recipes and a newsletter delivered to your inbox! You can also stay in touch on Facebook, Pinterest, and Instagram. I'd love to stay in touch!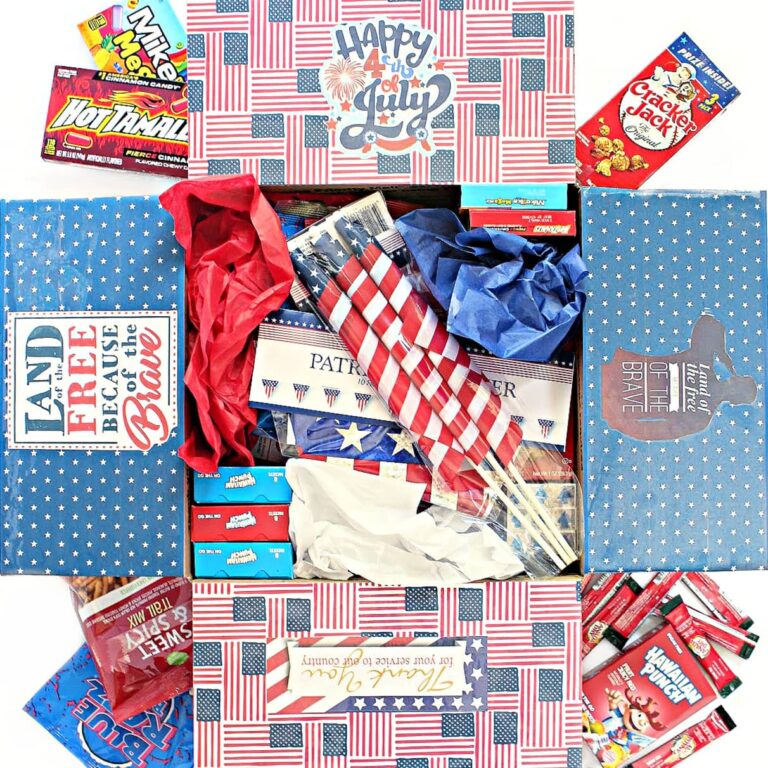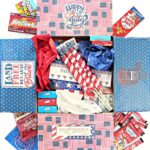 Print
4th of July Theme Care Package
A patriotic care package perfect for a friend, family member, or a member of the armed forces.
As an Amazon Associate I earn from qualifying purchases.
Materials
2

12" x 12"

scapbook papers

patriotic print

4

printed decorative images

cut out if necessary

1

large USPS flat rate box

1

heavy duty glue stick

1

roll

clear packing tape
Instructions
Print and cutout patriotic images and phrases from online images.

Cut the scrapbook paper into 4 rectangles (6" x 11 ¾") ,to fit the box flaps.

Glue the cutout words and decorative images to each rectangle of scrapbook paper.

Glue the decorated paper to the box flaps.

Cover the flaps with clear packing tape to hold the decorations in place. This also helps prevent heat and water damage in transit.

Fill the box. Be sure there is no movement in the carton before sealing.
Notes
Large flat rate boxes from the United States post office are expensive to mail (about $20), however you can fit quite a bit inside and don't have to worry about weight (up to 50 pounds). The cartons are free, can be ordered online, and the postal service will deliver them to your door.
In addition to the scrap book paper used on this box, other flap covering materials include construction paper, wrapping paper, contact paper, patterned duct tape, or plastic table cloths.
When mailing a short distances, taping over the flap decorations probably isn't necessary. However, military care packages have to withstand rough treatment and temperature extremes. Taping thoroughly inside and out, helps keep the care package intact.
The Dollar Store, supermarkets, Target, and Amazon are good resources for care package contents.
Keep temperatures in mind in order to make the best food selections that won't melt or go bad in transit.