A Day of the Dead Theme Care Package can help keep loved ones connected to traditions and to each other, even when they are far apart. This festive box, filled with special treats, is easy and fun to create.
Why you'll love this care package theme
Dia de los Muertos originated in Mexico and is celebrated throughout Latin America. The holiday takes place on November 2nd every year.
It's a day to remember and celebrate the lives of loved ones who have died. Friends and family get together to share rememberances, prayers, and special foods.
This Day of the Dead theme care package is a fun way to share the celebration with with someone far from home. Fill it with treats and decorations that will make the holiday both sweet and meaningful.
Decorating supplies
Instructions
Cut the scrap book paper to the measurements of the box flaps and glue onto the flaps.
Glue any decorations onto the covered box flaps.
To ensure that the decorations don't fall of during shipping, cover the box flaps with clear packing tape.
Fill the box with Day of the Dead theme snacks, activities, and decorations.
Care package contents
In addition to home baked treats, local Mexican bakeries are a great resource for adding traditional baked goods.This care package includes homemade brownies and cookies plus Pan de Muerto from a bakery.
Activities like puzzle books and coloring sheets are welcome for filling downtime. This box included Dia de los Muertos coloring pages and colored pencils.
Fill the box with Day of the Dead goodies. Anything with packaging that matches the theme works well. This box includes cookies and candy in calavera skull packaging, paper goods and an insulated cup.
Candy is always popular. Divide the candy into goodie bags for sharing. Remember to keep hot temperatures in mind, if applicable, so that the contents won't melt in transit.
Decorations help any celebration seem official. The Dollar Store always has a selection of inexpensive patriotic garlands and banners. There were homemade decorations in this box too. See the photos and instructions below.
Include the 6 symbolic objects that are traditional on Dia de los Muertos alters: clavera skulls, marigolds (paper flowers), papel picado (cut paper decorations), Pan de Muerto (sweet bread), salt, photos of the people whose lives are being remembered.
Tips and variations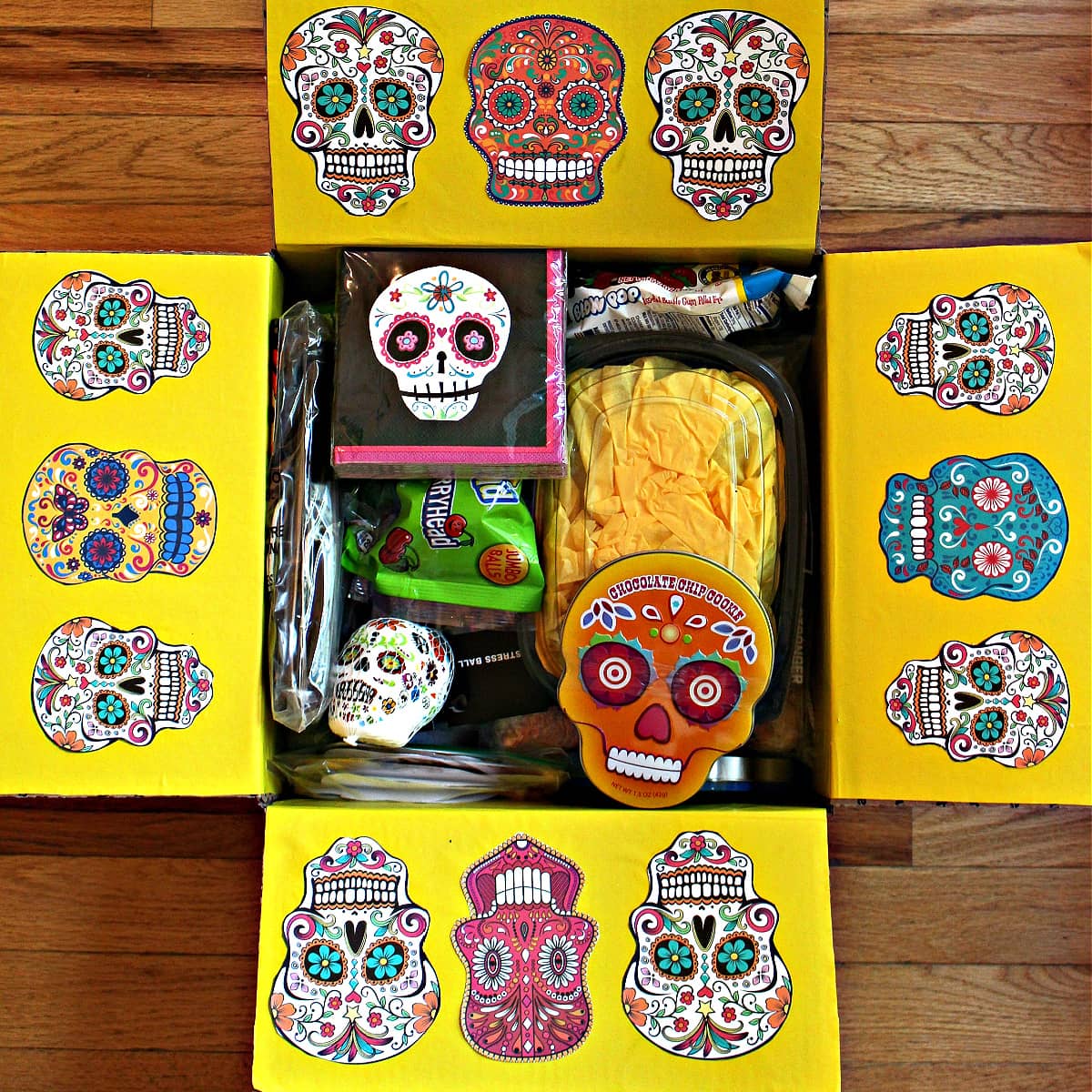 Scrapbook paper comes in so many different designs. One 12" x 12" sheet is enough for 2 box flaps. Look for inexpensive paper at craft stores and the craft section of some fabric stores.
Another Day of the Dead themed care package decorating idea uses bright yellow wrapping paper to cover the box flaps. Images of Dia de los Muertos calavera skulls found online are glued onto the box flaps.
Other inexpensive materials for covering box flaps include construction paper, contact paper, gift wrap, and plastic party tablecloths. All of these can be found inexpensively at dollar stores.
To help keep the contents intact while shipping, before sealing the box, close the flaps and shake the package. If there is any movement inside, use tissue paper or other packing material to fill any unused space.
Especially for military care packages, use more packing tape than you think is necessary! Packing tape helps the box hold together despite rough handling. It also keeps sand out in dessert locations.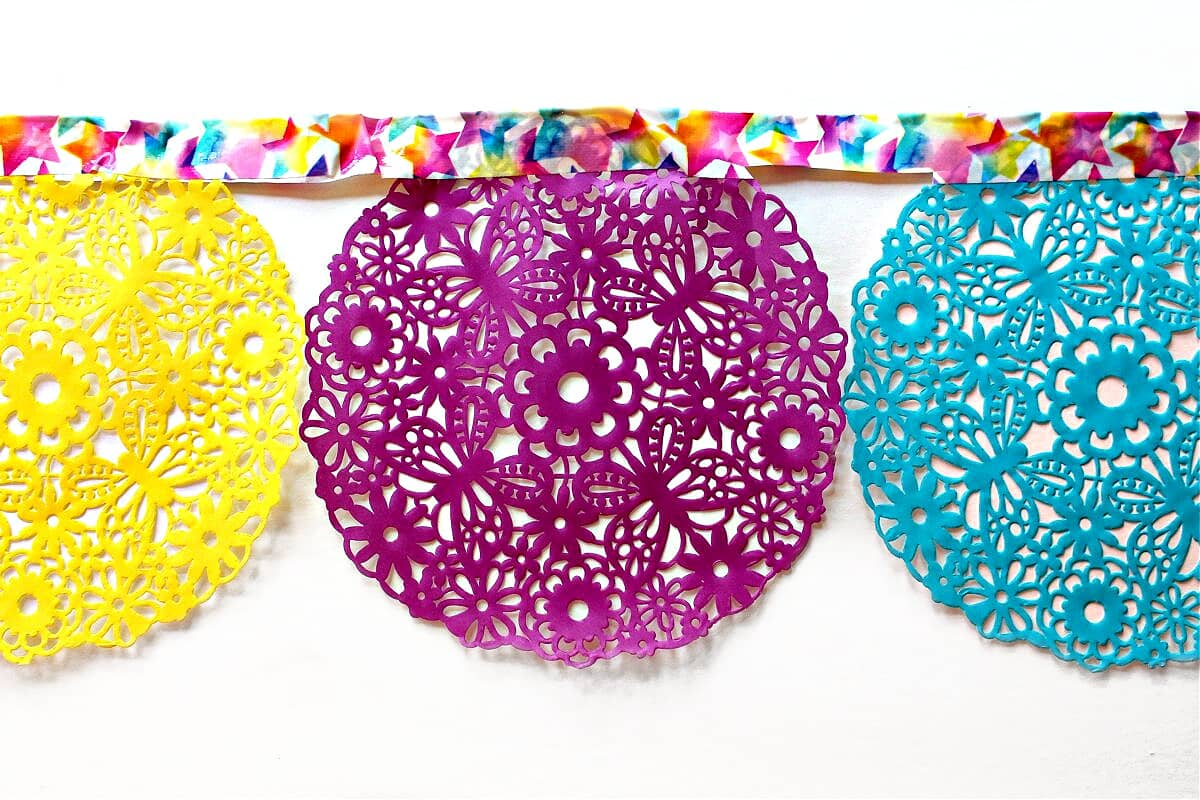 Traditionally, Dia de los Muertos decorations include papel picado, banners made of cut tissue paper. Make a quick version of papel picado using doilies and decorative duct tape.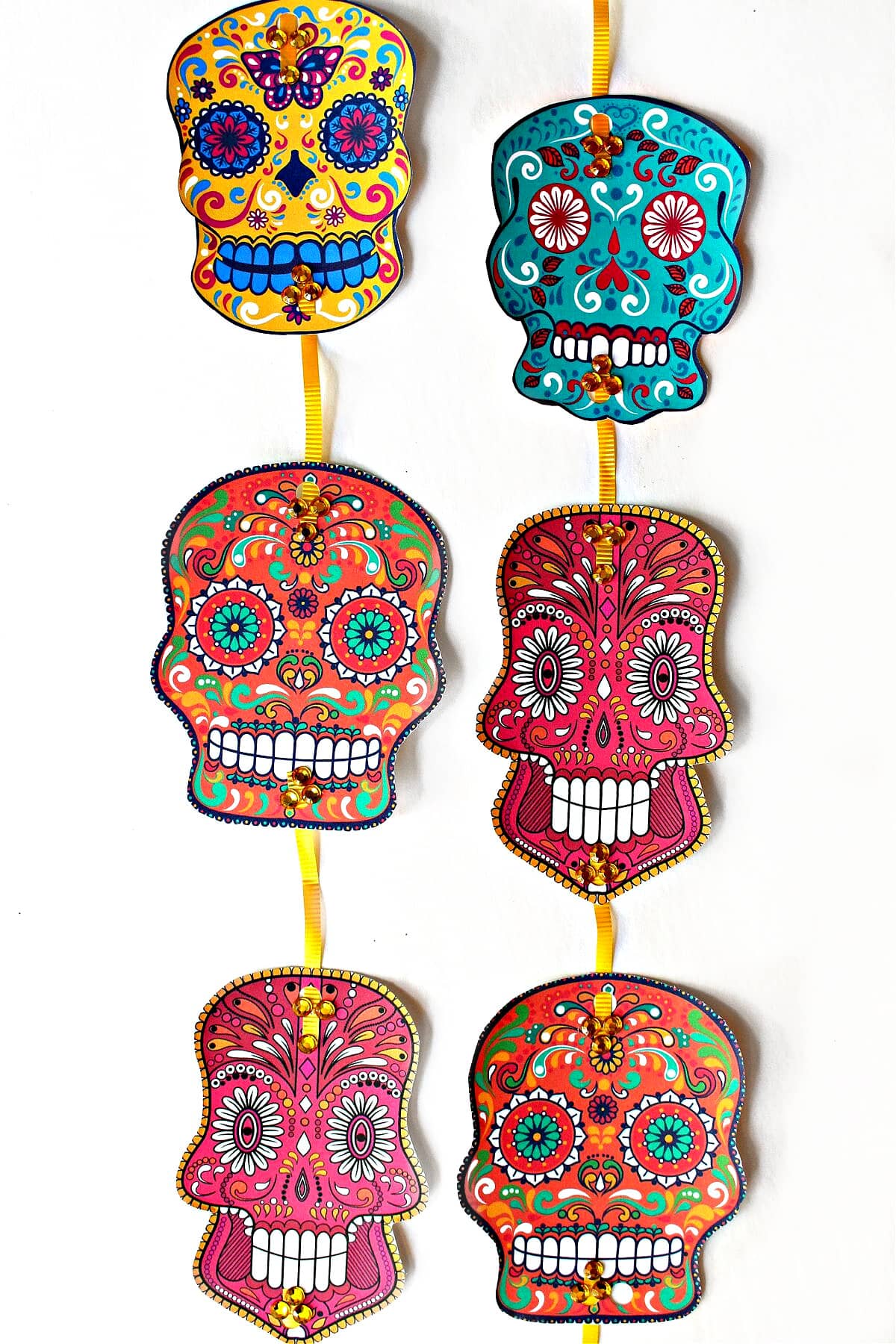 Print calavera skull images from the internet onto cardstock and string them on ribbon to create hanging decorations.
Recipes for a Day of the Dead theme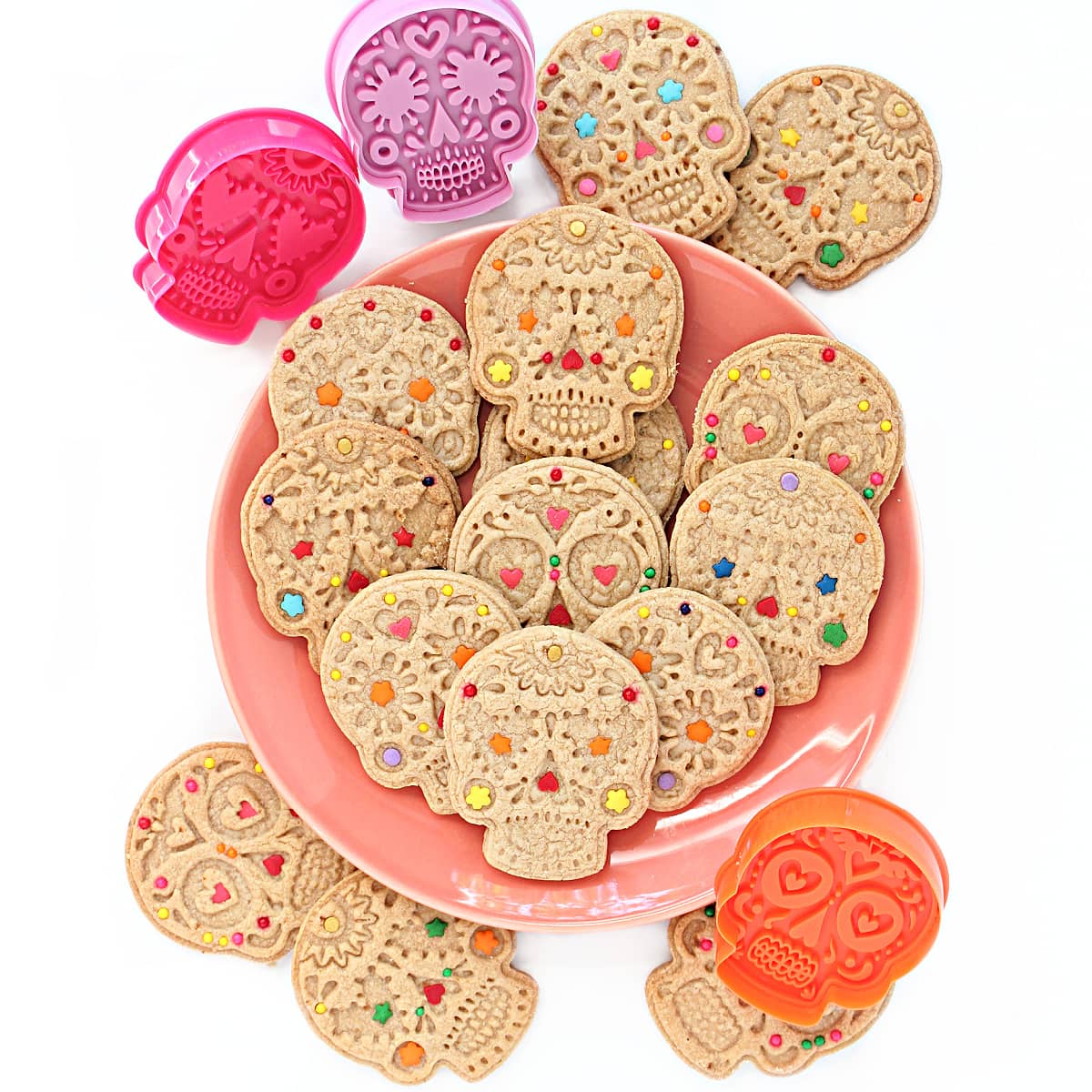 This Apple Cider Cookies recipe is ideal for imprinted, molded, or stamped cookies! Make these spiced apple cookies with calavera skull cookie cutters for a beautiful and tasty treat.
Dia de los Muertos Cookies are decorated with swirls of colorful dots reminiscent of the cut paper designs that decorate Mexican Day of the Dead alters.
Pabassinas are iced raisin nut cookies with a delicious vanilla citrus coating.
Fudgy Brownies in individual cupcake wrappers are a great way to mail chocolate even when the weather is hot. Holiday themed foil wrappers make the brownies extra festive.
Mexican Sugar Cookies (Polvorones Mexicanos) are thick, crunchy cookies just like the polvorones cookies from the Mexican bakery!
More care package themes
There's a lot of red, white, and blue in this patriotic 4th of July Theme Care Package.
A Minion Care Package is required to be filled with joy and silliness along with some adarable character treats.
When you can't be home for your special day, you need a Birthday Party in a Box.
Snoopy fans know that Joe Cool is the ideal mascot for a Stay Cool Care Package that helps beat the heat.
A Winter Theme Care Package can still be cozy when it's filled with hot chocolate mix and lots of sweet treats.
Need ideas for a Thanksgiving Care Package for college students or service members? This box is filled with fun treats and encouragement.
Ready to create? Join the free membership group to get new care package ideas, recipes and a newsletter delivered to your inbox! You can also stay in touch on Facebook, Pinterest, and Instagram. I'd love to stay in touch!
Print
Dia de los Muertos Theme Care Package
Make a Day of the Dead Care Package with decorated flaps and filled with goodies both traditional and untraditional, to make the holiday special.
As an Amazon Associate I earn from qualifying purchases.
Materials
4

scrap book paper cut to box flap size

paper words or images

1

large USPS flat rate box

1

heavy duty glue stick

1

roll clear packing tape
Instructions
Cut 4 sheets of scrapbook paper to 6" x 11 ¾" ,to fit the box flaps.

Print(if necessary) and cutout images and phrases from online images or scrap book paper.

Glue the scrapbook paper to the box flaps.

Glue the cutout words and decorative images to the scrapbook paper covered flaps.

Cover the flaps with clear packing tape to hold the decorations in place. This also helps prevent heat and water damage in transit.

Fill the box. Be sure there is no movement in the carton before sealing.
Notes
Large flat rate boxes from the US Postal Service are expensive to mail (about $20), however you can fit quite a bit inside and don't have to worry about weight (up to 50 pounds). Not only are the cartons themselves free, but you can order them online and the postal service will deliver them to your door.
Covering the inside flaps is like wrapping a gift inside-out. The purpose is to make the box bright and cheerful. In addition to the scrap book paper used on this box, flaps can be covered with construction paper, wrapping paper, contact paper, patterned duct tape, or plastic table cloths.
When mailing a short distances, taping over the flap decorations probably isn't necessary. However, military care packages have to withstand rough treatment and temperature extremes. Taping thoroughly inside and out, helps keep the care package intact.