Mexican Sugar Cookies (Polvorones Mexicanos) are thick, crunchy cookies with vibrant colors and three different citrus flavors! A cookie fiesta in lemon yellow, green lime, and orange orange. Made with desert safe ingredients, these cookies are ideal to include in warm weather care packages or for filling cookie jars any time of year!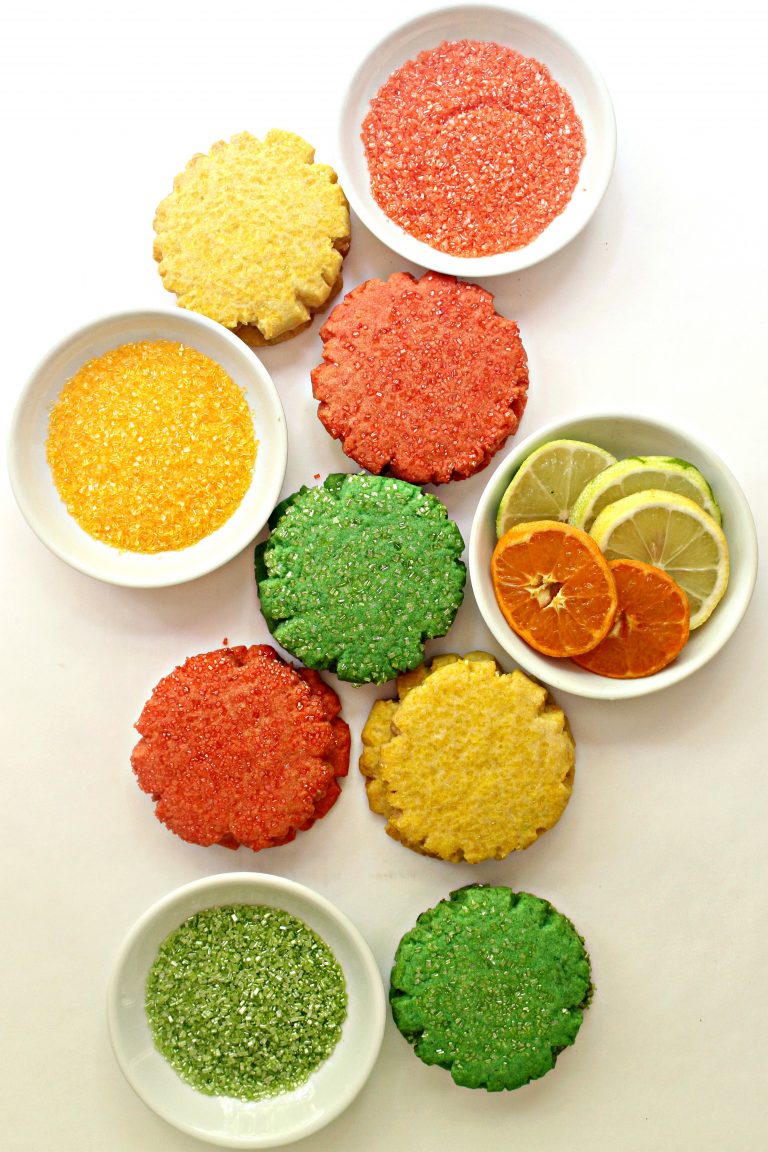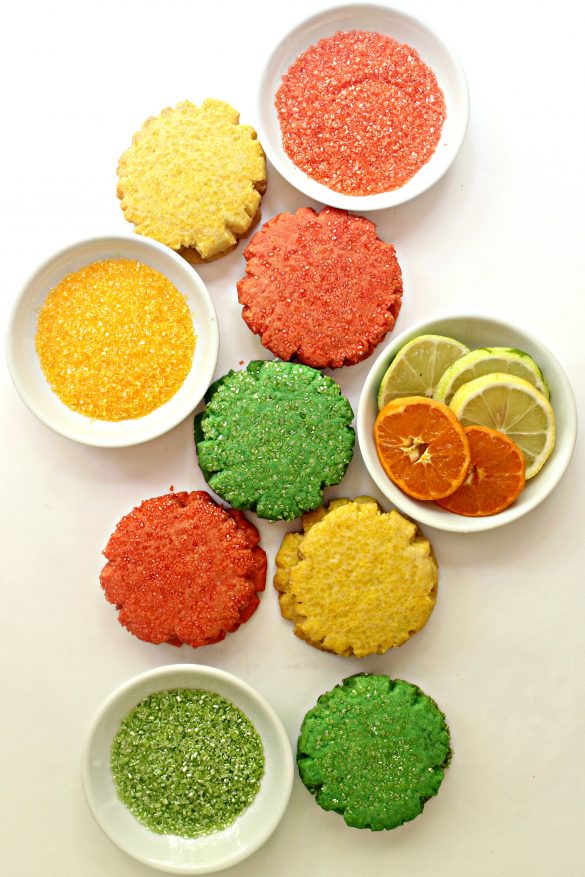 When my kids were in middle school and high school, our family spent 3 weeks each summer attending Spanish language immersion schools in central Mexico. We came away from the experience with improved Spanish, greater cultural understanding, and a fondness for Mexican bakeries.
Each day (often twice a day) we would stop into the bakeries that were on our walk to school, and pick up snacks for the day. When you walk in the door of a Mexican bakery, the first thing you do is pick up a metal tray (that looks a lot like a pizza pan) and a pair of tongs.
Then you walk around the shop loading your tray from the bins and shelves filled with cookies, pastries, and rolls. The cashier unloads your tray into a bag and tallies up your bill.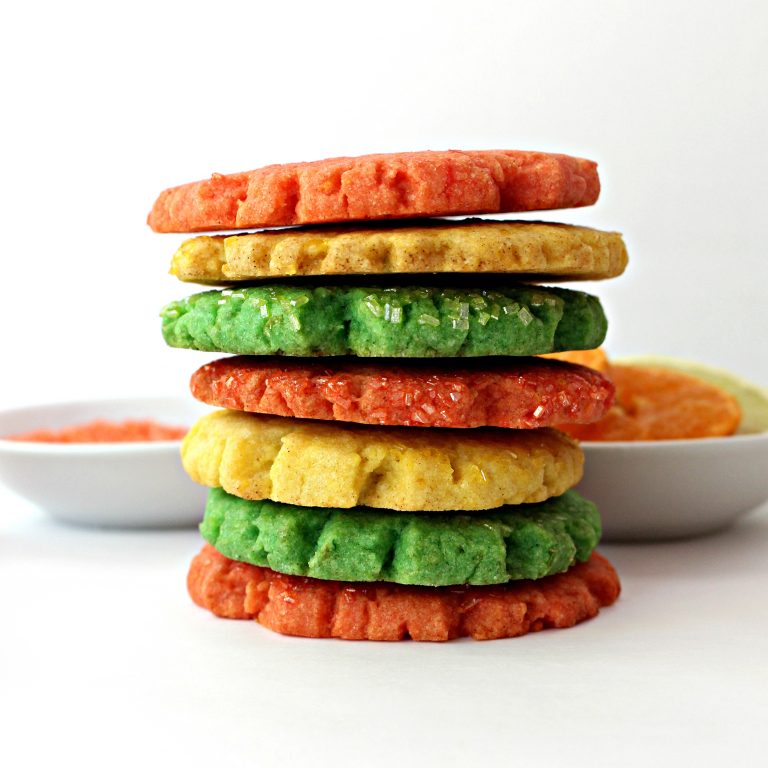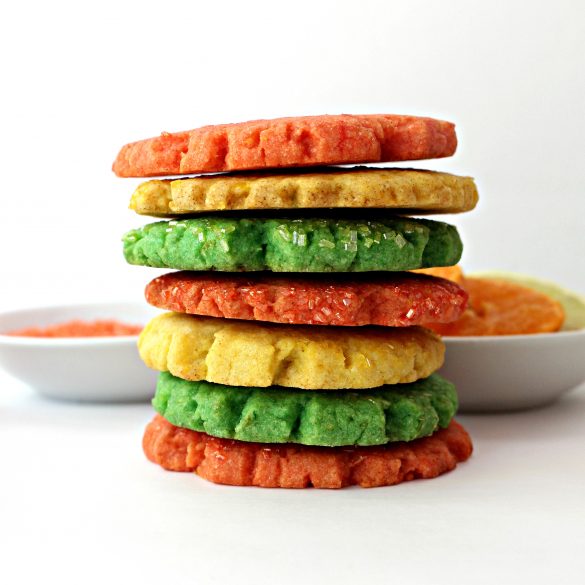 We each had our favorites (conchas, gallinas, coyotas), and we worked hard to increase our repertoire by trying new items daily. However, our bag always contained some Mexican Sugar Cookies.
Mexican Sugar Cookies are the kind of cookie that can multi-task. They are great for breakfast with a glass of milk or a cup of coffee, or any time of day for a sweet treat.
These citrus Polvorones Mexicanos are made with one dough that is split into three pieces. Each section of dough is flavored with citrus zest and a splash of color. Why choose one flavor when you can have all three!
HOW TO MAKE POLVORONES MEXICANOS
Whisk together the flour, baking powder and salt. Set aside.
Beat the shortening until fluffy. Then mix in sugar, egg, and lemon zest.
Stir in flour and just enough water to form dough.
Divide the dough into 3 pieces and add color and flavor to each.
Scoop 2 tablespoon balls, press into decorating sugar, and place on cookie sheet.
Press each dough ball to ¼" thickness.
Bake for 10-12 minutes until edges just begin to turn golden.

TIPS AND VARIATIONS FOR MEXICAN SUGAR COOKIES
This versatile dough can also be used for cutout cookies. Chill the dough for 1-2 hours, then roll out to ¼" thickness between two sheets of parchment paper. Cut into circles or other shapes.
Make the color less intense by adding and mixing in the food coloring gel one drop at a time until the desired color is achieved or, leave out the coloring completely.
Uniform thickness of each cookie is essential for even baking. This is easy to do when rolling out cookies, but not as easy when pressing cookies. Working slowly and attempting to use even pressure helps.
(The Monday Box participates in affiliate marketing programs. As an Amazon Associate I earn from qualifying purchases. If you choose to purchase a product after following a link on this page, I will receive a small commission, at no cost to you, which helps make The Monday Box possible.)
TOOLS AND INGREDIENTS YOU MAY NEED FOR MEXICAN SUGAR COOKIES



MORE SUGAR COOKIE RECIPES
Frosted Flakes Sugar Cookies are thin and crisp with a crunchy cereal coating.
Lavender Lemon Sugar Cookies have a lovely flavor that pairs perfectly with a cup of tea.
Sprinkle Sugar Cookies, covered in nonpareil sprinkles, are the ideal cookie for any occasion.
Fireworks Sugar Cookies celebrate patriotic holidays with a delicious whirl of red, white, and blue.
Watermelon Sugar Cookies are a colorful slice and bake cookie that looks just like the fruit!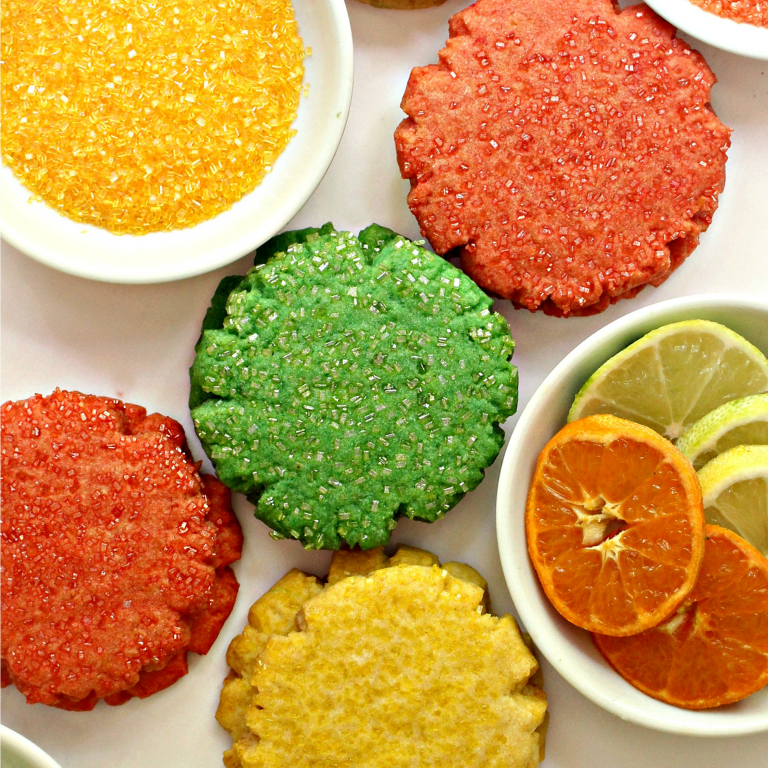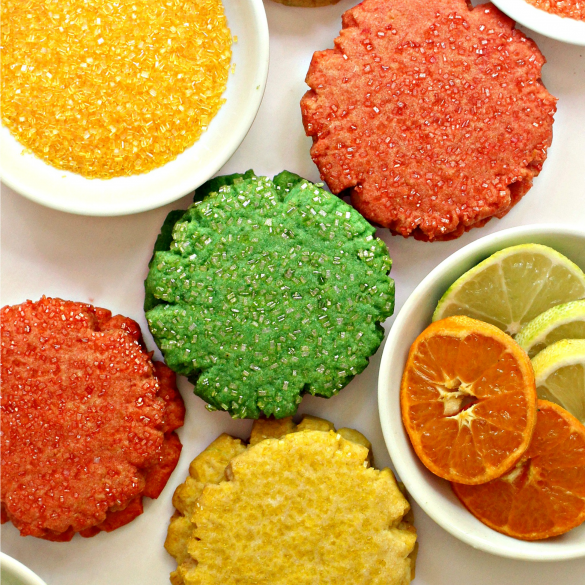 MEXICAN SUGAR COOKIE RECIPE
Stock your cookie jar with thick, crunchy sugar cookies in three citrus flavors! The ingredients make this a desert safe recipe great for military care packages during hot weather!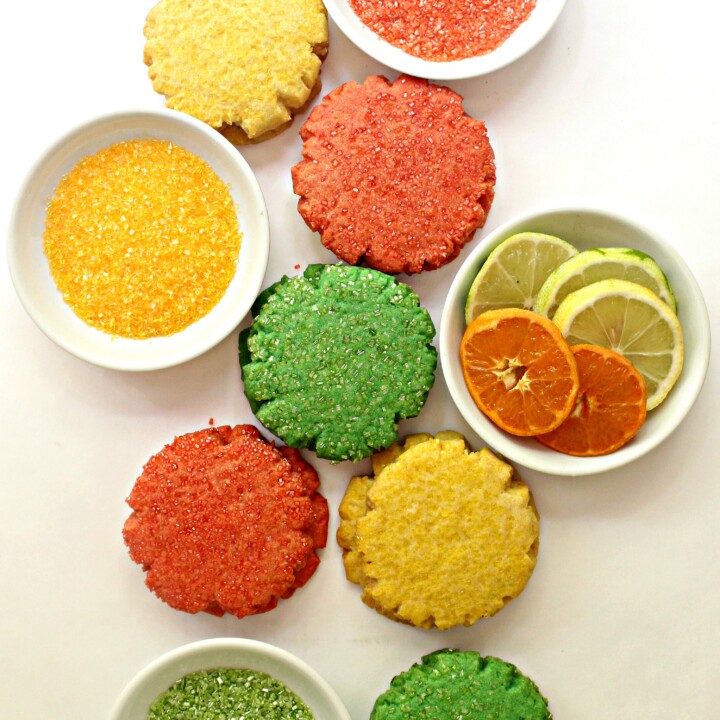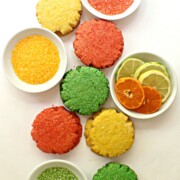 Print
Mexican Sugar Cookies: Plovorones
Adapted from The International Cookie Cookbook by Nancy Baggett
As an Amazon Associate I earn from qualifying purchases.
Ingredients
2 ¾

cups

all-purpose flour

1 ¼

teaspoons

baking powder

⅛

teaspoon

salt

1

cup

butter flavored vegetable shortening

Crisco

1

cup

granulated sugar

1

large egg

zest of 1 lemon

3-4

tablespoons

water

⅛

teaspoon

lemon extract

I use Loranne Oils lemon baking emulsion

zest of 1 orange

zest of 1 lime

Yellow

green, orange food coloring gel

Yellow

green, orange large crystal decorating sugar
Directions
Preheat the oven to 350° F. Line 3 cookie sheets with parchment paper.

In a medium mixing bowl, whisk together the flour, baking powder, and salt. Set aside.

In the bowl of an electric mixer, beat the shortening until fluffy.

Mix in the sugar.

Beat in the egg and lemon zest.

Gradually, mix in the flour mixture.

Add the water, 1 tablespoon at a time, just until a dough ball forms and the dough is no longer crumbly.

Divide the dough into 3 equal pieces.

Add 2-3 drops of yellow food coloring gel and lemon extract to the first piece of dough. Knead until evenly colored.

Add 2-3 drops of green food coloring gel and lime zest to the second piece of dough. Knead until evenly colored.

Add 2-3 drops of orange food coloring gel and orange zest to the third piece of dough. Knead until evenly colored.

Use a medium scoop to make 2 tablespoon portions of dough. Roll the portions into balls.

Press the top of each dough ball into matching colored sugar.

Place the dough balls on the prepared cookie sheets, about 4" apart ( 9 dough balls on each cookie sheet).

Place a square of wax paper (about 3" x 3") on top of one dough ball. Use the bottom of a ½ cup measuring cup to press down evenly until the dough is ¼" thick. Repeat with all of the dough balls.

Bake 1 cookie sheet at a time for 10-12 minutes or until the edges are just beginning to brown.

Remove from the oven and cool on the baking sheet for 2 minutes before transferring the cookies to a wire rack to cool completely.

Store in an airtight container at room temperature for up to 10 days.
Notes
Wrap pairs of cookies, bottoms together, in plastic wrap. Stack the bundles in a column in a freezer weight ziplock bag. Remove as much air as possible from the bag before sealing. For shipping times longer than 10 days, vacuum sealing is recommended.