The sun is finally out in St. Louis, but for two weeks it rained constantly. I am so sick of rain. Surrounded by flash floods, thunder storms, mud and humidity, I was inspired to adopt a puppy and bake crispy Frosted Flakes Sugar Cookies, neither of which makes much sense.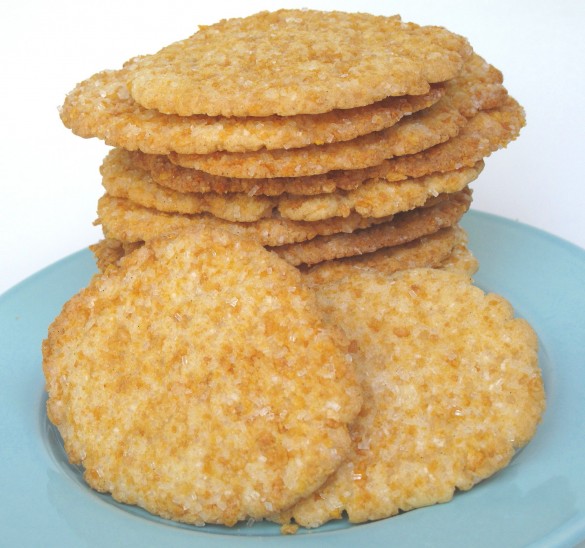 Acquiring the puppy didn't really have anything to do with the rain. We have been missing our golden who died in December.
It felt weird living in a dogless home. So it didn't take much for me to fall for a 6 month old sheltie puppy I found on adoptapet.com.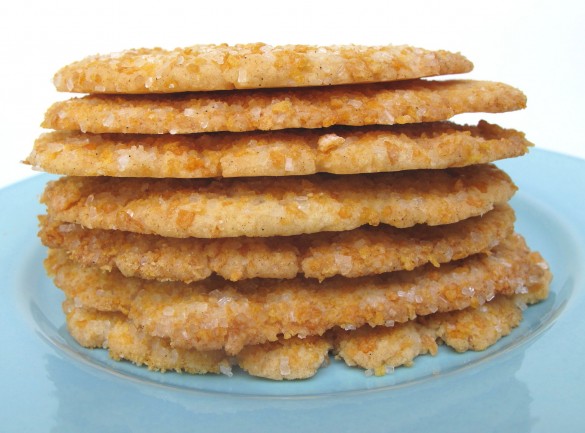 You know the saying, "Never say never,"? After our golden, the best dog that ever was, I said I was never getting another dog (way too hard to say good-bye). I also have always insisted that I was NEVER going to get a puppy.
My dogs have always been adopted as adults and they arrived fully assembled. But, due to what can only be attributed to temporary (hopefully) insanity, I took one look at those big puppy eyes and forgot everything I ever knew about the time and patience required by a puppy.
So, we picked up our Pax from the shelter in the rain. For what it's worth, I don't recommend trying to house train a puppy during day after day of rain and mud (though I suspect freezing temperatures and snow would be way worse).
This little guy is a bundle of energy requiring frequent trips outside and more frequent reminders not to chew shoes, furniture, and people. He also likes to snuggle and have his belly rubbed. He joyfully consumes hours of my day. I love him and his muddy paws already.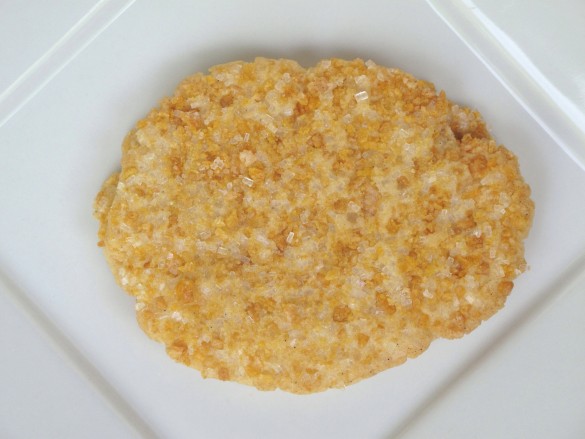 The soggy weather gave me crisp cookie cravings. The best way to counteract mushy weather moods is with a crispy cookie, though some cookies refuse to stay crispy in humid weather.
Coincidentally, while searching for desert safe crisp cookie recipes, I found out that July 9 is officially National Sugar Cookie Day. Perfect timing! Sounds like a worthwhile celebration to me.
Sugar cookies can be made as roll out-cookie cutter cookies, drop cookies, slice-and- bake cookies, or rolled in balls cookies. They can be baked soft and chewy or crisp and crunchy. Usually they are flavored with vanilla but almond or citrus are also tasty additions to sugar cookies. Sprinkled, sugared, or frosted sugar cookies are a cookie jar standard.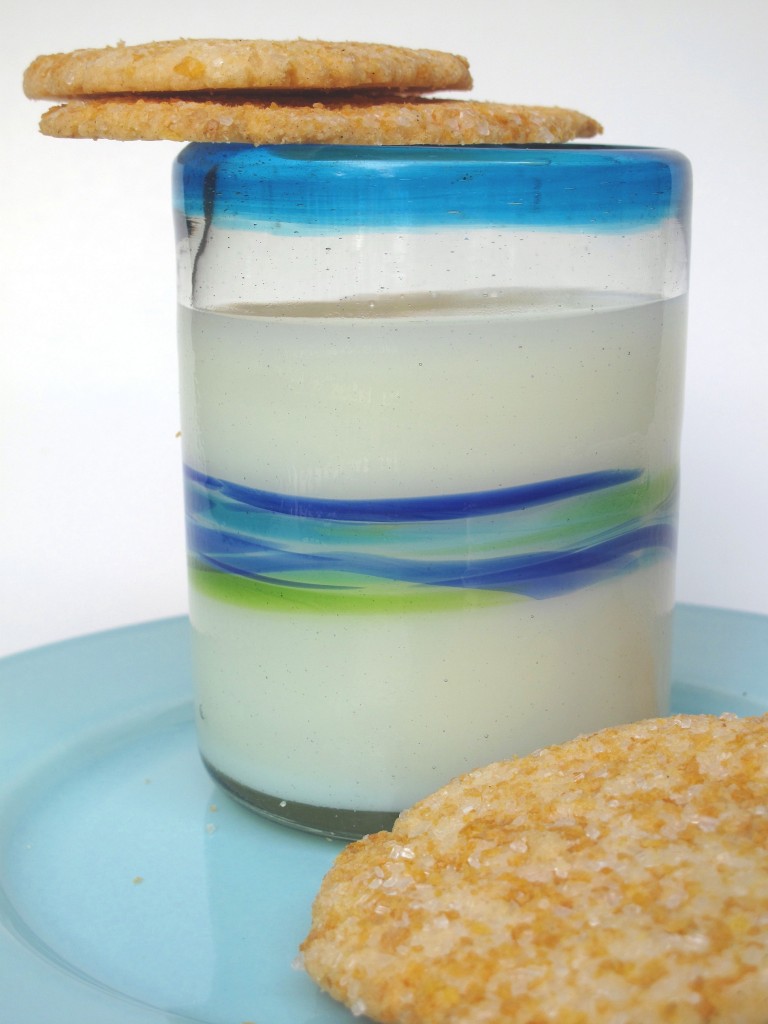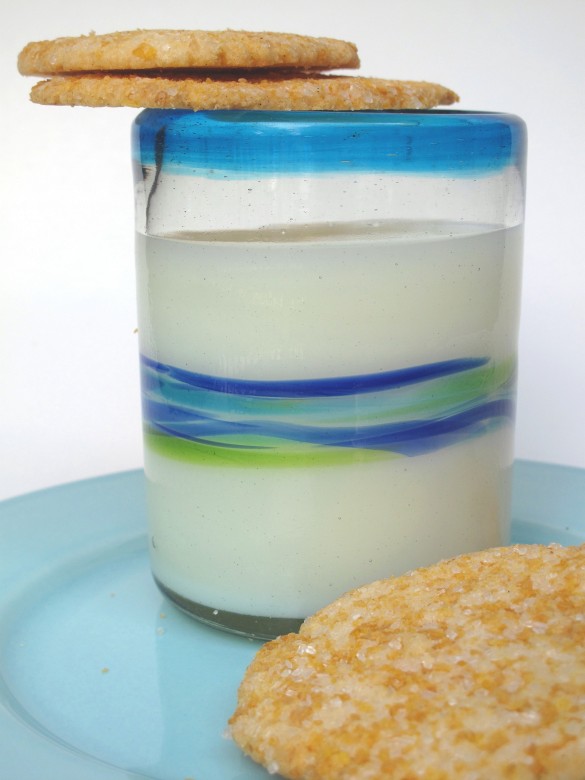 One thing most of the recipes I found had in common was their use of butter. Butter is my fat of choice in baking. Butter is delicious. Butter is also not recommended for hot weather/desert care packages. It can go rancid.
Making a recipe hot weather/desert care package safe means Crisco (vegetable shortening). I tried using Crisco in recipes that called for butter.
Several unsatisfactory baking experiments later, it was obvious that vegetable shortening couldn't just be substituted into whichever recipe I chose. The results were oily, the texture was off, and they oddly had very little flavor.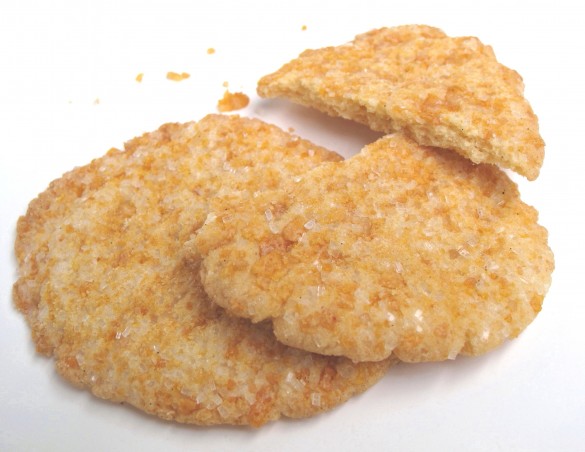 Then I found an ideal recipe on the Crisco site. (Its not as obvious as it sounds. Most of the cookies on the Crisco site use a combination of butter and vegetable shortening.)
Everyone who tried these had no idea they weren't a butter cookie. It's also a very versatile dough that can be made into whatever sugar cookie form is your favorite (rolled, scooped, cut into shapes).
To create the crunchiest cookie possible, I scooped mine into balls then flattened them over a mixture of crushed frosted corn flakes and large crystal decorating sugar. The embedded mixture gives the finished cookies a wonderful flavor and definite crunch.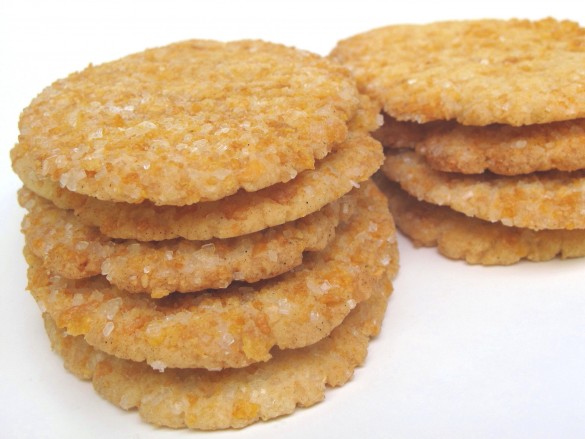 Frosted Flakes Sugar Cookies are desert safe for hot weather military care packages as is, no adaptations needed. They are also a crisp delicious cookie for the cookie jar at home.
Stored in an airtight container at room temperature, these sugar cookies should stay fresh for at least 2 weeks.
Happy National Sugar Cookie Day!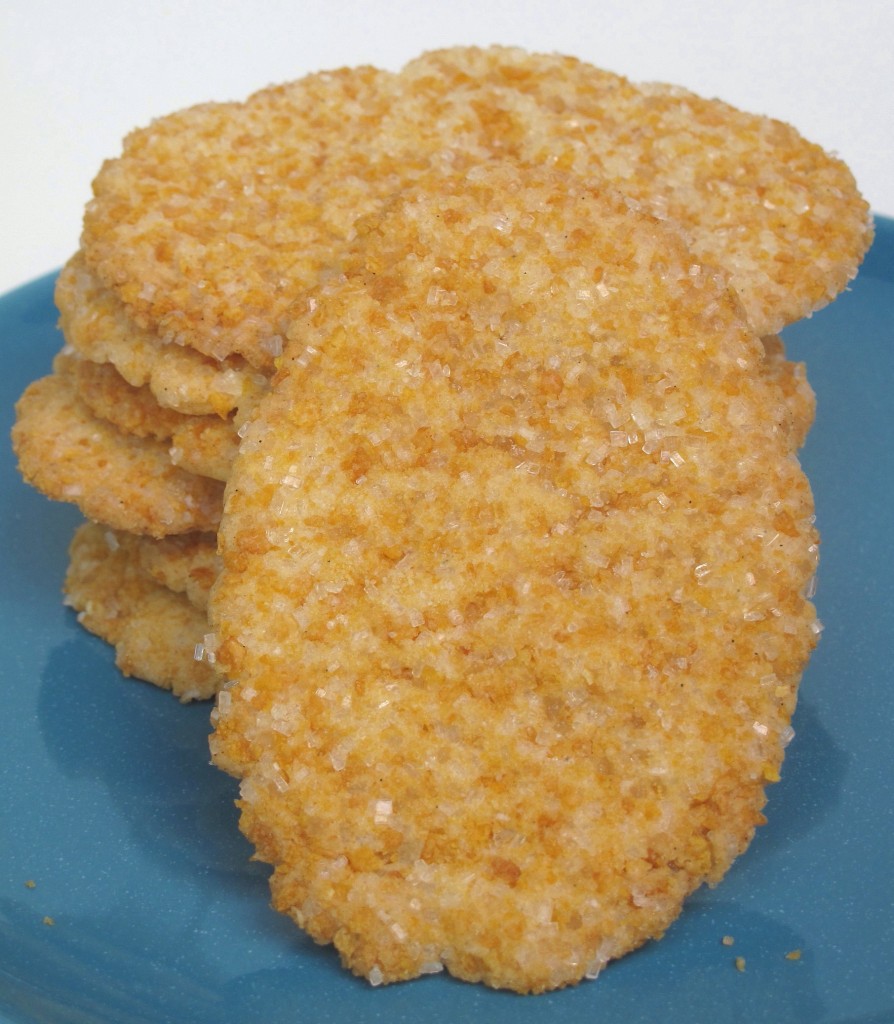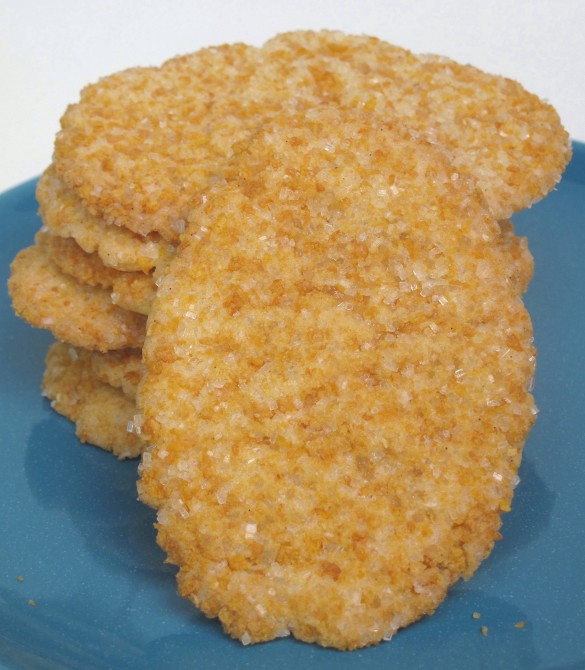 MORE SUGAR COOKIE RECIPES
FROSTED FLAKES SUGAR COOKIES RECIPE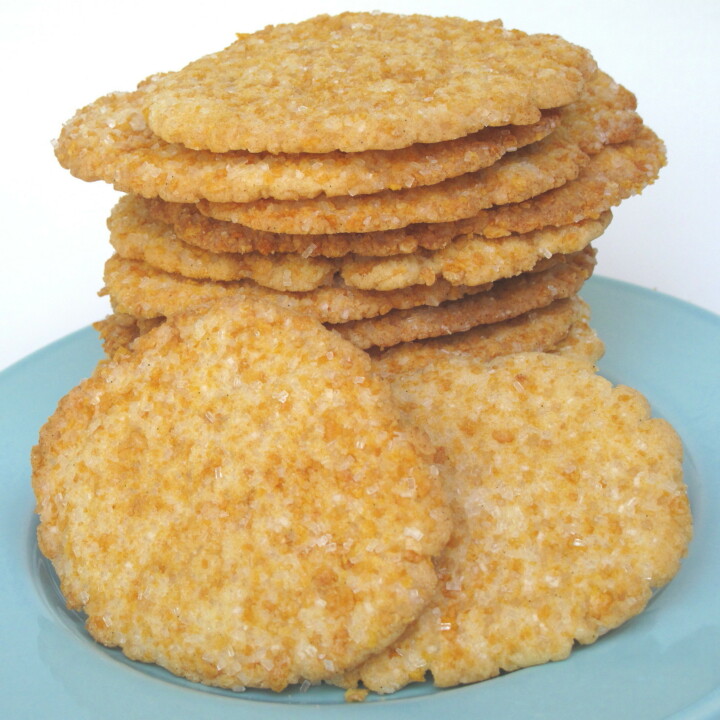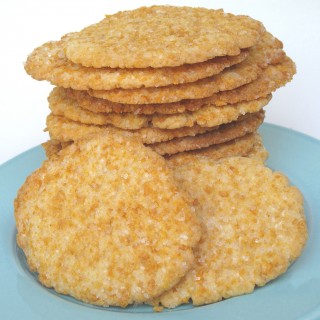 Frosted Flakes Sugar Cookies
This crisp sugar cookie is pressed into crushed frosted flakes for spectacular flavor and crunch.
Print
Rate
Ingredients
3

cups

all-purpose flour

1 ½

teaspoons

baking powder

½

teaspoon

salt

1

cup

butter-flavored vegetable shortening

1

cup

sugar

1

large egg

2

tablespoons

water

1

tablespoon

vanilla paste or extract

2

cups

frosted flakes

½

cup

sparkle sugar crystals
Instructions
Preheat oven to 375 degrees F. Line a baking sheet with parchment paper.

In a medium bowl, whisk together flour, baking powder, and salt.

In the bowl of an electric mixer, mix the shortening and sugar until creamy. Add egg, water, and vanilla. Beat until combined.

Slowly add flour mixture until combined.

Prepare the frosted flakes by chopping in a food processor until fine crumbs (but not powder).

In a small bowl, mix equal amounts of crushed frosted flakes and sugar crysals.

Cut two small rectangles of parchment paper to use for rolling out each cookie.

Using a small scoop or tablespoon, scoop out a ball of dough. Roll the dough into a ball, then flatten gently between palms.

Place one small rectangle of parchment on counter and sprinkle generously with the frosted flake-sugar mix.

Put the flattened dough ball on top of the parchment. Cover the dough ball with the other piece of parchment and use a rolling pin to flatten the dough disc (embedding the frosted flakes-sugar mix) to about ⅛ inch thickness.

Peel off the top parchment and using a small spatula, gently transfer the flattened dough disc to the prepared cookie sheet, sugared side up. Repeat this process to fill the cookie sheet, placing the cookies 1 inch apart.

Bake for 7-8 minutes, until the edges begin to turn caramel brown.

Allow cookies to firm on the baking sheet for about 2-3 minutes before transferring them to a wire rack to cool completely.

When cooled, store cookies in an airtight container at room temperature for at least 2 weeks.
Notes
Packing tips
Crispy cookies must be packed carefully in order to arrive intact. First, double wrap pairs of cookies, bottoms together, in plastic wrap. Then, place cookie bundles in an airtight plastic storage container.
Fill the container so that when the container is closed, the cookies have absolutely no wiggle room.
Place padding (bubble wrap or other packing material) around the container inside the shipping box.
Never pack soft cookies in the same care package as crispy ones. Moisture from the soft cookies will cause the crispy cookies to get soft.
Nutrition
Calories:
133
kcal
|
Carbohydrates:
19
g
|
Protein:
1
g
|
Fat:
6
g
|
Saturated Fat:
1
g
|
Trans Fat:
1
g
|
Cholesterol:
5
mg
|
Sodium:
63
mg
|
Potassium:
15
mg
|
Fiber:
1
g
|
Sugar:
9
g
|
Vitamin A:
44
IU
|
Vitamin C:
1
mg
|
Calcium:
12
mg
|
Iron:
1
mg