Brighten your day with melt in your mouth Slice-and-Bake Sprinkle Chubbies. Dough logs rolled in a rainbow of sprinkles, can be sliced and baked in minutes, or frozen for fresh cookies at a moments notice!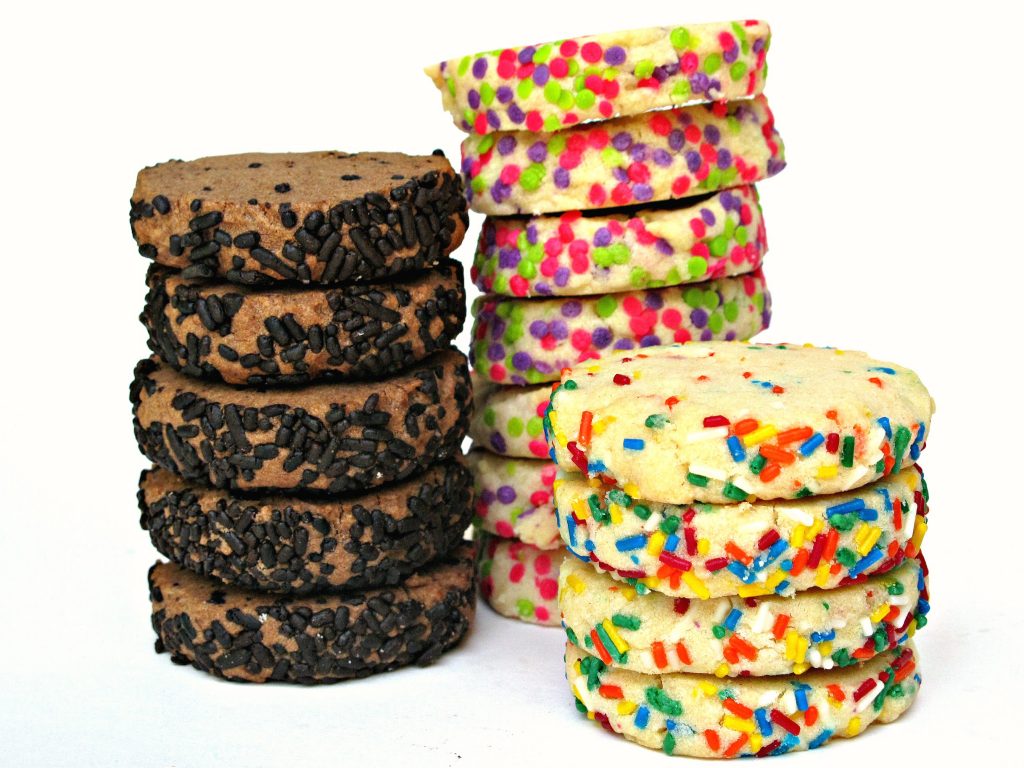 Bakers, bloggers, and cookie lovers often comment that sprinkles make everything better. Sprinkles are believed to improve the looks of a baked item and the state of mind of those consuming them. Not only do I agree, but I am a card holding member to the international subculture made up of the sprinkle obsessed. O.k., maybe I'm not obsessed, but I do have a deep appreciation for sprinkles and have quite a little collection started.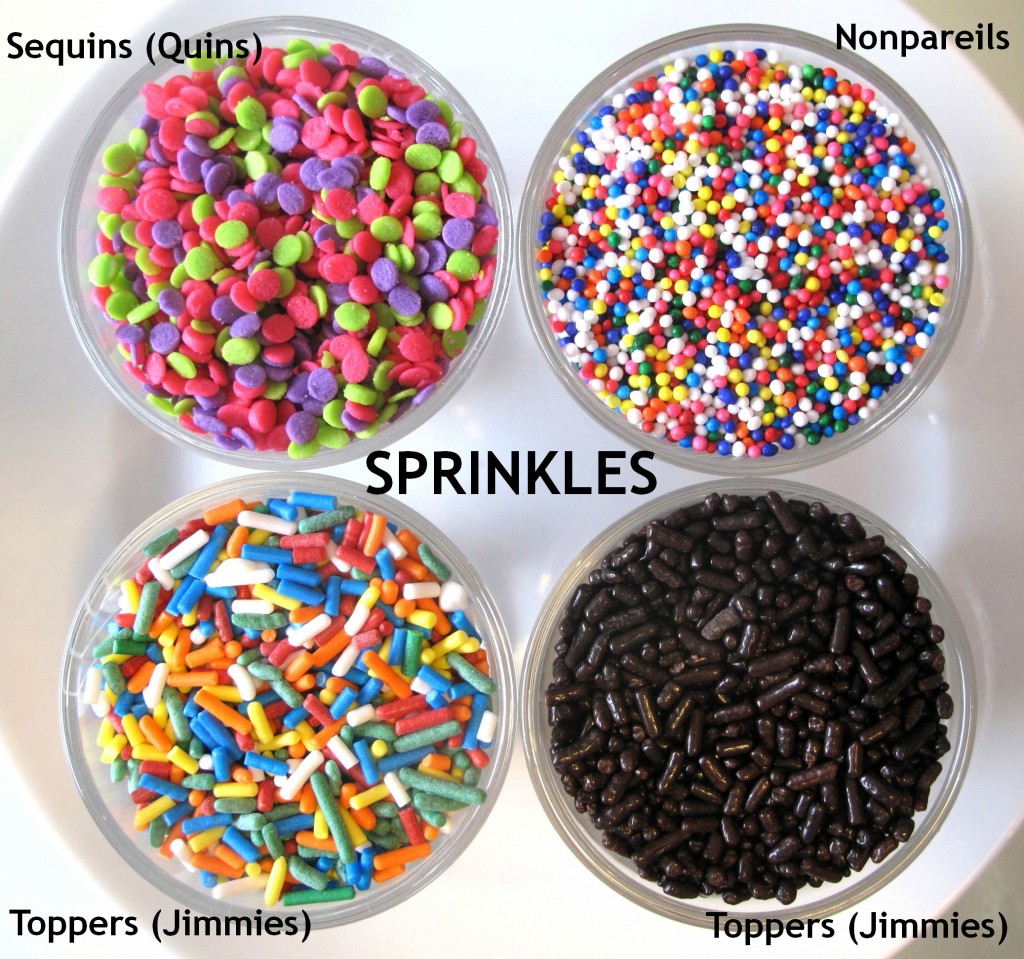 Before all of the visual sprinkle stimulus of blogs and pinterest, I was an average supermarket sprinkle buyer. Little bottles of multicolored decorations of one kind or another can easily be found in the baking aisle to add a little pizzazz to cupcakes or ice cream sundaes. I did buy colored decorating sugar a few times at a specialty store for color themed special occasions over the years. But that was it.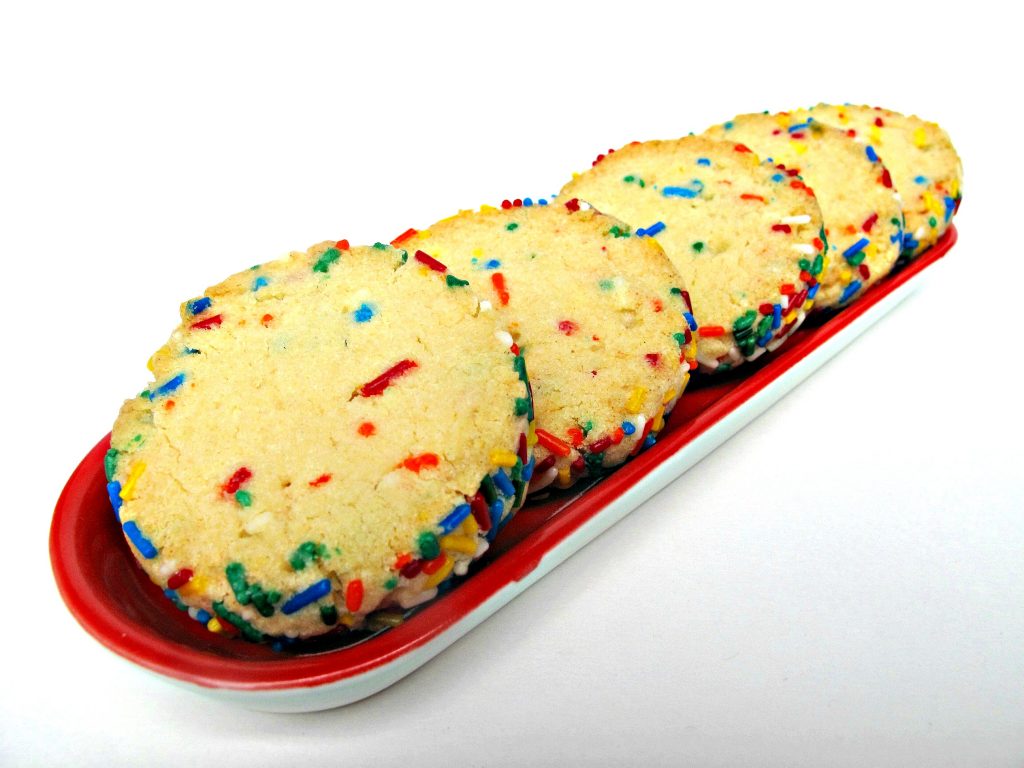 My personal sprinkle turning point began with my discovery of Bakerella. Angie invented decorated cake pops. Her creations are amazing. I see heart shaped sprinkles and I think, "How cute, heart shaped sprinkles." Angie sees heart sprinkles and they look like potential noses and ears and flower petals! I began to "collect" sprinkles and colored  sugars, "just in case".  You may be thinking, "Just in case what?!"  My answer to that is,  just in case I bake something, like Slice-and-Bake Sprinkle Chubbies, that need them.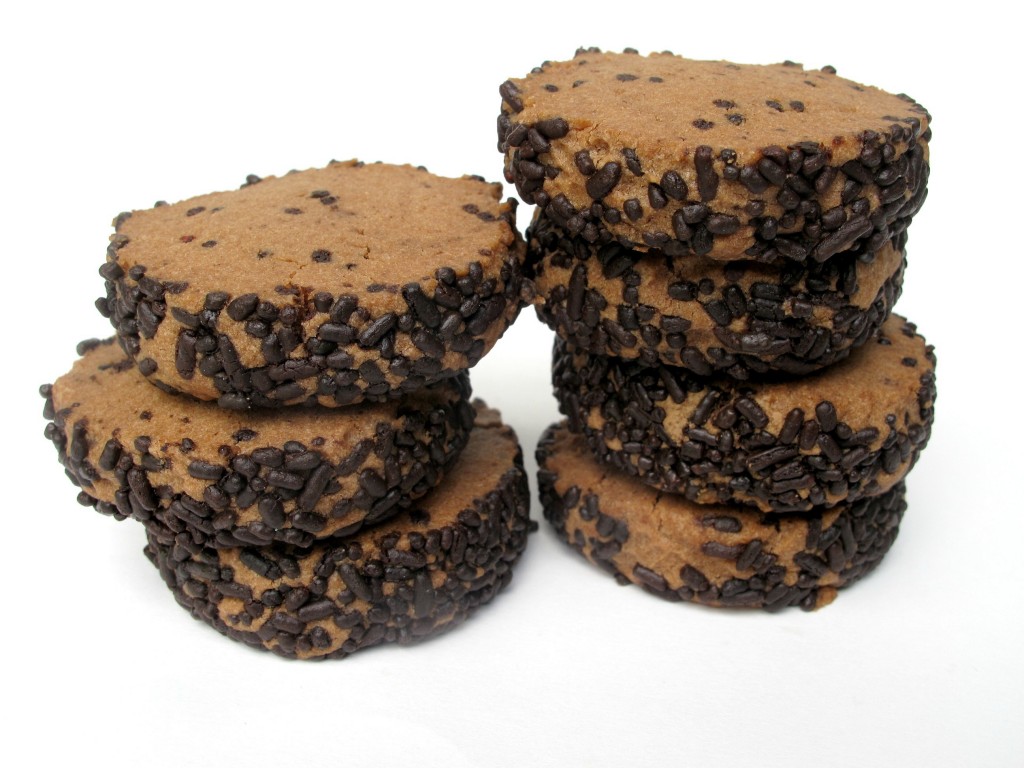 I have made cake pops, which are a lot of fun to create and eat. They actually make a good cool weather care package item. Not all cake pops are complex and not all cake pops require a variety of candies and sprinkles. But I have them, just in case.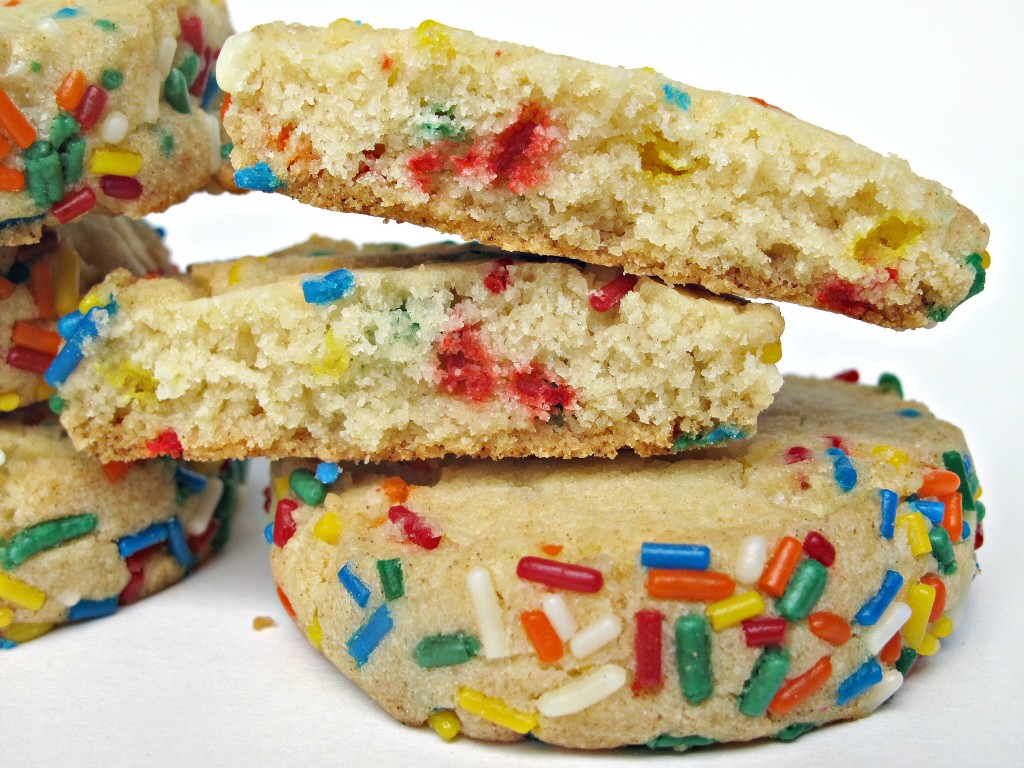 Mostly, I use sprinkles to add cheer and sparkle. Sometimes sprinkles can save an ugly cookie. Slice-and-Bake Sprinkle Chubbies were an ugly cookie transformed by the magic of sprinkles. My idea was to demonstrate that many cookie doughs can be prepared in several ways. Last week I posted this dough as a roll-out cookie (though I chose not to use cookie cutters). This week I wanted to show you the same dough as slice-and-bake cookies. The dough handles beautifully and easily rolls into a slice-and-bake log. It firms up and freezes well. Slice-and-bake cookie logs are great for storing in the freezer and using as needed. (For tips and photos on creating compact, rounded cookie logs, see the recipe for Chocolate Toffee cookies.) Bu,t I couldn't get the logs to slice thin without the dough crumbling. Because this recipe is made with vegetable shortening instead of butter, the cookies don't spread at all. So when you cut a ½" chunk, what you end up with is a chubby cookie. It tastes good. It has a pleasing firm bite that sort of melts in your mouth. All good, but the cookie was ugly. No one wants to bake, mail, or eat ugly cookies.

Thank goodness for the transformative properties of sprinkles. I added sprinkles into the dough, as in funfetti cookies, and I added sprinkles to the outside of the cookies for curb appeal. I had a "few" sprinkles in my kitchen to choose from (aren't those neon sequins great?!) so I offer you a variety of dressed up possibilities. Now they look like sprinkle cuties.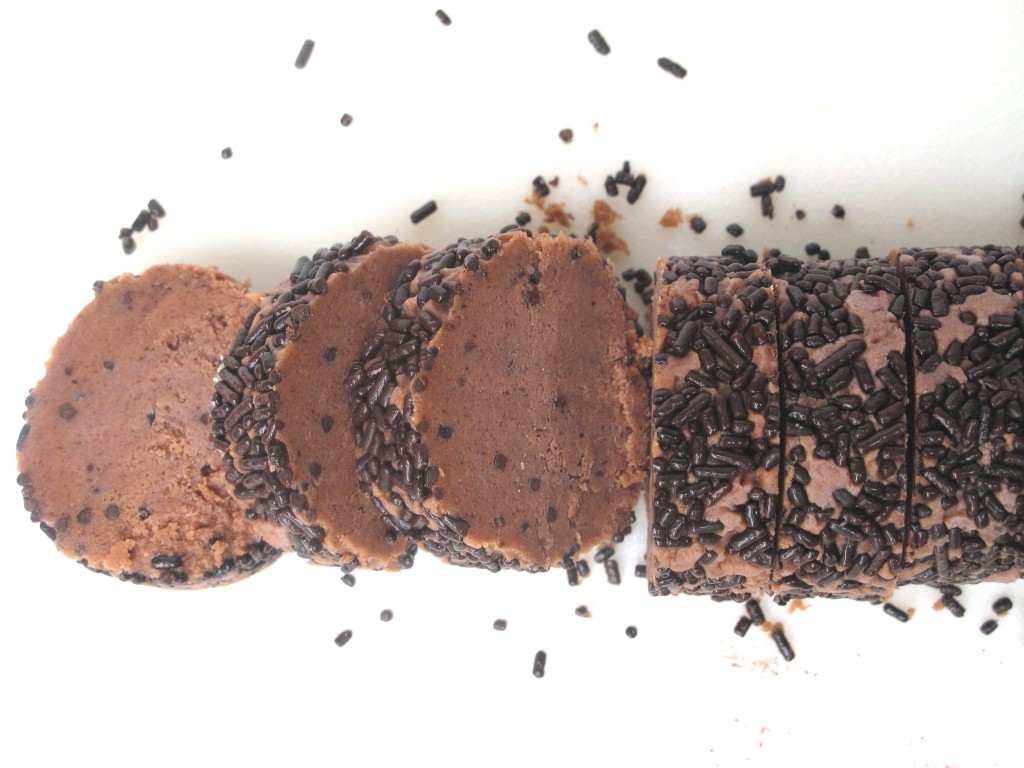 I found that the best baking time was just as the edges of the cookies were darkening. Slice-and-Bake Sprinkle Chubbies firm up as they cool, but an undercooked cookie tastes…undercooked. Cook them until they are browned and they will be dry. Ten minutes was perfect in my oven. The flavors improve over time and the texture softens. Stored in an airtight container at room temperature, Slice-and-Bake Sprinkle Chubbies stay fresh for at least 2-3 weeks.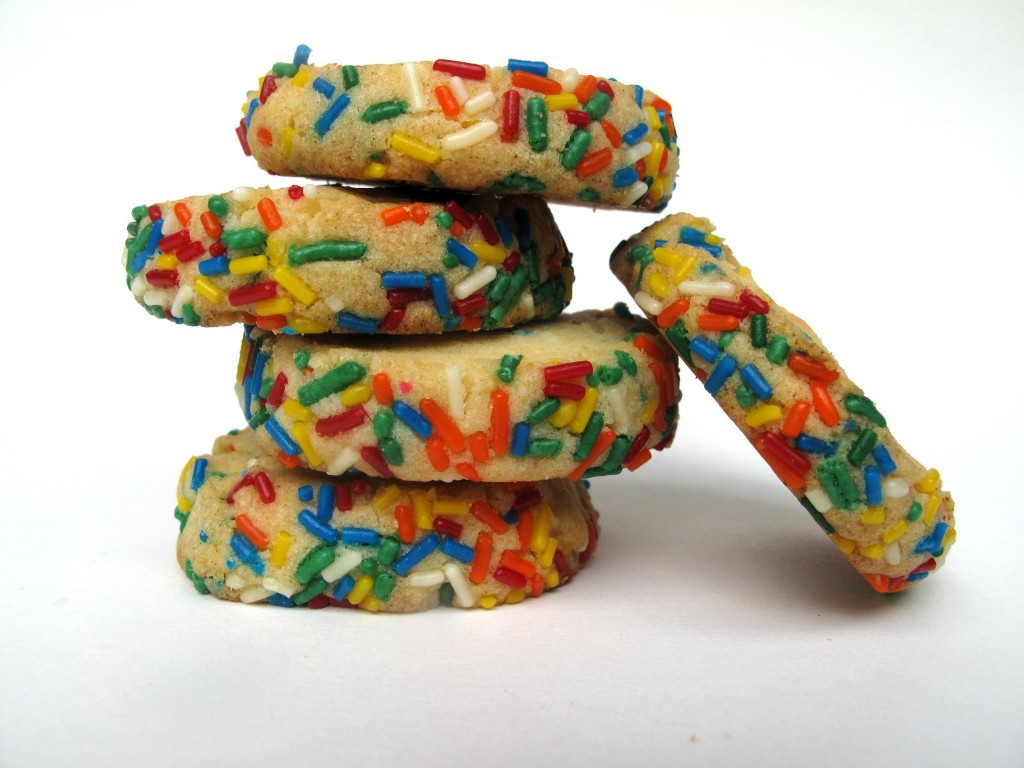 This recipe is desert safe as written. Another marvelous thing about sprinkles, is that they are desert safe. Military care packages and hot weather care packages don't have to contain blah looking cookies. When frosting and chocolate drizzles are out, sprinkles save the day.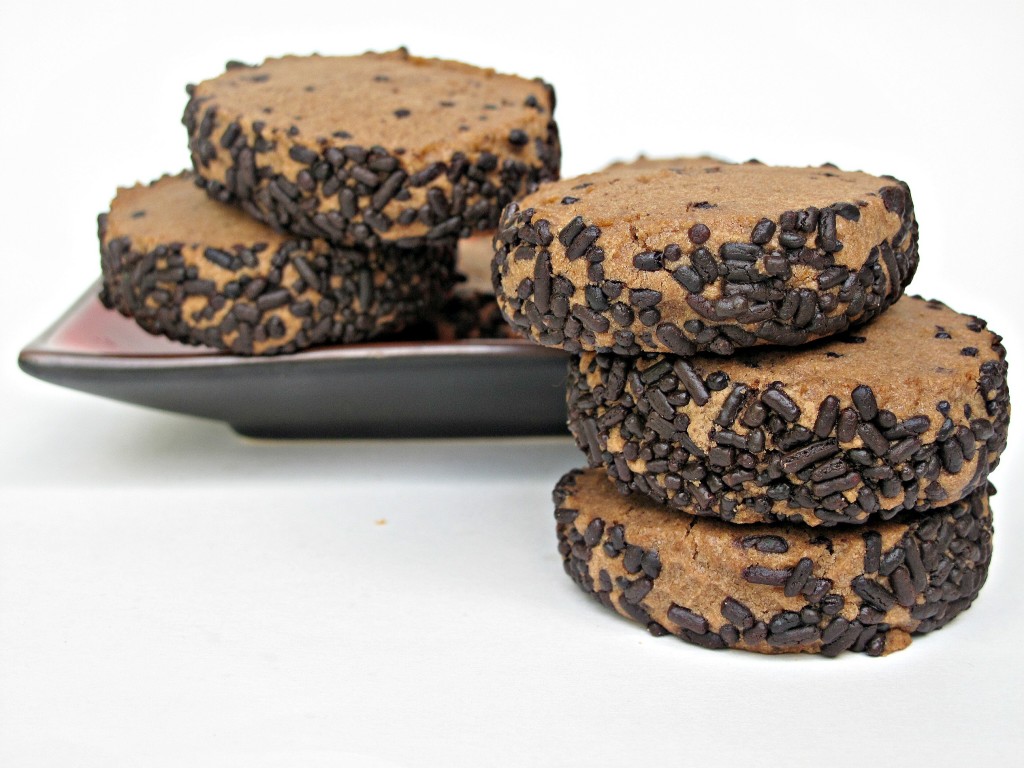 (A quick side note to my wonderful blogging friends: I finally tried Picmonkey.com! Oh my goodness! I made my sprinkle chart and edited my photos for this post. Yes, it took me three times as long as usual to choose my photos, but I am so excited about the results. It probably wouldn't have taken nearly as long if I hadn't been playing around with all of the special effect options. Cookies in outer space. Cookies floating on clouds. Cookies in the spot light. If you haven't tried it, take a look! I am hoping you will see an improvement in my photos.)
You can read more about desert safe ingredients and find an index of all of the desert safe recipes on The Monday Box by clicking here.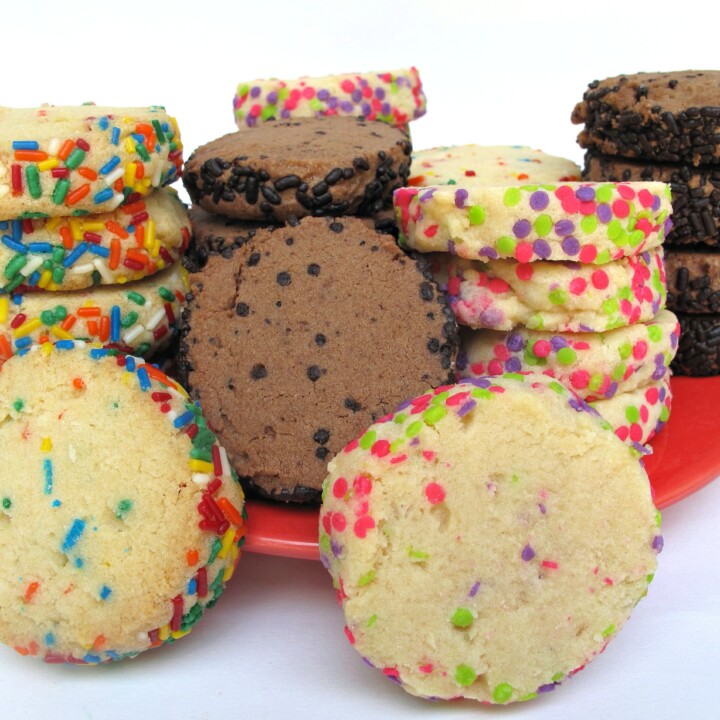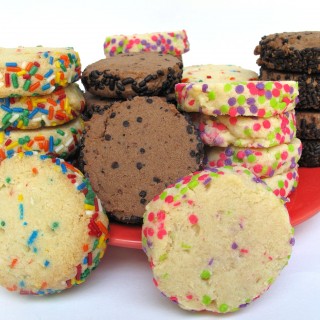 Slice-and-Bake Sprinkle Chubbies
 These melt in your mouth cookies are made from dough logs rolled in a rainbow of sprinkles. Ready to be sliced and baked in minutes.
Print
Rate
Ingredients
3

cups

all-purpose flour

1 ½

teaspoons

baking powder

½

teaspoon

salt

1

cup

butter-flavored vegetable shortening

1

cup

sugar

1

large egg

2

tablespoons

water

1

tablespoon

vanilla paste or extract

1

cup

sprinkles
For chocolate cookies replace 2 tablespoons of flour with:
Instructions
In a medium bowl, whisk together flour, baking powder, and salt (plus optional espresso powder and cocoa).

In the bowl of an electric mixer, mix the shortening and sugar until creamy. Add egg, water, and vanilla. Beat until combined.

Slowly add flour mixture until combined.

Stir in ½ cup of sprinkles.

Divide dough in half. Working with one half at a time, place dough on wax paper or parchment on counter. Roll into a log about 9 inches long.

Spread ¼ cup of sprinkles on the wax paper and roll the dough log over the sprinkles to coat. The log does not need to be completely coated but the sprinkles should be dispersed over the surface of the log.

Wrap each sprinkled log in plastic wrap then insert into a paper towel tube (if using). The tube keeps the bottom of the cookie log from flattening and helps create a round cookie.

Chill for at least 2 hours. Freeze for longer storage (up to several months).

When ready to bake:

Preheat oven to 350 degrees F. Line a baking sheet with parchment paper.

Unwrap chilled cookie log. Slice into ½" rounds. If edges of cookies crumble while slicing, just press back into place.

Place cookies on prepared baking sheet about 1" apart. (The dough doesn't spread.)

Bake 9-12 minutes. The cookies will not harden in the oven but will firm up as they cool. These cookies get softer over time in the cookie jar.

Remove from oven. Allow cookies to firm on the baking sheet for about 2-3 minutes before transferring them to a wire rack to cool completely.

When cooled, store cookies in an airtight container at room temperature for at least 2 weeks.
Notes
Packing tips
Double wrap pairs of cookies, bottoms together, in plastic wrap. Then, place cookie bundles in an airtight plastic storage container or freezer weight ziplock bag.
Nutrition
Calories:
133
kcal
|
Carbohydrates:
18
g
|
Protein:
1
g
|
Fat:
6
g
|
Saturated Fat:
2
g
|
Trans Fat:
1
g
|
Cholesterol:
5
mg
|
Sodium:
52
mg
|
Potassium:
22
mg
|
Fiber:
1
g
|
Sugar:
10
g
|
Vitamin A:
7
IU
|
Calcium:
13
mg
|
Iron:
1
mg
Save
Save