Slice and Bake Hamantaschen are buttery sugar cookies with flavored centers. This tasty twist on traditional Purim cookies are quick to make and fun to eat.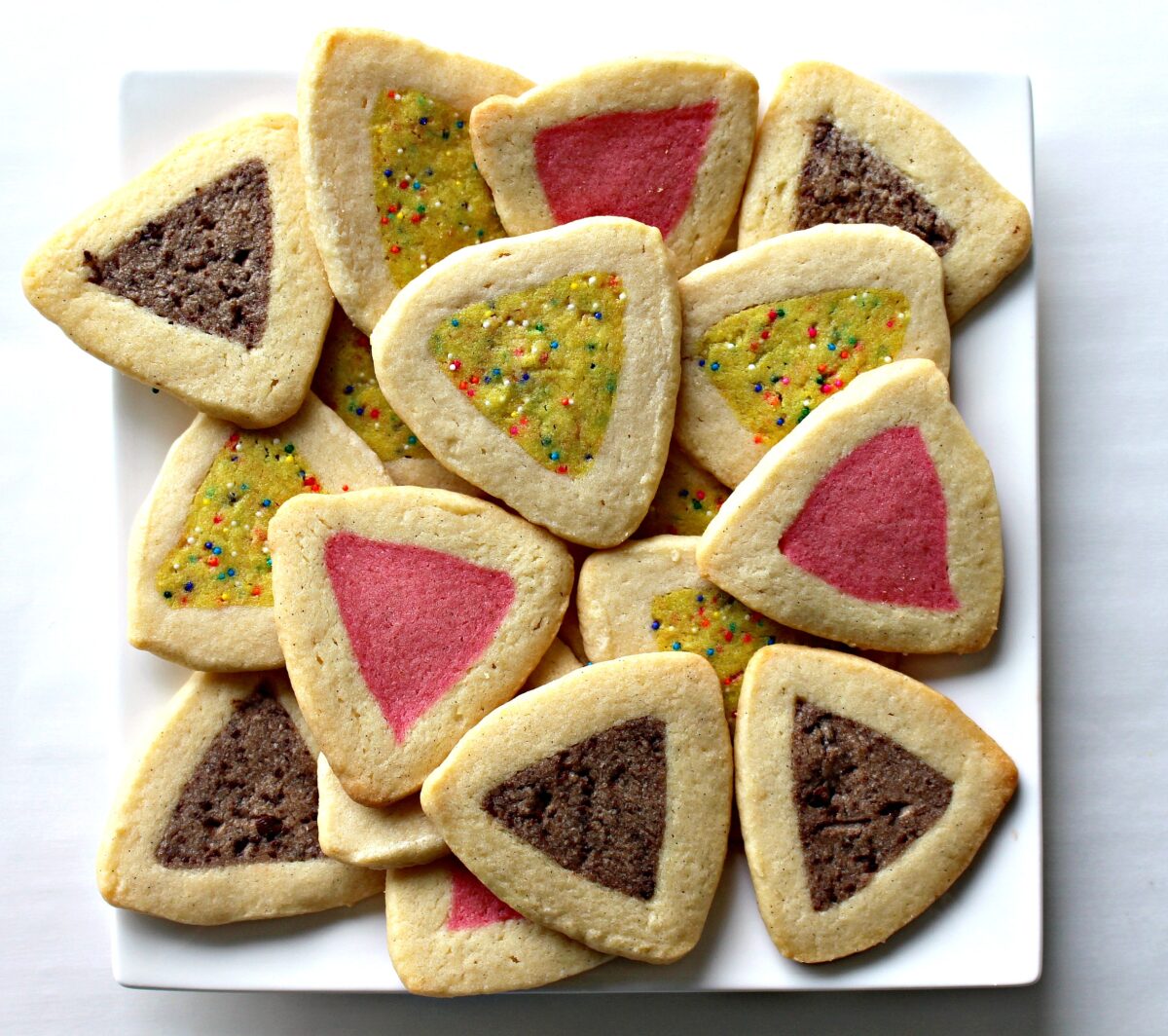 The Jewish holiday of Purim is a joyful celebration involving costumes, noise makers, and triangular cookies called hamantaschen. Traditionally, hamantaschen are pocket cookies filled with fruit, nuts, or poppy seeds.
Making traditional Purim cookies isn't hard, but it is time consuming. The most frustrating part for many bakers, is keeping the folded and sealed cookie from opening up in the oven.  
This slice and bake version eliminates the whole filling and folding processes.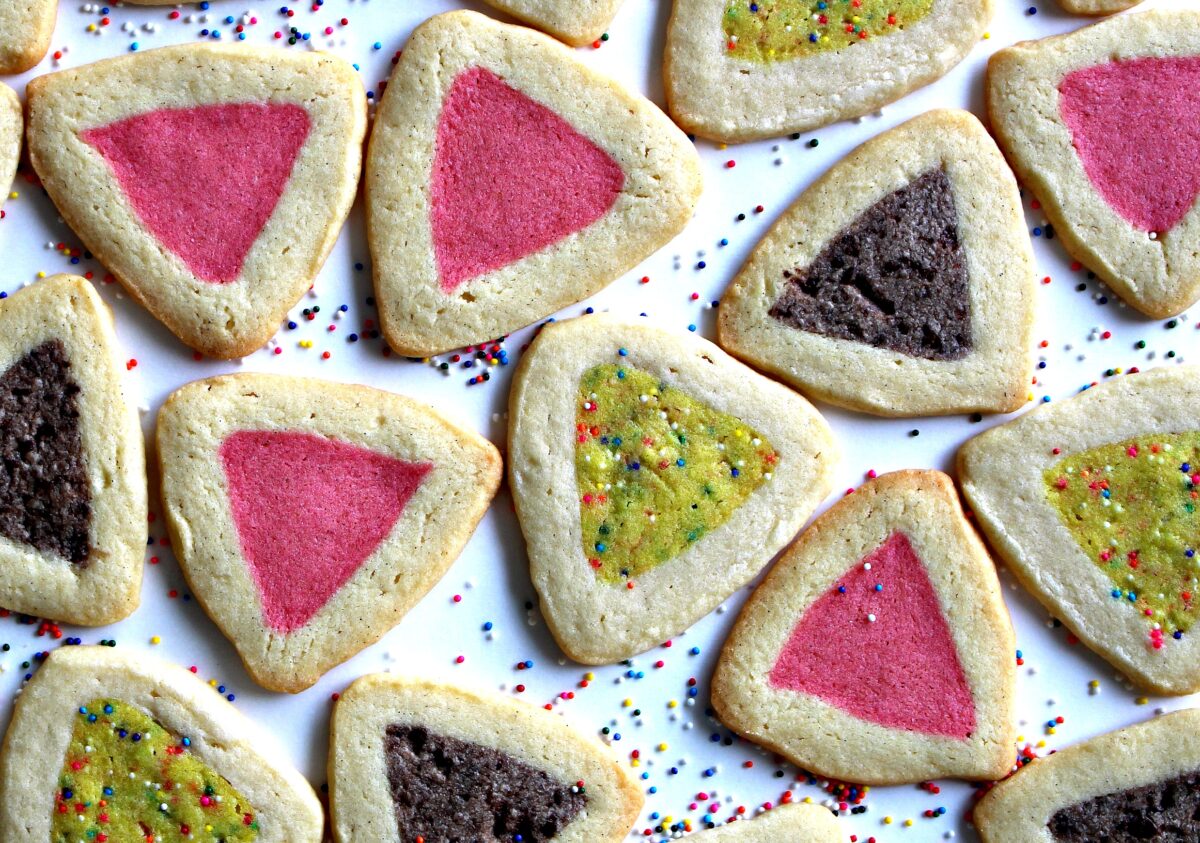 These treats start with a soft butter cookie dough which requires several chilling times to be firm enough for shaping and cutting. After making the dough, ⅔ is removed from the bowl. This will be the uncolored outer triangle. 
Flavor and color is added to the remaining ⅓ of the dough. Both portions are wrapped in plastic wrap and placed in the refrigerator or freezer until no longer sticky (about 30-40 minutes in the freezer).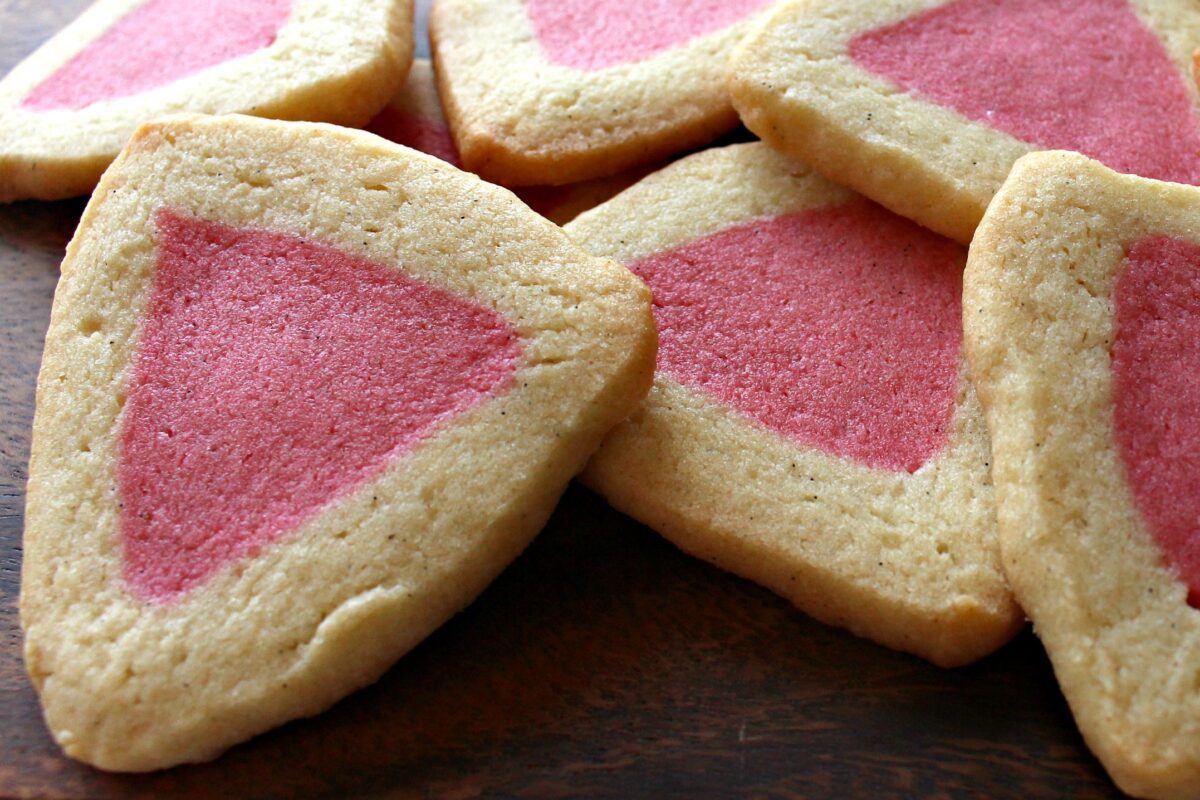 Once chilled, the colored portion is rolled into a 12" long log. The sides of the log are flattened to create a triangular log. The log is then chilled again until very firm, so that it will not lose its shape when wrapped in the uncolored dough.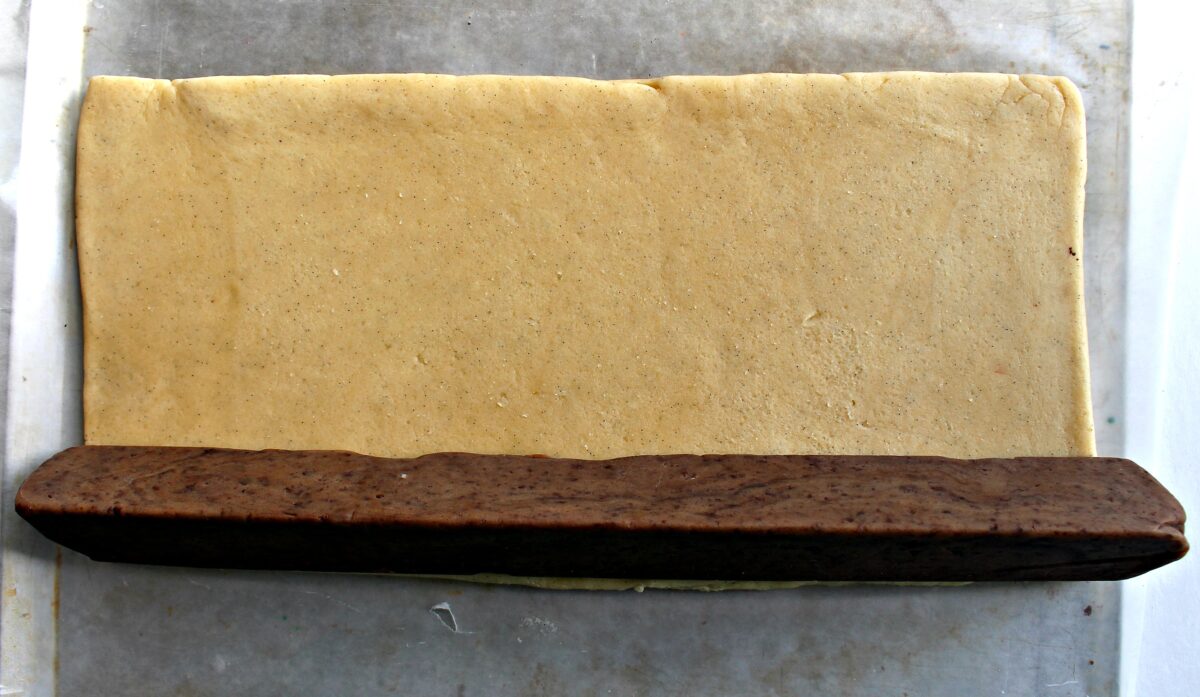 When the triangle log is firm, the uncolored dough is rolled out into a flat rectangle. The triangle log is then rolled up in the uncolored dough. After chilling again (about 40 minutes in the freezer) the cookies are ready to slice and bake.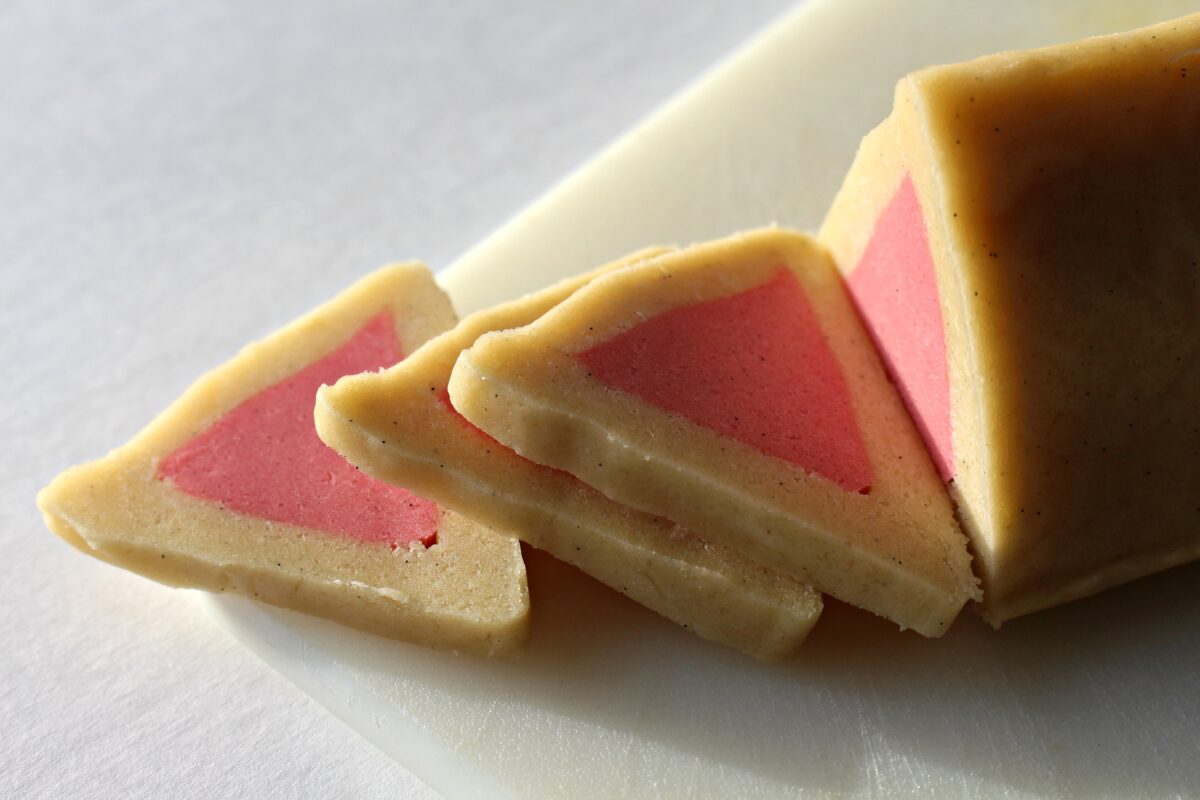 The actual hands-on time for these cookies is minimal, but the entire process including refrigeration in between takes about 2 hours. I made this recipe three times, each time with a different flavored center.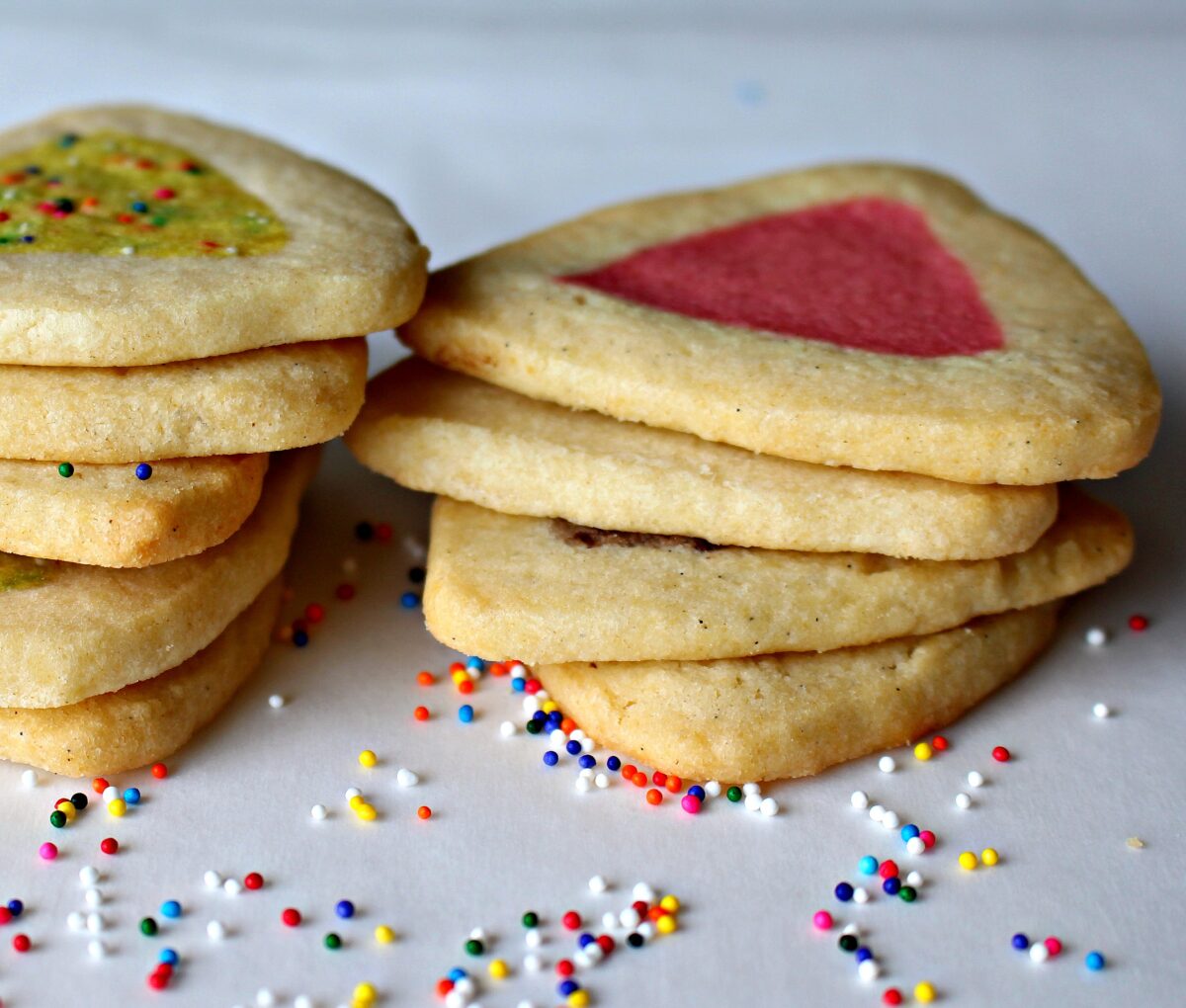 The recipe below includes directions for all three. Covered in plastic wrap, the dough for Slice and Bake Hamatashen can be stored in the refrigerator for at least a week or in the freezer for several weeks. Once baked, Slice and Bake Hamantashen stay fresh for up to 2 weeks.
Happy Purim! פורים שמח
Ready to bake? Join the free membership group to get new recipes and a newsletter delivered to your inbox! You can also stay in touch on Facebook, Pinterest, and Instagram. I'd love to stay in touch!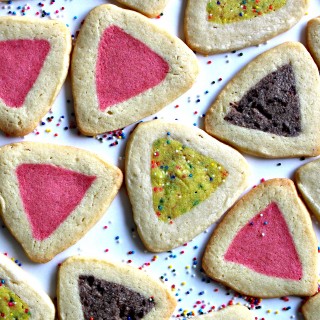 Slice and Bake Hamantaschen
Slice and Bake Hamantaschen are buttery sugar cookies with flavored centers. This tasty twist on traditional Purim cookies are quick to make and fun to eat.
Print
Rate
Adapted From:
Landolakes.com
Ingredients
1

cup

granulated sugar

1

cup

unsalted butter

room temperature

1

large egg

1

tablespoon

vanilla extract

2 ½

cups

all-purpose flour

¼

teaspoon

salt

¼

teaspoon

baking powder
For Chocolate Filling
½

teaspoon

cocoa

¼ cup finely chopped chocolate

¼

cup

chocolate

finely chopped
For Strawberry Filling
¼

teaspoon

strawberry flavoring

pink gel food color
For Lemon Filling
¼

teaspoon

lemon flavoring

2 tablespoons ,

2

tablespoons

nonpareil sprinkles

yellow gel food color
Instructions
In the bowl of an electric mixer, cream sugar and butter until light and fluffy.

Beat in egg and vanilla until creamy.

Gradually add flour, salt and baking powder. Beat until combined.

Remove ⅔ of the dough. Wrap the dough in plastic wrap and refrigerate at least 40 minutes to chill until easy to handle and no longer sticky.

To the ⅓ dough remaining in the mixer bowl, add the flavoring and gel food color for your choice of hamantashen "filling". Mix to completely distribute.

On a sheet of plastic wrap, shape the colored dough into a 12" log. (It is not necessary to smooth the sides at this time. Wrap in the plastic wrap and freeze for about 15 minutes or until firm.

Once firm, shape the colored dough into a triangle-shaped log, 12" long. Re-wrap in plastic and freeze until very firm.

When ready to assemble, roll out the plain dough between 2 sheets of wax paper to form a rectangle 12" x 6". Place the colored triangle log along one long edge of the rectangle. Use the wax paper underneath to roll up the triangle log in the plain dough, pressing the plain dough against the log as it rolls. Pinch together and smooth out the seam to seal.

Wrap in the wax paper and freeze for at least 15 minutes. The firmer the dough becomes, the easier it is to slice without becoming misshapen.

When ready to bake: Preheat oven to 350° F. Line baking sheets with parchment paper.

Slice the dough log into ¼" thick slices and place 2" apart on the prepared baking sheets.

Bake for 8-10 minutes until edges are golden brown. Cool for 5 minutes on the baking sheet then cool completely on wire racks.

Store at room temperature in an airtight container or freezer weight ziplock bag for up to 2 weeks.
Notes
Packing tips
Wrap stacks of 2-3 cookies in plastic wrap. Stack the wrapped bundles in a column in a freezer weight zip lock bag or plastic storage container. Use crumpled tissue paper or wax paper if needed to ensure the cookies don't move in transit.
Nutrition
Calories:
110
kcal
|
Carbohydrates:
14
g
|
Protein:
1
g
|
Fat:
6
g
|
Saturated Fat:
4
g
|
Trans Fat:
1
g
|
Cholesterol:
18
mg
|
Sodium:
22
mg
|
Potassium:
17
mg
|
Fiber:
1
g
|
Sugar:
7
g
|
Vitamin A:
164
IU
|
Calcium:
6
mg
|
Iron:
1
mg