I have the most amazingly rich and chocolaty recipe for you! It is incredibly delicious AND flourless making this recipe ideal for gluten free and Passover use. A variety of baked goods can be created using just this one recipe! I am going to show you the three different chocolate confections I made, starting today with luscious Flourless Passover Fudge Brownies.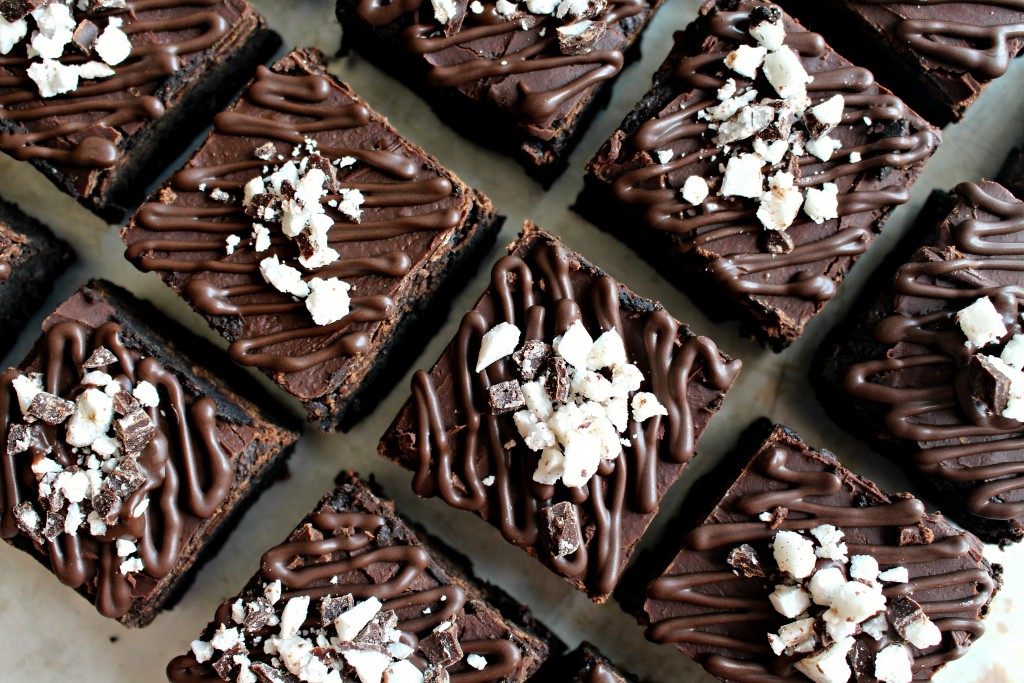 Ironically, my daughter found out that she needed to eat a gluten free diet, shortly after I started The Monday Box four years ago. She was living at home at that time while she attended grad school. The constant barrage of baked goods wasn't easy. At times it bordered on cruel and unusual punishment! I do bake things that she can eat, I just don't usually include them on the blog.
Passover baking is a chance to blog about some grain-free goodies that meet Passover dietary restrictions, and are care package friendly plus gluten free. Win,win, win! Flourless Passover Fudge Brownies not only fit into all of those categories, but are truly so chewy and chocolaty, you will want to make these over and over, all year. Forget flour in brownies. You won't miss it.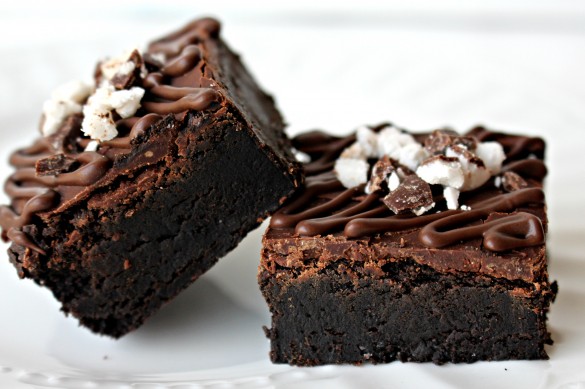 This recipe calls for a half cup of nut butter. I used either peanut butter or almond butter. Though I haven't tried other nut butter varieties, I think any nut or seed butter could be used. Peanut butter provides a subtle flavor in the ultra chocolate batter. For some reason, the flavor stands out a bit more over time. If a more peanuty taste is desired, using additional peanut butter in a topping or frosting would help the peanut flavor stand out. I used almond butter for a Passover version, and the almond flavor was hard to detect if you didn't know it was in the batter. Again, additional almond butter in a frosting or almonds in the batter or sprinkled on top would make the flavor more prominent. I took advantage of the hidden almond flavor to add different flavors that compliment the rich chocolate.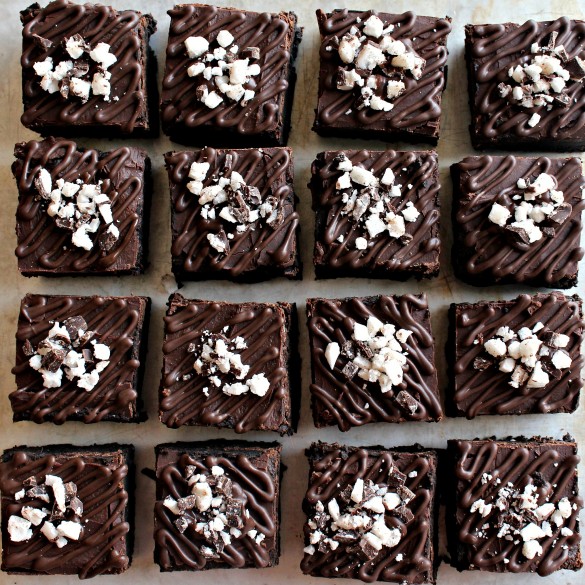 I went with chocolate-mint for these Flourless Passover Fudge Brownies. Passover flavor extracts are not easy to find, so I added mint flavor using Passover chocolate-mint patties ( for non-Passover use, any mint patties will do). One chopped mint patty was mixed into melted chocolate and spread over the top of the baked brownies. (Important: Don't try to zap Passover mint patties. In seconds they bubble then turn crunchy!) Two more chopped patties provide flavor and pizazz sprinkled over a chocolate drizzle topping.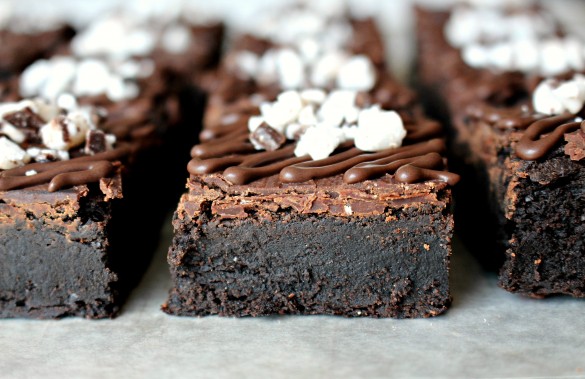 Flourless Passover Fudge Brownies are a chocoholics dream! They also travel beautifully ( mailed in cooler temperatures) and keep their chewy texture for up to a week. Need a dessert for your Passover Seder? Look no further. Unless, you would prefer Mocha Brownie Bites or Double Chocolate Biscotti using this same recipe! I will be posting those recipe directions in my next two posts.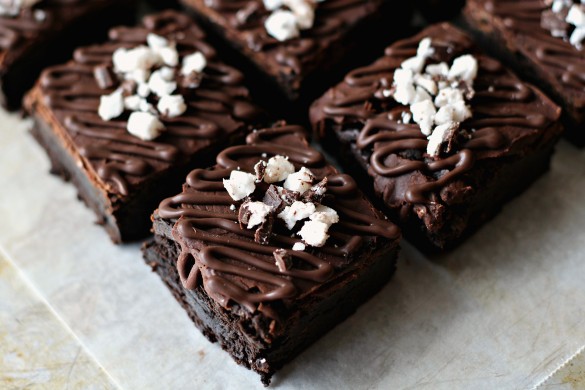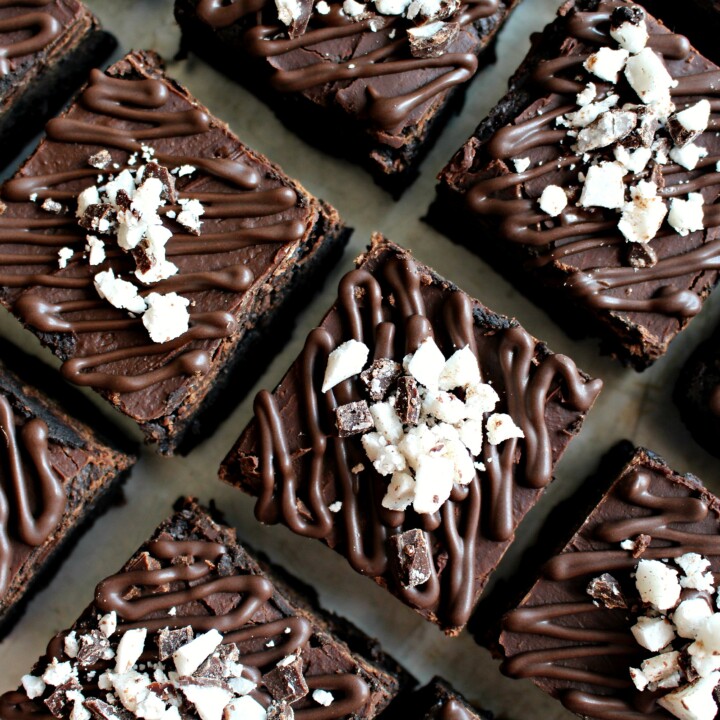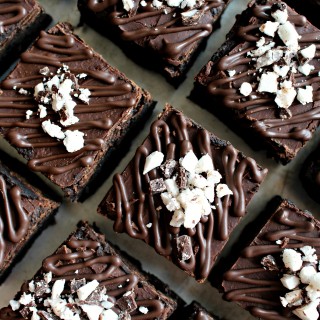 Flourless Passover Fudge Brownies (GF)
These chewy, fudgy brownies are naturally gluten free and are Passover friendly.
Print
Rate
Adapted From:
www.lecremedelacrumb.com
Ingredients
½

cup

butter

2

cups

semi sweet chocolate chips or chopped chocolate bar

½

cup

almond or peanut butter

½

cup

sugar

4

eggs

½

cup

unsweetened cocoa powder

1

tablespoon

vanilla extract
Topping
1

cup

chocolate chips or chopped chocolate bar

3

peppermint patties, chopped
Instructions
Preheat oven to 350° F. Line an 8x8 inch pan with foil and grease with nonstick spray.

In a large, microwave-safe bowl, melt the butter, chocolate chips, and nut butter at 50% power for 2 minutes. Stir to combine. If not completely smooth, return to the microwave for 20 second intervals until completely melted.

Add the sugar, eggs, cocoa, and vanilla and stir until smooth.

Spread evenly in the prepared pan.

Bake for 25-30 minutes, until a toothpick inserted in the middle comes out dry. A few crumbs are fine.Allow to cool completely in the pan. Once cool, lift out of the pan using the overhanging foil.

FOR TOPPING: In a microwave safe bowl, melt ¾ cup of chocolate at 50% power for 1 ½ minutes. Stir until completely smooth. Stir in 1 chopped peppermint patty until melted. Immediately spread over cooled brownies.

For easier cutting and less cracking, slice the brownies before the chocolate hardens completely.

For the drizzle, place ¼ cup of chopped chocolate or chocolate chips in a disposable piping bag or zip lock bag. Microwave at 50% power until melted (about 1 minute). Cut off the bottom tip and pipe zigzags over each brownie, sprinkling chopped peppermint patty immediately after drizzling each bar.

Store at room temperature in an airtight container or zip lock bag for up to 1 week.
Notes
Packing tips
Wrap individual brownies in plastic wrap and fit securely into a plastic storage container or zip lock bag.
Nutrition
Calories:
308
kcal
|
Carbohydrates:
28
g
|
Protein:
6
g
|
Fat:
20
g
|
Saturated Fat:
10
g
|
Polyunsaturated Fat:
2
g
|
Monounsaturated Fat:
7
g
|
Trans Fat:
1
g
|
Cholesterol:
58
mg
|
Sodium:
59
mg
|
Potassium:
248
mg
|
Fiber:
3
g
|
Sugar:
21
g
|
Vitamin A:
248
IU
|
Calcium:
30
mg
|
Iron:
2
mg
These baked treats are also gluten free and kosher for Passover. Click on the photo for the recipe.