The recipe for The World's Best Passover Chocolate Chip Mandel Bread has been requested by everyone who has ever tried it! Mandel bread is a traditional Jewish cookie, related historically to the Italian biscotti. Like biscotti, mandel bread (also known as mandelbrot or kamishbrot) is baked in a loaf shape, then sliced and often baked again for crunchiness. This recipe for The World's Best Passover Chocolate Chip Mandel Bread replaces the usual all-purpose flour with cake meal (flour made with very finely ground matzoh) and potato starch. They are baked only once to create a melt-in-your-mouth chocolate chip cookie that is more than slightly addicting!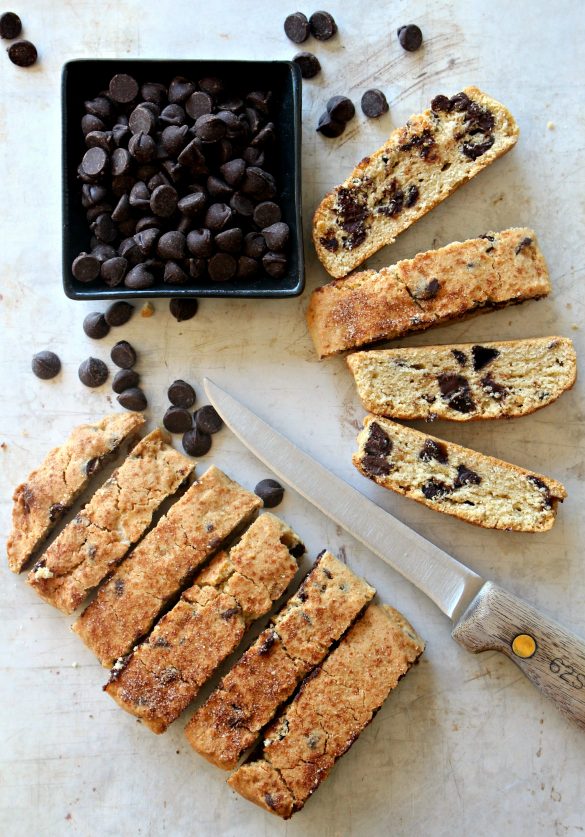 Many years ago, there were newspapers. They were made of paper and ink. Newspapers could be delivered to your home or purchased from a drugstore or a metal newspaper box on street corners. When you held a newspaper, the ink would sometimes rub off on your fingers. When you went off to college, your mother or grandmother would clip articles of interest out of the newspaper and mail the article to you. In an envelope. From the post office. The newspaper was the main source of all kinds of information. Besides the obvious reporting of news, the classified section was the go-to source for job searches and real estate. The weekly food section, shared recipes that became family favorites. The recipes were cut-out and stored safely in a recipe box, where those yellowing bits of newsprint became treasured inheritances passed from generation to generation.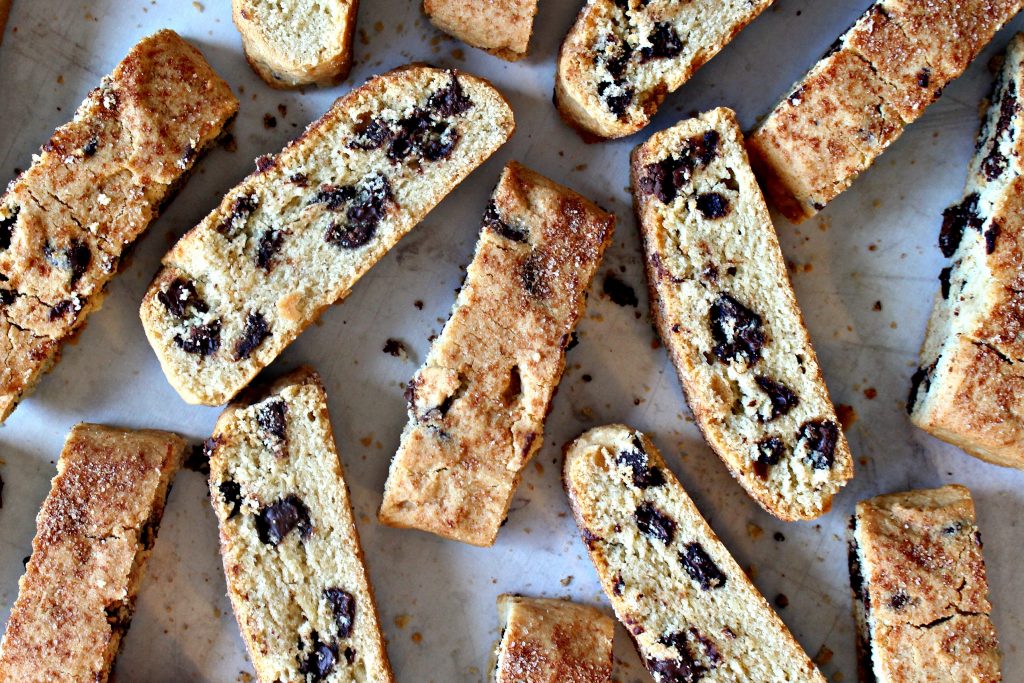 Of course, there are still some newspapers. We get three delivered to our house daily. My kids grew up watching their parents read newspapers, but today they both get their information from the computer. I used to clip articles for my son when he went off to college, but he told me to stop. He could find the same article on the internet. However, a newspaper often shares information you might not have considered googling.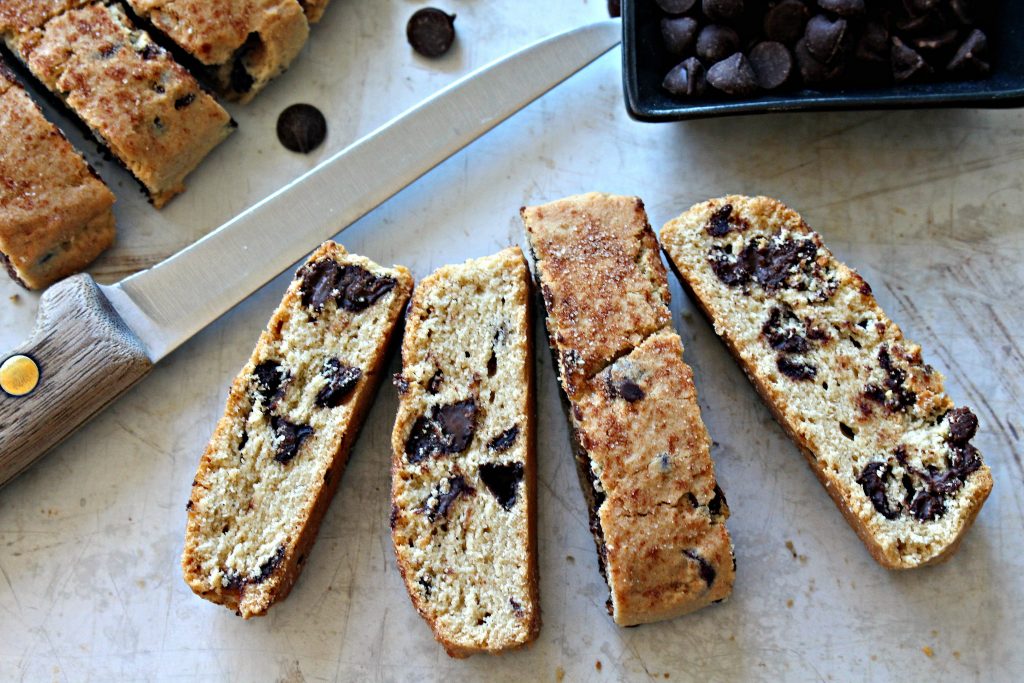 In those days gone by, there were not only city newspapers, but weekly free local papers as well. In the food section of our local paper, the now defunct St. Louis West County Journal, I found this recipe for The World's Best Passover Chocolate Chip Mandel Bread. I never would have searched the internet for a mandel bread recipe (Passover or not) because my previous exposure to mandel bread was my grandmother's nut filled cookies that I stayed as far away from as possible. The word mandel is the German and Yiddish word for almond. However, The World's Best Passover Chocolate Chip Mandel Bread has no nuts! Instead it's pure melt-in-your-mouth cookie and lots of chocolate chips. While other Jewish kids were complaining about the lack of good cookies during Passover, my kids were happily munching on The World's Best Passover Chocolate Chip Mandel Bread, wishing that I would bake it more than once a year!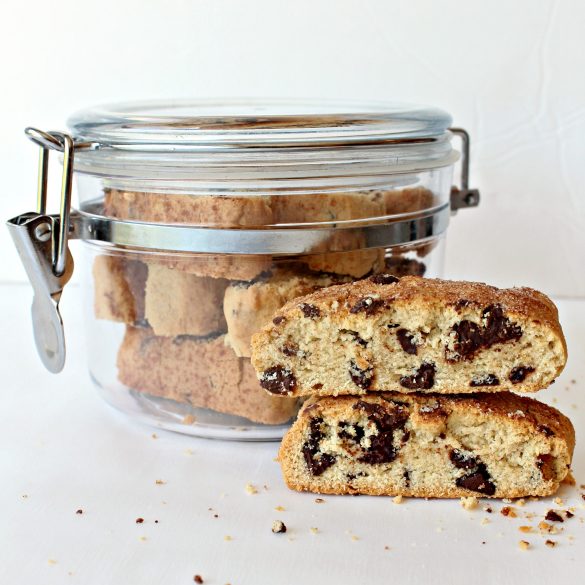 I haven't tried to adapt this recipe using non-Passover ingredients. Though I have seen many recipes for non-Passover mandel bread that use all-purpose flour, the texture is going to be more like a crunchy biscotti. My one attempt to create a gluten free version of this mandel bread using almond flour, didn't turn out as planned. The dough sort of melted in the oven, resulting in a tray filled with Chocolate Chip Almond Cookie Squares, a new Passover favorite!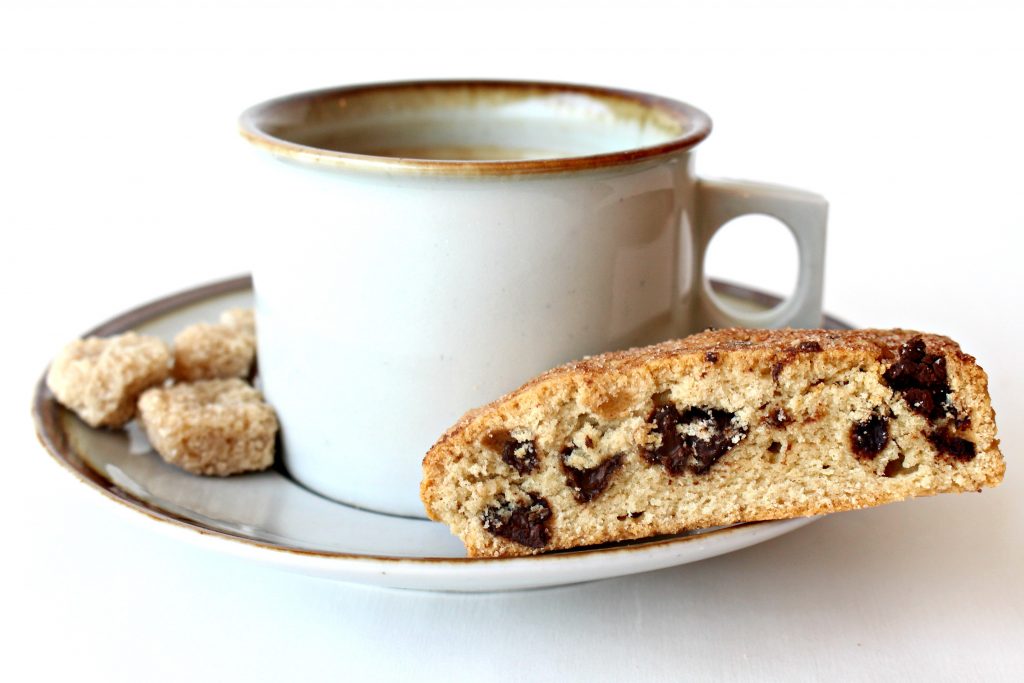 The World's Best Passover Chocolate Chip Mandel Bread is guaranteed to be a hit at your seder table and throughout Passover. The relatively dry texture of mandel bread keeps the cookies tasting delicious for at least 7 days.
Wishing everyone who celebrates a Happy Passover!  Chag Pesach sameach!  ! חג פסח שמח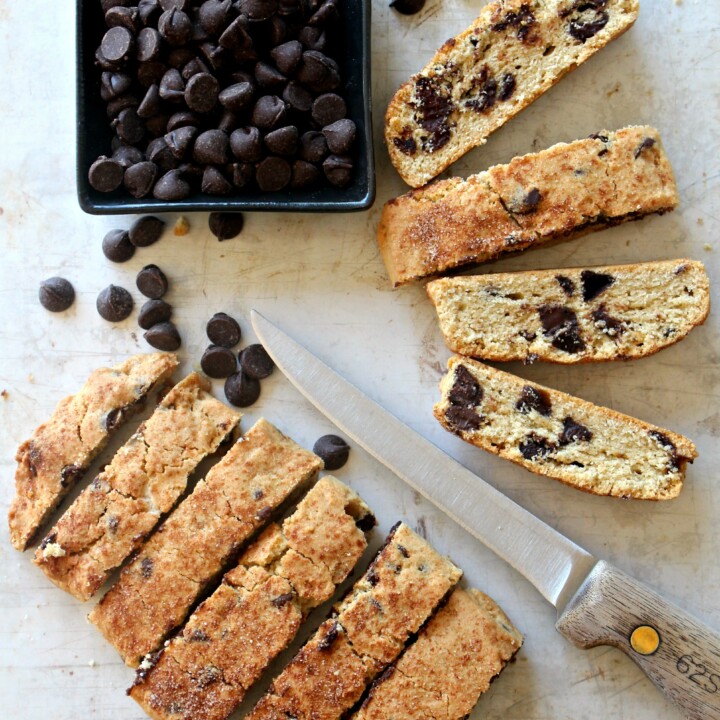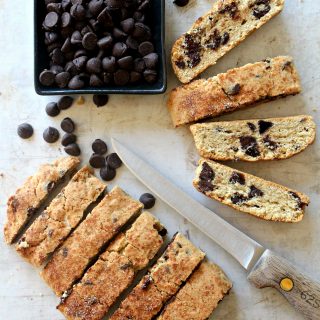 The World's Best Passover Chocolate Chip Mandel Bread
This mandel bread for Passover is a melt-in-your-mouth, chocolate chip cookie. The perfect Passover dessert.
Print
Rate
Adapted From:
St. Louis West County Journal newspaper
Ingredients
2

cups

granulated sugar

1

cup

unsalted butter

room temperature

6

large eggs

2 ¾

cups

matzo cake meal

½

teaspoon

salt

¾

cup

potato starch

2

cups

semi-sweet chocolate chips

1-2

tablespoons

cinnamon sugar
Instructions
Preheat oven to 350° F. Line a baking sheet with parchment paper.

In a medium bowl, whisk together cake meal, salt, and potato starch. Set aside.

In the bowl of an electric mixer, cream together the sugar and butter.

Add the eggs, one at a time, mixing well after each addition.

Gradually add the cake meal mixture. Mix until combined.

Stir in the chocolate chips.

Wet hands minimally and form the dough into 4 loaves on the prepared baking sheet. Each loaf should be about 2" wide. Sprinkle with cinnamon sugar.

Bake for 35-40 minutes or until just turning golden brown.

Remove from oven and slice logs on baking sheet while still warm, into ½" – ¾" slices.

Use a spatula to move mandel bread to a wire rack to cool completely.

Store in an airtight container at room temperature. The mandel bread will stay fresh for at least 7 days. The flavor of these cookies deepens over time. They are even better a few days after baking.
Notes
Mandel bread is also known as kamish bread and mandel brot.
This delicious recipe can be used with gluten free cake meal.
If matzo cake meal is not available, grind matzo or matzo meal into a fine powder using a food processor.
To make a crunchy cookie, more like a traditional biscotti, return the cookies for a second bake after slicing. The timing depends on how hard you want the cookies to be.
Packing tips
Wrap 3-4 slices of mandel bread, cut sides together, in plastic wrap. Place wrapped bundles snugly in a plastic storage container or freezer weight ziplock bag.
Nutrition
Calories:
212
kcal
|
Carbohydrates:
28
g
|
Protein:
3
g
|
Fat:
10
g
|
Saturated Fat:
6
g
|
Trans Fat:
1
g
|
Cholesterol:
41
mg
|
Sodium:
46
mg
|
Potassium:
114
mg
|
Fiber:
1
g
|
Sugar:
15
g
|
Vitamin A:
202
IU
|
Vitamin C:
1
mg
|
Calcium:
16
mg
|
Iron:
1
mg
Save