Chocolate Chip Almond Cookie Squares are soft, golden-brown cookie bars swirled with melted chocolate and chocolate chips. These flourless and naturally gluten free squares, are a delicious Passover treat that is also a year round favorite!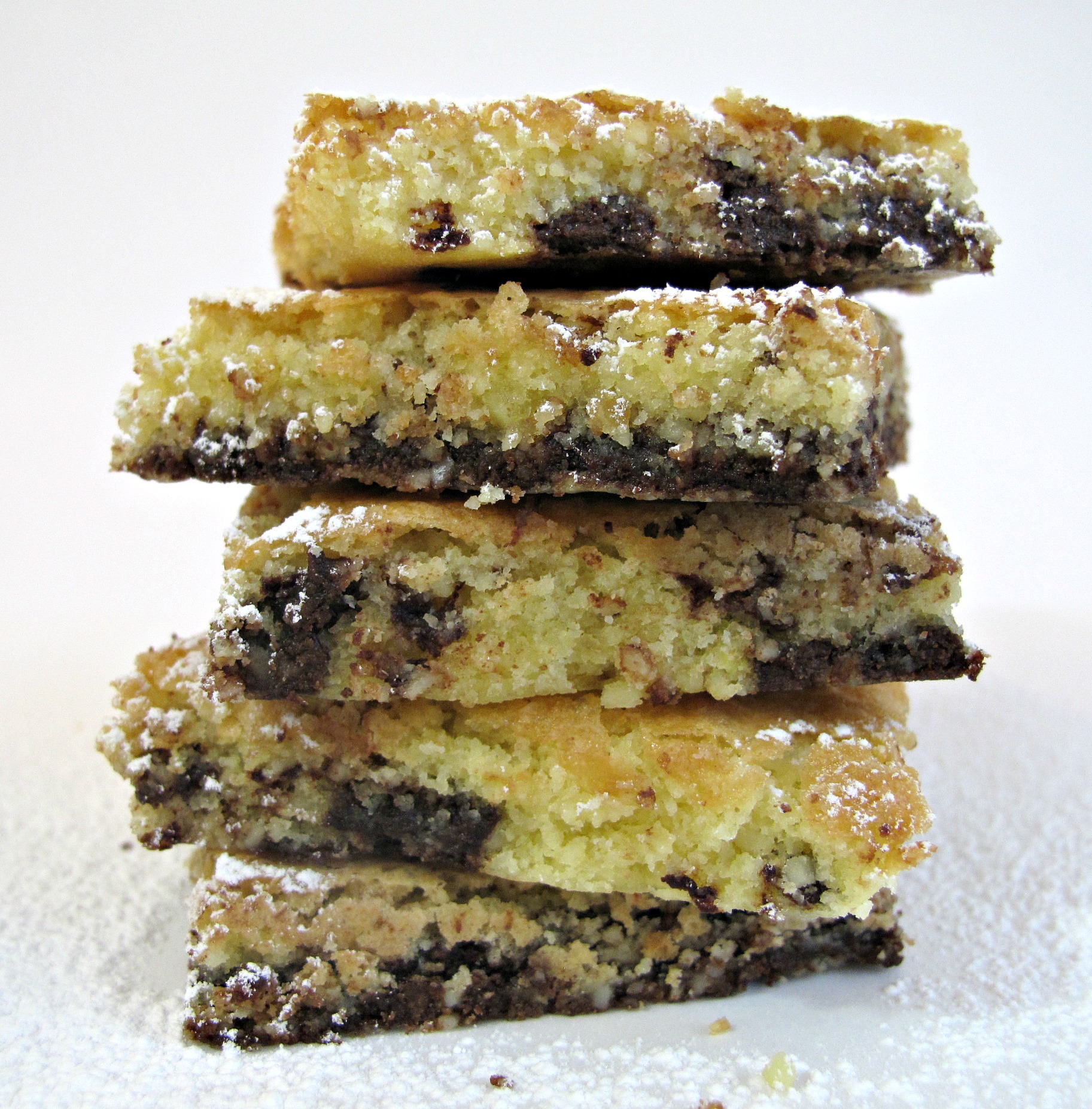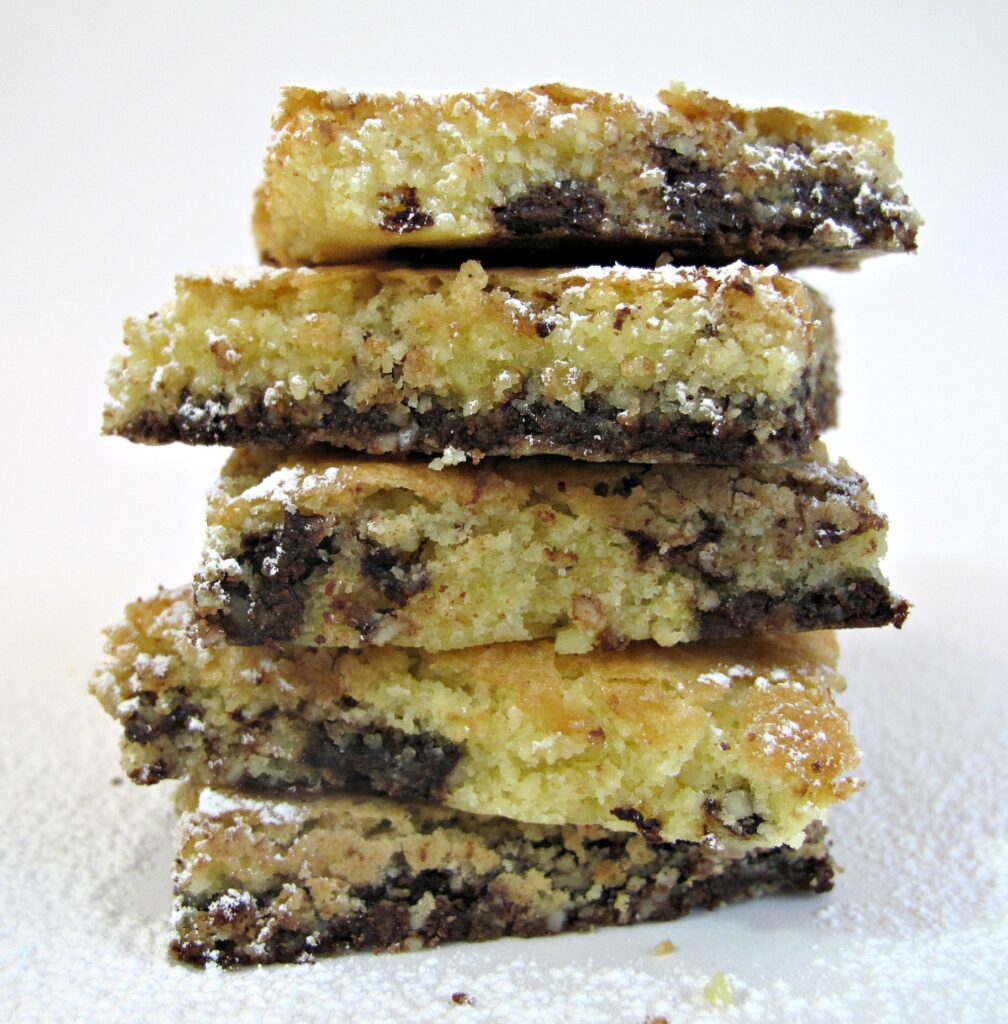 My 25 year old daughter, Meira, is an amazing, determined goal setter. She deals with life challenges like speed bumps rather than barricades.
A few weekends ago, after months of training, Meira and I drove to downtown St. Louis at 5:30 in the morning so that Meira could run in her first half marathon. I stood near the finish line taking photos and cheering her on as she completed the 13.1 miles!
I am very proud of her.
Recently, Meira became gluten free, due to health issues. The adjustment isn't terrible, but it can be frustrating, especially with a food blogger mother who seems to keep King Arthur Flour in business.
I do make gluten free treats for her, but I don't usually blog about them. There are so many gluten free baking bloggers who share amazing recipes.
However, today I am posting a cookie recipe that happens to be gluten free. I created Chocolate Chip Almond Squares for Passover but they are so good we will be eating them all year!
To be honest, Chocolate Chip Almond Squares were a complete accident. They are a baking disaster that turned into a delicious discovery.
I have the world's best recipe for Passover chocolate chip mandelbread. Mandelbread, for those who haven't had it, is very similar to a biscotti, the Italian twice baked cookie, but this version is only baked once.
What makes it a Passover recipe is the use of matzo cake meal (very finely ground matzo with the consistency of flour) instead of all purpose flour. I thought I would play a bit with the recipe and try to make some gluten free mandelbread for Meira.
In one experiment I substituted finely ground almond meal/flour for the cake meal. The dough was very wet and more like a batter.
Trying to firm it up, I refrigerated the dough for several hours. Though the chilled dough was still very batter-like, I shaped it into a rough log on a parchment lined baking sheet and stuck it in the oven.
Five minutes later I noticed the edges of the log seemed to be melting. Hoping that it couldn't possibly melt much more, I left it in the oven.
A few minutes later the log of dough had turned into a puddle of batter spreading out over the entire cookie sheet and beginning to drip into the oven. My reaction was due to panic rather than baking brilliance.
I grabbed the edges of the parchment paper and folded them inward to momentarily contain the escaping batter. Then I plopped the whole parchment package onto a jelly roll pan with sides.
At this point my choices were to throw the whole thing in the trash or smooth out the parchment, spread the batter as evenly as possible, and stick it back in the oven. I chose the oven over the trash can which turned out to be an excellent decision.
Half an hour later I had a pan of golden brown bar cookies with swirls of melted chocolate chips. I cut the soft, tender pan cookie into squares.
The Chocolate Chip Almond Cookie Squares received rave reviews from my taste testers. They aren't the gluten free mandelbread I had intended, but instead we have a new family favorite.
MORE PASSOVER RECIPES
Apricot and Cranberry Macaroons
Double Chocolate Passover Biscotti
Flourless Chocolate Mint Cookies
Flourless S'mores Peanut Butter Cookies
Usher out the last night of Passover tonight with a sweet tray of Chocolate Chip Almond Cookie Squares or just bake them to savor. No one will notice the lack of wheat flour while they feast happily on the flavors of almonds and chocolate.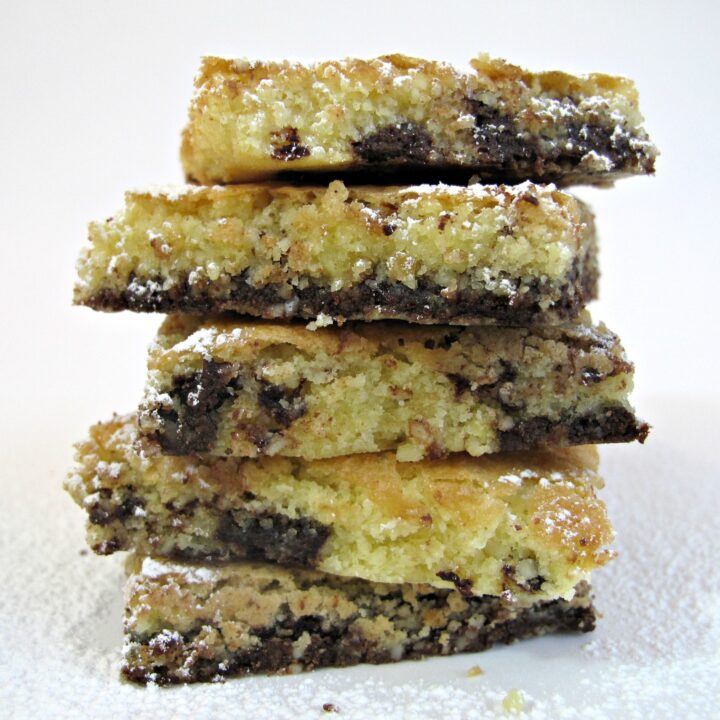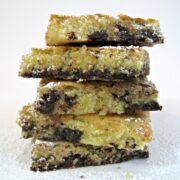 Print
Chocolate Chip Almond Cookie Squares
As an Amazon Associate I earn from qualifying purchases.
Ingredients
1

cup

granulated sugar

½

cup

unsalted butter

room temperature

3

large eggs

1

teaspoon

vanilla or almond extract

1 ¼

cups

plus 2 tablespoons finely ground almond meal/flour

¼

cup

plus 2 tablespoons potato starch

or corn starch for non-Passover use

1

cup

mini chocolate chips

Optional: powdered sugar for dusting tops of cookies
Directions
Preheat oven to 350° F. Line a jelly roll pan (15" x 11"baking pan with sides) with parchment paper allowing a few inches of overhang on the long sides.

In the bowl of an electric mixer, cream together the sugar and butter. Add the eggs one at a time and almond/vanilla extract. Beat to combine.

In a medium bowl, whisk together the almond meal/flour and potato starch. Stir into the creamed mixture.

Fold in the chocolate chips.

Spread the batter evenly, from edge to edge, into the prepared pan.

Bake for about 5 minutes, or until the chocolate chips are melted. Remove the pan from the oven and, using a rubber spatula, swirl the melted chocolate into the batter.

Return the pan to the oven and continue baking for another 15 minutes, just until the top is dry and golden brown.

Remove from oven and slice into squares.

Allow the squares to cool completely in the pan before removing to serve or store.

Optional: Sprinkle with powdered sugar.

Store at room temperature in an airtight container for at least 5 days.
Packing Tips
Double wrap piles of 2-4 squares in plastic wrap, then place the bundles in a column, in a plastic storage container. Use crinkled wax paper, if necessary, between the cookie bundles and the lid of the container to ensure there is no movement during shipping.
Save