Crunchy and super chocolaty, Double Chocolate Passover Biscotti (GF) are a delightfully indulgent dipping cookie. They are sturdy enough to dunk in milk or coffee, but are also great on their own.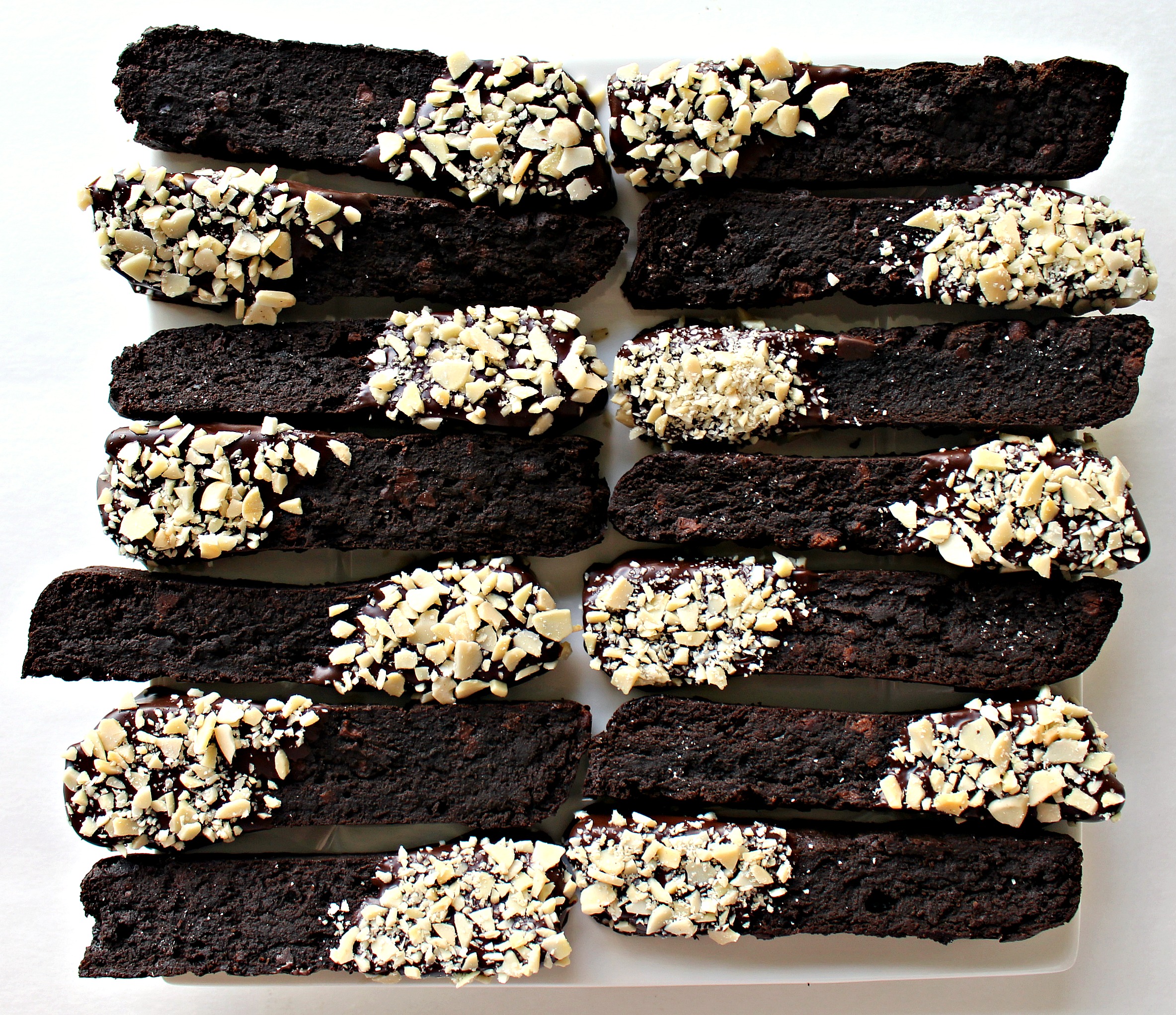 Why you'll love this recipe
Double Chocolate Passover Biscotti are the third in my series of flourless (GF), Passover friendly goodies all made from the same recipe.
Passover Chocolate Fudge Brownies are baked in a 9"x9" pan. Flourless Mocha Brownie Bites are baked in a mini muffin pan then coated in chocolate.
These Double Chocolate Passover Biscotti are baked first in loaf pans, then sliced and baked a second time for a traditional biscotti crunch.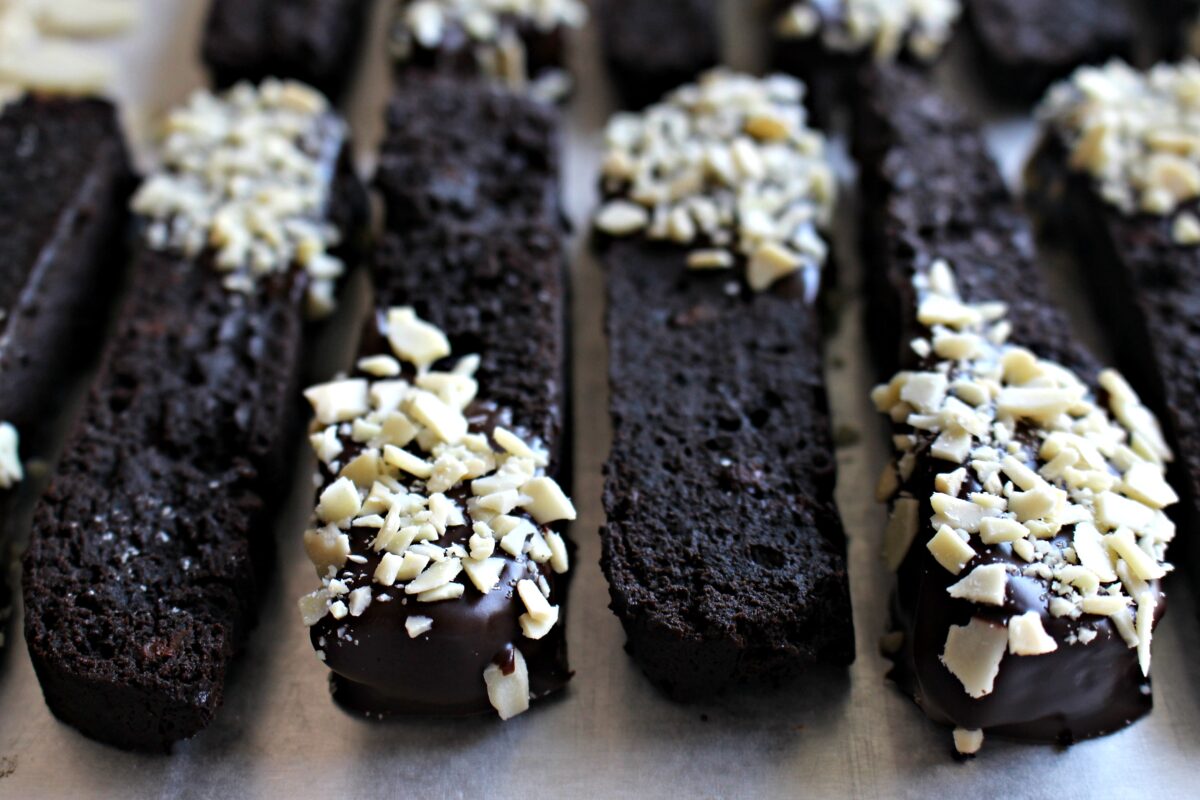 If you or your care package recipient don't like chocolate, skip these biscotti. But, if you are looking for a cookie so full of chocolate there isn't room for flour, you are in the right place!
Some people are scared to try making biscotti because they mistakenly think the one extra step of baking twice means making biscotti is complicated. Not true! Re-baking does add to the total time, but the process is easy.
This recipe is even easier than most biscotti recipes. Traditionally, biscotti dough is formed into one or more logs before baking. The batter for Double Chocolate Passover Biscotti is just spread into loaf pans like when baking brownie or cake batter.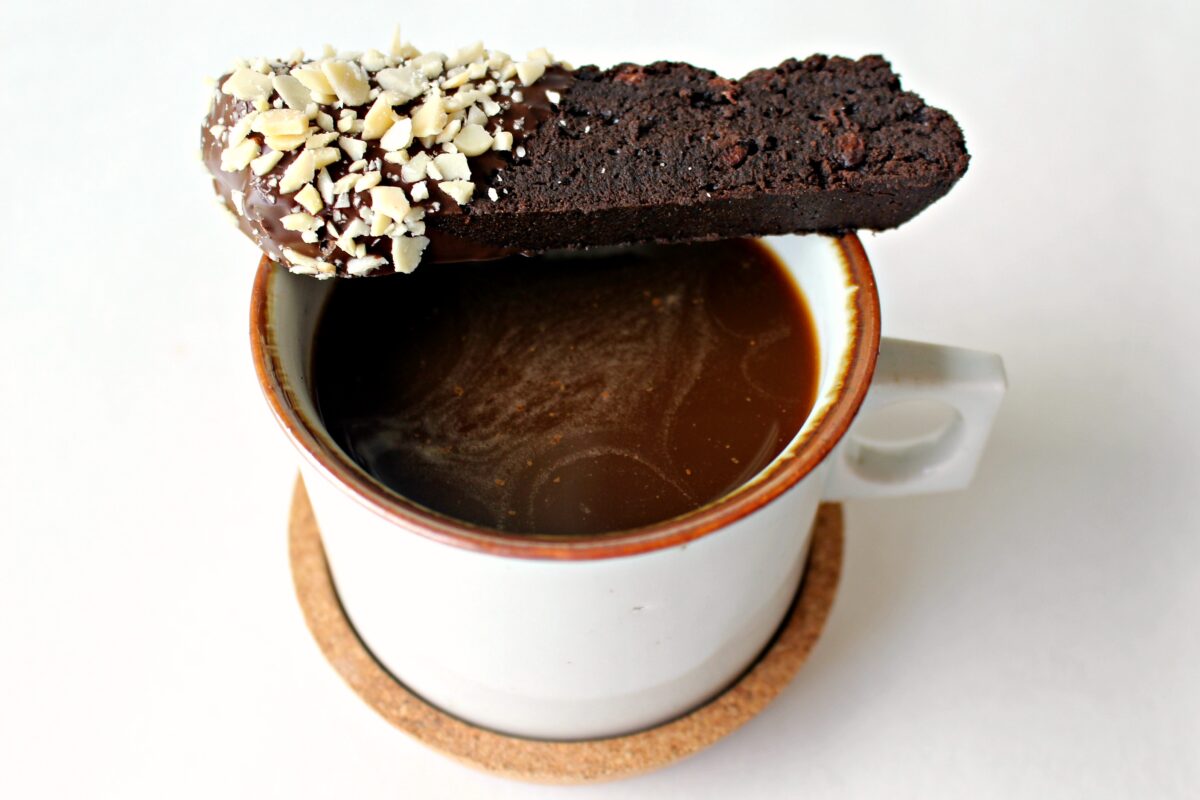 After baking and cooling in the pan for about 25 minutes, the loaf is turned out onto a cutting board and sliced into biscotti. The biscotti are lined up on a baking tray and baked again for about 35 minutes to create the perfect crunch.
The Double Chocolate Passover Biscotti are then ready to enjoy. Or, if like me, you have a compulsion about pretty cookies, a little melted chocolate and chopped almonds add the finishing touch.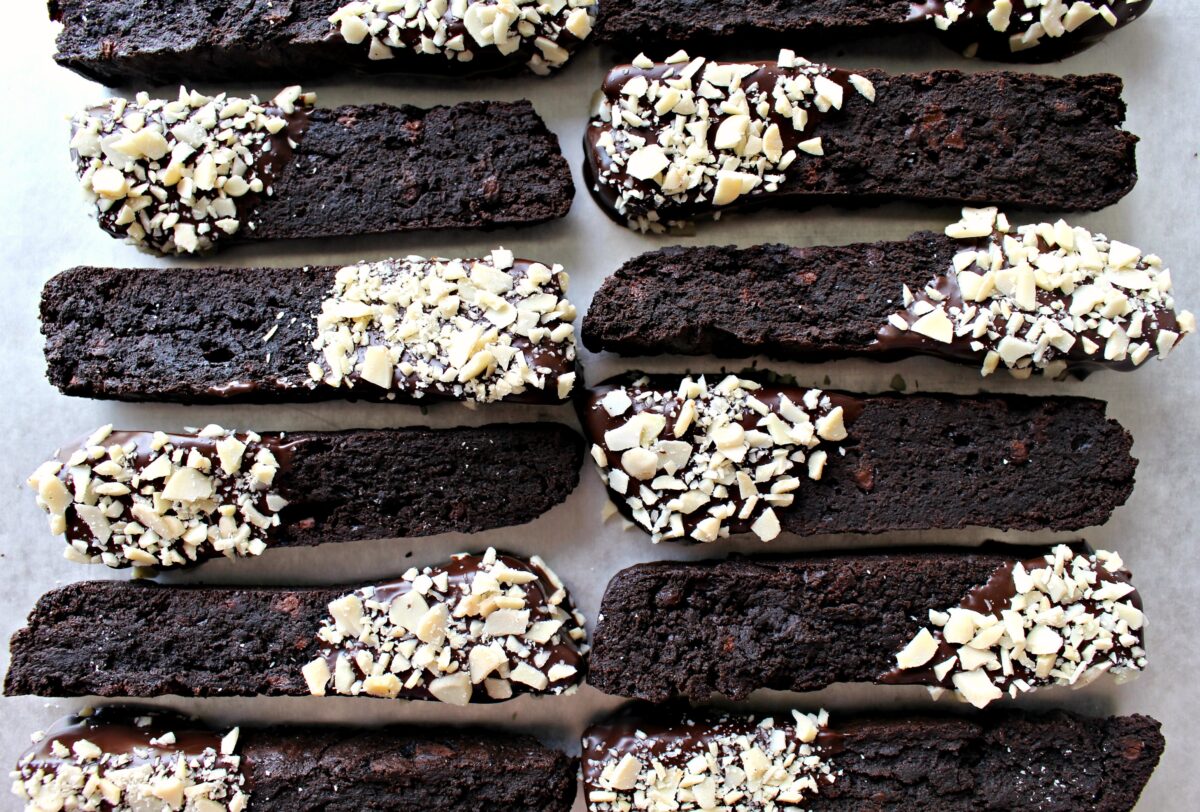 Full disclosure of crispness dilemma: Normally, when a biscotti is baked to crispness, it stays that way. These cookies don't retain their crispness for more than two days.
There are two solutions. If crispness is a priority, then skip the ornamental dip in melted chocolate. The biscotti can be re-crisped in the oven for about 10 minutes. If ultra-chocolaty deliciousness is a priority, go ahead and dip the in melted chocolate. When the biscotti lose their crunch, enjoy them as cookies.
Every time I post a biscotti recipe (there are 12 Monday Box biscotti recipes from Fig to Oreo), I like to remind readers that biscotti are the ultimate care package recipe. Biscotti are delicious, sturdy, and stay fresh longer than any other baked good I know of.
Biscotti without fruit or jam can stay fresh for months! (Just right for long distance military care packages.)Their long shelf life makes them ideal for keeping handy in the cookie jar at home too.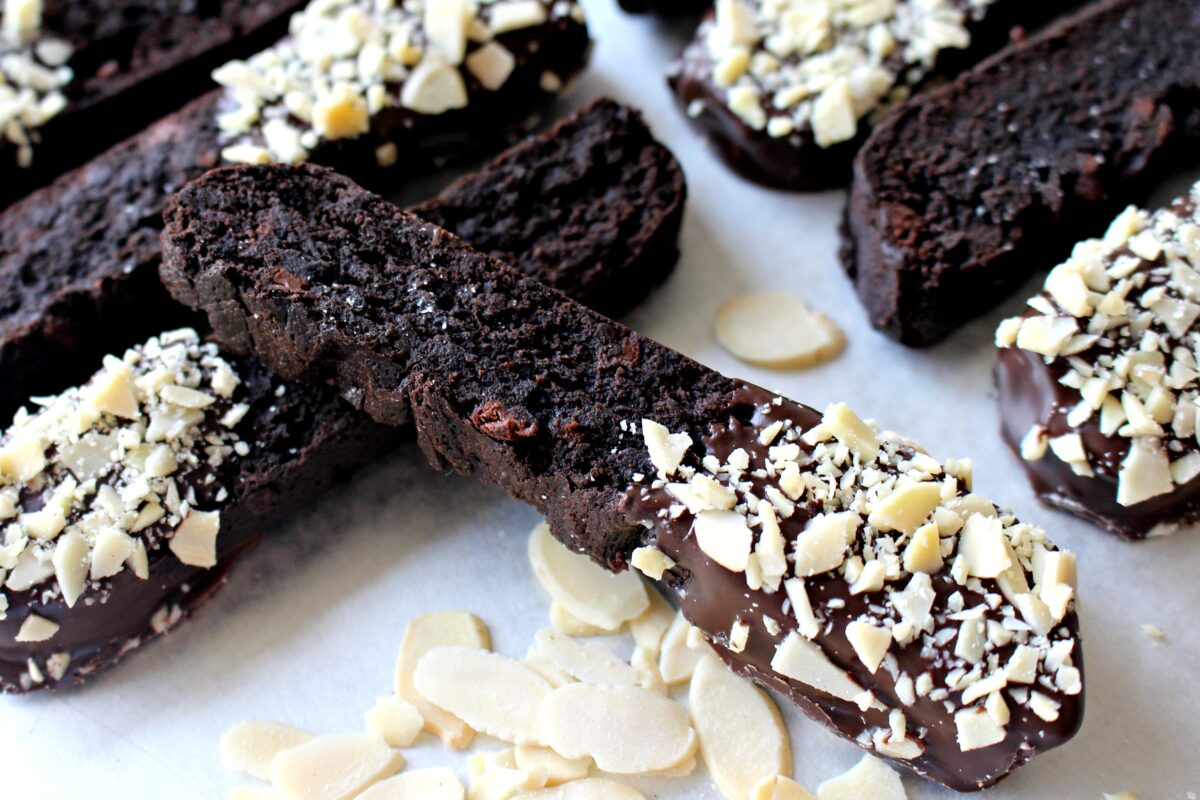 Bake some Double Chocolate Passover Biscotti for those who are gluten free, for Passover, or for the chocoholics in your life. Grab a cup of coffee and a biscotti and dunk. Repeat until blissful.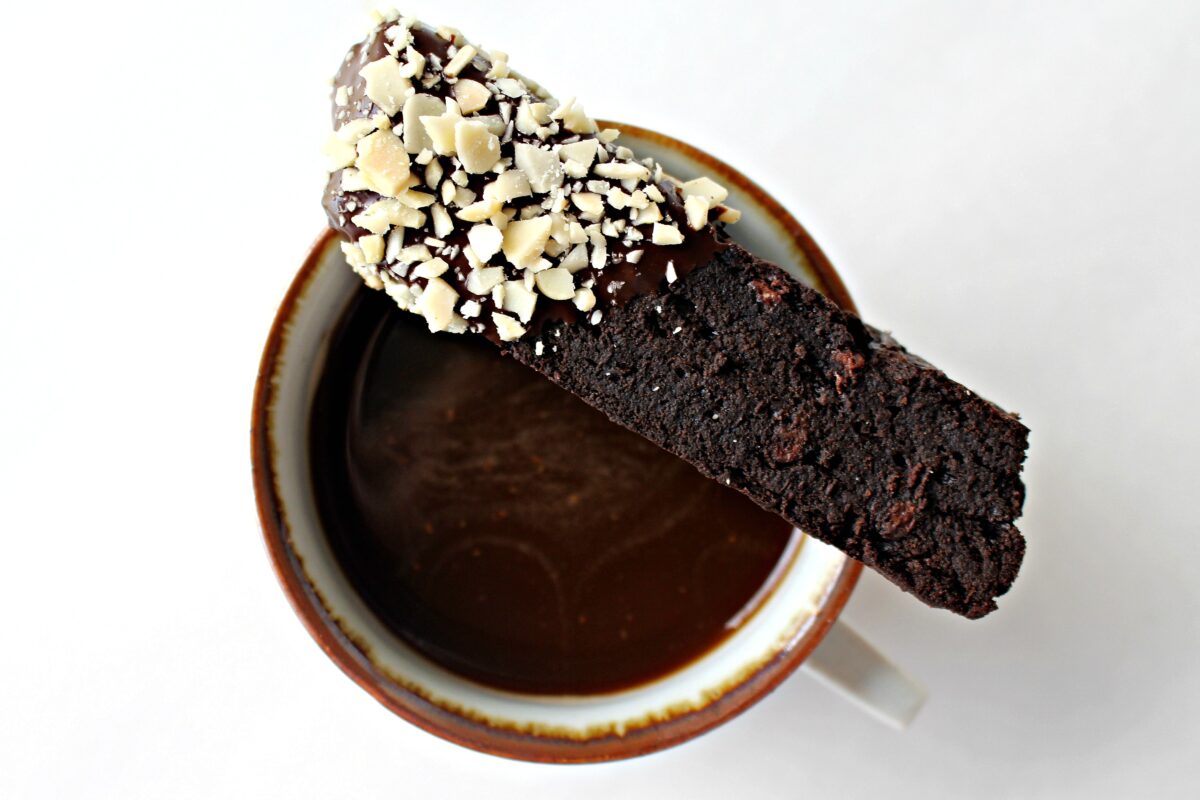 Related recipes
This Passover Mandel Bread is absolutely the BEST. You have to try this delicious Passover essential.
Flourless Chocolate Crinkle Cookies are ultra chocolaty and gluten free.
Chocolate Coconut Whoopie Pies are soft chocolate cookies with chewy marshmallow cream centers.
Flourless Chocolate Cookies are crunchy cookies, great for Passover and gluten free snacking.
Ready to bake? Join the free membership group to get new recipes and a newsletter delivered to your inbox! You can also stay in touch on Facebook, Pinterest, and Instagram. I'd love to stay in touch!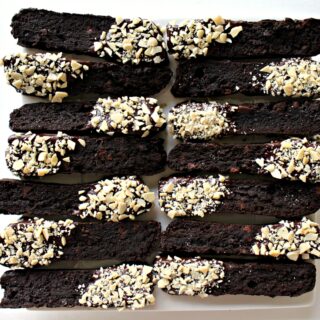 Double Chocolate Passover Biscotti (GF)
Super chocolatey, flourless cookies that are a crunchy treat for dunking or snacking. Gluten free and perfect for Passover.
Print
Rate
Ingredients
½

cup

butter

2

cups

semi-sweet chocolate chips or chopped chocolate bar

½

cup

almond or peanut butter

½

cup

sugar

4

eggs

½

cup

unsweetened cocoa powder

1

tablespoon

vanilla extract

½

cup

mini chocolate chips
Topping
2

cups

melting chocolate

½

cup

chopped slivered almonds
Instructions
Preheat oven to 350° F. Line 2 loaf pans (6 cup pans = 8 ½" x 4 ½" x 2 ½") with parchment paper.

In a large, microwave-safe bowl, melt the butter, chocolate, and nut butter at 50% power for 2 minutes. Stir to combine. If not completely smooth, return to the microwave for 20 second intervals until completely melted.

Add the sugar, eggs, cocoa, vanilla, and mini chips and stir until smooth.

Spread ½ of the batter into each of the prepared loaf pans, smoothing the top with a knife or spatula.

Bake for 25-30 minutes, until a toothpick inserted in the middle comes out dry. A few crumbs are fine. Allow to cool about 25 minutes in the pan.

Lift out of the loaf pan onto a cutting board, using the parchment paper overhang as handles. Cut into ½" thick slices (about 16 per loaf). If the biscotti crumble when cutting, allow additional cooling time before cutting.

Stand the slices, ½ inch apart, on a parchment lined cookie sheet. Bake at 300° F for 35-45 minutes until the surface of the cookies is dry.

Cool completely on the cookie sheet.

FOR TOPPING: In a small microwave safe bowl, melt 2 cups of the melting chocolate at 50% power for 2 minutes. Stir until completely smooth. Line a small baking sheet with wax paper.

Dip each biscotti into the melted chocolate, place on the prepared baking sheet, and sprinkle with chopped almonds. After dipping 12 biscotti, refrigerated for 10-15 minutes to set the chocolate.

Store biscotti at room temperature in an airtight container for up to 7 days. The biscotti lose their crispness after a few days, but are still delicious as cookies. If the biscotti are not dipped in chocolate, they can be re-crisped in the oven for 10 minutes.
Notes
Packing tips
Wrap pairs of biscotti in plastic wrap, then store in an airtight container or zip lock bag. If shipping in hot weather, do not dip in chocolate.
Nutrition
Calories:
162
kcal
|
Carbohydrates:
13
g
|
Protein:
3
g
|
Fat:
11
g
|
Saturated Fat:
5
g
|
Trans Fat:
1
g
|
Cholesterol:
29
mg
|
Sodium:
30
mg
|
Potassium:
131
mg
|
Fiber:
2
g
|
Sugar:
10
g
|
Vitamin A:
130
IU
|
Vitamin C:
1
mg
|
Calcium:
22
mg
|
Iron:
1
mg
First Published: April 17, 2016. Last Updated: February 10, 2023. Updated for better reader experience.