Flourless Chocolate Crinkle Cookies are a chewy, fudgy treat. In addition to being simply delicious, these chocolate cookies are gluten free and Passover friendly! They can even be used safely in hot weather care packages!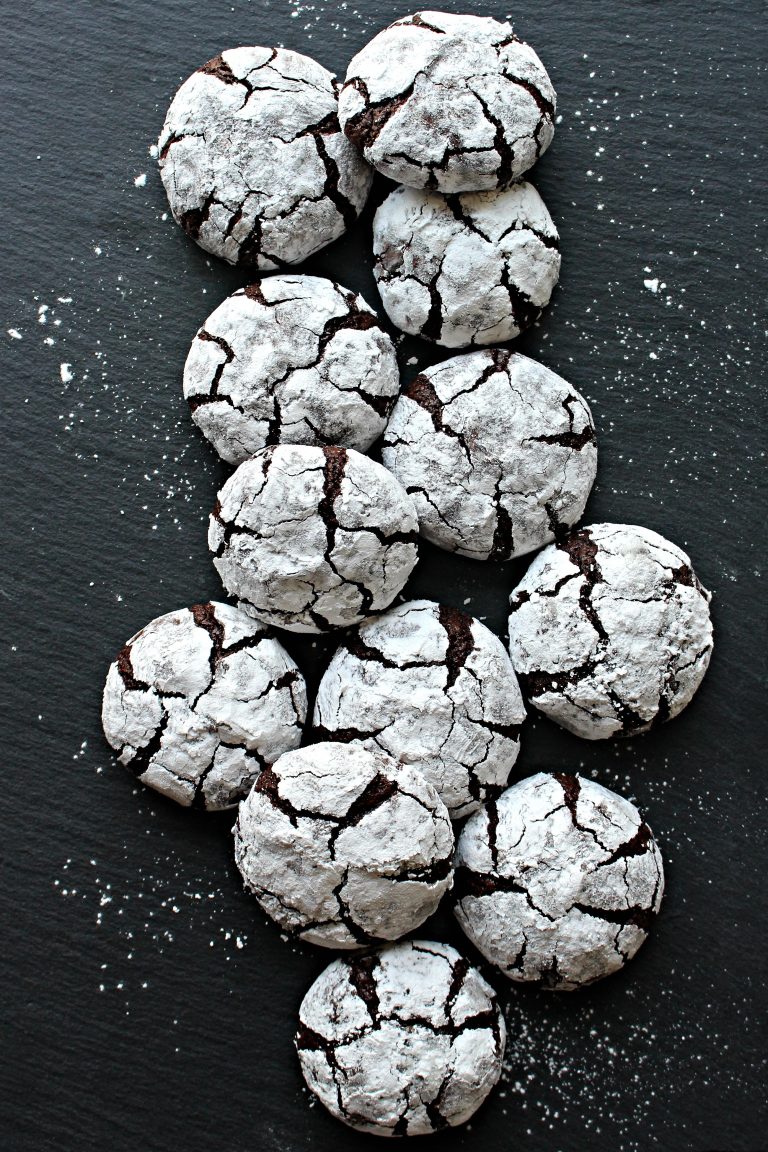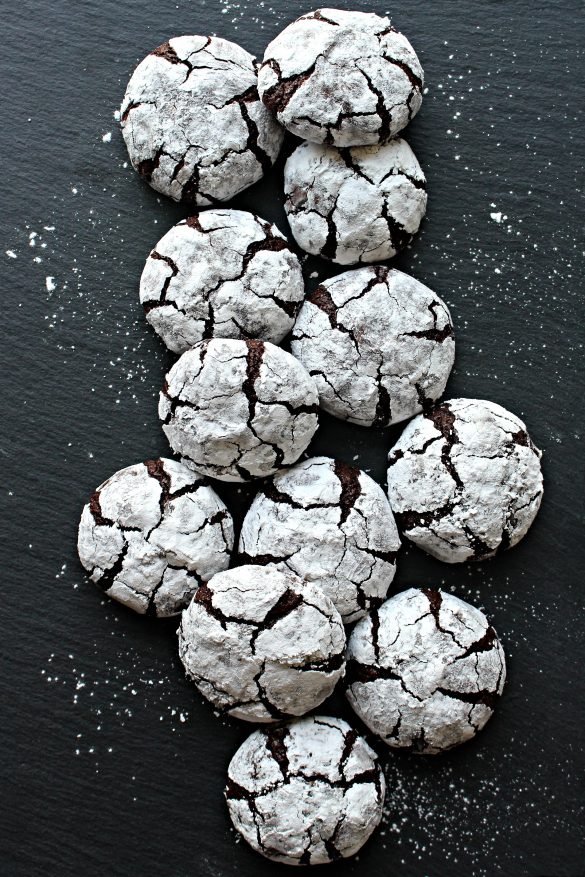 I was delighted last week to have our Passover seder with both of my adult kids and their significant others. We all don't live in the same city, so this was special. Obsessively cooking and baking for days, I was in my happy zone.
My family is a diverse group of eaters; three vegetarians, three carnivores, gluten sensitivities, egg sensitivities, and nut allergies. I attempted to cover all the bases with a variety of food choices, including six different cookies for dessert. I admit going a bit overboard, but baking is my thing.
Baking during Passover can be tricky. Passover dietary observances vary depending on an individual's level of observance and cultural background. In my house we follow the rule of eating no grains, or products made from grains, during the 8 days of Passover.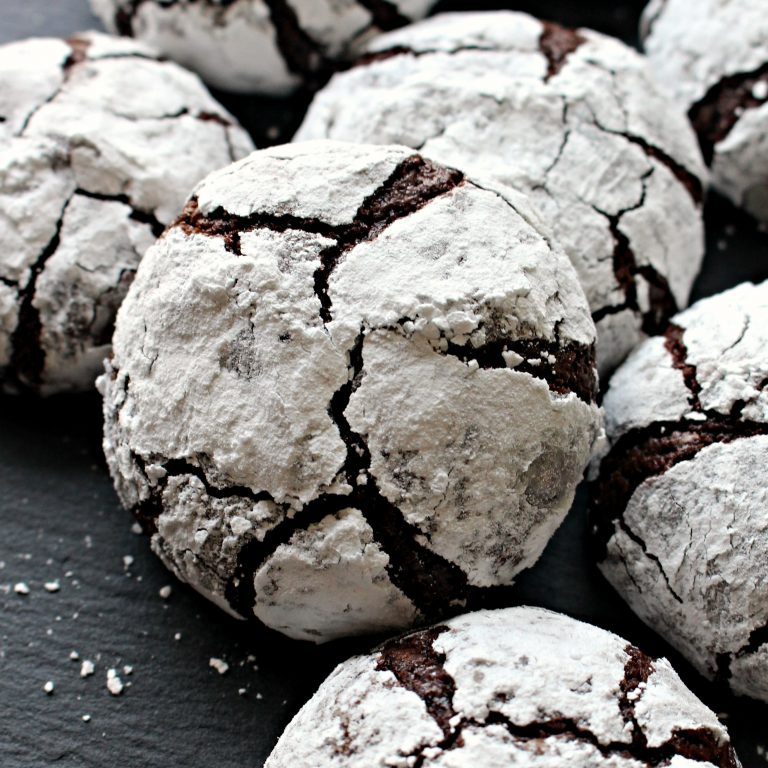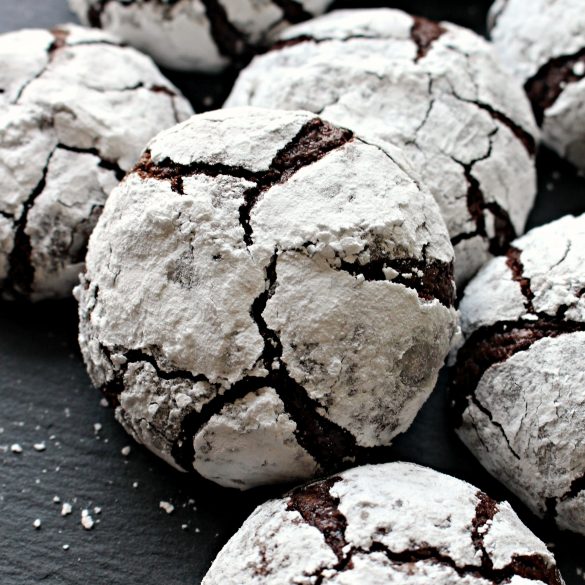 The exception to the no grain rule is matzo, which is prepared in a special way with flour and water. Matzo can be finely ground into a flour-like powder called cake meal.
Cake meal is used in some Passover baking recipes to replace flour. For example, my Passover Chocolate Chip Mandel Bread, which I've been making for decades, is made with cake meal.
When my daughter became sensitive to gluten, I began to experiment with flourless recipes that were both gluten free and Passover friendly. Some of my gluten free recipes, like Flourless Almond Cookies or Chocolate Chip Almond Squares, use almond flour instead of wheat flour.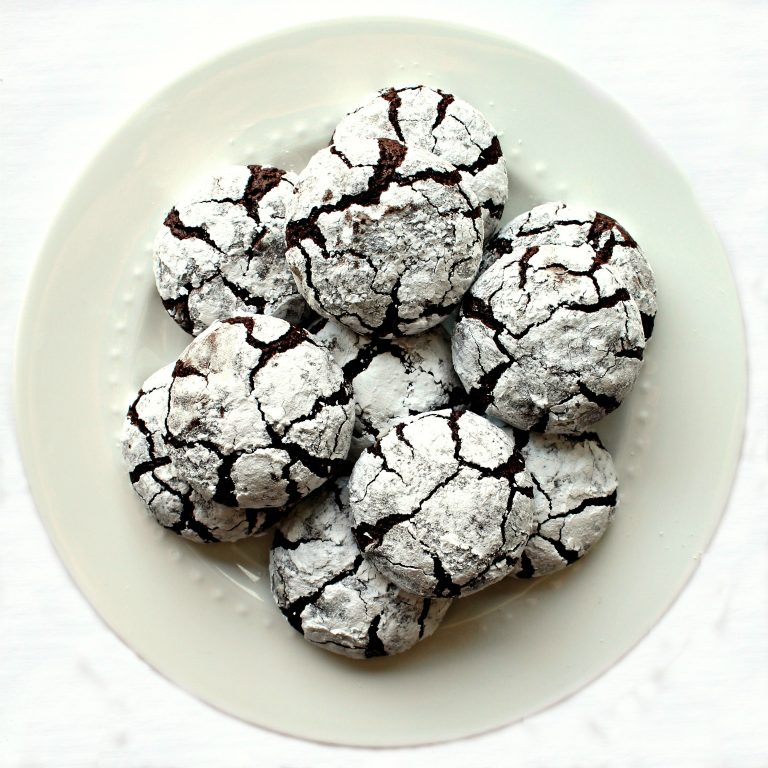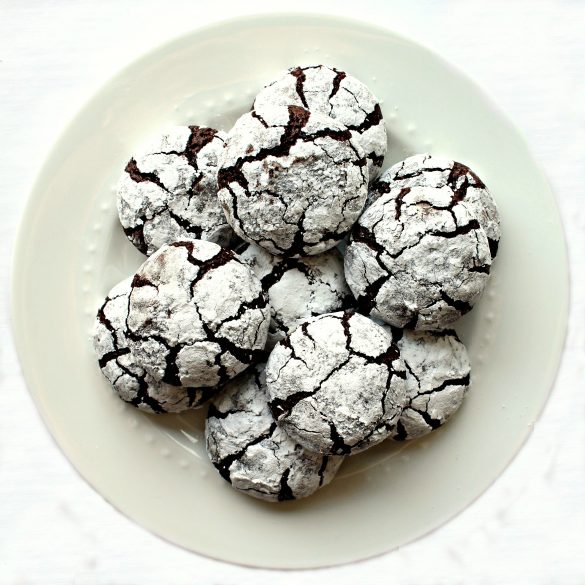 Due to my own nut allergy, I can't eat the cookies made with almond flour, so I am especially happy when I find gluten free, Passover friendly recipes without tree nuts. Flourless Chocolate Crinkle Cookies contain no flour and no nuts of any kind!
Potato starch and cocoa powder give these cookies structure. Vegetable oil, eggs, and sugar keep the Chocolate Crinkle Cookies moist and chewy.
As an extra bonus, these cookies travel well in hot weather military care packages. Chocolate Crinkle Cookies stay fresh in an airtight container at room temperature for about 5 days. Preserve the soft texture during longer mailing times by vacuum sealing.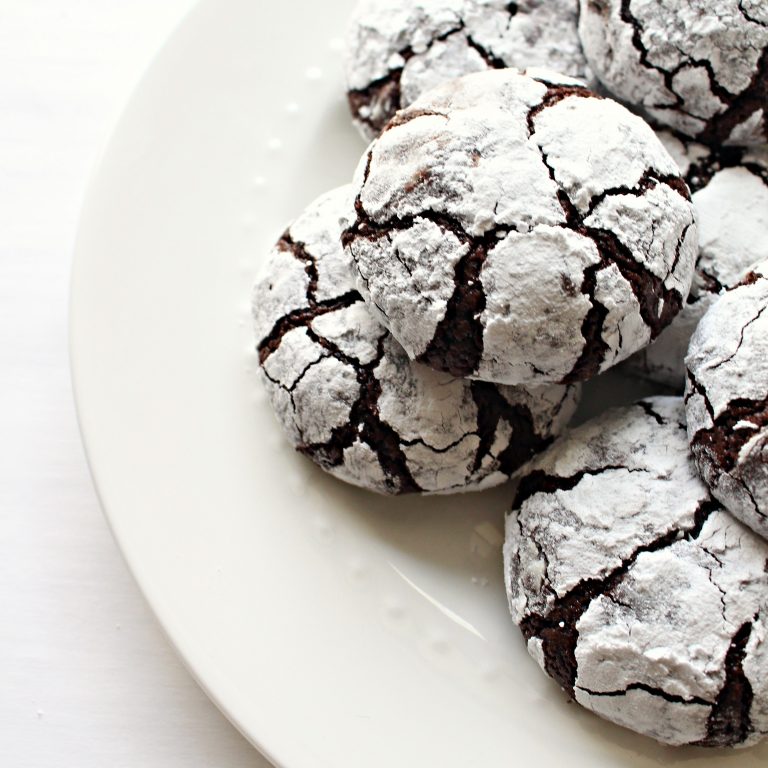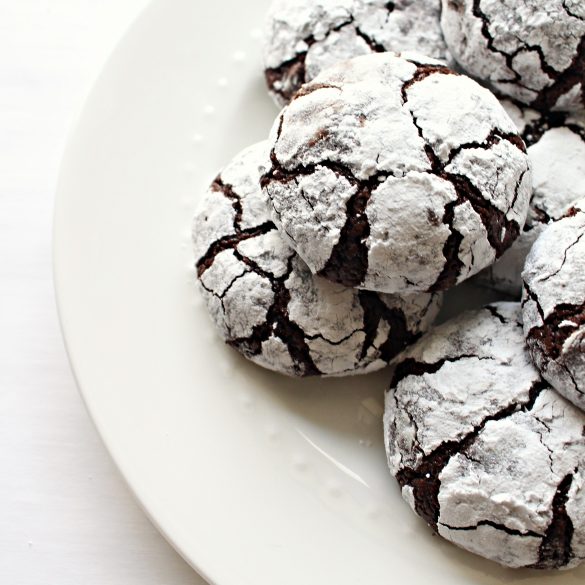 HOW TO MAKE GLUTEN FREE CHOCOLATE CRINKLE COOKIES
Combine the oil, sugar, cocoa, eggs and vanilla.
Mix in the potato starch (or corn starch for non-Passover use) and cinnamon.
Fold in the chocolate chips.
Refrigerate the dough overnight.
When ready to bake, scoop 1 tablespoon portions of dough and use your hands to roll it into balls.
Toss the dough balls in a bowl of confectioners' sugar to coat completely.
Place 2" apart on a parchment lined baking sheet and bake at 350° F for 10 minutes.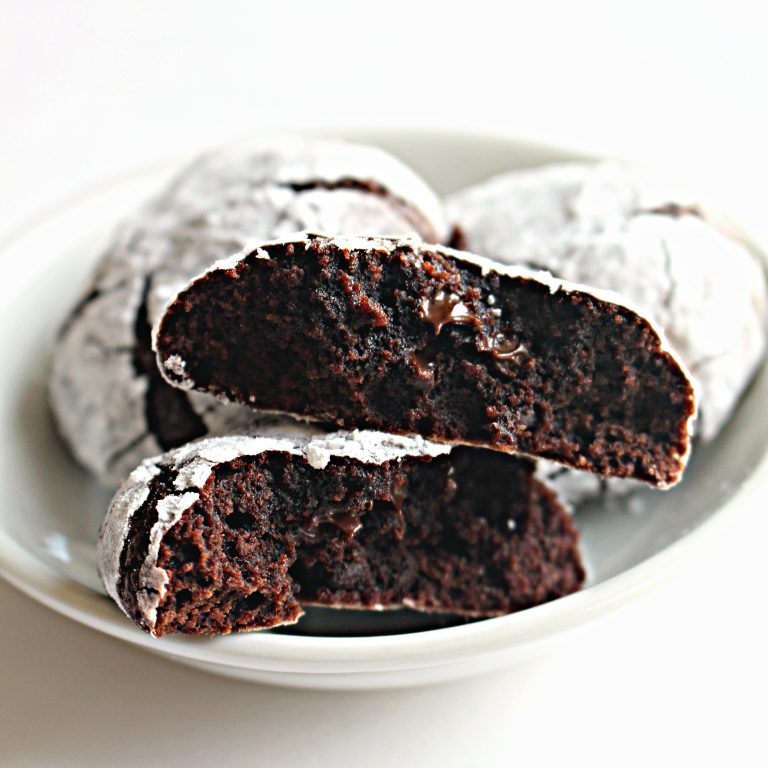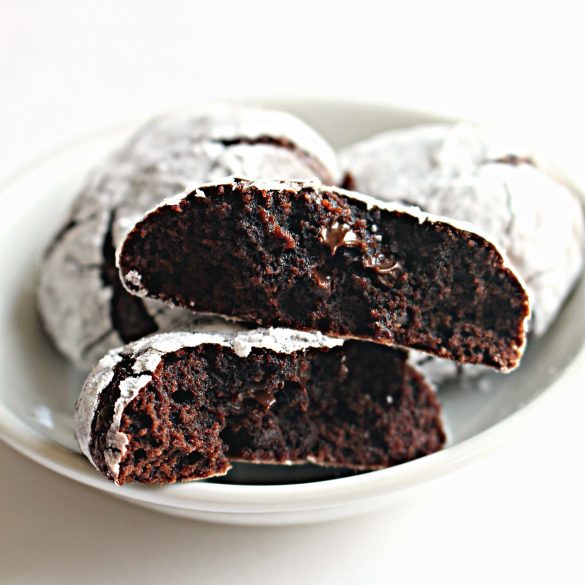 TIPS AND VARIATIONS FOR CHOCOLATE CRINKLE COOKIES
This recipe uses potato starch for Passover.Use corn starch for non-Passover baking.
The overnight chilling time for this recipe is essential. Chilling firms the dough for easy scooping and enables this flourless dough to stay thick and rounded while baking.
This recipe adds cinnamon for Mexican Chocolate Crinkle Cookies flavor. For flavor variations cinnamon can be left out and the following can be added instead:
Mint Chocolate Crinkle Cookies use chopped (Passover) peppermint patties instead of the chocolate chips and cinnamon.
Mocha Crinkle Cookies add 1 teaspoon of espresso powder.
Chocolate Orange Crinkle Cookies add ½- 1 teaspoon of orange flavoring or 1 teaspoon of orange zest.
Chocolate Toffee Crinkle Cookies substitute ½ cup of toffee bits for ½ cup of the chocolate chips.
(The Monday Box participates in affiliate marketing programs. As an Amazon Associate I earn from qualifying purchases. If you choose to purchase a product after following a link on this page, I will receive a small commission, at no cost to you, which helps make The Monday Box possible.)
TOOLS YOU MAY NEED
MORE CHOCOLATE COOKIES FOR PASSOVER
Double Chocolate Passover Biscotti (GF)
Chocolate Coconut Whoopie Pies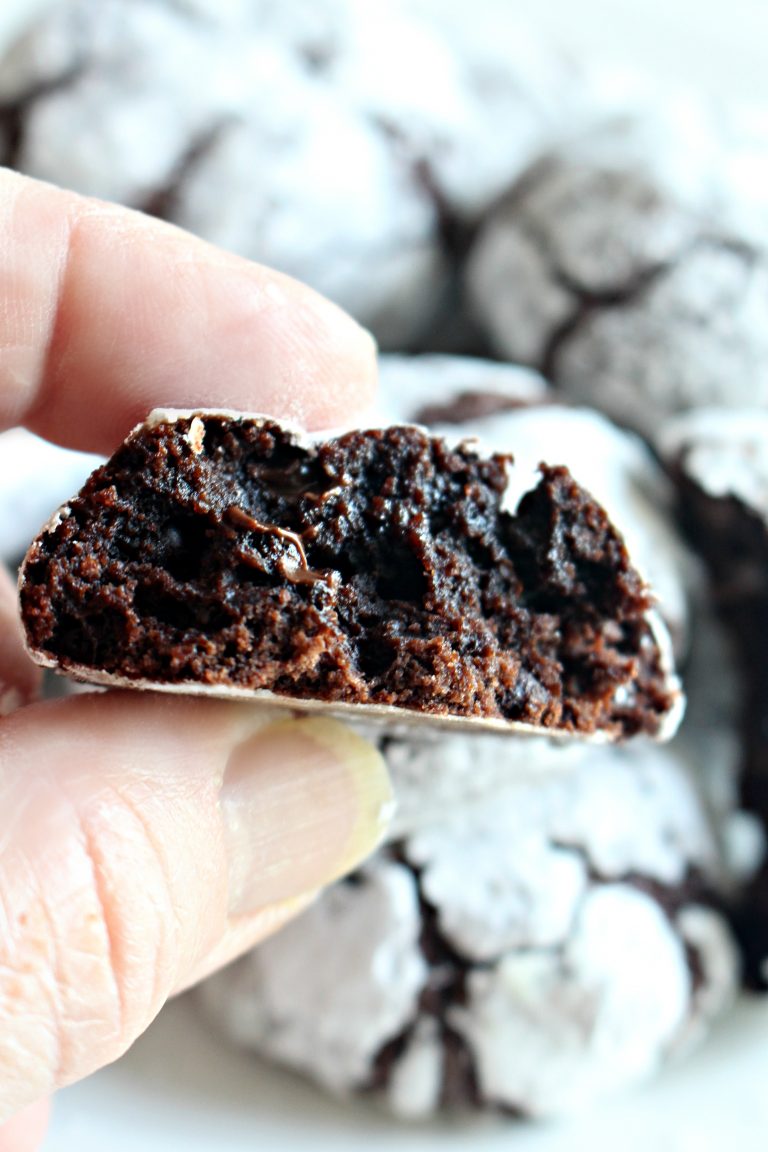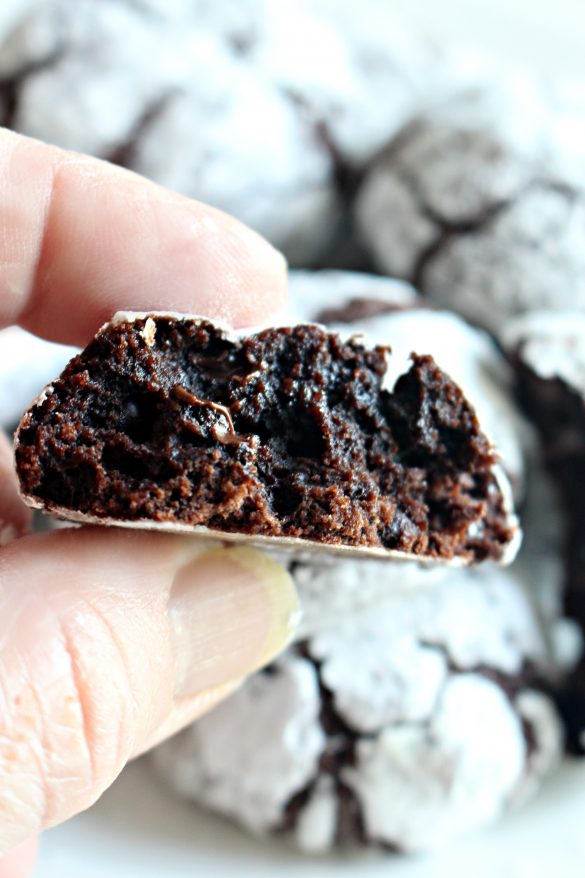 FLOURLESS CHOCOLATE CRINKLE COOKIES RECIPE
Bake these fudgy cookies for a year round hit with all chocolate lovers. No one will notice the missing flour. They will just notice the fudgy texture and rich chocolate flavor!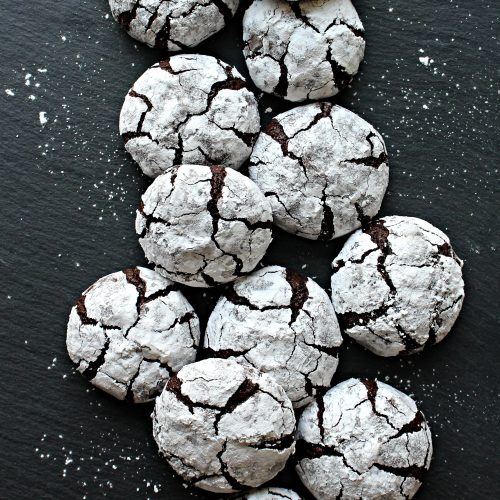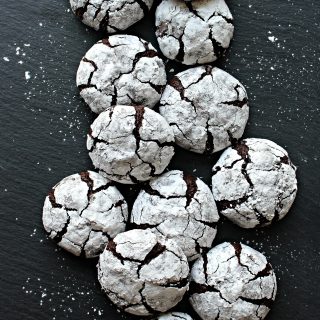 Ingredients
⅔

cup

vegetable oil

2

cups

granulated sugar

1

cup

unsweetened cocoa

4

large eggs

1

tablespoon

vanilla extract

2

cups

potato starch

corn starch can be used for non-Passover use,sifted to remove lumps

1

teaspoon

cinnamon

1 ¾

cup

mini chocolate chips or chopped chocolate

1

cup

confectioners sugar
Instructions
In a large bowl, mix together the oil, granulated sugar, cocoa, eggs and vanilla.

Add the potato starch and cinnamon and mix until thoroughly combined.

Fold in the chocolate chips.

Cover the bowl with plastic wrap and refrigerate overnight.
When ready to bake
Preheat oven to 350° F and line a baking sheet with parchment paper.

Pour confectioners' sugar into a small shallow bowl.

Scoop 1 tablespoon of dough and use your hands to roll it into a ball.

Toss the dough ball in the confectioners' sugar to coat completely.

Place coated dough balls on the prepared baking sheet, 2" apart.

Bake for 9-10 minutes.

Remove from the oven and allow the cookies to cool on the baking sheet for about 10 minutes before transferring them to a wire rack to cool completely.

Store at room temperature in an airtight container for up to 5 days.
Notes
Wrap pairs of cookies, bottoms together, in plastic wrap. Stack the cookies in columns in a freezer weight ziplock bag. Vacuum sealing can prolong the freshness of these cookies for shipping times longer than 5 days. Vacuum seal the cookies in a single layer and be careful to stop the vacuum before the soft cookies are accidentally flattened.