Our senses can provide powerful memory triggers of people and events in our lives. The smell of cedar brings my paternal grandmother to mind. She had a large cedar chest where she kept her treasures packed away in tissue paper. As a little girl, I would listen fascinated by my grandmother's stories about each cedar scented item.  The taste of Earl Grey tea brings me thoughts of my father, who always said that you can't smell Earl Grey tea without smiling. Oreos are another memory trigger for me. I can't see an Oreo without thinking about my maternal grandfather.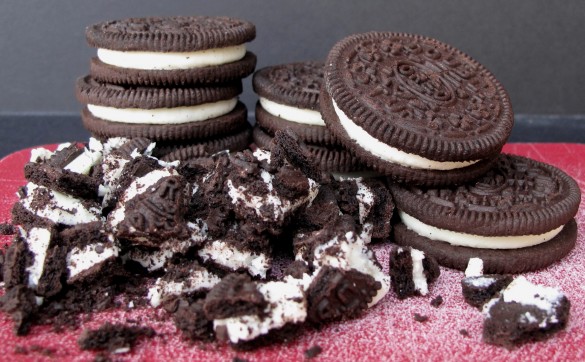 My grandfather was a picky eater. Usually, being a picky eater means you will only eat certain things. My grandfather would only eat certain things, made by certain brands. That's what he said, anyway. My grandmother didn't buy into his brand pickiness.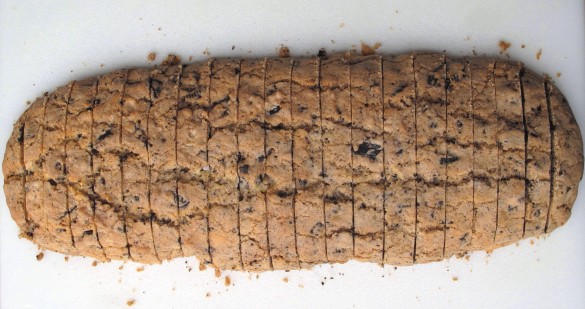 There used to be two name brand chocolate sandwich cookies; Oreos by Nabisco and Hydrox by Sunshine. My grandfather said he only ate Oreos. He said he couldn't stand Hydrox and would refuse to eat them if offered. However, Hydrox were less expensive and my grandmother didn't like to waste money.  She always bought Hydrox cookies and served them to my grandfather in an Oreo box. He ate them without comment or complaint.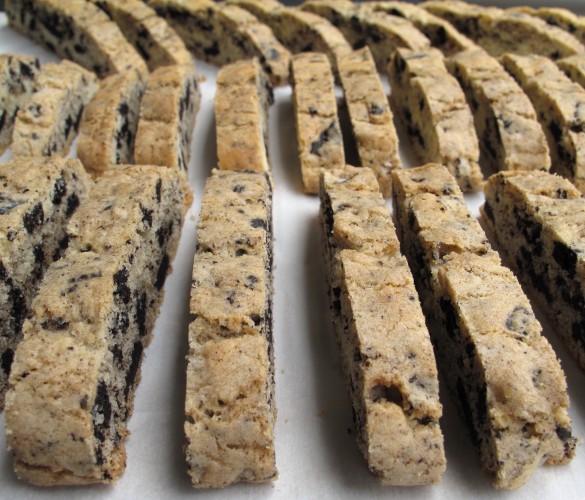 I have often wondered whether my grandfather really didn't know he was eating Hydrox cookies. I mean, Oreos and Hydrox both had their names clearly embossed on each cookie. Did my grandfather, generally an intelligent and observant individual, just not notice? Did he eat without his glasses on and couldn't read the embossed cookies? Or, was he just playing along with my grandmother's subterfuge? I will never know the answer but will always associate Oreos with my Grandpa Nat.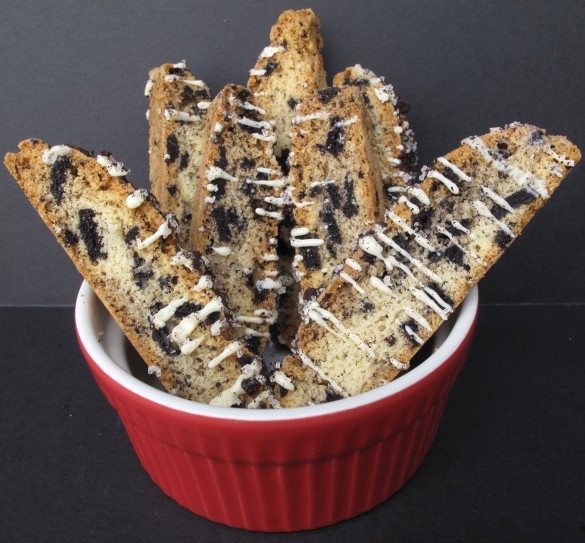 There can be no subterfuge with these Oreo biscotti because Hydrox went out of production in 1999. The recipe most commonly found for Oreo biscotti originated with Kraft. (Kraft owns Nabisco. Nabisco makes Oreos.) I tried the Kraft recipe and it produced a cookie that was way too hard for my taste. I wanted crunch without risk to my teeth. I adapted a King Arthur vanilla biscotti recipe to include the crushed Oreos and found the crunchy but bitable texture I was looking for.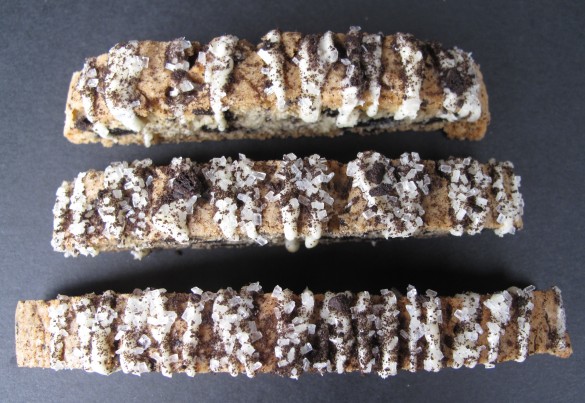 Decorating these biscotti is optional. If you are mailing them to or from somewhere hot, I suggest you skip it. The white chocolate drizzle is for looks and would melt in hot temperatures. I think these biscotti are pretty and delicious without embellishment.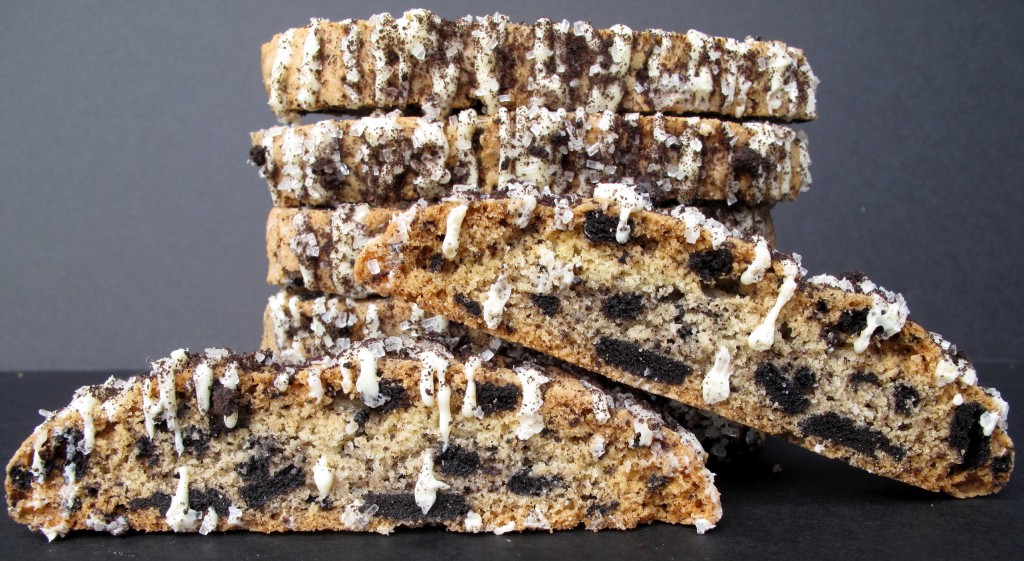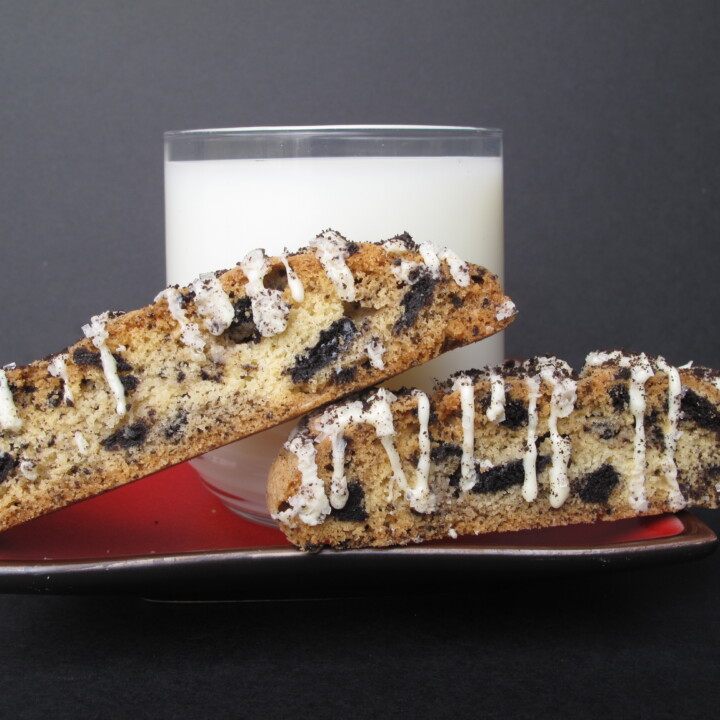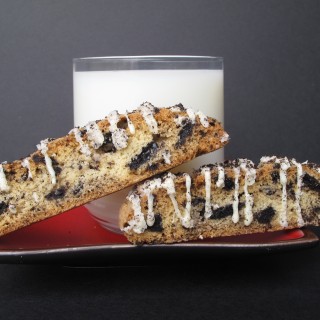 Oreo Biscotti
These crunchy, vanilla biscotti are filled with chunks of crushed chocolate sandwich cookies. Two cookies combined for an exceptional, dunkable treat.
Print
Rate
Adapted From:
KingArthurFlour.com
Ingredients
Biscotti
6

tablespoons

unsalted butter

room temperature

⅔

cup

granulated sugar

½

teaspoon

salt

3

teaspoons

vanilla extract

1 ½

teaspoons

baking powder

2

large eggs

2

cups

all-purpose flour

18

chocolate sandwich cookies

coarsely chopped
Decorating
4

ounces

white chocolate

broken into chunks

½

tablespoon

vegetable shortening

3

chocolate sandwich cookies

cookie part only, then finely crushed

3

tablespoons

white decorating sugar
Instructions
Preheat oven to 350 degrees F. Line baking sheet with parchment.

In the bowl of an electric mixer, cream butter, sugar, salt, vanilla extract and baking powder until smooth.

Add eggs, and beat to combine.

On low speed, slowly add flour and mix until smooth.

Stir in chopped Oreos.

Divide the dough in half. Scoop onto the baking sheet and shape into 2 logs about 9" x 2".

Bake for 25 minutes.

Remove biscotti from oven and reduce oven temperature to 325 degrees F.

Cool on the baking sheet for about 15 minutes. (If biscotti crumble while cutting wait until the dough cools a little longer.) Slice the logs into ½" – ¾" slices.

Stand the slices on edge on the baking sheet.

Bake for an additional 25-30 minutes or until golden. Cook longer for crunchier biscotti and less time for softer biscotti.

Remove from oven and cool completely on wire racks.

If decorating: Put the biscotti on a parchment or wax paper lined baking sheet, close together on edge.

Place white chocolate and shortening in a small bowl and microwave in 10-20 second intervals until just melted. Stir in between intervals. White chocolate burns easily, so watch the chocolate carefully to not over cook.

Pour melted chocolate into a zip lock bag and seal. Cut a tiny bit off one corner.

Drizzle the melted chocolate back and forth over biscotti rows.

Immediately sprinkle tops with decorating sugar and/or finely crushed Oreo cookies.

Store in an airtight container at room temperature. These biscotti remain delicious for at least 4 weeks.
Notes
Packing tips
Do not decorate the biscotti with chocolate if mailing to or from a hot location. Bundle 2 or 3 biscotti together in plastic wrap. Place bundles in an airtight container or zip lock bag.
Nutrition
Calories:
116
kcal
|
Carbohydrates:
17
g
|
Protein:
2
g
|
Fat:
5
g
|
Saturated Fat:
2
g
|
Trans Fat:
1
g
|
Cholesterol:
15
mg
|
Sodium:
89
mg
|
Potassium:
36
mg
|
Fiber:
1
g
|
Sugar:
9
g
|
Vitamin A:
73
IU
|
Vitamin C:
1
mg
|
Calcium:
21
mg
|
Iron:
1
mg