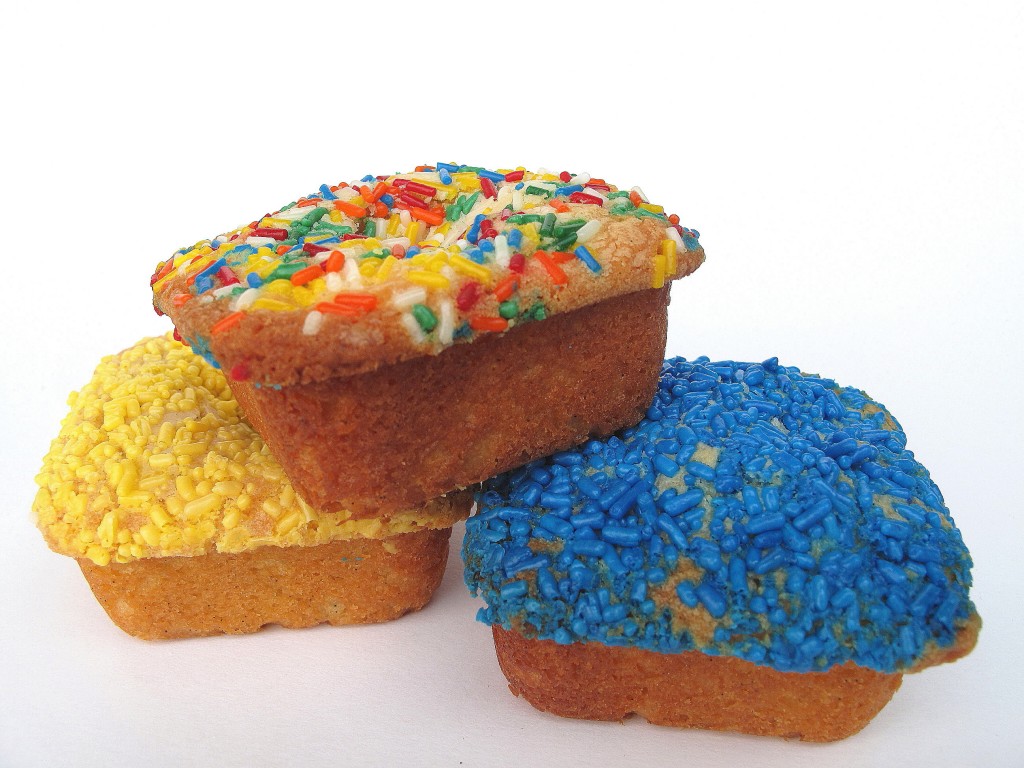 I offer the disclaimer that I am not a chocolate lover. I am a chocolate liker without a discerning chocolate palate. Except for Fanny May vanilla creams (an addiction started in college by my roommate, a native Chicagoan), I prefer my chocolate dark and plain. No nuts (allergies). No caramel (too sticky). No fruity goo (yuck).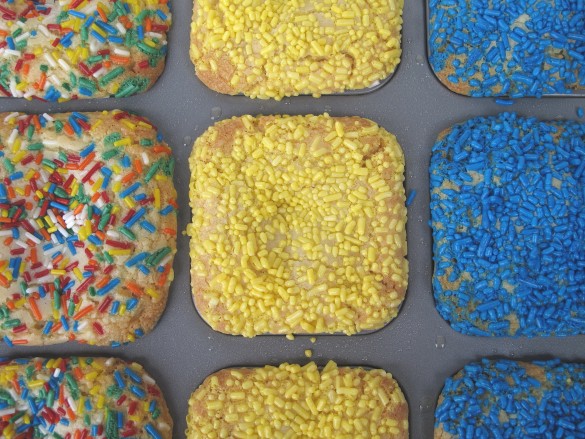 I have mentioned before that I was allergic to chocolate as a child and was therefore drawn to it like a magnet. There was rarely chocolate candy in my parents' house but my maternal grandmother always had boxes of assorted chocolates for company. Assorted chocolates are a crap shoot. You never know what you can be biting into. Some chocolate boxes come with a map/key on the inside lid. Certain shapes of candy or squiggles on top are supposed to be clues to what is inside. But once some of the candy is eaten and the rest of the candy moved around, the map doesn't always work.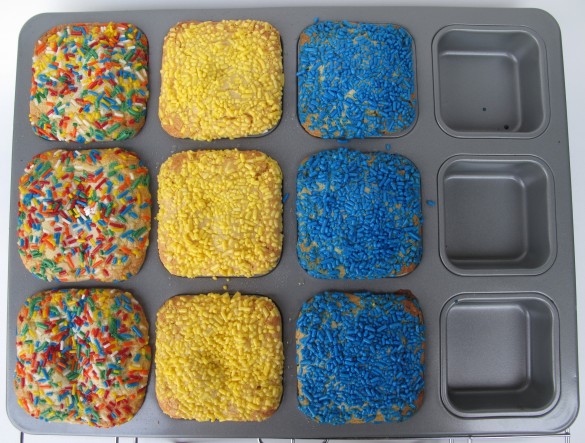 My childhood method for previewing the fillings before I took a bite was to very carefully cut a circular hole in the bottom of a chocolate with my fingernail. I would pry out the circle of chocolate and check out what was inside. If it was appealing, I would eat the candy and no one would know. If it was gross, I carefully replaced the circle of chocolate, put the candy back in the box, and hoped no one would notice. No one ever said anything, so maybe I got away with it.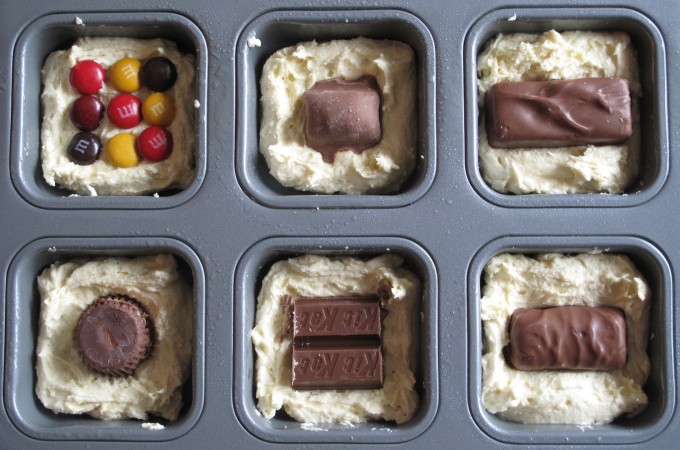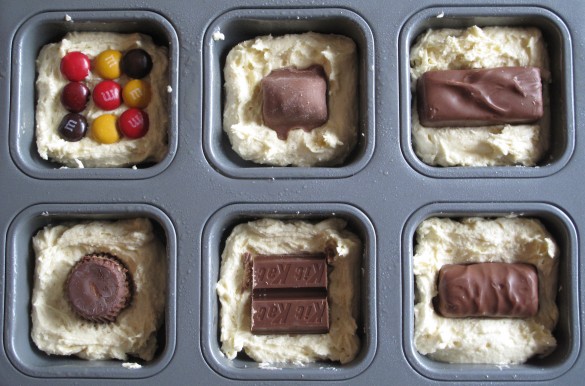 Baking these filled blondies reminded me of those chocolate sampler boxes with their varied secret centers. When I bake, I am often left with a handful of mini candy bars. To use the numerous different handfuls I have accumulated, I decided to bake blondies in an individual brownie pan with each blondie having its own candy bar filling. I ended up with a candy bar filled blondie sampler.
You can provide a map/key to the blondie fillings or leave it a mystery. If you go the mystery route, watch out for little holes poked into the bottom of your blondies.
The blondie part of this recipe comes from the wrapper of a Ghiradelli white chocolate baking bar. I tweaked a few things to make the recipe "dessert-safe" for military care packages. I replaced butter with vegetable shortening. Vegetable shortening stands up to high heat without the risk of going rancid. I also used vanilla paste instead of vanilla extract. Vanilla paste is made without alcohol and as a bonus adds little black vanilla bean dots to your cooking. I have read that you aren't supposed to use extracts made with alcohol in baked goods going to military deployed in Muslim countries where alcohol is prohibited. I'm not sure how anyone would know if you had vanilla extract baked into something, but just to be sure I used vanilla paste. I think the original recipe tastes exactly the same as my tweaked recipe. If you aren't mailing these treats to a hot place where spoilage is a concern, go with whichever version appeals to you.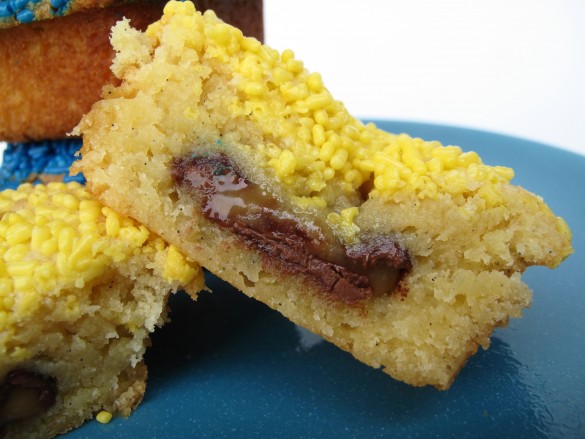 You can use any candy fillings you want. One baking oddity of note was that some of my blondies ended up with sunken centers and others didn't. I think this is caused when some candy bars melt into the blondie more than others. Being sure to pack the top layer of dough around the candy bar, with no air pockets, can help minimize this.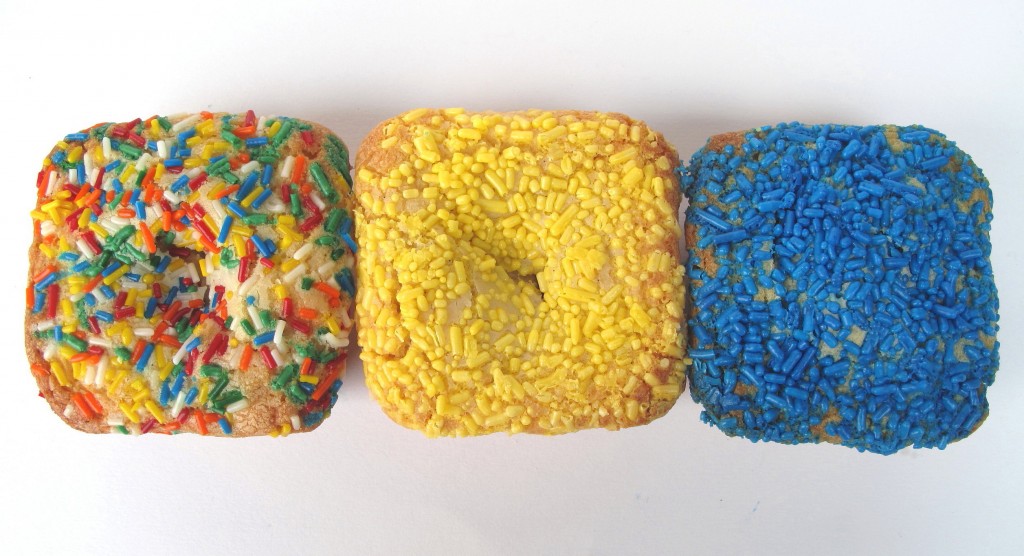 I used an individual brownie pan but the original recipe calls for a 9 inch square baking pan, lined with parchment and greased. Stored air-tight at room temperature, the individual blondies are good for at least 2 weeks. For longer mailing times, I recommend baking in a 9 inch square and not cutting into individual servings.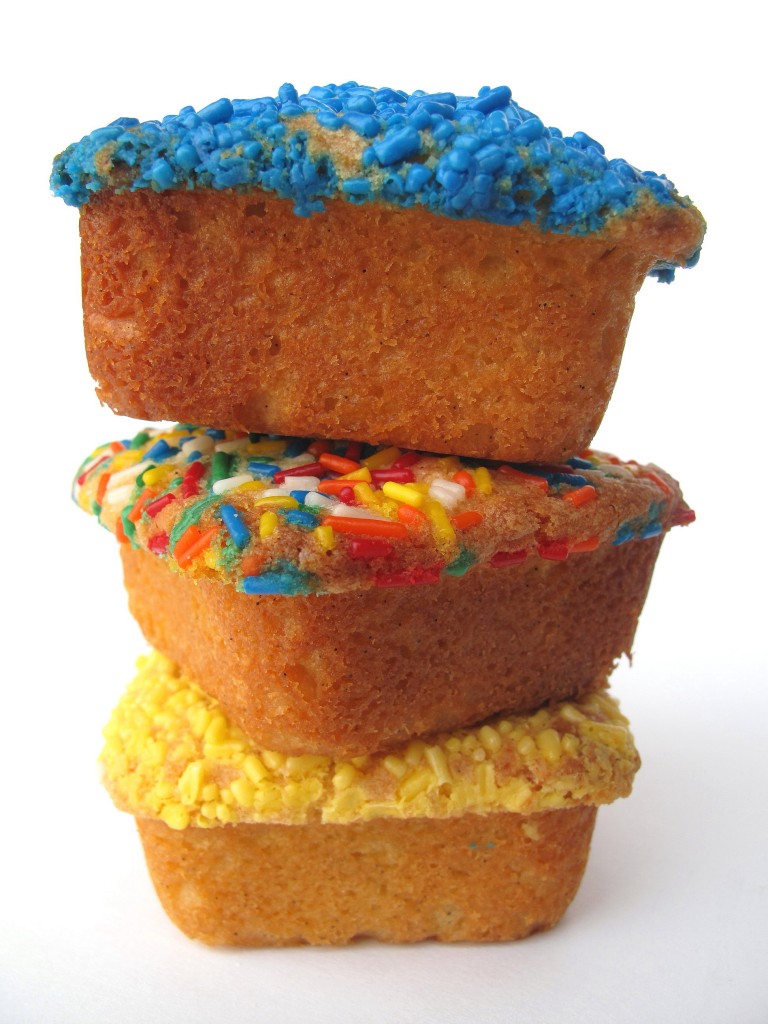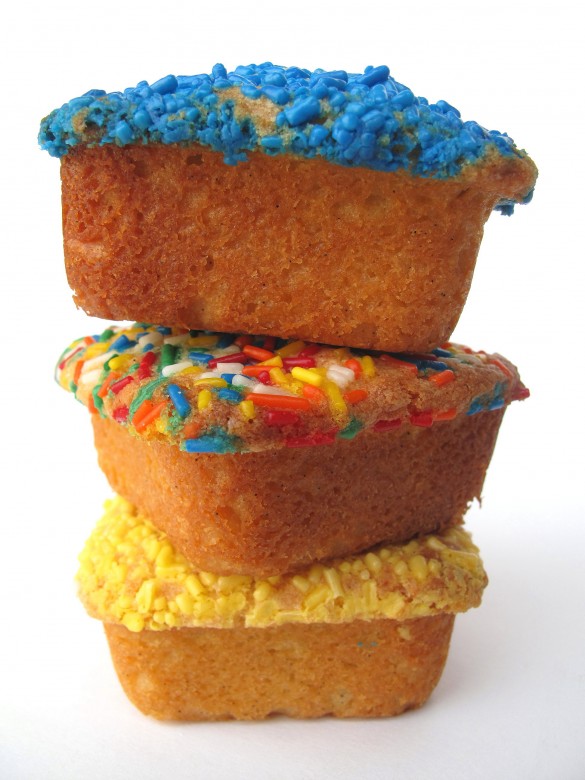 You can read more about desert safe ingredients and find an index of all of the desert safe recipes on The Monday Box by clicking here.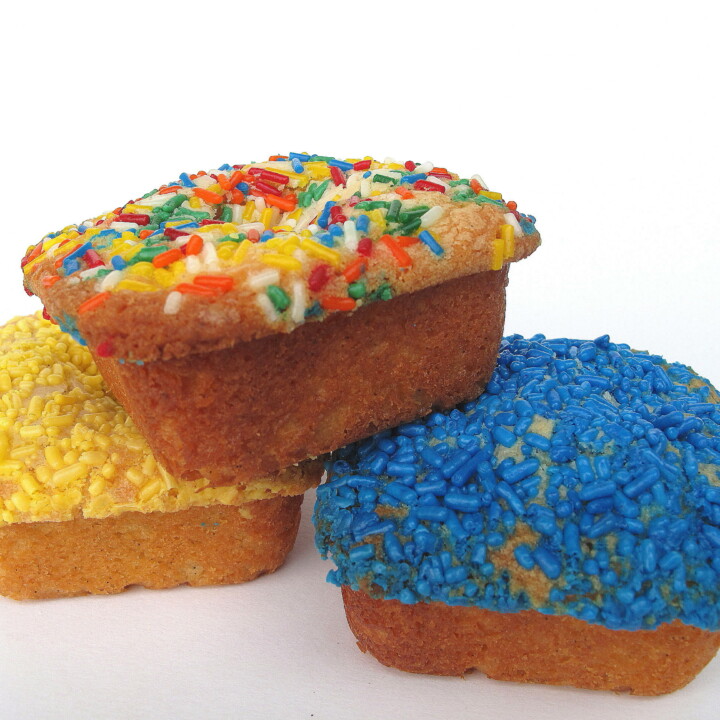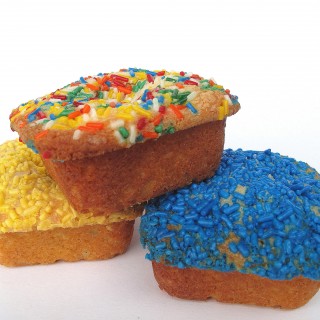 Candy Bar Blondies
Crunchy on the outside and soft on the inside, these vanilla blondies hide a mini candy bar inside! A great way to safely send chocolate in hot weather!
Print
Rate
Adapted From:
Ghirardelli.com
Ingredients
8

ounces

white chocolate

broken into chunks

½

cup

vegetable shortening

2

large eggs

⅓

cup

granulated sugar

1

tablespoon

vanilla bean paste

or extract

1 ¼

cup

all-purpose flour

½

teaspoon

salt

9

mini candy bars

or larger candy bars cut to fit

9

tablespoons

sprinkles
Instructions
Preheat oven to 350 degrees F. Butter or spray cooking oil onto individual brownie pan.

Place chocolate and shortening in medium sized microwave safe bowl. Heat in microwave 1 minute. Stir. If not completely melted, return to microwave for 10 second intervals, stirring between heating, until completely melted and combined.

In bowl of electric mixer, beat eggs until foamy (about 3 minutes).

Mix in sugar, vanilla, and melted chocolate.

Add flour and salt and stir until incorporated.

Spoon 1 heaping tablespoon of batter into 9 sections of the pan. Using finger tips spread dough evenly to cover bottom of each section. Add more dough if needed.

Gently press candy onto the dough. (If you want to remember what is inside each blondie, now is the time to make a map/key for the baking pan.)

Add about 2 tablespoons of dough to each section on top of candy. Use fingertips to press dough around candy and even across the top.

Spread 1 tablespoon of sprinkles over each section. Press gently to make sure sprinkles are attached to dough. They will melt slightly during baking.

Bake for 12- 15 minutes, or until golden and toothpick inserted in center comes out clean. ( 25 minutes for 9"x 9" pan). If mailing internationally, undercook by about 1 minute. (The extra moisture from undercooking will help keep the blondies soft while shipping)

Cool for 15-20 minutes in pan, then remove from pan to complete cooling on a wire rack. ( If you want to remember what is inside each blondie, place the blondies carefully on the wire rack in the same order as your map/key.)

Blondies can be stored in airtight container at room temperature for at least 2 weeks.
Notes
Packing tips
For individual blondies, wrap each blondie in plastic wrap then place in an airtight container or zip lock bag. For 9"x9" pan blondies, wrap entire square of blondies (removed from pan or in disposable foil pan) in two layers of plastic wrap and insert into gallon zip lock bag.
Nutrition
Calories:
559
kcal
|
Carbohydrates:
59
g
|
Protein:
7
g
|
Fat:
33
g
|
Saturated Fat:
15
g
|
Trans Fat:
2
g
|
Cholesterol:
43
mg
|
Sodium:
172
mg
|
Potassium:
305
mg
|
Fiber:
4
g
|
Sugar:
39
g
|
Vitamin A:
71
IU
|
Vitamin C:
1
mg
|
Calcium:
79
mg
|
Iron:
4
mg