White Chocolate Lemon Bars are chewy, creamy, and full of tart lemon flavor. They are deliciously moist without being fragile and can easily travel to picnics or in a care package.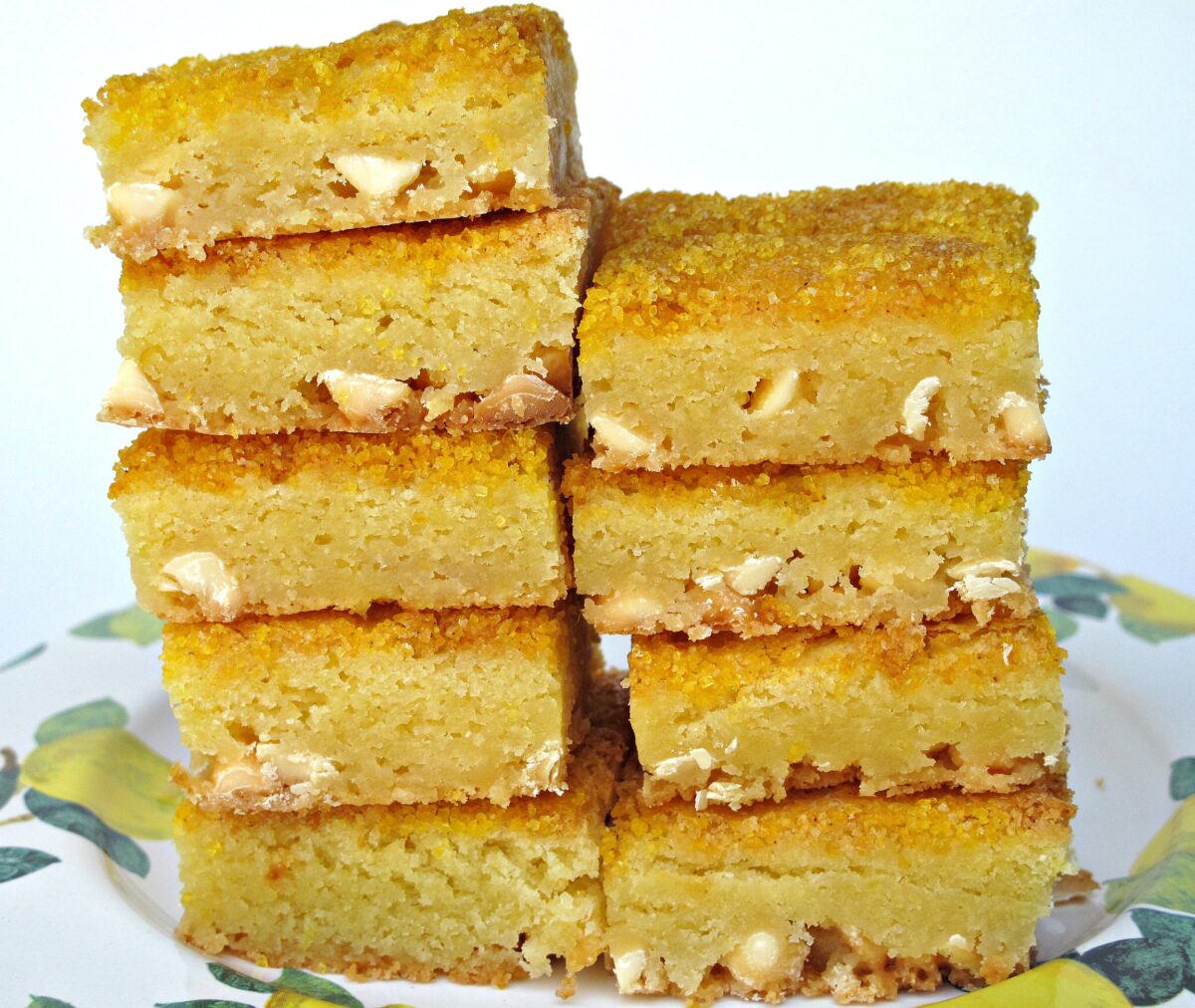 There are many situations in which it helps if you know what you're looking for.
On house hunting TV shows the beleaguered real estate agent receives the home buyers' list of "must haves" right at the beginning of the show. The agent then knows what to look for, even if the expectations are unattainable.
Standing with your daughter in the prom dress department is another time that a few price, style, and color guidelines can be helpful in reducing stress and drama. With hundreds of frothy or slinky creations to audition for the role of "the dress", it's essential to be able to eliminate non-contenders.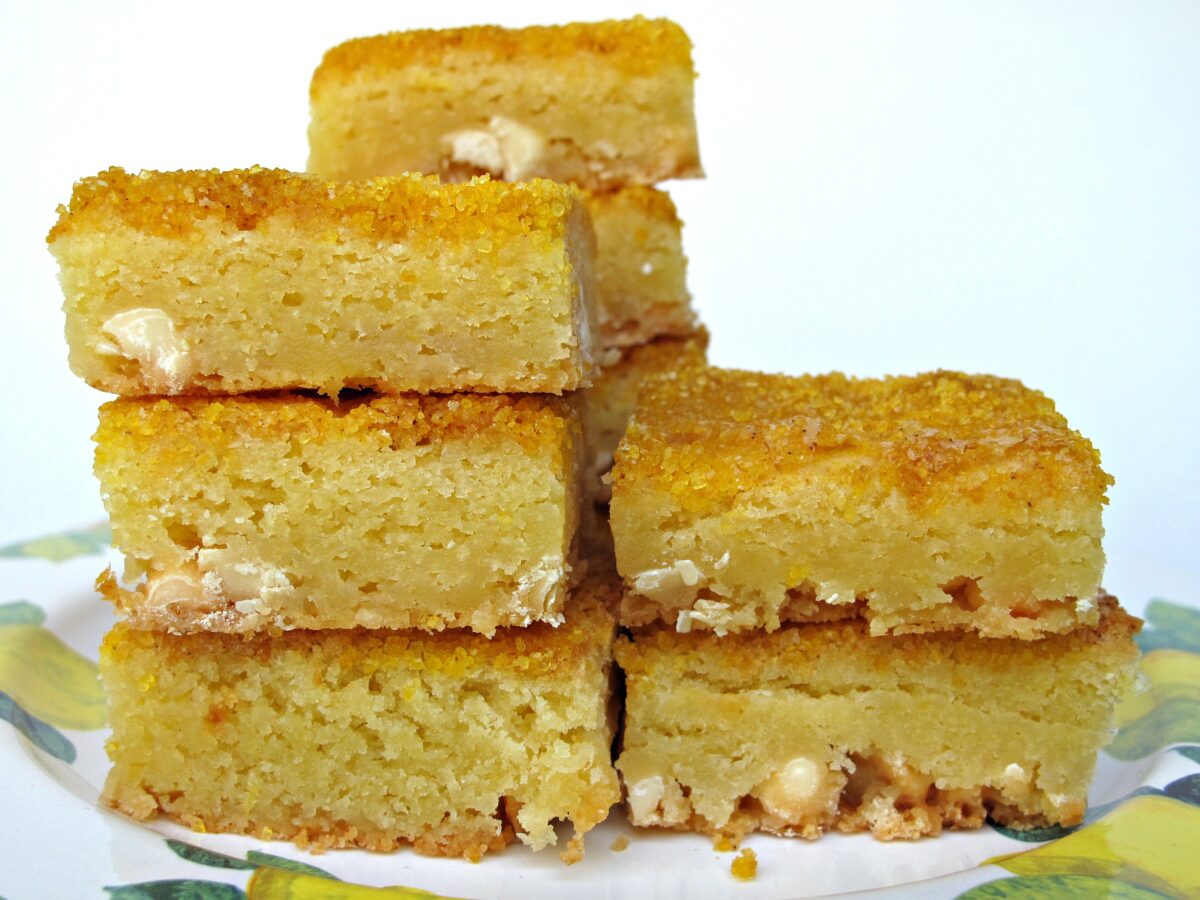 Then, there is the college search. With thousands of colleges in the U.S., it is helpful if students have some inkling of what they are looking for in order to filter out the possibilities. When I did the tour of colleges with my daughter, she was exceedingly specific; she knew where in the country she wanted to be, she knew the size of school she was looking for, and she knew that she wanted to be an elementary education major. We were able to quickly narrow down the choices to a handful of schools that met her needs. My son, on the other hand,was exceedingly unspecific. He looked at universities from coast to coast. Though he didn't want a huge school, he was flexible on size. Most impactful to the search was that he had no idea what he wanted to study, making it impossible to look for a college with an expertise in a yet-to-be-determined major. My son did not know what he was looking for, but in the end he chose what felt like a good fit, and his choice has worked for him.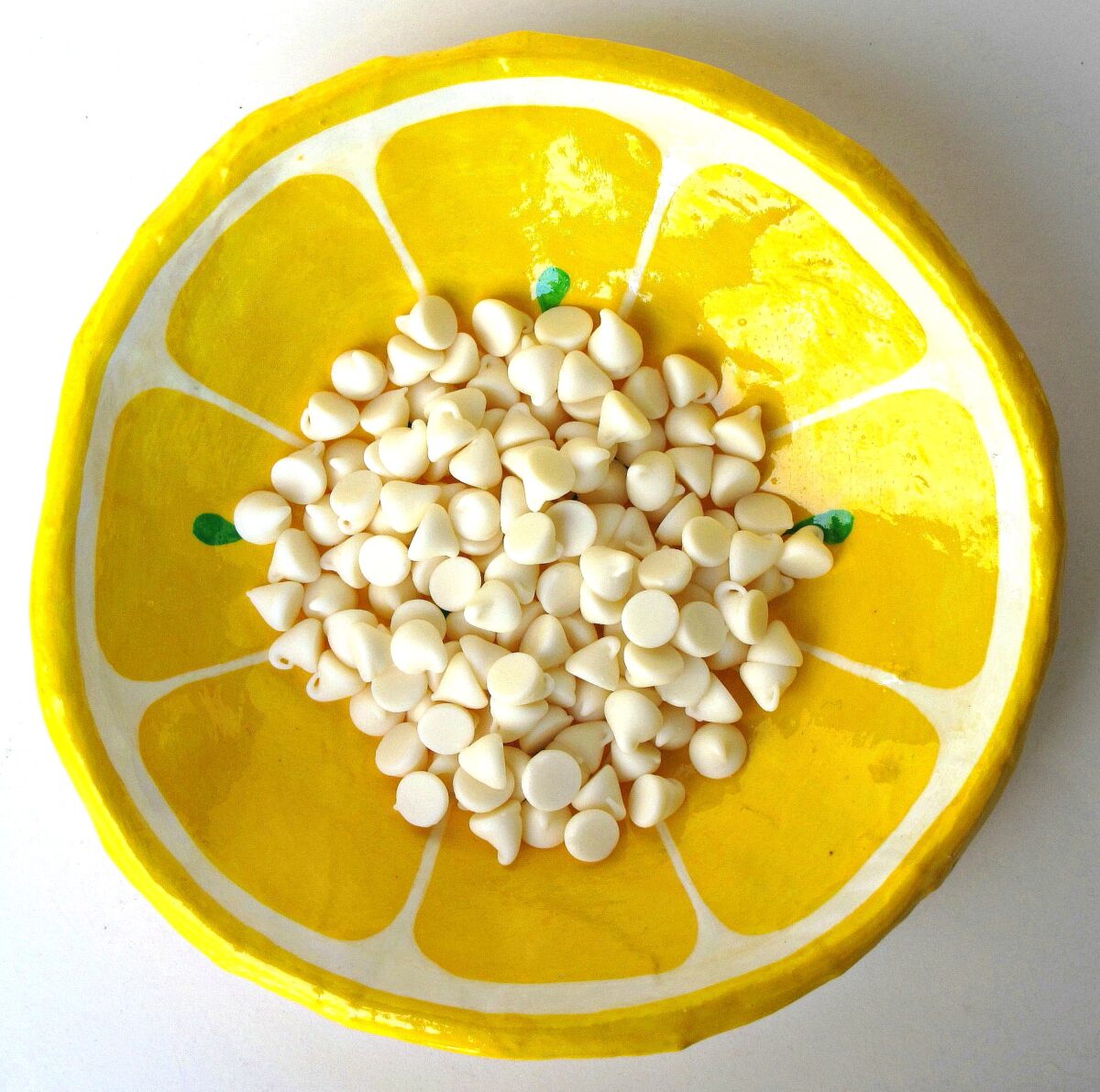 One night when I should have been sleeping, but instead was imagining cookies, I thought about baking a lemon bar that was mail-able. I knew exactly what I was looking for; something lemony, soft, and chewy but not the traditional moist, gooey lemon bar that is delicious but doesn't travel well. I wanted to use desert safe ingredients that would result in a sturdy, long lasting bar with great flavor and texture. I definitely knew what I was looking for, but I couldn't find it. There are tons of recipes for luscious lemon bars; however, none I found are suitable for care packages. Some are so fragile, I'm not sure they would make it to a picnic.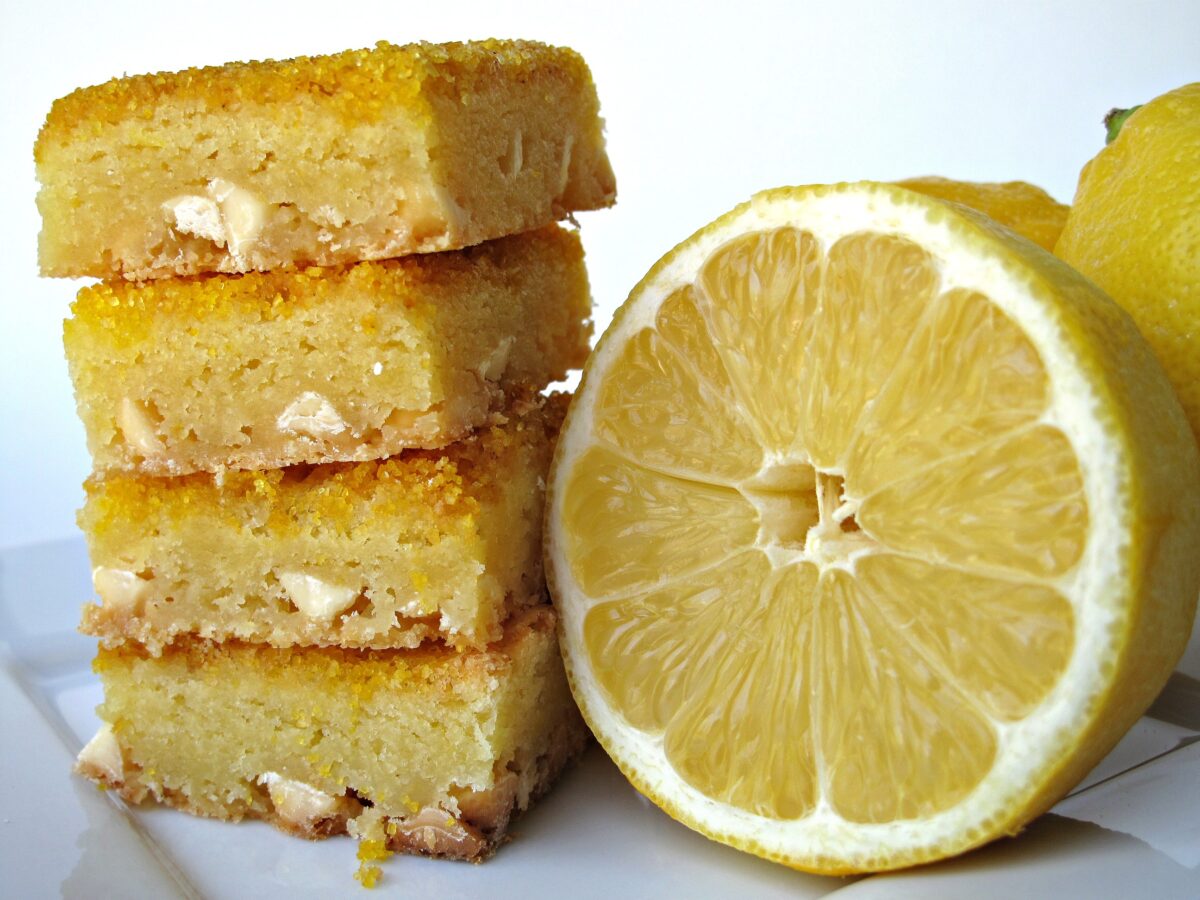 Stubbornly sticking to my lemon bar craving, I decided to create my own recipe. I started with a recipe for butterscotch blondies and played with it. After a few less than stellar results, I am very happy with this, the final version. I added an extra egg yolk for chewiness and lemon zest, lemon juice, and white chocolate for flavor. To follow desert safe guidelines, I substituted granulated white sugar for the brown sugar. The original recipe and mine use vegetable shortening, but I think butter or coconut oil would work equally well. For mailing, I do not recommend using the optional icing. The icing is tasty and adds a little extra lemon zing but it smushes when wrapped. The tops of the bars are sprinkled in yellow decorative sugar before baking which gives a yellow sparkle that dresses up the bars without icing and stays in place for packaging.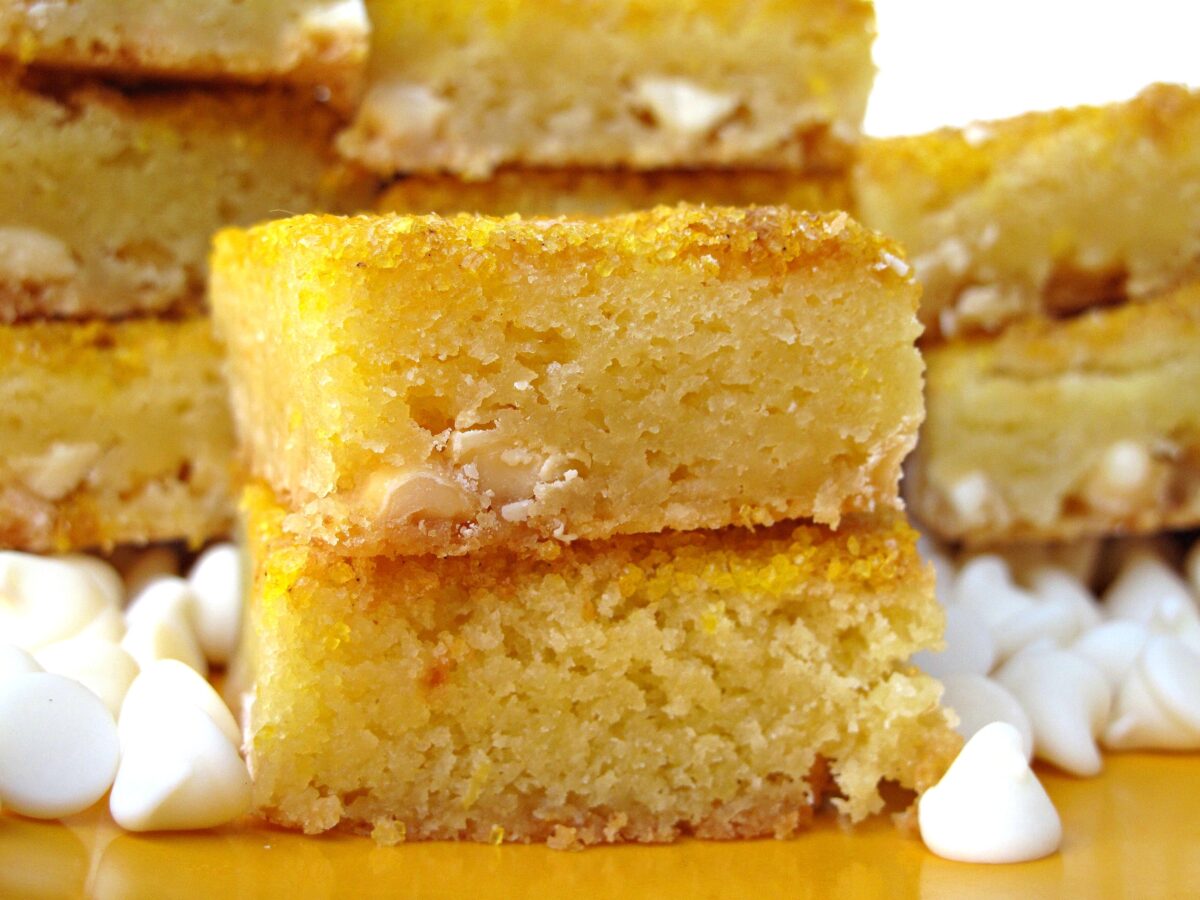 You can read more about desert safe ingredients and find an index of all of the desert safe recipes on The Monday Box by clicking here.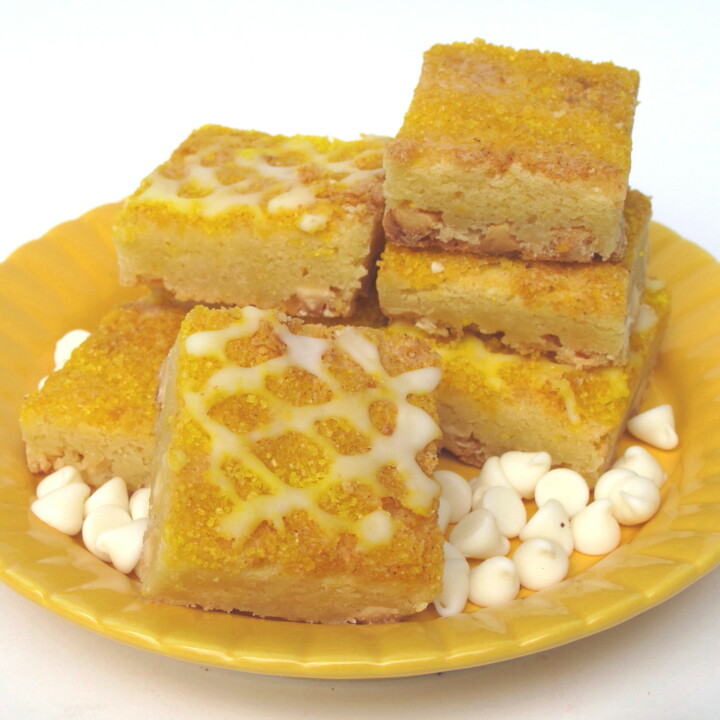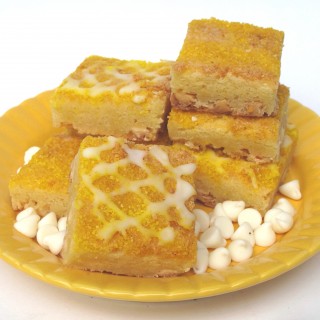 Chewy White Chocolate Lemon Bars
Lemon lovers will adore this chewy, creamy lemony blondies full of lemon flavor. A great recipe for warm weather picnics and care packages.
Print
Rate
Adapted From:
PillsburyBaking.com
Ingredients
Bars
1

cup

all-purpose flour

½

teaspoon

baking powder

¼

teaspoon

salt

½

cup

butter flavor vegetable shortening

1 ¼

cups

granulated sugar

2

large eggs

1

egg yolk

1

teaspoon

vanilla extract

2

teaspoons

fresh lemon zest

zest of 1 lemon

1 ½

tablespoons

fresh lemon juice

1

cup

white chocolate chips

2-3

tablespoons

yellow decorating sugar
Powdered sugar glaze
½

cup

confectioners' sugar

1

tablespoon

fresh lemon juice
Instructions
Heat oven to 350 degrees F. Line a 9" x 9" size pan with foil extending over the edges. Spray the foil with cooking spray.

In a medium bowl, whisk together flour, baking powder, salt.

Place vegetable shortening in a large mixing bowl and microwave about 1 minute until melted.

Into the bowl of melted shortening add flour mixture, sugar, eggs and yolk, vanilla, zest, and lemon juice. Mix with a large spoon until smooth.

Stir in white chocolate chips.

Spread the batter evenly into the prepared pan then sprinkle the top of the bars with yellow sugar. With fingertips, press the sugar gently to make sure it sticks to the batter.

Bake for 25-35 minutes until golden brown and a toothpick inserted in center comes out clean.

Cool completely in pan on wire rack.

When cool, remove from pan by lifting the overhanging foil.

If icing, mix together lemon juice and confectioners sugar until smooth. Adjust consistency if necessary by adding more sugar or juice. Drizzle over uncut bars.

Cut into bars.

Store cooled blondies at room temperature in an airtight container or ziplock bag for 2** weeks. For longer storage, I recommend not cutting into individual bars, but wrapping the entire square.

**Desert-safe adaptations: The lemon juice and zest baked into the batter should not pose a spoilage problem. The lemon juice in the icing is not baked in and should not be used. Wrapping the entire pan of lemon bars without cutting will preserve moisture and keep the bars chewy for longer.
Notes
Packing tips
Double wrap bars individually or in pairs in plastic wrap before placing in airtight containers or ziplock bags.
For longer shipping times, wrap the entire pan of lemon blondies in plastic wrap without cutting and seal in a gallon sized freezer weight ziplock bag. Include a plastic knife in the package.
Nutrition
Calories:
192
kcal
|
Carbohydrates:
27
g
|
Protein:
2
g
|
Fat:
9
g
|
Saturated Fat:
3
g
|
Trans Fat:
1
g
|
Cholesterol:
28
mg
|
Sodium:
55
mg
|
Potassium:
42
mg
|
Fiber:
1
g
|
Sugar:
22
g
|
Vitamin A:
40
IU
|
Vitamin C:
1
mg
|
Calcium:
29
mg
|
Iron:
1
mg
Save