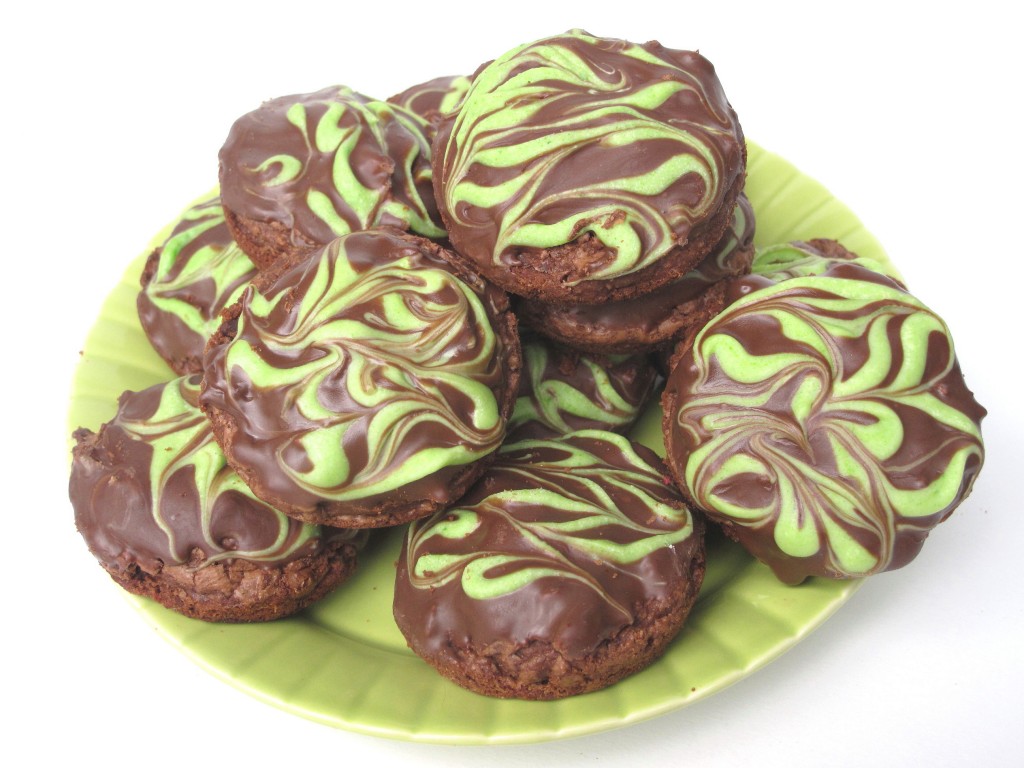 I enjoy my garden, but that doesn't mean I enjoy gardening. I love to sit on my screened porch, or wander in the backyard, and admire the foliage and occasional flower. I enjoy the results but not the process.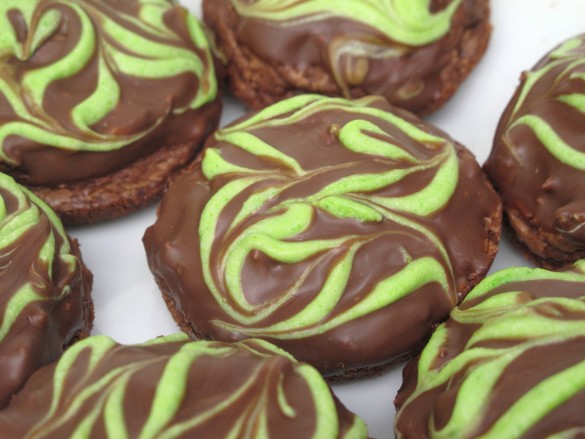 Actual digging in the dirt, where there is the very real possibility of encountering bugs not to mention rodents or snakes, is something I would rather not do. However, I am way too particular about where each plant is placed to let anyone else do the planting. My approach is to dig as little as possible, so my garden is exclusively perennials (plants that come back year after year if wild creatures don't eat them). This even includes my herbs.
Sage, lavender, thyme, and mint are all perennial herbs. It is wonderful to step outside and snip a few sprigs of fresh herbs to use in cooking. The "just cut" flavors are more intense than the flavors in store bought herbs. My mint (peppermint and spearmint) is overly abundant. It would take over the bed (possibly the entire yard) if I let it.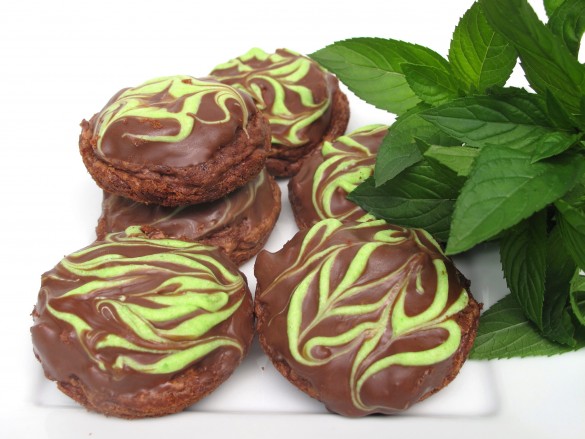 Luckily, my whole family likes the flavor of mint. I use it in drinks, marinades, dressings, and as seasoning for meats and vegetables. I have sweet recipes using fresh mint in frostings and syrups. For minty baked goods, however, I use extract or mint flavored chocolate.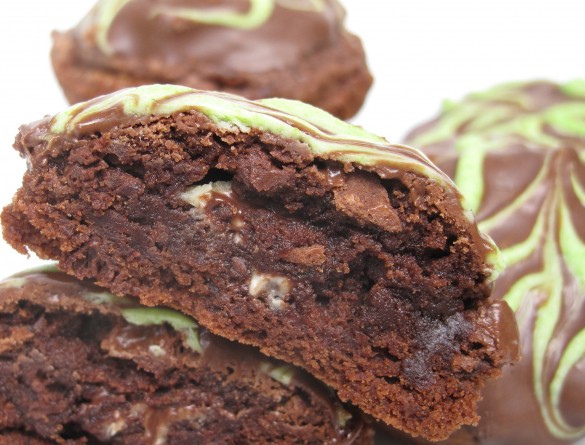 These Chocolate Mint Truffle Brownie Bites are based on Nestle's desert safe Irresistible Brownies. They get turned into bites by baking them in cupcake pans. They turn into chocolate mint truffle with the addition of chopped Andes chocolate mint candy (any chocolate mint bar will work) and mini chocolate chips. They are soft and chewy, chocolaty and minty. The swirled chocolate mint topping makes them pretty to look at as well.
I told you I was super excited to learn that melted white chocolate chips can be colored with regular food coloring gel. There are so many baking possibilities for using this idea.  First, I made pink chocolate chips. Now, I made green chocolate swirls on top of these brownie bites. The green looks minty to me, even though the mint flavor of the topping comes from the melted Andes candy. I am relatively certain I'll be sharing future posts that use colored white chocolate. Its just too fun.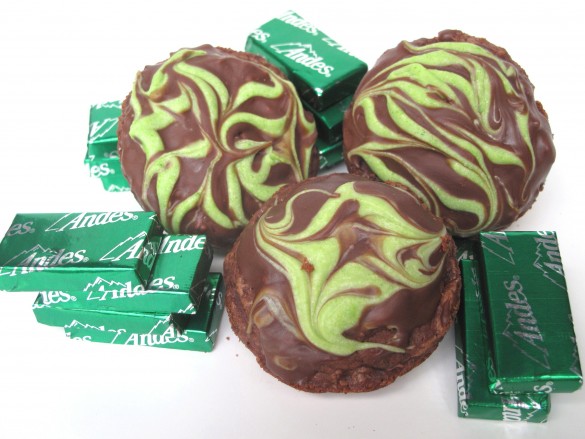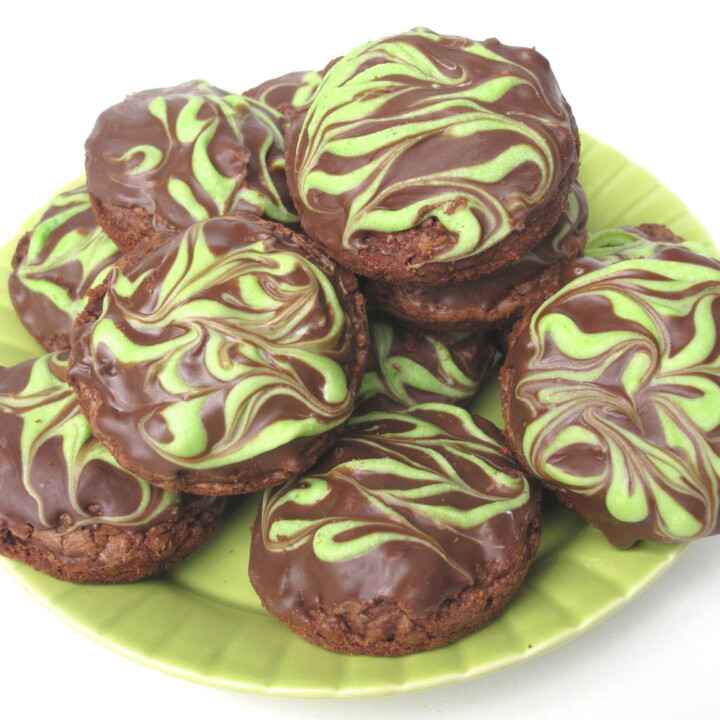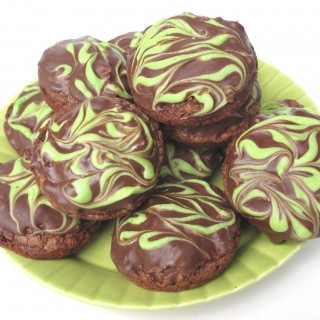 Chocolate Mint Truffle Brownie Bites
These little round brownie bites are are soft and chewy, chocolaty and minty. The swirled chocolate mint topping makes them pretty to look at as well.
Print
Rate
Adapted From:
verybestbaking.com
Ingredients
Brownie batter
1 ½

all-purpose flour

1

cup

baking cocoa

½

teaspoon

baking powder

½

teaspoon

salt

⅔

cup

butter-flavored vegetable shortening

2

cups

granulated

white sugar

4

large eggs

1

cup

chopped chocolate mint bar

½

cup

mini chocolate chips
Topping
4

ounces

chocolate mint bar

melted

½

cup

white chocolate chips

2

drops green food coloring

I used Americolor Electric Green

***Desert safe adaptation: Do not use chocolate topping. Brownie bites can be sprinkled with powdered sugar for decoration but are delicious without any additional topping.
Instructions
Preheat oven to 350 degrees F.

Spray each cup of a cupcake pan with non-stick spray.

In a medium bowl, whisk together the flour, cocoa, baking powder, and salt .

In the bowl of an electric mixer, combine the shortening, sugar, and eggs. Beat until light in color and fluffy (about 3 minutes).

Gradually add in the flour mixture, until combined.

Stir in the chocolate mint bits and mini chips.

Using a medium scoop (2 tablespoons),scoop the batter into the prepared cupcake pan.

Bake for 8-10 minutes.( If mailing the brownies, use the shorter baking time to slightly under cook.) The toothpick test doesn't work very well because of all of the melting chocolate chips.

Cool in the pan for 5-10 minutes, until the brownie bites are firm enough to remove from the pan

Complete cooling on a wire rack.

IF USING CHOCOLATE TOPPING (NOT recommended for warm weather care packages): Using the microwave, melt chocolate mint bar in a small bowl.

Place white chocolate chips in a ziplock sandwich size bag. On medium power (white chocolate overheats easily) melt the white chocolate for about 30 seconds. Remove from microwave and mush the bag. The chips should be liquidy. If further heating is needed, use medium power for 10 second intervals, until completely melted.

Add 2 drops of green food coloring directly into the melted white chocolate. Massage the bag to blend the food coloring into white chocolate. When the contents are an even green, cut a small corner from the bottom of the plastic bag.

Dip the top of a brownie bite into the melted mint chocolate, letting excess drip back into the bowl. Place on waxed paper.

Pipe a spiral of green chocolate onto the dipped brownie bite.

Use a tooth pick to swirl the green chocolate into the brown chocolate, making random designs.

Repeat with remaining cookies. Allow the chocolate to firm (at room temperature or for 5 minutes in the refrigerator) before storing.

Store brownie bites at room temperature in an airtight container or zip lock bag for at least 2 weeks. If chocolate topping is used, store decorated brownie bites layered between sheets of waxed paper, in an airtight container.
Notes
Packing tips
Do not decorate brownie bites with chocolate topping if mailing during warm weather.
Wrap pairs of brownie bites, with bottoms together, in foil then in plastic wrap before storing in an airtight container or zip lock bag.
If mailing chocolate coated brownie bites in cool temperatures, wrap pairs of brownie bite in waxed paper before following the above packing directions.
Mailing other baked goods in the same package is not recommended. The mint scent will flavor anything else in the care package.
Nutrition
Calories:
163
kcal
|
Carbohydrates:
19
g
|
Protein:
2
g
|
Fat:
9
g
|
Saturated Fat:
4
g
|
Trans Fat:
1
g
|
Cholesterol:
19
mg
|
Sodium:
51
mg
|
Potassium:
108
mg
|
Fiber:
2
g
|
Sugar:
16
g
|
Vitamin A:
36
IU
|
Vitamin C:
1
mg
|
Calcium:
23
mg
|
Iron:
1
mg