Cinnamon Sugar Twist Cookies are firm, mildly sweet cookies adapted from Greek Easter cookies. They are an ideal dunking cookie, with a buttery, cinnamon flavor that goes with just about everything!
For military care packages, easy ingredient adaptations can be made to make Cinnamon Sugar Twist Cookies desert safe.
Originally published 10 May 2013. Last Updated: 19 October 2019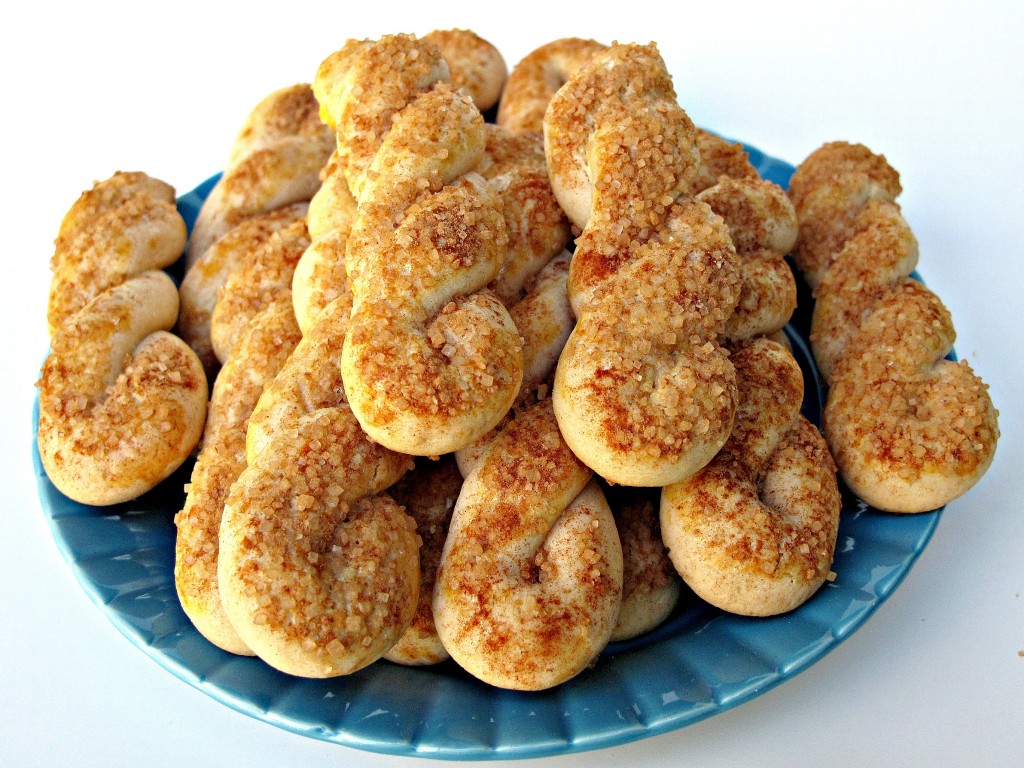 Cinnamon Sugar Twist Cookies were first published in 2013 to celebrate the 1 year blogiversary of The Monday Box. The first Monday Box post was on May 10, 2012, though I didn't get my blogging act together and start posting weekly until October 2012.
Even now, seven years later, I am always aware of how much more I want to learn about baking, blogging, and food photography, but I am also excited about how much I have already learned and how much The Monday Box has grown since I first began.
There are many approaches to learning. I learn from doing.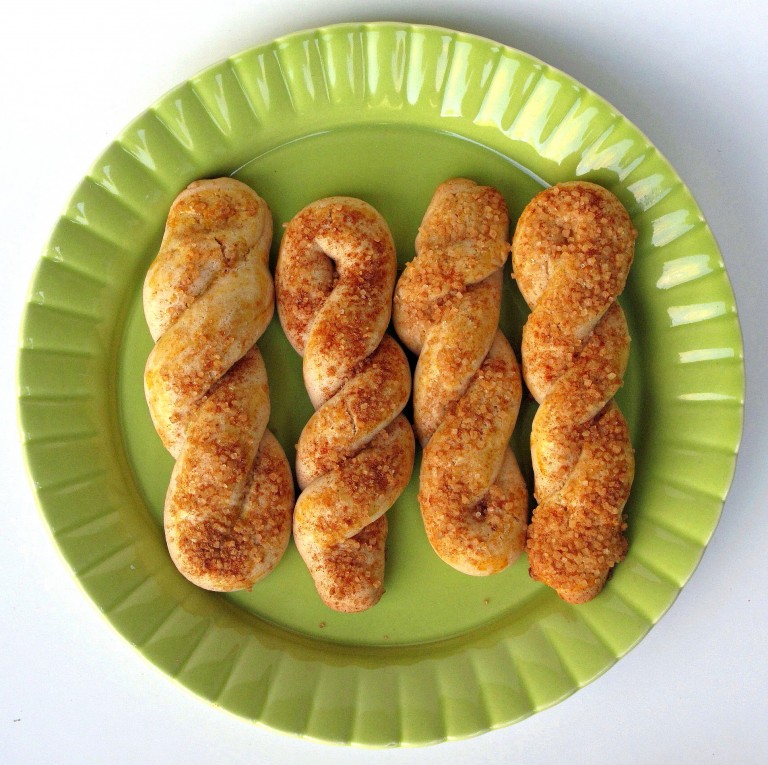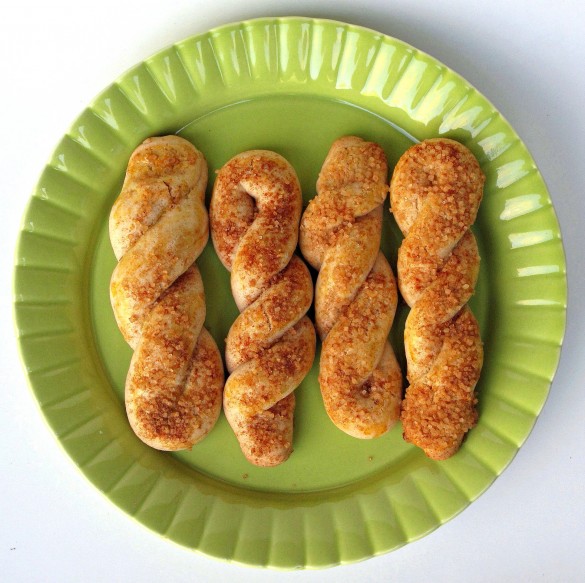 When I first started taking food photos, I used a Canon G7 point and shoot. There was a learning curve even with the point and shoot camera which does most of the work for you!
I learned from mistakes both small and epic. Making sure the mixing bowl full of ingredients is well seated in the mixing stand before turning on the mixer was an epic lesson. Just in case you ever need to know, a putty knife works well to get chocolate off the ceiling.
Googling all of my novice questions was a huge help. Amazingly, almost always, someone has asked the exact same question before and answers are at your fingertips.
But I think I have learned the most from other bloggers. The friendliness, helpfulness, and caring of other bloggers never fails to amaze me.
A heart felt thank you to all of my readers for stopping by from all over the world. People from 210 countries have viewed Monday Box pages! I am continually amazed that in the vastness of the internet, I have a tiny corner that readers choose to visit. I appreciate each and every visitor and hope you find something delicious here.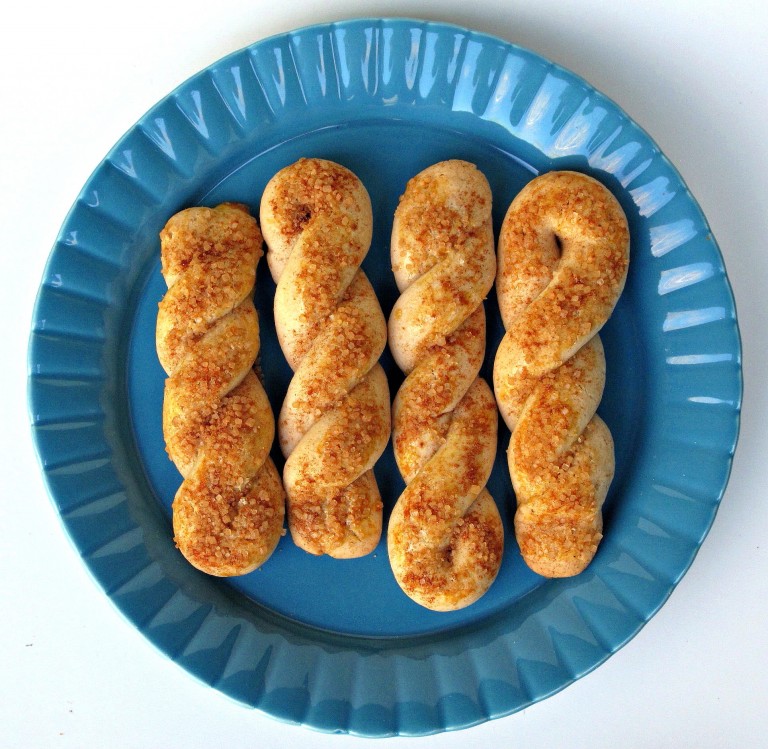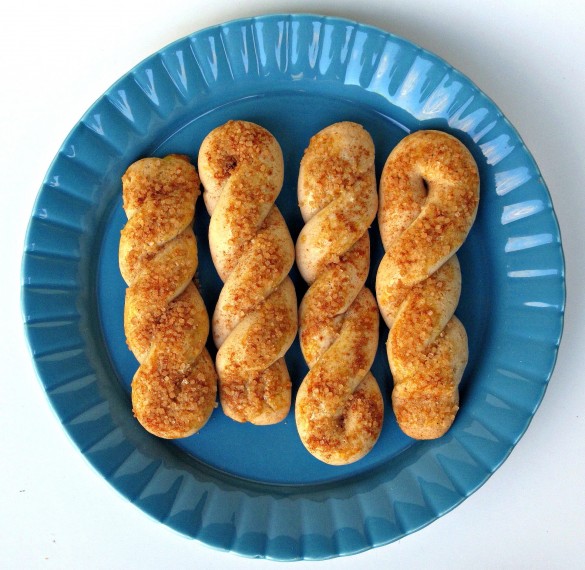 Despite the millions of recipes available online, cookbook addicts still exist. I appear to be one of them.
I attended the Greater St. Louis Book Fair recently, solely for the purpose of checking out the used cookbook section. There were thousands of used cookbooks, most for one dollar! I came away with a pile of books.Not surprisingly, the majority have the word "cookie" in the title.
I have begun baking my way through them, starting with (for no particular reason other than it was on top of the pile) The Joy of Cookies by Sharon Tyler Herbst. I was particularly excited that this cookbook includes storage time information and that most of the recipes are for cookies that can be stored for 1 week or longer, a Monday Box treasure trove.
I adapted Cinnamon Sugar Twists from a recipe for Greek Easter Cookies (Koulourakia). They are a firm cookie that is only mildly sweet but full of buttery flavor.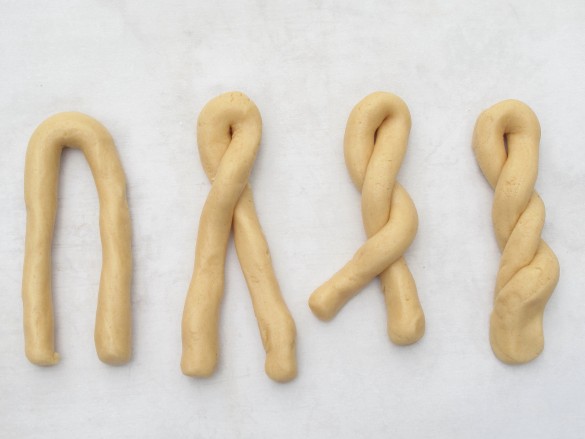 Directions
Whisk together the flour, baking powder, salt, and cinnamon.

With an electric mixer, cream butter and sugar until light and fluffy.

Mix in the egg, orange juice, and vanilla extract.

Add the dry ingredients.

Scoop 1 tablespoon dough balls and refrigerate about 10-15 minutes until easy to handle.

Once the dough can be easily handled, knead a dough ball until smooth, then roll out to form a 6" snake.

Fold the snake into an upside down "u".

Working from the right side each time, twist the right dough over the left three times, pressing the ends together after the final twist.

Brush onto cookies twists with egg wash and sprinkle with cinnamon sugar.

Bake until cookies are golden brown.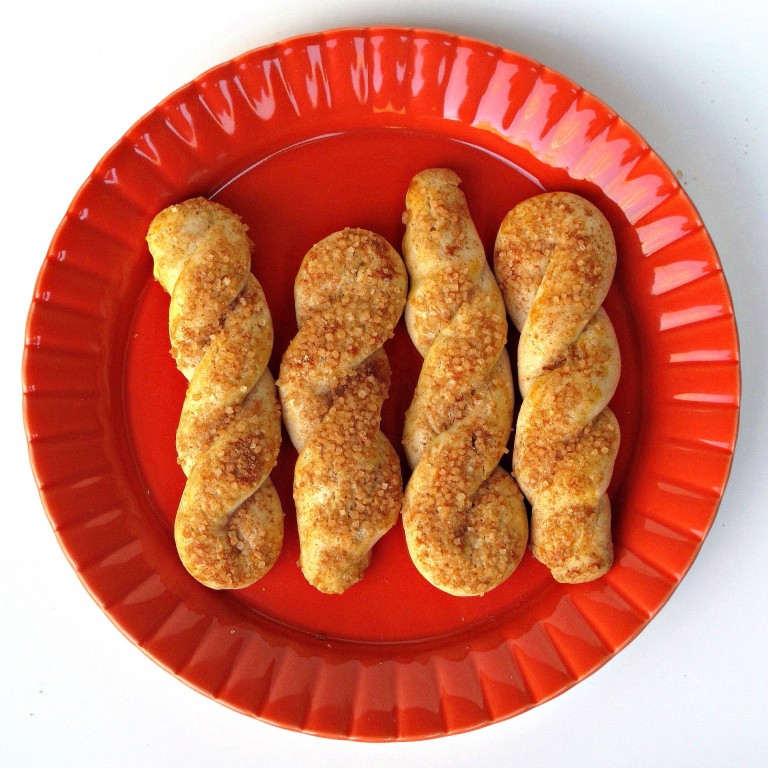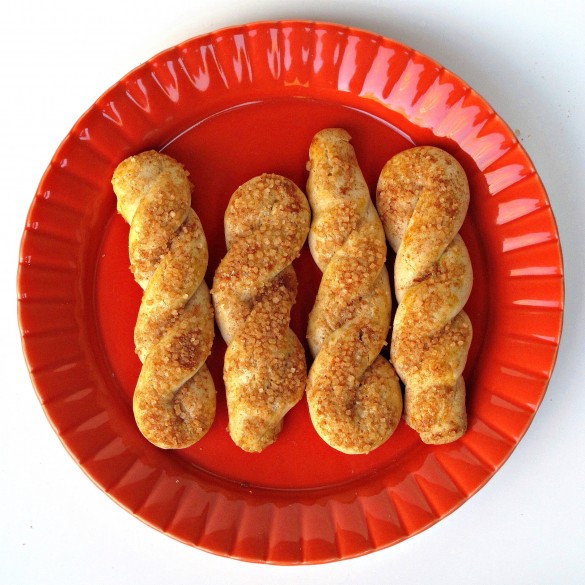 Tips
The original recipe calls for sprinkling the cookies with sesame seeds. Instead, I added cinnamon inside and cinnamon sugar outside. There is a very delicate orange taste from orange juice in the recipe. For a more pronounced orange flavor, I suggest adding 1 teaspoon of orange zest.
Cinnamon Sugar Twists can be baked with excellent results using desert-safe ingredients. Please note the desert-safe adaptations at the bottom of the recipe. The adaptations include substituting vegetable shortening for the butter and water for the orange juice.
Though Cinnamon Sugar Twists are very cute twisted cookies, I realize that they don't make a major color splash in a care package. To remedy that, I wrapped my Cinnamon Sugar Twists in plastic wrap and then packaged them in colorful plastic party bags tied with ribbons. Color splash issue resolved.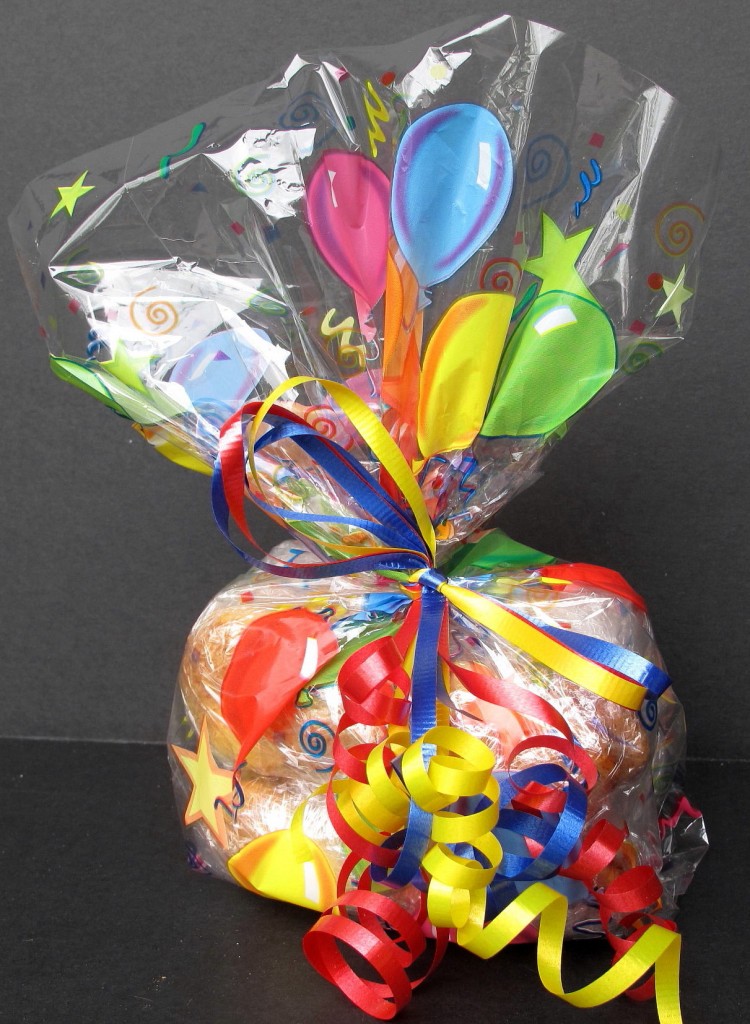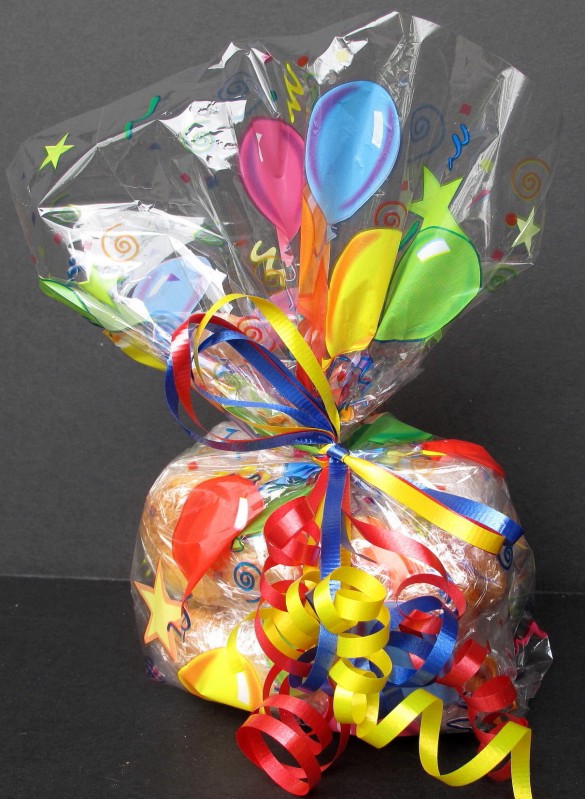 (The Monday Box participates in affiliate marketing programs. As an Amazon Associate I earn from qualifying purchases. Additional affiliate programs may be linked when applicable. If you chose to purchase a product after following a link on this page, I will receive a small commission, at no cost to you, which helps make The Monday Box possible.)
Tools/ ingredients you may need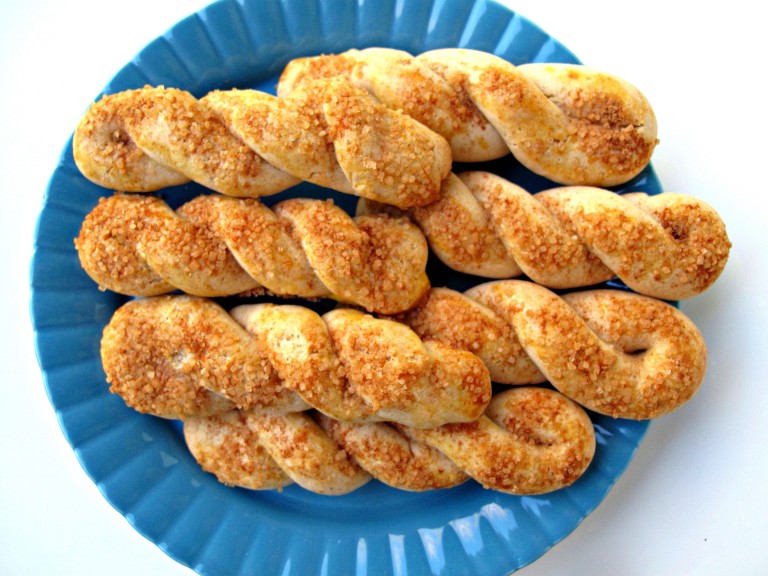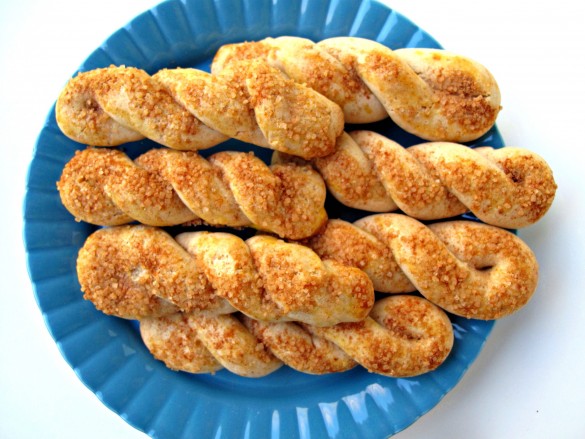 More cinnamon cookies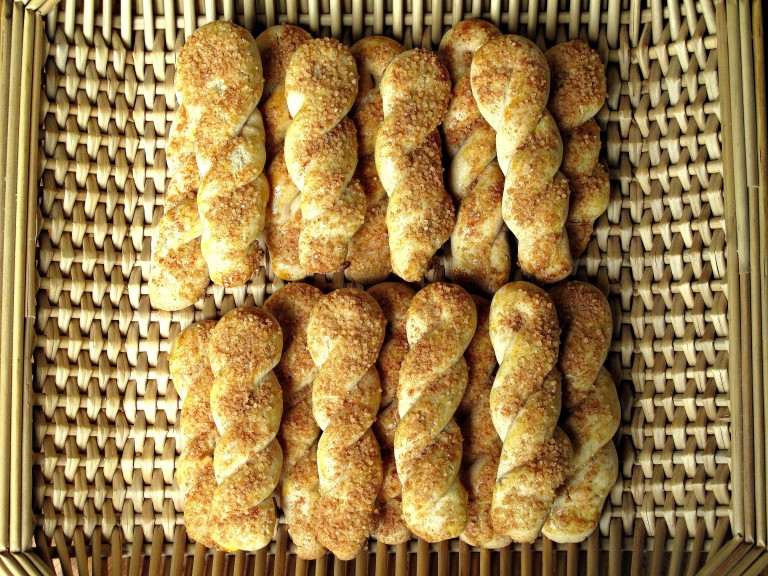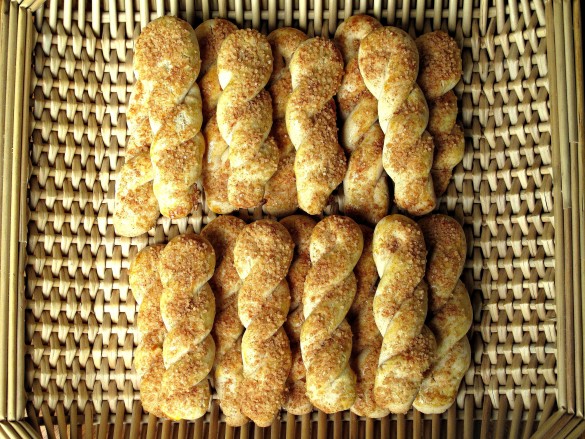 Cinnamon cookies recipe
Traditionally enjoyed with coffee, Cinnamon Sugar Twist Cookies are a munch-by-the-dozen type of cookie all on their own. The flavors are even better several days after baking.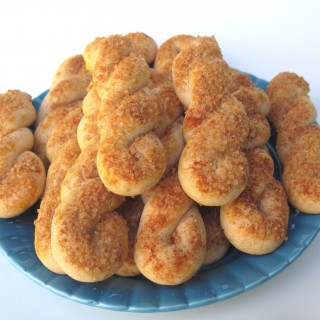 Ingredients
2 ¼

cups

all-purpose flour

1 ¼

teaspoons

baking powder

¼

teaspoon

salt

1

teaspoon

cinnamon

½

cup

butter**

room temperature

1

cup

confectioner's sugar

1

large egg

2

tablespoons

orange juice**

2

teaspoons

vanilla extract

Glaze: 1 egg yolk mixed

1 tablespoon milk or water

Cinnamon-Sugar: 4 tablespoon sugar

I used turbanado for large crystals and brown color,

1

teaspoon

cinnamon
Instructions
Preheat oven to 375 degrees F and line a baking sheet with parchment paper.

In a medium bowl whisk together flour, baking powder, salt, and cinnamon.

In the bowl of an electric mixer, cream butter and sugar until light and fluffy.

Lower mixer speed and add egg, orange juice, and vanilla extract, mixing thoroughly between additions.

Slowly add dry ingredients until combined.

Using small scoop ( 1 tablespoon size) or tablespoon, scoop dough and place balls on a plate. Refrigerate about 10-15 minutes until easy to handle.

To form cookie: Mush a ball a few times in your hand to make dough smooth, then roll out on counter to look like a 6" long pencil. (Channel your playdough snake making days.) Gently fold dough snake into an upside down "u". Working from the right side each time, twist the right dough over the left three times, pressing the ends together after the final twist.

Gently move formed twists onto prepared baking sheet, placing 1" apart.

Mix together egg and milk/water glaze. Brush onto cookies.

Mix together cinnamon-sugar and sprinkle over egg glaze.

Bake for 11-13 minutes until cookie (not just glaze) is golden brown. Cool on wire racks.

When completely cool, store at room temperature in airtight container or ziplock bag for 2-3 weeks.

**Desert-safe adaptations: Use vegetable shortening instead of butter. Substitute water for orange juice. If you want orange flavor, instead of the 2 teaspoons vanilla extract, use ½ teaspoon orange flavoring (essence) and 1 ½ teaspoons vanilla extract.
Notes
With bottoms together, wrap pairs of cookies in double plastic wrap then place in airtight containers or ziplock bags for mailing. For decorative purposes only, colorful party bags tightly closed with ribbon or twist ties can be used.