Streusel lovers alert! These are THE cookies for anyone who eats the streusel crumbs off a coffee cake before eating the cake. These are THE cookies for anyone who thinks streusel is the best part of fruit crumbles and pies. Cinnamon Streusel Cookies are solid streusel; buttery, cinnamon crumbs baked into crunchy circles or wedges.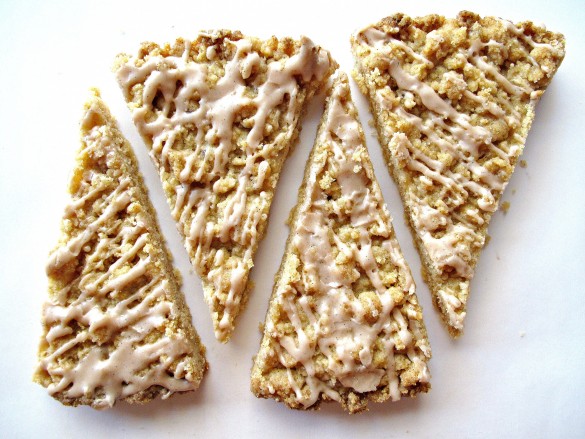 Flipping through "Baking for All Occasions" by Flo Braker, my eye was drawn to the word "Crumb" in a cookie title. I don't know why I hadn't paid attention to this recipe before. I am definitely one of those people who think streusel is the best part of any dessert they adorn. I had no idea these buttery, sweet crumbs could be used to make fabulous cookies. I immediately baked some. I ate some. I upped the cinnamon some. I can now say with conviction that drizzled with icing, or sprinkled with confectioner's sugar, streusel most definitely can be made into fabulous cookies!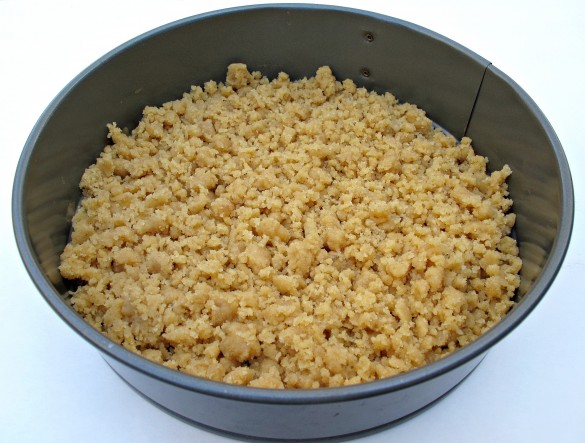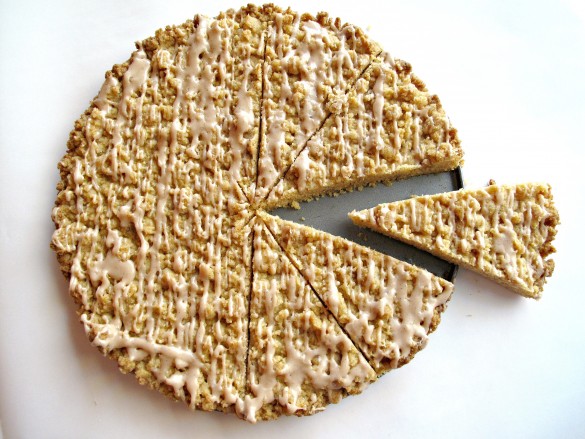 This recipe makes a big bowl of cinnamon scented streusel crumbs. The crumbs are baked in a round springform pan, then cut into wedges like shortbread, or broken into chunks like peanut brittle. For circle streusel cookies, the crumbs are be baked in the cups of a cupcake pan or in cylinder cake molds.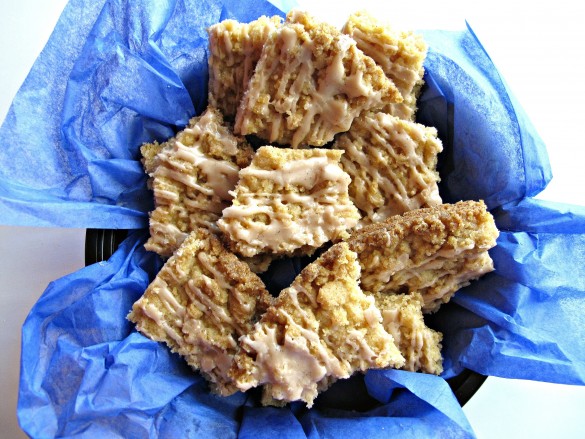 I also baked a batch of Cinnamon Streusel Cookies in colorful paper baking cups with sealable plastic lids, that I found at Home Goods. A stack of two or three cups tied with a ribbon makes a pretty presentation for Cinnamon Streusel Cookies in care packages or as gifts.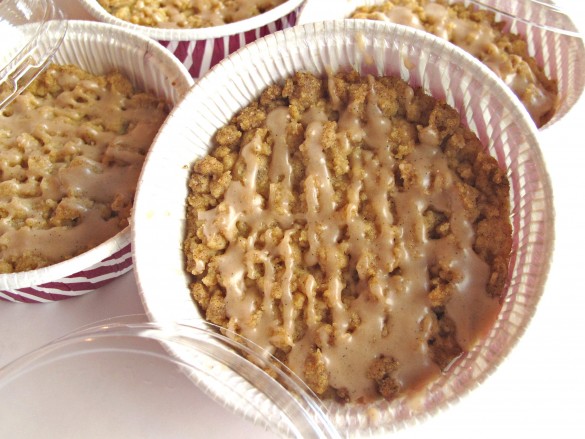 Many of my favorite dessert recipes include streusel. Some of my favorite bloggers have created my favorite streusel-ful desserts. The ratio of crumbs to cake is perfection on Monica's Super-Streusel Muffins, Reeni's Double Crumb Streusel Coffee Cake, and Shannon's Family NY Crumb Cake. Tricia's scrumptious Blueberry Crumble Pie is covered in crunchy streusel. Ashley tops fruity Pear Bread with cinnamon-oat streusel. Cindy uses brown sugar and oats in the streusel that covers her Peach Berry Crisp. Chris' bright red Cherry-Berry Cobbler has toffee in the streusel. Liz bakes a beautiful Czech fruit and cheese pastry topped with, you guessed it, streusel! To this list of streusel all-star recipes, I am adding Cinnamon Streusel Cookies, which go beyond the need for perfect ratio because their goodness is pure streusel and nothing else!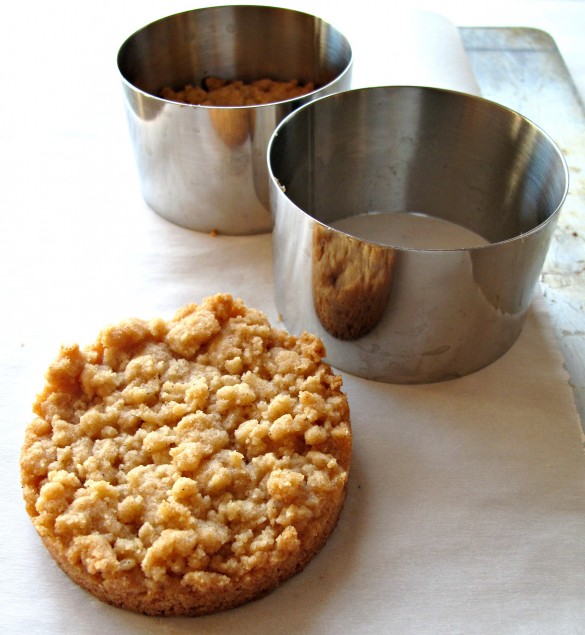 When stored in an airtight container at room temperature, Cinnamon Streusel cookies stay fresh for up to one week. Savor the cinnamon crunch with a quiet cup of tea or celebrate their deliciousness on a holiday cookie platter. However you share them, streusel lovers everywhere will be thrilled at first bite.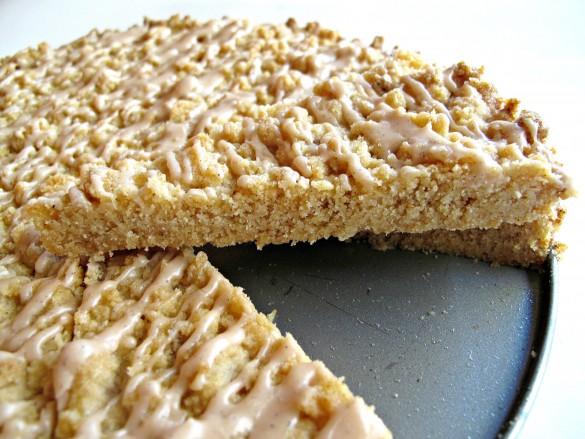 Ingredients
Cookies:

¾

cup

plus 3 tablespoon all-purpose flour

¾

cup

fine semolina flour

I use Bob's Red Mill

½

cup

granulated sugar

1 ½

teaspoons

baking powder

¼

teaspoon

salt

1

teaspoon

cinnamon

11

tablespoons

1 stick plus 3 tablespoons unsalted butter

2

teaspoons

vanilla paste or extract

Glaze

optional:

1

cup

confectioner's sugar

2

tablespoons

milk

½

teaspoon

cinnamon

½

teaspoon

vanilla paste or extract

-or-

Extra confectioner's sugar for dusting tops
Instructions
Preheat oven to 350° F. Round cookies can be made with circle molds or cupcake pans. Wedge or chunk cookies can be made with a 9-inch round springform pan. The pans do not require lining or greasing.

Melt the butter in a bowl in the microwave, then set aside to cool.

In a large mixing bowl, whisk together the flour, semolina, sugar, baking powder, salt, and cinnamon.

Stir in the vanilla and the melted butter. Rub the ingredients together with your fingers to form streusel crumbs, pea-size and smaller.

Sprinkle the streusel evenly over the bottom of the springform pan or divided evenly into the bottoms of the cupcake pan cups or circle molds.

Bake for 12-18 minutes until light golden. Smaller cookies will bake faster than the 1 large springform pan.

Cool completely in the pan.

Optional: If using glaze, in a small bowl stir together confectioner's sugar, milk, cinnamon, and vanilla.

Sprinkle cooled cookies with confectioner's sugar or drizzle with glaze.

Allow glaze to firm before storing.

Store in an airtight container at room temperature for up to 1 week.
Notes
Double wrap columns of 2-3 cookies in plastic wrap. Place cookie columns in an airtight container or freezer weight ziplock bag with no wiggle room. Use plenty of paper or other soft stuffing around the cookies in the mailing box to keep the cookies from moving (and breaking) in transit.