I am not a runner. For me, the thrill of endorphins coursing through the body is completely overshadowed by the potential for sweat, bad weather, and leg cramps. My father was an avid runner, but the running gene skipped a generation. My daughter, Meira, is a runner. She actually enjoys the challenge. Last weekend, Meira completed a half-marathon for the second time. That's 13.1 miles! I think she is amazing. So, I baked her Marathon Cookies.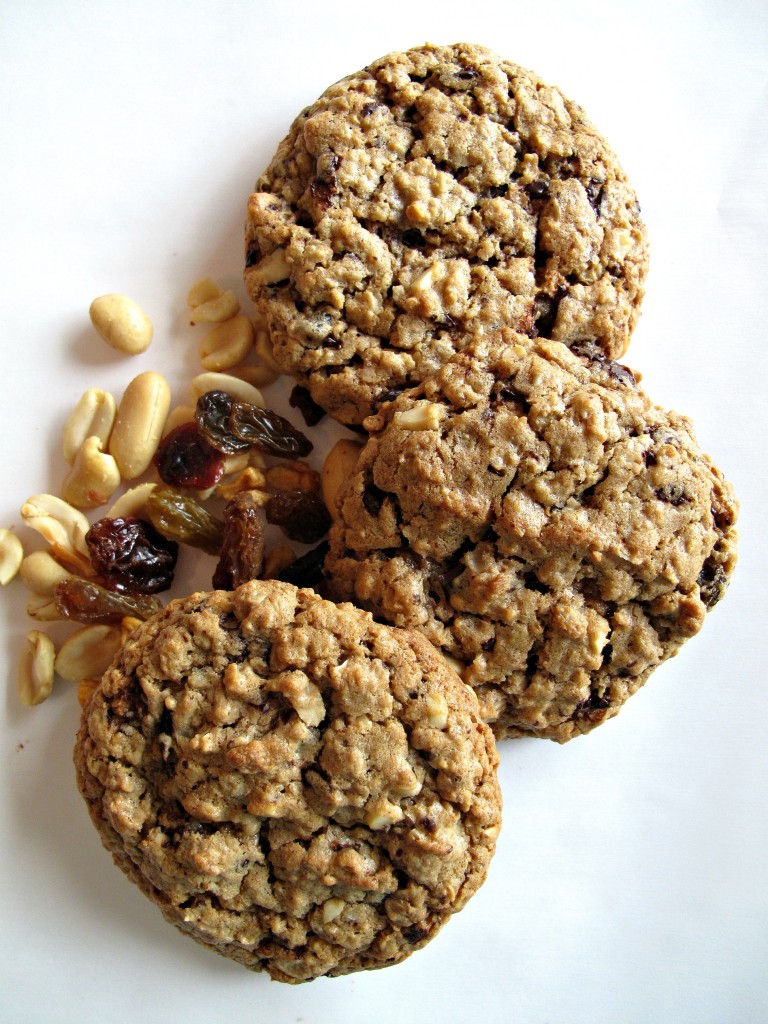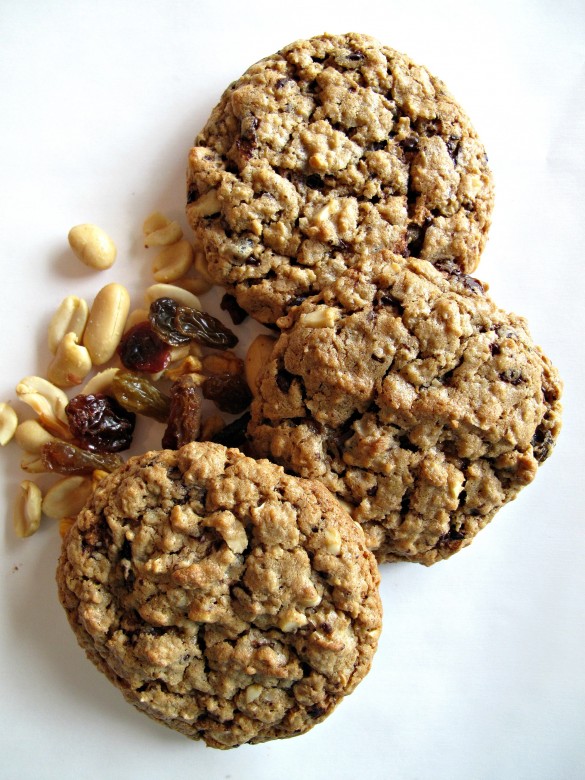 Marathon Cookies are a chewy oats and peanut butter treat, packed with dark chocolate, peanuts, and dried fruit. They happen to be gluten free.
These cookies are great just for munching, but they also provide a boost of the nutrients a runner (or enthusiastic spectator) needs to keep going. Marathon Cookies are like flourless monster cookies with nutritional punch.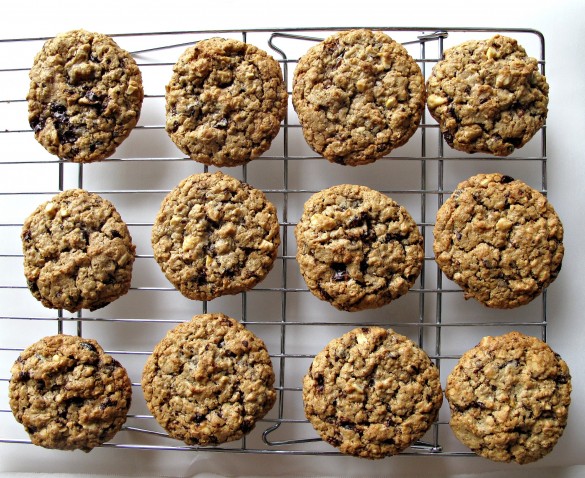 A small amount of protein powder in the dough is undetectable. I experimented with adding different quantities of protein powder to this recipe, which seemed to be the easiest way to create nutrient rich cookies.
Unfortunately, any more than 2 tablespoons was noticeable, leaving a dry, kind of powdery aftertaste. Lots of packaged high protein bars have that aftertaste.
Because Marathon Cookies aren't intended as protein bars, but scrumptious cookies with protein, I went with the lower amount. Feel free to double the amount if you don't mind the aftertaste and need more protein. The protein powder can also be left out completely.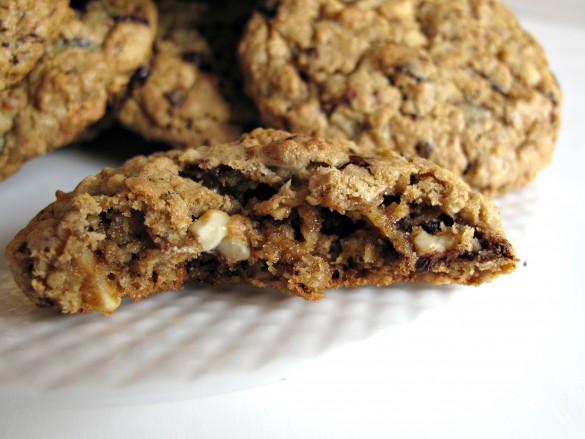 Marathon cookies are good to eat before a long run, after a long run, or while standing along a race route, waiting to cheer as your runner passes by. These peanuty cookies are also an irresistible, nutritious after school snack.
With college exams around the corner, I will be mailing Marathon Cookies to Chicago, to help sustain my college son in his finals race toward graduation!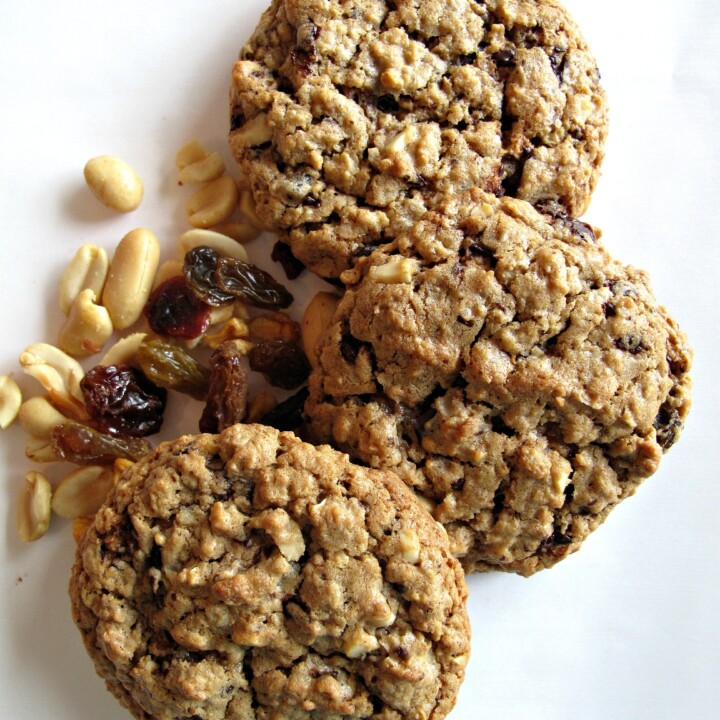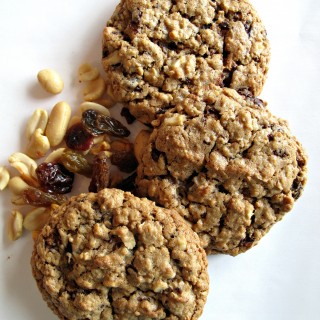 Ingredients
½

cup

+ 2 tablespoons peanut butter

¼

cup

butter

room temperature

½

cup

granulated sugar

½

cup

brown sugar

2

eggs

1

teaspoon

vanilla extract

2

tablespoons

vanilla protein powder

1

teaspoon

baking soda

2 ¼

cups

oats

quick cooking or regular

½

cup

finely chopped dark chocolate

½

cup

chopped peanuts

½

cup

dried assorted fruit bits

or any chopped dried fruit such as cranberries or raisins
Instructions
Preheat oven to 350° F. Linea baking sheet with parchment paper.

In the bowl of an electric mixer, cream together butter and peanut butter.

Add granulated and brown sugars. Mix to combine.

Beat in eggs (one at a time), vanilla, protein powder, and baking soda.

Mix in oats. Then stir in chocolate, peanuts, and fruit bits.

Using a medium (2 tablespoon) scoop, place balls of cookie batter 2" apart on prepared baking sheet.

Bake for 10-12 minutes, until golden brown.

Cool on the baking sheet for about 3 minutes before using a spatula to transfer cookies to a wire rack to cool completely.

When cool, store in an air tight container for up to 5 days.
Notes
Double wrap pairs of cookies, bottoms together, in plastic wrap. Place columns of wrapped cookie pairs in an airtight container or ziplock bag. Shipping cookies containing fruit is not recommended in hot weather.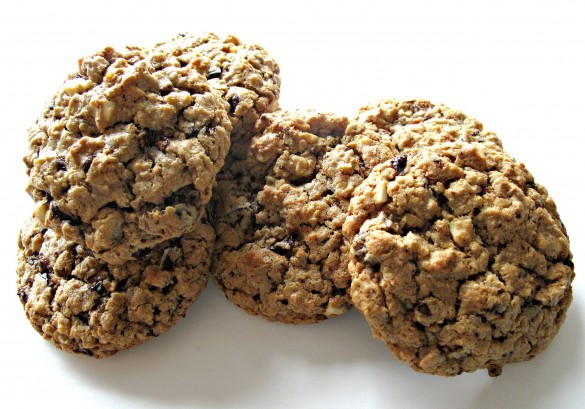 Love peanut cookies? Check out this collection of 20 Irresistible Peanut Cookies to bake right now!
Save