Chewy Crunchy Granola Bars are packed full of flavor. The combination of peanut butter, chocolate, oats, and peanuts satisfies hunger and sweet tooth cravings. This no bake recipe is easily adapted to whatever cereal and add-ins you have on hand.
First Published: June 11, 2012 Last Updated: June 24, 2020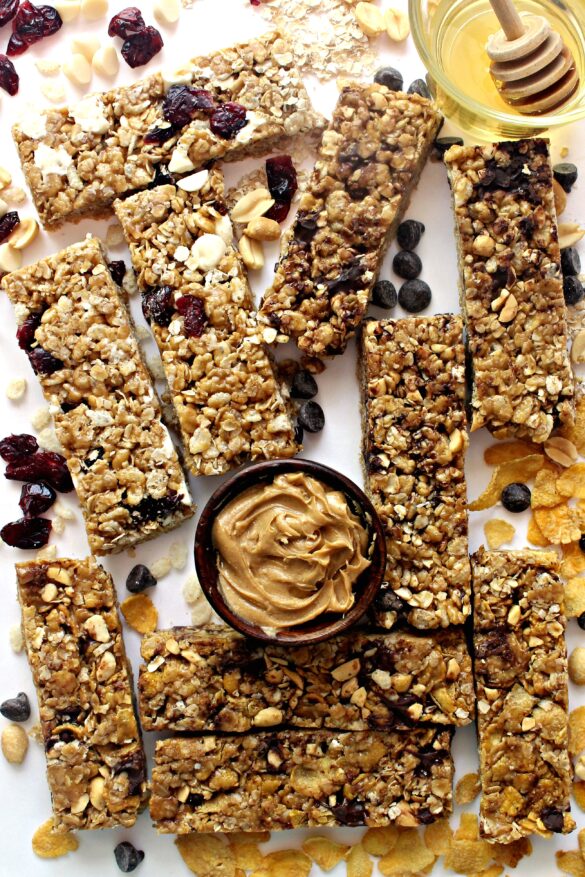 The recipe for this easy, no bake bar was first published 8 years ago, at the end of the very first year of The Monday Box. That year was a steep learning curve as I tried to figure out which recipes were or weren't good for care package baking.The more successful baking experiments were boxed up and sent in more than 20 care packages to my son, who was a freshman in college that year. Though not all of the recipes were consumed with enthusiasm, these granola bars were a hit. I've been making them by request ever since.
Some people eat granola bars because they think the bars are healthier than cookies. Some people eat them because they taste like cookies. I suggest that you eat these granola bars just because they are delicious.
This is a chewy bar with crunchy ingredients. The flavors and texture continue to improve after a few days, which makes them ideal for care packages.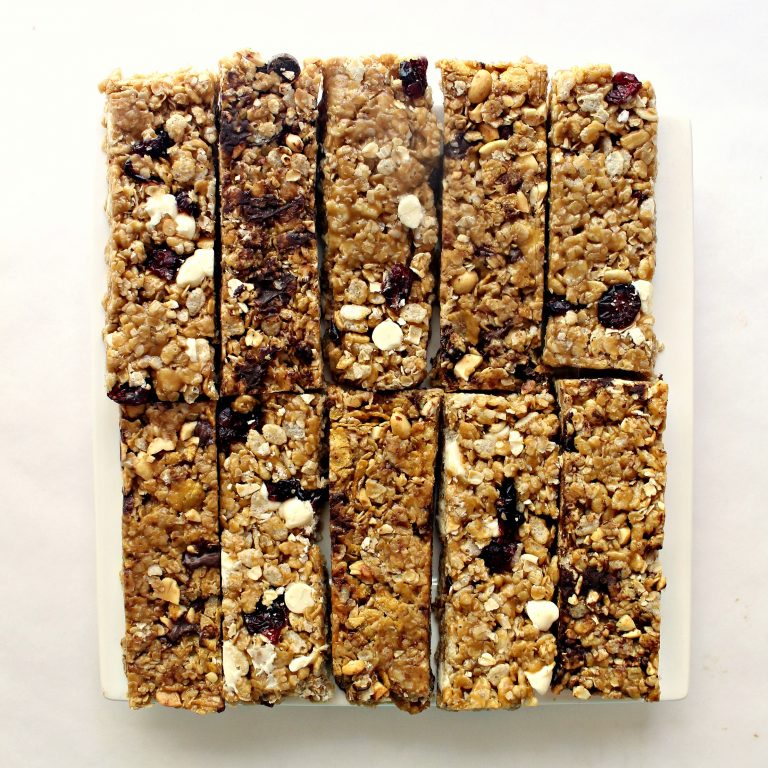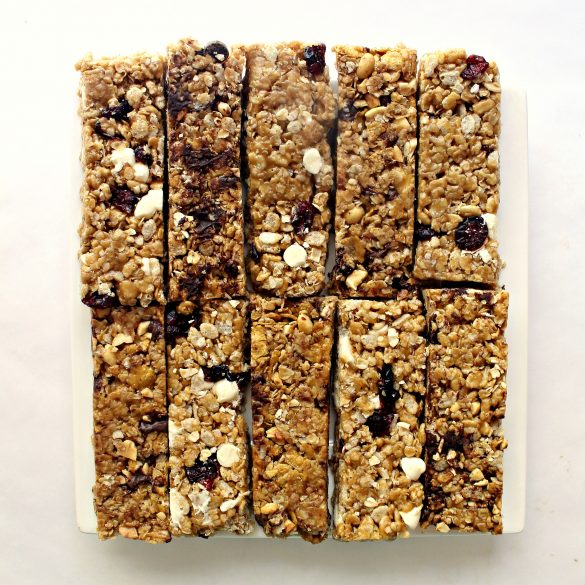 I originally made Chewy Crunchy Granola Bars with almond butter and almonds because my son had informed me that he didn't really like peanuts. He liked the almond granola bars enough that he commented on them, which was high praise from my quiet son.
Because the bars got such praise in the almond version, I really wanted to test out the taste and texture for myself, but I am very allergic to tree nuts. So, a few months later, I made a batch replacing the almonds with peanuts and peanut butter so that I could have a taste.
My son, home from college for the summer, ate most them. He declared the bars made with peanut butter to be even better than the almond bars. This recipe is extremely adaptable. Throw in what you love and leave out what you don't.
Consider this recipe a granola bar blueprint. Following the quantities indicated in the recipe, you can make these bars with whatever nut/seed butter, cereals and add-ins you like.

Directions
Combine the oats and cereal in a large bowl.
In a sauce pan over medium heat, mix together the honey, golden syrup, and brown sugar until the sugar dissolves. Remove from the heat.
Stir in the nut butter, until melted and smooth.
Pour the mixture into the bowl with the cereal and stir until combined.
Mix in all add-ins such as chocolate chips and nuts.
Spread the mixture evenly in a greased baking pan.
Cover the mixture with a sheet of wax paper and press down very firmly to compress the ingredients. Using a smaller baking pan on top to press is helpful.
Allow the mixture to cool and firm before cutting into bars with a sharp knife.

Recipe tips
Golden syrup is sugar syrup with a caramel flavor that is very popular in the United Kingdom. In the US it is available at some supermarkets (usually in the pancake syrup or baking aisle), World Market, and online. Though it can be replaced in this recipe with corn syrup or honey, the flavor of golden syrup is especially good.
For the ½ cup total of liquid sweetener, you can substitute any combination of corn syrup, Golden Syrup, and/or honey.
Use 2 cups of your choice of cereal. One batch of the bars in the photographs were made with crispy brown rice cereal and another batch was made with corn flakes. Other possibilities include Cheerios, Chex, corn puffs, or quinoa puffs.
The ½ cup of nut butter can be varied with peanut butter, tree nut butter, sunflower seed butter, soy butter, or Biscoff butter.
Variations for the ½ cup of add-ins include: chopped or slivered nuts, dried fruit (raisins, cranberries, chopped fruit bits), seeds (pumpkin, sunflower, sesame), or shredded coconut.
Use your favorite flavor for the ½ cup of chips, such as dark/semisweet/milk chocolate, white chocolate, butterscotch, or peanut butter.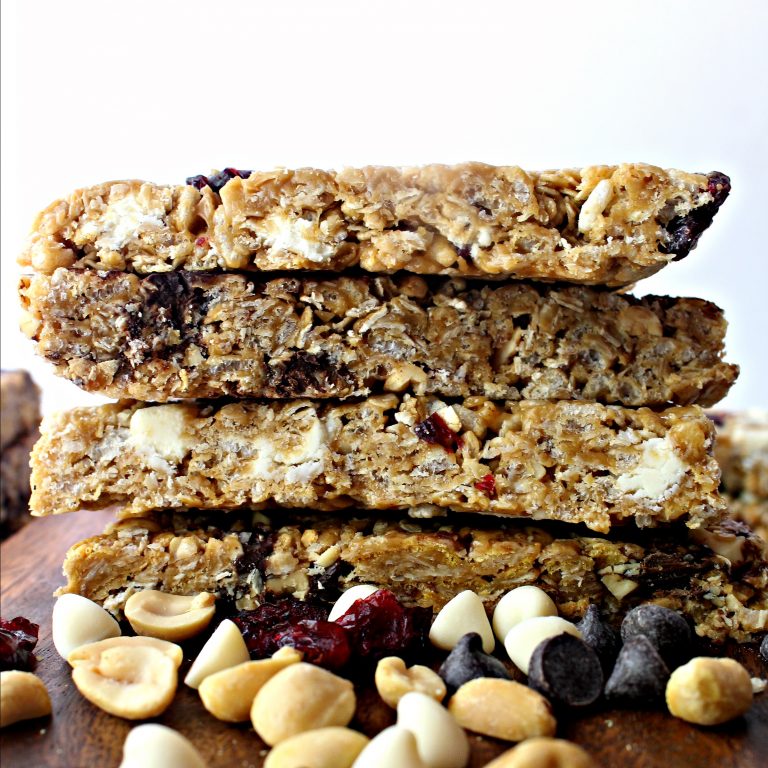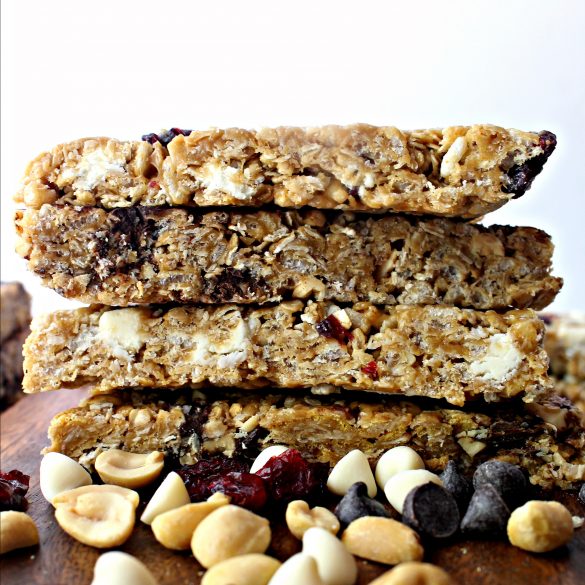 (The Monday Box participates in affiliate marketing programs. As an Amazon Associate I earn from qualifying purchases. If you choose to purchase a product after following a link on this page, I will receive a small commission, at no cost to you, which helps make The Monday Box possible.)
Tools and ingredients
This is the glass baking dish that I use when making these bars. I use glass so that I can easily cut the bars directly in the dish without scratching the pan.
If you can't easily find Lyle's Golden Syrup at a store near you, you can order it online. You are sure to find many uses for the lovely caramel flavor of this syrup as a baking ingredient or as a topping.
More no-bake treats
Chocolate Peanut Butter Cookies
Chocolate Peanut Butter and Banana Cookies
Chewy Crunchy Granola Bars
As an Amazon Associate I earn from qualifying purchases.
Ingredients
2

cups

quick cook oats

2

cups

Rice Krispy cereal

or brown rice cereal

¼

cup

honey

¼

cup

Lyle's Golden Syrup

or corn syrup or additional honey

½

cup

brown sugar

½

cup

nut butter

such as peanut butter, almond butter, etc.

½

cup

chopped nuts

½

cup

chocolate chips
Directions
Use butter or non-stick spray to coat a 9"x12" pan

In a large mixing bowl, combine oats and rice cereal. Set aside.

In a medium sauce pan over medium heat, add honey, syrup, and brown sugar. Stir constantly, until the sugar dissolves.

Remove from heat and mix in nut butter.

Immediately, pour the honey mixture over the dry ingredients. Stir to coat and combine.

Add the nuts and chips and stir to distribute. The granola will be very stiff and hard to mix.

Spread the granola into the prepared pan.

VERY IMPORTANT: Place a sheet of wax paper or parchment paper over the pan and firmly press the granola into the pan. The mixture must be compressed or you will end up with granola snack mix and not granola bars.

Allow the bars to cool and become firm for about 30 minutes. (15 minutes in the refrigerator).

Use a sharp knife to cut into bars. Wrap each bar in plastic wrap.
Notes
Wrap the granola bars in plastic wrap, individually or in pairs separated with a piece of wax paper. Self-sealing cellophane bags can also be used. Place the wrapped bundles snuggly in an airtight container or freezer weight ziplock bag.