Chewy Crunchy Granola Bars were not only devoured with enthusiasm, but were requested several times! These delicious bars are packed full of flavor. The combination of peanut butter, chocolate, oats, and peanuts satisfies hunger and sweet tooth cravings!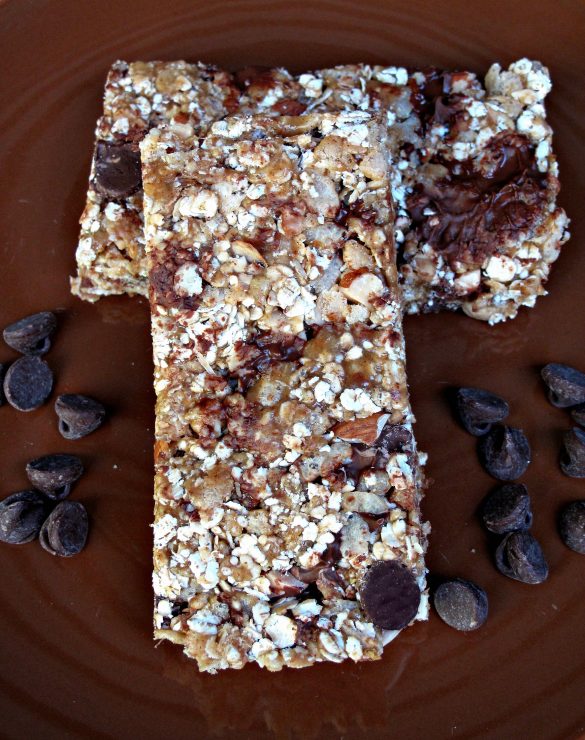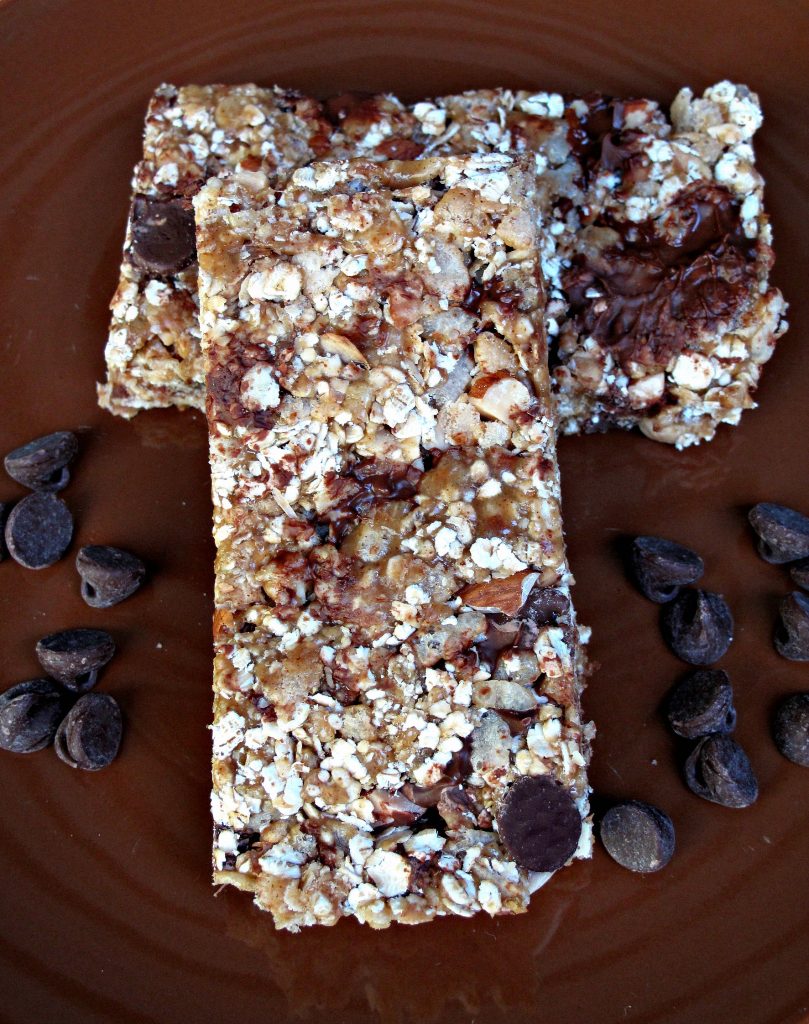 I'm going to spend the summer playing blog catch-up. I started The Monday Box seven months after I began sending Monday Boxes. That's about 20 shipments of baked stuff.
To be honest, not all of the recipes were received with enthusiasm. I sent some things that could be used as door stops by the time they arrived. However, only one cookie was deemed inedible. (It appears that my Monday Box Recipient can't stand cardamom).
Some people eat granola bars because they think they are healthier than cookies. Some people eat granola bars because they taste like cookies. I suggest that you eat Chewy Crunchy Granola Bars just because they are delicious.
Your care package recipient will eat these because they actually improve in taste after sitting (or traveling) for a few days. Chewy Crunchy Granola Bars stay fresh for more than a week wrapped up on the counter and for several weeks when stored in the fridge.
This recipe surprised me. Chewy Crunchy Granola Bars are a no-bake bar and I was doubtful that the recipe would create the texture I was looking for. If you are looking for crispy, this is not it. If you are looking for a chewy bar with some crunchy ingredients, then stop your search here.
I originally made Chewy Crunchy Granola Bars with almond butter and almonds because my son had informed me that he didn't really like peanuts. He liked the almond granola bars enough that he commented on them. High praise from my non-committal sweets eater.
Because Chewy Crunchy Granola Bars got such praise in the almond version, I really wanted to test out the taste and texture for myself, but I am very allergic to tree nuts. So, I made a batch with peanuts and peanut butter for myself.
My son (home from college for the summer) finished them. He says Chewy Crunchy Granola Bars with peanut butter are even better than the almond bars. This recipe is versatile. Throw in what you love. Leave out what you don't.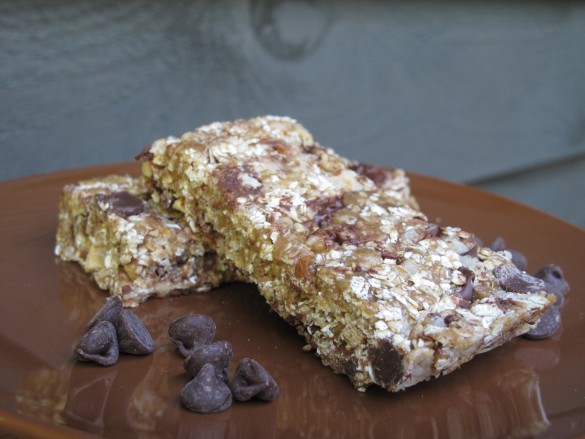 MORE NO BAKE TREATS
Chocolate Peanut Butter Cookies
Chocolate Peanut Butter and Banana Cookies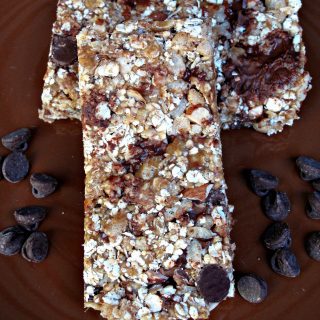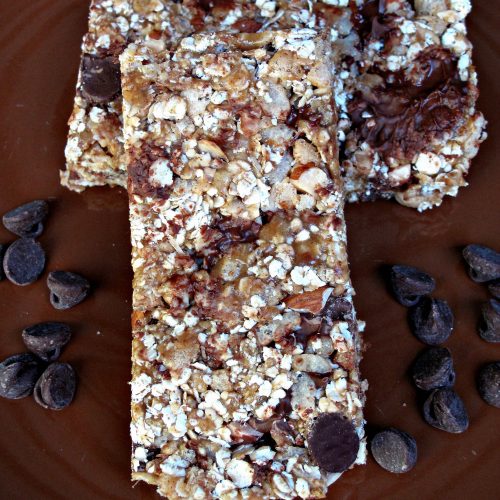 Chewy Crunchy Granola Bars
Ingredients
2

cups

quick cook oats

2

cups

Rice Krispy cereal

or brown rice cereal

¼

cup

honey

¼

cup

Lyle's Golden Syrup

or corn syrup or additional honey

½

cup

brown sugar

½

cup

nut butter

such as peanut butter, almond butter, etc.

½

cup

chopped nuts

½

cup

chocolate chips
Directions
Use butter or non-stick spray to coat a 9"x12" pan

In a large mixing bowl, combine oats and rice cereal. Set aside.

In a medium sauce pan over medium heat, add honey, syrup, and brown sugar. Stir constantly, until the sugar dissolves.

Remove from heat and mix in nut butter.

Immediately, pour the honey mixture over the dry ingredients. Stir to coat and combine.

Add the nuts and chips and stir to distribute. The granola will be very stiff and hard to mix.

Spread the granola into the prepared pan.

VERY IMPORTANT: Place a sheet of wax paper or parchment paper over the pan and firmly press the granola into the pan. The mixture must be compressed or you will end up with granola snack mix and not granola bars.

Allow the bars to cool and become firm for about 30 minutes. (15 minutes in the refrigerator).

Use a sharp knife to cut into bars. Wrap each bar in plastic wrap.
Packing Tips
Store the individually wrapped bars in an air-tight container for 1-2 weeks. For longer storage refrigerate. For mailing, place individually wrapped bars in a large zip lock bag. If mailing during warm weather, avoid chocolate chips.