No Bake Chocolate Peanut Butter Cookies are a scrumptious party nibble that can be thrown together in minutes! Creamy chocolate and peanut butter combine with a cereal puff crunch in this one bite cookie treat. Are they cookies or candy? Your call. Either way, they are a sweet way to celebrate the New Year or any other festive occasion.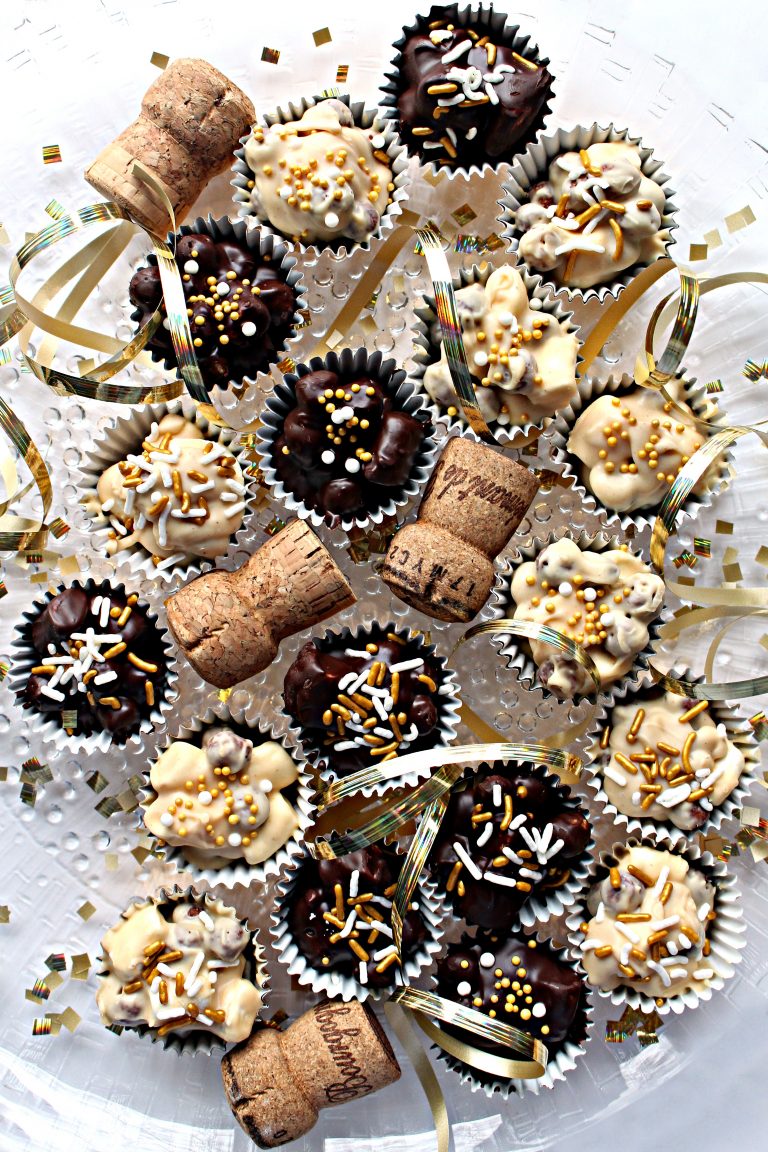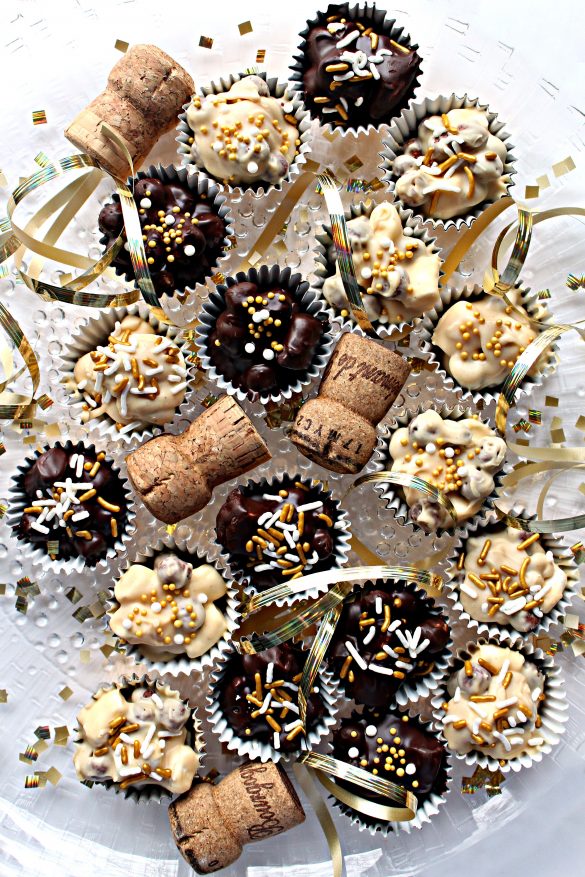 No Bake Chocolate Peanut Butter Cookies are a slight variation of the very popular Avalanche Cookies found all over the internet. Just like No Bake Avalanche Cookies, my little nibbles require just a hand full of ingredients and a few minutes to prepare.
My tweaks to the ingredients make the cookies gluten free and vegetarian and ensure that the chocolate stays firm at room temperature making them a fun care package addition.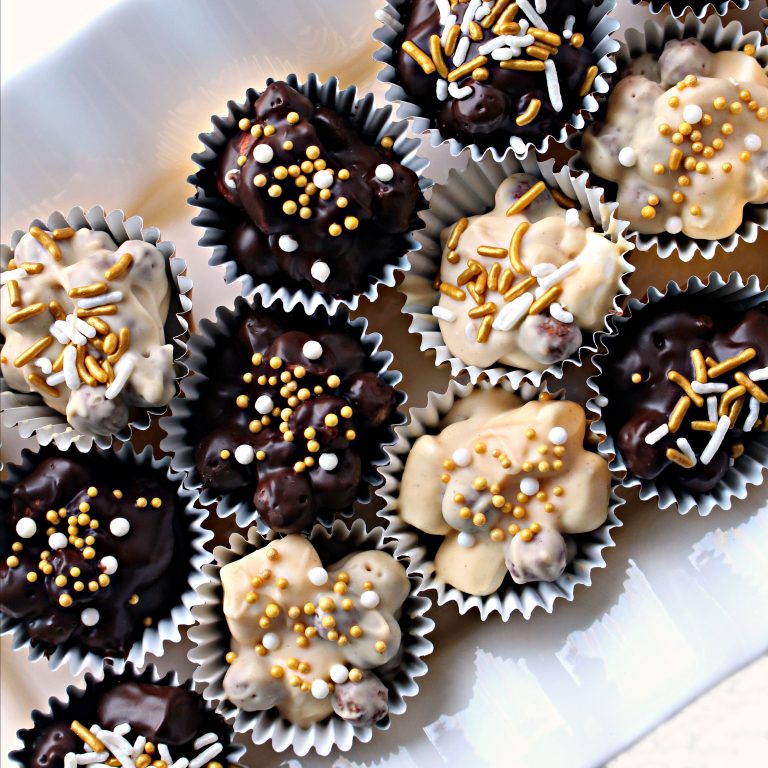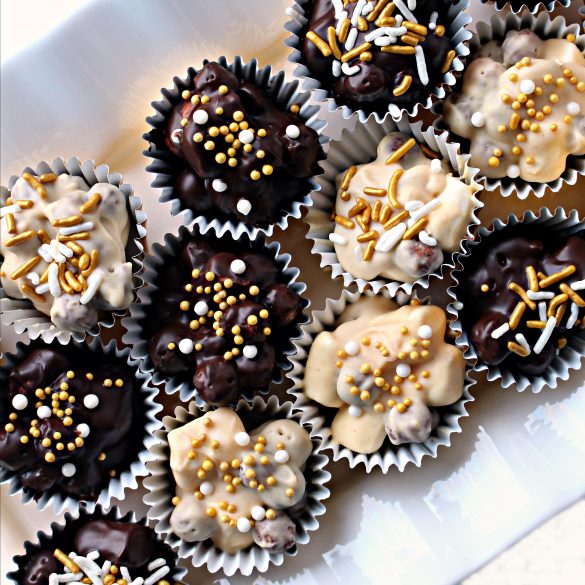 I went on a supermarket search for a crunchy cereal that would fit the flavors of these no bake treats, and just happen to also be gluten free. My added requirement was that the ingredients be fairly traded and ethically sourced. To be honest, I had little hope of finding a chocolate cereal that would fit my needs.
Envirokidz brand cereals amazed me! (This is NOT a sponsored post). Envirokidz is available in regular supermarkets, possibly in the health food section, and is everything I was looking for and more.
The crunchy corn puff cereal tastes just like the big brand cereals, but with so many advantages over the big brands. Envirokidz are not only made with gluten free, fairly traded ingredients, they are also kosher and organic, and a portion of the profits is donated to wildlife preservation!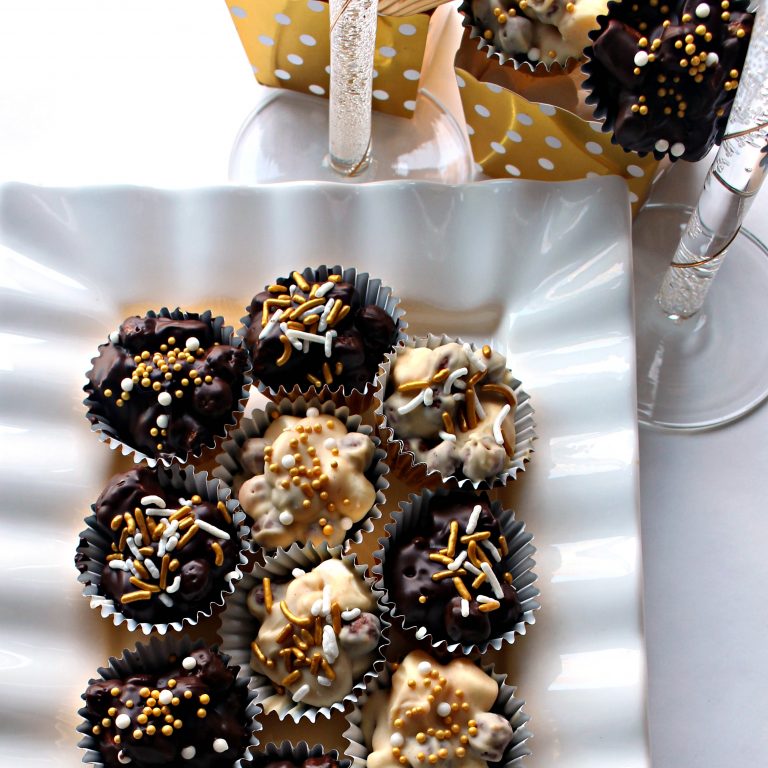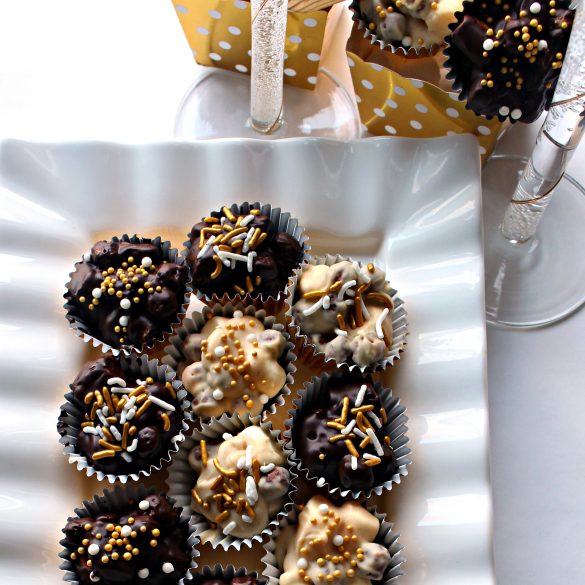 From the eight cereal flavors available, I chose the chocolate puffs (Choco Chimps) and the peanut butter puffs (Panda Puffs).
I made 2 batches of No Bake Chocolate Peanut Butter Cookies, one with white chocolate combined with chocolate cereal, and another with dark chocolate combined with peanut butter cereal.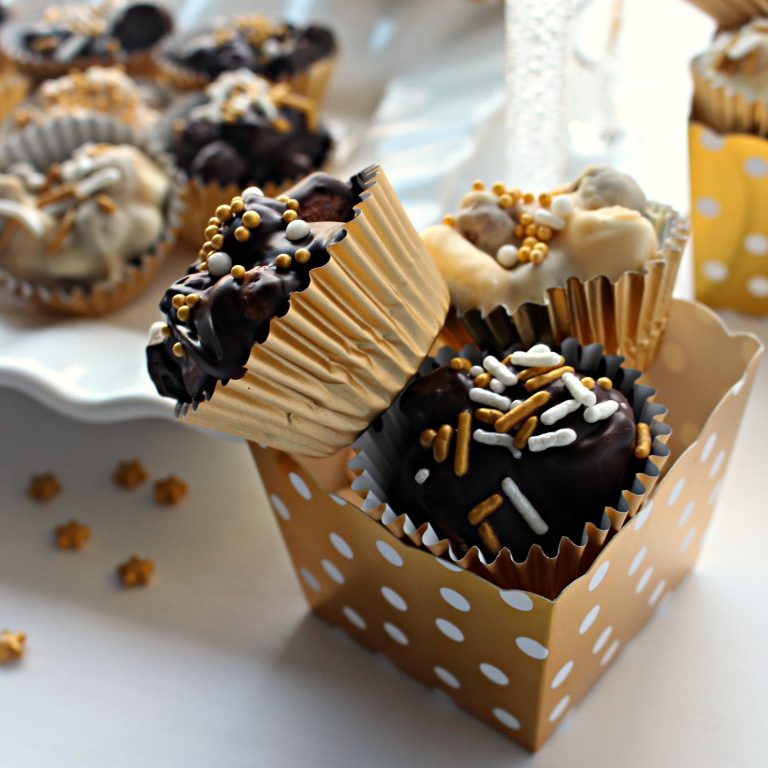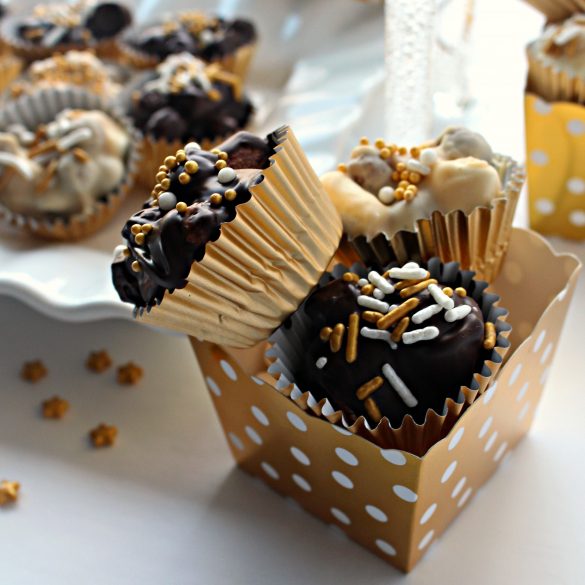 TIPS FOR THE BEST NO BAKE CHOCOLATE PEANUT BUTTER COOKIES
To ensure that the chocolate will set firmly on these cookies, measure the peanut butter accurately. Peanut butter is a fat that is soft at room temperature. If too much peanut butter is added to the chocolate mixture, the chocolate won't stay set at room temperature.
If you want these cookies to be vegetarian and or gluten free, chose your ingredients accordingly. I used gluten free, vegetarian candy and molding chocolate, Dandies mini marshmallows, and Envirokidz cereal.
These cookies are very sweet and candy-like. Though the cookies can be made in larger sizes, I think the small, one bite size is ideal.
Changing up the colors of the sprinkles and mini cupcake liners can match these cookies to just about any celebration.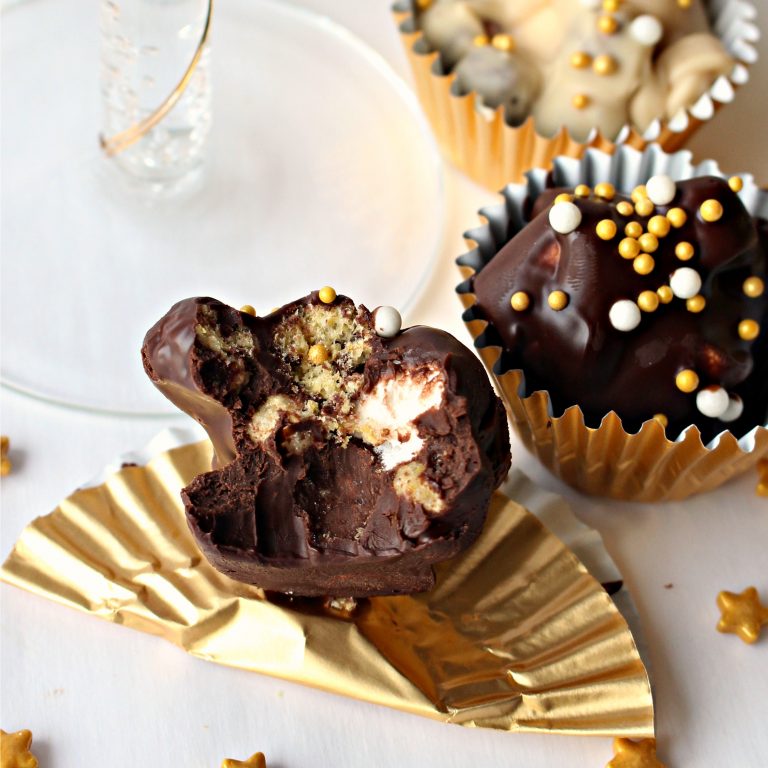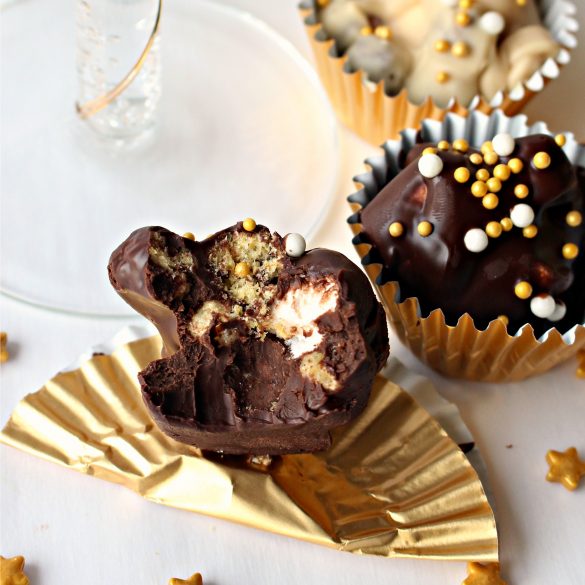 FREQUENTLY ASKED QUESTIONS
How long do no bake cookies have to sit?
When made in mini cupcake liners, no bake cookies will firm in the refrigerator in about 5 minutes.
Should no bake cookies be refrigerated?
After the chocolate has set, no bake cookies can be stored in an airtight container at room temperature for about 2 weeks. If the room is very warm, the cookies may require refrigeration so that the chocolate can set firmly. No bake cookies should be sent in care packages only in cold weather.
How do you make no bake cookies without peanut butter?
No bake cookies can be made with other nut butters or seed butters to replace the peanut butter. Slightly firmer cookies can also be made using just chocolate, cereal, and marshmallows.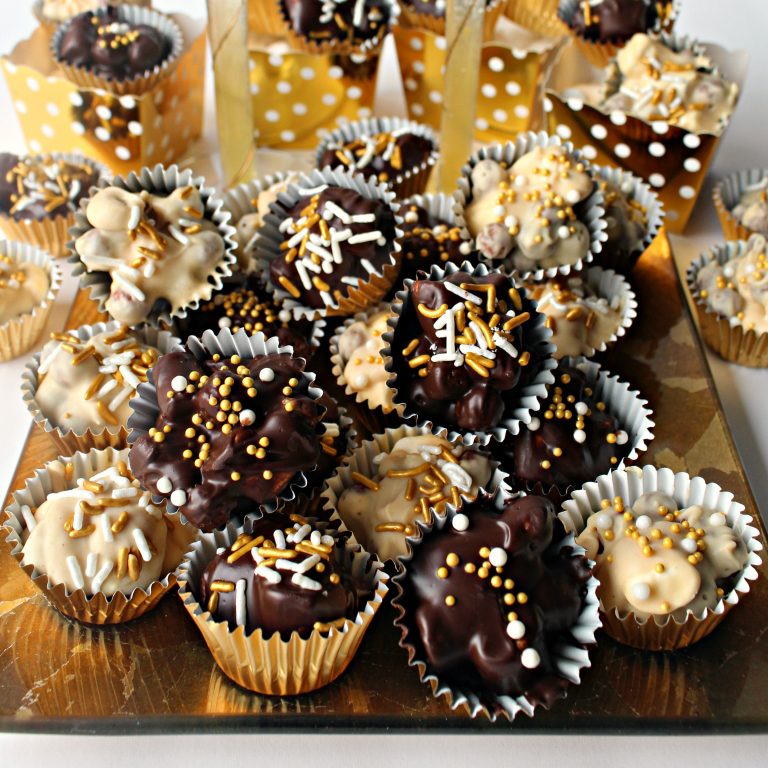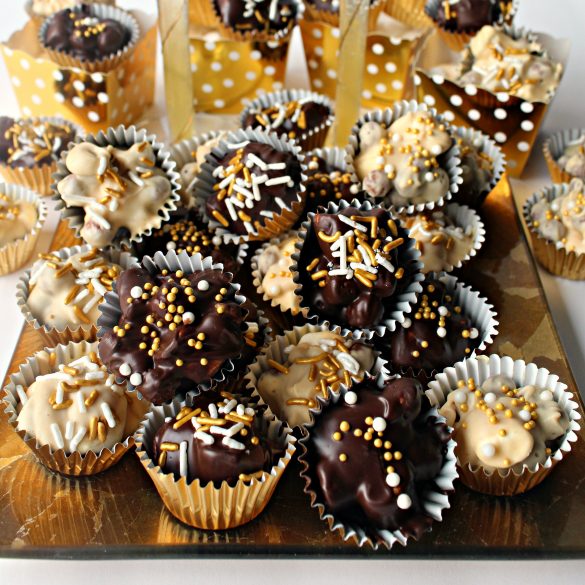 TOOLS FOR MAKING NO BAKE COOKIES

MORE NO BAKE TREATS
No Bake Chocolate Peanut Butter Banana Cookies
NO BAKE CHOCOLATE PEANUT BUTTER COOKIES RECIPE
No Bake Chocolate Peanut Butter Cookies are a quick and easy way to sweeten the New Year. Whether you celebrate New Year's Eve snuggled at home watching the Times Square ball drop on tv or partying with friends, these one bite snacks can be party ready in minutes.
Want to send Happy New Year wishes to someone far away? A care package filled with chewy, crunchy No Bake Chocolate Peanut Butter Cookies is a delicious way to start the New Year!

No Bake Chocolate Peanut Butter Cookies
As an Amazon Associate I earn from qualifying purchases.
Ingredients
4

ounces

about ¾ cup melting chocolate

1 ½

tablespoons

creamy peanut butter

½

cup

corn puffs cereal

peanut butter or chocolate flavor (I use Envirokidz gluten free cereal with fairly traded ingredients)

½

cup

mini marshmallows

Dandies brand are gluten free and vegetarian

2

tablespoons

sprinkles

optional

12

mini cupcake liners
Directions
Place mini cupcake liners in a mini cupcake pan.

In the microwave in a large microwave safe bowl, melt the chocolate and peanut butter at 50% power for 1 minute. Stir. If not completely melted and smooth, return to the microwave at 50% power for 15 second intervals until smooth.

Stir the cereal and marshmallows into the chocolate mixture until well coated.

Spoon the mixture into the cupcake liners. Decorate with sprinkles.

Place in the refrigerator for about 5 minutes until set.

Store in an airtight container at room temperature for up to 2 weeks.
Notes
Pack snugly in an airtight plastic storage container with layers separated by wax paper. Place crinkled wax paper between top layer and lid to ensure no movement during shipping.