Every cup of coffee should come with a plate of Chocolate Chip Mocha Cookies. Chocolate and coffee are a heavenly flavor combination and Chocolate Chip Mocha Cookies are bursting with those flavors. The coffee chocolate dough is studded with semisweet chips and milk chocolate chunks ensuring mocha deliciousness in every bite. A cookie jar or care package filled with these sweet treats will make January a whole lot cozier.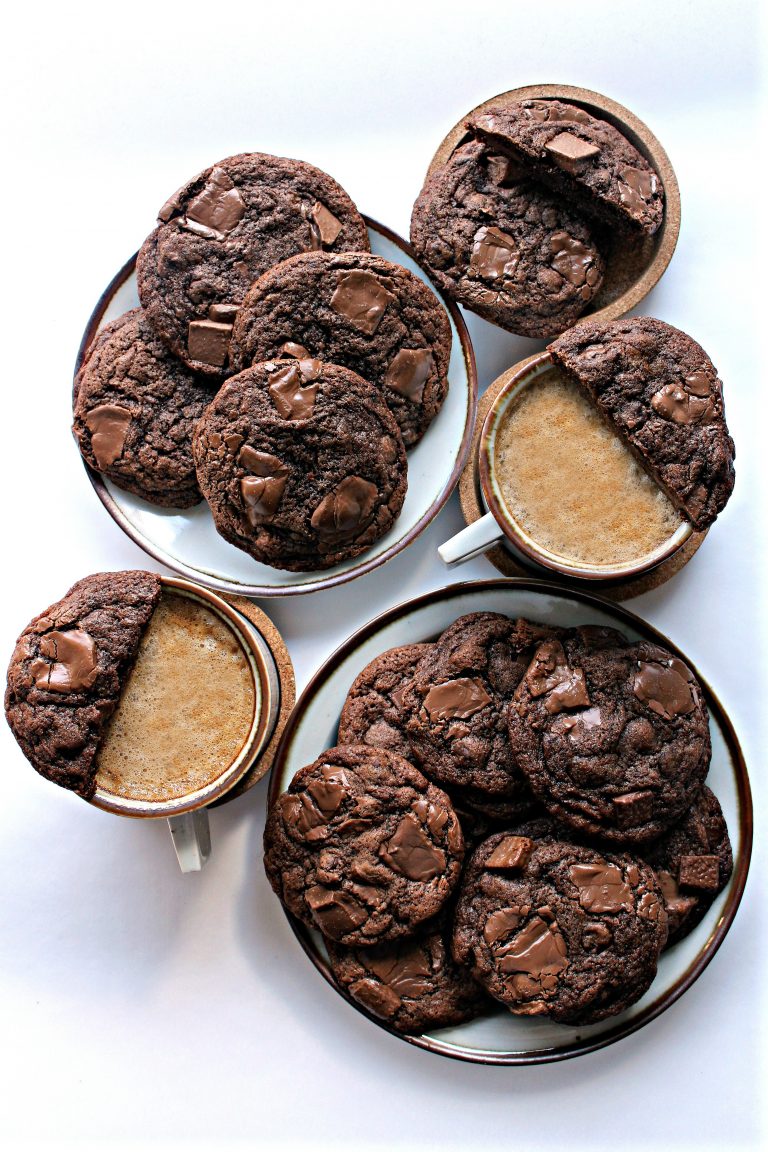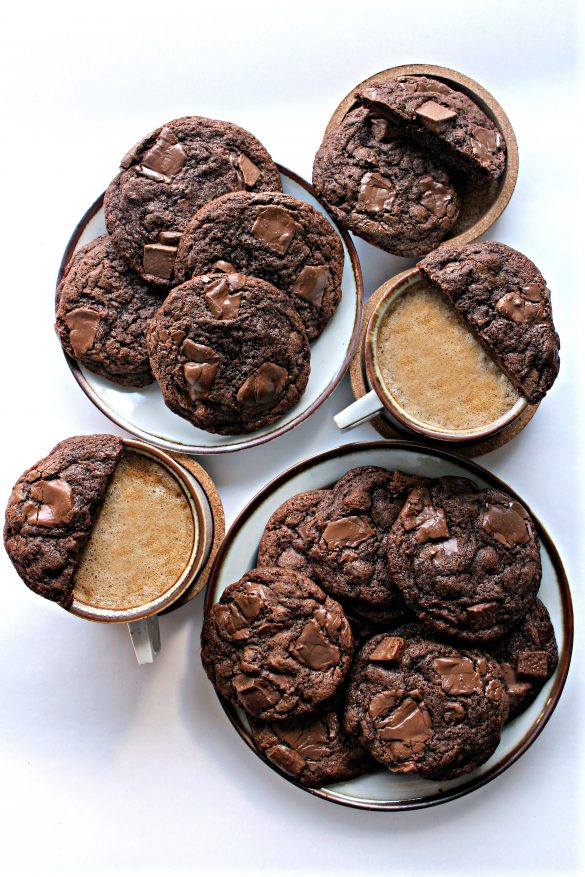 (The Monday Box participates in affiliate marketing programs. As an Amazon Associate I earn from qualifying purchases. If you choose to purchase a product after following a link on this page, I will receive a small commission, at no cost to you, which helps make The Monday Box possible.)

Are you a coffee lover? I am. I started drinking coffee in college when I was 19, but that was in order to stay awake, not because I loved it. I'm not sure when I started loving the flavor of coffee, but at this point, I am definitely a devoted fan.
As a drink, I like my coffee super hot and strong. No flavored, sweetened, whipped, or sprinkled Starbucks for me! I'm the crazy caffeine addict ordering the grande Red Eye (dark brewed coffee with a shot of espresso)! I really do enjoy the flavor as much as I love the wake-up power.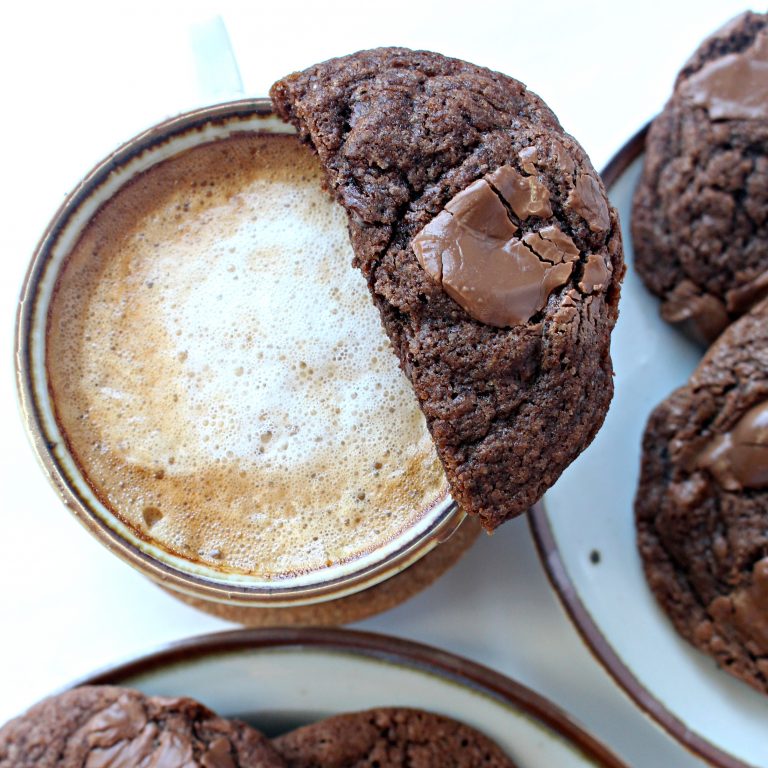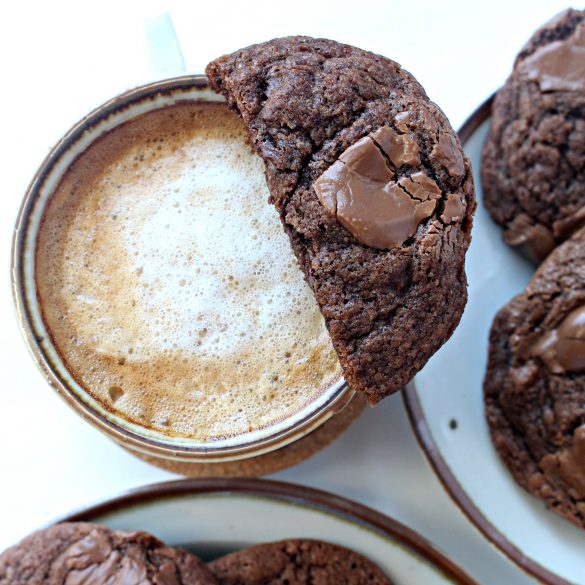 There are mixed opinions on coffee in my family. My daughter doesn't like coffee at all. Period. The end. My husband didn't start drinking coffee until well into adulthood. However, he made up for lost time by going from sugary cappuccinos to straight espresso shots in no time at all.
My son is the coffee aficionado. He started drinking coffee while in high school, depended on it to stay awake in college, and now uses a variety of brewing methods and has been known to roast his own beans!
So it should be no surprise that there are over 10 recipes for coffee cookies and espresso cookies on The Monday Box that have been included in care packages I've sent to my son. Chocolate Chip Mocha Cookies are the newest addition to that group and I am pretty sure they will be a hit.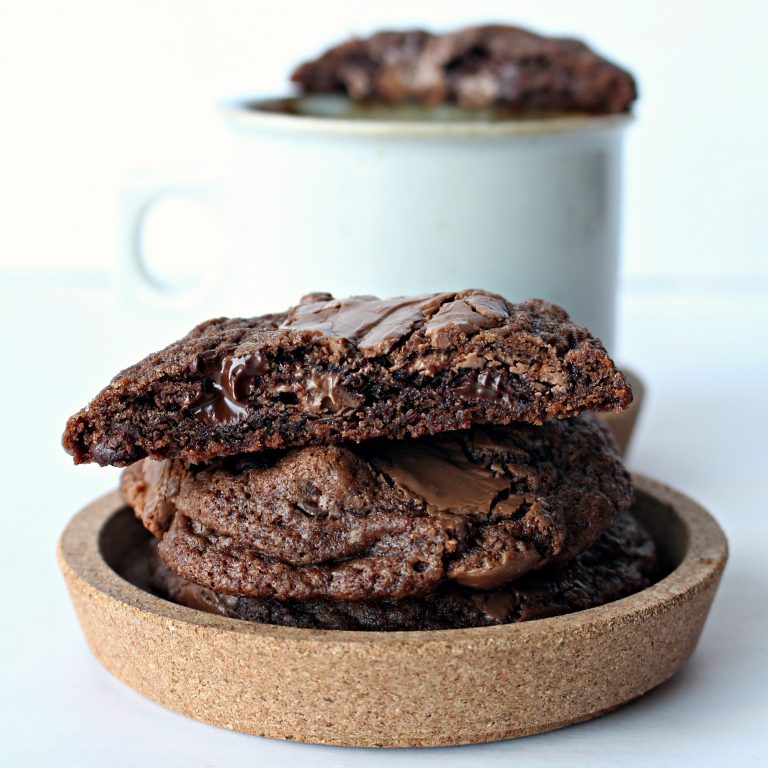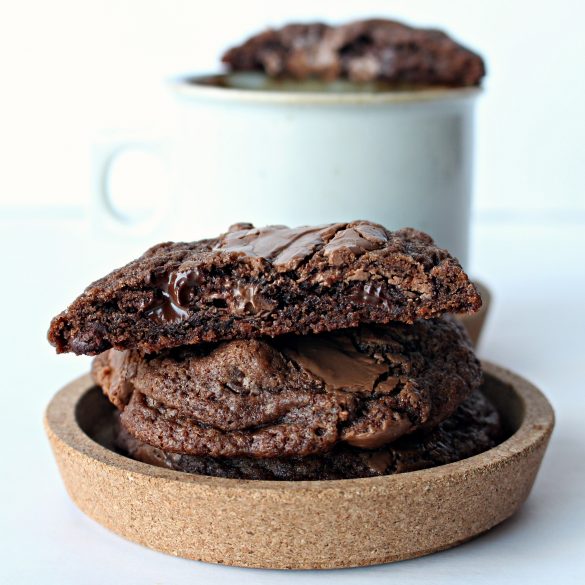 TIPS FOR HOW TO MAKE CHOCOLATE CHIP MOCHA COOKIES
Room temperature butter is semi-solid. It is soft and spreadable, but still holds its shape. Room temperature butter is whippable , and when creamed together with sugar, creates air pockets that will produce lighter (less dense) baked goods. Cold or melted butter will not create air pockets and will result in cookies that are flatter and chewier.
Eggs should also be at room temperature. If cold eggs are added to the butter, the eggs will cause the butter to firm, changing the final texture of the cookies.
Over mixing the dough can result in hard, dry cookies. To avoid over mixing fold in the chocolate chips gently with a rubber spatula.
Though the original recipe doesn't call for chilling the dough, I found that firming the dough makes it much easier and less messy to scoop portions onto the baking sheet.
A trick for pretty cookies, is to reserve some of the chocolate chips/chunks for decorating. Place a few pieces of chocolate on top of the dough balls before baking.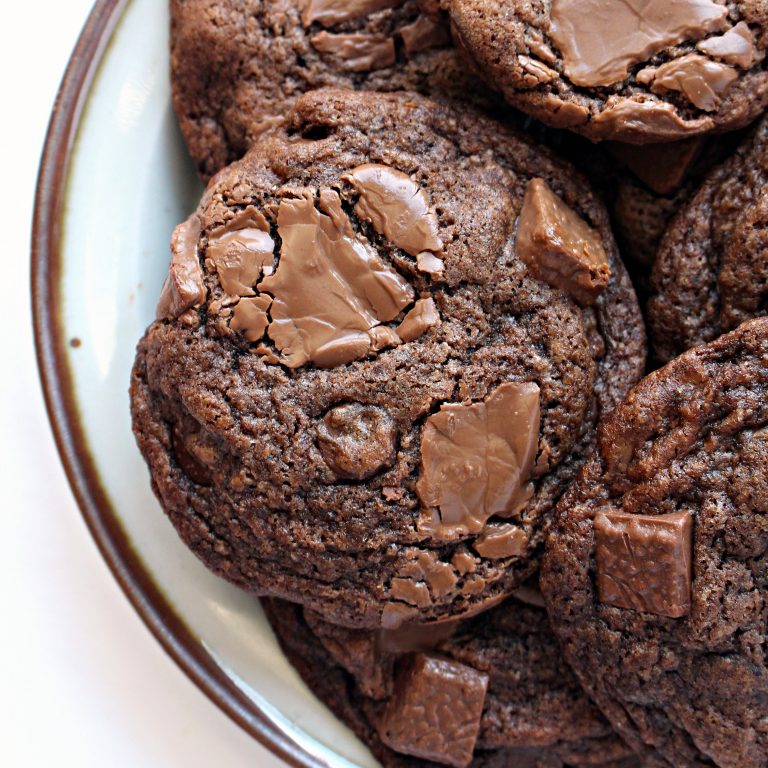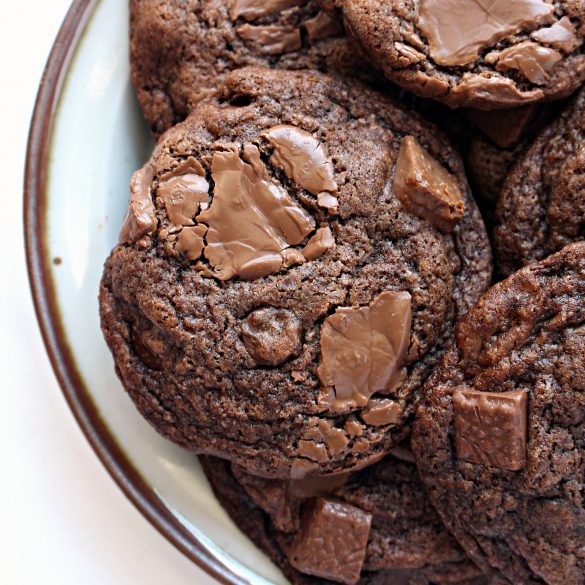 FREQUENTLY ASKED QUESTIONS ABOUT MOCHA COOKIES
HOW DO YOU MAKE MOCHA COOKIES?
Mocha is the combination of coffee and chocolate. Mocha cookies are coffee chocolate cookies that combine chocolate and coffee flavors in the dough and with add-ins like chocolate chips.
WHAT IS COFFEE EXTRACT?
Coffee extract is made by brewing coffee beans in alcohol.
WHAT CAN I SUBSTITUTE FOR COFFEE EXTRACT?
This recipe calls for 1 ½ tablespoons of coffee extract. Equal amounts of espresso powder or coffee granules can be used as a substitute, but to avoid bitterness, it is important to dissolve the powder or granules before adding to the dough. Add the espresso powder/coffee granules to the egg mixture and stir to dissolve completely. Note that espresso has a stronger flavor than coffee, so you may want to use less espresso to achieve the same depth of coffee flavor as the original recipe.
WHAT ARE COFFEE GRANULES?
Coffee granules are freeze dried coffee that dissolves in liquid. Espresso powder also dissolves in liquid but is not freeze dried. It is dehydrated. Espresso powder provides a stronger flavor than coffee granules.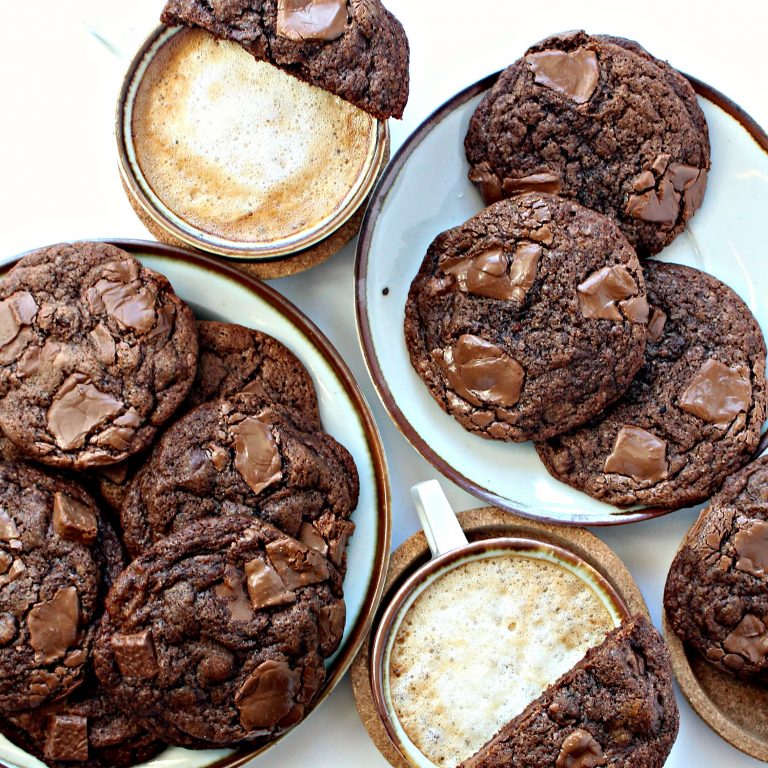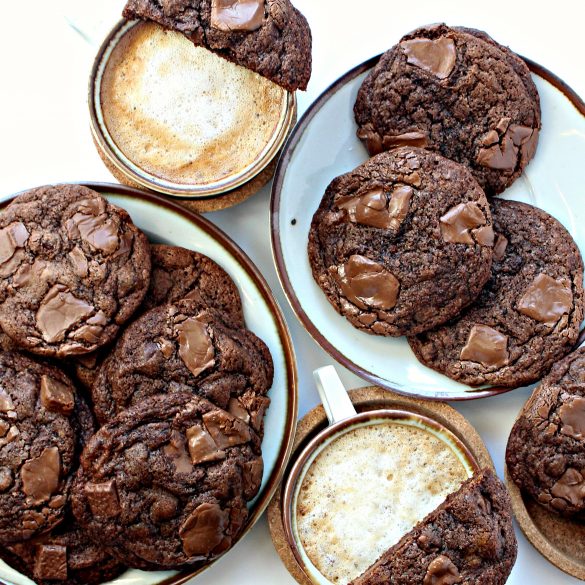 CHOCOLATE CHIP MOCHA COOKIES RECIPE
With crunchy edges and chewy centers, these are coffee chocolate cookies you will want to cuddle up with! Chocolate Chip Mocha Cookies are a welcome addition to coffee time and study breaks!
If you love this recipe please give it 5 stars.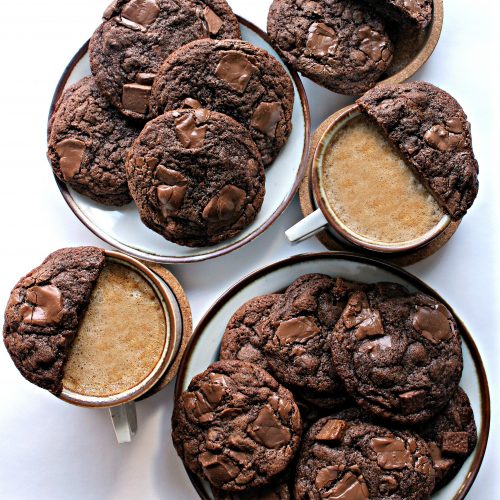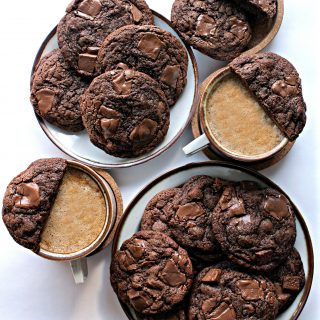 Print
Chocolate Chip Mocha Cookies
As an Amazon Associate I earn from qualifying purchases.
Ingredients
2 ¼

cups

all-purpose flour

¼

cup

cocoa

1

teaspoon

baking soda

½

teaspoon

salt

1

cup

unsalted butter

room temperature

¾

cup

granulated sugar

¾

cup

brown sugar

2

large eggs

room temperature

2

teaspoons

vanilla extract

1 ½

tablespoons

coffee extract

1 ½

cups

semisweet chocolate chips

2

cups

10 ozs. milk chocolate chunks, divided
Directions
Preheat oven to 350˚F. Line a baking sheet with parchment paper.

In a medium bowl whisk together the flour, cocoa, baking soda, and salt. Set aside.

In the bowl of an electric mixer, cream the butter until light and creamy (about 3 minutes).

Gradually add sugars and mix until combined.

In a small bowl, mix together the eggs and extracts,

Add the egg mixture slowly to the batter

Gradually add the flour mixture just until streaky.

Turn off mixer and fold the batter gently with a rubber spatula until incorporated.

Fold in the semisweet chip and 1 cup of the milk chocolate chunks.

Chill the dough in the refrigerator for at least 1 hour to firm (for easier scooping). Well wrapped in plastic wrap, the dough can be stored in the refrigerator for up to one week.

When the dough is firm, use a medium (2 tablespoon) scoop to place dough balls 2" apart on the prepared baking pan. Add 2-3 of the reserved milk chocolate chunks on top of each dough ball.

Bake for 12 minutes. The center of the cookies should still be soft to the touch.

Remove from oven and cool completely on a wire rack.

Store in an airtight container at room temperature for up to one week.
Notes
Double wrap pairs of cookies, bottoms together, in plastic wrap. Place wrapped cookie bundles in a column inside an airtight container or ziplock bag (with as much air squeezed out as possible). For storage or shipping times longer than one week, vacuum sealing is recommended.
KITCHEN TOOLS I USE AND RECOMMEND
YOU MAY ALSO LIKE THESE COFFEE CHOCOLATE COOKIES
Double Chocolate Mocha Cookies