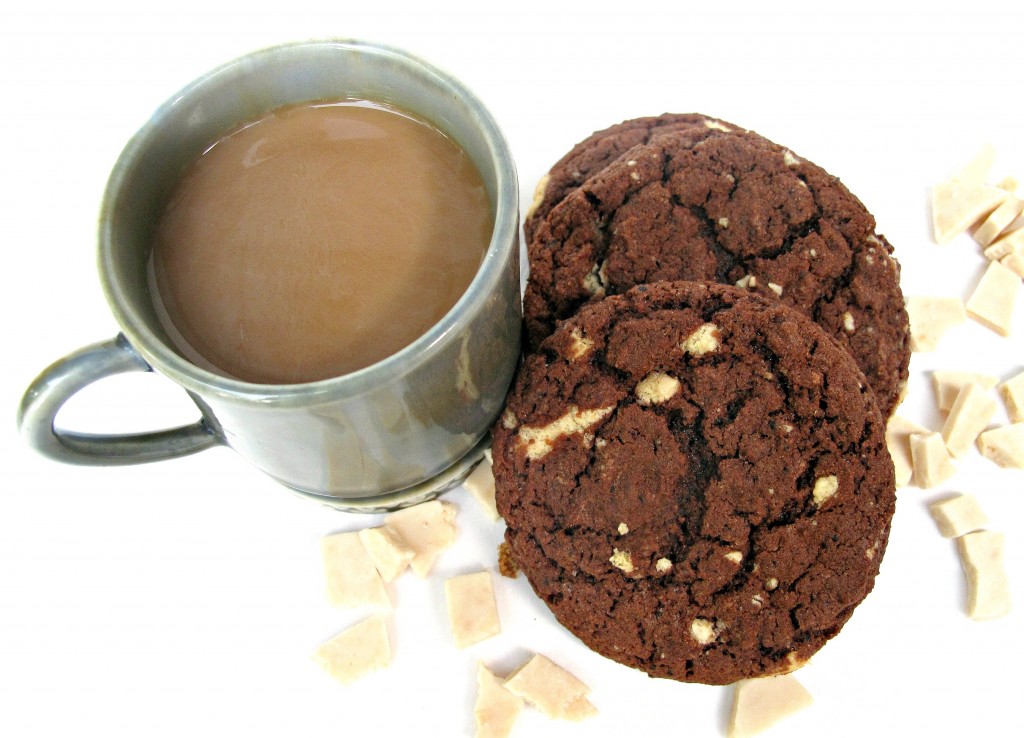 My friend Margaret happens to be the person who turns my hair color from un-pigmented to fabulous. Perhaps because this hair coloring process takes a ridiculous amount of time, Margaret and I have ample opportunity to chat. In addition to comparing bargain purchases and restaurant experiences, we talk about baking.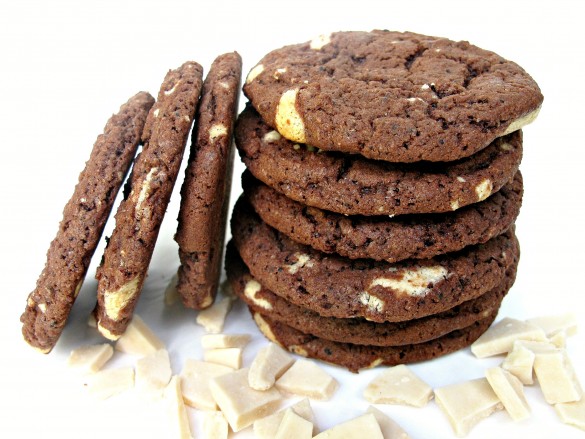 Margaret's enthusiasm for King Arthur Flour products made me a fan as well. As a result, I am a frequent visitor to the King Arthur forums and recipe archives.  Then, she began raving about King Arthur products only available online. Though my recipes for The Monday Box only contain ingredients easily found in supermarkets, for personal baking I quickly became enamored with numerous items available only through King Arthur. One of those items is King Arthur cappuccino chips. The chips are delicious, expensive, and difficult to ship in hot weather. There are no substitutions available locally, that I know of.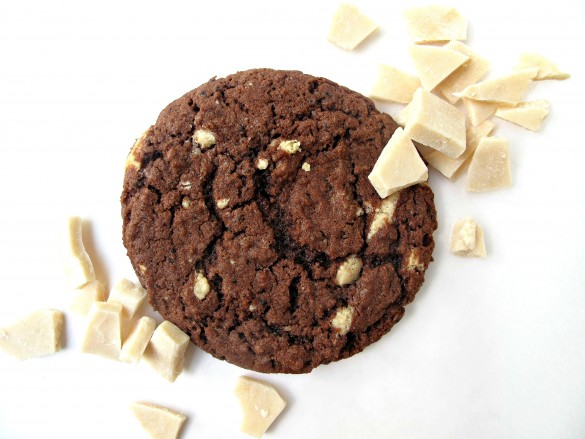 Because I have been doing a lot of experimenting with white chocolate chips lately, I told Margaret that I would work on homemade cappuccino chips. I know that I promised to lay off the "exciting chip adventures" for awhile, but this one was by request. I didn't plan on posting about it any time soon, but then an Angel presented me with the perfect cookie for cappuccino chips.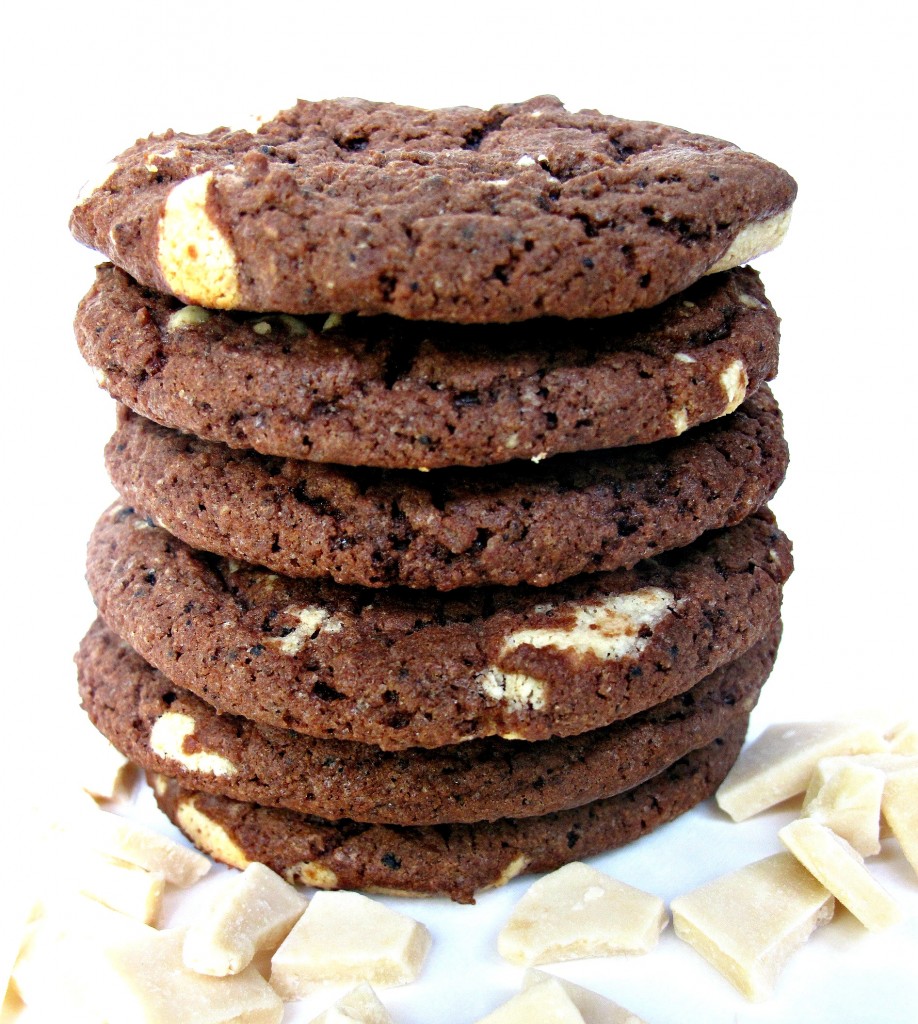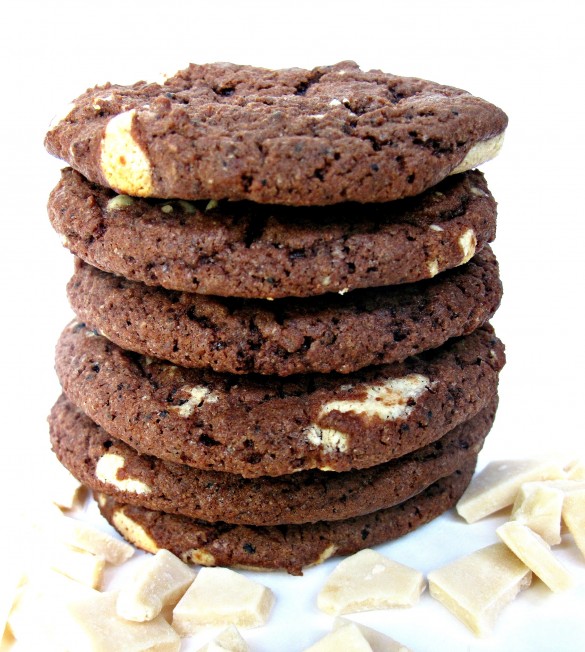 I was very excited to find and purchase a second edition copy of Angel Delights, Treasured Cookie Recipes from Soldiers' Angels and Friends. This 232 page un-illustrated cookbook is filled with favorite recipes from Soldiers' Angels bakers. These are recipes that have made the care package journey to deployed troops and received rave reviews. On page 72, I found a desert safe recipe from Tammie Dillard, a Soldiers' Angel in Texas, for Fudge Cookies. What better home could a bunch of cappuccino chips hope for?!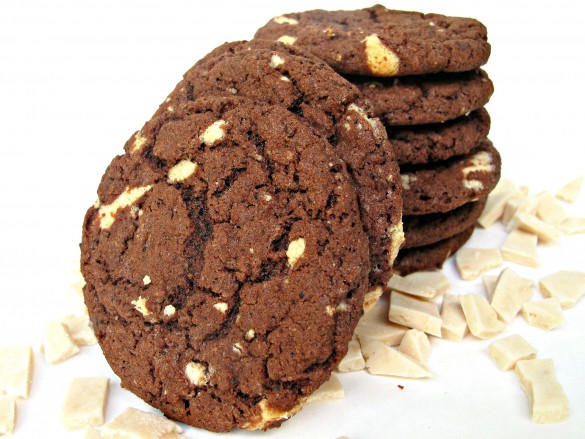 Making cappuccino chips are just a quick extra step in this recipe. You could certainly skip this step and use any other chip that you have on hand. I recommend taking the extra step. The chips, made with white chocolate chips and coffee extract, are really good. They are not a replica of the King Arthur version, but they add a Kahlua-like creamy coffee flavor to the cookies.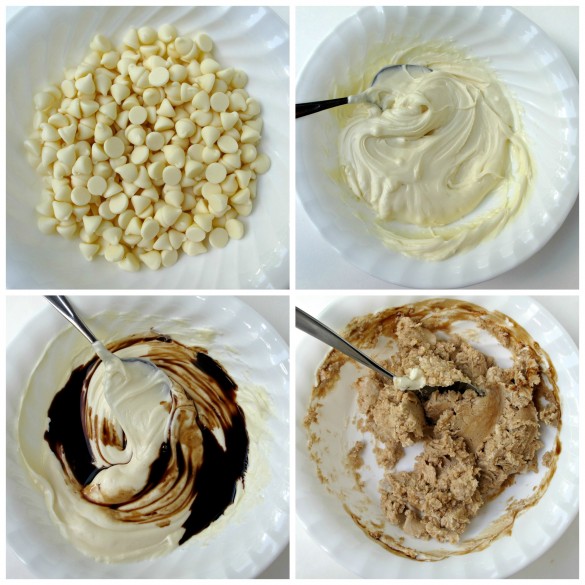 Making the chips (chunks) takes about 15 minutes. The white chocolate chips are melted, then the coffee extract is mixed in. When the extract is mixed in, the melted white chocolate will seize up and turn into a thick dough-like substance, so mix quickly. Though the seized up chocolate looks like a disaster, or at least an unsuccessful adventure, it actually rolls out smoothly between two sheets of waxed paper. Ten minutes in the freezer and the coffee flavored disc is ready for cutting into chunks and mixing into the cookie dough.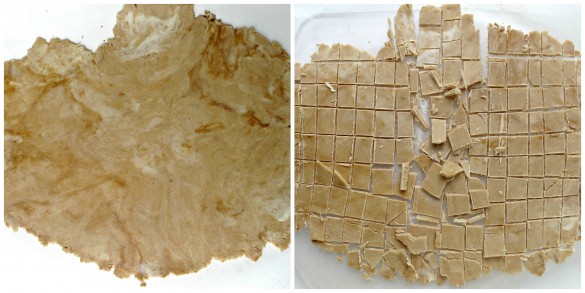 One additional bit of baking trivia that I learned while investigating this recipe is the process of "blooming" cocoa powder. This recipe calls for pouring a tiny amount of boiling water over the cocoa power before mixing it into the batter. It seemed unnecessary to me, but who am I to question an Angel? Then I stumbled upon a David Lebovitz explanation for the boiling water step. Apparently, adding boiling water to cocoa powder is called "blooming" and is used to intensify the flavor of the cocoa, even if the amount of boiling water added only produces a dry, crumbly cocoa mixture. Follow the recipe, even if it seems goofy.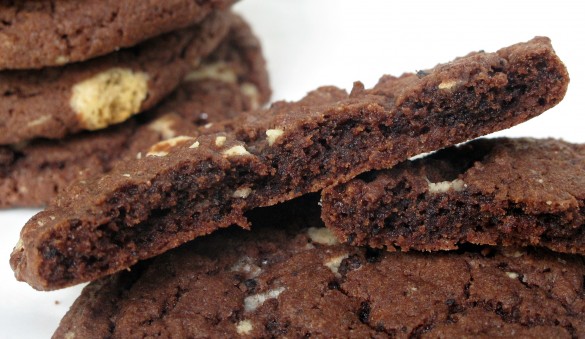 This post successfully completes my personal challenge to post only desert safe recipes during the summer months! I am sure dessert safe recipes will continue to appear throughout the year, just not exclusively.  The twenty desert safe recipes I posted are great hot weather care package items as well as year round at home desserts. These Cappuccino Chip Fudge Cookies are chewy and full of fudgy coffee flavor. The original recipe called for vegetable shortening and they are so good (flavor and texture) that I didn't experiment with any other variation. Stored at room temperature in an airtight container, these cookies stay chewy for a few days before getting slowly crunchier. They are a great dunking cookie for at least 10 days.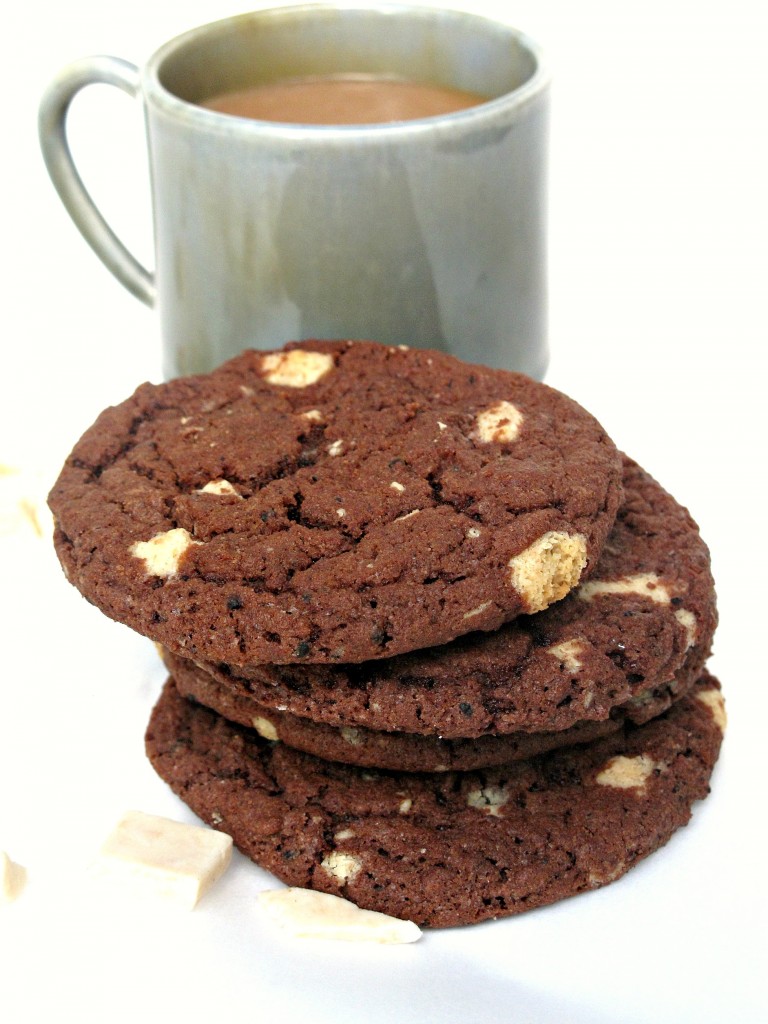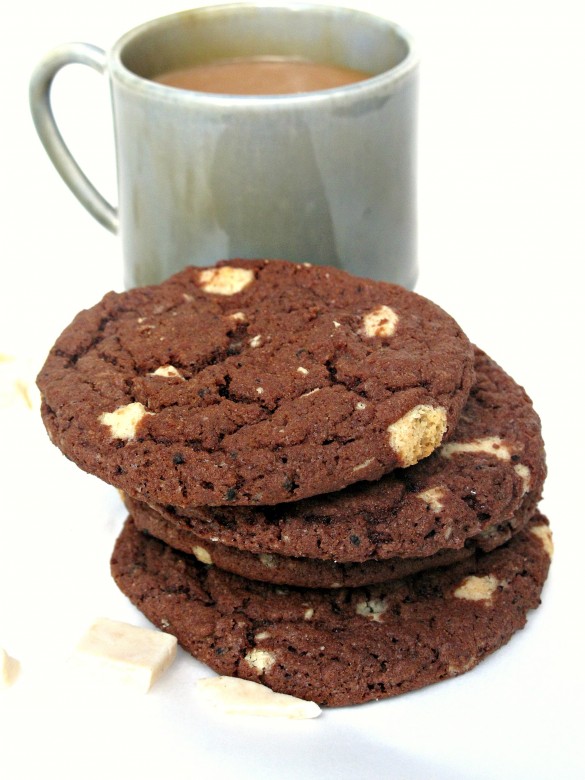 You can read more about desert safe ingredients and find an index of all of the desert safe recipes on The Monday Box by clicking here.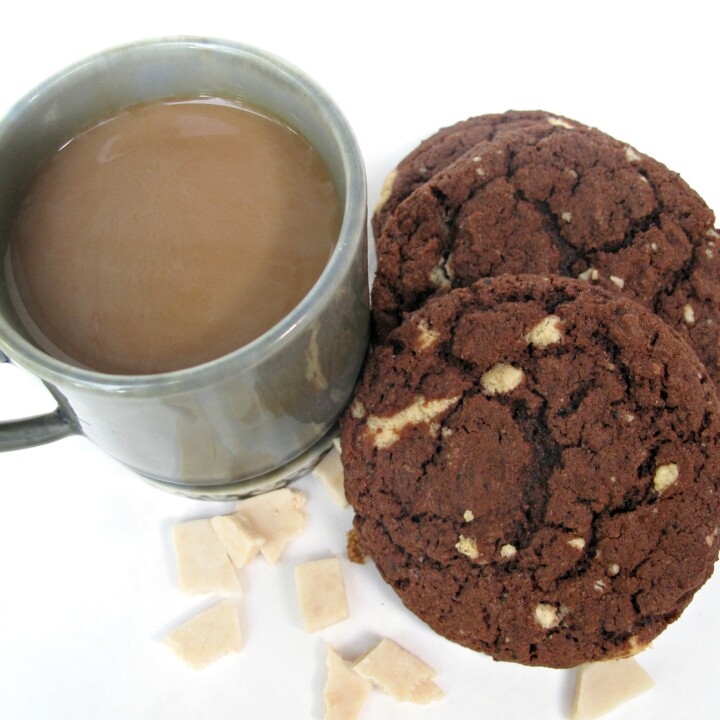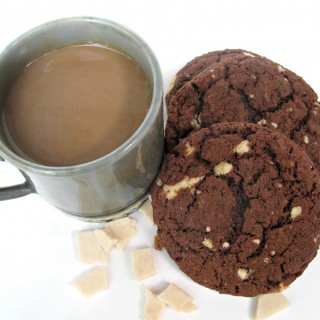 Cappuccino Chip Fudge Cookies
These chewy cookies are full of fudgy coffee flavor and homemade cappuccino chips.
Print
Rate
Adapted From:
"Angel Delights Cookbook" from SoldiersAngels.org
Ingredients
Fudge cookies
2 ½

cups

all-purpose flour

1

tablespoon

+ ¾ teaspoon baking powder

¾

teaspoon

salt

½

cup

cocoa

I used Dutch-processed for darker color and richer flavor

¼

cup

boiling water

⅔

cup

butter flavored vegetable shortening

1 ¾

cup

granulated sugar

2

large eggs

1

tablespoon

instant espresso/coffee granules

1

teaspoon

vanilla extract or paste
Instructions
Cappuccino chips
In a small microwave safe bowl, melt white chocolate chips at medium power for 1 minute. Stir. If not completely melted, return the bowl to the microwave and heat for 10 second intervals, stirring between intervals, until melted.

Add coffee extract and stir quickly to blend as evenly as possible. The mixture will become thick, crumbly and dough-like.

Place the chip dough between two sheets of wax paper. Using a rolling pin, roll out the dough into a disc ⅛" – ¼" thick.

Chill the disc until hard set, about 10 minutes in the freezer or 15 minutes in the refrigerator. Once hard, chop or break into small chunks.
Fudge cookies
Preheat oven to 350° F. Line a cookie sheet with parchment paper.

In a medium bowl, whisk together flour, baking powder and salt.

In a small bowl, mix cocoa and boiling water. This "blooming" process intensifies the flavor of the cocoa. The mixture will be dry and crumbly.

In the bowl of an electric mixer, cream together shortening and sugar.

Add eggs and vanilla and mix well.

Slowly add flour mixture until combined.

Add cocoa and mix well.

Stir in cappuccino chips.

Place 2 tablespoon scoops of dough on prepared cookie sheet, at least 2" apart.

Bake for 12 minutes. Cookies should be set but still appear shiny in the cracks that form on the surface.

Allow cookie to cool 2-3 minutes on the cookie sheet, until firm enough to transfer to wire cooling racks.

Cookies will remain fresh 10 days or longer when stored at room temperature in an air tight container or zip lock bag. These cookies remain chewy for 3-4 days and then become crunchy.
Notes
Packing tips
Double wrap pairs of cookies (with bottoms together) in plastic wrap, then place in an airtight container or zip lock bag. For longer storage, vacuum sealing is recommended.
Nutrition
Calories:
176
kcal
|
Carbohydrates:
26
g
|
Protein:
2
g
|
Fat:
8
g
|
Saturated Fat:
3
g
|
Trans Fat:
1
g
|
Cholesterol:
13
mg
|
Sodium:
107
mg
|
Potassium:
65
mg
|
Fiber:
1
g
|
Sugar:
16
g
|
Vitamin A:
19
IU
|
Vitamin C:
1
mg
|
Calcium:
50
mg
|
Iron:
1
mg