Chocolate Espresso Biscotti are boldly, richly chocolate cookies designed for the ultimate munching, crunching, dipping, and dunking experience. If you are a chocolate lover, or are baking for one, this recipe is a keeper!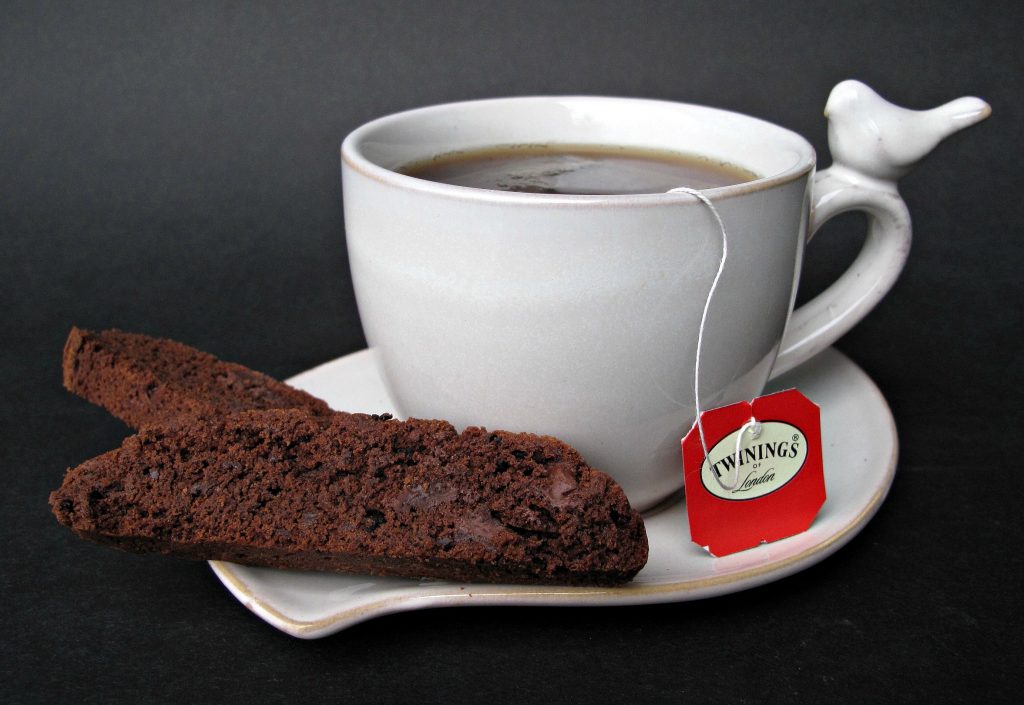 There are a lot of new verbs in the English language that a short time ago were only nouns; text, blog, pin. I did not grow up with these verbs and occasionally find them confusing.
I have learned to text, though I don't have the thumb dexterity that seems to have evolved in humans younger than me. Obviously, I am learning to blog. And most recently, I am attempting to pin.
I am not completely sure that I understand the intrinsic value of all the "liking" and "repining" that gets announced with great fanfare to my inbox. What I do understand is that Pinterest enables me to search for pictures of stuff that appeals to me, and then allows me to store those images in an organized manner. (I only wish the rest of my life was so neatly organized!)
I have heard that people get addicted to Pinterest. I don't think I am an addict yet, but there have been a number of missing hours in my days lately and a marked increase in the number of pins on my Pinterest boards.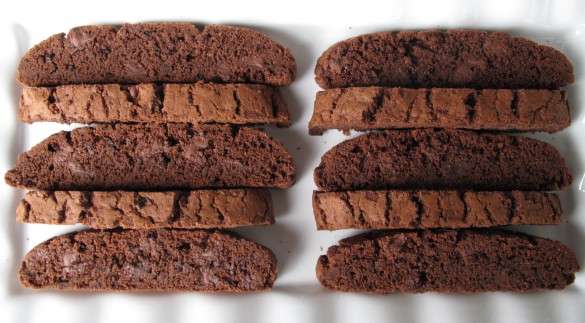 You probably won't be surprised to hear that much of the time that I spend on Pinterest, I am looking for baking ideas, specifically mailable baking ideas.
There is a lot of amazing looking food out there and some very talented cooks/bakers/decorators. I am accumulating a sizeable collection of recipes for Monday Box ideas.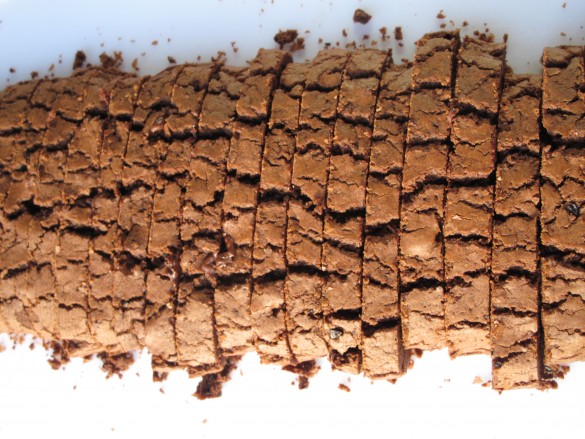 One category that I keep coming back to is biscotti because, as I have mentioned every time I post a biscotti recipe, biscotti are fantastic travelers and keep well for several weeks.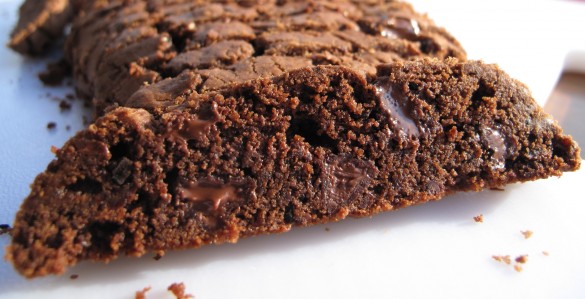 I would like to introduce you to biscotti so rich and chocolaty, that adding any additional dips or drizzles would be over kill.
I understand that there are those who say that there is no such thing as too much chocolate (I live with several such individuals), but believe me when I tell you that Chocolate Espresso Biscotti is perfect as is.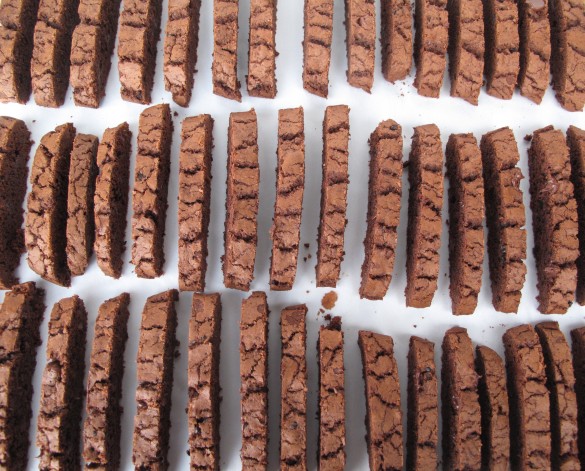 I am excited about Chocolate Espresso Biscotti because I think they are an excellent way to mail chocolate cookies, even to really hot places.
By leaving out the chocolate chips (you can substitute chopped nuts if you like them), Chocolate Espresso Biscotti would still be very chocolaty and there would be nothing to melt in transit.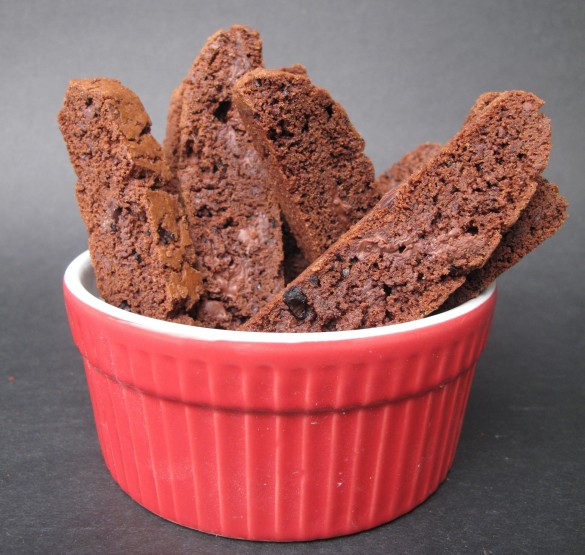 When coffee and chocolate flavors are combined in a recipe, they make each other bolder and richer. The chocolate flavor in Chocolate Espresso Biscotti comes from Dutch process cocoa, ground semi-sweet chocolate and semi-sweet chocolate chips.
The coffee flavor comes from powdered espresso and coarsely ground espresso beans. The resulting biscotti are crunchy, sweet, and full of mocha flavor.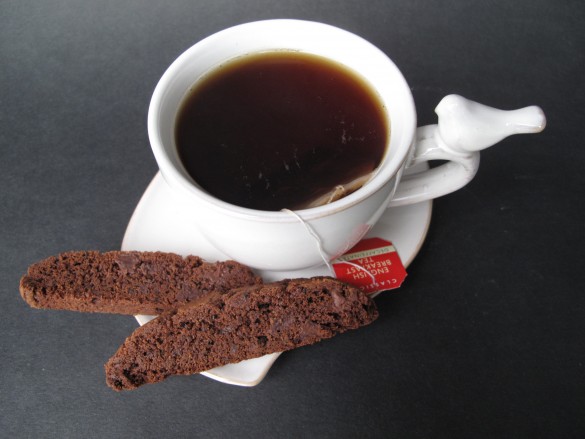 For more delicious coffee cookies, don't miss these!
Chocolate Espresso Spritz Cookies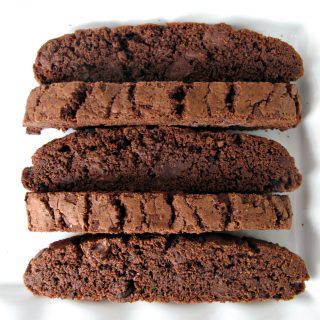 Chocolate Espresso Biscotti
These crunchy cookies have deep chocolate flavor from a double dose of chocolate with an espresso punch, designed for the ultimate munching and dunking experience.
Print
Rate
Adapted From:
"Chewy Gooey Crispy Crunchy" by Alice Medrich
Ingredients
2

cups

all-purpose flour

½

cup

unsweetened Dutch-process cocoa powder

Note: If you use natural cocoa powder instead of Dutch-process , use ½ teaspoon of baking soda instead of the baking powder.

2

teaspoons

instant espresso powder

½

teaspoon

salt

2

teaspoons

baking powder

4

ounces

semi-sweet chocolate

chopped or broken into small pieces

8

tablespoons

unsalted butter

room temperature

1

cup

granulated sugar

2

large eggs

2

teaspoons

vanilla extract

1

cup

semi-sweet chocolate chips

2

tablespoons

espresso beans

coarsely ground
Instructions
Pre-heat oven to 300 degrees F. Line a baking sheet with parchment paper.

In the bowl of a food processor, combine the flour, cocoa,espresso powder, salt, baking powder, and chopped chocolate. Pulse until the chocolate is ground into the flour mixture.

In the bowl of a stand mixer, cream together the butter and sugar.

Mix in the eggs and vanilla.

Gradually add the flour mixture just until combined.

Stir in the chocolate chips and ground espresso beans into the biscotti dough.

Divide dough in half and form two logs about 14" x 2". Place logs on prepared baking sheet at least 4" apart for the first bake.

Bake for 30-35 minutes. Logs should be firm but not hard.

Cool on a wire rack for at least 30 minutes. Leave the oven on.

On a cutting board using a serrated knife, cut each loaf into ½ inch slices. (If the slices are crumbling, let the loaf cool a little longer.)

Place slices, standing ½ inch apart, on a parchment lined cookie sheet for the second bake. Bake for 30 minutes until the surface of the cookies is dry ( though the chocolate chips will be gooey).

Cool on a wire cooling rack. Store in an airtight container for up to 3 weeks.
Notes
These cookies can be enjoyed on their own or are especially delicious dunked in coffee or hot chocolate.
Packing tips
Wrap pairs of biscotti in plastic wrap, then store in an air tight container or zip lock bag. If shipping in hot weather, leave out the chocolate chips. Chopped nuts can be substituted for the chocolate chips, if desired.
Nutrition
Calories:
115
kcal
|
Carbohydrates:
15
g
|
Protein:
2
g
|
Fat:
6
g
|
Saturated Fat:
3
g
|
Trans Fat:
1
g
|
Cholesterol:
15
mg
|
Sodium:
55
mg
|
Potassium:
73
mg
|
Fiber:
1
g
|
Sugar:
8
g
|
Vitamin A:
86
IU
|
Calcium:
21
mg
|
Iron:
1
mg