Once you try Coffee Cookies, your morning coffee will seem incomplete without them! Coffee cookies start with a thin biscuit speckled with bits of ground coffee. They are topped with eye catching, marbled, coffee icing for a dunkable cookie that coffee lovers will truly appreciate.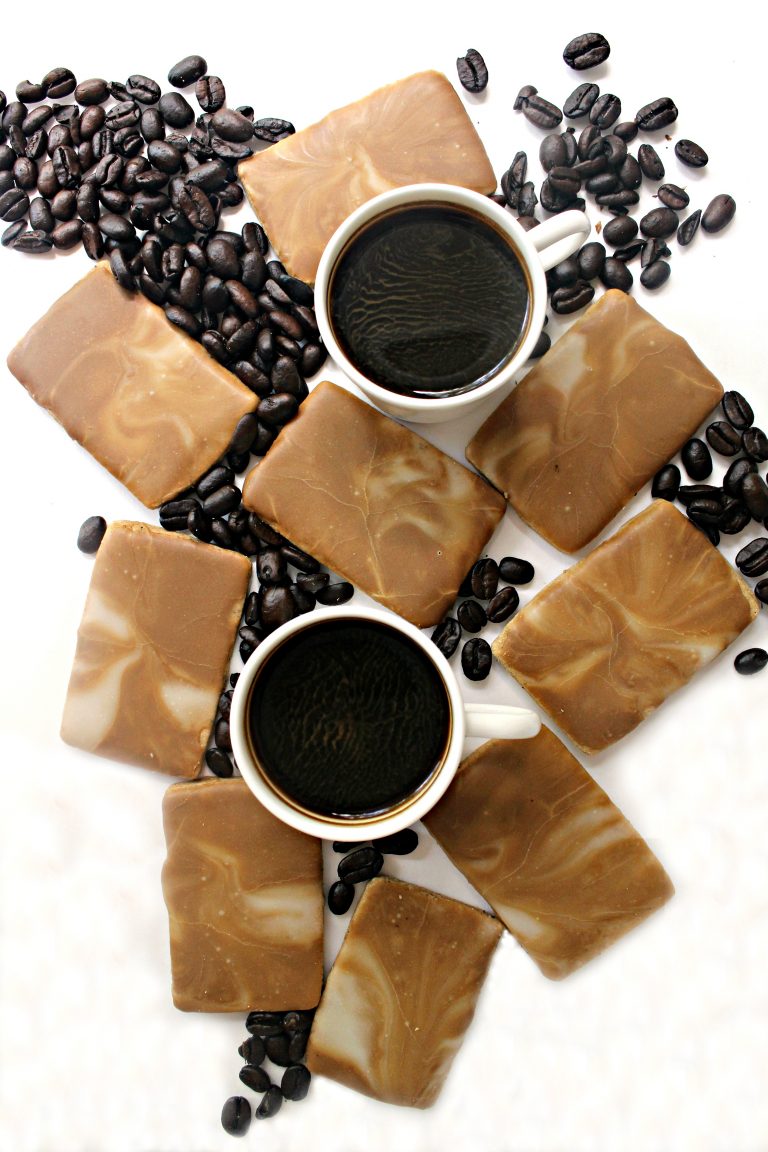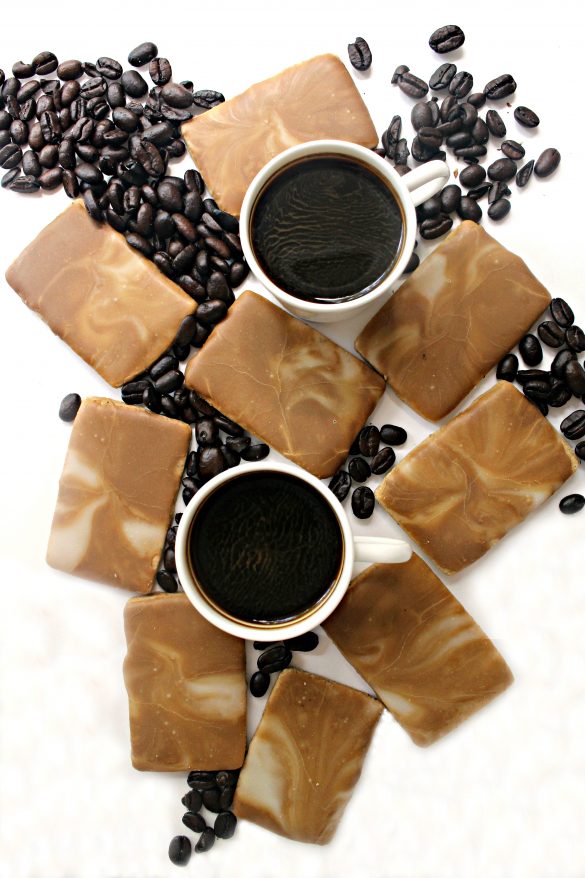 I thought that Americans drank a lot of coffee. The words "a lot" are obviously subjective because compared to Scandinavia, Americans don't make a dent in the world's coffee consumption! We come in at 25 on a list of the top coffee consuming nations!
Reading the list of coffee consuming countries was eye opening for me, no pun intended, and explained why my husband's coffee habit began on a family trip to the Netherlands (number 5 on the list).
I've mentioned in several posts, that I began drinking coffee in college when I was told that I would never make it as a teacher if I didn't start drinking coffee. A joke? I wasn't taking any chances!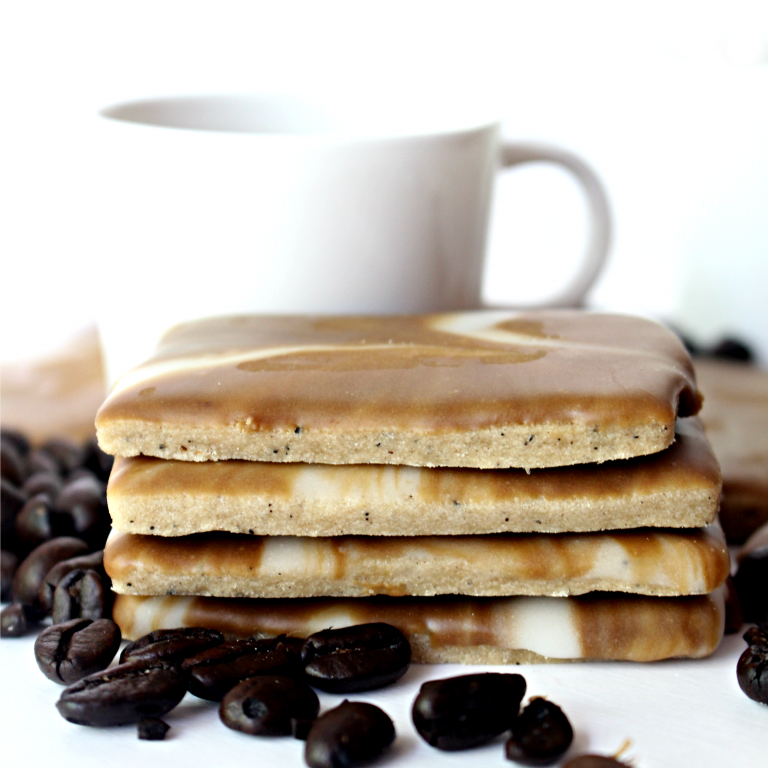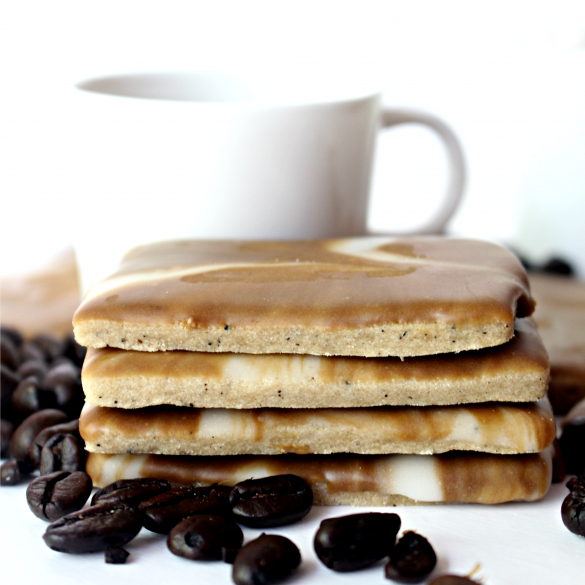 My husband, however, never drank coffee in college. That long ago, Red Bull didn't exist. He must have depended on Mountain Dew and Coke to fuel his late night study sessions.
Years later, our family visited Amsterdam. Our children, then 10 and 5 years old, spent a few hours at a fantastic children's cooking school, Kinder Kook Kafé.
While they were cooking, my husband and I went to one of the many nearby cafés. I ordered a cappuccino. When it was served, the coffee looked and smelled so wonderful, that my husband ordered one too. I was shocked.
At first, he drank his cappuccinos with quite a bit of sugar added. Now he is hard core. No sugar at all. Sometimes he even drinks an espresso shot straight up!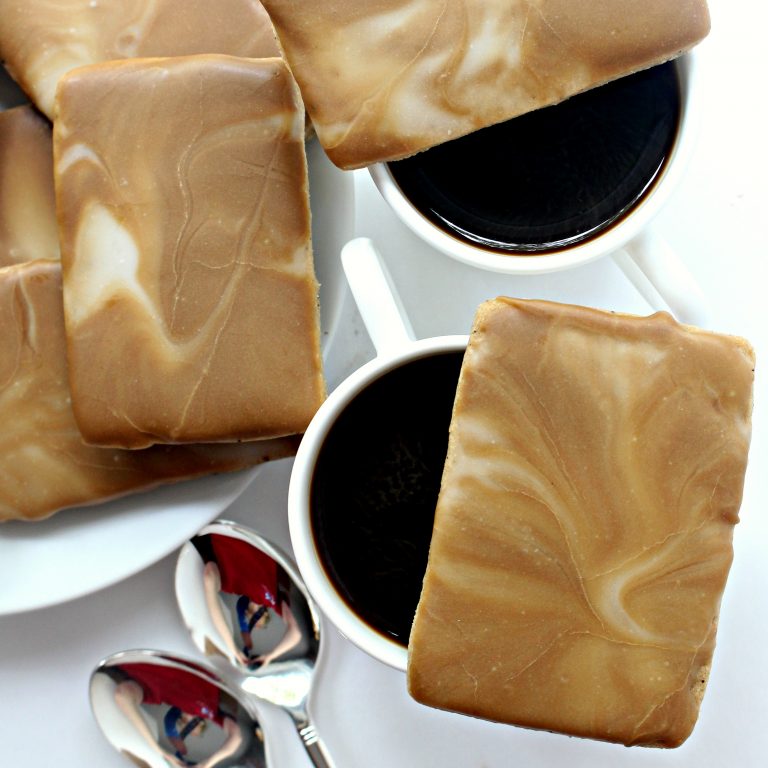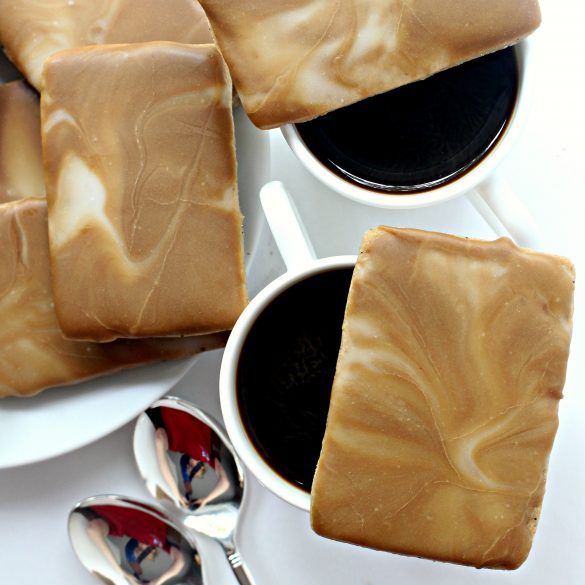 These Coffee Cookies taste a lot like the sweetened cappuccinos my husband loved. There's lots of coffee flavor both in the biscuit and in the icing.
This cookie dough is made with both brewed and ground coffee which gives the dough a brown speckled appearance. Then the dough is rolled thin for cookies that start out crisp and remain firm for over a week.
The brown icing is flavored with brewed coffee. White icing is swirled into the brown icing to give the finished Coffee Cookies a beautiful marbled appearance.
The marbling looks amazing but it's very simple to create. I got the idea for this icing from my friend Chris, at The Café Sucre Farine, the queen of marbled icing. She has created marbled iced cookies for a variety of holidays.
Coffee cookies are a delicious treat any time you are in the mood for coffee. They also make great gifts and welcome additions to college or military care packages!


HOW TO MAKE COFFEE BISCUITS
Using an electric mixer, cream the butter until very soft.
Mix in the sugar, then add the flour and ground coffee.
Stir in the brewed coffee to form a soft, pliable dough.
Roll out the dough between two sheets of parchment paper to 4 mm (a little less than ¼") thickness. Cut out rectangles.
Place the parchment with the cutout dough in the freezer for 2-3 minutes to firm the dough for easy handling.
Transfer the cutouts to a parchment paper lined cookie sheet.
Bake for 18-20 minutes at 300° F until edges begin to brown.
Cool cookies completely on wire racks before icing.
In a shallow soup bowl, mix together coffee icing ingredients until the consistency of white glue.
In a small bowl, mix together the white icing ingredients until the consistency of white glue.
To make marbled icing, place three teaspoons of white icing on top of the coffee icing and swirl minimally with a toothpick.
Dip a cookie into the surface of the swirled icing, lift, and shake gently to remove excess. Repeat marbling for each cookie.
Place iced cookies on a wire rack to dry overnight.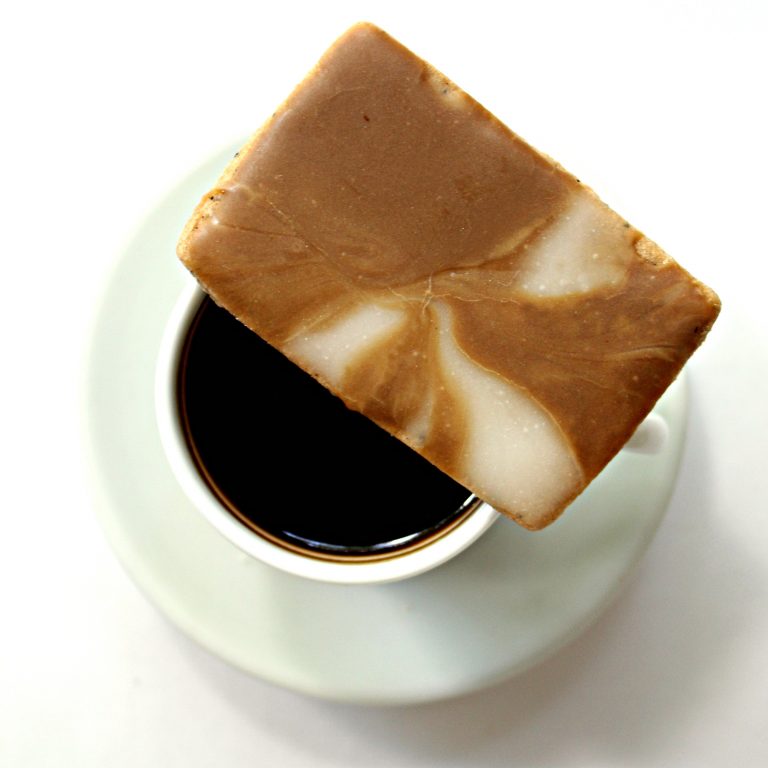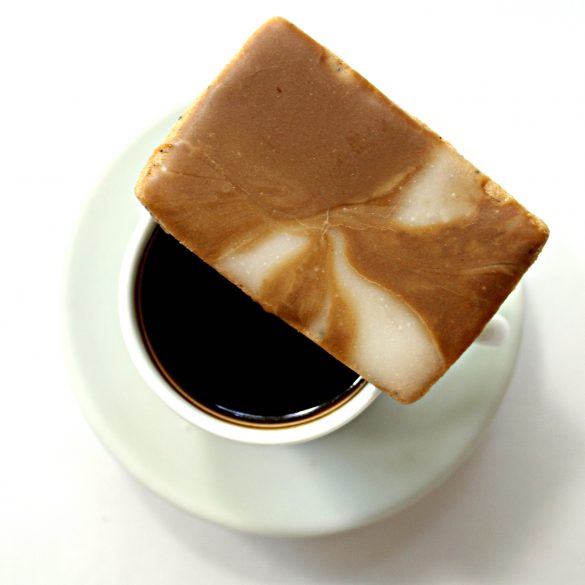 TIPS AND VARIATIONS FOR COFFEE COOKIES
Uniform dough thickness is key in order for all of the cookies to bake evenly. I use a rolling pin with rings to keep my dough equal thickness.
To add an even stronger coffee flavor without adding bitterness, add 1 teaspoon of coffee extract to the coffee icing. Coffee extract makes the icing taste like Kahlua liquor.
To easily transfer the thin cutout rectangles onto the cookie sheet, firm the cutouts for just 2-3 minutes in the freezer.
Coffee Cookies make great presents, stacked and packaged in cellophane bags or arranged in a gift tin.
(The Monday Box participates in affiliate marketing programs. As an Amazon Associate I earn from qualifying purchases. If you choose to purchase a product after following a link on this page, I will receive a small commission, at no cost to you, which helps make The Monday Box possible.)
TOOLS AND INGREDIENTS YOU MAY NEED FOR ICED COFFEE BISCUITS
MORE RECIPES BAKING WITH COFFEE
Chocolate Espresso Spritz Cookies
Double Chocolate Espresso Cookies
Espresso Chocolate Shortbread Cookies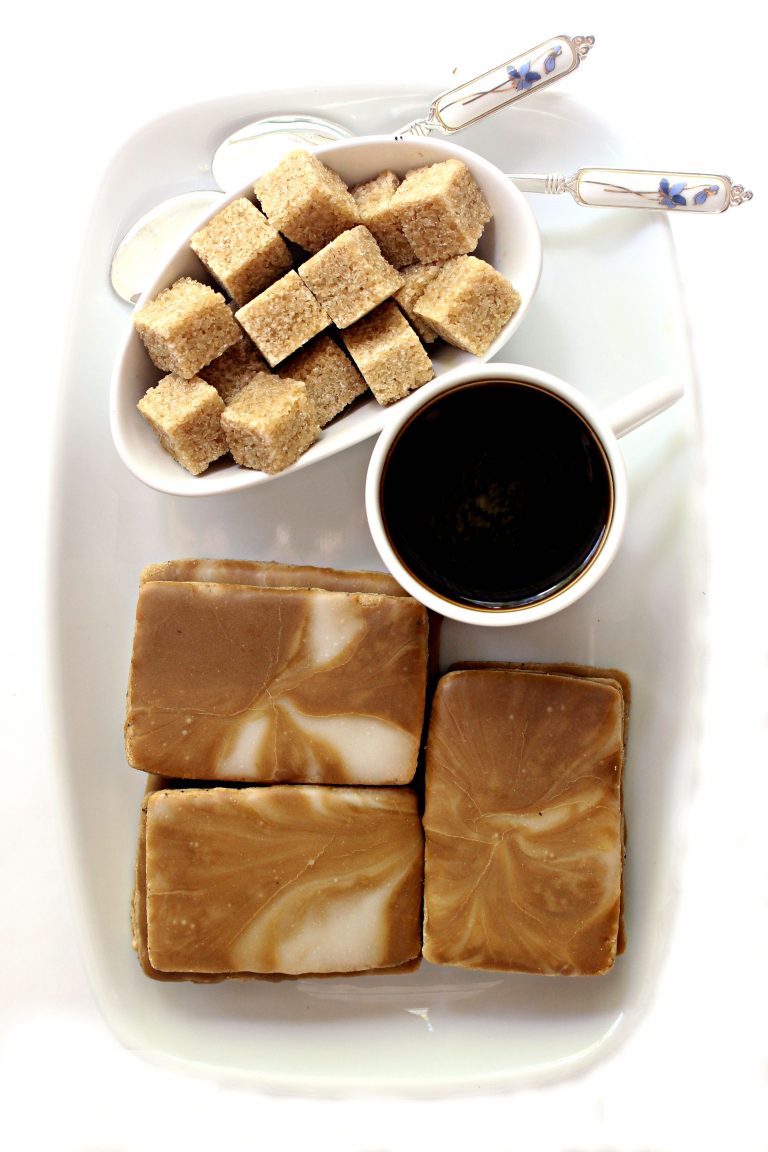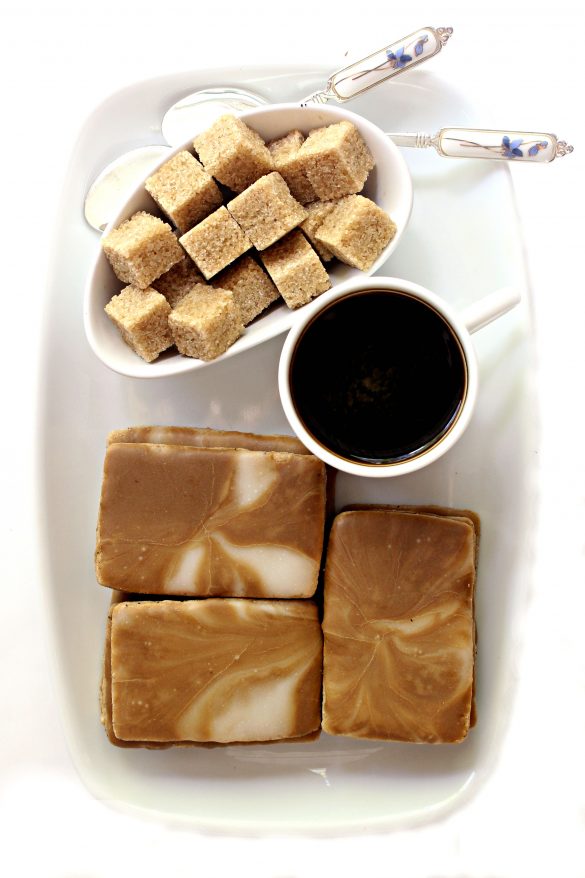 COFFEE COOKIES RECIPE
Coffee Cookies are as pretty as they are tasty! The ideal coffee break biscuit. Pack some of these caffeinated treats in your next college care package to sweeten your favorite student's studies!
Coffee Cookies
As an Amazon Associate I earn from qualifying purchases.
Ingredients
Cookies
½

cup

(1 stick) unsalted butter

⅓

cup

ultra fine bakers sugar

or granulated sugar

1 ⅓

cups

all-purpose flour

½

tablespoon

finely ground coffee

not instant coffee

4

teaspoons

brewed coffee
White Icing
1

cup

confectioners' sugar

1

tablespoon

corn syrup

1-2

tablespoons

water or milk
Coffee Icing
1

cup

confectioners' sugar

1

tablespoon

corn syrup

1

teaspoon

espresso powder

2

tablespoons

hot brewed coffee
Directions
Cookies
Preheat oven to 300° Line a cookie sheet with parchment paper.

In the bowl of an electric mixer, beat the butter until soft and creamy.

Mix in the sugar.

Add the flour and the ground coffee and mix until combined.

While mixing, add the brewed coffee one teaspoon at a time just until a soft dough is formed. The dough should hold together and should not be sticky.

Roll out the dough to 4mm (between ⅛" and ¼") between two sheets of parchment. Cut into rectangles (2 ¾" x 1 ¾") using a cookie cutter or knife.

To make the cookies easy to move, slide the parchment paper with the dough onto a cookie sheet or cutting board and freeze for 2-3 minutes to firm. When firm, the rectangles will easily transfer onto the prepared cookie sheet, 1"-2"inches apart, using a small spatula.

Repeat until all of the dough has been cut into rectangles.

Bake for 18-20 minutes until the edges just begin to brown.

Remove from the oven and allow to cool for 1-2 minutes on the cookie sheet before transferring to wire cooling racks. Cool completely before icing.
Coffee Icing
In a small bowl dissolve the espresso powder in 2 tablespoons hot brewed coffee.

In a shallow soup bowl, add the confectioners' sugar and corn syrup. Stir in 1 tablespoon of the coffee mixture. Add additional coffee in ½ teaspoon amounts until the icing is the consistency of white glue.
White Icing
In a small bowl, stir together the confectioners' sugar, corn syrup, and 1 tablespoon of water or milk. Add additional water or milk in ½ teaspoon amounts until the icing is the consistency of white glue.

Marbled Icing

Place 3 teaspoon sized portions of the white icing onto the surface of the coffee icing.

Use the tip of a toothpick to gently swirl the dots of white icing with just two or three strokes.

Holding a cookie by the edges, barely dip the top of the cookie into the surface of the coffee icing over the swirled white icing.

Lift the cookie straight up and gently shake over the bowl to remove excess icing.

Turn over the cookie, icing up, and place on a wire rack.

Repeat the marbling and dipping with all of the cookies.

Let the icing firm for at least 4 hours, preferably overnight, before storing.

Store at room temperature in an airtight container with wax paper between layers for at least 10 days.
Notes
Stack up to 6 cookies with pieces of wax paper between cookies. Wrap the stacks in plastic wrap. Place the wrapped cookies in columns in a freezer weight ziplock bag.