Black Bottom White-Chocolate Bars are a no decisions, all-in-one kind of bar; a chewy double chocolate brownie bottom topped with a vanilla enhanced white-chocolate blondie layer. These bars are easy enough to bake for no special occasion at all, however, they are eye-catching and delicious enough for celebrations.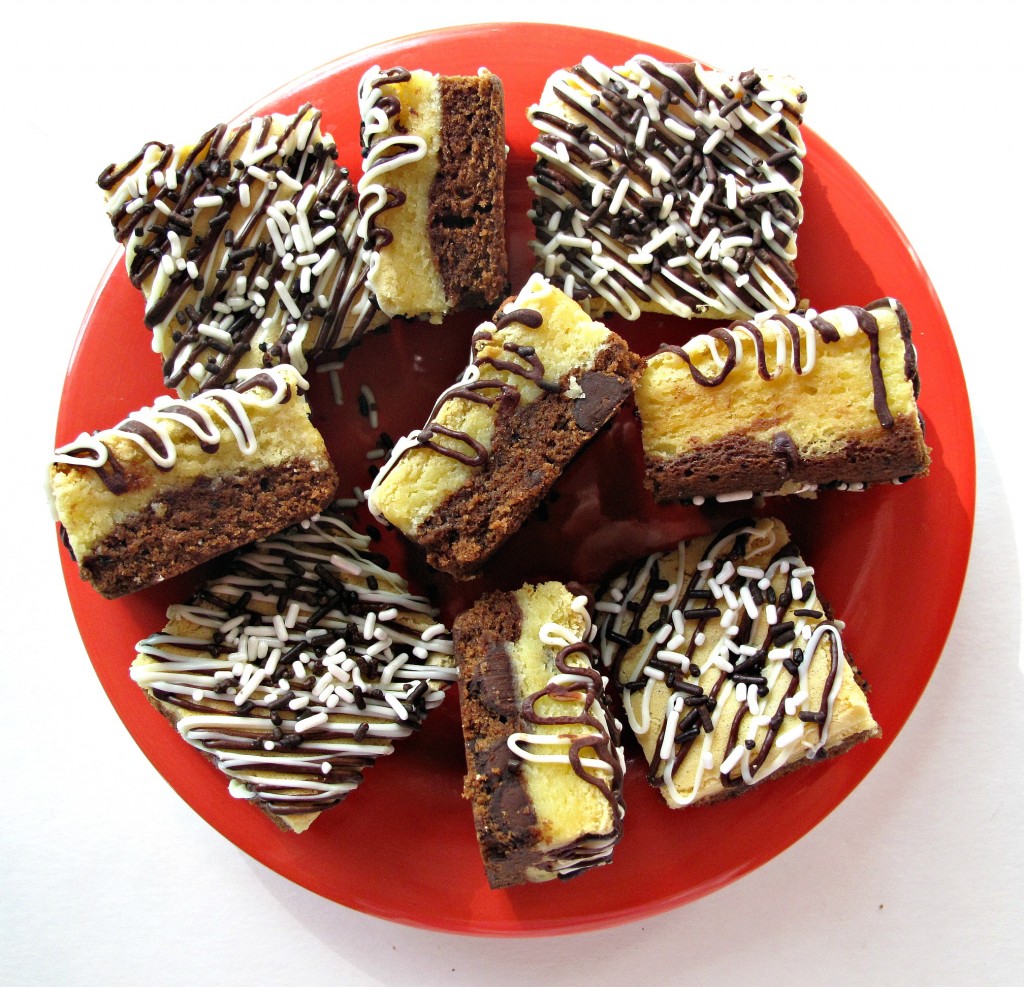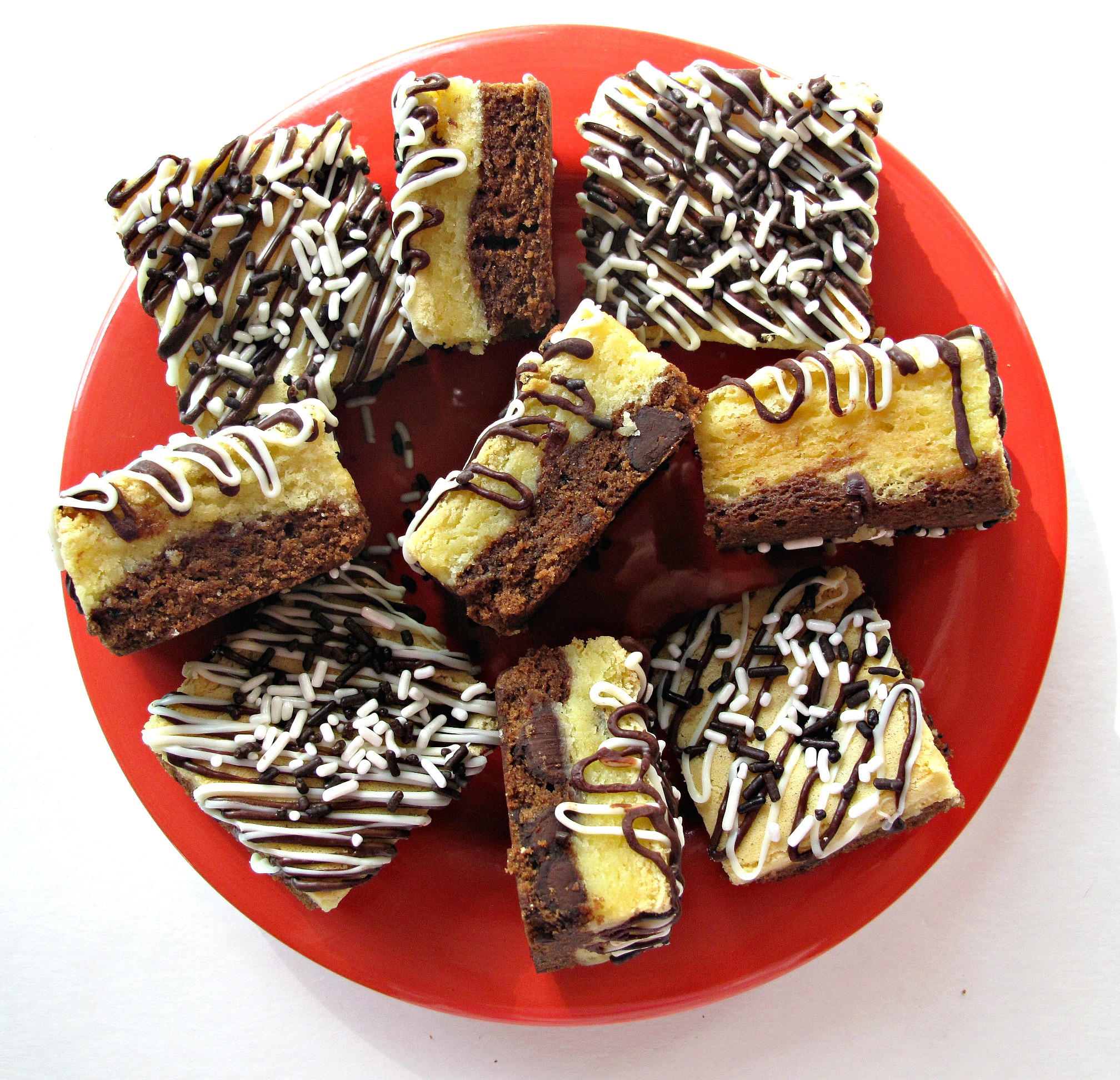 Very quietly, with no fanfare, The Monday Box celebrated its three year anniversary this month. I find that quite amazing for many reasons. This blog continues to be a source of pride, friendship, and lots and lots of cookies! During the course of publishing my weekly recipes, I have gained a number of things besides the inevitable baking blogger pounds.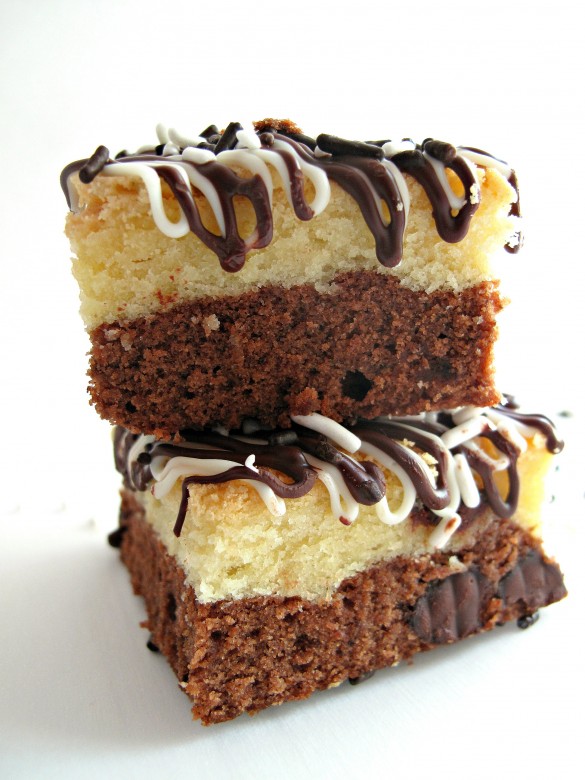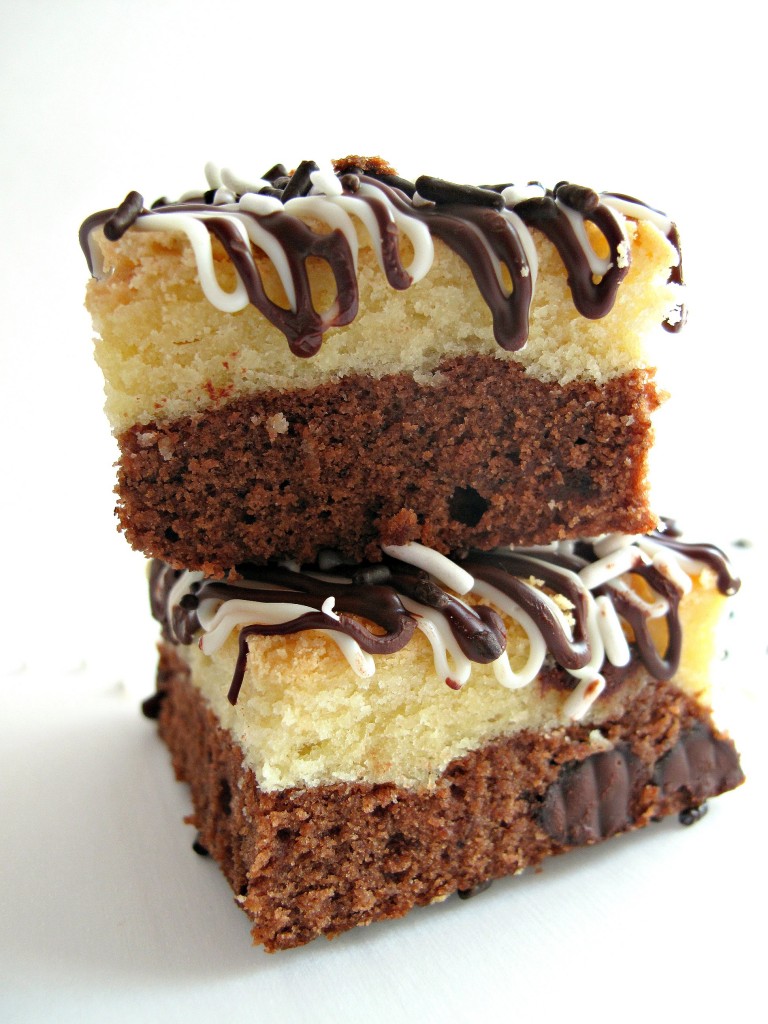 Most wonderful to me are the friends I have made. The food blogging community can be incredibly inclusive and supportive. I am deeply appreciative of those bloggers who continue to offer words of encouragement and enthusiastic support for each post I publish.
I have been lucky enough to meet some of my blogger friends in person, others I hope to meet some day. To all, I thank you. I am not listing names and links here only because I am afraid of leaving someone out by mistake. I am also thankful to my wonderful readers, whose interest in my recipes is the reason I keep baking and sharing.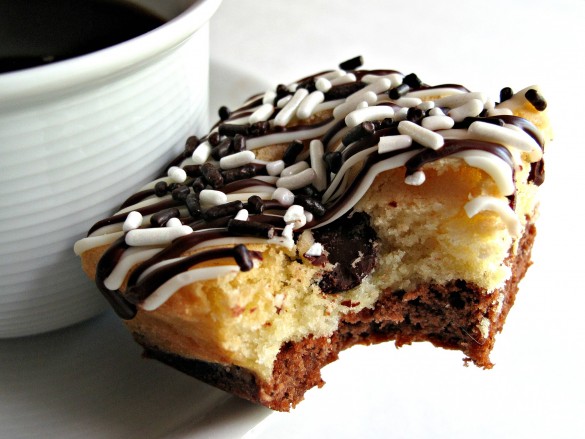 One hundred and twenty-five Monday Box published recipes have provided me with quite a bit more baking knowledge than I had when this blog started. I now know the wisdom and joy of having a freezer full of frozen dough balls ready to pop in the oven.
I have a son who can taste the difference between chocolate chip cookie dough that is allowed to age, to improve the flavor and texture, and one that is baked the day it is mixed. Also, I have acquired favorite baking tools; a digital scale, three sizes of cookie scoops, and my GIR silicone spatulas (just a favorite, not an affiliate).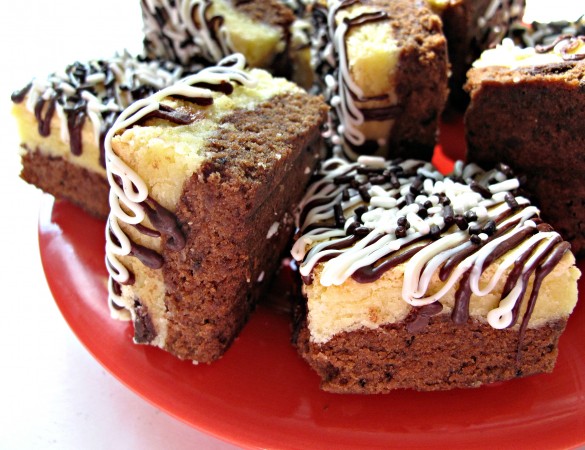 When The Monday Box started, I only knew about holiday or college care packages. I consider it a wake-up call when readers and blogging friends taught me about the importance of Military Care Packages. Imagine putting your life at risk in service to your country, and not being told, "Thank you!" for your bravery and sacrifice.
Imagine putting your life at risk in service to your country, and feeling your service goes unnoticed. I truly feel honored to have the opportunity to say, "Thank you! Your service is appreciated!" through monthly Monday Box military care packages.
Sharing military care package posts, and information about organizations that make it easy to support our troops, was an unanticipated addition to this blog, but an obvious one for a blog about recipes for care packages of home-baked love.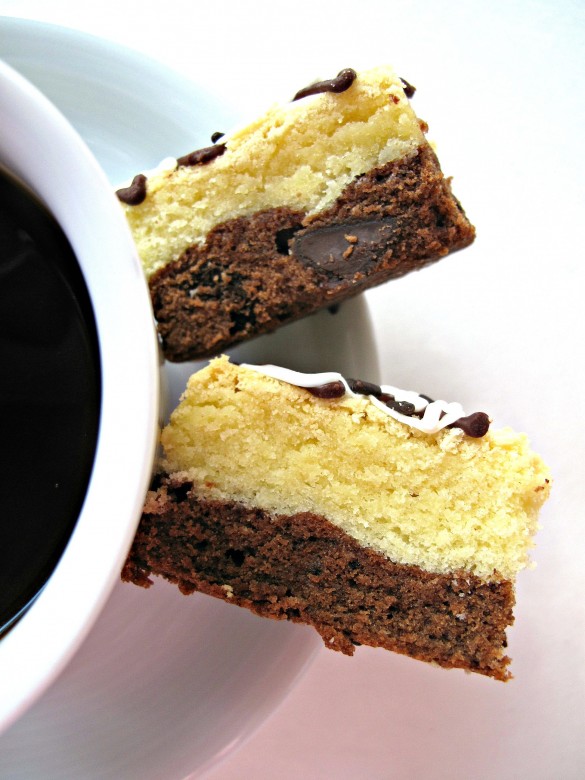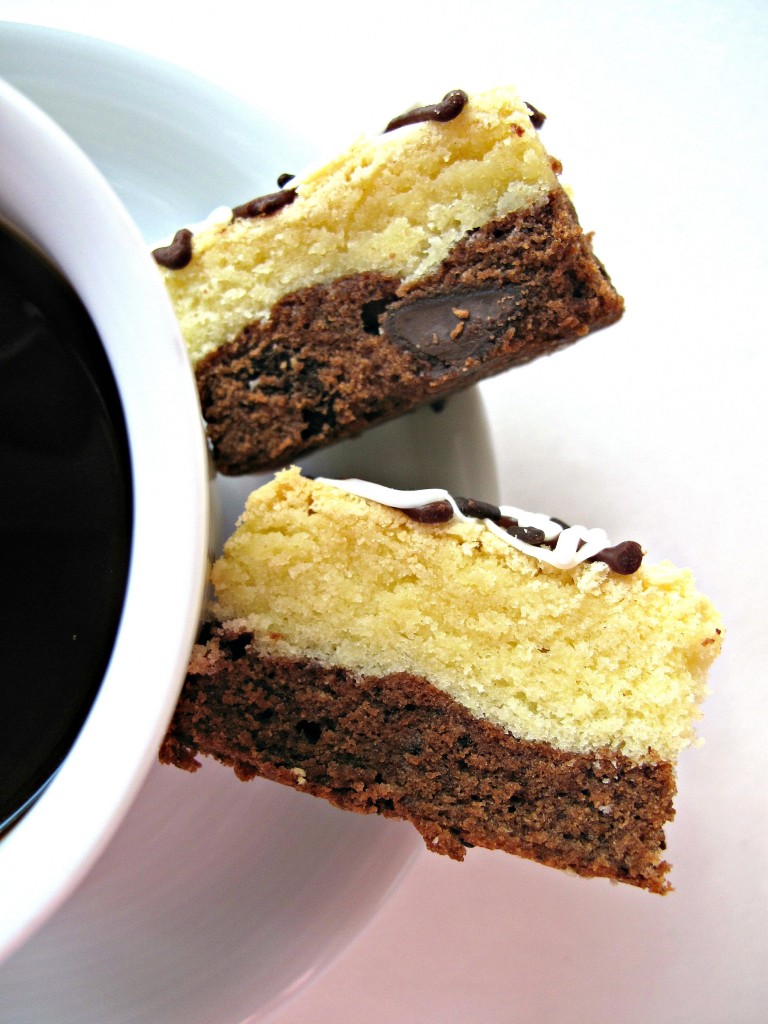 For me, the most amazing proof of the passage of time is that my Monday Box muse, the guy to whom I have, in an act of obsessive motherly love, sent weekly Monday Box care packages, is graduating from Northwestern University in just a few weeks!
Freshman year, I sent polka dotted boxes that could be easily identified in the overcrowded dormitory mail room. Sophomore and junior years there was no shortage of taste testers when the Monday Boxes arrived at my son's fraternity house.
This year, UPS has delivered directly to his apartment door. There are only four weeks left of senior year. The future is yet unwritten. Wherever my son may plant himself, The Monday Box will follow, a periodic reminder that he is loved.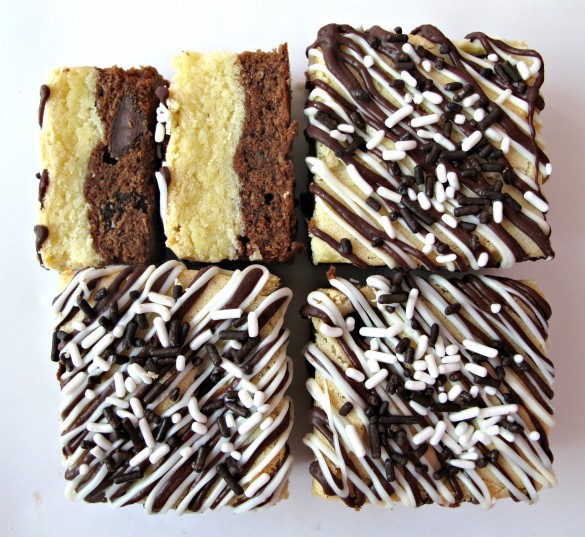 The summer is full of reasons to bake. Memorial Day. Graduations. Barbecues. Black Bottom White-Chocolate Bars are a great treat to share for those holidays and celebrations, or just as a reminder of your love.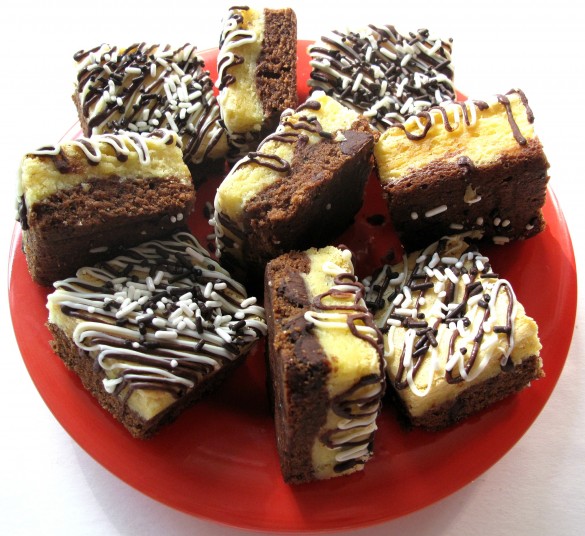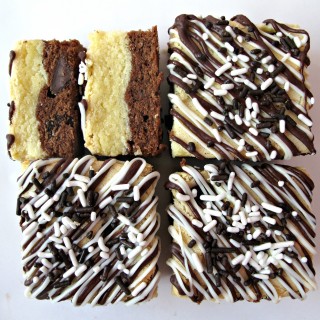 Black Bottom White-Chocolate Bars
Ingredients
1

cup

plus 2 tablespoons unsalted butter

room temperature

1 ¼

cup

granulated sugar

½

teaspoon

salt

2

teaspoons

vanilla extract

6

large eggs

1 ¾

cups

all-purpose flour

3

ounces

semi-sweet chocolate

melted and cooled slightly

2

teaspoons

instant espresso powder

½

cup

chocolate chips

semi-sweet or dark

4

ounces

of white chocolate

melted and cooled slightly

Optional chocolate drizzle

Not recommended for warm weather shipping:

2

ounces

white chocolate

melted

2

ounces

semi-sweet chocolate

melted

¼

cup

brown and white jimmies sprinkles
Directions
Preheat oven to 325° F. Lightly coat a 9"x 13" baking pan with cooking spray, then line with parchment paper extending over the edges. Lightly spray the parchment paper with additional cooking spray.

In the bowl of an electric mixer, cream together the butter, sugar, and salt for at least 3 minutes, until light and fluffy.

Add vanilla, then each egg individually, beating well between additions.

Gradually mix in flour, just until incorporated.

Measure 2 cups of batter into a medium mixing bowl. Add the melted semi-sweet chocolate, espresso powder, and chocolate chips. Stir to combine.

Spread the chocolate batter evenly in the prepared baking pan.

Add the melted white chocolate into the remaining batter and stir to combine.

Gently spread the white chocolate batter evenly over the batter in the pan, forming a second layer.

Bake for 30-35 minutes, until a toothpick inserted in the center of the pan comes out clean.

Cool completely in the pan.

Once cool, use the overhanging parchment to lift the cake onto a cutting board to slice into bars.

Serve plain, with powdered sugar, or with a drizzle of melted chocolate.

Store in an airtight container at room temperature for up to 1 week.
Packing Tips
Double wrap pairs of bars in plastic wrap before placing in airtight containers or ziplock bags. For longer shipping times, do not cut into bars. Wrap the entire cake, first in foil to keep the bars from drying out, then in plastic wrap for an airtight seal. Include a plastic knife in the care package.