Chocolate Chip Oatmeal Cookie Bars embrace the laid back nature of summer. Made with heat resistant ingredients, enabling hot weather care package shipping as well as at home enjoyment, these bars have all of the crunchy, toasty-oat goodness of oatmeal cookies, in a time saving, easy to throw together, bar.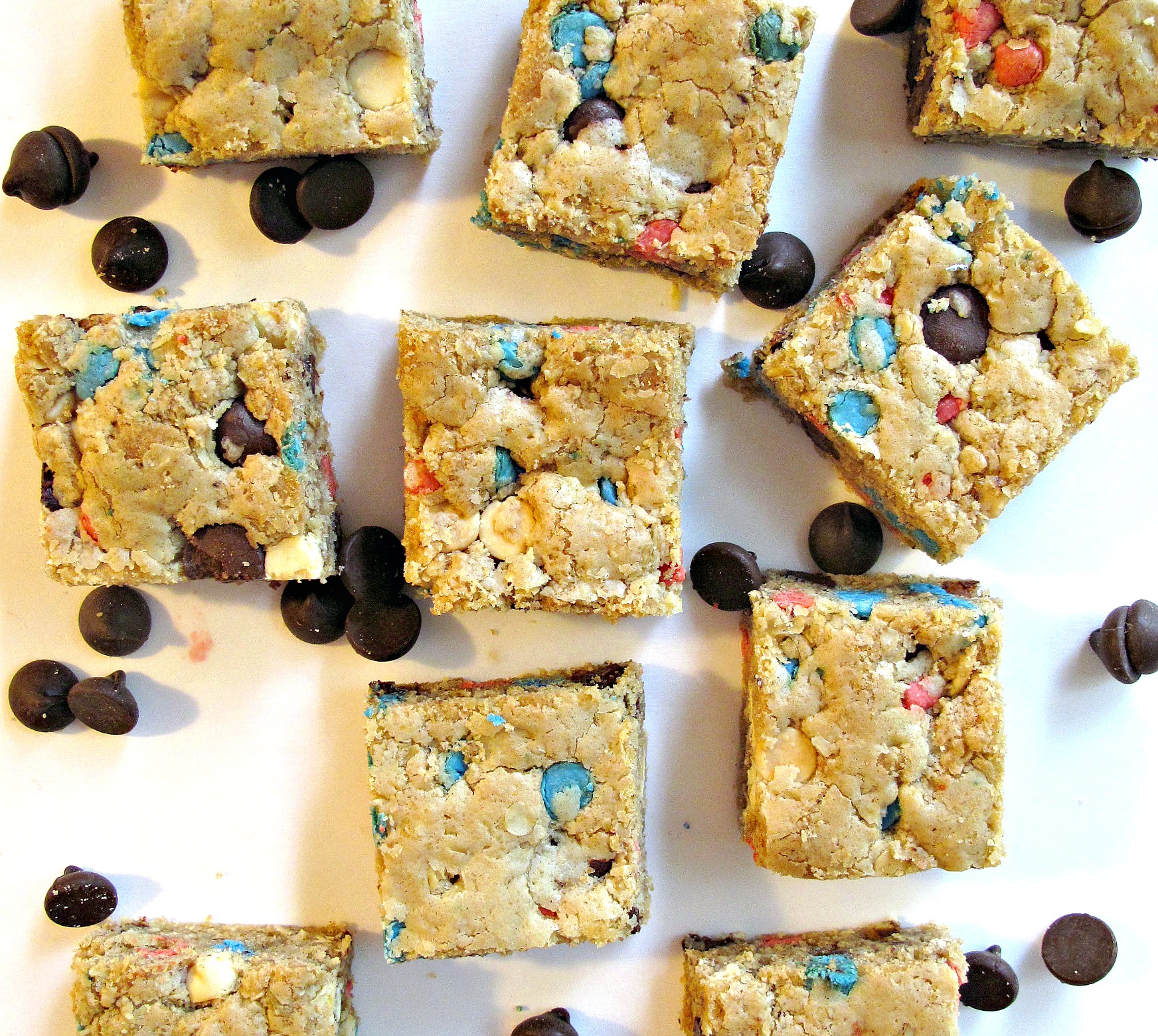 I have a knack for taking something simple, like these super simple oatmeal cookie bars, and turning it into a project.
It's not my fault that there are colored chips for Halloween, Christmas, and spring/Easter, but 4th of July chips are not to be found.
Though I could have settled for plain, using just dark and white chocolate chips, I was looking for color.
I used these bars in an Independence Day themed military care package and I wanted oatmeal bars that fit in to the patriotic color scheme.
This isn't the first time that I've played with colored chips. I made pink chips for Raspberry White Chocolate Ribbon Cookies and a spectrum of colored chocolate chunks for Rainbow Chip Blondies.
Since posting those recipes I have learned a little about coloring white chocolate. Most important is the food coloring used.
In the past, I tried using regular food coloring. Sometimes it worked, but most of the time the melted chocolate gets grainy and dry.
This seizing of the chocolate is due to the water in regular food coloring. Using candy coloring, which is oil based, results in smooth, creamy, colored chocolate every time.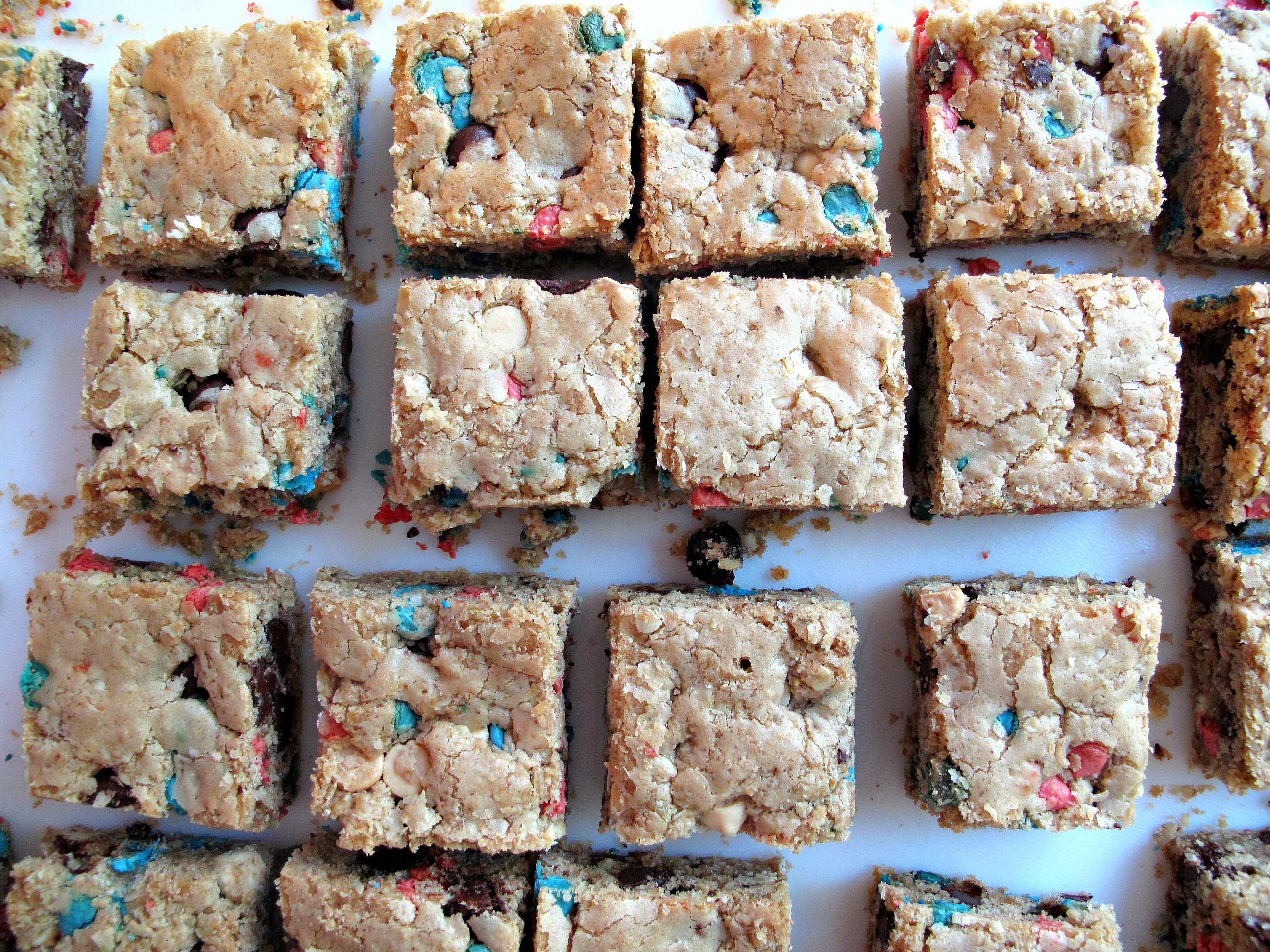 Making homemade colored chips adds about an hour to the preparation time. Making colored chocolate chunks, rather than individually piped little chips, is a much faster method.
The Rainbow Chip Blondie post includes photos and directions for making colored chocolate chunks. Color is added to melted white chocolate, spread on parchment paper into a thin rectangle, then once set, the rectangle is chopped into small chunks.
Either method would work well for adding color to bars cookies.

Instructions for piped chips
Place a coupler inside a disposable piping bag and fill with one cup of white chocolate discs. Seal the open end of the bag with a rubber band and screw on the outer coupler ring. The tip of the bag is NOT cut open at this point.
Immerse the piping bag in a glass filled with hot water. When the chocolate is melted, remove the bag from the water and dry carefully. As mentioned before, if water gets into the chocolate, the chocolate will seize.
Set the piping bag in a dry glass, remove the rubber band and fold the open end of the bag over the rim of the glass.
Add candy coloring and stir with a butter knife. There will be a small amount of white chocolate at the tip that doesn't get colored, but can still be used in the cookie bars.
Once blended, reseal the open end of the bag with the rubber band. Cut off the pointed end of the bag and add a #4 small round piping tip.
Pipe chips onto a small baking sheet lined with parchment.
Place the baking sheet in the refrigerator for about 10 minutes to set the chocolate. The set chips will slide easily off the parchment when ready.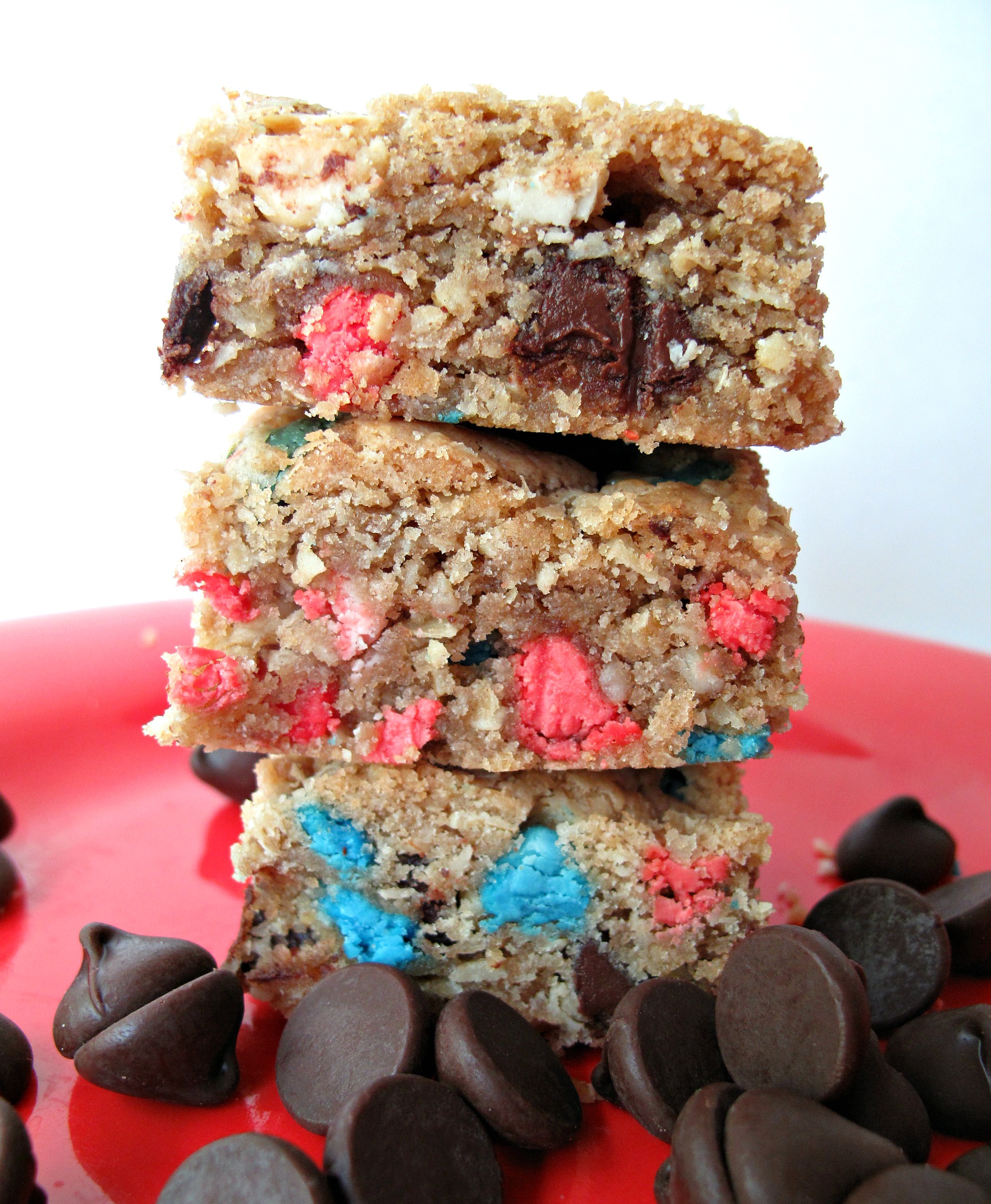 If you want colored chips that taste like real, creamy, vanilla, white chocolate, you have to use real white chocolate.
Chopping up colored candy discs, will give you color, but not real white chocolate flavor.I recommend using white chocolate melting discs or white chocolate chips.
A batch of Chocolate Chip Oatmeal Cookie Bars will disappear quickly from cookie jars, picnic tables, and care packages. The combination of chocolate and oats in a crunchy bar is hard to resist.
With homemade colored chips, these bars can be customized for any occasion.
If you love bars made with oats, next time try no bake Chewy Granola Bars. These chewy crunchy bars are packed with oats and more.
Ready to bake? Join the free membership group to get new recipes and a newsletter delivered to your inbox! You can also stay in touch on Facebook, Pinterest, and Instagram. I'd love to stay in touch!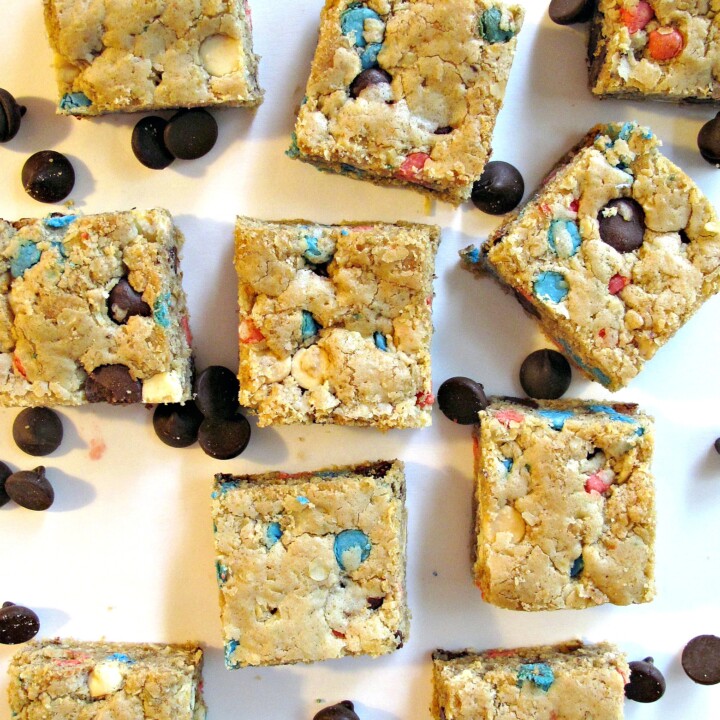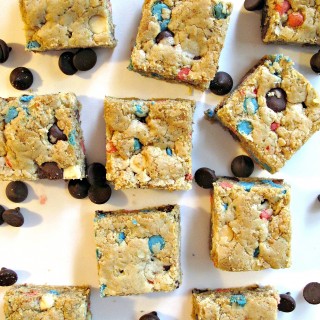 Chocolate Chip Oatmeal Cookie Bars
Crunchy oatmeal cookies made quick and easy as a bar cookie.
Print
Rate
Adapted From:
verybestbaking.com
Ingredients
2

cups

all-purpose flour

2 ¼

cups

quick oats

1

teaspoon

baking soda

¼

teaspoon

salt

1

teaspoon

cinnamon

1

cup

butter flavored vegetable shortening

Crisco

1 ¼

cups

granulated sugar

2

large eggs

room temperature

2

tablespoons

water

2

teaspoons

vanilla extract

1

cup

dark chocolate chips

1 ½

cups

white chocolate chips

for 4th of July bars use ½ cup each red, white, and blue chips
Instructions
Preheat oven to 350˚F.

In a medium mixing bowl, whisk together flour, oats, baking soda, salt, and cinnamon.

In the bowl of an electric mixer, cream together shortening and sugar until light and fluffy.

Beat in eggs, water, and vanilla.

Slowly add in flour mixture until combined.

Spread the batter into a 9" x 13" pan. Lay a sheet of wax paper over the batter and use the palm of your hand to gently press the batter into an even layer.

Bake for 18-23 minutes. The top will be set and a toothpick can be used to check for doneness. The bars will not brown. Over baking will result in a dry cookie.

Cool completely on a wire rack, then turn out onto a cutting board to slice into bars.

Store at room temperature in an airtight container for up to 10 days.
Notes
Packing tips
Double wrap bars individually or in pairs in plastic wrap before placing in airtight containers or ziplock bags.
For longer storage or shipping, I recommend not cutting into individual bars, but wrapping the entire rectangle.
Wrapping the entire pan of chocolate chip oatmeal cookie bars without cutting will preserve moisture and keep the bars from drying out in transit.
Nutrition
Calories:
347
kcal
|
Carbohydrates:
41
g
|
Protein:
5
g
|
Fat:
19
g
|
Saturated Fat:
8
g
|
Trans Fat:
1
g
|
Cholesterol:
19
mg
|
Sodium:
113
mg
|
Potassium:
149
mg
|
Fiber:
2
g
|
Sugar:
24
g
|
Vitamin A:
29
IU
|
Vitamin C:
1
mg
|
Calcium:
64
mg
|
Iron:
1
mg
Save