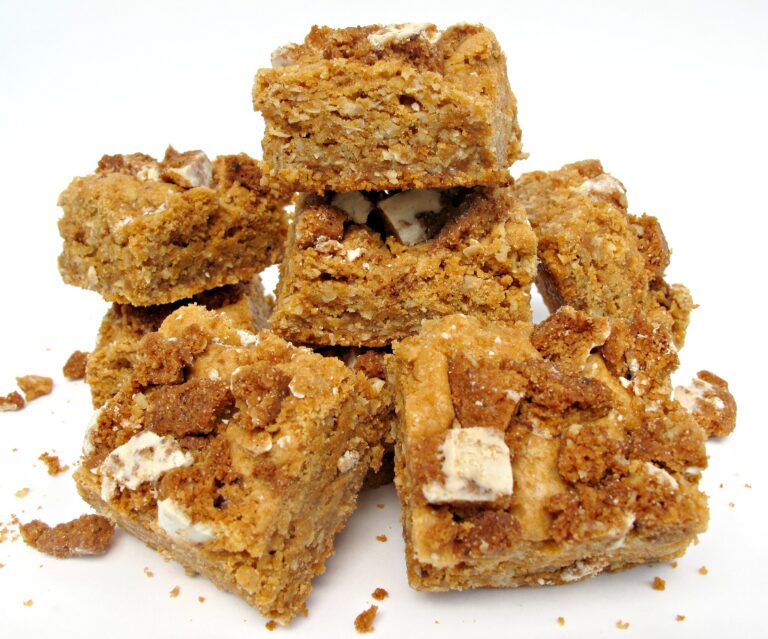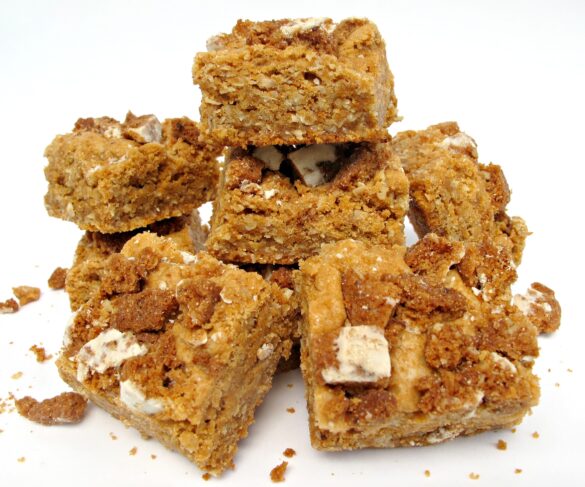 Childhood memories often include nostalgically remembered sweets. Whether those candies, cookies, and ice cream would taste as wonderful to an adult palate isn't important. It's the happiness those treats produced that creates such fond memories. Some commercially produced snacks continue to create cravings for generations. Oreo's are 102 years old. M and M's have been around for 73 years. When it was announced in 2012 that Twinkies in the U.S. would no longer be made after 82 years in production, hoarding and near hysteria ensued. A year later, a new company took over Twinkie production to the joy and relief of fans.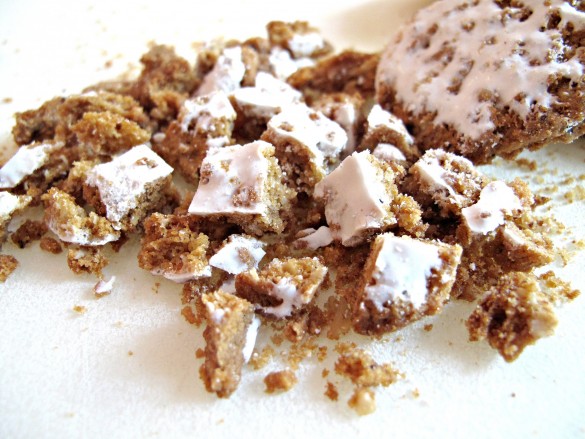 Often old favorites are not available. Some are no longer made. Others might be regional delicacies and not available where you live as an adult. The ice cream truck of my New York youth was the Good Humor man. Good Humor isn't available in St. Louis, though a generic ice cream truck broadcasting annoying music does circle our neighborhood in the summer. In parts of the country where Good Humor is sold, my childhood favorite, Strawberry Shortcake bars, still exist. For some reason they don't taste quite as wonderful as I remember. That doesn't stop me from getting one whenever we travel to New York. Just looking at them in the freezer case makes me smile.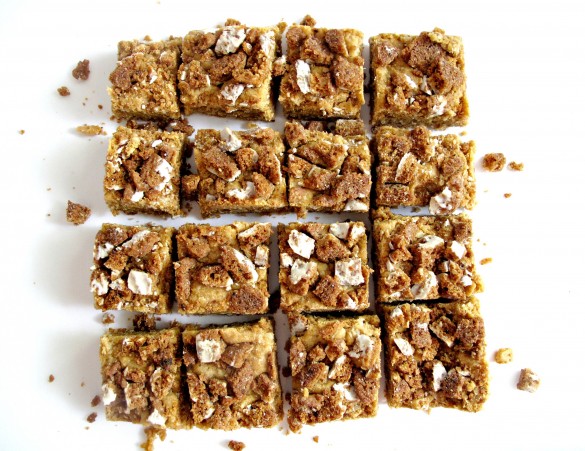 Butterscotch is a childhood memory flavor for me. My father liked butterscotch. I remember that when I was elementary school age, he would periodically bringing home little, yellow mesh bags of hard butterscotch candies wrapped in gold foil. The little rectangles of candy had a sweet, warm, buttery flavor. They tasted like comfort. I have no idea where these butterscotch sweets came from or even who made them. My father is no longer around to ask. My mother remembers the candy, but not any more details than I remember. Google image searches have been unsuccessful. These particular candies will have to remain a mystery, though I know they were the beginning of my love of butterscotch.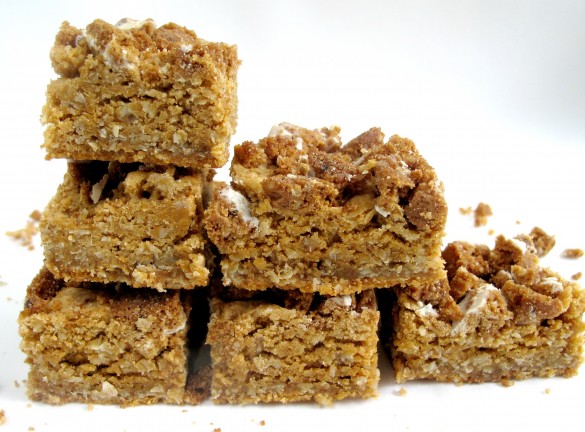 Butterscotch Oatmeal Bars are chewy bars with a crunchy topping. They are full of chewy oatmeal with sweet, buttery butterscotch flavor. The top of the bars is sprinkled with chopped crunchy oatmeal cookies. For ease, I used store bought oatmeal cookies, but homemade cookies could certainly be used.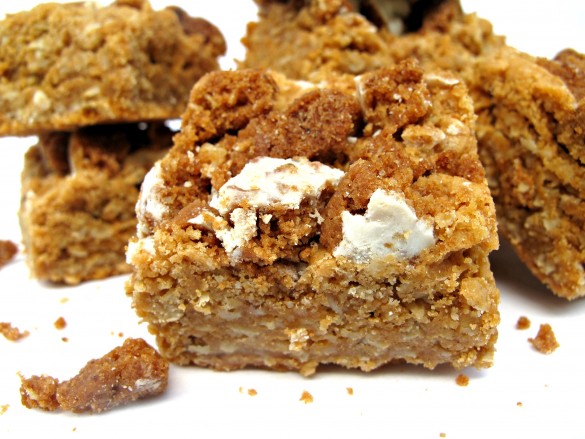 I adapted this desert safe recipe from a recipe created by the Nestle Test Kitchens especially for military care packages. The ingredients should hold up well to the extreme summer desert heat and the bars should remain chewy and delicious for at least 10 days. The comforting flavor of butterscotch is just right for a care package treat!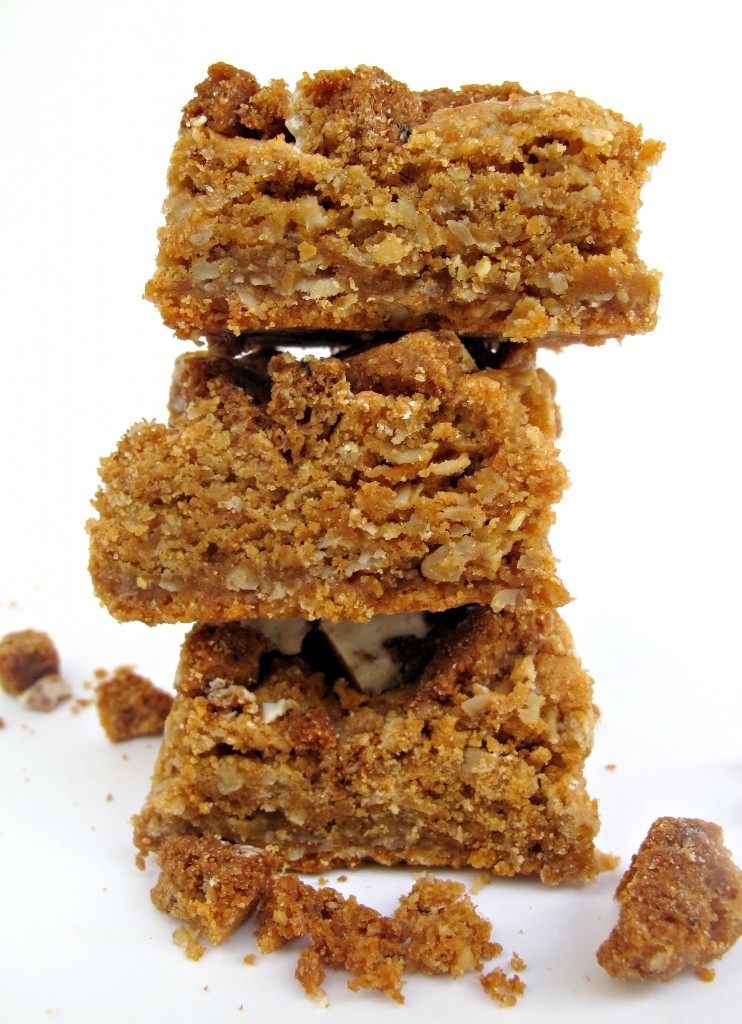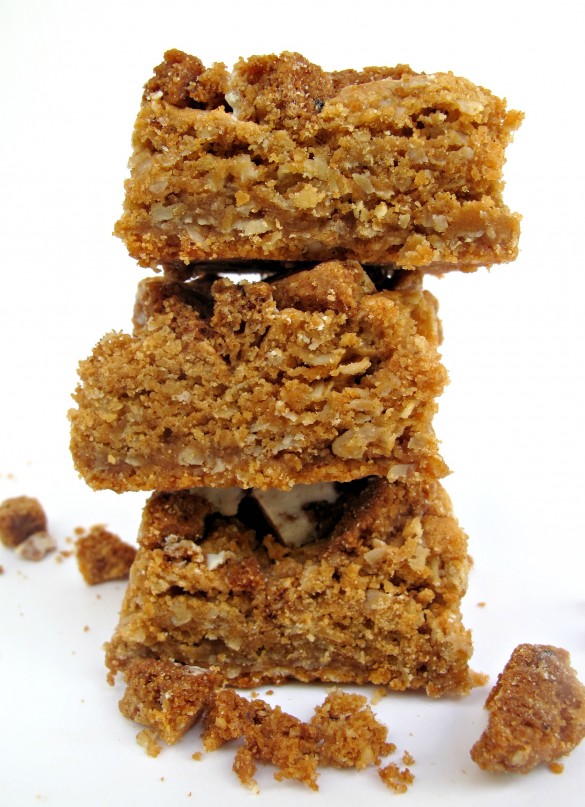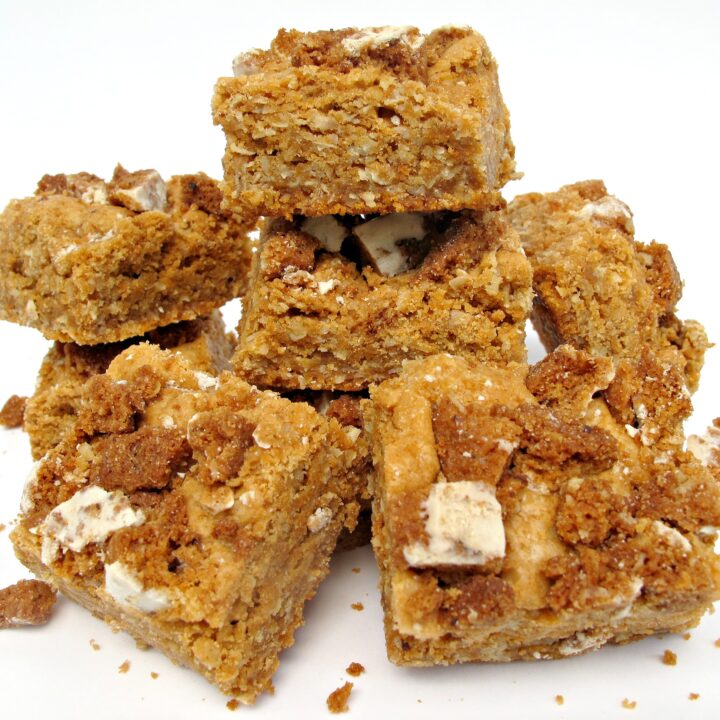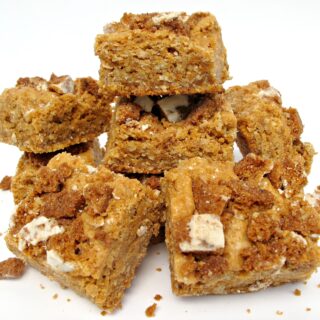 Butterscotch Oatmeal Bars
Chewy bars with a crumbled oatmeal cookie topping.
Print
Rate
Adapted From:
verybestbaking.com
Ingredients
1 ¼

cups

all-purpose flour

1

teaspoon

baking soda

¼

teaspoon

salt

1

teaspoon

cinnamon

1

cup

butter flavored vegetable shortening

Crisco

1 ¼

cups

granulated sugar

2

large eggs plus 1 egg yolk

2

tablespoons

water

2

teaspoons

vanilla extract

3

cups

quick oats

1 ⅔

cups

butterscotch chips

1 ½

cups

crunchy oatmeal cookies

coarsely chopped
Instructions
Preheat oven to 375˚F. Lightly grease a 9"x 9" pan with vegetable shortening.

In a medium mixing bowl, whisk together flour, baking soda, salt, and cinnamon.

In the bowl of an electric mixer, cream together shortening, sugar, eggs and egg yolk, water, and vanilla.

Slowly add in flour mixture until combined.

Stir in the oats.

Place butterscotch chips in a microwave safe bowl and melt in the microwave at 50% power for 1 minute. Stir. If not completely melted, return to the microwave for 20 second intervals, alternately zapping and stirring, until smooth.

Add the melted butterscotch to the batter and stir to combine.

Spread the batter into the prepared pan, then sprinkle with chopped oatmeal cookies. Using the palm of your hand, gently press the cookie bits into the batter.

Bake for 20-25 minutes. The top will be set firmly and a toothpick can be used to check for doneness.

Cool completely on a wire rack before cutting into bars.

Store at room temperature in an airtight container for up to 10 days.
Notes
Packing tips
Double wrap bars individually or in pairs in plastic wrap before placing in airtight containers or ziplock bags.
For longer storage or shipping, I recommend not cutting into individual bars, but wrapping the entire square. Wrapping the entire pan of butterscotch oatmeal bars without cutting will preserve moisture and keep the bars chewy for longer.
Nutrition
Calories:
459
kcal
|
Carbohydrates:
64
g
|
Protein:
5
g
|
Fat:
21
g
|
Saturated Fat:
5
g
|
Trans Fat:
2
g
|
Cholesterol:
37
mg
|
Sodium:
303
mg
|
Potassium:
100
mg
|
Fiber:
2
g
|
Sugar:
34
g
|
Vitamin A:
82
IU
|
Vitamin C:
1
mg
|
Calcium:
23
mg
|
Iron:
2
mg