Oatmeal Raisin Quick Bread tastes cozy. Each tender slice is spiced with cinnamon and dotted with sweet golden raisins. Enjoy the familiar flavors of an oatmeal raisin cookie in a loaf full of whole grain goodness.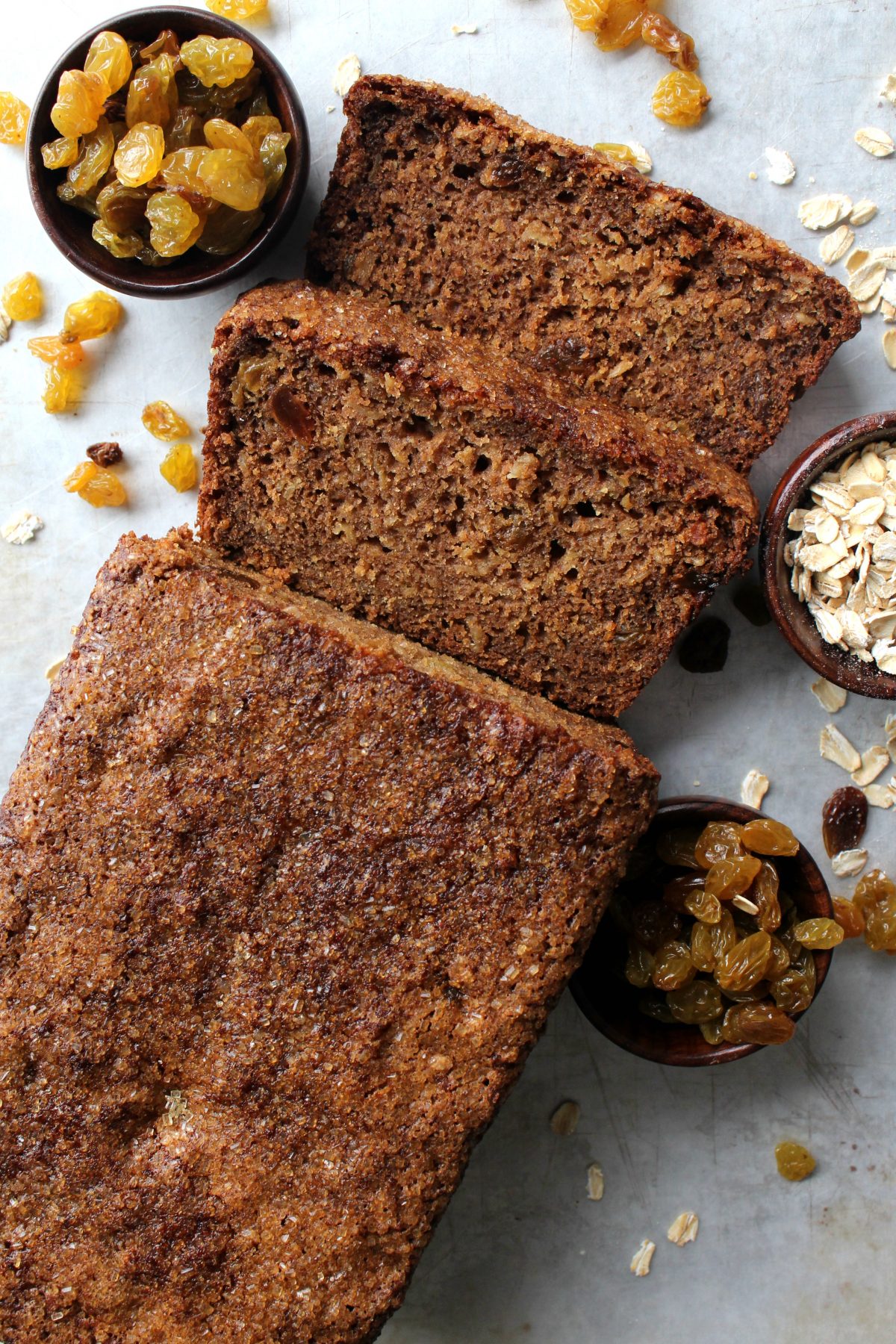 Why you'll love this recipe
Do you have a favorite comfort food cookie, a cookie you crave for its calming powers? Without any hesitation I can say that my comfort food cookie is oatmeal raisin.
Evidence of my adoration for all things oatmeal cookie-ish can be seen in my oatmeal cookie recipes like Marathon Cookies, Irish Oatmeal Cookies, and Biscoff Oatmeal Cookies or in my oatmeal bar recipes like Butterscotch Oatmeal Bars and Chocolate Chip Oatmeal Bars.
I find the combination of the fragrant cinnamon, homey oat taste, and sweet raisins to be welcoming and relaxing.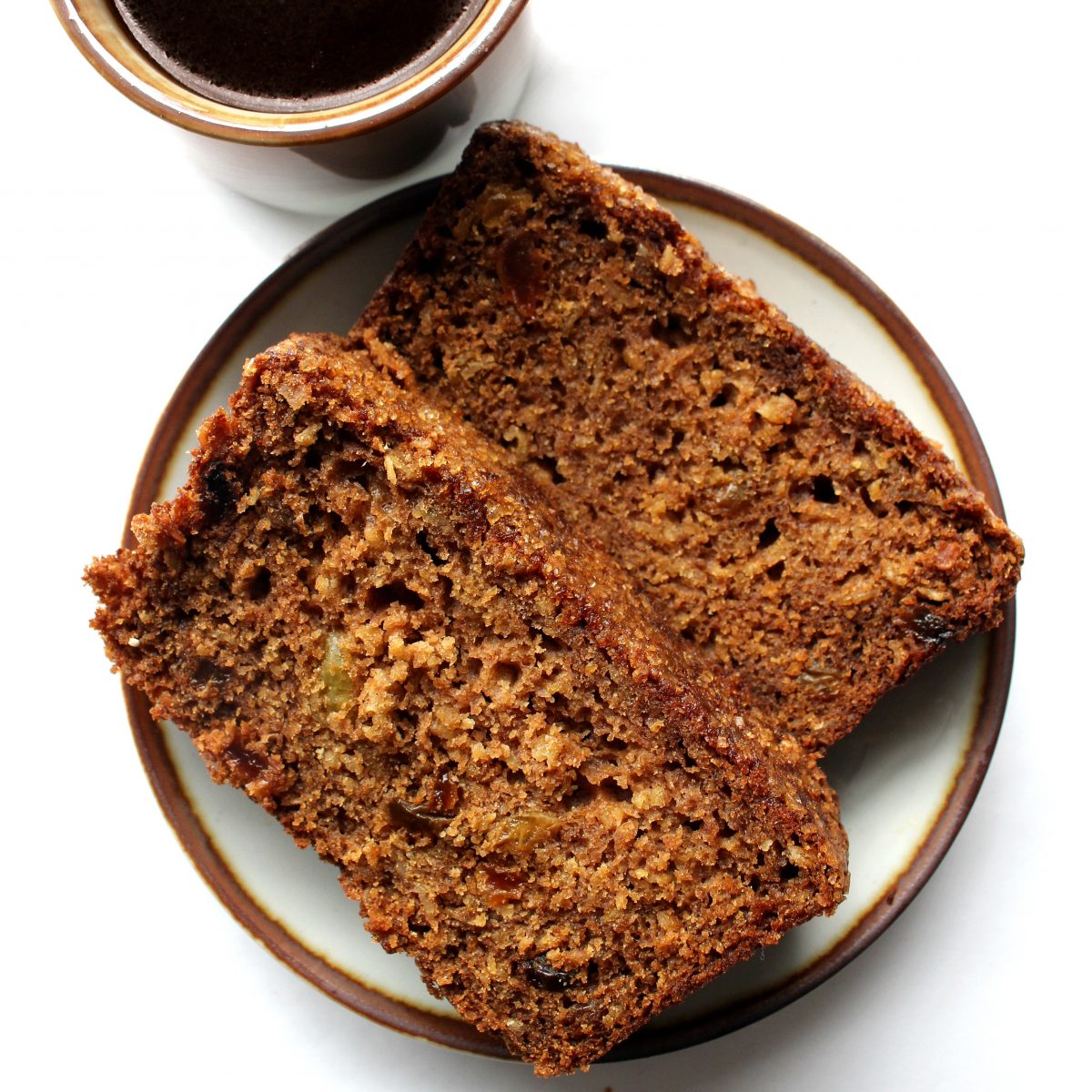 Last weekend, my household was not calm or relaxed. We were invaded by chipmunks! Inside my living room!
Because the chipmunks were running around, we had no idea how many there were. There was scratching coming from the basement. Simultaneously, there were scampering sounds coming from the main floor hallway.
It seemed like every time you walked into a room, a chipmunk ran by. At one point, I came into the living room to find my Sheltie chasing (herding) a chipmunk around the couch!
The experience was surprisingly stressful.I discovered that screaming is my involuntary response when Alvin, Simon, or Theodore zooms past me in my kitchen.
We set up humane traps baited with peanut butter. My dog was interested in the peanut butter, but the chipmunks weren't tempted. After 48 hours, we eventually did get rid of the chipmunks. There turned out to be "just" two of them.
We've searched inside and out, but can't find how the little critters got in. Hopefully, the chipmunk community got the message that we aren't running a wild life B&B!
All baking plans were obviously cancelled last weekend. Once our uninvited guests finally departed and the house had been cleaned with Clorox, I needed oatmeal raisin cookie comfort.
Instead of making individual cookies, I put all of the oatmeal cookie flavor (and stress relieving properties) into a luscious loaf of Oatmeal Raisin Quick Bread.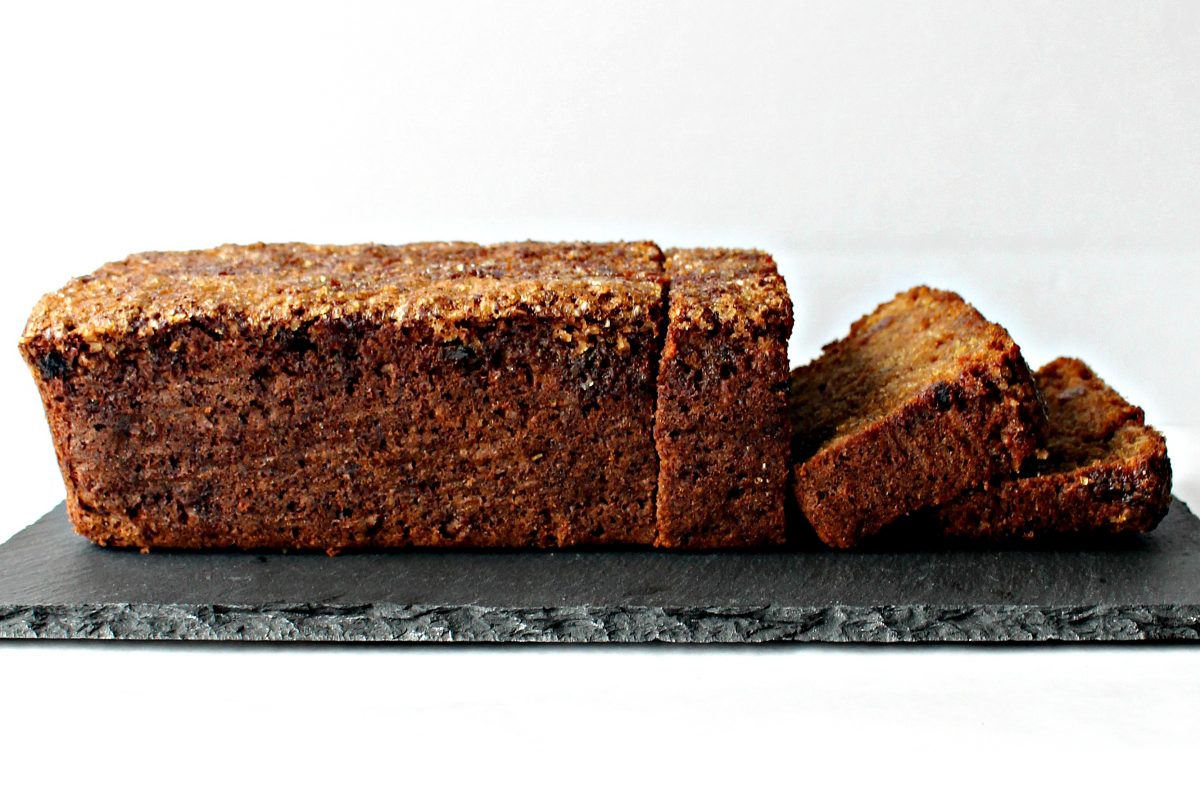 The ingredients in Oatmeal Raisin Quick Bread each add something special to the loaf. Applesauce makes the quick bread moist and vegetable oil extends the shelf life up to 7 days.
The quick oats break down into the bread while baking, while the old fashioned oats keep their shape and provide texture. Brown sugar and cinnamon bring color and flavor. Golden raisins speckle the loaf with fruity bits of sweetness.
When combined into Oatmeal Raisin Quick Bread, you get slice after slice of deliciousness.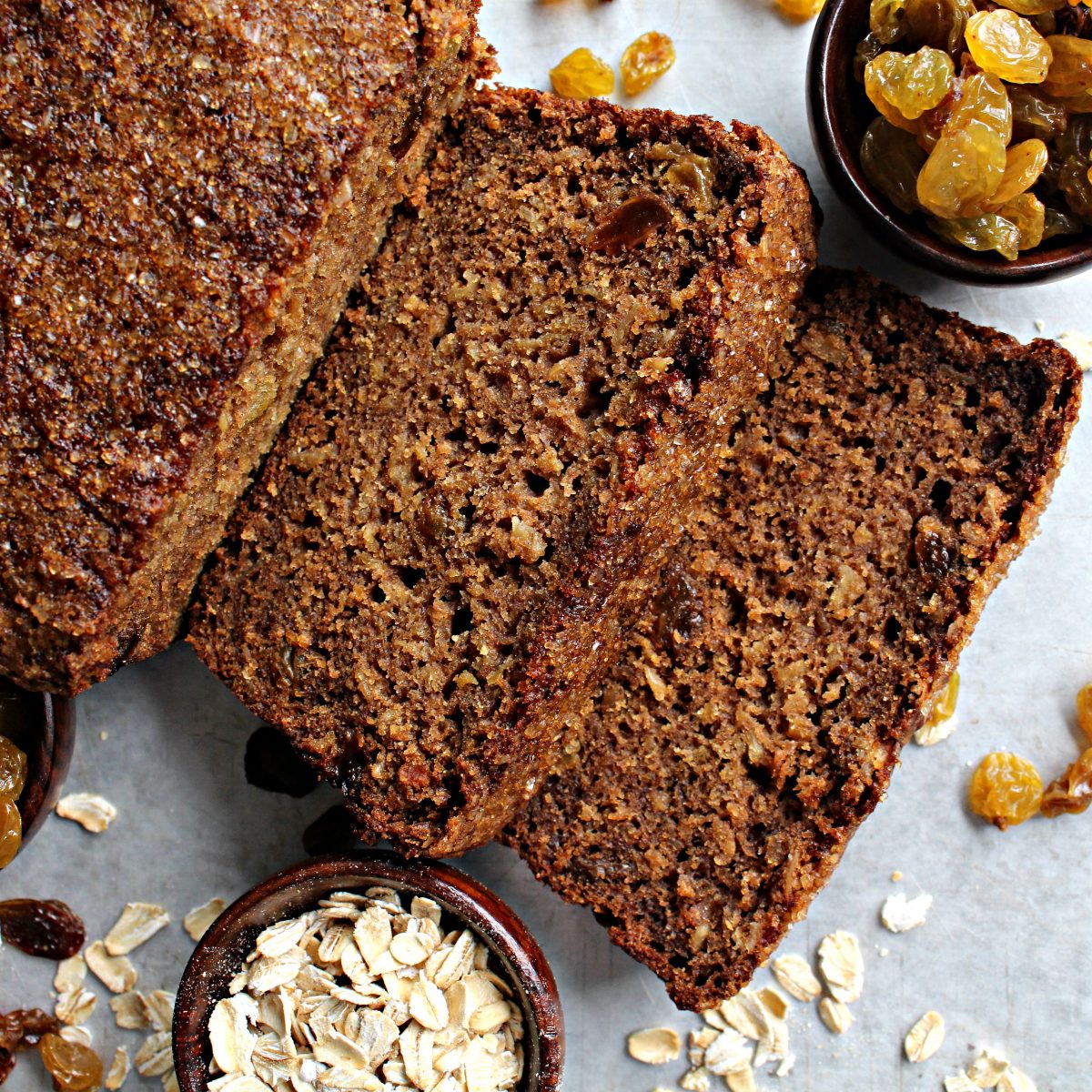 More quick bread recipes
Applesauce Cake is a moist loaf sweetened with honey. Though it's a traditional Jewish cake for Rosh Hashanah, it's a year round favorite.
Orange Olive Oil Cake is a quick and easy loaf that is bursting with citrus sunshine!
Coconut Milk Chocolate Chip Pound Cake has the most incredible soft, moist crumb that comes from baking with coconut milk. You have to give this one a try!
Ready to bake? Join the free membership group to get new recipes and a newsletter delivered to your inbox! You can also stay in touch on Facebook, Pinterest, and Instagram. I'd love to stay in touch!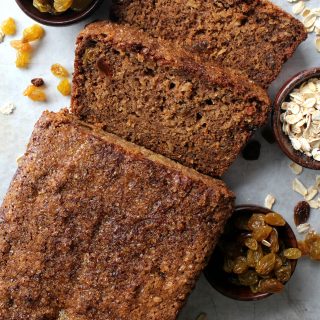 Oatmeal Raisin Quick Bread
This oatmeal quick bread gets its sweet, warm flavors from raisins and cinnamon. Lovely for breakfast or as a snack.
Print
Rate
Adapted From:
"Piece of Cake" by David Muniz and David Lesniak
Ingredients
1

cup

all-purpose flour

¼

cup

whole wheat or white whole wheat flour

¾

cup

brown sugar

packed

1½

tsp

baking powder

1½

tsp

baking soda

1 ½

tsp

cinnamon

½

cup

quick oats

not instant

½

cup

old fashioned oats

¾

cup

golden raisins

½

cup

vegetable oil

1¼

cups

unsweetened applesauce

2

teaspoons

vanilla extract

2

large eggs

Demerara Sugar or Sugar in the Raw for sprinkling
Instructions
Preheat the oven to 350°F. Butter and flour a 9" x 5" loaf pan. Use one strip of parchment paper to line the 2 long sides and bottom of the pan.

In a large mixing bowl, whisk together both flours, brown sugar, baking powder, baking soda, cinnamon, and oats. When combined, mix in the golden raisins. Set aside.

In a medium mixing bowl, mix together the vegetable oil, applesauce, vanilla, and eggs.

Add the wet ingredients to the flour-oat mixture and stir minimally, just until combined.

Pour the batter into the prepared pan and smooth the top with a spatula. Sprinkle generously with demerara sugar or Sugar in the Raw.

Bake for 50-60 minutes, until the loaf is browned and a toothpick inserted at the center comes out clean.

Remove from the oven and cool in the pan for 15 minutes. Use the overhanging parchment paper to lift the loaf out of the pan and onto a wire cooling rack to cool completely. Do not cut the loaf before it cools or it will crumble.

The completely cooled loaf should be wrapped in plastic wrap and stored in an airtight container at room temperature for up to 7 days.
Notes
It is important to use the correct kind of oats in this recipe. The quick oats break down into the bread while baking, while the old fashioned oats keep their shape and provide texture. 
This recipe fills one 9″ loaf pan or four mini loaves. Use 1 rounded cup of batter in each mini pan and bake for about 30 minutes.
Packing tips
Wrap the loaf well in plastic wrap then place in a freezer weight ziplock bag or airtight storage container.
Vacuum sealing will extend the shelf life for distances requiring more than 5-7 days.
This loaf is very moist from the oil and applesauce. Moist cakes/breads should only be mailed to and from cool temperatures to reduce the risk of molding even if the quick bread is vacuum sealed.
Nutrition
Calories:
253
kcal
|
Carbohydrates:
38
g
|
Protein:
4
g
|
Fat:
10
g
|
Saturated Fat:
8
g
|
Polyunsaturated Fat:
1
g
|
Monounsaturated Fat:
1
g
|
Trans Fat:
1
g
|
Cholesterol:
27
mg
|
Sodium:
206
mg
|
Potassium:
161
mg
|
Fiber:
2
g
|
Sugar:
21
g
|
Vitamin A:
48
IU
|
Vitamin C:
1
mg
|
Calcium:
59
mg
|
Iron:
1
mg